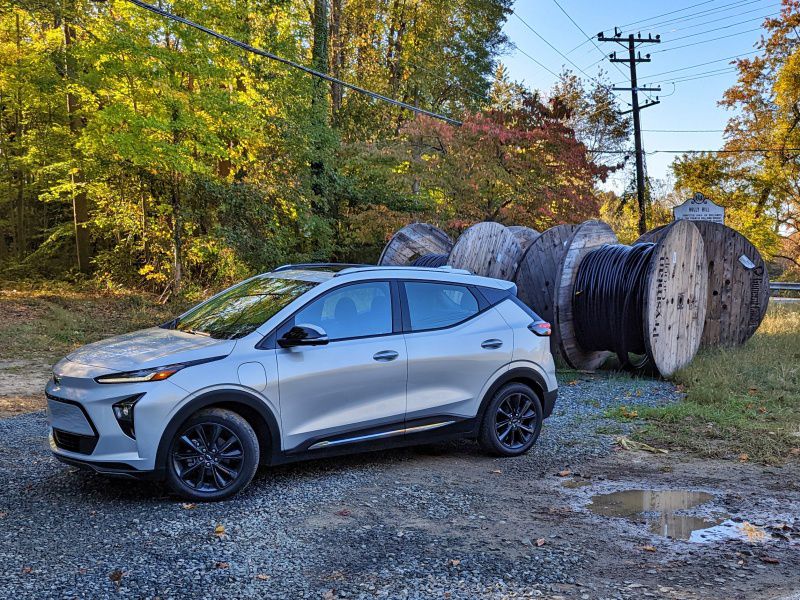 2022 Chevrolet Bolt EUV Premier ・ Photo by Brady Holt
There's a lot to like about an electric vehicle. Energy costs are a fraction of a gasoline car's. It has no tailpipe emissions. You never need to visit a gas station or get an oil change. But electric cars tend to be expensive. 
That's the marvel of the 2023 Chevrolet Bolt EUV. Even in a world where everything seems to be getting more expensive, Chevy cut the price of its subcompact electric crossover by a whopping $6,300 this year. That makes it one of America's most affordable electric cars. Keep reading as we analyze the Bolt EUV's pros and cons to learn whether this budget-priced EV is a good fit for you. 
Same Car, Less Money
You might assume that the Bolt EUV's price cut just means that Chevy created a stripped-down base version. Not so. At $27,200, the base Bolt EUV LT has the same generous standard features as last year's model. These include advanced driver aids like automatic emergency braking and lane-keeping steering assistance, along with amenities like automatic climate control, push-button starting, and a wireless smartphone charger. 
You can also upgrade to the top Premier model for $31,700, whose extras include leather upholstery, heated and ventilated seats, and adaptive cruise control. And it's also available with a panoramic sunroof, heated rear seats, heated steering wheel, and General Motors' Super Cruise hands-free driving system. So equipped, you still stay well under $40,000. Even some gas-powered small suvs cost this much. If you want to spend even less, you can also consider the Chevrolet Bolt EV hatchback that we'll discuss more later; it's a slightly smaller version of the Bolt EUV that starts at just $25,600.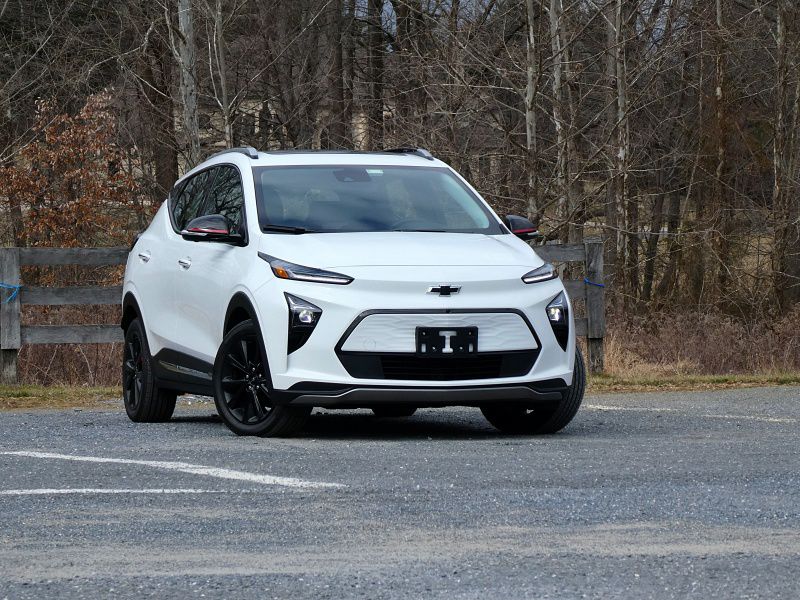 Photo by Brady Holt
247 Miles Per Charge
So Chevrolet didn't keep prices down by eliminating features. Surely it means there's a small battery like on the Nissan LEAF hatchback, whose base model travels just 149 miles per charge? Nope. Once again, the Bolt EUV is a pleasant surprise. Every model goes as an EPA-estimated range of 247 miles while averaging the equivalent of 115 miles per gallon. Recharging takes seven to 10 hours on a 240-volt car charger, while a public fast-charging station can give you up to 95 miles of range in 30 minutes. 
A few rivals can go farther per charge, like the Kia Niro EV and the Hyundai Kona Electric. So can the Chevrolet Bolt EV, which has the same battery as the EUV but is slightly smaller and more aerodynamic. Still, they're all still in the same ballpark as the EUV, with ranges in the 250s. And 247 miles is more than you'd find in base models of larger electric EVs like the Ford Mustang Mach-E, Hyundai Ioniq 5, Kia EV6, Nissan Ariya, and Volkswagen ID.4 — or even some luxury models. You'll get to work and back with ample range to spare.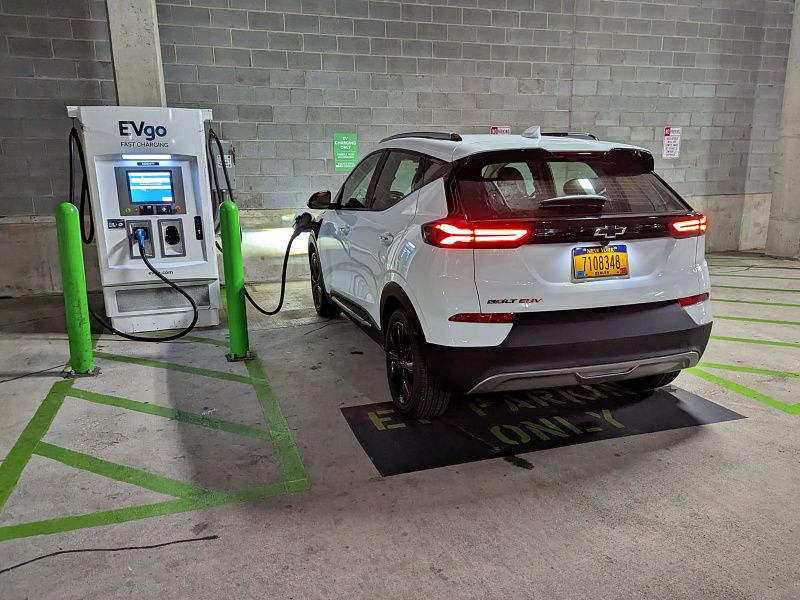 Photo by Brady Holt
Crisply Styled Exterior
The Chevrolet Bolt EUV's 2022 debut coincided with a comprehensive restyling of the smaller Bolt EV, and their looks are similar. Slim headlights are high on the stubby hood, while a Chevy bowtie logo occupies a crease that runs between them. A decorative plastic grille sits below (EVs don't have engines that need cooling from a traditional grille opening). 
The difference is that when Chevrolet formed the EV into the EUV, it made the EUV a bit boxier. The Bolt EV is a rounded-off transportation pod, while the EUV's front end is more vertical and the hood meets the roof pillar at a sharper angle. Also, the EUV's windowline recalls the performance-tinged Chevy Blazer mid-size crossover. And while the EV and EUV are the same width and height, at 169.5 inches, the EUV is 6.3 inches longer than the EV. Overall, the Bolt EUV doesn't look much like an SUV, but it's crisply contemporary and sporty-looking.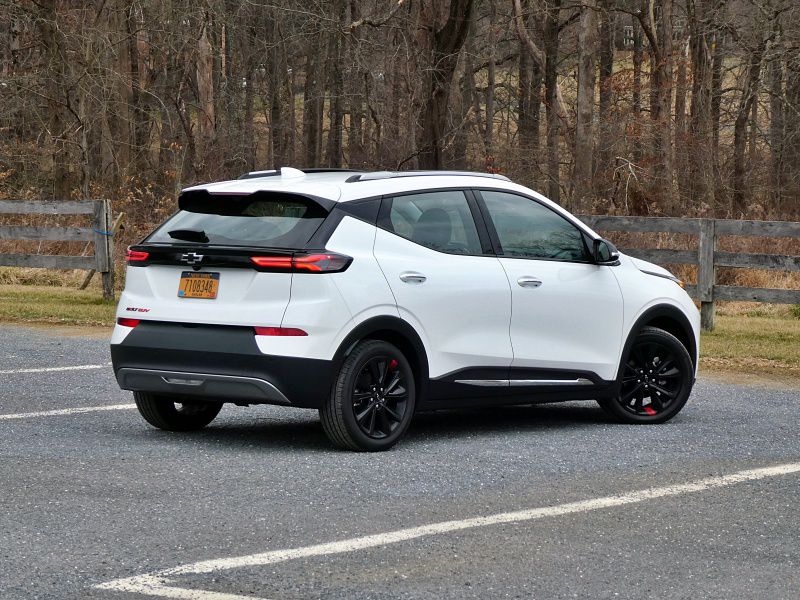 Photo by Brady Holt
Easy-to-Use Controls
Many electric vehicles are aggressively high-tech, screaming "I'm a car of the future" at every turn. The 2023 Chevrolet Bolt EUV has clear nods to technology, coming standard with a generously sized 10.2-inch touchscreen infotainment system and an 8-inch digital gauge cluster. Splashy graphics and many EV-focused displays are well-suited to electric-car enthusiasts. 
But if you're just looking for economical transportation, the Bolt EUV is mercifully undaunting. Easy-to-use buttons and knobs abound, and the touchscreen itself is easy to use as well. And wireless Android Auto and Apple CarPlay integration and wireless smartphone charging come standard, so you can charge your phone while using its apps like Google Maps navigation through the car screen. Interior materials are budget-grade, even on our top Premier test vehicle, but they're in line with what you'd find in a typical gas-powered subcompact crossover.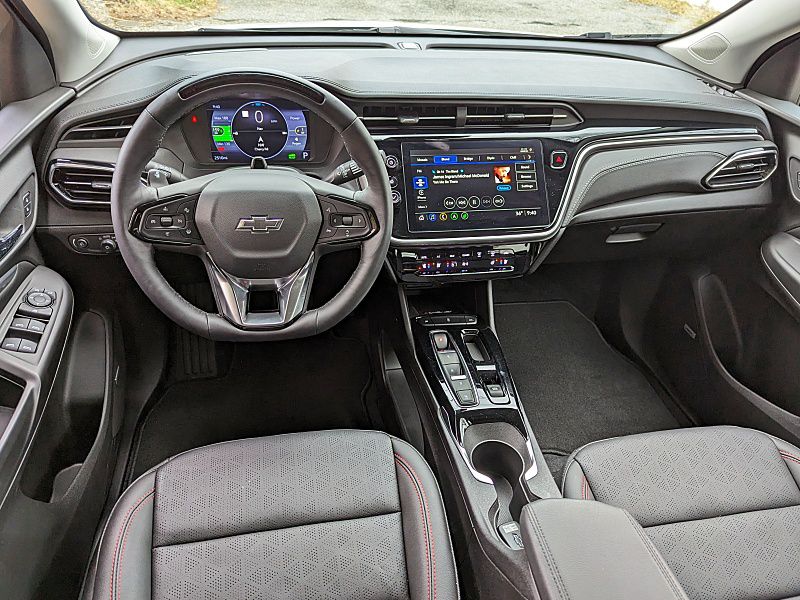 Photo by Brady Holt
Roomy Interior
Even the Bolt EV has the cargo space of an SUV, and you naturally get the same experience in the larger Bolt EUV. While 16.3 cubic feet isn't a ton behind the rear seat — about the same volume as a family sedan's trunk — there's a respectable 56.9 cubic feet once you fold the rear seat down. Oddly, the smaller EV holds a few cubic inches more than the EUV.
The EUV's measurable advantage is in the backseat, where legroom grows by 3 inches. Even the Bolt EV can squeeze adults into the high-mounted backseats, but the EUV lets them stretch out a bit. It's also great news for bulky rear-facing car seats. The front seats are narrow but otherwise roomy, too, and you sit up high enough for a good forward view. Still, we're surprised there wasn't a bigger utility difference between the EUV and its smaller sibling. In addition to near-identical cargo capacities, the two little electric Chevrolets have near-identical hatchback-height ground clearances (5.4 inches versus 5.6 inches), and neither offers all-wheel drive.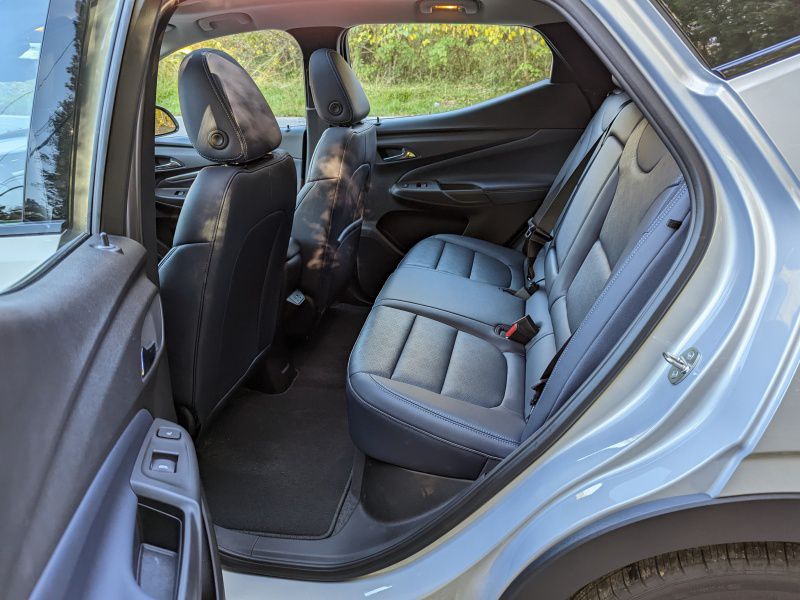 Photo by Brady Holt
Easy to Drive
The other obvious difference between the Bolt EV and Bolt EUV is how they drive. The EV is a firm-riding car that can feel stiff over bumpy roads but handles with cheerful responsiveness. It's fun to squirt the EV through crowded streets or around a tight curve. By contrast, the EUV has a softer ride but less zest to its steering and handling. It's easy to drive more than fun to drive, at least in terms of handling. 
You do get some grins in a straight line. The EV and EUV use the same electric motor making 200 horsepower and 266 lb-ft of torque. That's a lot for a subcompact vehicle, and Chevy estimates that the EUV will reach 60 mph in just 7 seconds. What's more, you never hear the strain of an engine, no matter how hard it's working. Electric motors make peak torque right off the line, provide lots of it, and make little noise even under full throttle. This isn't a rocketship like some EVs, but the Bolt EUV has lots of drama-free pep for an affordable subcompact crossover.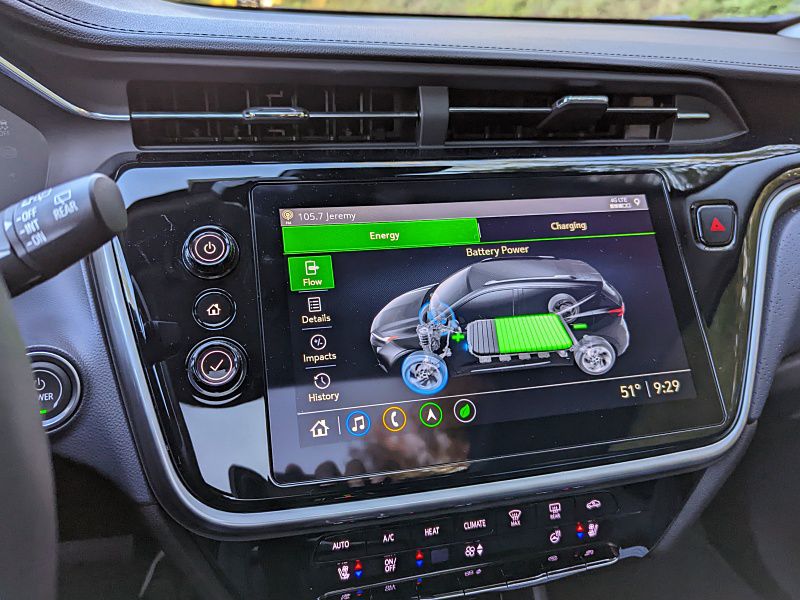 Photo by Brady Holt
Or It Can Drive Itself
A Bolt EUV may be easy to drive, but it's even easier to let it drive itself. Enter Super Cruise. This system — a $2,200 option on the Premier trim level — promises to take control of the accelerator, brakes, and steering on more than 200,000 miles of pre-mapped controlled-access highways. The system watches you to make sure you're alert enough to take control in an emergency or if the car comes upon a situation it can't handle alone (like faded lane markings), but you can otherwise sit back and let your Bolt EUV handle the long drive. 
Unlike pricier General Motors vehicles with Super Cruise, the Bolt EUV can't automatically change lanes to pass slower traffic, but these vehicles cost more than twice as much. And while Tesla's electric cars have the more famous semi-autonomous suites (Autopilot and Full Self-Driving), only GM explicitly encourages hands-free driving while Super Cruise is active. The Premier also includes conventional adaptive cruise control at no extra cost, and this system works on any road.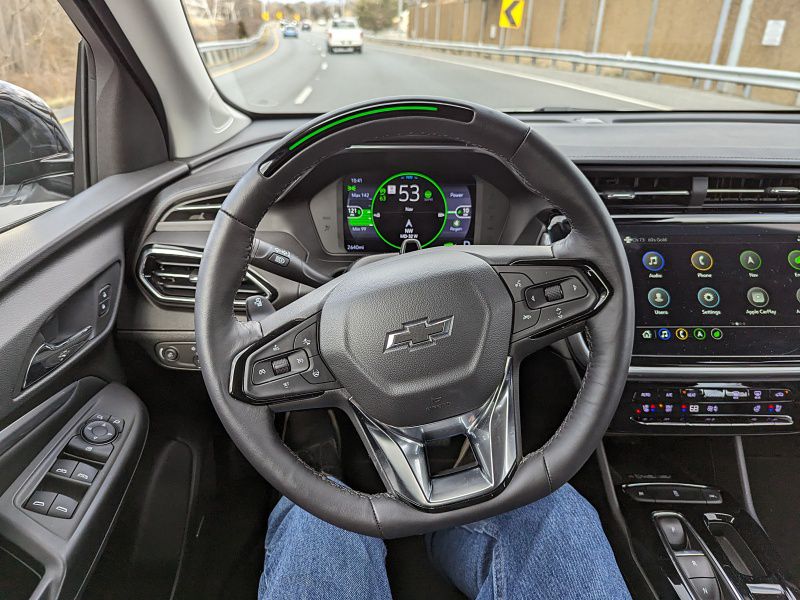 Photo by Brady Holt
Costs Less Than the Competition
The Bolt EUV is a direct rival to the Hyundai Kona Electric and Kia Niro EV. Both are fellow front-wheel-drive-only subcompact crossovers, and they have just a bit more range than the Chevrolet. The smaller Kona is more fun to drive and the Niro has more cargo space, and both have richer interior materials. 
But after this year's price cut, they can't come close to the Chevrolet's value. Its base price of $27,200 undercuts the Hyundai by more than $6,000 and the Kia by more than $12,000. Part of that is additional standard equipment, but even a base Niro costs more than a fully optioned Bolt EUV. For value-priced electrification, the only other option is the Nissan Leaf hatchback, which has a lower seating position and shorter range than the Bolt EUV. Then there's the Bolt EV, which is the only electric car in America with a lower sticker price than the EUV. We also appreciate the EV's longer range, sportier handling, and tighter turning radius versus its EUV sibling. On the other hand, the EUV has a smoother ride, a roomier backseat, and a longer list of available features.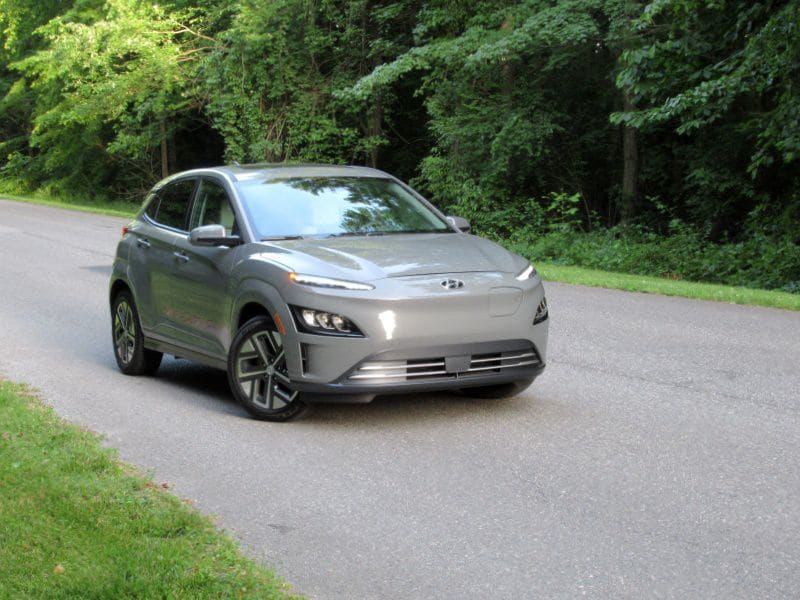 Photo by Brady Holt
Final Thoughts
Electric cars aren't for everyone. If you frequently take super-long road trips or lack a way to charge up at home, EVs' hassle may not be worth their benefits. But with its combination of an extra-affordable price with a usefully roomy interior, the 2023 Chevrolet Bolt EUV cuts into one of the reasons to rule one out. At a modest price premium over a well-equipped gas-powered subcompact crossover, the Bolt EUV provides the equivalent of 115 mpg and 247 miles of range on a charge. 
We wish the Bolt EUV had a bit more cargo room behind the backseat. Optional all-wheel drive would make it more SUV-like. And it's easy to wish for something that feels less basic. But it's hard to argue with the incredible value for the money versus anything but its own Bolt EV sibling. The Bolt EUV won't dazzle you if you're considering a higher-end electric crossover like a Ford Mustang Mach-E, Kia EV6, or Tesla Model Y. But if you're interested in an ultra-economical and decently useful vehicle at a reasonable price, you want to check out this one.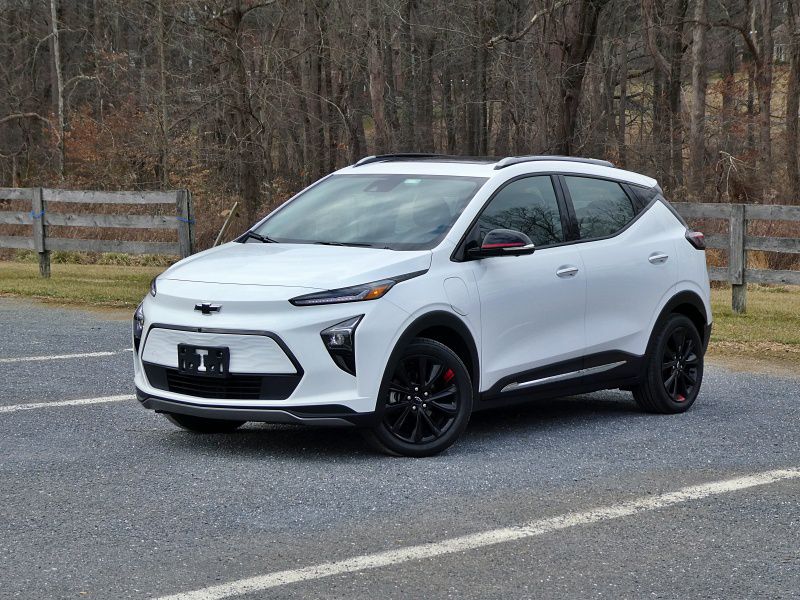 Photo by Brady Holt