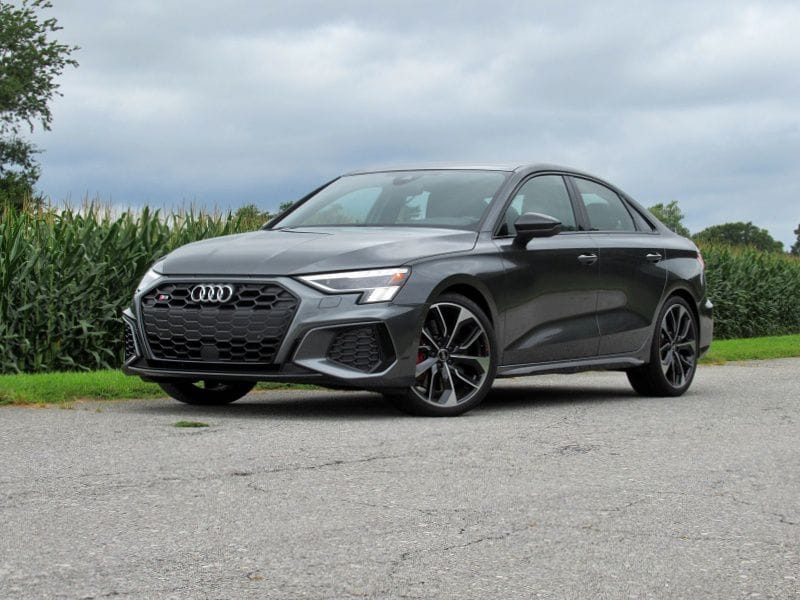 2022 Audi S3 ・ Photo by Brady Holt
Car enthusiasts often lament that the auto market is overloaded with SUVs, big cars, and (depending on which one you ask) electric vehicles. To them, it feels like every new debut focuses on cargo capacity and a gas-free future. What about people who love driving?
The 2023 Audi S3 may not instantly seem like the answer to a prayer. It's a subtly styled four-door sedan, not some exuberant sports coupe or convertible. However, its under-the-radar wrapping conceals a spirited 306-horsepower gasoline engine and delightfully crisp handling. Plus, a usably spacious subcompact sedan can be just the thing for someone who doesn't want an SUV but wants a more practical, less attention-grabbing way to zip around. We spent a week testing the S3, which is currently priced from $46,800. Keep reading to learn more about this little sports sedan's pros and cons, and whether it's the new car that will let you enjoy the classic pursuit of driving pleasure.
Audi Looks, Size Small
Audi first introduced its smallest sedan in 2015 as a luxury version of the Volkswagen Golf hatchback. It fully redesigned the base A3 (most closely linked to the Golf GTI), the mid-tier S3 (sharing its engine with the high-performance Golf R), and the superlatively speedy RS 3 last year. But the modernized styling adorns a familiar-looking body. 
These aren't swoopy-looking little sedans like the rival BMW 2 Series Gran Coupe or Mercedes-Benz CLA. The Audis are upright vehicles in the classic "three-box" form of a clearly defined hood, cabin area, and trunk. It's as if Audi took the compact-grade A4 and stripped it down to a minimal size. The latest generation does have bigger, more aggressive headlights and some additional creases on its body, but the overall look is still subtle. You'll also have to look closely to distinguish an S3 from an A3; there are bigger openings on the front and rear bumpers, along with four exhaust tips. But particularly in our test vehicle's quiet Steel Gray paint, it doesn't scream "I go fast."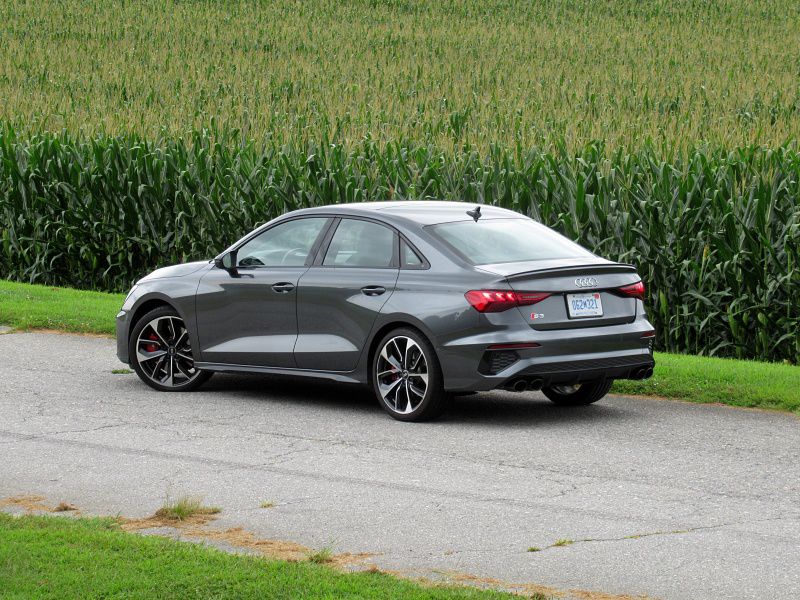 Photo by Brady Holt
Audi Interior, Entry Grade
Audi has a long history of delivering top-quality interiors, and in recent years, it has also focused heavily on high-tech cabins as well. We'd hoped the little S3 would live up to the brand's usual standards, but you'll want to keep your expectations in check. 
The S3 does include some classic Audi touches. You'll find perfectly precise buttons and knobs. The 10.1-inch infotainment touchscreen has attractive graphics and works well. And the slick "Virtual Cockpit," which helped pioneer the now-ubiquitous digital gauge cluster, remains among the best in the business. However, some of the interior trim would have felt cheap even at the base A3's starting price of $35,400 — to say nothing of our heavily optioned $57,400 S3 test vehicle. Here's the good news: While we wish the lower climate-control switches were lit at night, the S3's controls are blessedly simple compared with the touch-sensitive switches that plague the latest VW Golf GTI and Golf R. If you love how these cars drive, that might be reason enough to pay a premium for the Audi.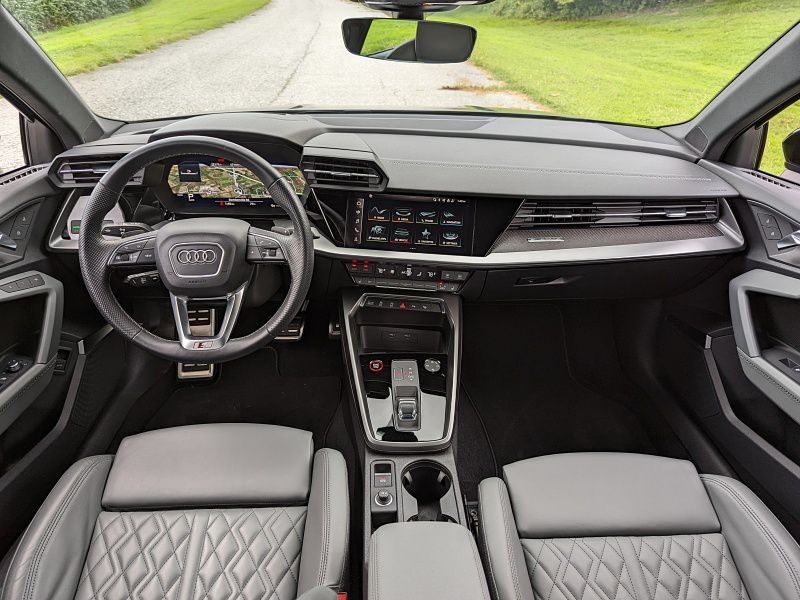 Photo by Brady Holt
Big Engine in a Small Car
And we do love how these cars drive. In today's horsepower wars, the S3's 306-hp 2.0-liter turbo four isn't going to make headline news. But few participants in that battle weigh 3,500 pounds — 300 lbs less than the next-size-up Audi S4.
Combine the S3's output with the traction of its Quattro all-wheel-drive system and its quick-shifting seven-speed dual-clutch automatic transmission, and the little Audi rips to 60 mph in just 4.5 seconds. It's gleeful while it does so, too. Some modern sports sedans deliver their speed coldly and clinically. The S3 sings to you as it surges you forward. And it's just as easy to drive this sedan smoothly at low speeds as it is to open it up. If you need more speed, the RS 3 jams a 401-hp five-cylinder turbo under the little hood for a Porsche-rivaling sprint of 3.6 seconds to 60 mph. But if its $60,900 price tag is just too dear, the standard A3 isn't even a slug either. This 201-hp sedan can still zip to 60 mph in 6.6 seconds with front-wheel drive and 6.3 seconds with all-wheel drive, which is standard on the S3 and RS3.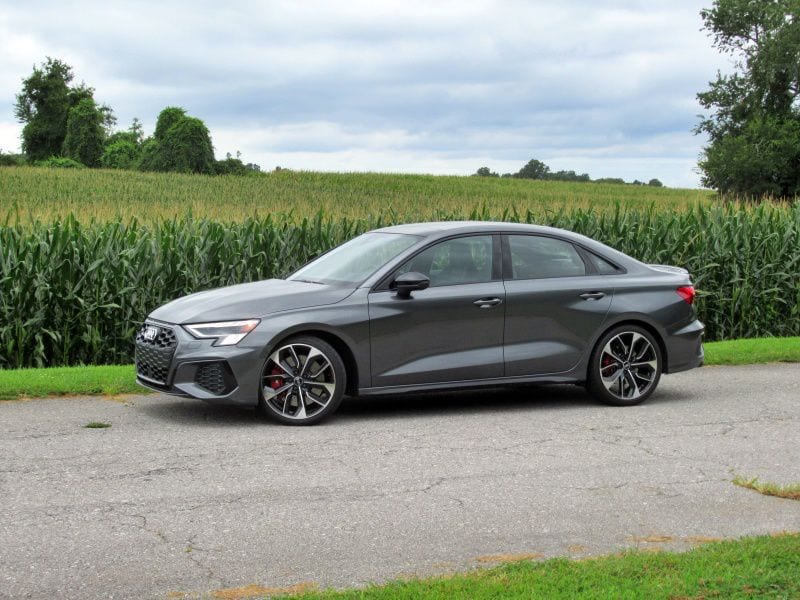 Photo by Brady Holt
Small-Car Handling
Any size of car or SUV can go fast if you put a big enough engine into it. What makes the S3 even more special is its handling. This is a small sedan with a low center of gravity. Engineering wizardry can try to replicate these qualities, but the S3 comes with them straight from the start. 
This is a taut, responsive, and overall delightful little car to drive. Particularly with its sport-tuned suspension, it's a spirited rejection of the bloat and isolation that overtook many once-heralded driving machines. If you think modern luxury sedans are a snooze, get behind the wheel of an S3. You can also tailor its powertrain, steering, and suspension via selectable driving modes, and even mix and match settings for an Individual mode. The S3 comes standard with 18-inch wheels, and our test vehicle wore 19-inchers that occasionally slammed over bigger bumps. However, during most of our week with the car, we found it pleasantly taut rather than stiff. We weren't tempted to put the car into its "comfort" mode.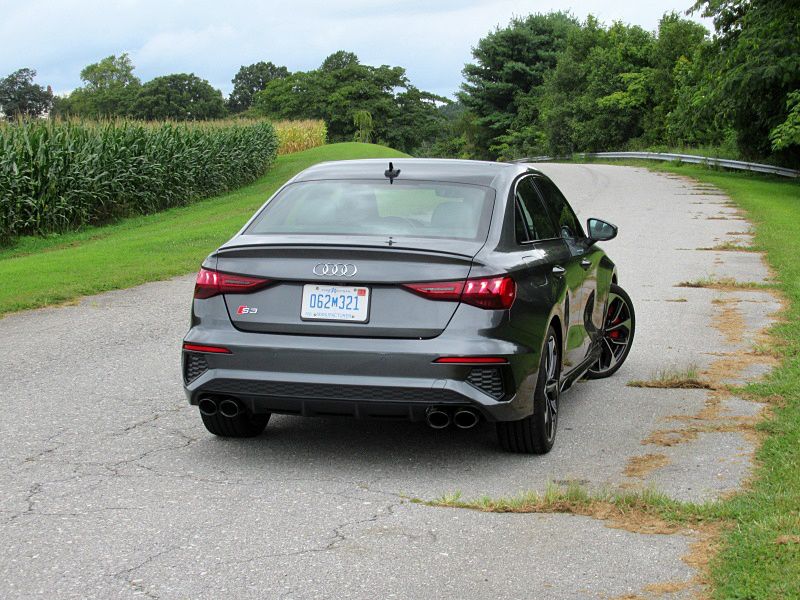 Photo by Brady Holt
Small-Car Fuel Economy
Gasoline engines aren't in vogue right now, but they've gotten remarkably efficient. The S3 isn't exactly a Prius with its EPA-estimated 23 mpg in the city, 32 mpg on the highway, and 26 mpg combined (on premium fuel). But that's still impressive for an AWD car that hits 60 mph in just 4.5 seconds. The A3 averages 32 mpg with front-wheel drive and 30 mpg with AWD in mixed driving, while the RS 3 averages 23 mpg. 
Our S3 test vehicle blew its EPA estimates out of the water. We averaged 32 mpg during a weeklong test, and the trip computer registered around 40 mpg while cruising on the open highway. A decade ago, economy cars with less than half the S3's horsepower were struggling to hit that magic number. Your mileage may vary, especially if you have a permanent lead foot. But if you point your S3 onto an open freeway and cede control to the adaptive cruise control, expect it to keep your fuel bill light.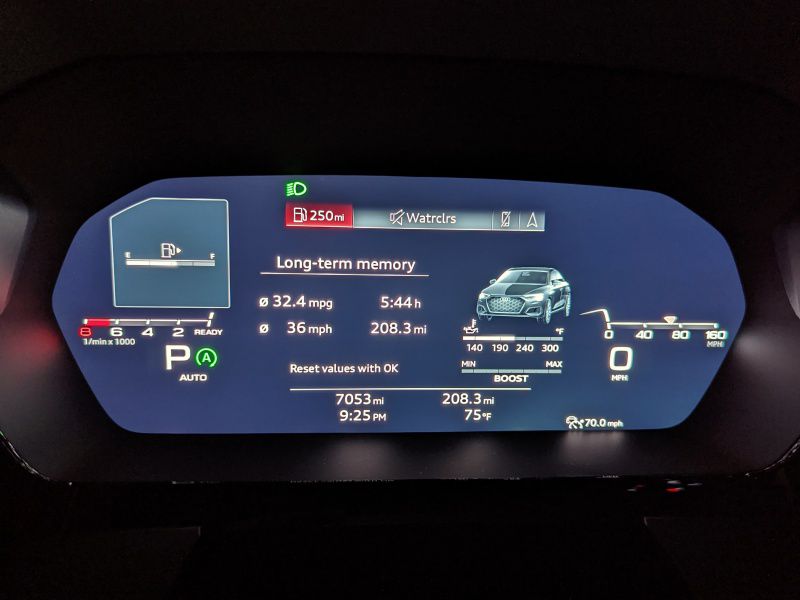 Photo by Brady Holt
Decently Roomy Interior
We mentioned that the S3 is a more upright sedan than some of its rivals. That makes it a more practical sedan that can fit four adults without too much pinching. 
In the front, you don't have enough elbow room for the driver and front passenger to share the center armrest. But each individual seat is comfortable and supportive. And while rear legroom is tight on paper, we didn't find a significant real-world downside versus the larger Audi A4/S4 sedan. Like performance Golf models, this is a sporty vehicle that can function easily in daily use, even if it's no limousine. You don't have the cargo space and flexibility of a Golf hatchback, and the S3's 8-cubic-foot trunk is among the smallest of any sedan. But once again, the numbers belie a functional reality; this is a well-shaped boxy trunk. And you can fold down the rear seat in a handy 40-20-40 split to help fit longer items.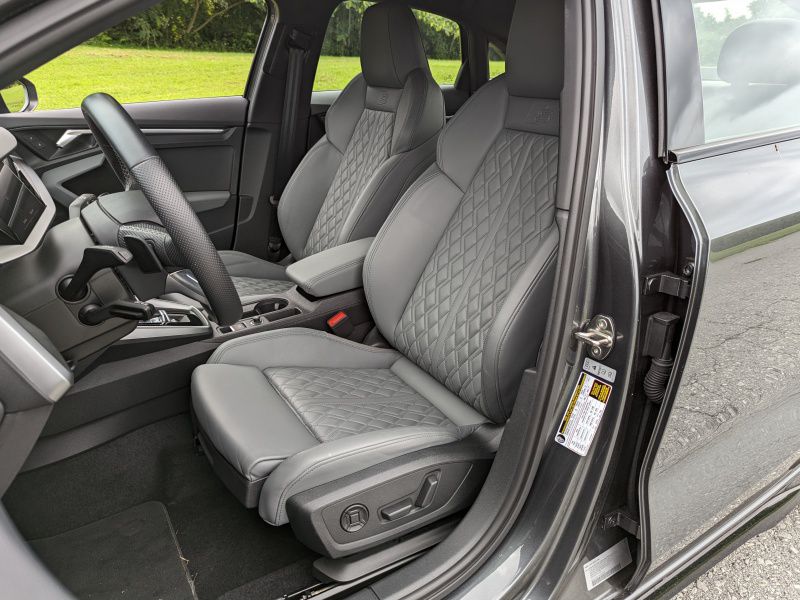 Photo by Brady Holt
Pricing and Features
At a starting price of $46,800, the S3 costs about $9,000 more than the equivalent A3. It also has roughly the same starting price as the Volkswagen Golf R, though that's because you can only get the VW in a fully optioned form that's most equivalent to an S3 costing about $52,000. 
We appreciate how Audi lets you tailor the S3 to your own tastes: You can pack this little car with luxury add-ons like Nappa leather upholstery, a 15-speaker Bang & Olufsen stereo, and a self-parking system, or you can stick closer to the starting price for a better performance bargain. Even a base S3 is hardly spartan, to be clear; standard equipment includes genuine leather upholstery, heated front seats, tri-zone automatic climate control, rain-sensing windshield wipers, and a panoramic sunroof.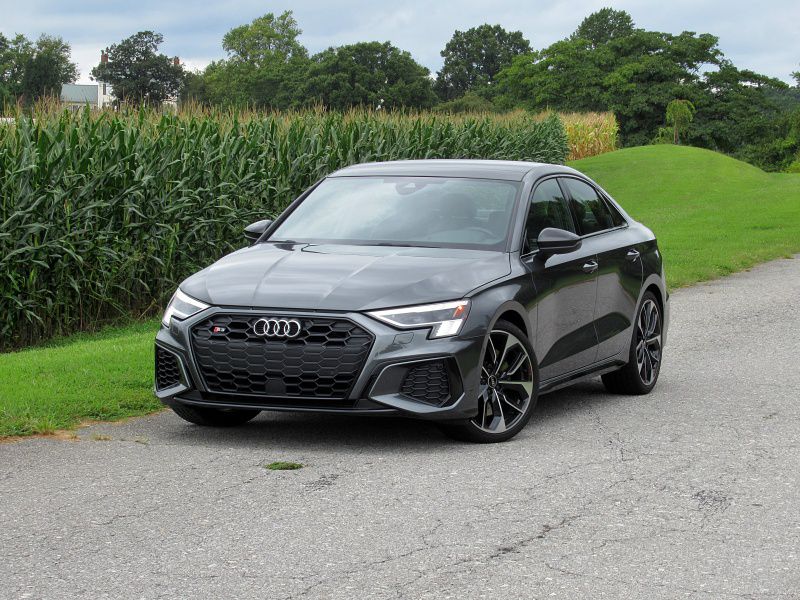 Photo by Brady Holt
Competitors to Consider
The S3's top rivals are the BMW M235i Gran Coupe, the Cadillac CT4-V, and the Mercedes-Benz CLA35 AMG. All of these are small luxury sedans that start in the upper $40,000s with horsepower ratings in the low 300s. Among this group, the Audi and the Cadillac are most closely matched for their superlative driving pleasure, austere cabins, and least-wild styling. We found the S3 to ride and handle with slicker sophistication than the fun and capable CT4 and its in-cabin electronics were more luxury-grade (though the Cadillac's price rises less as you add options). The Audi is also the only sedan in this trio with an adult-friendly backseat. 
We'd also shop the S3 against the larger, pricier Audi S4 and S5 if your budget allows. While they don't really improve further on the S3's already excellent driving experience, they perform to a similar standard while delivering a much richer interior.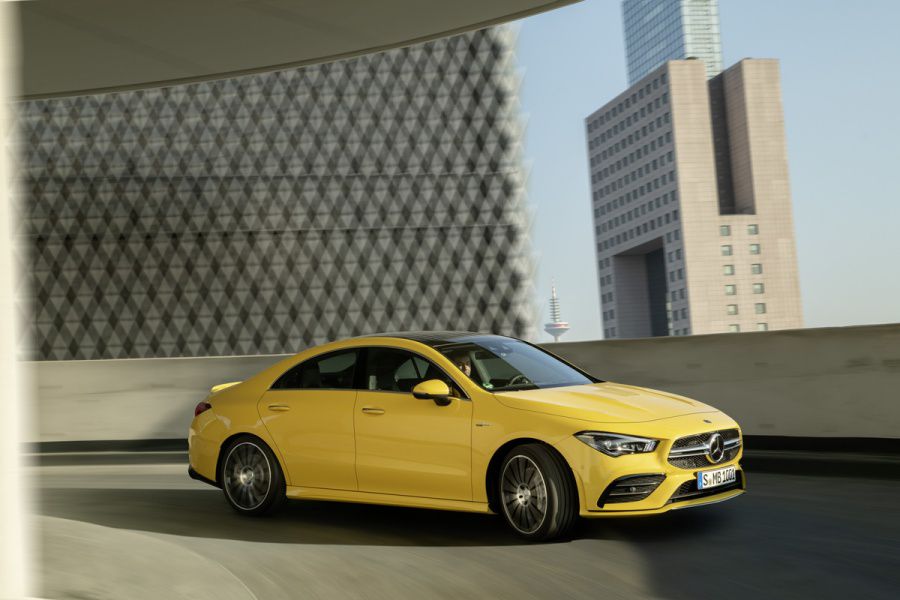 Photo by Mercedes-AMG
Bigger Doesn't Have to Be Better
In a bigger-is-better world, the 2023 Audi S3 speaks to the benefits of sticking small. It's fast and agile, yet there's nothing crude in its driving experience. It's even roomy enough to tempt some folks out of larger sports sedans, at least if they're not counting on a big trunk. 
Downscale interior details count against the S3. Even when you spend luxury-car money on a fully optioned model, Audi saves the best for its bigger cars. But if those details don't bother you, you're in for a treat when you put down your foot and drive. Don't say there are no great sports sedans anymore if you haven't sampled an Audi S3.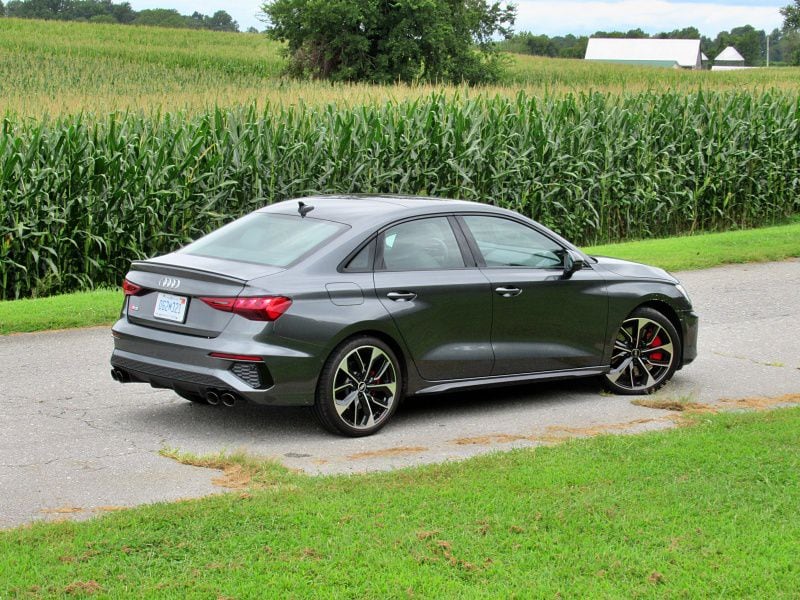 Photo by Brady Holt