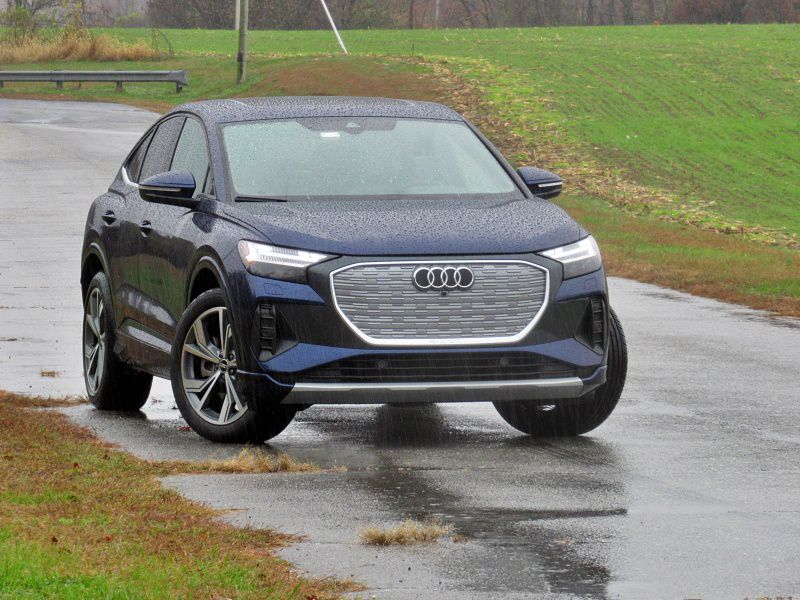 2022 Audi Q4 e-tron Sportback ・ Photo by Brady Holt
Audi was one of the first established luxury marques to offer a full-fledged Tesla rival. That was the 2019 Audi e-tron, a fully electric high-end mid-size SUV. Rather than looking like a spaceship, the e-tron provided genteel, composed luxury in a familiar-looking Audi wrapper. 
Now, the carmaker has brought this same formula to a smaller, more affordable size class. The 2023 Audi Q4 e-tron is a compact electric crossover that starts at $48,800 — more than $20,000 less than the larger e-tron. (To help with the naming confusion, Audi is renaming the larger EV as the Q8 e-tron next year.) The Q4 is aggressively priced in the luxury EV space, making it a classy rival to not only fellow luxury-branded electric crossovers, but even to well-equipped mainstream models from Ford, Hyundai, Kia, and its corporate cousin Volkswagen. We spent a week in this electric SUV to get a full sense of its pros and cons. Keep reading to learn what we found and whether the Q4 e-tron is the right luxury SUV for you.
A Normal-Looking Audi
The Q4 e-tron is a mechanical twin to the Volkswagen ID.4, but you'd never guess from looking at it. The rounded-off VW looks longer and lower than the more angular Audi, but their dimensions are nearly identical. 
The Q4 has a couple of EV-specific design elements: a stubby hood that doesn't need to make room for an engine and a solid front grille that doesn't need to allow airflow. But the overall design fits right into the Audi lineup. Unlike a Tesla, Audi chose to keep a big upright grille on the Q4, even if it's purely for decoration. And its clean, crisp details reflect the brand's consistent design language. Like the bigger e-tron, the Q4 is available in a choice of body styles: an SUV and a sportier-looking Sportback like our test vehicle. The Sportback's roof dips down toward the rear to mimic a high hatchback more than a blocky SUV. Normally that's just for style, but in the Q4 e-tron, the Sportback's smoother aerodynamics also give it an extra six miles of range per charge.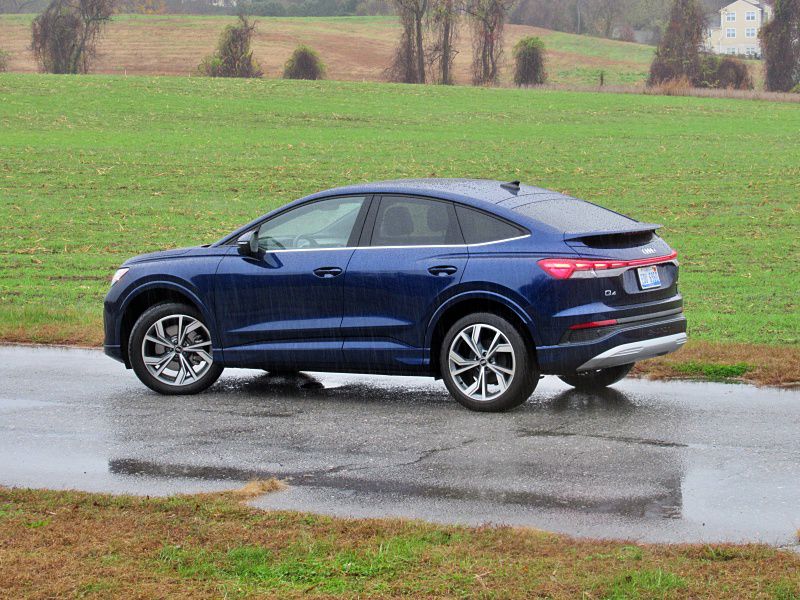 Photo by Brady Holt
Normal Driving Manners, Too
Tesla's electric cars are famous for neck-snapping acceleration and the option for "one-pedal driving," meaning that lifting your foot off the accelerator slows the car dramatically without needing the brakes. 
The Q4 e-tron drives more like a normal Audi. The suspension is firm but composed, with a comfortable ride and planted handling. It's easy to hustle the Audi around a curve, but it's not boisterously sporty. And while acceleration is strong, effortless, and nearly silent, it's not going to set any speed records in a world of lightning-quick EVs. Base rear-wheel-drive Q4s with 201 horsepower reach 60 mph in an estimated 7.9 seconds, while the all-wheel-drive models (featuring a second electric motor) have 295 hp and reach 60 mph in 5.8 seconds. Rival SUVs from Tesla, Ford, and even Kia can crack 4 seconds. The Q4 e-tron isn't built for novelty or wild speed, but for the steady, quiet driving manners you'd expect from any luxury suv.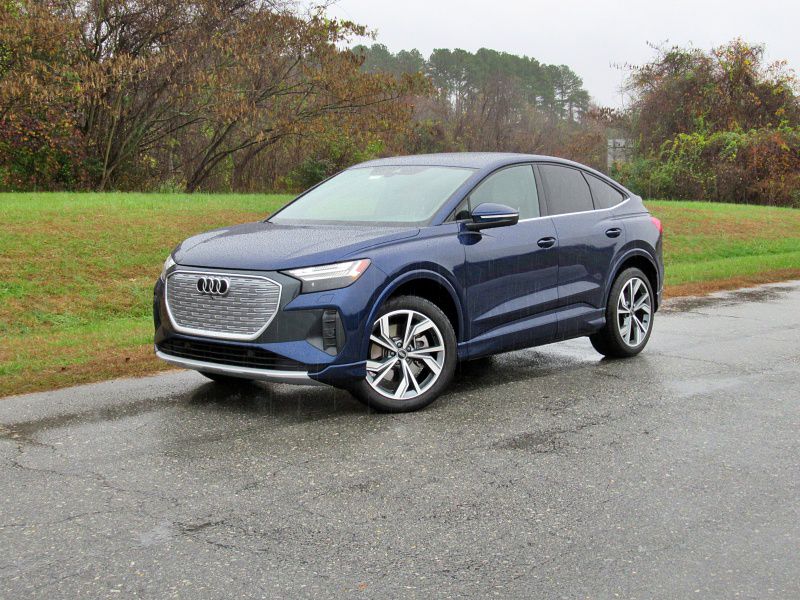 Photo by Brady Holt
But No Gasoline
We've emphasized the Q4 e-tron's normalcy, but a normal car burns gasoline to get around. The Q4 uses only electricity, which makes it phenomenally efficient and affordable to operate. 
In EPA testing, the Q4 e-tron gets the equivalent of 103 miles per gallon and can travel 265 miles per charge in its base rear-wheel-drive form (new this year and sold only in the SUV body style). With all-wheel drive, the e-tron SUV dips to 236 miles per charge at 93 MPGe. The Sportback is sold only with AWD but uses its more aerodynamic body to achieve 95 MPGe and a 242-mile range. In our test vehicle, we were on track to reach 252 miles. That's well below the 330-mile range of the Tesla Model Y, and a few other rivals also do a bit better, but it's within the class norm and it's fine for all but long road trips.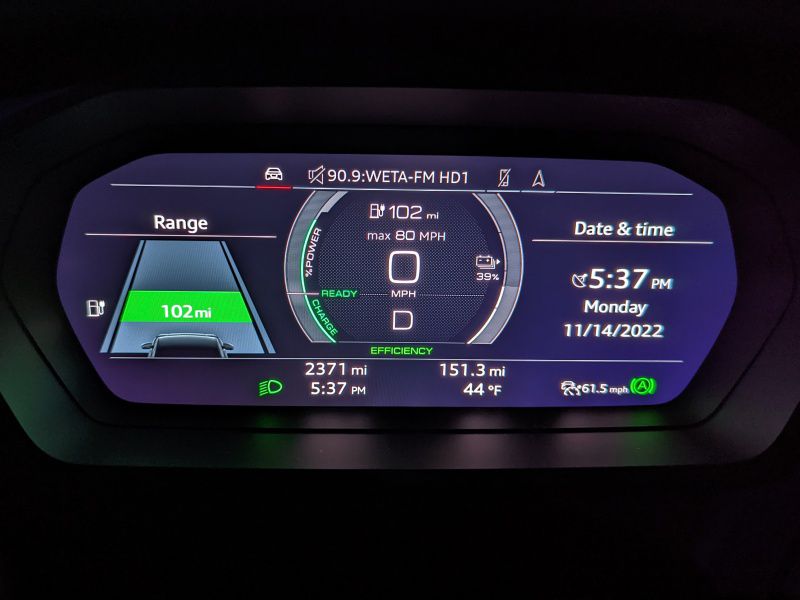 Photo by Brady Holt
Above-Average Interior
Many EVs have wacky interiors with futuristic styling and wonky ergonomics. The Q4 e-tron is nearly identical to other recent Audis like the A3, with minimal influence from the VW ID.4. 
An 11.6-inch infotainment touchscreen sits near the center of the dashboard, angled toward the driver. It's easy to use but doesn't set out to dazzle, the opposite of a Tesla. Physical climate controls sit below the screen, and a circle of physical audio controls sits next to the shifter on the center console. They're not perfect, and neither are the touch-sensitive steering wheel controls, but they're simpler than what you'll find in many EVs. Similarly, while we'd wish a few plastics were higher quality, the Q4's cabin is also more posh than most electric cars. Like other Audis, the buttons and knobs move with uncommon precision. We also love the brand's Virtual Cockpit digital gauge cluster, which is crisper and more configurable than rivals'.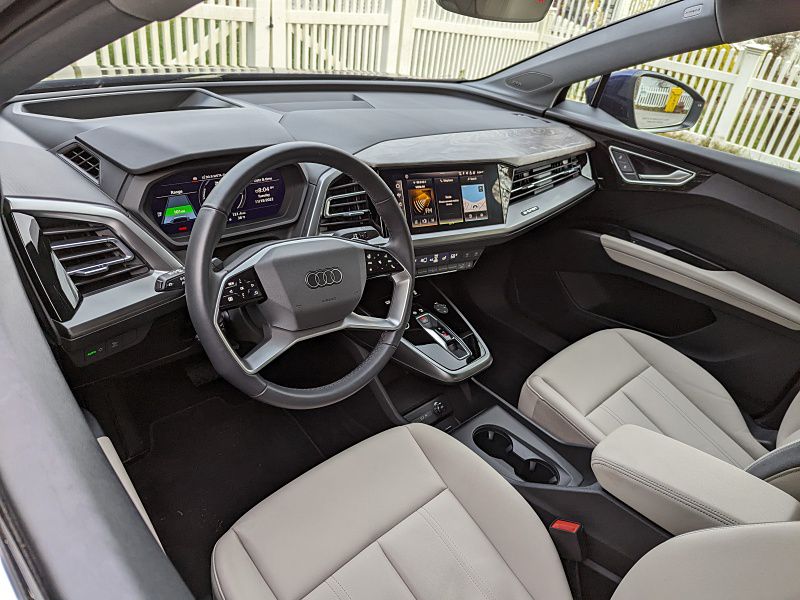 Photo by Brady Holt
Unexpected Interior Space
As a small and economy-focused SUV, we expected the Q4 e-tron to have a small interior. Instead, the well-shaped front seats and generous rear legroom were a pleasant surprise. Drivers will also appreciate the rear windshield wiper in the Q4 e-tron SUV, a visibility bonus that many electric cars (including the Q4's Sportback body style) sacrifice to smooth out their aerodynamics. We'll take the better rear view over an extra smidge of range. 
Cargo space is class-competitive, too: 25 cubic feet behind the rear seat and 53 cubic feet with the rear seat folded. (Curiously, the sportier-looking Sportback actually picks up an extra cubic foot of space by both metrics.) The rear seat folds in a handy 40-20-40 split to maximize flexibility between passengers and cargo. And unlike many EVs, the Q4 e-tron can tow a 2,600-pound trailer. There's no front trunk, though, under the stubby little hood. Overall, this is a luxury electric SUV that can also be a useful family car.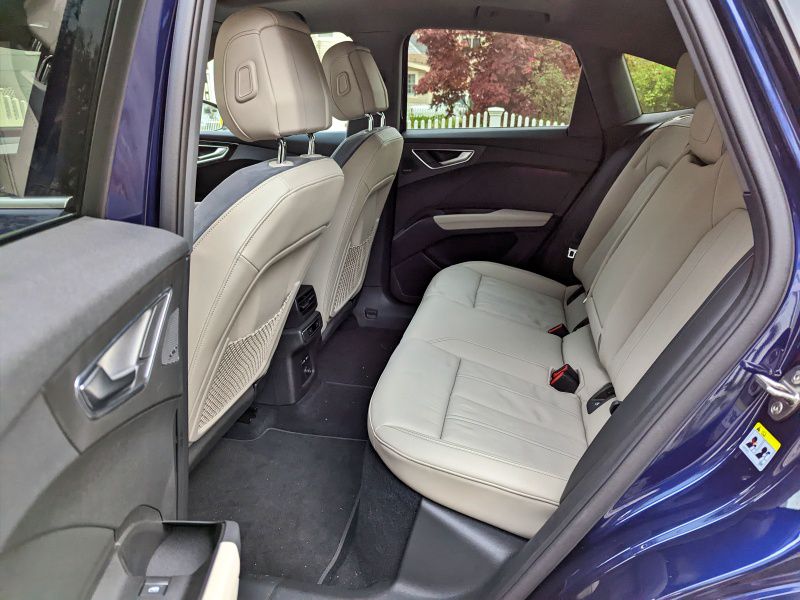 Photo by Brady Holt
Top Safety Pick+
The Q4 e-tron continues its family-friendly qualities by earning the highest possible score of Top Safety Pick+ from the Insurance Institute for Highway Safety. That reflects its excellent performance in crash testing and collision avoidance metrics. 
Standard safety features on the Q4 e-tron include forward automatic braking, a lane-departure warning, blind-spot monitoring with a rear cross-traffic alert, and front and rear parking sensors. However, you pay extra for advanced driver aids like lane-keeping steering assistance and adaptive cruise control. In addition to its speed and style, semi-autonomous technologies are another part of a Tesla's gee-whiz appeal. They're also standard on a growing number of cars as humble as a Toyota Corolla. However, this stinginess is typical across the Audi lineup. We were also surprised at the absence of a surround-view parking camera.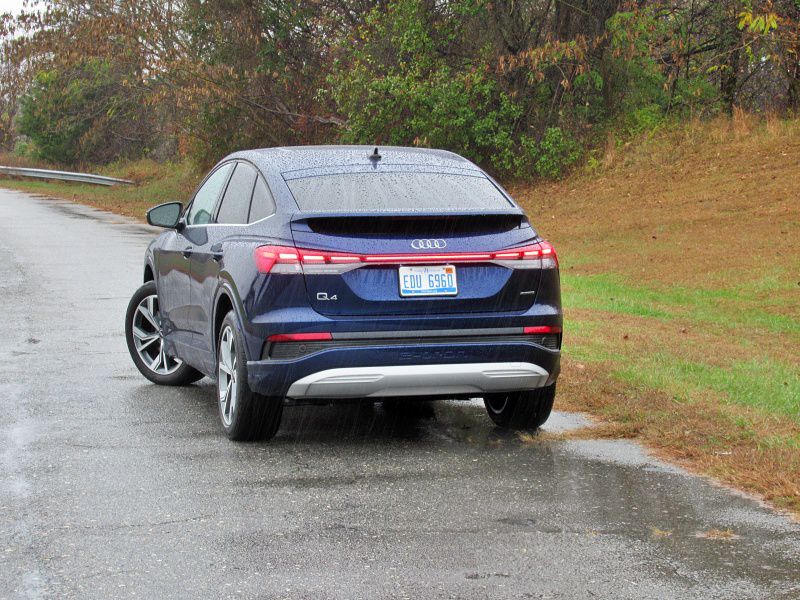 Photo by Brady Holt
Three Trim Levels, Two Powertrains, Two Body Styles
The 2023 Audi Q4 e-tron starts at $48,800 in its base form, called Premium. It's nicely equipped with features that include genuine leather upholstery, heated front seats, a panoramic sunroof, a power liftgate, rear climate control, genuine wood trim, and big 19-inch wheels. The next level, Premium Plus, costs $55,400, adding adaptive cruise control, lane-keeping assistance, a Sonos premium sound system, GPS navigation, and a wireless smartphone charger. 
It costs $5,000 to add all-wheel-drive with the second electric motor to either the Prestige or the Premium Plus. It's standard on the top Prestige model, which is $1,500 more than an AWD Premium Plus ($61,900). And the Sportback model, sold only with AWD, costs $3,000 more than equivalent Q4 SUVs.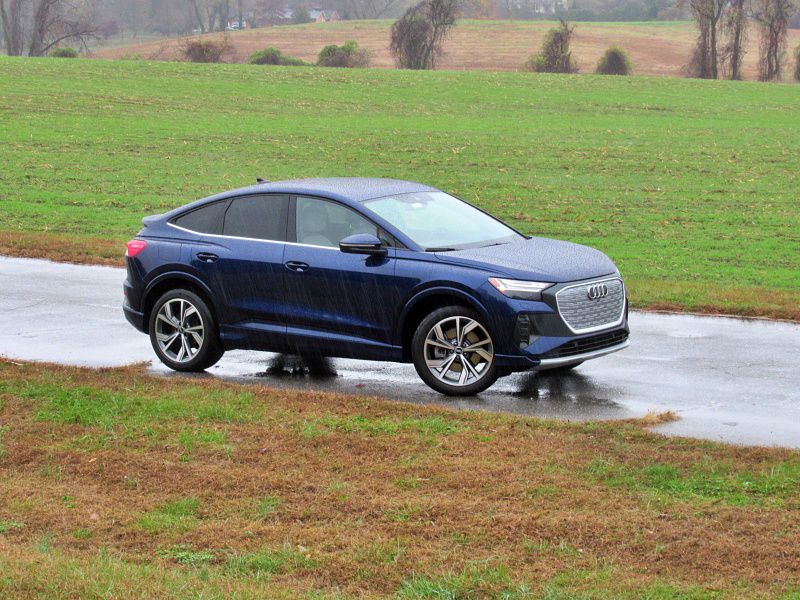 Photo by Brady Holt
A Long List of Competitors
The Tesla Model Y is the best-selling electric vehicle in America, and the Q4 e-tron is one of many competing luxury EV crossovers. The Model Y offers a compelling mix of long range, superb performance, ample interior space, slick technology, and a cutting-edge overall vibe, along with access to Tesla's proprietary network of Supercharger fast-charging stations. But the Audi has a higher-end interior, simpler controls, a smoother ride, and a much lower starting price.
The Q4's other top rivals are the Volvo XC40 Recharge, Mercedes-Benz EQB, and Genesis GV60. The former two are gas-powered vehicles that are retrofitted with electric motors, while the GV60 (like the Q4) is a luxury version of a mainstream-branded EV (in this case, the Hyundai Ioniq 5). The Q4 e-tron has longer ranges and lower starting prices than any of these rivals, but it's not as quick as the Volvo or Genesis. Fully optioned versions of the Ioniq 5, its Kia EV6 sibling, and the Ford Mustang Mach-E offer more performance and range for the money, but the Audi has more luxury-grade style and polish. We'd also happily pick the Q4 over its VW ID.4 sibling, which is less high-end and has lousy controls.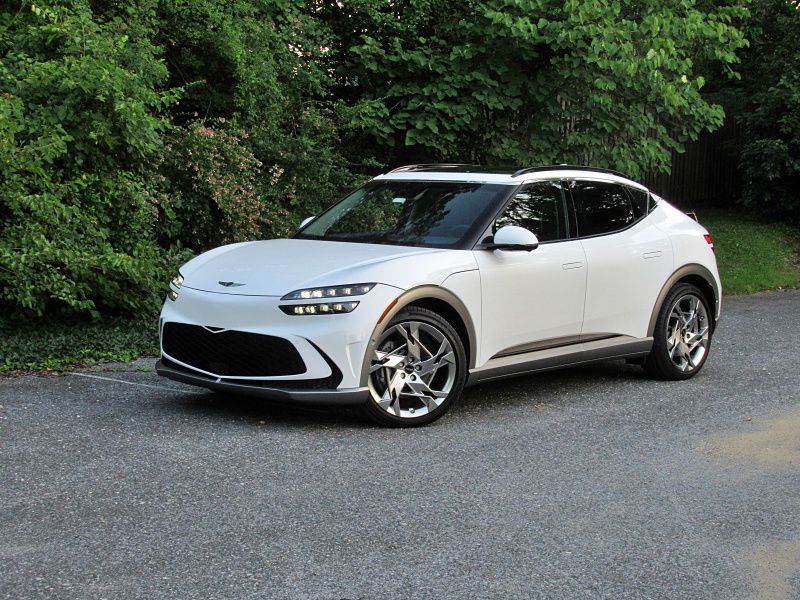 Photo by Brady Holt
A Solid Luxury EV
The 2023 Audi Q4 e-tron is a well-rounded luxury suv. It's quick, quiet, smooth, agile, well-finished, and spacious for a compact crossover. And it has a reasonable starting price below $50,000. 
That's even before we get to the Q4 e-tron's electrification. It's an SUV that gets the equivalent of 103 mpg and that never has tailpipe emissions. An electric car isn't for everyone, especially since the Q4 e-tron lacks the road-trip-friendly Supercharger network of Tesla fast chargers. But for days when you're traveling less than 200 miles at a time, the Q4 e-tron is a low-compromise way to eliminate gasoline from your small luxury SUV.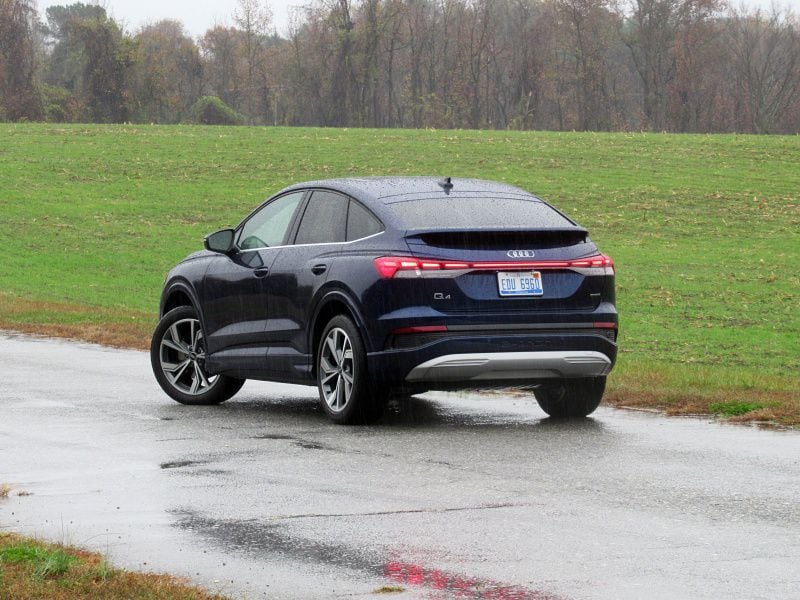 Photo by Brady Holt