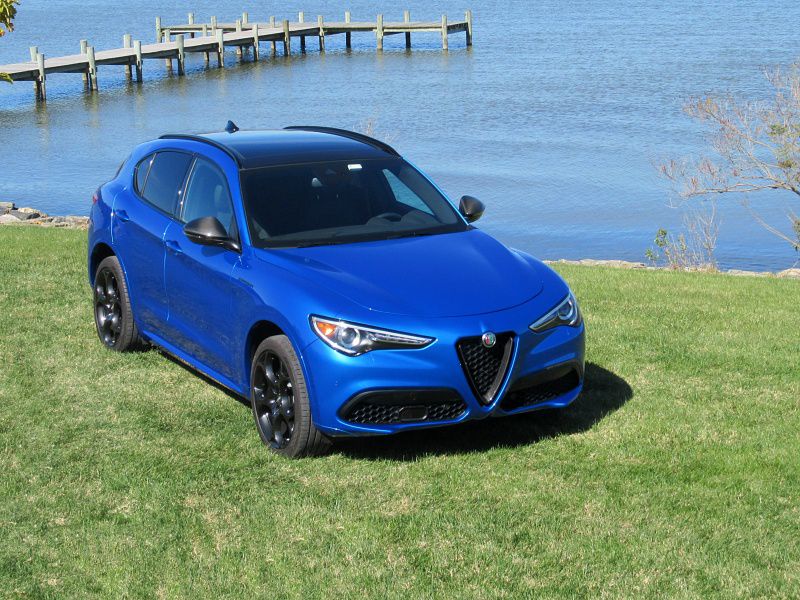 2023 Alfa Romeo Stelvio Estrema ・ Photo by Brady Holt
When many Americans think of Italian cars, we're picturing gorgeous speed demons from the likes of Ferrari, Lamborghini, and Maserati. These are high-priced exotics that are fun to dream about but out of reach even for most luxury-car buyers. 
You might lump Alfa Romeo into that list. It's unquestionably Italian, and you don't see its cars too often. But Alfa, a luxury division of Chrysler owner Stellantis, brings its Italian style and performance to a more affordable price point. Consider the brand's best seller, the 2023 Alfa Romeo Stelvio compact crossover SUV. With a starting price of $46,575, it's in line with popular European rivals like the BMW X3 and Mercedes-Benz GLC. If you hadn't realized you could get a taste of Italy on a German or Japanese budget, keep reading to learn more about the Stelvio's pros and cons. We just spent a week testing this year's new Estrema model to help us show whether Alfa Romeo makes the right compact luxury SUV for you.
Exotic Style
The Alfa Romeo Stelvio will catch people's attention. Whether you're looking at the signature triangle grille on the front or the hunched-forward rear, or just spotting a glimpse of our test vehicle's striking Misano Blue paint, the Stelvio makes an impression. 
The individual details are subtle enough, aside from the grille. But they come together to form an elegant yet muscular vehicle that's neither a bulky SUV nor a mere hatchback. Our favorite piece of the Stelvio is a bulge that emerges from the side windows to rise above the rear fender, then turn the corner into a tightly pinched crease on the tailgate between the rear windshield and the sculpted taillights. And in silhouette, the Stelvio strikes a nice balance between conventionally blocky SUVs like the BMW X3 and "SUV coupes" like the lower-roofed BMW X4. The Stelvio's design has seen minimal changes since its 2018 debut, but because the design is fresh and sales have been modest, this Alfa Romeo still avoids blending in.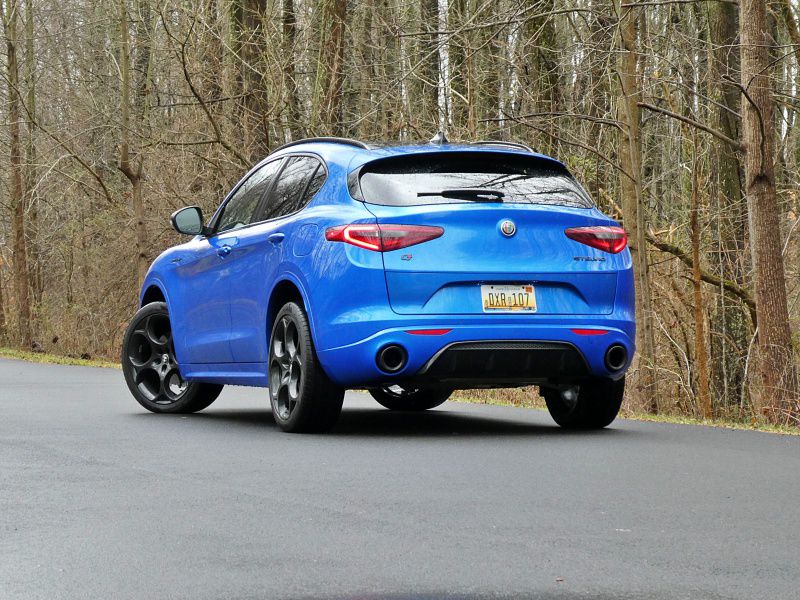 Photo by Brady Holt
Subdued Interior
While Italian cars are known for their exuberant exteriors, their cabins are often more austere and businesslike. Don't look around the cabin, watch the road and drive. The Stelvio follows that philosophy. Its interior isn't cheaply finished, but it doesn't aim for a "wow" factor. A small Italian flag, molded into the center console by the gear selector, adds a touch of Italian flavor. So does the engine-start button mounted on the steering wheel. And the leather dashboard has enough shapes to avoid being too plain. But overall, the Stelvio's interior isn't going to turn heads for the price.
Some old-school purists will appreciate its lack of a technology focus. The 8.8-inch touchscreen is modestly sized and has muted colors. Physical buttons and knobs still control common functions, keeping things simpler. But nobody will appreciate that the screen reacts slowly to inputs, and plenty of folks will wish for slicker graphics and a bigger screen at this price. Stellantis has many in its back pocket, but Alfa Romeo makes do with an old-generation setup. A digital gauge cluster is due next year to provide a bit more flash.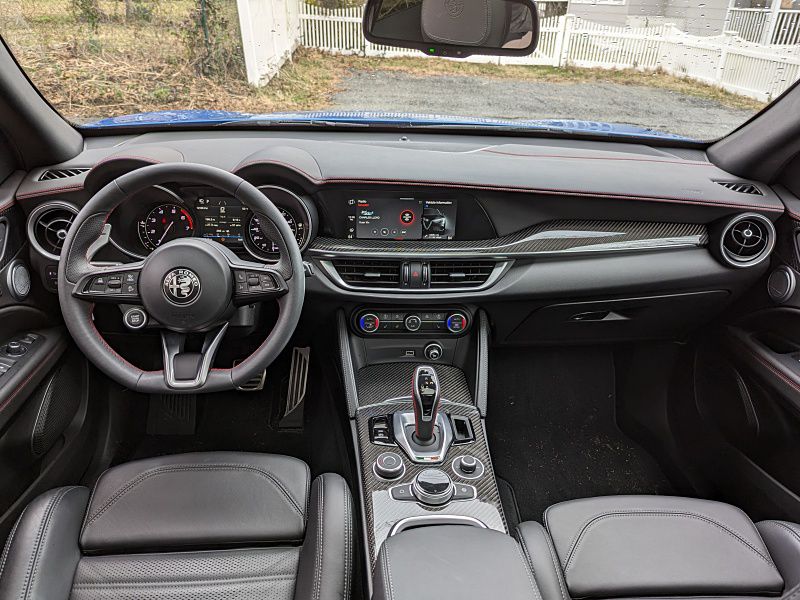 Photo by Brady Holt
Snug But Comfortable
By the numbers, the Stelvio has a cramped interior. To us, though, it felt snug but more comfortable and spacious than its on-paper specifications suggest. 
A highlight is the front seats. Our Estrema test vehicle has nicely bolstered sport seats that hold you in place without being too confining. We also appreciated a higher seating position than some performance-focused SUVs. However, we also fit fine in the backseat; there isn't a lot of extra knee clearance, but the cushion is comfortable and we weren't bumping into the front seatbacks. Similarly, cargo capacity measures a puny 18.5 cubic feet behind the rear seat, but we can't reconcile that with the large, well-shaped cargo hold we found when we opened the back hatch. (We did find the power liftgate to be gratingly slow, though, and it beeps loudly for a few seconds before even getting started.) We have no reason to doubt Alfa's quoted cargo capacity of 56.5 cubic feet with the rear seat folded; that's in line with most competitors and matches our real-world experience.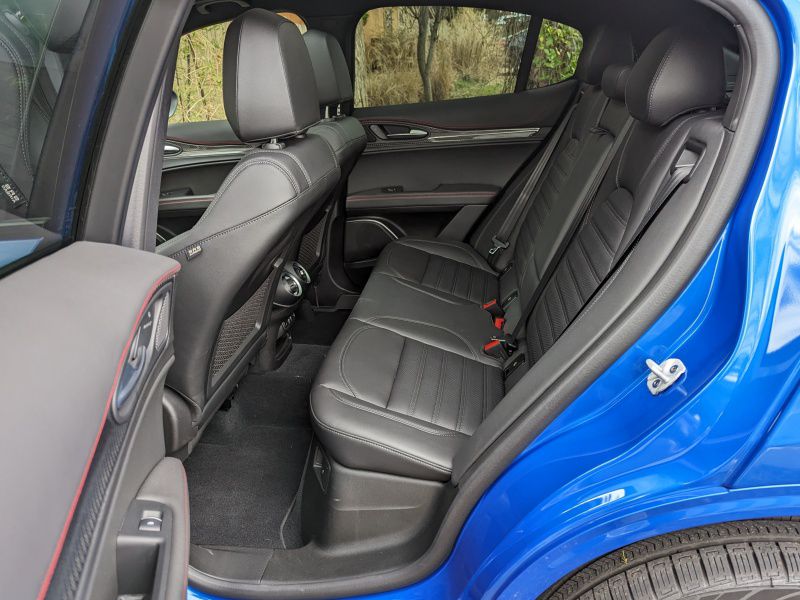 Photo by Brady Holt
Fast and Faster Versions
The Stelvio comes standard with a 2.0-liter turbocharged four-cylinder engine that makes 280 horsepower and 306 lb-ft of torque, both above average for a compact luxury crossover. It accelerates eagerly, especially when you're driving hard; Alfa estimates it will whisk to 60 mph in a lively 5.4 seconds. (Take things slow, though, and you might get occasional stumbles from the eight-speed automatic transmission.) More than mere speed, the Stelvio's base engine distinguishes itself with a hearty growl. That's a clear contrast to the muted hums and whirs you'll hear from most competing four-cylinders. 
Then there's the Quadrifoglio. This top-of-the-line Stelvio swaps out the four-cylinder engine for a Ferrari-derived 2.9-liter V6 turbo. It makes 505 horsepower and 443 lb-ft of torque, and it snatches the Italian SUV to 60 mph in a snarling 3.6 seconds. At $85,675, the Quadrifoglio is nearly twice the price of a base Stelvio, but it's still reasonable for an ultra-high-performance SUV.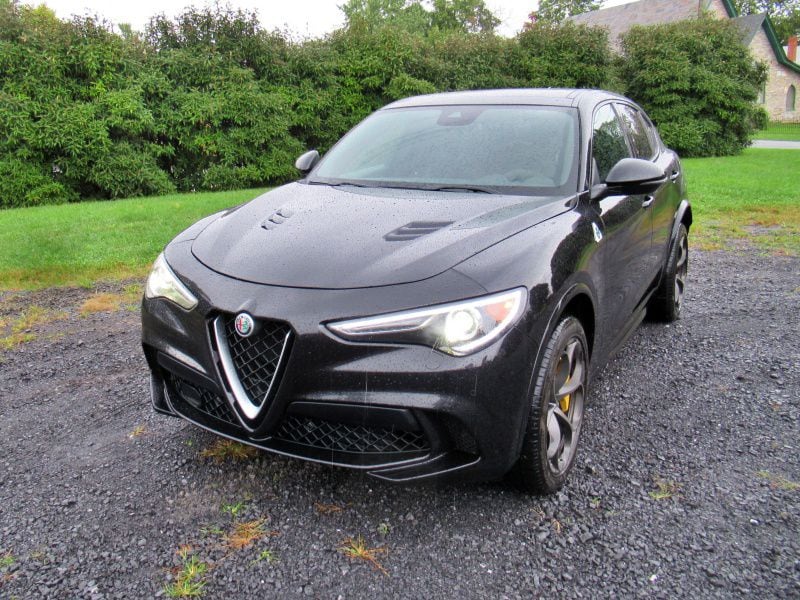 Photo by Brady Holt
Sharp, Sharper, and Sharpest Handling
Many modern performance vehicles have focused on straight-line speed over engaging driving dynamics. The 2023 Alfa Romeo Stelvio has both. Light steering gives an initial impression that this is just an easy rider, but it's also quick and sharp when you pick up speed. And thanks to a well-engineered suspension and near-perfect weight balance, the Stelvio dives around corners like a great sports sedan. Yet all the while, its firm ride remains comfortable if not whisper-quiet. 
New for 2023 is the Estrema model that we tested. It brings an adaptive suspension and limited-slip differential. This isn't the "extreme" performance we'd have expected from the name, but that's in part because even a base Stelvio handles so crisply. And, fortunately, there's no "extreme" discomfort either; an adaptive suspension adjusts automatically to road conditions, which benefits both ride and handling. The Quadrifoglio, as you'd expect, is the most tautly tuned member of the Stelvio family. It's one of the best-handling SUVs in the world. And even a base Stelvio is a runner-up.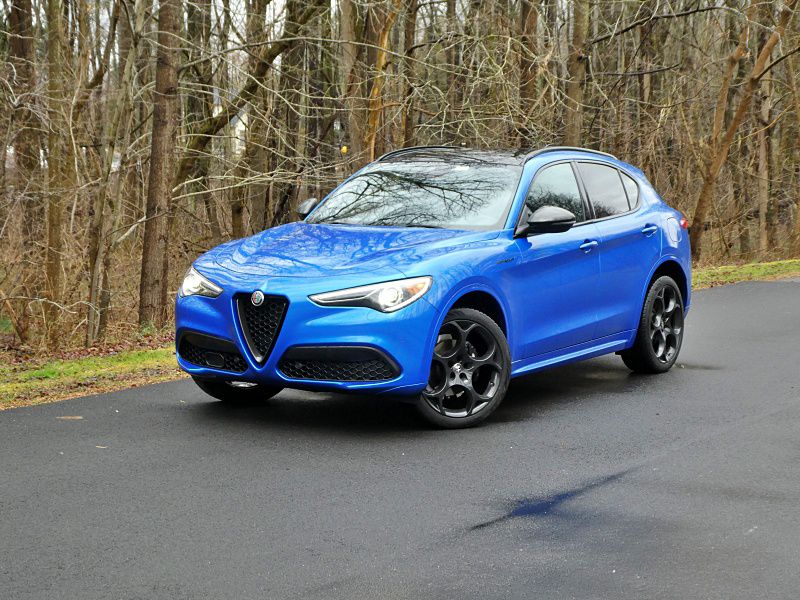 Photo by Brady Holt
Decent Gas Mileage
Despite its speedy acceleration, the Stelvio delivers above-average gas mileage for a compact luxury crossover. The EPA pegs the four-cylinder model at 22 mpg in the city, 29 mpg on the highway, and 25 mpg combined with rear-wheel drive and about 1 mpg less with all-wheel drive. We beat the EPA estimate to average 26 mpg in our AWD test vehicle. 
The Quadrifoglio, sold only with all-wheel drive, manages EPA estimates of 17 mpg city, 23 mpg highway, and 19 mpg combined. That's 2 mpg better than a BMW X4 M or Jaguar F-PACE SVR. Still, in sticking with purely gasoline engines, the Stelvio is falling behind a growing number of speedy all-electric luxury suvs or plug-in hybrids. As we write, Alfa is rolling out its first plug-in hybrid: the Tonale crossover, which is about half a size smaller than the Stelvio.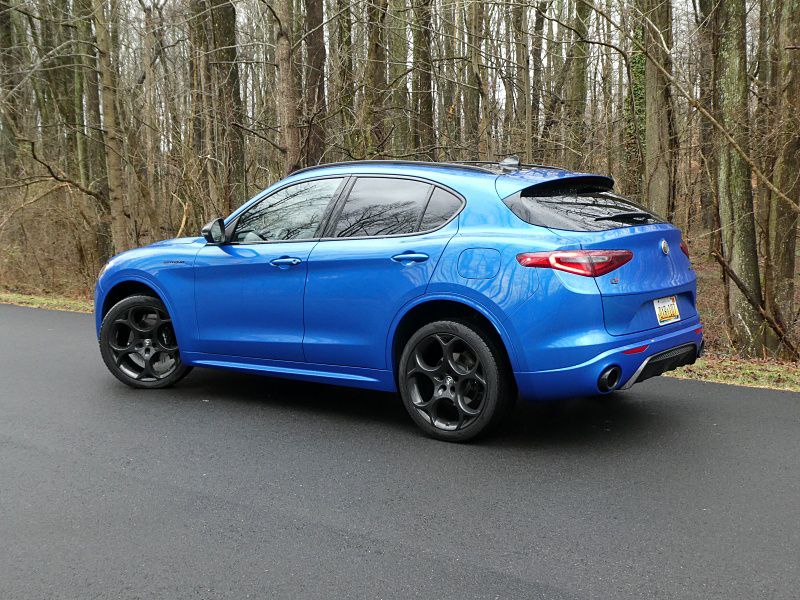 Photo by Brady Holt
Regular-Luxury Prices
Despite its exotic looks and exotic performance, the 2023 Alfa Romeo Stelvio doesn't have an exotic price tag. It starts at $46,475. That isn't the lowest starting price of any compact luxury crossover, but it's still in line with the segment. 
Plus, even the base Stelvio model includes genuine leather upholstery, heated front and rear seats, a heated steering wheel, GPS navigation, rain-sensing windshield wipers, Xenon headlights, power-folding exterior mirrors, and advanced driver aids that include adaptive cruise control, blind-spot monitoring, and a lane-departure warning. Most of these items cost extra on many competitors. As we mentioned, the Quadrifoglio is more dear at $85,675, but the price matches its superlative performance. We just wish Alfa offered a middle ground between the four-cylinder and the Quadrifoglio, as you'll find on many competitors. A V6 making about 350 to 400 hp could hit the spot for some buyers, though we're already happy with the four-cylinder's speed.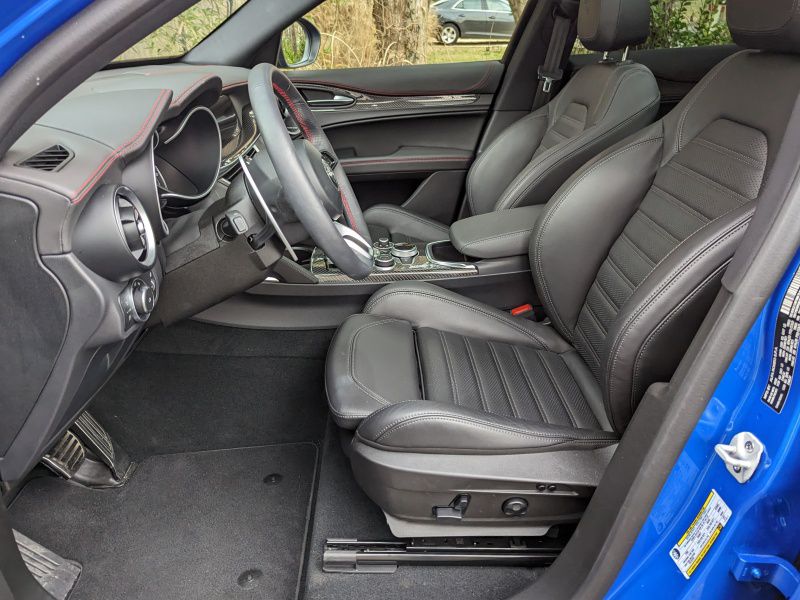 Photo by Brady Holt
Competitors to Consider
To us, the Stelvio's closest competitors are performance-minded crossovers from fellow semi-exotic brands. That means the Jaguar F-PACE and the Porsche Macan, both of which start at more than $50,000. The Alfa matches their exemplary driving manners, and it has more room inside than the Porsche. But their interiors are more richly finished and high-tech than the Stelvio's. Plus, the Jaguar is the most spacious of the trio. 
We'd also shop the Stelvio against two of our other favorite compact luxury crossovers: the BMW X3 (and its sportier-looking X4 variant) and the Genesis GV70. Both cost a bit less than the Stelvio, have a bit more room, and have nicer interiors. And both, like the Macan and F-Pace, are available with excellent six-cylinder engines for less than $70,000. Still, the Stelvio's sharper steering and exotic looks continue to help the Italian SUV stand out.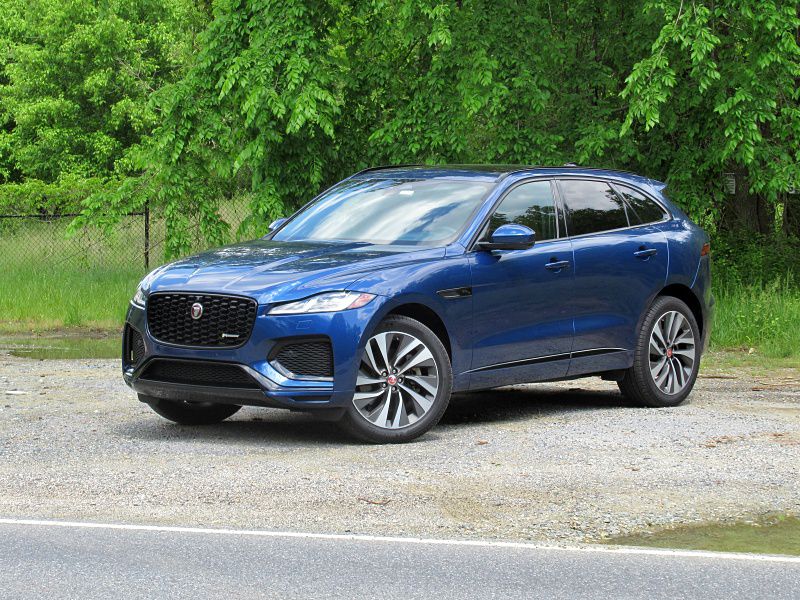 Photo by Brady Holt
Fun and Forgotten
Alfa Romeo hasn't captured the American public imagination like some other luxury brands. Aside from ultra-low-volume sports cars, it largely sat out the U.S. market from 1995 to 2017. And since the brand went without a new model or major update from 2018 to 2023, it was easy for folks to forget about the Stelvio. 
This still isn't the perfect choice if you're looking for a leather-lined isolation chamber, a cutting-edge technological showpiece, or a next-generation electric vehicle. But if you're looking for a luxury suv that you'll love driving and that everybody doesn't already have, you won't want to miss it. And we think you'll be pleasantly surprised by its price.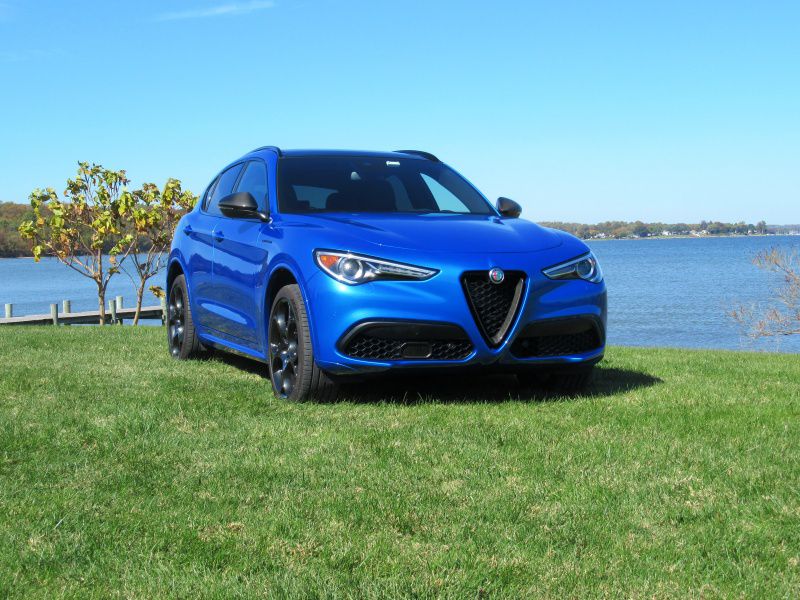 Photo by Brady Holt