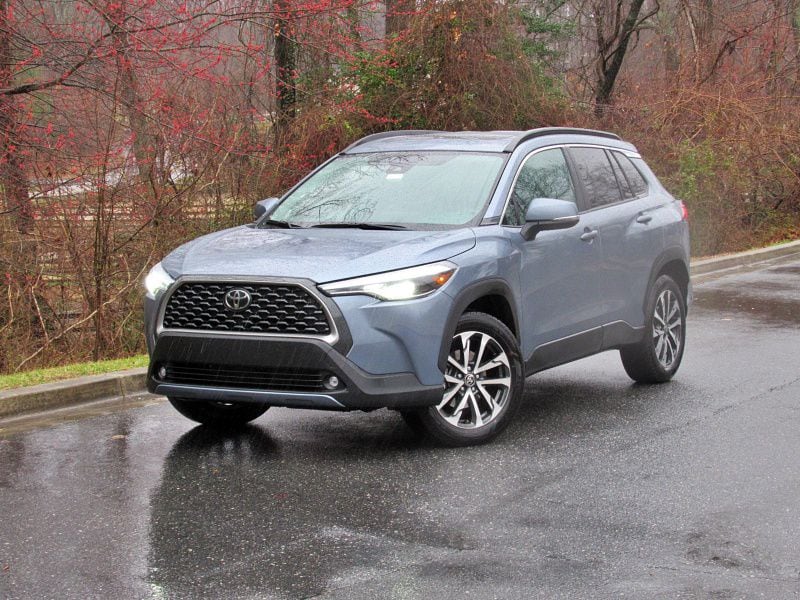 2022 Toyota Corolla Cross XLE ・ Photo by Brady Holt
Toyota helped invent the small crossover SUV. The 1996 RAV4 was one of the first vehicles to combine an SUV shape with the underpinnings of a car — originally, the Toyota Corolla. 
Sales took off when the RAV4 got bigger, making room for more people and their stuff. Rather than the Corolla, it now shares its underpinnings with the mid-size Camry. This change left room for a new model to slot beneath the RAV4. Toyota first tried the C-HR, a wild-looking subcompact with limited cargo space and no all-wheel drive. Now, it has introduced the 2022 Toyota Corolla Cross, which (as you might expect) is a crossover version of the compact Corolla sedan. To see how it stacks up in the subcompact crossover class, we tested the Corolla Cross and one of its best-selling rivals: the 2022 Subaru Crosstrek. In this review, we'll compare the two crossovers in eight different categories, then name our overall winner. Keep reading to learn which one we chose and whether one of them sounds like the right mini SUV for you. 
Exterior Design
The current Toyota RAV4 introduced tough, off-road-ready styling. The Corolla Cross has pretty much the same styling elements in the same places, just without the aggression. Its headlights, taillights, and bumpers are softer and gentler. There's still a traditionally upright SUV shape and subtly chunky fender flares, though, unlike most subcompact crossovers. It's a generically handsome SUV, size small, in a class where many vehicles — like the Toyota C-HR — are styled more like taller sports coupes. 
The Crosstrek, meanwhile, has that body of a hatchback rather than an SUV. Subaru created it by lifting up the Subaru Impreza compact hatchback, giving it a lofty 8.7 inches of ground clearance. Thanks to rugged cladding, tough-looking wheels, and a sturdy roof rack, the Crosstrek has a more adventurous vibe than the boxier but more rounded-off Corolla Cross. We'll let you choose your preferred look.
Tie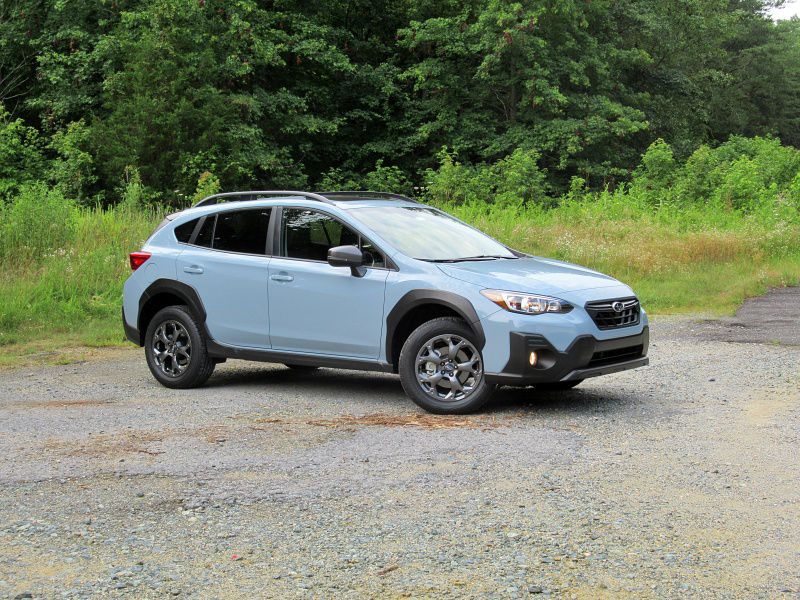 Photo by Brady Holt
Interior Design
Inside, the Corolla Cross shares much of its dashboard with the Corolla sedan. That's a good thing. We like the Corolla's simple, classy, and ergonomically sensible dash, and the dashboard itself is nicely finished. The base Corolla Cross L model has a 7-inch touchscreen infotainment system, while the rest of the lineup upgrades to an 8-inch unit. Up above your head, the headliner and sun visors look and feel cheap, but the overall cabin ambiance is pleasant. 
As with its exterior, the Crosstrek adopts a more rugged vibe, with colored accents dressing up the dashboard, center console, steering wheel, and seats on some trim levels. And like the Corolla Cross, it has a nicely finished dashboard. Still, a couple factors tilt us toward the Toyota. First, Subaru provides a mere 6.5-inch touchscreen as standard equipment; its most popular trim levels make you pay extra for an 8-inch unit. Secondly, some of the Crosstrek's dashboard knobs move stiffly, which feels cheap. You can decide for yourself between the Subaru's spunkier design cues and the Toyota's subtler elegance, and both interiors are decently finished and have user-friendly controls. But the Corolla Cross is our overall pick. 
Toyota Corolla Cross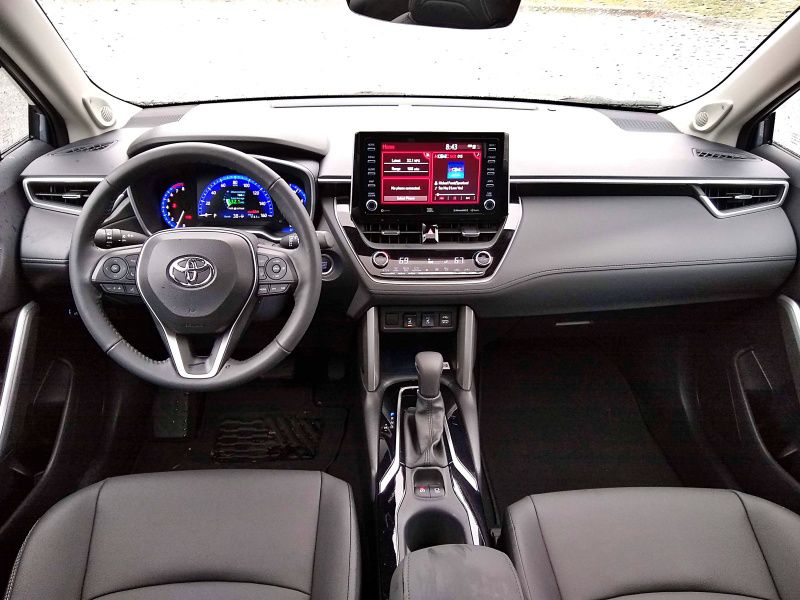 Photo by Brady Holt
Passenger Accommodations
The Corolla Cross has a usefully spacious interior, with a more adult-friendly rear seat than many of its competitors. Though the cushions are nothing special, and rear knee clearance isn't generous, the front and rear seats are high off the floor to improve support and make the most of the space. 
But the Crosstrek has the more comfortable interior. The front seats are beautifully shaped to hold you snugly into place without being confining, a clear cut above the flatter Corolla Cross's. There's more rear legroom, too. Finally, Subaru provides heated front seats as standard equipment on all but the base Crosstrek trim level. That's a welcome comfort feature in cold climates, and Toyota reserves it for its top XLE model.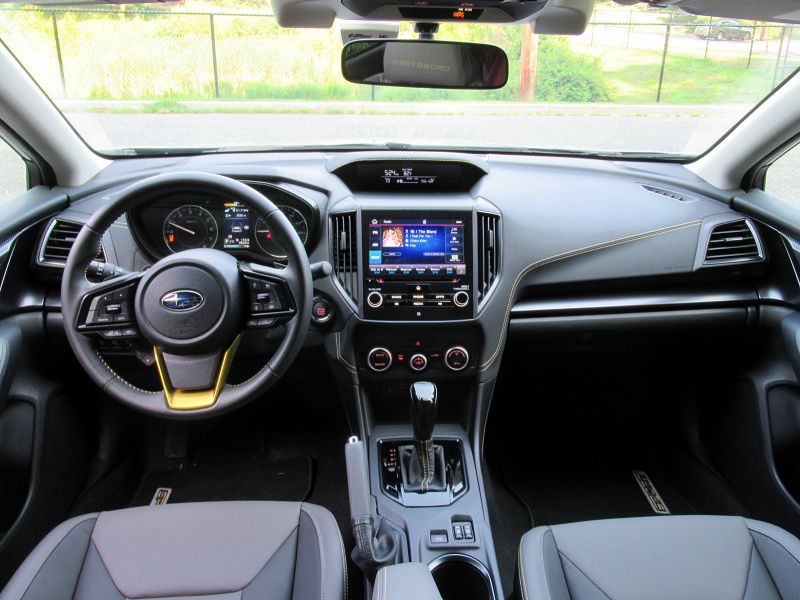 Photo by Brady Holt
Cargo and Utility
With its high roof and upright profile, the Corolla Cross looks ready to pack in your belongings, and it delivers. You get up to 26.5 cubic feet of cargo space behind the rear seat and 66.8 cubic feet with the rear seat folded. (All-wheel-drive models give up a couple cubic feet.) Those figures rival some compact crossovers and dwarf most fellow subcompacts. 
The Crosstrek has decent room for a subcompact, but it can't match the Corolla Cross. You get 20.8 cubic feet behind the rear seat and 55.3 cubic feet with the rear seat folded. Both crossovers are rated to tow up to 1,500 pounds. 
Toyota Corolla Cross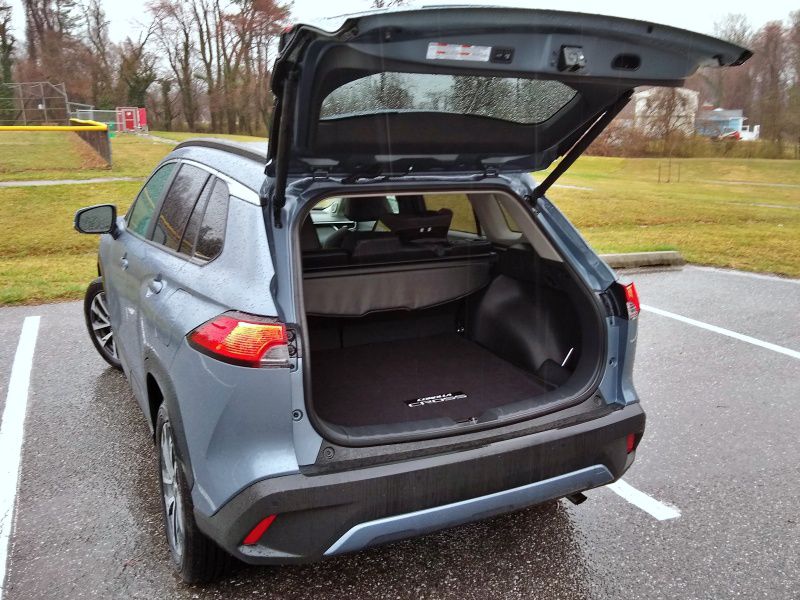 Photo by Brady Holt
Driving Impressions
Both the Corolla Cross and the Crosstrek come standard with economy-sedan engines, and it shows when you try to get them moving. The Crosstrek's 2.0-liter four-cylinder makes 152 horsepower, 145 lb-ft of torque, and a mournful droning noise under acceleration. The Corolla Cross's own 2.0-liter is more impressive on paper (169 hp, 150 lb-ft of torque) but provides a similar lack of speed and refinement. We prefer the Toyota's more natural throttle to the extra-sensitive one in the Subaru, but when you're ready to get moving, they're about the same. 
The difference is that the Crosstrek offers an upgrade to a 2.5-liter four with a healthier 182 hp and 176 lb-ft of torque. It's peppier but only marginally quieter, so it feels less lively than it is. Another Crosstrek advantage is its off-road capability, which exceeds the on-road-focused Toyota despite the Corolla Cross's above-average 8.1 inches of ground clearance. Even if you'll stay on paved roads, the Subaru's extra-compliant suspension takes the edge off bumpy roads. We found the Corolla Cross to be slightly more agile, but we'd still narrowly pick the Subaru in normal conditions — and any day in snow or mud.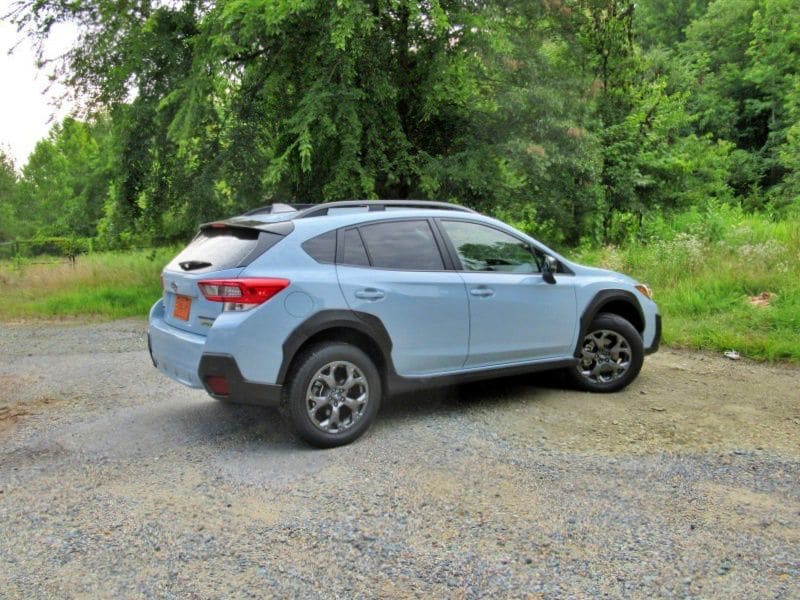 Photo by Brady Holt
Fuel Economy
The Corolla Cross gets an EPA-estimated 31 mpg in the city, 33 mpg on the highway, and 32 mpg combined with front-wheel drive. All-wheel-drive models dip to 29 mpg city, 32 mpg highway, and 30 mpg combined. We edged that out to average 31 mpg in our AWD test vehicle in mixed driving, quite good for any size of crossover. 
The Crosstrek is close behind. The AWD-only Crosstrek gets EPA ratings of 28 mpg city, 33 mpg highway, and 30 mpg combined with its base 2.0-liter engine and similar scores of 27 mpg city, 34 mpg highway, and 29 mpg combined with its 2.5-liter. We averaged 30 mpg in our 2.5-liter test vehicle and 31 mpg in a 2.0-liter. Still, only Toyota lets you save more gas by skipping AWD. (Note that if you want a manual transmission in the Crosstrek, EPA ratings plummet to 25 mpg combined; the Corolla Cross is automatic-only.) Subaru does offer a limited-production Crosstrek Hybrid, a pricy plug-in model with an estimated 17 miles of all-electric range followed by 35 mpg combined. But in the heart of the lineup, Toyota comes out a bit ahead. 
Toyota Corolla Cross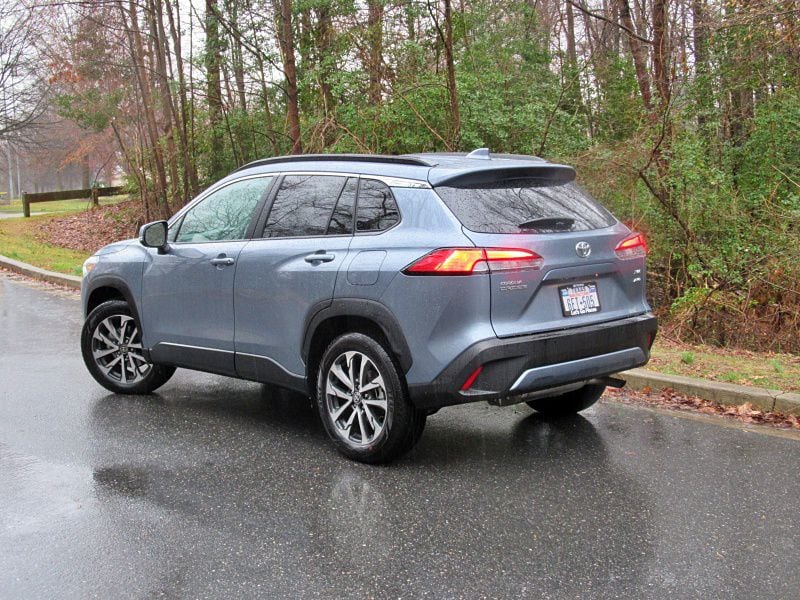 Photo by Brady Holt
Safety
Both the Corolla Cross and the Crosstrek come standard with lots of advanced safety features (though the Crosstrek omits its "EyeSight" driver-assistance suite if you choose a manual transmission). These standard features include adaptive cruise control, automatic emergency braking, and lane-keeping steering assistance. The Corolla Cross also adds blind-spot monitoring on all but the base L model, while the Crosstrek keeps it in costly options packages until you reach the top-of-the-line Limited trim level. 
Still, we'll award this category to the Subaru for its proven crash-test performance. The Corolla Cross hasn't been tested yet, but the Crosstrek is a Top Safety Pick from the Insurance Institute for Highway Safety and earned five out of five stars overall from the National Highway Traffic Safety Administration.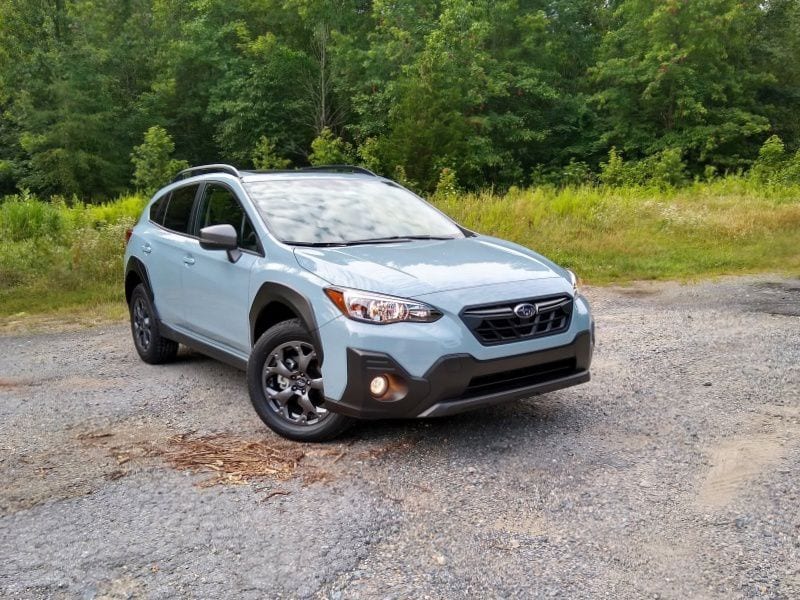 Photo by Brady Holt
Pricing and Features
The Corolla Cross starts at $22,195 for the base L model. Thanks to its standard safety and infotainment features, it's a viable choice for a budget-minded buyer. Still, the LE brings a lot more stuff at $24,545: blind-spot monitoring, alloy wheels, a leather-wrapped steering wheel, push-button starting, automatic climate control, the bigger touchscreen, a wireless smartphone charger. We tested the top XLE ($26,325), which adds heated leatherette seats, a power driver's seat, front and rear parking sensors, and rear automatic braking. All-wheel drive costs an extra $1,300 on all three trims. 
Especially if you aren't dedicated to AWD (standard equipment on most Subarus), the Crosstrek costs a bit more than the Corolla Cross. The base price of $22,445 includes only a manual transmission and lacks the advanced driver aids; an automatic transmission and EyeSight bring the starting price to $23,795. The bigger engine and leatherette upholstery arrive on the $26,795 Sport, and the leather-trimmed Limited starts at $28,295. Your winner will depend on which crossover has your own desired features at a lower price, but the Toyota comes out ahead for us. 
Toyota Corolla Cross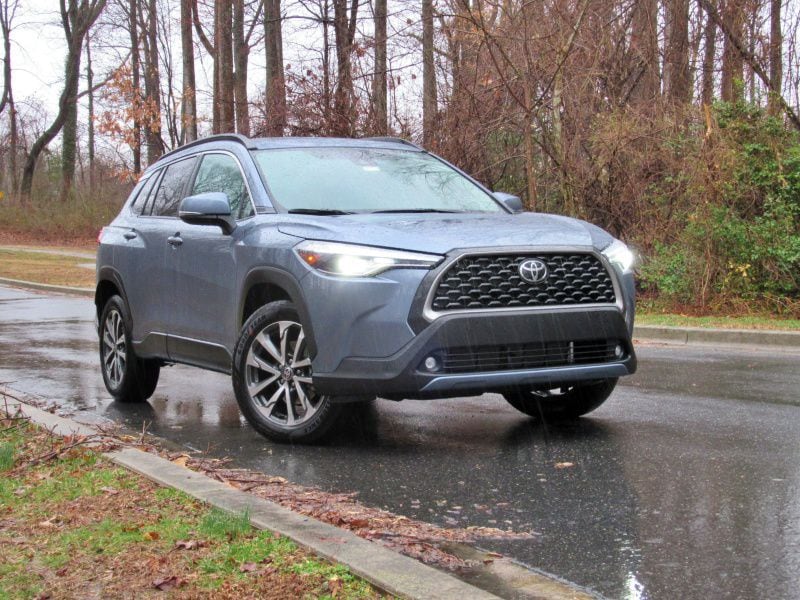 Photo by Brady Holt
Final Thoughts
The 2022 Toyota Corolla Cross will be a solid crossover for many buyers. It has lots of cargo space, a classy design, great gas mileage, and reasonable prices. It drives well when you aren't in too much of a hurry, and it's packed with safety features. 
But we've decided to go with the 2022 Subaru Crosstrek. Depending on the features you want, you'll spend a little extra to buy it and to fill its gas tank. You also won't get quite as much cargo room, and its most common infotainment screen is small for a modern vehicle. But this go-anywhere runabout is more comfortable, more capable, and (with its optional larger engine) more powerful than the Corolla Cross. It has a proven safety record and a widely renowned all-wheel drive system. Plus, it has more character than the anonymously competent Toyota.  
Subaru Crosstrek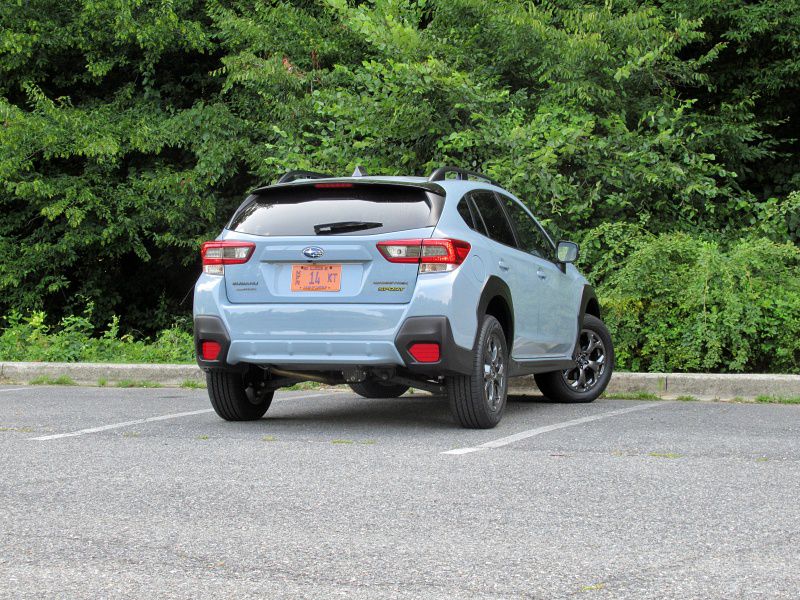 Photo by Brady Holt