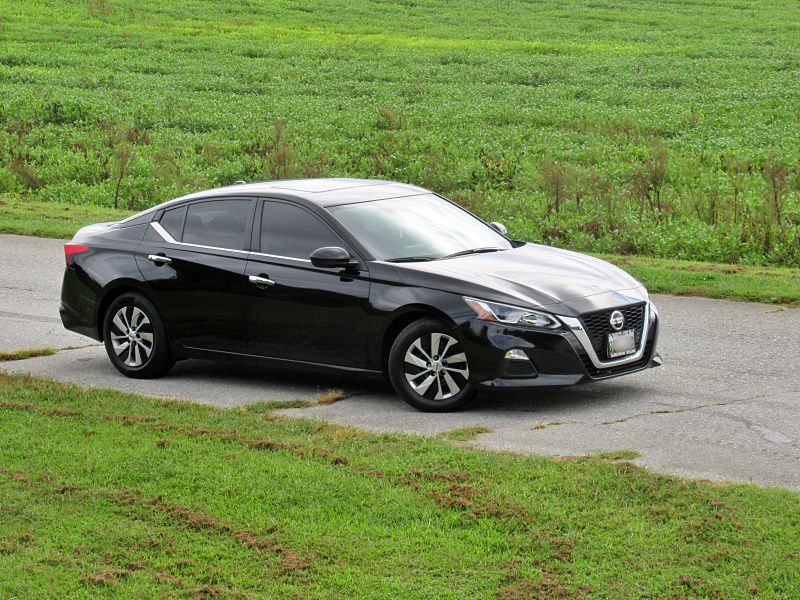 2020 Nissan Altima S ・ Photo by Brady Holt
One of the most famous automotive rivalries is the Toyota Camry versus the Honda Accord. These are two best-selling mid-size sedans that consistently win critical acclaim. 
But there's another sedan that's more like the Camry than the Accord: the Nissan Altima. The current Camry and Altima have a softer edge than the Accord, with cushier seats and gentler rides. They're not as fancy but they prioritize comfort, even though both of them now have livelier handling than some of their earlier generations. If that sounds like what you're looking for, keep reading — we tested the Altima and Camry so that we could compare them across eight categories and then name an overall winner. 
Pricing and Features
If you're looking for the cheapest possible sedan, the Altima wins this category. The base S model starts at $24,450 versus the Camry LE's $25,295. However, Toyota provides a longer list of standard features and a wider variety of options. 
The Camry LE includes alloy wheels instead of plastic wheel covers, dual-zone automatic climate control instead of manual air conditioning, Android Auto and Apple CarPlay smartphone integration, adaptive cruise control that adjusts your speed to traffic, and an eight-way power-adjustable driver seat instead of the Altima's six-way adjustability. Nissan offers those features, too, but at a higher price. The Camry also includes two years of free scheduled maintenance and has several exclusive options: ventilated front seats, a panoramic sunroof, and a head-up display. Nissan also has advantages for some buyers. If you want a loaded sedan with leather, a sunroof, and a navigation system, the Altima comes in a couple thousand dollars less than the Camry. But overall, Toyota comes out ahead.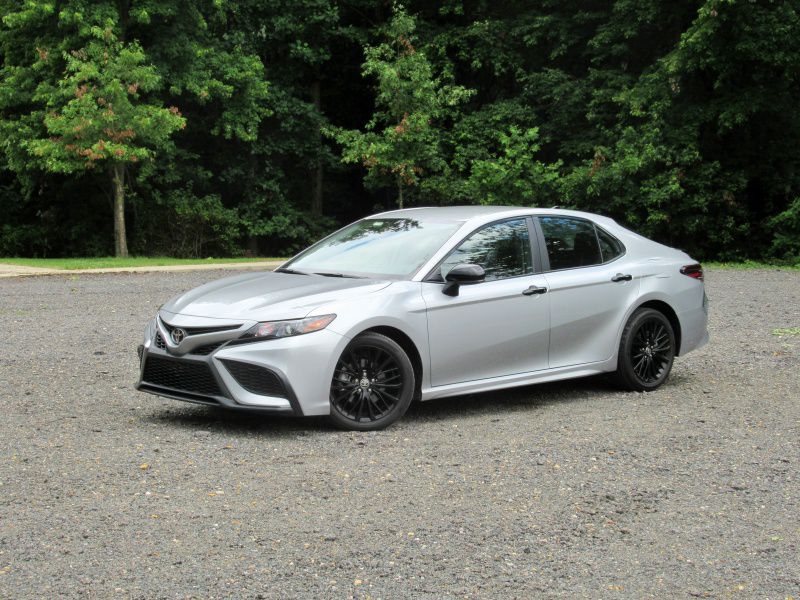 Photo by Brady Holt
Exterior Design
The Altima has a big, chromed grille that runs all the way from the hood down to the ground, an aggressive element on a sedan that's otherwise crisp and simple. The headlights and taillights are slim, and together with the low grille, they emphasize a low, wide stance. The roofline is also low and sporty, and the windows are bordered with fairly straight edges. Most Altima trim levels have dressy 17-inch or 19-inch alloy wheels, but the 16-inch steel wheels on our test vehicle do no favors for the sedan's sporty design. 
Today's Camry also has a more aggressive visage than some older models, especially if you choose the sport-themed SE, XSE, or TRD trim levels. Its hourglass-shaped grille is smaller than the Nissan's, and its taillights are more rounded. But the more obvious difference is that the Camry has a more upright roof with bigger, rounded-off windows. The XSE does let you dress up the roof with two-tone paint. We'll let you choose your own favorite between the two sedans. 
Tie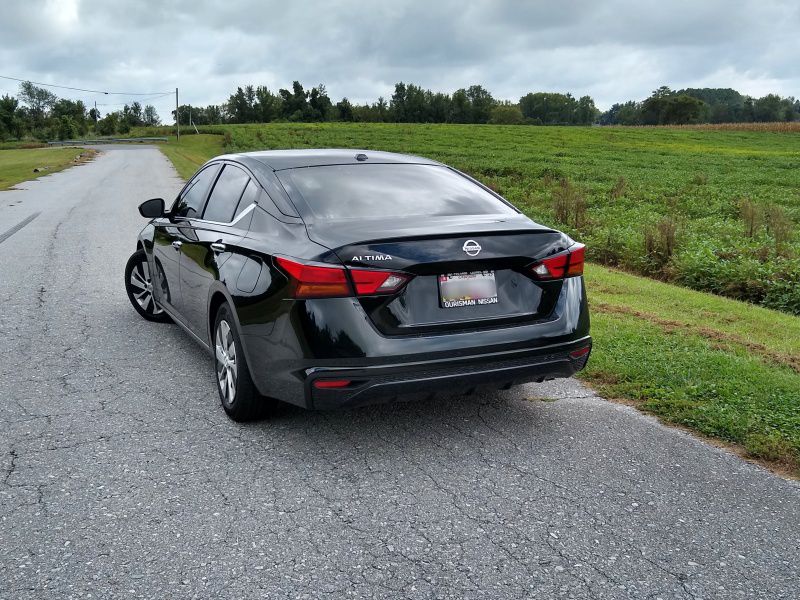 Photo by Brady Holt
Interior Design
The Camry has a gracefully flowing interior design, with a curve that swoops down to wrap around the gear selector. Not all cabin materials are fancy, but the styling gives it some extra panache in our eyes. Toyota updated the Camry for 2021 with a bigger 9-inch infotainment screen, which is standard or optional on all trim levels. Our test vehicle stuck with the base 7-inch unit, which works well enough but isn't flashy or responsive. Both screens support Android Auto and Apple CarPlay smartphone integration, and every Camry has user-friendly controls. 
The Altima's dashboard is more conventional — a symmetrical dashboard with an infotainment screen perched on the top. Nissan keeps the dash clean by clustering its audio and climate controls away from each other, with a strip of imitation wood or chrome running between them and continuing across the passenger side. However, the base S model doesn't include Android Auto or Apple CarPlay, and the Altima's largest screen measures 8 inches rather than the Camry's 9. The Altima also has cheaper plastics and imperfect fits on the center console and instrument panel.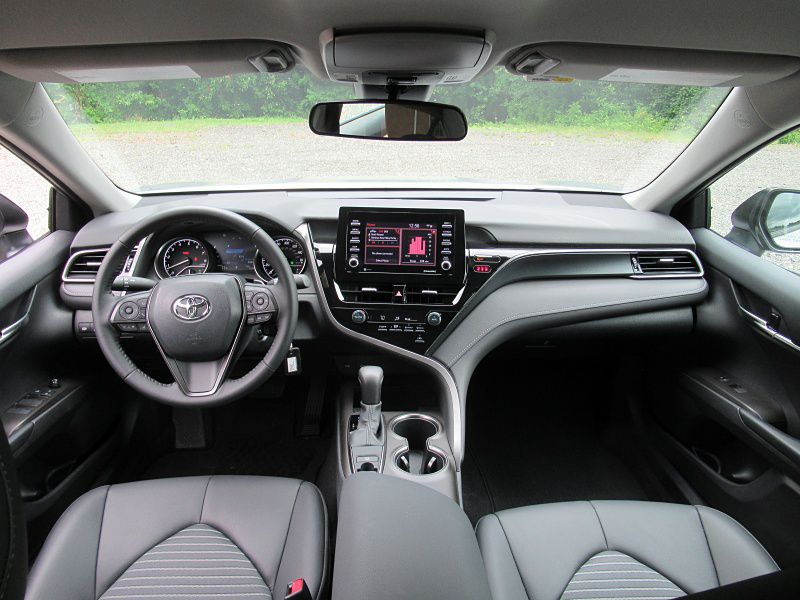 Photo by Brady Holt
Interior Space and Comfort
Both the Camry and Altima have cushy yet supportive seats and ample interior space. But to us, the Nissan does both a bit better. 
Nissan likes to boast about its "Zero Gravity Seats," and we're fans of them in the Altima. The seats hold you in place without being too hard or aggressive. And while the Camry has a bigger backseat on the spec sheet, the Altima's felt more accommodating to us. We'd happily spend hours behind the wheel of either sedan, but the Altima impressed us even more overall. Nissan also edges out the Toyota's trunk space with 15.4 cubic feet versus 15.1 cubic feet. Only Toyota gives you the option for ventilated seats, though, if that's a bigger deal for your comfort.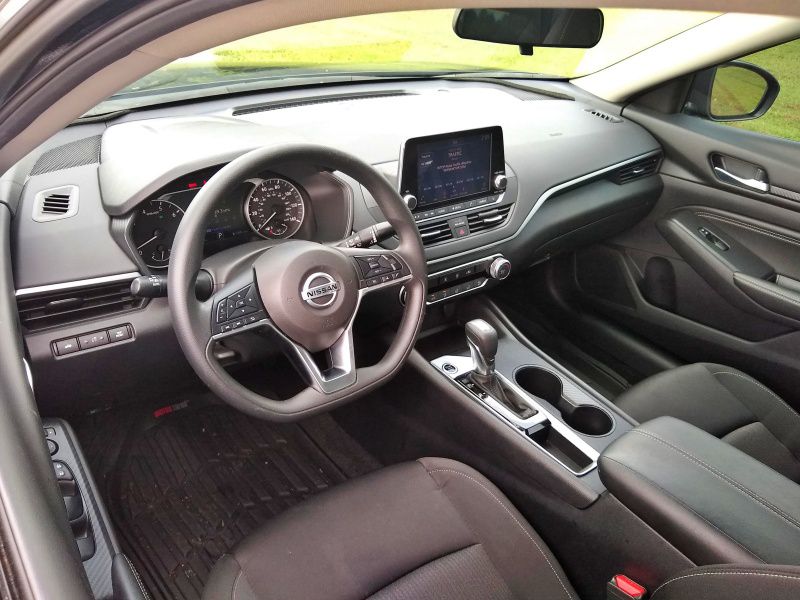 Photo by Brady Holt
Ride and Handling
The Toyota Camry is almost synonymous with dull-driving, comfort-focused transportation. That's not the case these days. It still offers outstanding smoothness and quietness, but it has also become quite agile. Its steering is responsive and decently precise, and the car doesn't pitch and roll when it takes a curve. Whether you're trying to go straight or take a turn, it's comfortable and composed. 
However, we came away even more impressed with the Altima. It has a plusher ride, yet it's similarly agile. And if you're not a driving enthusiast, you'll love the extra-light steering that makes the Altima easy to drive without feeling disconnected from the road. The Altima and Camry have similar driving dynamics — prioritizing a smooth ride but also providing agile handling — but we think Nissan pulled it off even better. Both sedans are available with all-wheel drive on certain trim levels, providing superior all-weather traction at the expense of some ride and handling polish.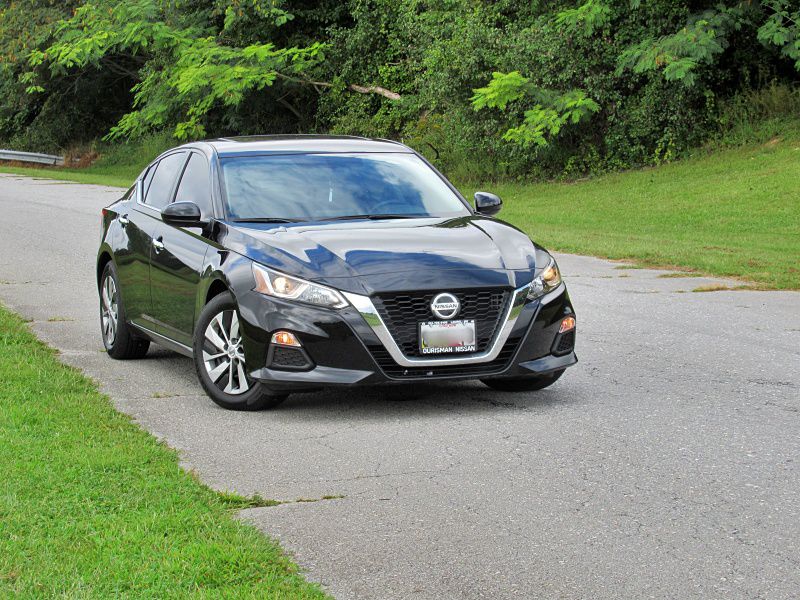 Photo by Brady Holt
Acceleration
The Altima and Camry each offer a choice of powertrains with similar performance specifications but different demeanors. To us, the Altima's are the better fit for a mid-size family sedan. 
The base Altima engine is a 2.5-liter four-cylinder with 188 horsepower and 180 pound-feet of torque, paired with a continuously variable automatic transmission (CVT). Some critics dislike CVTs for causing a droning engine sound under hard acceleration, but in the Altima, it normally produces a mild hum. The Camry's comparable engine has a bit more horsepower — it's a 203-hp 2.5-liter — but it's noisier. You can upgrade the Altima to a turbocharged 236-horsepower four-cylinder turbo, which sounds a lot weaker than the Camry's 301-horsepower V6 but provides similarly quick acceleration. The difference is that the Camry engine has a rich, deep roar while the Altima makes an effortless whir. You can also get a 208-horsepower Camry Hybrid with a gas-electric powertrain, but when it's time to accelerate, we still think the Altima's engines will suit more buyers a bit better.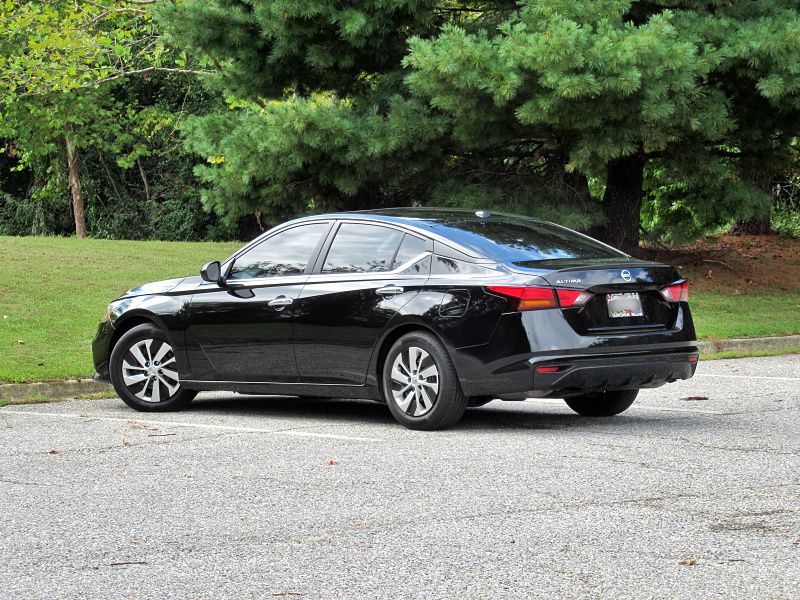 Photo by Brady Holt
Fuel Economy
Both the Altima and Camry offer excellent gas mileage for such spacious and quick sedans. But it's another category where the winner comes down to which engine you'd choose. 
With their base engines and front-wheel drive, both cars get EPA estimates of 31 to 32 mpg in mixed driving depending on the trim level. All-wheel drive cuts about 2 mpg on the Nissan and 3 mpg on the Toyota. However, the V6 Camry falls to 26 mpg combined while the turbo Altima manages an outstanding 29 mpg. But the Camry wins for maximum mileage: If you pay extra for the Camry Hybrid, you get 46 to 52 mpg in mixed driving depending on the trim level.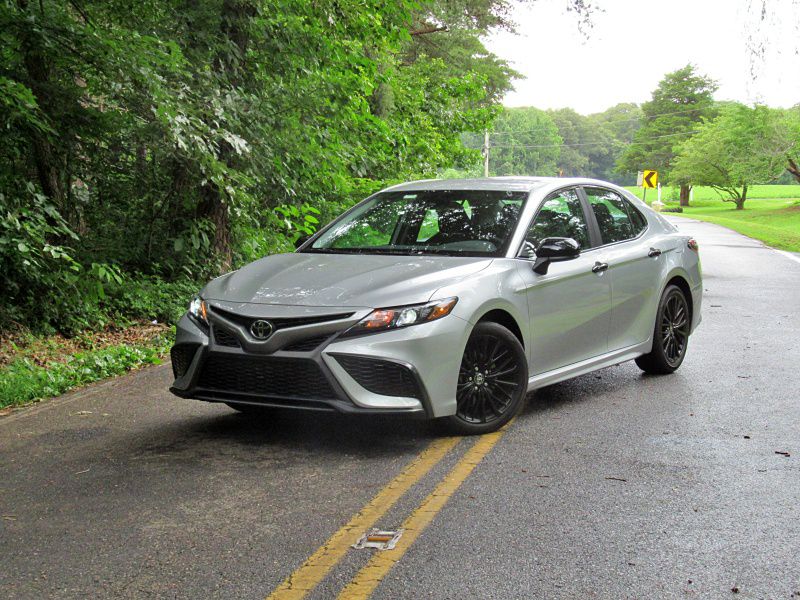 Photo by Brady Holt
Safety
Both the Altima and Camry are safety standouts, with lots of advanced collision-avoidance technologies and excellent crash-test results. The Toyota comes out just a bit ahead. 
Both sedans come standard with forward automatic emergency braking and lane-keeping steering assistance, and both have blind-spot monitoring as optional or standard equipment on all trim levels. And both earn the highest designation of Top Safety Pick+ from the Insurance Institute for Highway Safety. But in IIHS testing, some Camry trim levels have better headlight illumination than the Altima, and the Toyota's automatic emergency braking proved slightly better at avoiding pedestrians. Meanwhile, while both sedans earn the top score of five stars from the National Highway Traffic Safety Administration, the Camry fares a bit better in frontal impacts. Only the Nissan is widely available with reverse automatic braking — it's optional on the base model and standard on other trim levels, while it's only an option on pricey Camrys — but Toyota otherwise narrowly takes this category.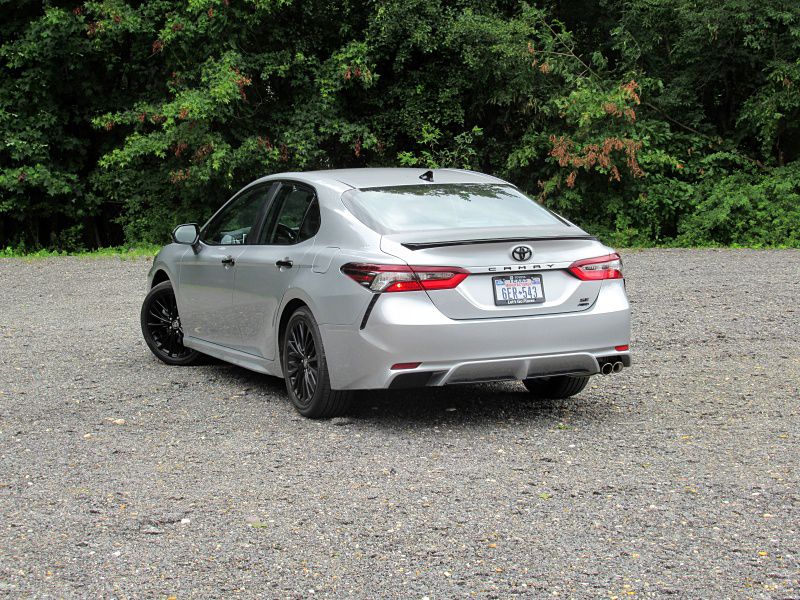 Photo by Brady Holt
Final Thoughts
The Altima and the Camry are two closely matched sedans with similar strengths and weaknesses. They cost about the same, both have plenty of space, and have similar driving experiences. We preferred the Altima's seats and how it drives, while the Camry has the nicer interior, more standard features, and slightly better crash-test performance. 
It's the Camry Hybrid that makes us declare the Toyota as the winner. It costs about $2,300 more than a comparable gas-only Camry four-cylinder, but if you spend significant time in stop-and-go traffic, your fuel savings will pay for themselves with little downside. If you'd be skipping the hybrid, the Altima could certainly be your winner between these two well-matched sedans. But all things considered, we'll give this win to the Camry. 
Toyota Camry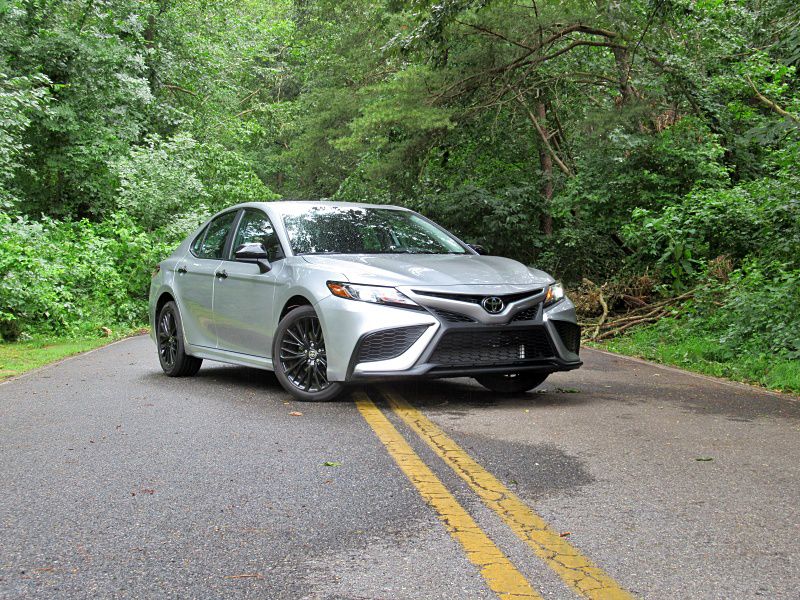 Photo by Brady Holt