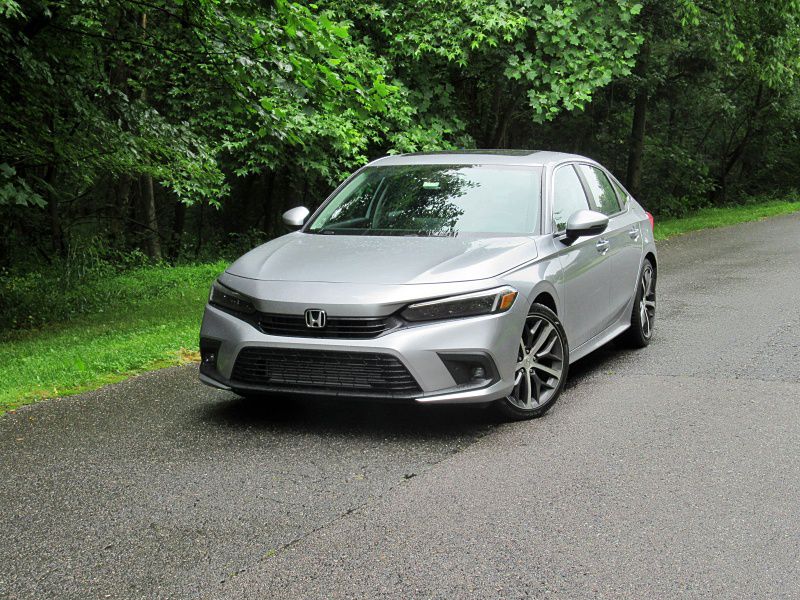 2022 Honda Civic Touring ・ Photo by Brady Holt
The Honda Civic has been a popular compact car for generations. It made a name for itself as a small car that avoids feeling cheap and cruddy, and the all-new 2022 version is the fanciest Civic yet. But with a starting price of $22,350, it's also the most expensive Civic yet. 
By contrast, the 2022 Nissan Sentra starts at just $19,610. It also has sportier styling than the Civic and some more lavish interior details. For this review, we've tested both the Civic and the Sentra so we can discuss how these two small cars compare in each of eight categories. Keep reading to learn our overall winner and see which one sounds like the better choice for you. 
Exterior Design
When Nissan last redesigned the Sentra sedan for the 2020 model year, it made the sedan about 2 inches wider and 2 inches lower. The result is sportier, ground-hugging proportions, and low, slim headlights integrate smoothly into the big grille that dips to the ground. Gentle but confident haunches give substance to the front and rear fenders, and the crisply styled rear end could pass for a Mercedes-Benz A 220. Especially if you choose the sport-themed SR trim level, which has a body kit and bigger wheels than our SV test vehicle, the Sentra looks confidently sporty. Yet importantly, it doesn't look busy and overdone, either. 
The Civic is milder. Honda received some harsh feedback for the wedges, angles, and bulges that festooned the 2016 Civic, and it dialed things way back for the new 2022 model. Extra shapes are kept to a minimum; there are just slim headlights astride a slim grille, a conventionally sleek roofline, and big simple taillights — especially if you stick with the sedan rather than the five-door hatchback. If you're not looking for flash, you'd pick it over the more extroverted Nissan. We'll let you choose your own winner. 
Tie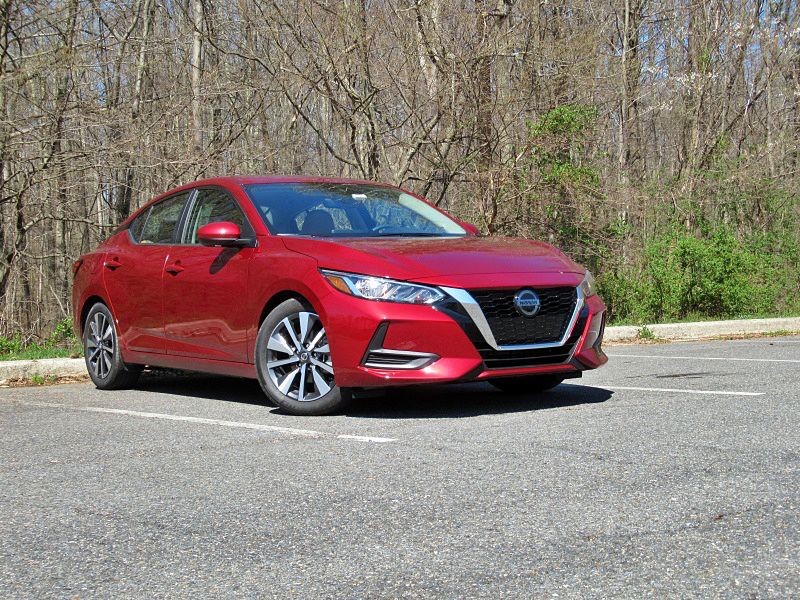 Photo by Brady Holt
Interior Design
Inside, Honda has returned to the Civic's roots of simple design, user-friendly ergonomics, and top-notch build quality. The dashboard is a straight horizontal line, decorated with a beautifully finished honeycomb that also houses the dashboard vents. Buttons and knobs move with more precision than some luxury cars, and materials are upscale. 
The Sentra's interior is also designed to impress — at least on certain models. Specifically, we're thinking about the SV with its optional Premium Package, like our test vehicle. It buys tan quilted leather upholstery on the seats, while this leather also goes on the dashboard, center console, and door panels. All other Sentras, including the SV without the optional leather, have less stunning only black-on-black interiors. And in terms of build quality, they're merely OK. Even our test vehicle has some areas of cheaper plastics. This is a pretty good economy car interior competing against an incredible one. 
Honda Civic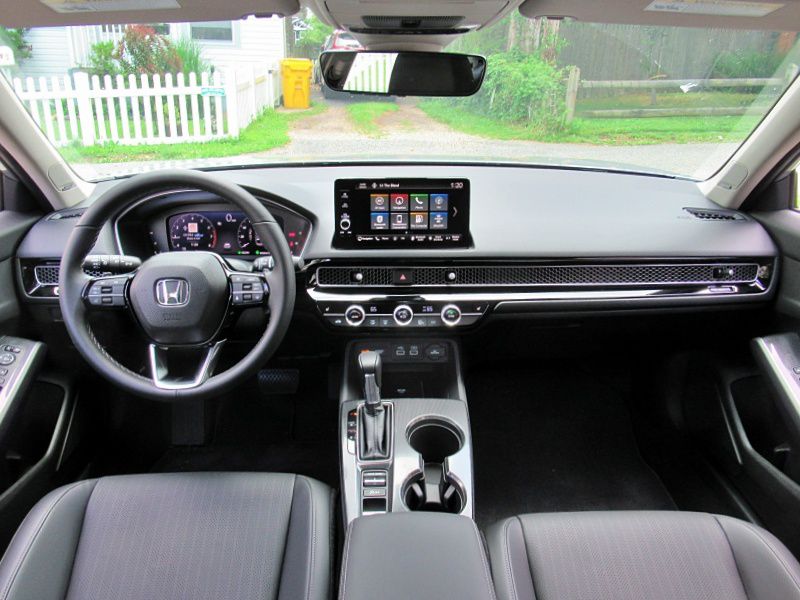 Photo by Brady Holt
Infotainment and Technology
Both the Sentra and the Civic perch an infotainment touchscreen on top of the dashboard, where it's easily within the driver's line of sight and where it doesn't add bulk to the dash. And both models come standard with a 7-inch screen that supports Android Auto and Apple CarPlay smartphone integration. 
The difference is that you're stuck with 7 inches on nearly every Civic: All but the top Touring model like our test vehicle, which upgrades to 9 inches and also adds wireless connectivity for Android Auto and Apple CarPlay. Most Sentras instead have 8-inch screens. And while neither infotainment system is incredible, we found the Nissan's a little easier to use in addition to being bigger for most buyers. 
Nissan Sentra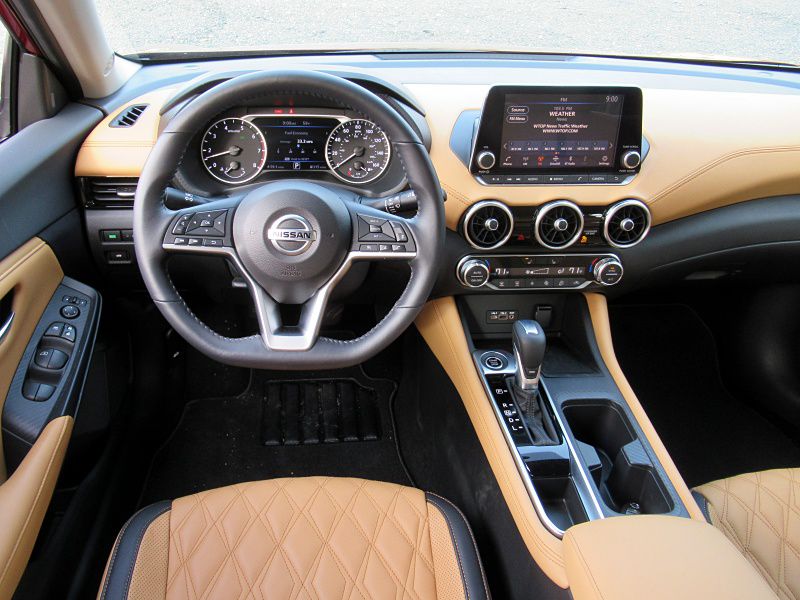 Photo by Brady Holt
Passenger Accommodations
The Sentra can fit four adults and squeeze in a fifth, with above-average accommodations for a compact sedan. The front and rear seats are thickly padded and supportive, and we were pleased to find good legroom even in the backseat of such a sporty-looking sedan. A rear armrest is standard, while the Civic's is limited to upper trim levels. 
Still, unlike the previous two Sentra generations, the latest model can't match the Civic's fantastic interior volume. It has the rear legroom of a good mid-size sedan, while the current Sentra is more like a good compact. What's more, the new Civic's front seats are even better than the Nissan's. And the Civic sedan's trunk volume (14.8 cubic feet) edges out the already-good Sentra's (14.3 cubic feet). Sealing the Civic's advantage, while every Sentra is a four-door sedan, if you buy the Civic hatchback instead of the Civic sedan, you have 24.5 cubic feet of cargo space behind the rear seat — more than some SUVs. 
Honda Civic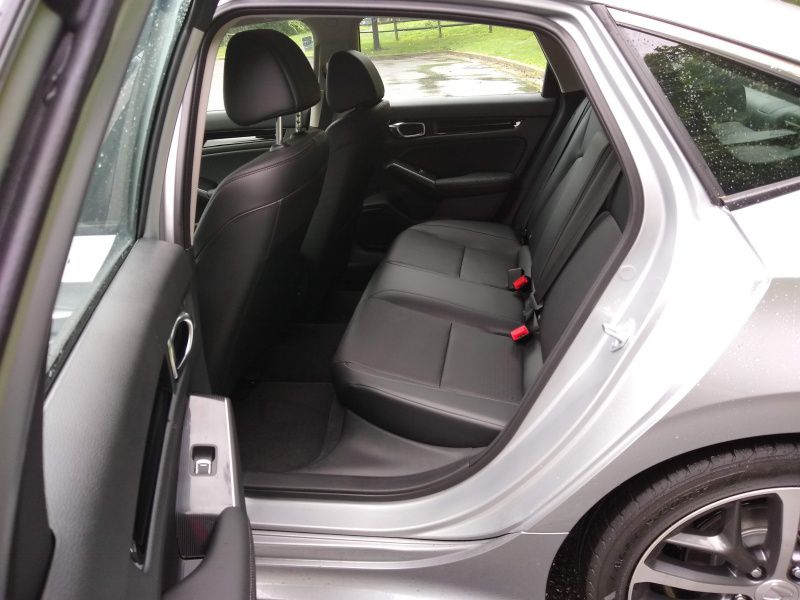 Photo by Brady Holt
Driving Impressions
Although the Sentra looks sporty — and although the last redesign brought a bigger engine and a more sophisticated suspension than before — this is not a true sports sedan. Every Sentra has a 2.0-liter four-cylinder engine making 149 horsepower and 146 lb-ft of torque, less than even the base Civic's engine. There's decent pep in routine driving, but it makes a lot more noise without a lot more power if you try to push it harder. It rides and handles well enough, but you won't find much eagerness or serenity. 
By contrast, the Civic's firm, responsive steering, tautly tuned suspension, and peppier engines will keep driving enthusiasts happy. Yet it's also comfortable and easy to drive even if you never want an elevated pulse rate. Except for some excess road noise, this is what it's like to drive a well-sorted luxury sports sedan. The base LX and Sport trim levels have a 2.0-liter four-cylinder engine making 158 hp and 138 lb-ft of torque; the EX and Touring upgrade to a smoother, quicker, and quieter 1.5-liter turbo with 180 hp and 177 lb-ft of torque. You can even buy a higher-performance Civic Si or, starting next year, Type R.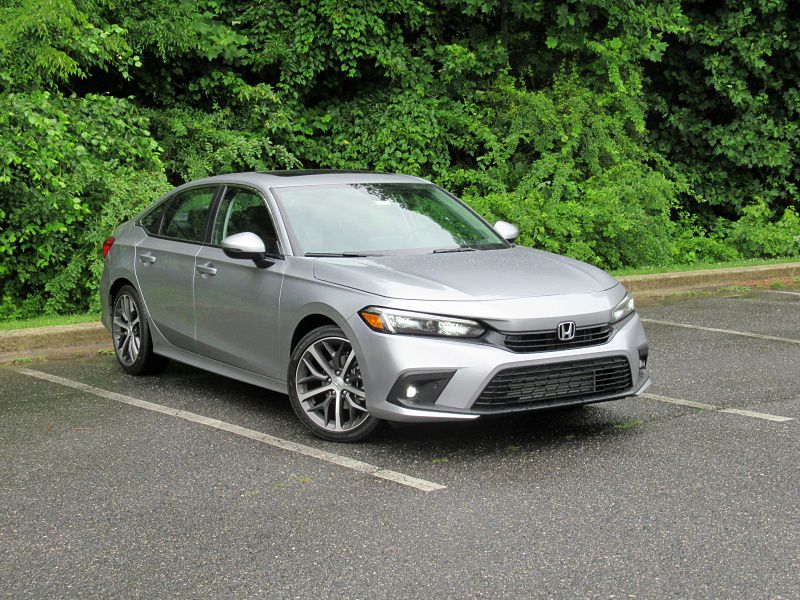 Photo by Brady Holt
Fuel Economy
Despite its power, the Civic is an economical small car, especially with its turbo engine. Depending on the trim level, the 1.5-liter Civic sedan gets EPA estimates ranging from 34 mpg to 36 mpg in mixed driving. Our Touring test vehicle, with an EPA-estimated 34 mpg, did even better — we averaged 38 mpg during a weeklong test. The 2.0-liter Civic sedan is pretty economical, too, with EPA estimates of 33 mpg to 35 mpg. Hatchbacks get about 1 mpg less than comparable sedans. A few Civic configurations offer manual transmissions, which also fare worse in EPA tests than their automatic counterparts. 
The Sentra lineup is simpler: 33 mpg in mixed driving for the S and SV, and 32 mpg for the SR. We averaged about 33 mpg in testing an SV and about 34 mpg in an SR, a difference you can chalk up to varied driving conditions — our tests aren't scientifically precise like the EPA's. But our general experience matches the EPA's conclusion that the Sentra uses a little more gas than the Civic.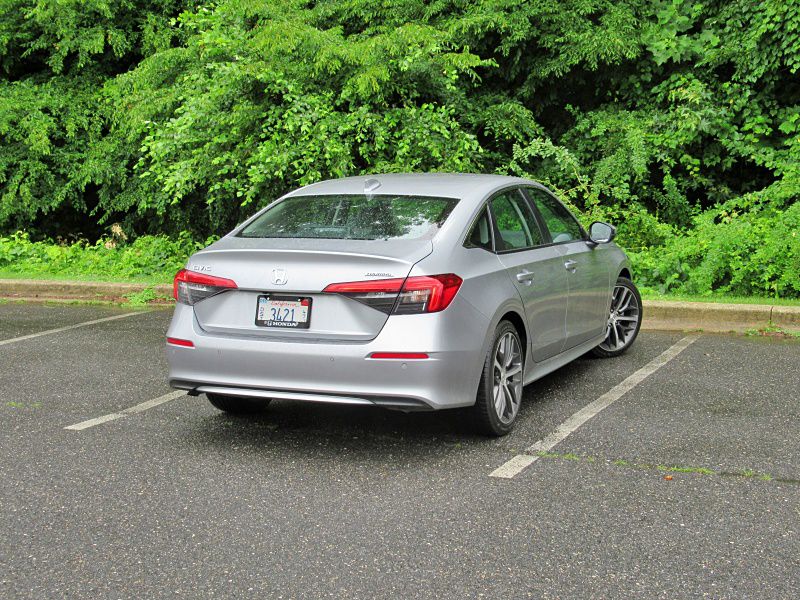 Photo by Brady Holt
Safety
The redesigned Civic earned the highest designation of Top Safety Pick+ from the Insurance Institute for Highway Safety, along with five out of five stars for overall protection from the National Highway Traffic Safety Administration. It also comes standard with several key safety features, including forward automatic emergency braking and a lane-departure warning with lane-keeping assistance. 
Still, the Sentra is another exemplary choice for safety-minded buyers. True, the Honda earned slightly higher crash-test scores — the IIHS gave a higher rating to its headlights, and NHTSA scored it slightly higher for protecting the front passenger in a frontal impact. And Nissan doesn't offer any Sentra with lane-keeping assistance. On the other hand, the Sentra comes standard with a blind-spot monitor, rear cross-traffic alert, and rear automatic braking, in addition to forward automatic braking and a lane-departure warning. The Civic reserves blind-spot monitoring for upper-trim models, adds a cross-traffic alert only for the top Touring model, and doesn't offer rear automatic braking at all. Also, only the Sentra is available with a surround-view parking camera. We'll call this category an overall tie. 
Tie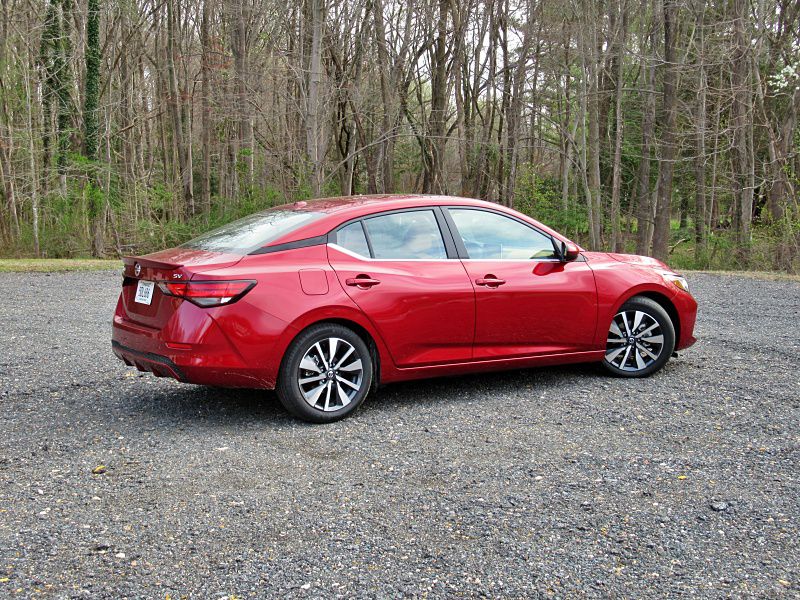 Photo by Brady Holt
Pricing and Features
At its base price of $22,350, the base Civic LX sedan is already pretty well equipped. In addition to the safety features we discussed, it includes high-end amenities like automatic climate control and adaptive cruise control. Other trim levels are the Sport ($23,750), which adds sport-themed styling upgrades along with an upgraded stereo; the EX ($25,350), which adds the turbo engine, heated front seats, a moonroof, and blind-spot monitoring; and the Touring ($28,950), with power-adjustable leather seats, GPS navigation, a 12-speaker Bose stereo, and rain-sensing windshield wipers. (Hatchbacks cost about $1,000 more than sedans.)
Not only does the Sentra cost less, but it makes popular amenities more widely available. The base S model costs $19,610, the next-up SV starts at $20,670, and the top SR starts at $22,200 — less than even a base Civic LX. You can add genuine leather to the SV and leatherette to the SR, along with exclusives like a heated steering wheel. There are more Civic features that you can't get on any Sentra, like the Touring's navigation system and rain-sensing wipers, but Nissan makes it much easier to get lots of other amenities on a budget.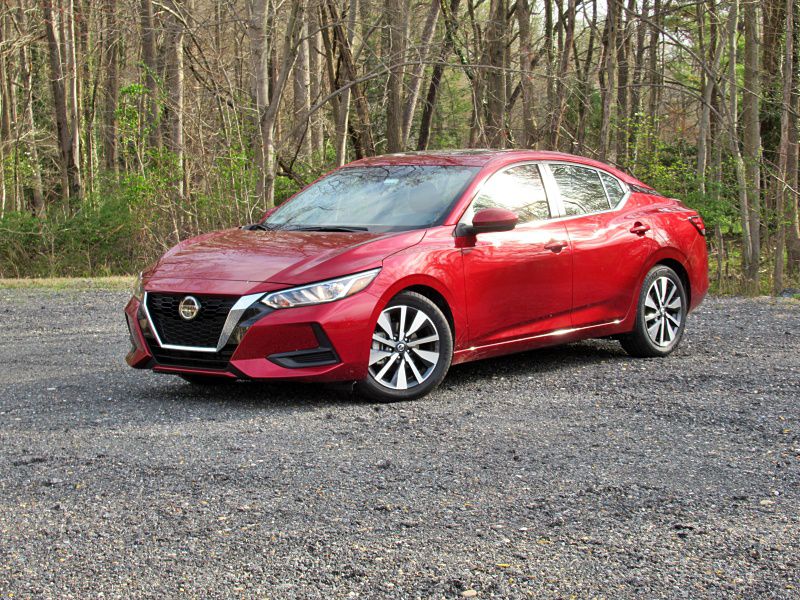 Photo by Brady Holt
Final Thoughts
We found the new Civic to a delight. From its crisp driving experience to its high-end interior materials to its huge backseat, it's a fantastic vehicle that's also a great economy car — comfortable, safe, and economical.
By contrast, the Sentra is more competent than delightful. But given its much lower prices (especially if you're attached to certain features that the Civic reserves for upper-level models), that difference is understandable. And with its dynamic styling and available interior pizzazz, it's not forgettable, either. We'd pay extra for the Civic's superior experience, and it's our winner. But you'd also do well to see how the more affordable Sentra compares for your needs, especially if you'd be choosing a non-turbo Civic.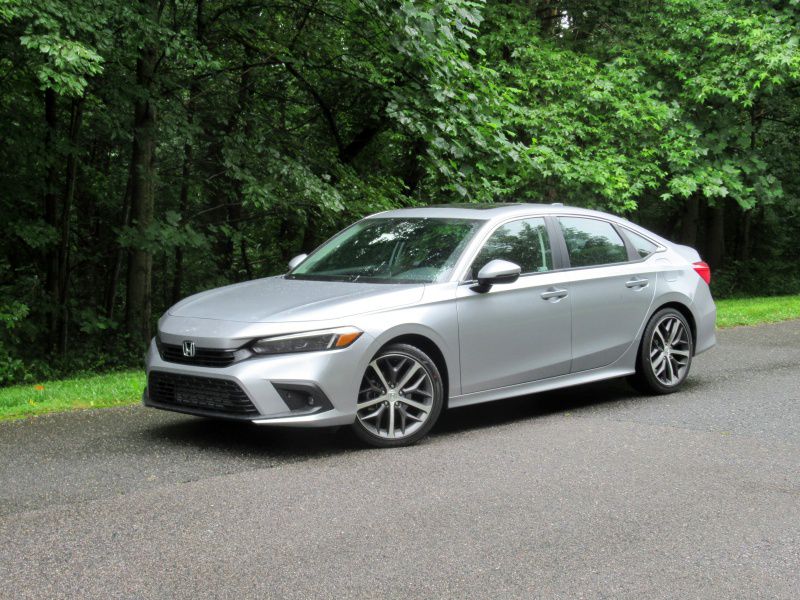 Photo by Brady Holt