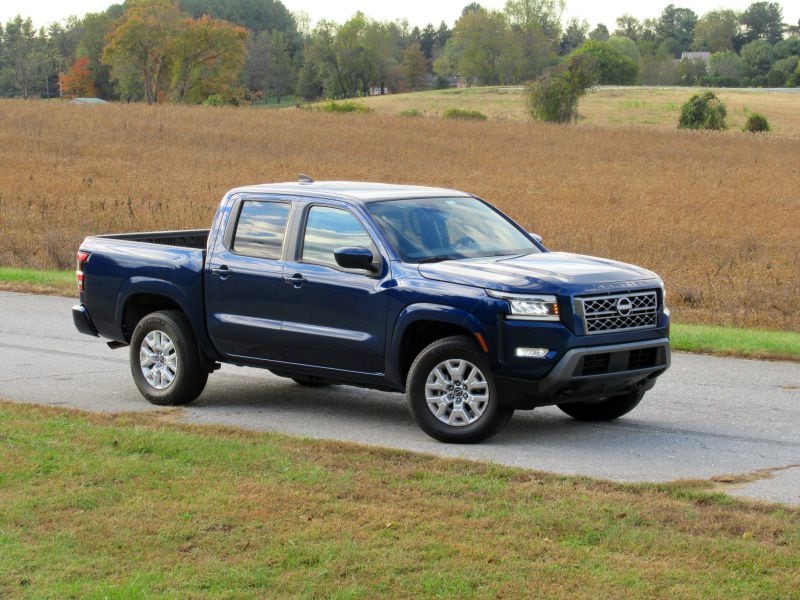 2022 Nissan Frontier SV ・ Photo by Brady Holt
Full-size pickups are always among America's best-selling vehicles. Capable yet comfortable, they have broad appeal. But they're also expensive and bulky, leaving space for smaller mid-size trucks to also win many fans. 
We tested two freshly updated mid-size pickups that offer different sorts of alternatives to a full-size model. There's the recently restyled 2022 Honda Ridgeline, which uses a car-like unibody platform to bring full-size-like space and comfort to a smaller, less-expensive market segment. And there's the redesigned 2022 Nissan Frontier, a conventional model that complements an even lower price with a rough-and-tumble character. For this review, we tested both the Ridgeline and the Frontier so we could compare them across eight categories and then name an overall winner. Keep reading to learn which one we picked and which one sounds like the mid-size pickup for you. 
Exterior Design
Until this year, Nissan had barely touched the Frontier's design since 2005 — an eternity in the auto world. The new Frontier is modernized with a squared-off grille and high, rectangular LED headlights. Unlike the previous generation, its grille has no chrome; it's a mix of gray plastic and body-colored trim, with a design that varies by trim level. Especially on the S and SV models, it's not an exciting design; the off-road-themed Pro-X and Pro-4X look tougher. 
Meanwhile, the Ridgeline got tougher-looking in a comprehensive 2021 restyling. Honda squared off the front end, becoming more like other pickups, even if it's still gentler than the Frontier. That year also introduced a new HPD (Honda Performance Development) appearance package, included on our test truck, which has splashy graphics and neat bronze wheels. Rather than calling attention to its car-based roots, the current Ridgeline generation includes a false seam between the bed and cab to emulate a traditional truck. Measuring almost 6 inches wider than the Frontier, the Ridgeline also looks more like a full-size model than other mid-size pickups. Your aesthetic winner comes to your preference: a tougher-looking, smaller truck or a bigger, softer-looking one. 
Tie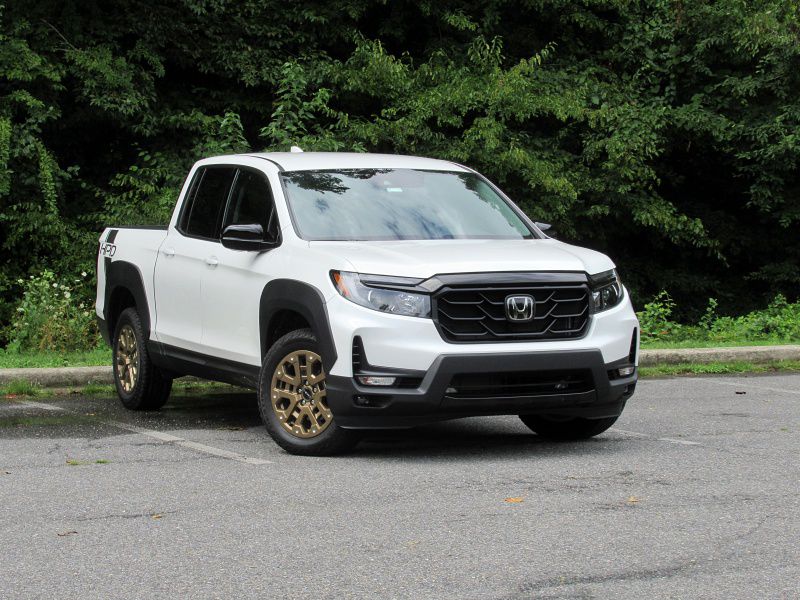 Photo by Brady Holt
Interior Design
While Honda made the Ridgeline's exterior tougher last year, the interior still comes straight from the 2016 Pilot crossover. That means it's nicely built but nothing flashy. Unlike early in its run, the Ridgeline now has a standard 8-inch touchscreen infotainment system, and a simple knob replaces clunky old touch-sensitive volume controls. Android Auto and Apple CarPlay smartphone integration are standard, but the system could be more responsive and user-friendly. 
The Frontier's interior is all-new this year, and it includes spiffy infotainment systems — a big upgrade from last year's 2005-era cabin. A smooth-operating 8-inch touchscreen system is standard, while fully loaded Frontiers have a 9-inch screen. The dashboard has few frills; it's blocky and solidly built, and the controls are easy to use. The gauges are big and clear, in contrast to the Ridgeline's unusual digital speedometer. Except for some shiny black plastic around the infotainment screen, the Frontier's dashboard looks like an all-business truck. It's a nice ambiance for a pickup — thoughtfully sturdy without being merely cheap — though the car-like Honda does have some richer materials. Overall, Nissan's superior infotainment, simpler controls, and conventional gauges win the day. 
Nissan Frontier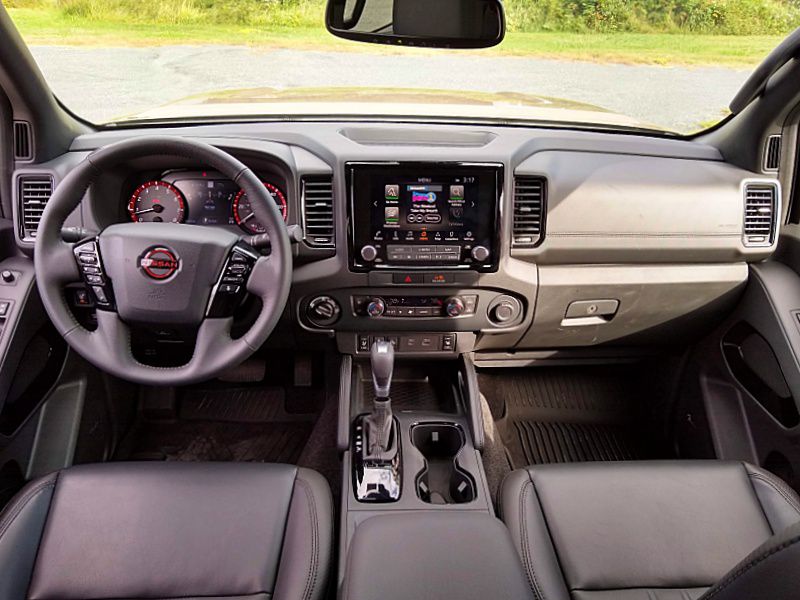 Photo by Brady Holt
Interior Comfort
The redesigned Frontier retains some components from its predecessor, and that leads to one notable downside: rear-seat comfort. The standard extended-cab model is only intended for storage or emergency seating for small children, but while we had no objection to the front seats, even the crew cab isn't great in the back. The seatback is bolt-upright, and leg and knee space is limited. 
Every Ridgeline is a crew cab with four big doors. With wide, cushy front seats, a low center console, and a wider body than the Frontier, it has the airy feel of a full-size pickup. Rear legroom isn't stretch-out spacious, but the Honda's backseat is still way better than the Nissan's, and the seat is wide enough for three adults without too much squeezing. 
Honda Ridgeline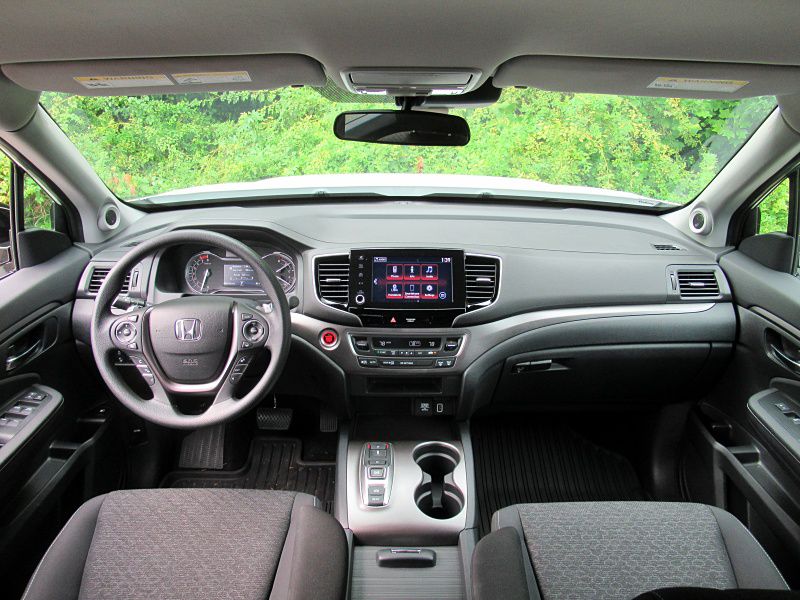 Photo by Brady Holt
Cargo and Utility
For a car-based pickup, the Ridgeline has decent capability. It can tow 5,000 pounds or handle a payload of 1,583 pounds. Still, the Frontier makes good use of its sturdy body-on-frame platform and more powerful engine. 
The Frontier is rated to tow between 6,260 and 6,670 pounds, depending on the trim level. Its payload ranges from a modest 1,160 pounds to a more competitive 1,610 pounds — with popular models falling on the low end of that range. However, when you're not maxing out the posted limits, Nissan has more space for your stuff. The Frontier's standard 59.5-inch-long bed comes up a bit shy of the Ridgeline's 63.6 inches. But the Honda bed is shallow, giving it just 33.9 cubic feet of volume compared with the Nissan's 40.1 cubic feet. The Ridgeline counters with a handy 7-cubic-foot trunk under the bed floor, but Nissan also offers a long-bed Frontier (optional on the crew cab and standard on the extended cab) that measures 72.7 inches long and provides 49.2 cubic feet of space. And while the Honda's nifty tailgate opens downward or the side, the Nissan's is nicely dampened. 
Nissan Frontier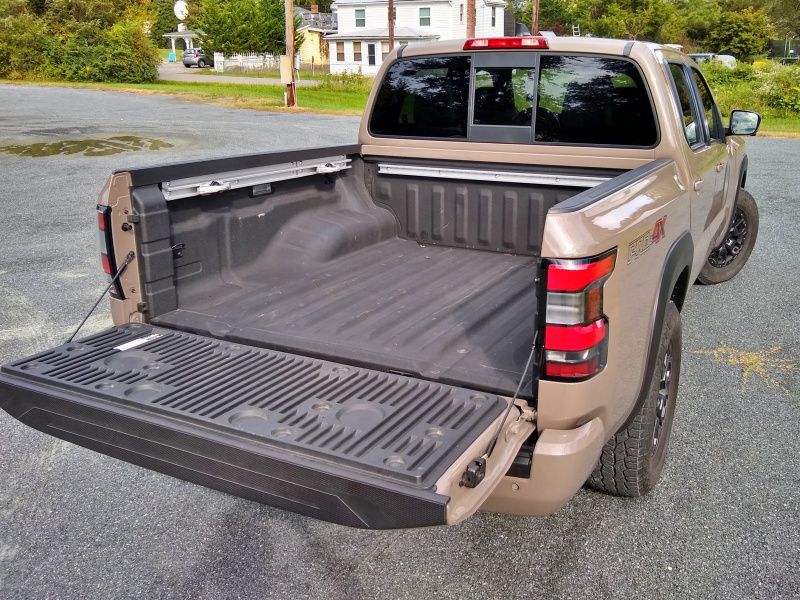 Photo by Brady Holt
Driving Experience
The 2022 Frontier rides on an updated version of the previous generation's underpinnings. Despite that age, the truck still has a more civilized ride and nimbler handling than some newer trucks like the Toyota Tacoma and Ford Ranger. And its 3.8-liter V6 engine — which Nissan introduced in the last year of the previous-generation Frontier — makes a hearty 310 horsepower and 281 pound-feet of torque. It's neither too loud for everyday use nor too quiet for a trucky vibe, and it delivers smooth acceleration. 
But unless you're seeking out something that's a bit rough and bouncy, the extra-polished Ridgeline is a winner. Continuing the vibe of its big, cushy front seats, this Honda rides like a pricier full-size truck, just for much less money. Its 3.5-liter V6 makes 280 horsepower and 262 pound-feet of torque, and it's smooth and quiet. The Ridgeline isn't filled with character, but it's comfortable, accelerates quickly, and handles with easy composure. Its natural responses are at particular odds with the Frontier's extra-heavy hydraulic steering at low speeds. 
Honda Ridgeline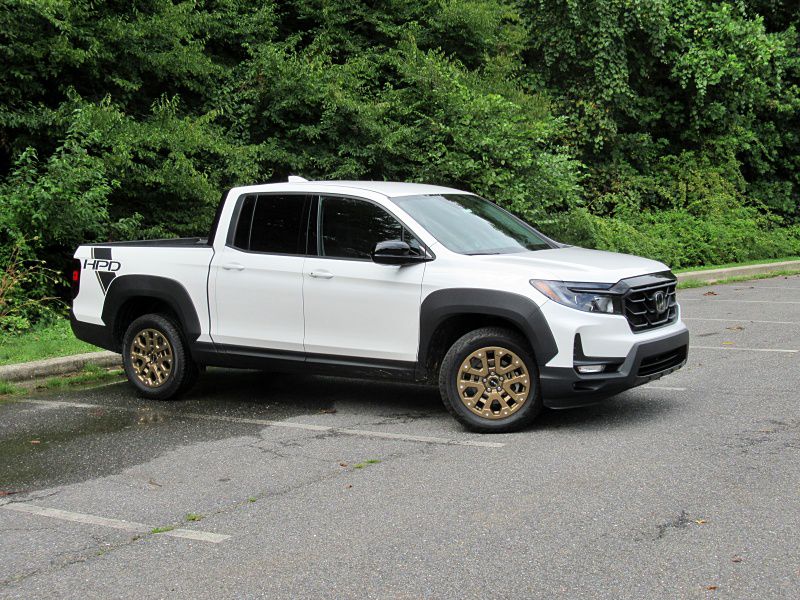 Photo by Brady Holt
Fuel Economy
If you're expecting a crossover-like pickup to use less gas than a traditional truck, you'd be right — but not by a huge margin. The Ridgeline, sold only with all-wheel drive, has EPA-estimated fuel economy ratings of 18 mpg in the city, 24 mpg on the highway, and 21 mpg combined. We did just a bit better, averaging 22 mpg during our week with the Honda pickup. 
The Frontier has EPA estimates of 18 mpg in the city, 24 mpg on the highway, and 20 mpg combined with rear-wheel drive and 17 mpg city, 22 mpg highway, and 19 mpg combined with four-wheel drive. Our 4WD Frontier test vehicle averaged 21 mpg, nipping nicely at the Ridgeline's heels, but the Honda still did better.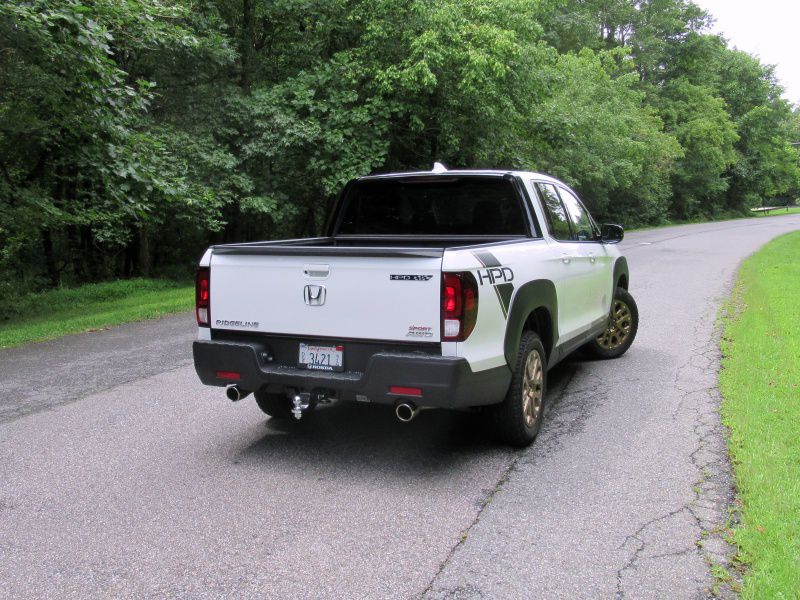 Photo by Brady Holt
Off-Road Capability
With standard all-wheel drive, dedicated driving modes for mud, sand, or snow, and 7.6 inches of ground clearance, the Ridgeline can manage its way through messy conditions. But when you give it a more challenging situation, especially if you'd be off-roading recreationally, the Frontier is the better tool for the job.  
The Nissan provides a mix of modern technology and the built-in advantages of a body-on-frame truck with four-wheel drive. Every 4WD Frontier includes hill-descent control, a low range, and a front skid plate. The top Pro-4X trim level adds an electronic locking rear differential, additional skid plates, and Bilstein off-road shocks, and it provides a surround-view parking camera to help you navigate off-road obstacles. Ground clearance ranges from 8.6 to 9.8 inches, depending on the trim level. We didn't conduct our own off-road testing during our time with the trucks, but this won't be a close call.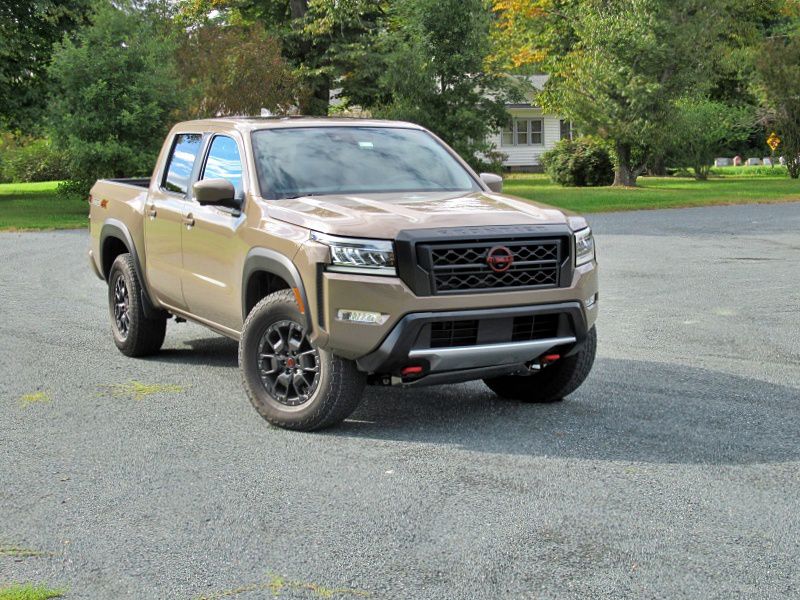 Photo by Brady Holt
Pricing and Features
Honda gives you sticker shock with the Ridgeline: a whopping base price of $36,890, higher than any other mid-size pickup. On the other hand, when you consider its V6 engine, crew cab body style, all-wheel drive, and long list of standard features, that price becomes less obscene. Even the base Ridgeline Sport, like our test vehicle, includes 18-inch alloy wheels, LED foglights, push-button starting, tri-zone automatic climate control, a seven-speaker stereo, forward automatic emergency braking, lane-keeping steering corrections, and adaptive cruise control. 
The Frontier starts at just $27,840, but that's for a two-wheel-drive extended-cab model with less equipment. The closest Frontier to the base Ridgeline is the mid-level SV 4WD crew cab with the optional Technology and Convenience packages. That runs $38,120. Similarly, to match the leather-trimmed Ridgeline RTL ($39,870), you need the SV Premium Package — bringing the Frontier to $41,055, like our test vehicle. We'll award this category to the Nissan because it has a wider range of affordable models, but the Honda is the better deal if you want a lot of features.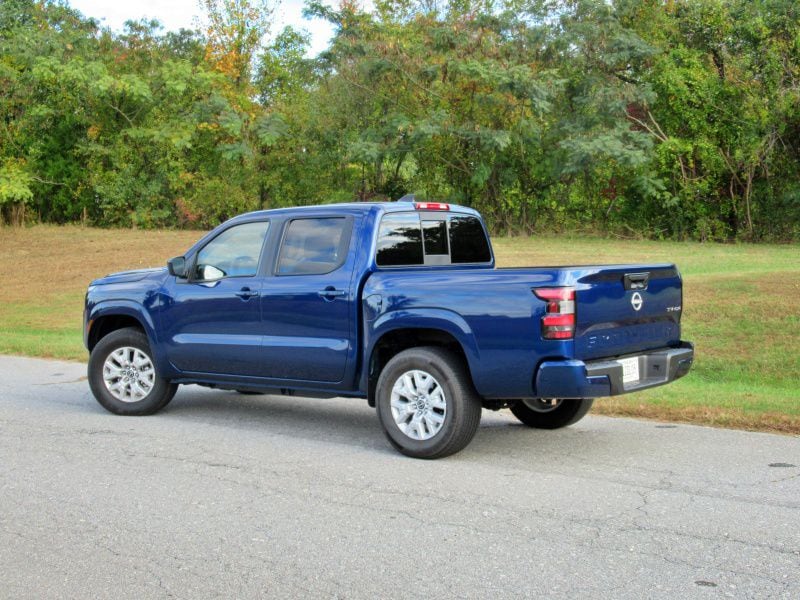 Photo by Brady Holt
Final Thoughts
When you want a conventional small pickup, the redesigned Frontier is a compelling choice. It's now available with a modern interior, advanced safety features, and a powerful yet decently economical engine. It looks fresh, it can go off-road, and it rides and handles better than some key competitors. And it has a wide range of models, ranging from affordable to opulently equipped. 
Still, we came away even more impressed with the Ridgeline. It has the smooth ride and airy cabin that would make some people pay far more for a full-size model like the Nissan Titan. Yet its comfort and refinement meet agile on-road handling and decent gas mileage. True, the Honda can't haul as much as the Nissan — but it's not so far off the mark. It can't tackle challenging off-road terrain — but it will get you most places you probably want to go. And its base price is high — but if you want the same features in the Frontier, you'd pay even more. The one-of-a-kind Ridgeline fits many needs without beating you up over it. Unless you need more capability, or honestly prefer a truck that roughs you up a little bit, we highly recommend it.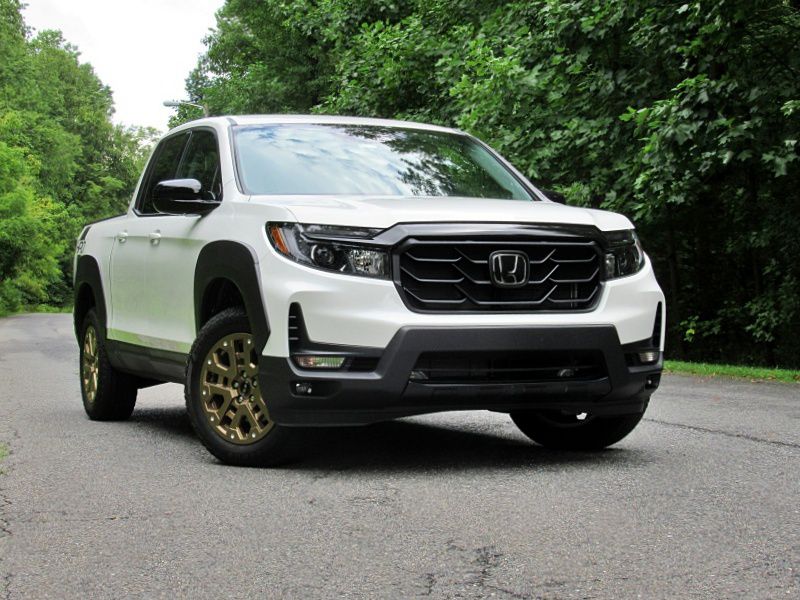 Photo by Brady Holt