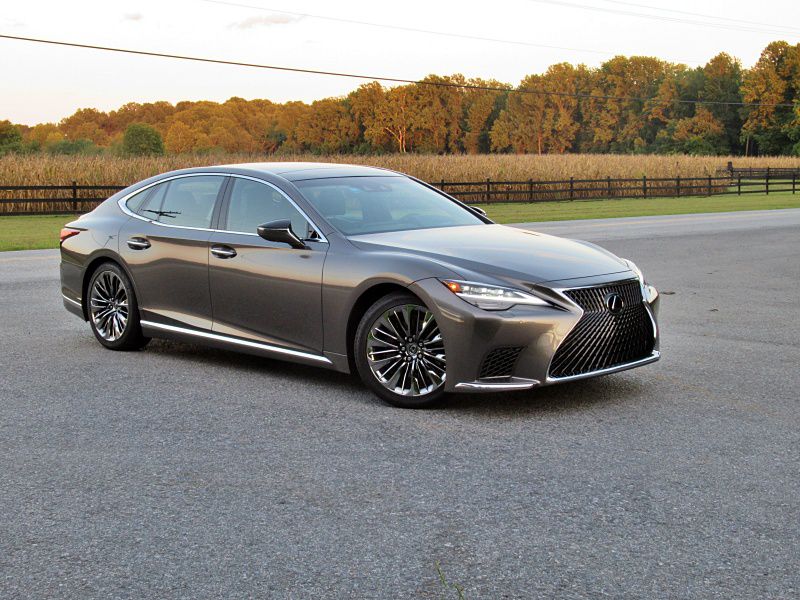 2021 Lexus LS 500 ・ Photo by Brady Holt
A luxury carmaker's full-size sedan is a flagship. It's a showpiece, a stunner — a way to show off the best of what a brand is capable of. Even in an era where people wanting big vehicles tend to pick SUVs over sedans, flagship full-size sedans still get plenty of attention. 
And the biggest big sedan in the business just got a full redesign. That's the Mercedes-Benz S-Class. It's also the most expensive car in its class, starting at $111,350. Does the S-Class prove that Mercedes can make an amazing car, or does it tell us the brand is overpriced? To find out, we sampled the new S-Class at a media event and also spent a week testing the competing and newly updated 2021 Lexus LS. The Lexus may not be a bargain at $76,000, but even luxury buyers can feel that price difference. Read on as we compare these big sedans in eight categories and declare an overall winner.
Pricing
We gave away this winner on the previous page, but we'll say it again: The Lexus LS starts at more than $35,000 less than the Mercedes-Benz S-Class. The LS 500 like our test vehicle, equipped with a 416-horsepower V6 engine, starts at $76,000. You can also buy the LS 500h, which pairs a V6 engine with electric motors for a total of 354 horsepower. 
The S-Class also comes standard with a six-cylinder engine on its base S500 model, which costs $111,350. It makes 429 horsepower. You can also pay $117,950 for the S580 like our test vehicle, which has a 496-horsepower V8. The Benz offsets its price difference with additional standard features, but the LS is still far less expensive.
Lexus LS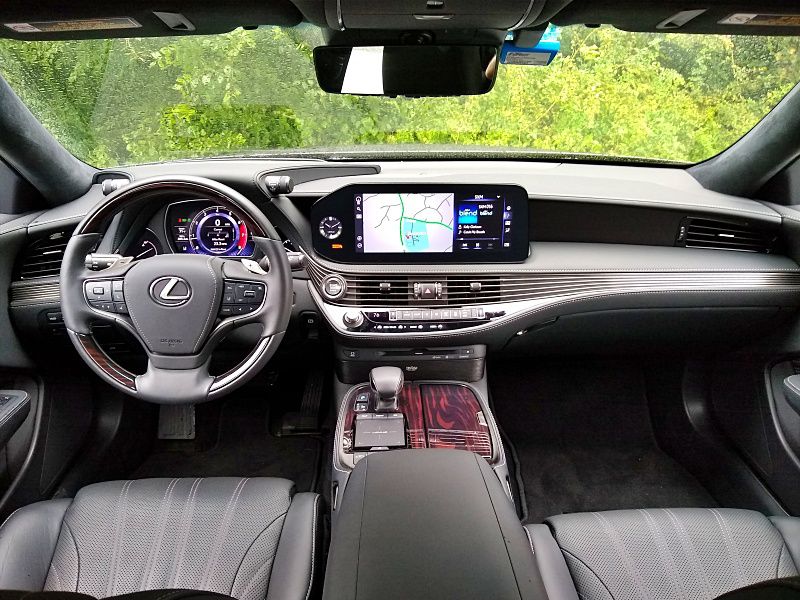 Photo by Brady Holt
Features
A flagship luxury sedan should be packed with new technology and great features you can't get on ordinary automobiles. And that's the case with these two sedans. The Lexus LS is available with 28-way adjustable front seats and even 22-way adjustable rear seats, four-zone automatic climate control, a 7-inch rear secondary infotainment touchscreen, massaging front and rear seats, a 23-speaker Mark Levinson surround-sound stereo, and a footrest for the passenger-side rear seat. That makes for a more comfortable experience than you'd get in an ordinary car, especially for rear passengers — perfect when someone else is driving around the VIP. 
Still, the Mercedes is the sedan that breaks more ground and stands more apart from lesser vehicles. Its extras beyond the Lexus include soft-close doors, a cabin-fragrance system, a built-in dashcam, heated armrests, two 11.6-inch rear infotainment screens, an augmented-reality system for the head-up display, and the ability to recognize the driver to automatically select certain preferences. This is the above-and-beyond car-of-the-future stuff that helps make a flagship car special. Some of these features are frightfully expensive — and Mercedes charges more for some of those the Lexus offers, too — but Benz lets you get more.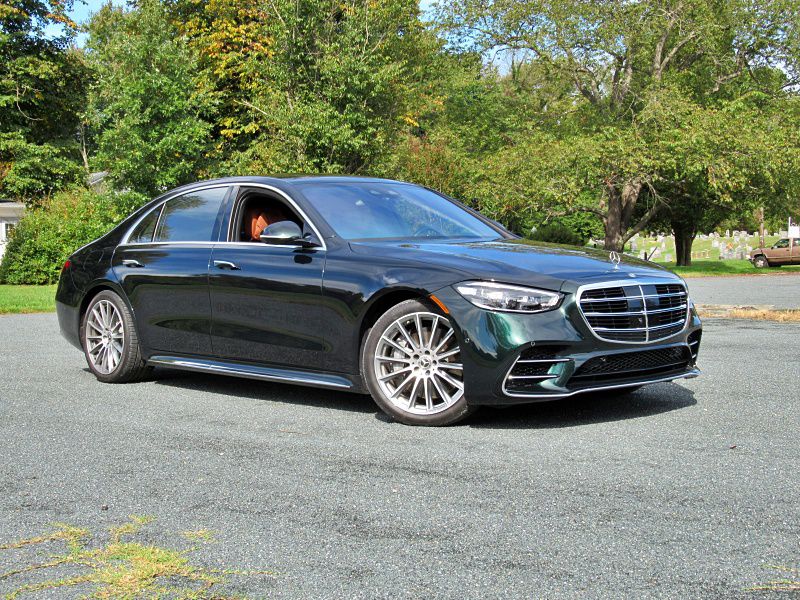 Photo by Brady Holt
Exterior Design
The all-new S-Class isn't a dramatic visual departure from its predecessor. This is a big, sleek, but generally conservative sedan. The greenhouse is pretty similar to the previous model — which had been a more radical evolution from its predecessor. The headlights are smaller and the grille is more vertical, changes that make the new S-Class look more purposeful but also more conservative. 
The Lexus LS received a dramatic redesign back in 2018. Since then, Lexus has rolled out similar styling on its other sedans, but the big LS still has presence. Its hourglass "spindle" grille is intricately detailed, and its headlights are slim spears that point into it. This creates a big sedan with a sportier stance than the upright Benz. Things are less dramatic around the back, except for a dip at the corner of the taillights that dips into the rear bumper. From some angles, the side windows look designed less for style than for an easy view out — itself a worthy goal, to be clear — but the rounded greenhouse is a neat design touch from other views. We won't name a winner between the more risk-taking Lexus and the conservative Mercedes. 
Tie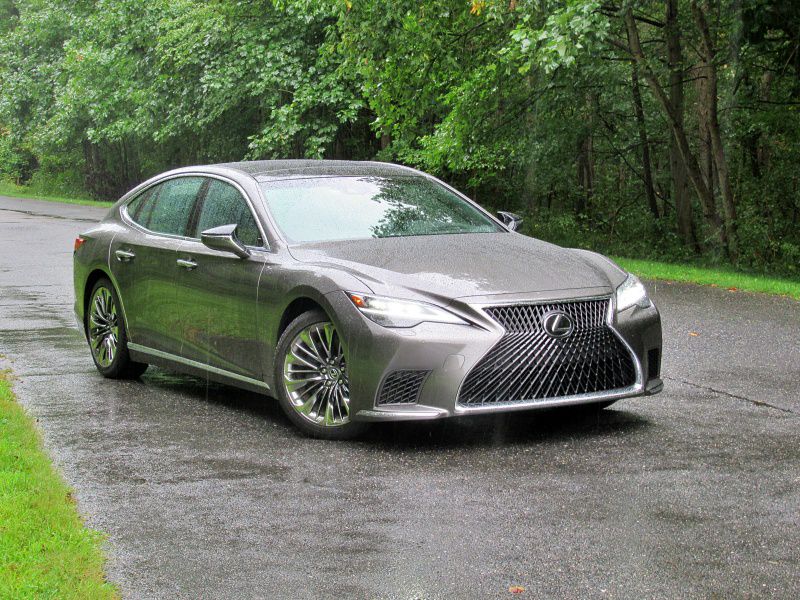 Photo by Brady Holt
Interior Design
Inside, the LS has a 12.3-inch infotainment touchscreen on top of the dash, with some buttons and knobs below it. The climate vents merge into a metal strip that spans the passenger side of the dash, which was a novel design in 2018 but has since been widely copied. No one has copied its available Kiriko glass trim, though. Despite many rich materials, various buttons are ordinary plastic, and the touchscreen's graphics are nothing special. The best news is that the 2021 LS interior is simpler to use the controls than last year's model — which forced you to use a distracting touchpad — or some of its competitors. 
The S-Class interior is more modern and distinctive. The instrument panel doesn't just have a touchscreen sitting on it — the instrument panel is a touchscreen. It's a 12.8-inch display with splashy yet nicely readable graphics, and it uses a classic Mercedes-Benz font. And it has an extra-intelligent voice assistant. The Lexus makes some functions easier to use quickly, thanks to its additional hard buttons and knobs. And not everyone will love the Mercedes' aesthetic. But the Benz is better built and more visually arresting.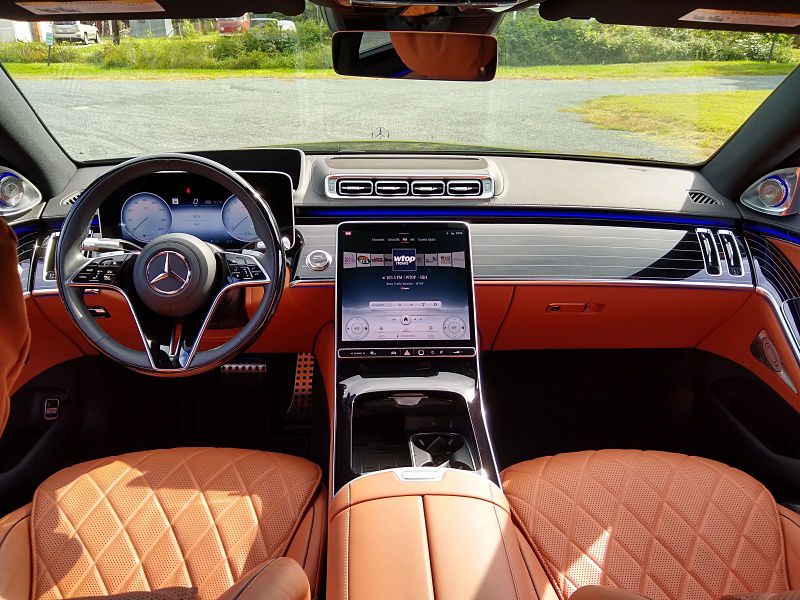 Photo by Brady Holt
Interior Comfort
The S-Class sets the tone for its interior comfort with built-in pillows on the front and rear seats. If you miss the days when head restraints were called headrests, rest your head in this Benz. The seats are also incredibly comfortable, with magnificent support and acres of space for four adults to settle in and relax. And when you're riding in the back, you get the industry's first frontal-style airbags for the rear passengers; they deploy out of the front seatbacks. The center-rear position isn't optimized for carrying a fifth passenger, though, and the trunk is a modest 13.8 cubic feet — on par with a subcompact Hyundai Accent.
The LS is quite nice, too. You won't find this many creature comforts for a sedan's rear seat on anything but a full-size luxury model. But the S-Class has more room, more intricately engineered seats, and top-notch safety for chauffeured VIPs. The Lexus is better configured for carrying five people, and its trunk is a generous 17 cubic feet on the LS 500. (The LS 500h drops to 15.2 cubic feet.) Otherwise, we pick the Mercedes.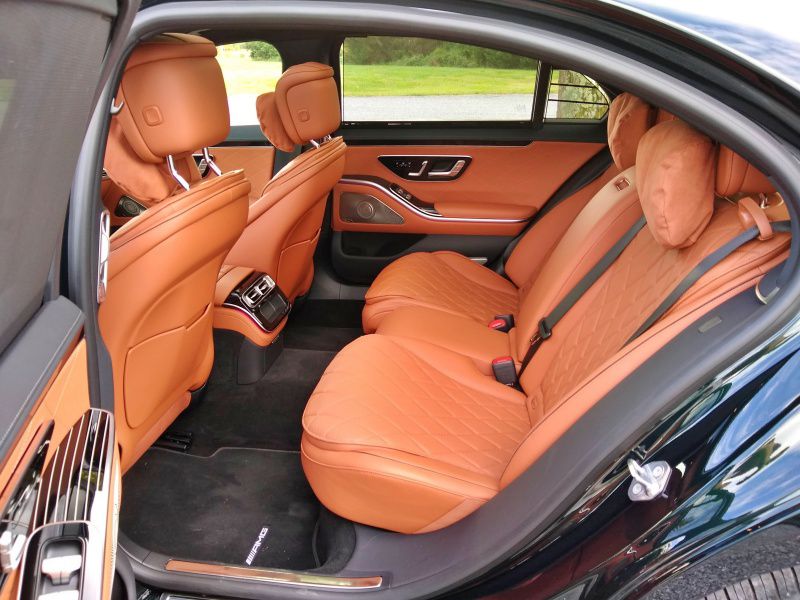 Photo by Brady Holt
Ride and Handling
In its 2018 redesign, the Lexus LS transformed from a pillowy cruiser into more of a sports sedan. But that change also cost the LS some of its trademark comfort and isolation. The 2021 update brought a revised suspension for a smoother ride, which we appreciate. And there's still more handling composure than past LS generations, gliding along smoothly even as you push it harder. 
Still, the Benz once again goes even farther. It's incredibly quiet, to the point you can't even hear the engine while you accelerate gently. During our brief drive, we found it to handle with more precision and polish than the Lexus, and its air suspension swallowed a speed bump like it almost wasn't there. And an available rear-wheel-steering system can pivot the rear wheels by either 4.5 degrees (including on our test vehicle) or even 10 degrees on pricier vehicles for quicker responses and a tighter turning radius.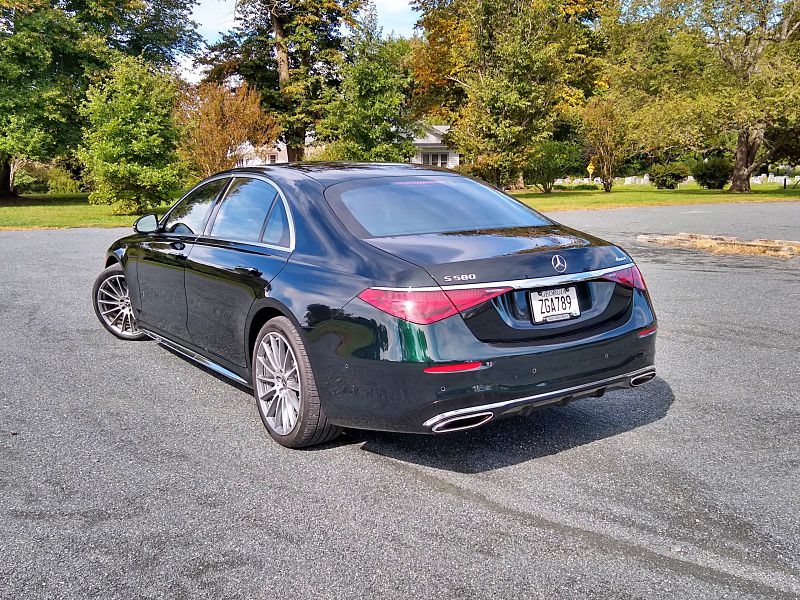 Photo by Brady Holt
Acceleration
The Lexus LS 500, like our test vehicle, has a turbocharged 3.5-liter V6 engine that makes 416 horsepower and 442 lb-ft of torque. It delivers lively acceleration without making a raucous fuss about it. We also appreciate that its selectable Sport+ driving mode is responsive to your driving habits; it lets you tell the car to downshift faster for speedier acceleration, but it doesn't lock you into low gears with unnecessarily high RPMs when you're cruising gently. Lexus says it reaches 60 mph in a startlingly fast 4.6 seconds. The LS 500h hybrid has 354 horsepower and reaches 60 mph in 5.1 seconds. 
The Mercedes-Benz S500 has a turbocharged and supercharged 3.0-liter six-cylinder with 429 hp and 384 lb-ft of torque. Mercedes estimates it will take 4.9 seconds to reach 60 mph, better than many sports cars though just behind the Lexus. The S580, like our test vehicle, sports a 4.0-liter turbocharged V8 with 496 horsepower and 516 lb-ft of torque. The company estimates it will reach 60 mph in 4.4 seconds. Still, especially considering how much Mercedes charges even for the S500, we're more impressed with the Lexus's performance. 
Lexus LS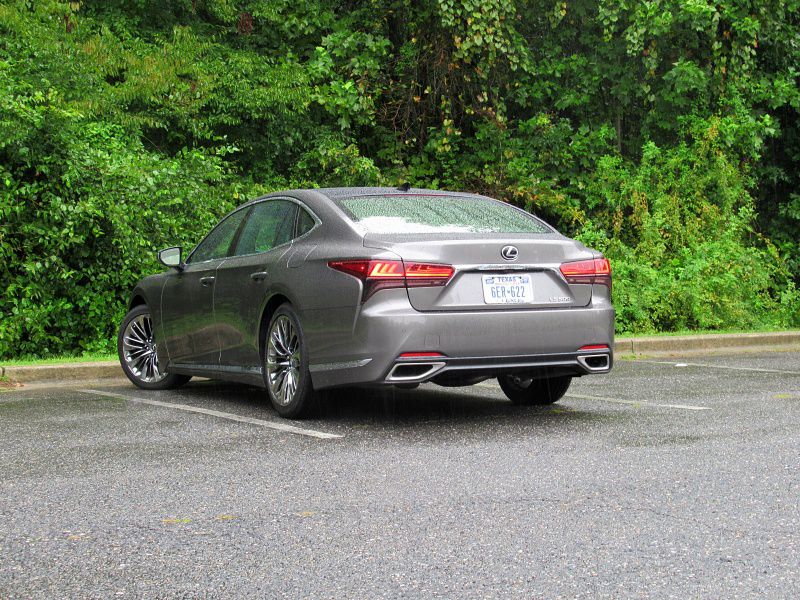 Photo by Brady Holt
Fuel Economy
Despite its size, its speedy dash to 60 mph, and its standard all-wheel-drive system, the Mercedes-Benz S500 is a relatively economical vehicle. It earns an EPA-estimated 20 mpg in the city, 29 mpg on the highway, and 24 mpg combined — excellent for its class. That comfortably trumps the already reasonable LS 500, which manages 18 mpg city, 29 mpg highway, and 22 mpg combined with rear-wheel drive and 17 mpg city, 27 mpg highway, and 21 mpg combined with all-wheel drive. 
Still, if you want a fuel-sipping full-size sedan, Lexus has an option that Mercedes doesn't: the LS 500h hybrid. It averages 25 mpg in the city, 33 mpg on the highway, and 28 mpg combined with rear-wheel drive and 23 mpg city, 29 mpg highway, and 26 mpg combined with all-wheel drive. Especially considering that it's also quite fast, that's an appealing option if you do much stop-and-go driving. The S580, meanwhile, gets 17 mpg in the city, 25 mpg on the highway, and 20 mpg combined. We expect an S-Class hybrid in the future, but it's not currently available. 
Lexus LS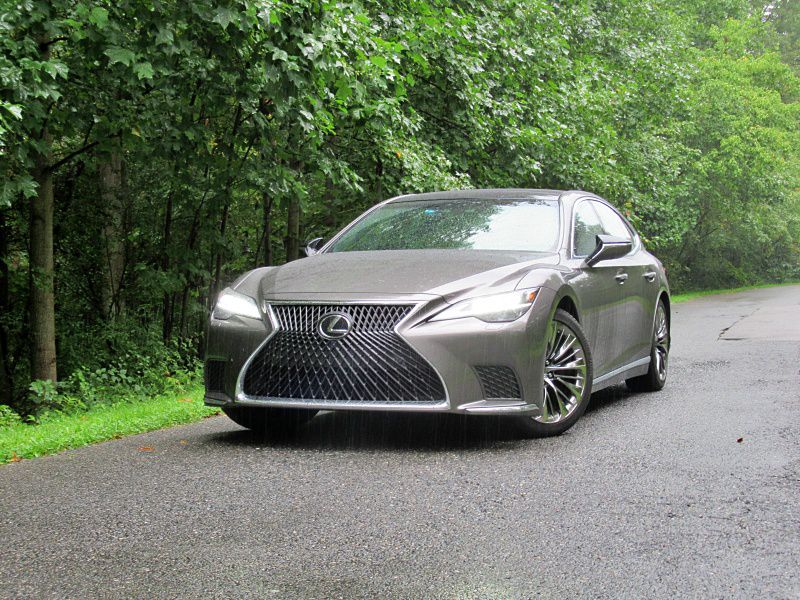 Photo by Brady Holt
Final Thoughts
The Lexus LS is a fine luxury sedan. Especially after this year's updates to its suspension and its infotainment controls, it provides equal parts serenity and performance. It's fast and agile, yet it's comfortable and quiet. Its exterior is sleek and sporty, yet there's plenty of room inside. It stands apart from ordinary cars for its rear-seat amenities. And it undercuts the S-Class's starting price by the cost of another Mercedes. 
Still, a flagship car is about being special, and that's where the Benz justifies its price tag. The LS is a fine luxury car; the S-Class is the next grade of luxury machine. Its exterior may be conservative, it may benefit from more physical dashboard controls, and its trunk may be oddly petite. But this is the big sedan that's more than just a big, very nice car. It's the one with technological advances, a less mainstream interior design, and flawless interior detailing. It's also the nicer big car — more comfortable, quieter, more agile, and even decently economical despite lacking a hybrid powertrain. For many people, the LS would easily be the nicest car they've ever driven. But we've driven the S-Class, and it takes home our prize.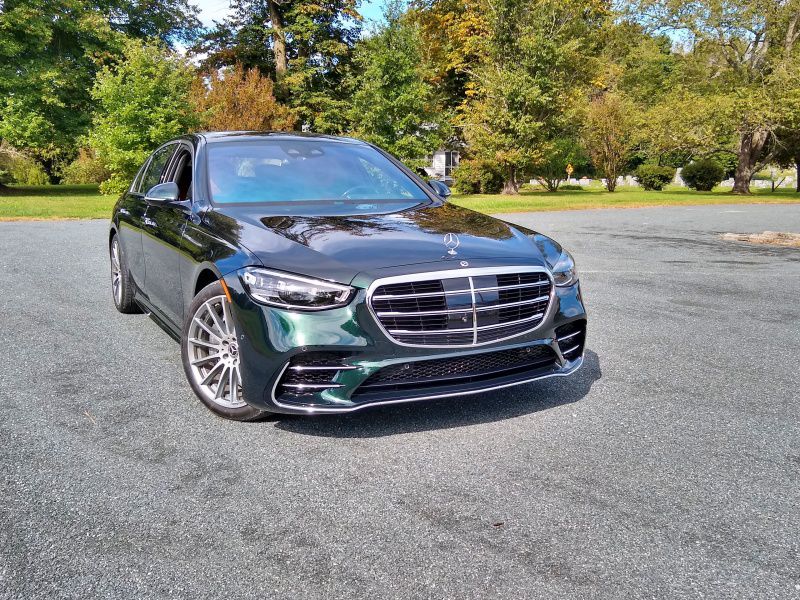 Photo by Brady Holt