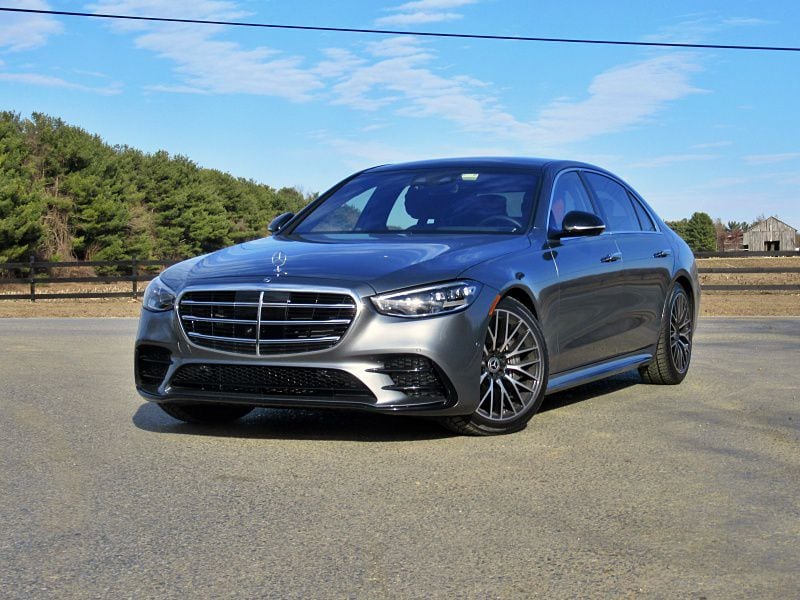 2022 Mercedes Benz S500 ・ Photo by Brady Holt
"The best or nothing." That's the slogan of Mercedes-Benz, one of the auto industry's most storied luxury automakers. And while we might not agree that every Mercedes product beats all its competitors, the brand pulls out all the stops for its flagship S-Class sedan. 
The 2022 Mercedes-Benz S-Class, priced from $111,100, marries old-school and cutting-edge qualities. The full-size sedan is a dwindling market segment. Gasoline-powered luxury cars are losing market share to electric models, including Mercedes's own EQS. But the latest S-Class boasts an all-modern, tech-filled interior, and it drives better than ever. Keep reading as we introduce you to the S-Class in more detail and walk you through its various pros and cons. 
Exterior Evolution
Mercedes fully redesigned the S-Class for the 2021 model year, but it's not a dramatic visual departure from its predecessor. Compared with the model's last redesign back in 2014 — which had been a more radical evolution from its predecessor — the current S-Class is on the conservative side. Still, we agree with every styling change Mercedes made. 
Smaller headlights sit aside a more vertical grille than before. Mercedes smoothed out some fussy details on the previous generation's front fascia and the side bodywork. And the slim new taillights are spread horizontally instead of vertically, which we found more handsome. We think this new design will age beautifully, at the possible risk of looking too conservative in the here and now. And to be clear, conservative doesn't mean inconspicuous: This is still a big, purposeful, and expensive-looking sedan. It doesn't scream "look at me" in a crowd of six-figure luxury cars, but a big Mercedes won't be ignored in regular traffic.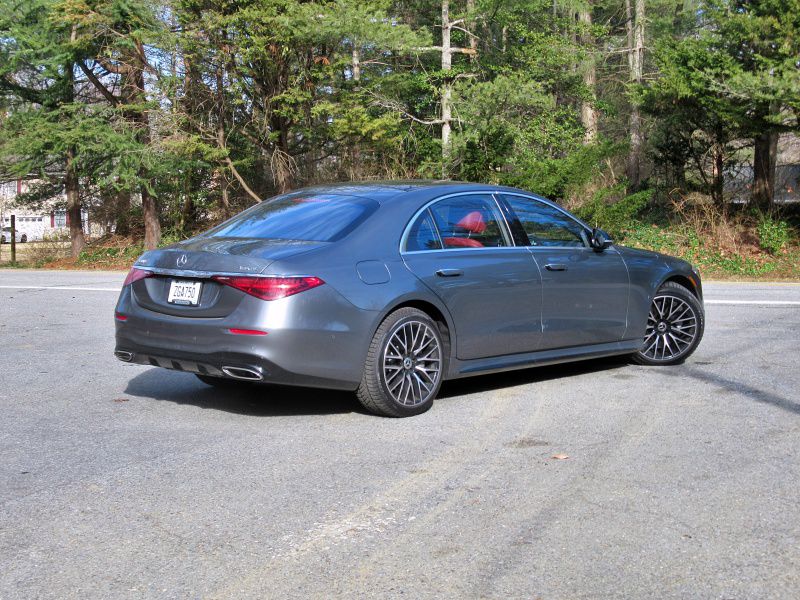 Photo by Brady Holt
Digital Dashboard
The S-Class has been steadily moving toward a more digital experience, and the new model makes it perhaps the most natural yet. It's tough to make something special in a world where even economy cars have slick touchscreens and digital gauge clusters, but we think Mercedes pulled off something that's stylistically modern and cohesive. 
At the center of the impeccably finished dashboard is a 12.8-inch high-resolution touchscreen that flows up from the high center console and sticks out slightly from the swept-back dash. A 12.3-inch display serves as the gauge cluster behind the steering wheel. Unlike the old S-Class, there's no longer a visual connection between the gauge cluster and the touchscreen. The resulting design is clean and simple, but undeniable tech-focused. Our main complaint: Mercedes doors used to close with an authoritative "whump." We missed that in the new S-Class. Still, we appreciate gently closing the door partway and letting the car automatically pull it the rest of the way shut.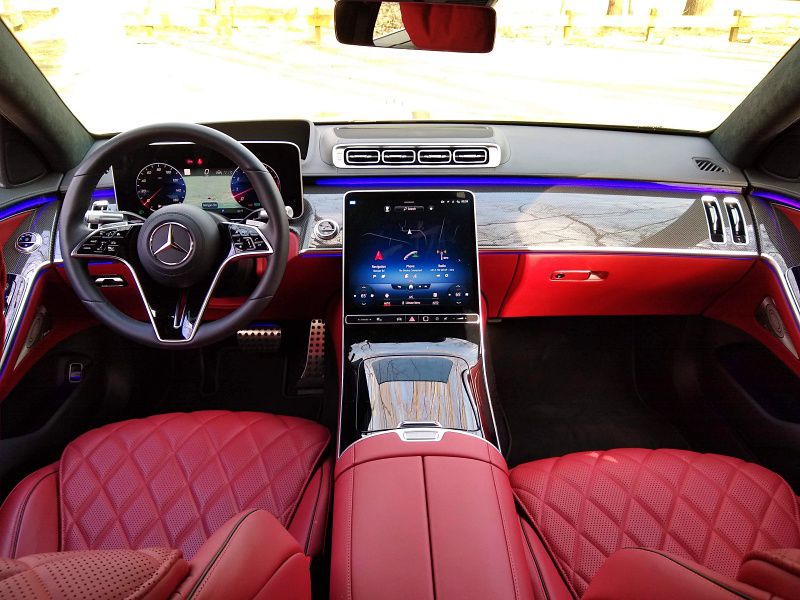 Photo by Brady Holt
Dazzling Technology
Mercedes sweated the details in crafting the new S-Class. The system is extra-responsive. The infotainment screen uses classic Mercedes fonts. A GPS map display between the speedometer and tachometer has a neat 3D effect. The head-up display will project arrows onto your windshield that show you which road to take, overlaid atop the actual road. The surround-view parking camera gives you an infinite range of views, which load with no lag and surprisingly little distortion as you drag the computer-rendered S-Class around with your finger. And if you reach across an empty seat in the dark, the car activates the nearest interior light. 
Now we come to the downside: Some controls are cumbersome to use. The S-Class has primarily touch-sensitive controls rather than physical ones. And while some functions are easy to access quickly through the big screen, others are buried. Mercedes encourages you to use voice controls, but we prefer simple buttons and dials for simple functions. Though we've certainly dealt with more stubborn infotainment systems, we'll warn you that there's a consequence for the S-Class's clean interior lines.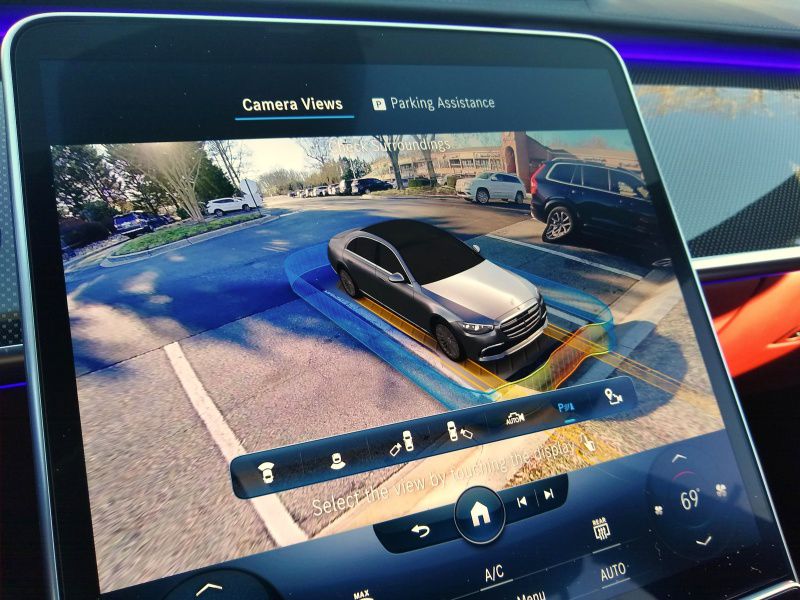 Photo by Brady Holt
Acres of Space
Some flagship luxury sedans are so focused on styling, they forget to offer full-size interiors. That's especially problematic when the VIP is riding in the back rather than behind the wheel. Mercedes clearly knows its place as a longtime seller of chauffeured vehicles, providing sumptuous accommodations and acres of space in both the front and rear seats.
The S-Class sets the tone for its interior comfort with built-in pillows on the front and rear seats. If you miss the days when head restraints were called headrests, rest your head in this Benz. Heated armrests further enable your automotive hedonism. We also welcomed seat cushions that are long-term supportive without feeling too hard when we first sat down. And in the back, you get the industry's first frontal-style airbags for the rear passengers; they deploy out of the front seatbacks. There are a couple of functional downsides: The center-rear position isn't optimized for carrying a fifth passenger, and the trunk is a modest 13.8 cubic feet — on par with a subcompact Hyundai Accent.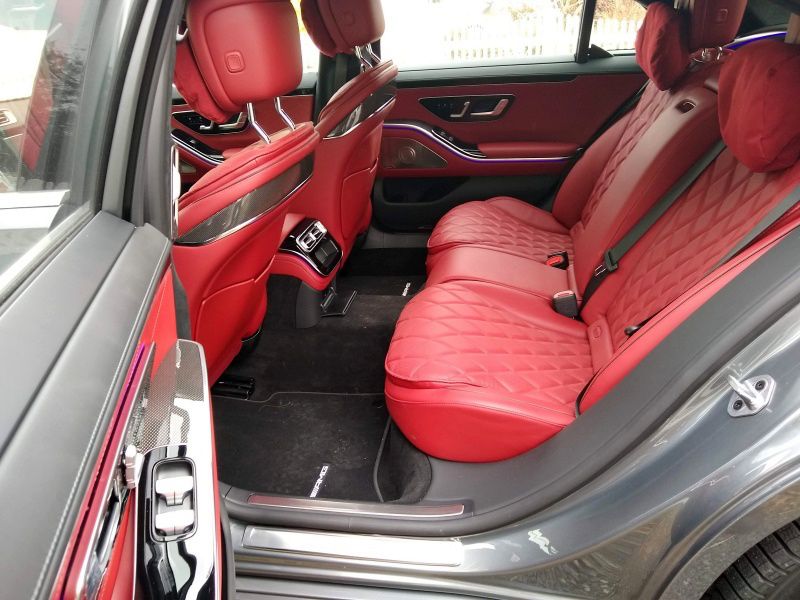 Photo by Brady Holt
Supreme Composure
The goal of a modern full-size luxury sedan is to glide smoothly and silently in a straight line at high speeds, then wake up and jump into action when it's time to hustle. The S-Class does exactly that. 
Even with our test vehicle's big 21-inch AMG-style wheels, the S-Class was nearly unflappable. You feel the road a bit through the steering wheel, but while some people might wish for more isolation, others will welcome Mercedes's decision to make its big sedan an automobile rather than a mere transportation pod. Handling is poised and responsive, and an available rear-wheel-steering system can pivot the rear wheels by either 4.5 degrees (including on our test vehicle) or even 10 degrees on pricier vehicles for quicker responses and a tighter turning radius. Our test vehicle also included the Mercedes E-Active Body Control system — newly available this year. This ultra-advanced adaptive suspension, a $6,500 option, adjusts each wheel individually to minimize impact harshness. And its "curve" function actively counteracts body roll by leaning the car into a turn like a motorcycle.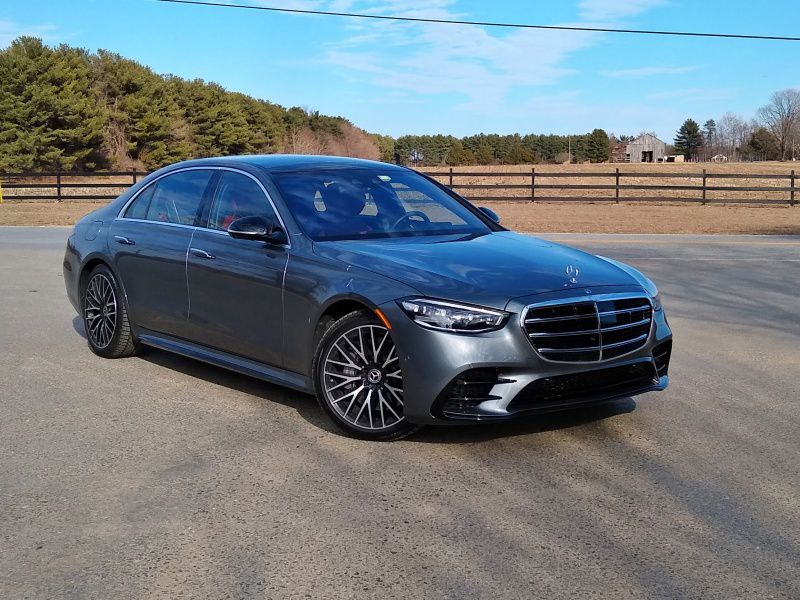 Photo by Brady Holt
Instant Acceleration
We spent a week in the base S500 model, which combines a 3.0-liter in-line six-cylinder engine with mild electric boost for a total of 429 horsepower and 384 lb-ft of torque. The S500's acceleration transitions seamlessly from effortlessly gentle to ferociously quick. You don't hear much of the engine, but what you do hear sounds good. 
And that's just the base model. You can also get the S580, whose 4.0-liter V8 makes a gleefully unnecessary 496 hp and 516 lb-ft of torque (also with some electric boost). Mercedes estimates the S500 reaches 60 mph in a sportscar-like 4.9 seconds, while the S580 cuts that to 4.4 seconds. In a brief drive, we also found the S580 to be dead-silent even under gentle acceleration. Upgrading to the V8 costs $6,600, but the bigger difference is gas mileage. The EPA puts the S500 at an incredible 21 mpg in the city, 30 mpg on the highway, and 24 mpg combined. As recently as five years ago, that was good mileage for a 250-hp family sedan or a 180-hp compact crossover. More relevantly, it's 2 mpg better than the previous-generation 362-hp S450 and 5 mpg better than the 2022 S580.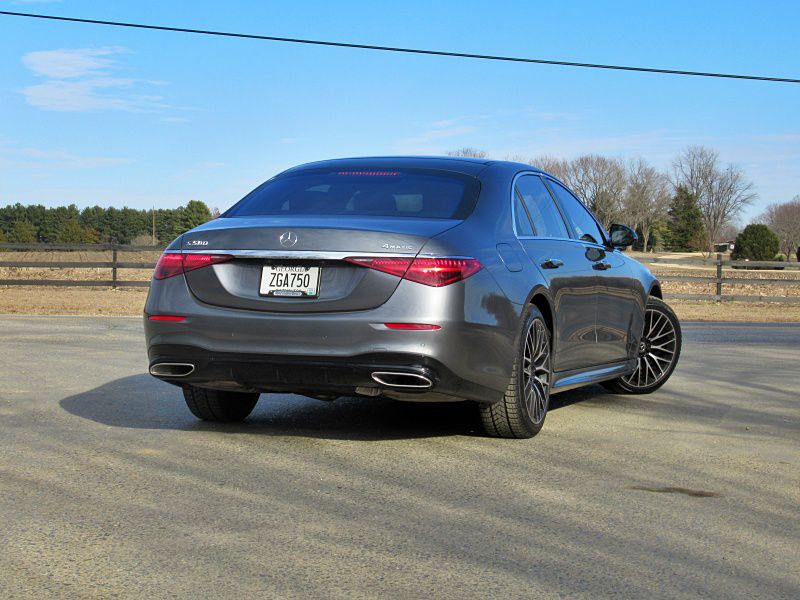 Photo by Brady Holt
Not a Budget Car
Even by the standards of a full-size luxury sedan, the 2022 Mercedes-Benz S-Class is expensive, starting at $111,100. For comparison, a BMW 7 Series starts at $86,800, a base Audi A8 runs $86,500, a Lexus LS starts at $76,000, and a Genesis G90 is $74,950. So even if you take the position that nobody buying an S-Class is counting pennies, a 50 percent price difference isn't irrelevant. 
You can't get the S-Class in any form except especially luxury-laden. Standard equipment includes an air suspension, a navigation system with augmented-reality displays, a Burmester surround-sound stereo, a panoramic sunroof, rear sunshades, and soft-close doors. We could easily be happy with just the base model, though we'd also probably choose the $3,800 Warmth and Comfort Package: a heated steering wheel; heated, ventilated, and power-adjustable rear seat; and heated front and rear armrests. Our test vehicle's other options included Nappa leather upholstery ($5,400), the AMG Line appearance package ($4,300), the 3D Technology Package ($3,000) that includes the 3D effect in the gauge cluster and the augmented reality head-up display; and E-Active Body Control ($6,500). With those options and others, the total came to $140,440.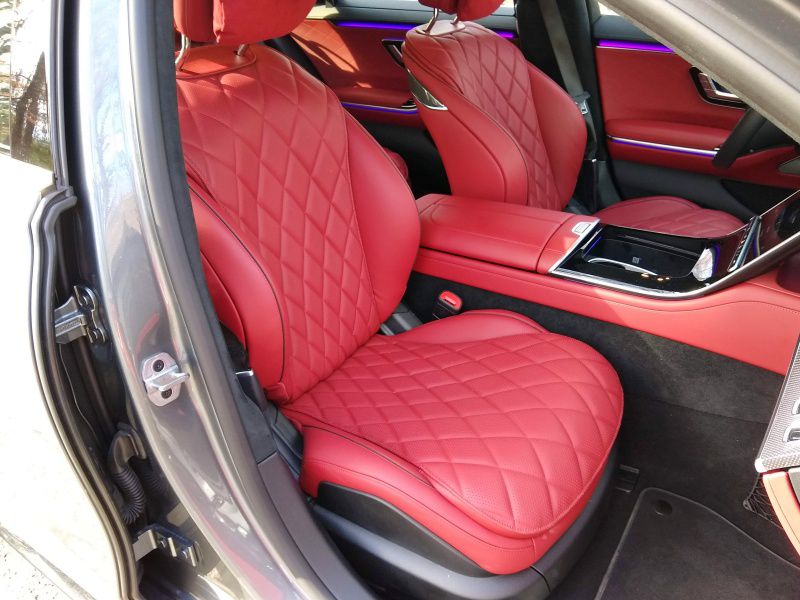 Photo by Brady Holt
Competitors to Consider
We mentioned the S-Class's closest competitors on the previous page. In addition to their lower starting prices, each also brings some further advantages over the Mercedes. The 7 Series has a less technologically dazzling cabin than the Benz, but simpler controls and a bigger trunk. The A8 has a more configurable digital gauge cluster, but it doesn't look as big and grand as the S-Class. And while the LS and G90 offer big backseats and smooth, quiet rides, they don't offer the extra dose of dazzle or innovative new features. And none of these sedans is as economical as the S500. 
An in-house rival is the new all-electric Mercedes-Benz EQS, which starts at $102,310 before a $7,500 federal tax credit. This flagship of the future shares the gas S-Class's size and serenity while burning no gasoline. But its stubby hood and trunk won't be for everyone. Nor will the need to plug it in to charge. Lastly, on its merits, the S-Class can face off against even pricier sedans from Bentley and Rolls-Royce. But it doesn't have the 10-ton solidity of those big bruisers, and an S-Class won't command the same attention as a Rolls on Fifth Avenue.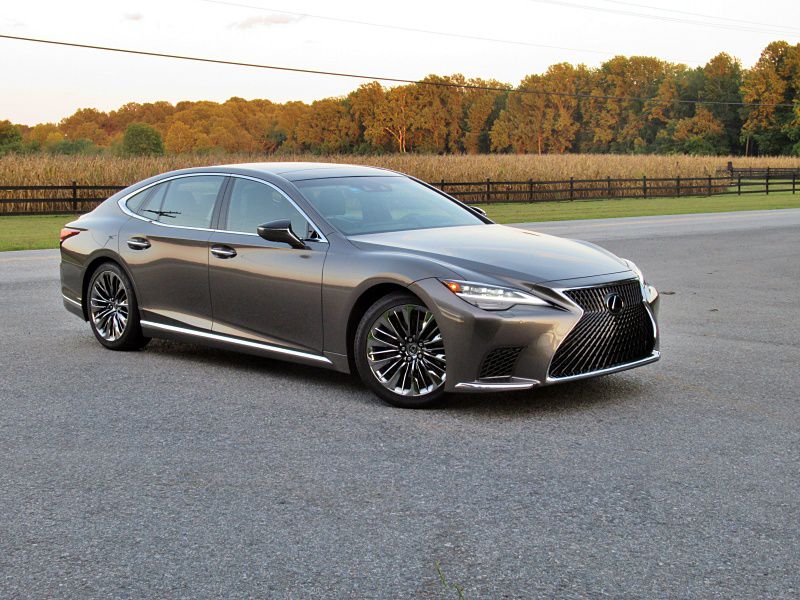 Photo by Brady Holt
A Marvelous Showpiece
Mercedes could have decided not to update the S-Class so comprehensively. It could have provided modest updates for people who want a big, quiet, extra-comfortable Benz to be chauffeured in, and then put its resources into more popular SUVs and into its electric future. Even that would have been an impressive sedan. 
But Mercedes wasn't able to turn its back on a long-running commitment to make the S-Class special — a showpiece of what the carmaker is capable of. While the exterior isn't dramatic, we're confident it will look great for decades to come. While some controls could be easier to use, the interior is a successful marriage of style and technology. It's still great to drive and more powerful than ever, and yet its gas mileage has gotten almost thrifty. And it's packed with technology. The S-Class has always been about providing more than it really needs to. We can find things here and there that we'd have done differently, and we could find a cheaper way to cruise in quiet comfort, but we wouldn't accuse Mercedes of sparing any effort to create one of the world's best sedans.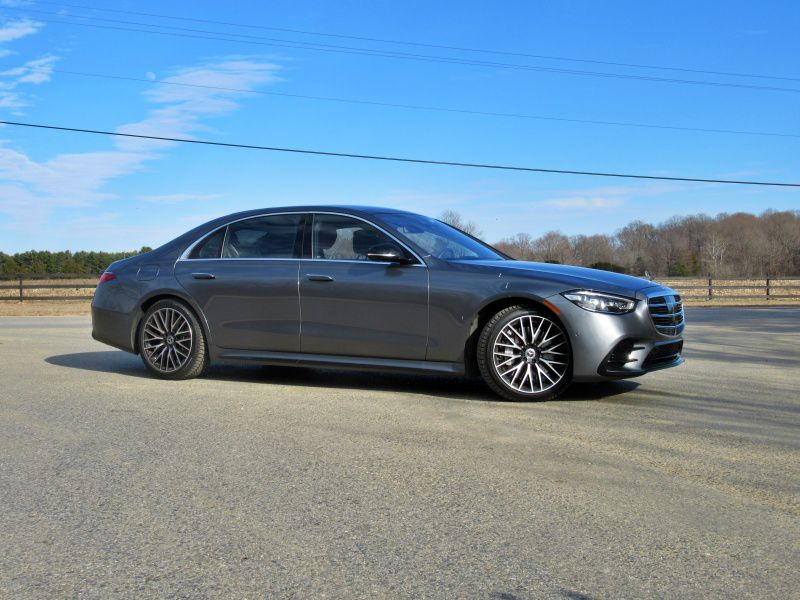 Photo by Brady Holt