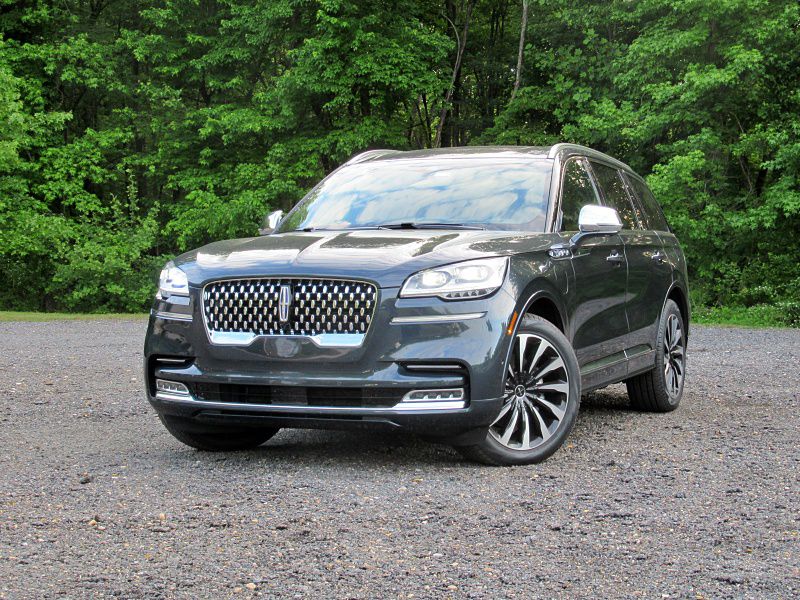 2021 Lincoln Aviator Grand Touring ・ Photo by Brady Holt
There are two types of luxury SUV. One is a full-fledged premium vehicle with an SUV shape — designed from the ground up as a high-end product. The other keeps costs down by borrowing some parts from mainstream-brand vehicles, dressing up those bones with fancier styling, richer cabins, and more features. 
The 2022 Lincoln Aviator slots between the two types. On the surface, this mid-size crossover is a luxury version of the Ford Explorer. However, the transformation is thorough. Lincoln invested heavily to eliminate any visual trace of the Explorer, with a dramatic-looking three-row SUV that both fits into the Lincoln lineup and stands apart from it. It comes standard with a 400-horsepower V6 engine, while an available plug-in hybrid powertrain is mightier still. And clever design touches make it clear that someone was sweating details on this vehicle. Keep reading to learn more about the Aviator's pros and cons, so you can learn whether it's the right luxury SUV for you. Prices start at $51,465. 
Styling That Stands Out
In the luxury SUV segment, most high-style models are designed to look sporty. The Aviator charts its own path toward standing out. It doesn't set out to look like a performance machine, but it doesn't settle into the background. 
Lincoln took some design risks with the high, curved headlights astride an upright mesh grille, and its long, slim taillights connected by a lightbar across the vehicle's rear. The Aviator avoids trendy body creases and swoopy details. It's distinctive without being garish. Even if you don't love how all the details come together — a curvy front end and boxier rear — it's hard to argue that the result is dull or generic. And it looks nothing like the Ford Explorer. To us, the Aviator looks long and low from some angles, arguably creating a something of family-bus vibe, but it's an optical illusion.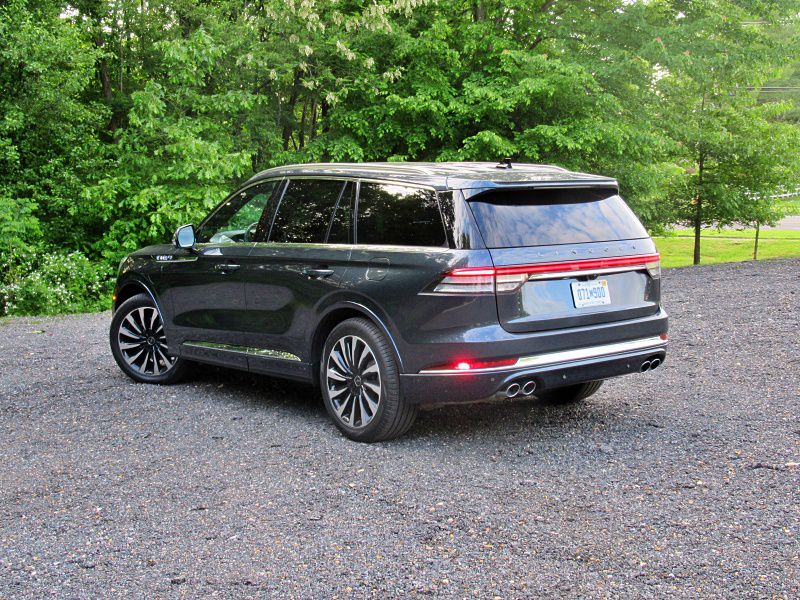 Photo by Brady Holt
Inside, Classic Meets Modern
The Lincoln provides a modern-day interpretation of old-school American luxury — a horizontally stretched dashboard with lots of rounded-off rectangles, but with generally high-quality materials and a big 10.1-inch infotainment touchscreen. "It looks American," said one passenger, not really as a compliment. But for some, it's a welcome homage to past Detroit glory. 
Unlike many luxury cars, the Aviator's controls are simple and easy to use. The touchscreen has muted colors and simple displays, prioritizing ease of use while also creating a distinctive aesthetic. And you can use physical buttons and knobs for many functions. Lincoln also styled the cabin to provide ample storage space, an example of form merging with function. We also appreciated clever touches like color-coded lights inside each door pull: blue for a properly latched door, red for one that's ajar. Some interior materials are less rich than you'd find in the very best luxury SUVs, but most of those are nicely hidden away from where you'll most often look and touch. 
Photo by Brady Holt
Three Rows of Seats
While some mid-size luxury SUVs like the BMW X5 and Mercedes-Benz GLE have optional, barely usable third-row seating, the Aviator's Explorer roots make it a more useful family car — at least a bit. The Aviator's third row is not really meant for adults, but they can squeeze in, especially if you move the middle row forward. 
Up front, the Aviator is available with Lincoln's "Perfect Position" 30-way-adjustable front seats. It can take time to tailor all those adjustments, but once you've gotten it right, you can lock it into the crossover's memory settings. We wish the second row were more cossetting, though; it's hard and flat for a luxury vehicle. For cargo, the Aviator fits a commendable 18.3 cubic feet behind its third-row seat, 41.8 cubic feet with the third row folded, and 77.7 cubic feet once the second row is folded down as well. The power-folding third row has a useful one-touch operation — unlike competitors that make you hold down the button — and towing capacity is a generous 6,700 pounds.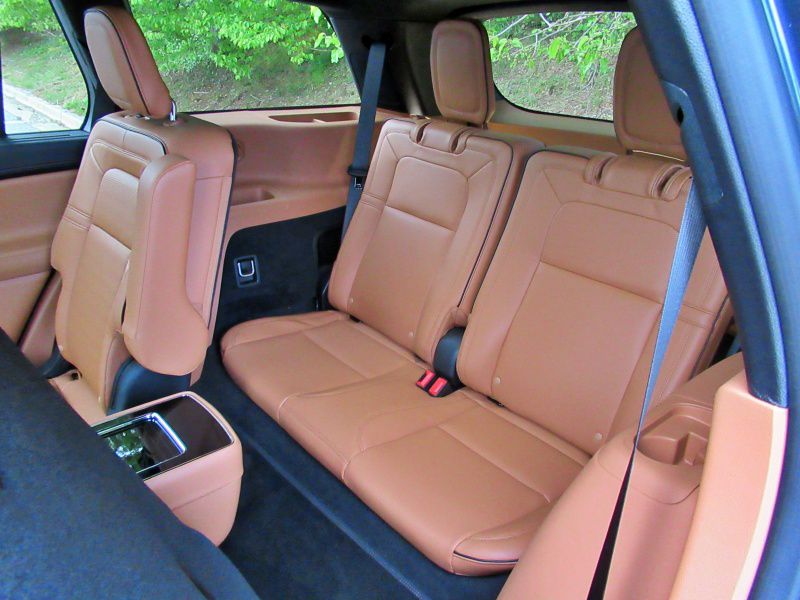 Photo by Brady Holt
A Mighty V6
Many modern luxury SUVs come standard with a 2.0-liter four-cylinder engine making around 250 horsepower — decent power, sure, but nothing exuberant. The Ford Explorer's base engine would have already been enough to outgun those models; it's a 2.3-liter four with 300 horsepower. But the Aviator jumps straight to the hyper-powered 400-horsepower V6 from the performance-focused Explorer ST. The Aviator is a heavy vehicle, so even 400 hp doesn't make this SUV into a sports car, but it's quick and sounds rich. 
EPA estimates are a decent 18 mpg in the city, 26 mpg on the highway, and 21 mpg combined with rear-wheel drive and about 1 mpg less with all-wheel drive. Mercifully, unlike many luxury SUVs, the Aviator uses affordable regular-grade fuel. Our AWD V6 test vehicle averaged an impressive 23 mpg.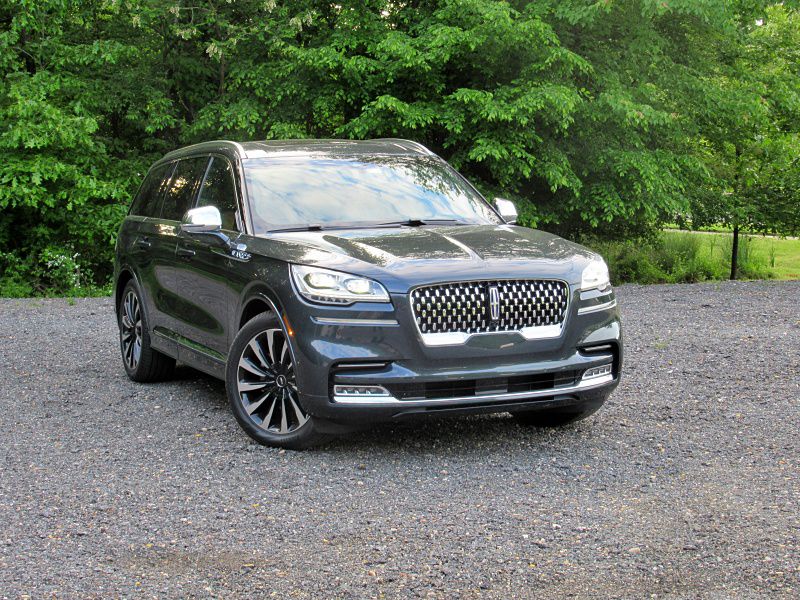 Photo by Brady Holt
The Plug-In Option
We also tested the Aviator's plug-in hybrid version, called the Grand Touring. It adds electric motors to the V6 for more power (494 hp) along with improved efficiency, and you plug it in to charge its battery. 
The EPA estimates that it can travel up to 21 miles per electric charge, then average 23 mpg after that. That means you can sometimes run errands or make short commutes without using any gasoline at all. It's perfect for idling in school pickup lines. The engine does turn on for harder acceleration or higher speeds, and once you've woken it up, it often runs for a while to warm up before you can switch back to electricity. We averaged about 25 mpg without the benefit of plug-in range and 66.7 mpg factoring in the electricity use. The Aviator switches easily between electricity and gasoline, but we sometimes felt some shuddering while braking. It can also accelerate unexpectedly fast from a stop if the big engine wakes up when you were only prepared for the small electric motors. We'll discuss pricing more later, but factoring in federal tax incentives, the plug-in hybrid costs less than $2,000 more than a comparably equipped gas-only Aviator.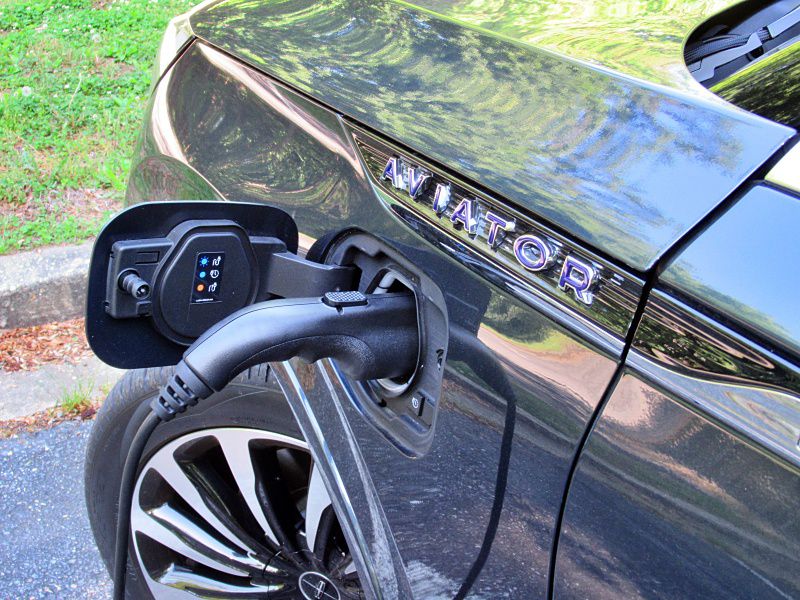 Photo by Brady Holt
Quiet Ride
Lincoln pitches a vibe of serene luxury, and the quiet, effortlessly powerful Aviator stays in line with that. It's built to help you relax, not raise your pulse. Even the big engine is there to provide a nice sound and never need to strain, not to blast to 60 mph in a rip-roaring flash. 
Its extra-light low-speed steering makes parking a breeze, yet it's also decently agile for a three-row SUV. Certain models have adaptive suspensions, too, including both our test vehicles. However, if you get our test vehicles' huge 21-inch wheels, the Aviator can clomp stiffly over bumps. To maximize the vehicle's serenity (and keep its price in check), stick with the base 19-inch wheels.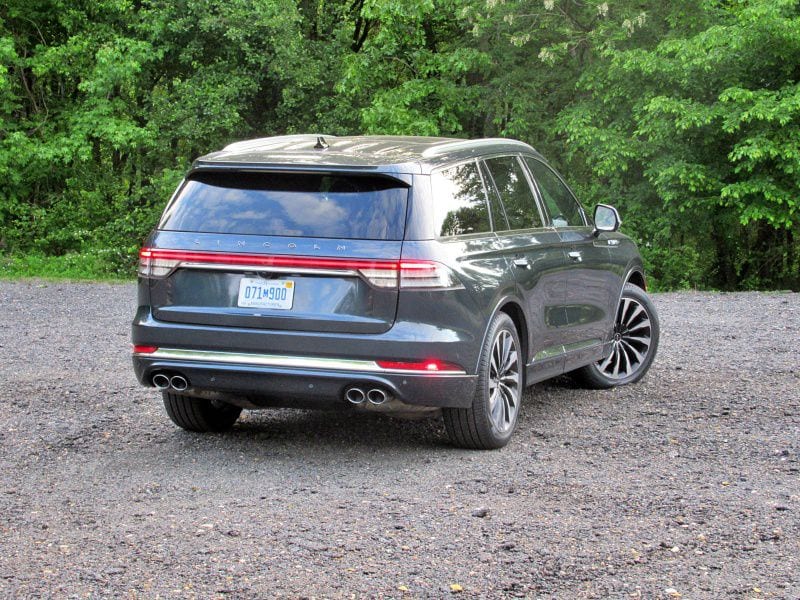 Photo by Brady Holt
Attractive Starting Price
The Aviator is priced from $51,465 in its base Standard trim level, which comes nicely equipped from the start with plenty of luxury, safety, and convenience features. We'd buy an Aviator Standard with the optional navigation system, heated rear seats, heated steering wheel, and heated windshield wiper blades — a modest $1,500 extra in total. You could also add a panoramic sunroof for another $1,500 and all-wheel drive for $2,500. 
Pricing can drift higher in a hurry, though. The next-up Reserve costs $57,355. While it swaps leatherette upholstery for genuine leather and includes the panoramic sunroof, even some of the Standard's options — like the heated steering wheel — are bundled into pricey options packages on the Reserve. So are the nifty 30-way-adjustable front seats. The top Black Label model ($79,350) includes more standard features and some dealership perks. The Grand Touring hybrid costs $68,360 with standard all-wheel drive, which is about $8,000 more than a comparably equipped Reserve. But it qualifies for a $6,534 federal tax credit.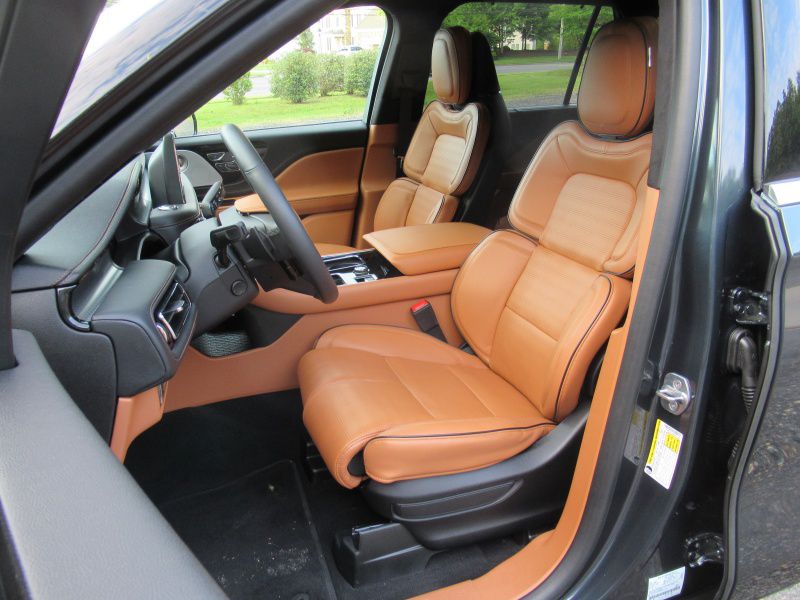 Photo by Brady Holt
Competitors to Consider
Among three-row crossovers, the Aviator faces a number of excellent competitors. Our favorites include the more value-focused Acura MDX and Volvo XC90, along with the pricier Genesis GV80 and Audi Q7. 
Of these, the Acura and Volvo have the roomiest interiors. The Audi and Acura have the sportiest handling, despite riding even better than the Aviator. The Genesis has perhaps the flashiest styling inside and out, along with the longest warranty — a valuable perk when expensive components break. The Audi and Volvo have the richest cabin materials. And the Volvo has a plug-in hybrid model to rival the Aviator Grand Touring. But even in this elite company, the Lincoln holds its own. Among these five models, it has the most standard horsepower and the simplest controls; more room than the GV80 or Q7; and fancier interior materials than the MDX. It's one of the few luxury SUVs to offer a plug-in hybrid powertrain. And it doesn't look like any of the others.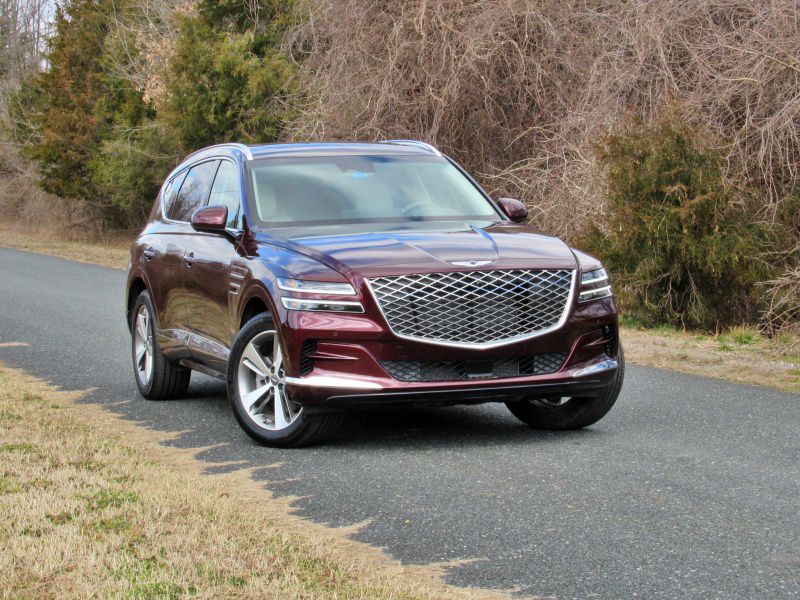 Photo by Brady Holt
Not Perfect, But Definitely Special
In an ideal world, the 2022 Lincoln Aviator would have a pillow-soft ride that glides gently over bumps. Its second-row seat would be limousine-grade, and its third-row would have family-friendly legroom. And it wouldn't cost so much to buy certain optional features. 
But perfection is elusive. Lincoln delivers a generally soothing and reasonably useful mid-size SUV, along with a healthy shove of horsepower and a chance to get around with zero tailpipe emissions. It's modern without being trendy or frustrating to live with. It may not be perfect, but the Aviator deserves your attention.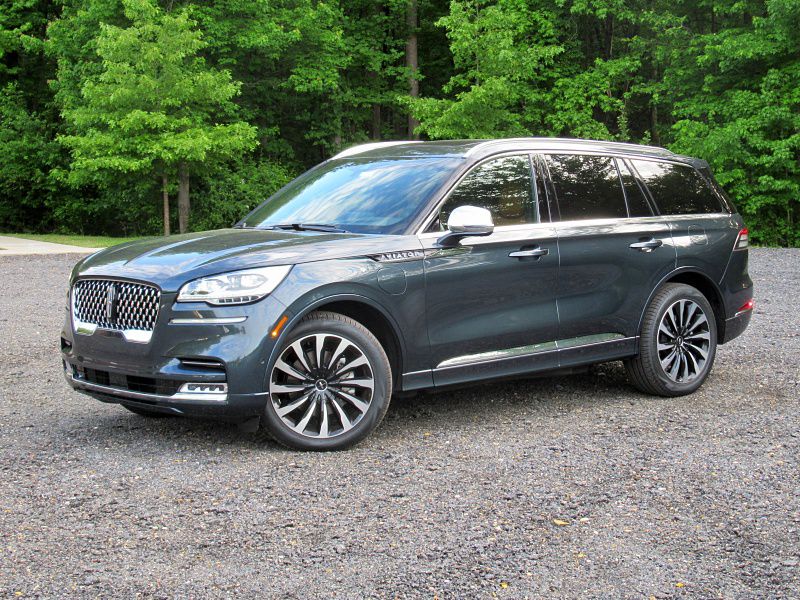 Photo by Brady Holt