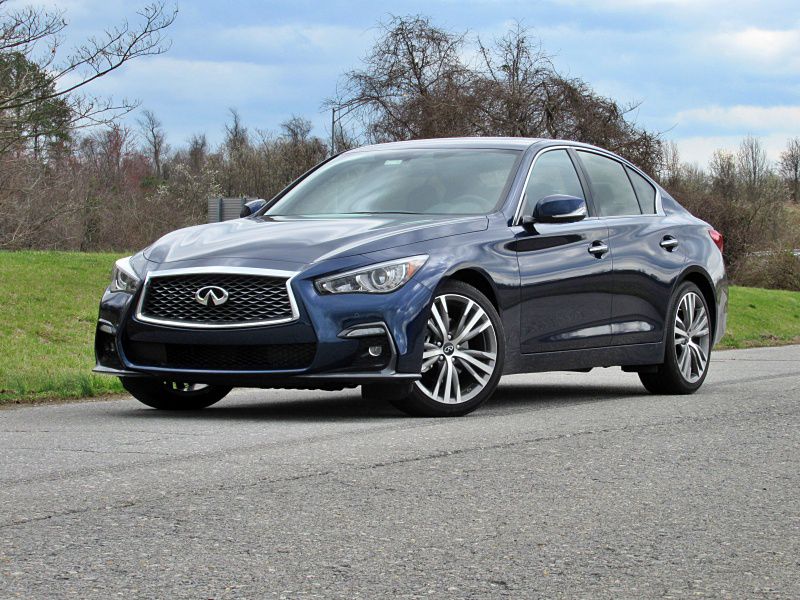 2022 Infiniti Q50 Sensory ・ Photo by Brady Holt
Sometimes, luxury is about newness, innovation, advancement, and trendiness. Plenty of folks will always pick a newer luxury car over an older one. And for them, there's little reason to consider the Infiniti Q50, which hasn't seen a major update since way back in 2014.
On the other hand, not everyone likes the latest changes that are popular on modern luxury cars. Infotainment systems are growing increasingly capable but also increasingly complicated. Four-cylinder engines have become the class norm. And most models' prices have soared. By contrast, the 2022 Infiniti Q50 compact luxury sedan still starts at just $42,100 while coming standard with a 300-horsepower V6 engine. And unlike some affordable luxury vehicles, this isn't an ordinary car dressed up with more chrome and leather. Rather, the Q50 is a genuine rear-wheel-drive-based sports sedan. We just spent a week testing the Q50 to see what this aging model offers today's luxury-car buyers. Keep reading as we discuss its pros and cons to see if it sounds like the right fit for you.
A Nearly Loaded Base Model
Last year's Q50 was a ridiculous bargain, providing its big V6 for well below $40,000. For 2022, Infiniti discontinued its previous base model. This raises the starting price but means every Q50 comes generously equipped with high-end features. 
Starting with the Luxe model at $42,100, you get genuine leather upholstery; a power-adjustable steering column; a memory system for the driver's seat, steering wheel, and mirrors; heaters for the steering wheel and front seats; a 16-speaker Bose stereo; and a moonroof, along with a full complement of advanced driver-assistance features. If you want all that on a European luxury sedan for less than $50,000, settle for a four-cylinder front-wheel-drive subcompact like a BMW 2 Series Gran Coupe or Mercedes-Benz CLA. We tested the mid-level Sensory model ($47,800), which has slightly flashier styling, richer interior materials, a built-in air purifier, and GPS navigation. We find the Luxe's value more compelling, but the Sensory still comfortably undercuts most similarly sized competitors. Topping the lineup is the Red Sport 400, which upgrades the V6 engine from 300 to 400 horsepower, adds an adaptive suspension system, and has some unique aesthetic touches. It costs $55,950.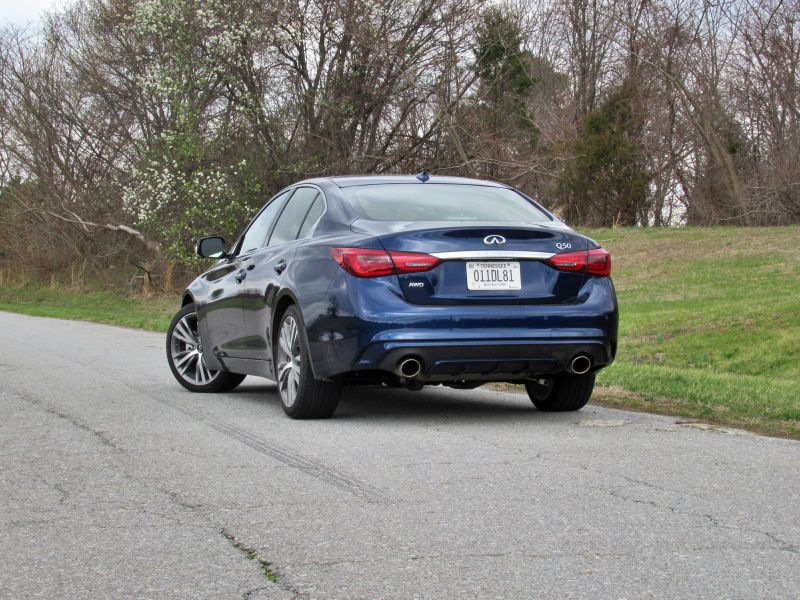 Photo by Brady Holt
Assertive Yet Graceful
The Q50 has hardly changed visually since 2014, and it hasn't changed at all since 2018. But to some eyes, that's just fine.
This Infiniti is low and wide, with a confidently assertive stance. Slim headlights sit astride an upright mesh grille. Yet the Q50 is also graceful, without the hard edges that characterize many newer sedans. And while its big windows aren't trendy, some folks will welcome the low beltline and ample glass area. At the very least, everyone can welcome its superior rear visibility over many modern sports sedans. Even the line-topping Red Sport 400 doesn't look racecar-wild, either in its overall shape or its details. If you scoff at practical considerations like a useful backseat and easy rear visibility, the Infiniti Q60 two-door coupe is an even sportier and more graceful version of the Q50.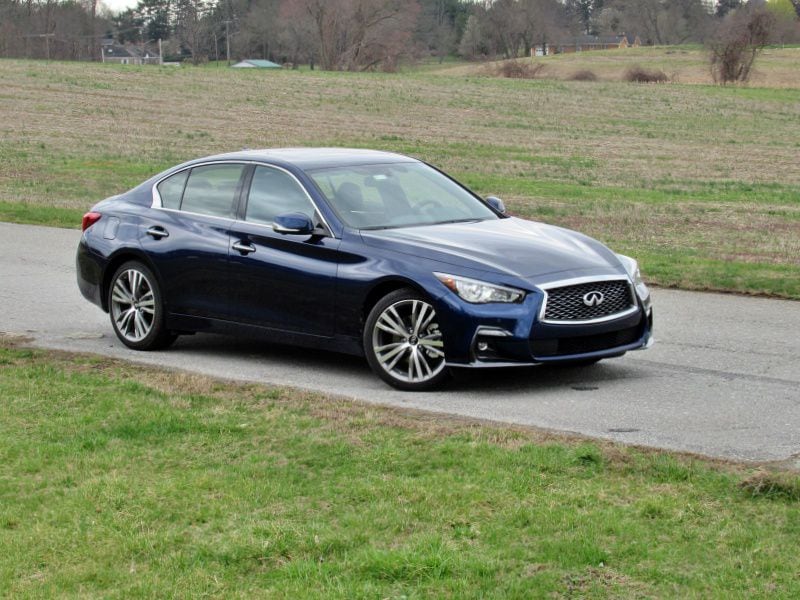 Photo by Brady Holt
Aging Interior
Inside, the Q50 is less graceful. Its dashboard didn't win much praise even in 2014. It's simple, but not by adopting a modern minimalism. It has a vertical center stack with touchscreens, buttons, and knobs, and the dash is otherwise minimally adorned. There's even an old-school foot-operated parking brake. 
The Q50 uses a pair of touchscreens sitting on top of each other — one measuring 8 inches and another measuring 7 inches. That's a useful amount of real estate, but there's nothing stylish or cutting-edge like an Audi or Range Rover's screen-covered dashboard. At least you get Android Auto and Apple CarPlay smartphone integration, including wireless CarPlay connectivity that's new this year. Most interior materials are appropriately rich, especially our Sensory test vehicle's open-pore wood. But many of its buttons, including for the engine's start-stop, are dull-looking plastic that you wouldn't find in a new Audi or Mercedes. Overall, you don't feel like you're in a cheap car, but you don't feel like you're in a current-model luxury sedan, either.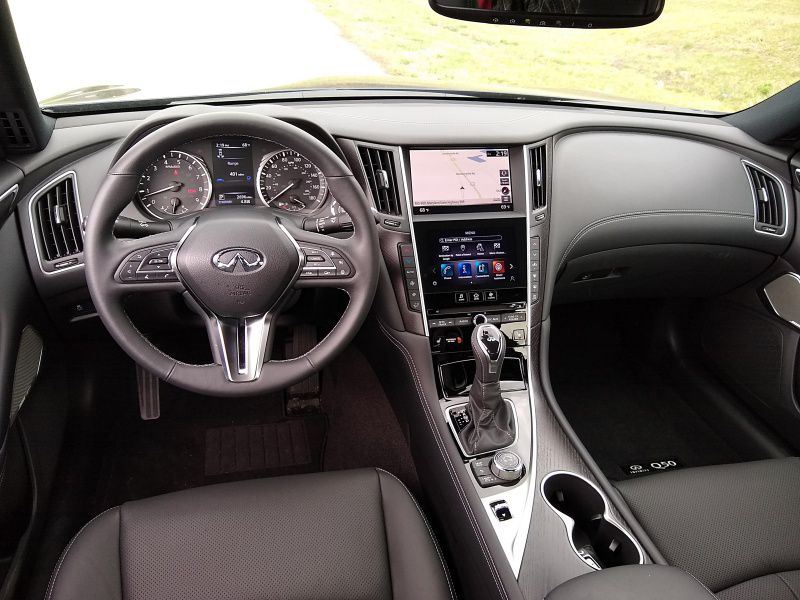 Photo by Brady Holt
Plenty of Space
Despite costing less than most small luxury sedans, the Q50 has a roomier interior. There's plenty of space for the driver and front passenger to spread out, and the rear seat has enough legroom and headroom for two adults to be decently comfortable (a third would feel pretty squeezed). The trunk measures a just-OK 13.5 cubic feet, though, and it doesn't have a wide opening. 
This level of interior space shouldn't be unexpected at more than $40,000, and it's less than you'd find in a family sedan like a Nissan Altima. But because so many luxury sedans have gotten wildly expensive, sacrifice interior space for sportier styling, or both, the Q50 emerges as a class standout. Its standard comfort features like the heated steering wheel and memory system are other pluses, though we wish Infiniti would add ventilated front seats. Some buyers might also prefer a panoramic moonroof instead of the Infiniti's standard-sized one, and even the available "sport seats" are a little flat.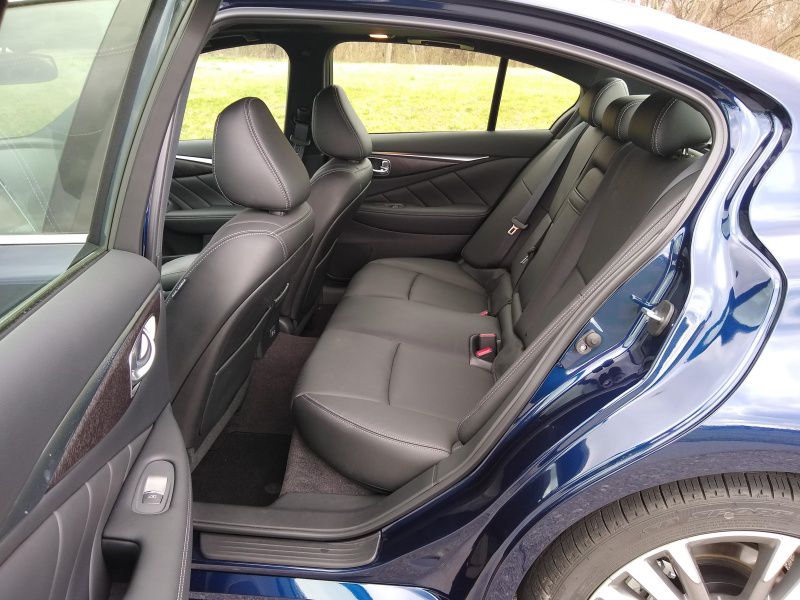 Photo by Brady Holt
A V6 Engine in a Four-Cylinder World
Chasing both fuel efficiency and affordability, most modern luxury cars come standard with four-cylinder engines; not the Infiniti Q50. The base engine is a turbocharged 3.0-liter V6 that makes 300 horsepower and 295 lb-ft of torque. It's effortlessly quick and smooth, and it's well-paired with a seven-speed automatic transmission.  
A few four-cylinder competitors will do nearly as well as the Q50 in instrumented performance tests, similarly hitting 60 mph in just over 5 seconds, but not with the same rich V6 engine note. And the Red Sport 400 cuts that time by roughly another half-second. We didn't notice a real-world difference between the two Q50s, but you won't get 400-hp bragging rights for this price very often. If you're not looking for speed, don't worry: Both Q50s are easy to drive gently, too. Gas mileage isn't four-cylinder-thrifty, but it's not disastrous. The 300-hp version gets an EPA-estimated 20 mpg in the city, 29 mpg on the highway, and 23 mpg combined with rear-wheel drive, and about 1 mpg less with all-wheel drive (a $2,000 upcharge on all three Q50 trim levels). The Red Sport 400 dips by just 1 mpg. Our AWD test vehicle averaged an excellent 25 mpg.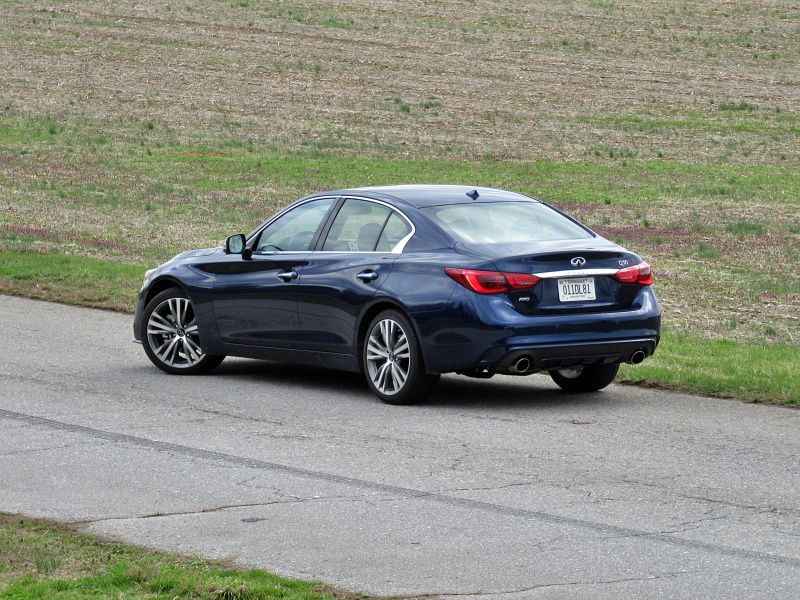 Photo by Brady Holt
Composed Handling
The Q50 doesn't have hair-trigger responses for either its accelerator or its steering wheel. In both cases, though, you're able to push it, and it's capable yet more relaxed than a dialed-in rival like an Alfa Romeo Giulia. 
We've grown accustomed to luxury cars putting more distance between the driver and the road, and the Q50 has grown closer to the class norm over its lifespan. Still, its steering is less precise than most of its competitors, and its relatively vague responses combine with a lack of road feel. That makes it harder and less rewarding to make good use of the sedan's high handling limits. Selectable driving modes let you adjust the steering effort but don't create a truly sharp-driving sedan. At least the ride, while firm, is reasonably comfortable and quiet even on the Red Sport 400.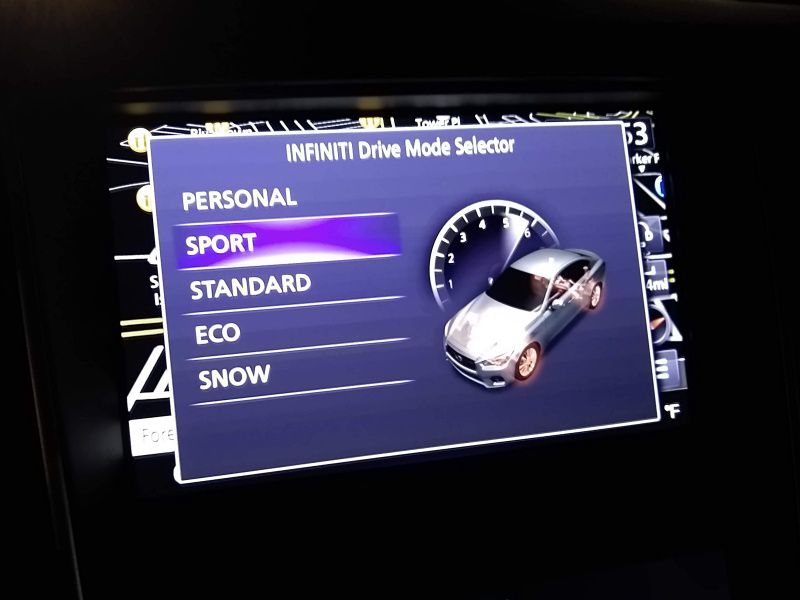 Photo by Brady Holt
Contemporary Safety Technology
The Q50 may be an older vehicle, but it comes standard with a long list of contemporary safety and driver-assistance features. These include forward automatic emergency braking, lane-keeping assistance, adaptive cruise control, blind-spot monitoring, a surround-view parking camera, and front and rear parking sensors. There's nothing groundbreaking in these technologies, but you'll pay extra for at least some of them on most luxury sedans. Pedestrian-detection capability is notably absent, though. 
The 2022 Q50 hasn't been fully crash tested, but it has done well in the testing conducted so far. Its headlights scored Marginal in evaluations by the Insurance Institute for Highway Safety, but it was Good for its frontal and side impacts and for its automatic emergency braking system. The 2022 model hasn't been tested by the National Highway Traffic Safety Administration, but even the 2014 Q50 earned five out of five stars.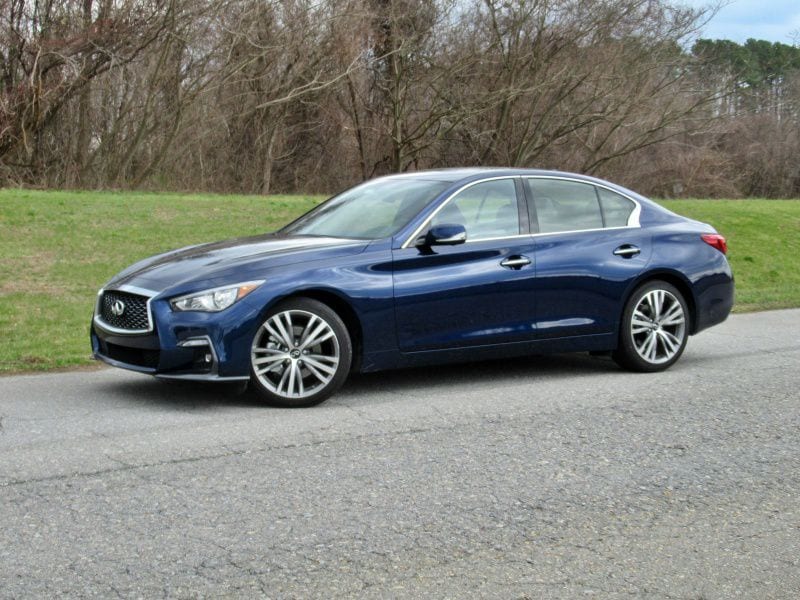 Photo by Brady Holt
Competitors to Consider
The Q50 faces some notable competitors among powerful yet value-priced luxury sports sedans. Chief among them are the Lexus IS (priced from $38,625 with a 241-horsepower four-cylinder engine and $43,050 for a 311-hp V6) and the Acura TLX ($38,500 with a 272-hp four-cylinder and $53,300 with a 355-hp V6). The Infiniti is roomier than the Lexus and has a better control layout than the Acura, and it costs less than either with equivalent performance. However, if you aren't dedicated to straight-line speed or the sound of a V6 engine, you might miss the value and efficiency that Infiniti used to offer with a four-cylinder Q50. 
If you're looking for a luxury sedan and prefer a roomy interior, smooth ride, and economical engine to sporty performance, the Lexus ES is a standout. Its front-wheel-drive layout won't win it any fans among automotive purists, and you can only get AWD with an underwhelming 204 hp (the most popular ES 350 model has a 302-hp V6). Meanwhile, the front-drive Nissan Maxima has more space for the money than the Q50 and is nearly as quick and agile, but it doesn't look like a luxury car inside or out.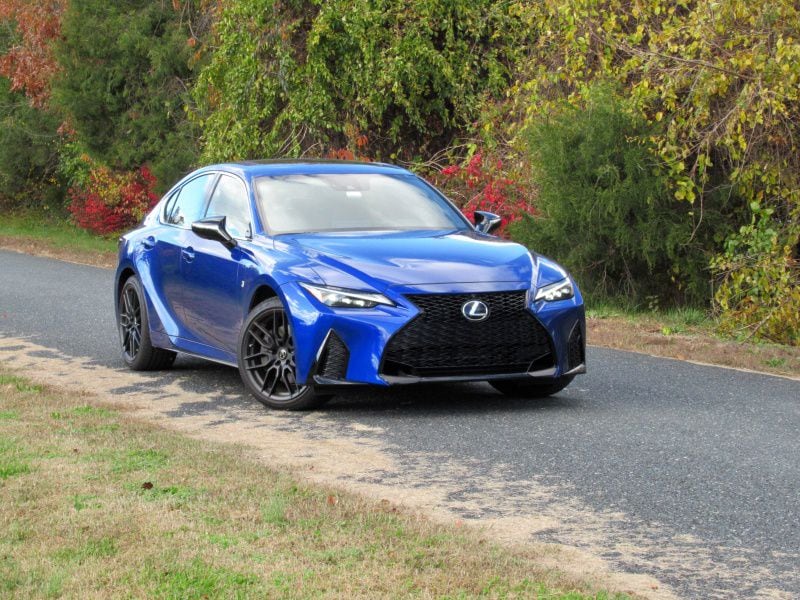 Photo by Brady Holt
Aging Into a Strong Value
By investing little money into changing the Q50 over the past eight years, Infiniti has let this sedan age into a strong value. As competitors have gotten higher prices and fewer cylinders, the Q50 is almost fully equipped at its base price in the low $40,000s. 
The Q50 isn't at the cutting edge of technology, and it isn't the world's sharpest-driving sedan. On the other hand, it's a genuine luxury sedan that keeps its price firmly in check. It's not for you if you're willing to pay for the latest and the greatest. But the Q50 combines graceful style, useful spaciousness, and ample power along with plenty of high-end features for the money. Whether you're looking for a fast but classy sedan or a relatively affordable way to upgrade from a top-of-the-line Altima, the 2022 Infiniti Q50 delivers.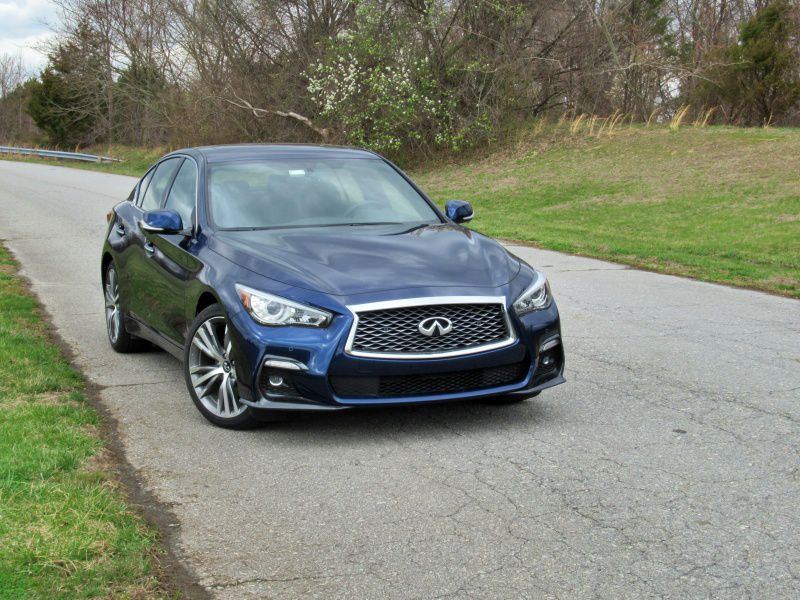 Photo by Brady Holt