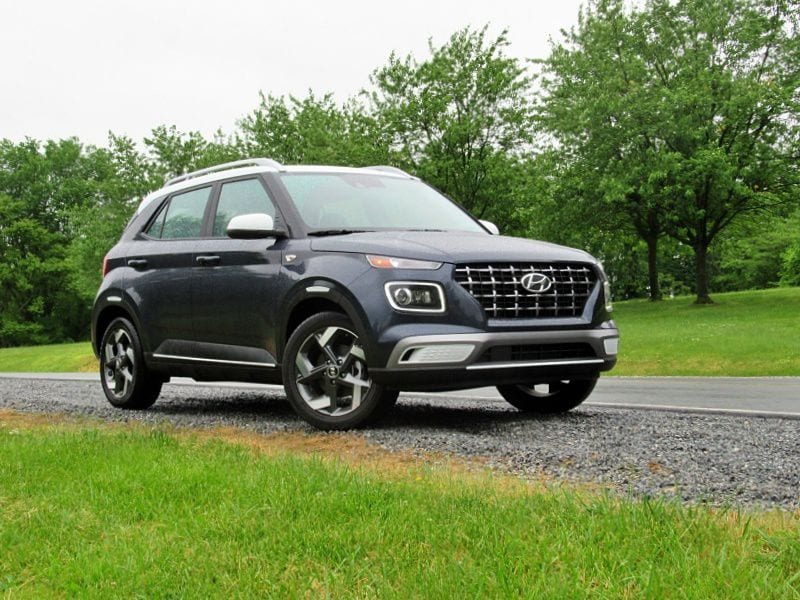 2021 Hyundai Venue ・ Photo by Brady Holt
It wasn't so long ago that an SUV would make no sense as a city car. Bulky and hard to maneuver, they were lousy choices for crowded conditions. These days, though, the thriving subcompact crossover class has a lot to offer city-dwellers — none more so than the 2022 Hyundai Venue. 
As Europeans have appreciated for longer than Americans, the most space-efficient vehicle is tall but not very long. The Venue measures just 159.1 inches long, the least of any U.S.-market crossover and far less than any sedan. Yet it also has an unexpectedly roomy interior, fantastic gas mileage, and prices starting at just $19,000. Naturally, though, an extra-small, extra-affordable, extra-economical vehicle has some tradeoffs. Keep reading to learn more about the Venue's pros and cons to see if this little crossover is the right fit for you.
Pint-Sized Box
The Hyundai Accent subcompact sedan, which shares its mechanical underpinnings with the Venue, measures 172.6 inches long — more than a foot longer than the Venue. That's the effect of a trunk that sticks out behind the rear wheels, where the Venue is cut off. The Venue makes up for the lost space by measuring 61.6 inches tall, 4.5 inches more than the Accent. 
Unlike some subcompact crossovers, the Venue is styled to emphasize its stubby, boxy shape. It has an upright front end, rectangular headlights and taillights, and a straight roof rather than one that slopes gradually down toward the rear of the car. Crisp lines keep things contemporary, and by providing alloy wheels as standard equipment (wee 15-inch wheels on the base SE model but a big 17 inches on other trim levels), the Venue looks dressy for an extra-affordable vehicle. Hyundai didn't give the Venue a pseudo-tough SUV design or make it look hot-hatch sporty. It's a functional little boxy that also has a bit of spunk to its personality. The only clear design miscue to us is a splash of color at the top of each fender, which look like scrapes.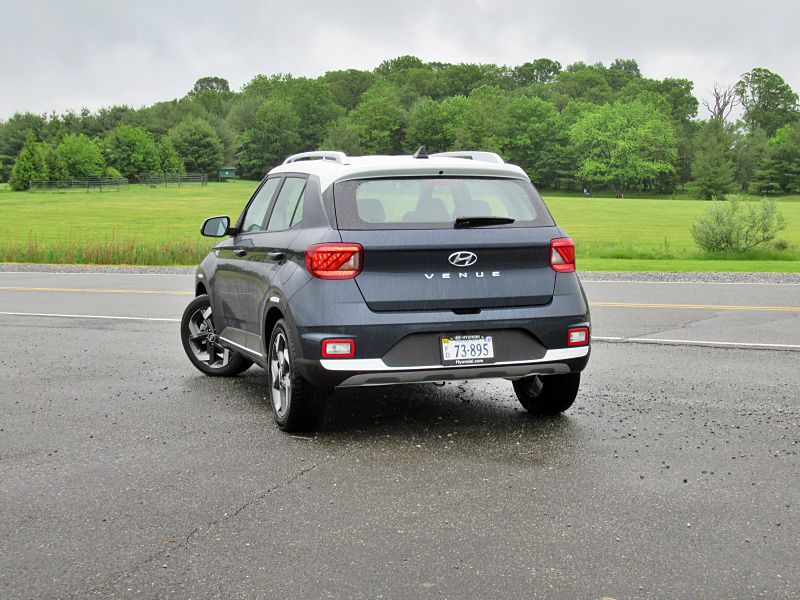 Photo by Brady Holt
Contemporary Interior
The Venue has a modern-looking interior with a well-chosen color palette and an attractively shaped dashboard. It's contemporary without being aggressively modern. An 8-inch touchscreen infotainment system is standard equipment and works well, and it's complemented by simple buttons and knobs for the audio and climate controls. The base SE and midlevel SEL trim levels support wireless Android Auto and Apple CarPlay, while the top Limited requires you to plug in but has a more advanced system that includes GPS navigation. 
While the Venue looks nice inside, Hyundai does build the interior from materials that typically reflect its low price. That means lots of hard, shiny plastics, even on the door armrest. But the overall ambiance is pleasant, with Hyundai smartly investing in a good-looking design even while saving money on the materials. It also provides the richer feel of a leather-wrapped steering wheel on all but the base SE.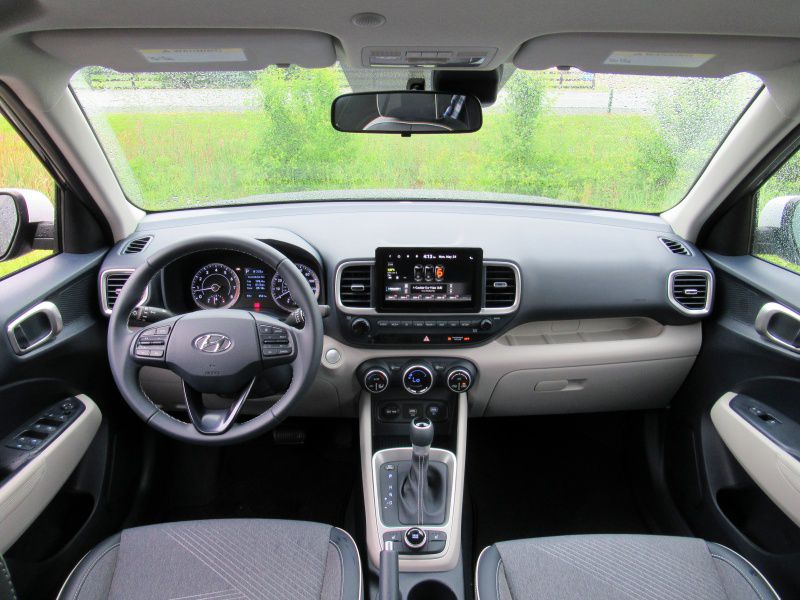 Photo by Brady Holt
Tons of Headroom
Hyundai didn't skimp on the Venue's seats. They're well-shaped and supportive, and they're upholstered in interestingly patterned fabric. You can even get heated seats on the top Limited model, though every Venue has manual seat adjustments with no option for power operation. 
You sit up high in the Venue — not towering over other traffic like in a big traditional SUV, but with an upright seating position that stands in clear contrast with the lower-slung Hyundai Accent sedan. The high roof ensures plenty of headroom even above this high seat. The backseat isn't generous, but it's high enough off the floor to provide good leg support even if there isn't extra knee clearance to stretch out.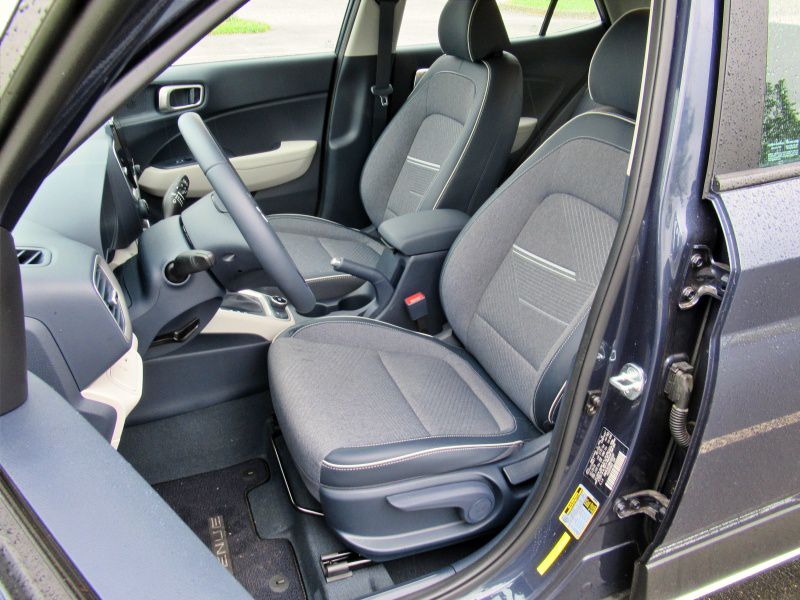 Photo by Brady Holt
Space for Your Stuff
Although the Venue is a tiny vehicle, it's smartly shaped to provide space for your stuff. By the numbers, it has 18.7 cubic feet of cargo capacity behind its rear seat and 31.9 cubic feet with the rear seat folded down. 
Those numbers aren't great, even for a subcompact SUV. But that's more space and flexibility than you'd get in a sedan. Hyundai also has some smart features to help you make the best use of the Venue's cargo hold. An adjustable-height cargo floor drops down when you need the most possible space, or rises to create a flush surface with the folded seatbacks. And the cargo cover pivots snugly against the rear seatback, so you don't have to remove and store it when you're carrying something taller. For additional capacity, roof rails are standard on all but the base SE, but Hyundai doesn't recommend using the little Venue to tow a trailer.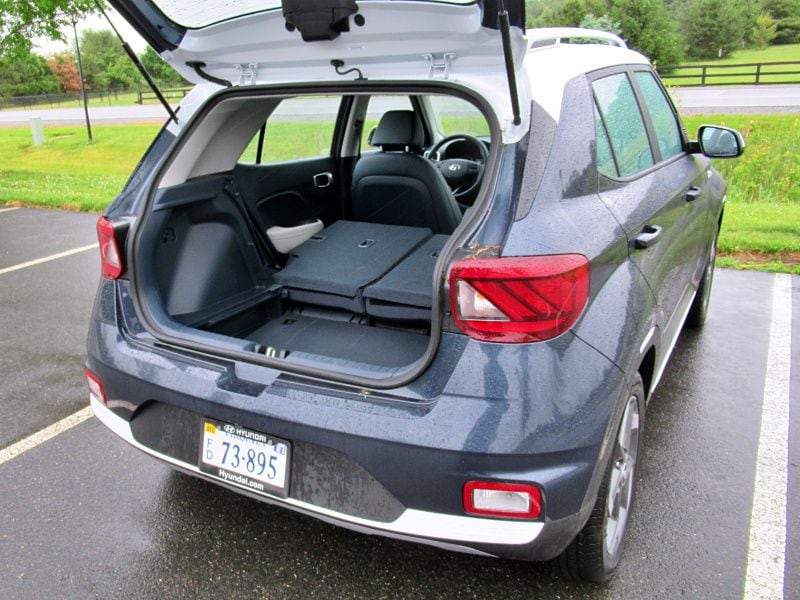 Photo by Brady Holt
Low-Speed Moves
Driving the Venue was a pleasant surprise. Despite its tiny 1.6-liter engine — which makes a mere 121 horsepower and 113 lb-ft of torque, less than any other crossover — this little Hyundai feels agreeably smooth and peppy at low speeds. It also offers natural-feeling steering and eager handling, and its turning radius is an extra-tight 33.2 feet. This is a fun little car to drive around crowded streets. 
It's not as happy on the highway. The engine has to work harder, especially when you're accelerating at a high speed. And the suspension, already firm in regular conditions, becomes unsettled on the interstate. Still, it could have been worse. Also, although every Venue comes only with front-wheel drive (unlike most crossovers, there's no all-wheel-drive option), Hyundai does provide a selectable "snow mode" for wintry weather on all but the base SE. It adjusts the engine's revs to balance forward momentum with avoiding wheelspin, and it directs torque to one front wheel or another based on slippage. Hyundai once offered a six-speed manual transmission on the Venue, but today you can only get a smooth-operating continuously variable automatic.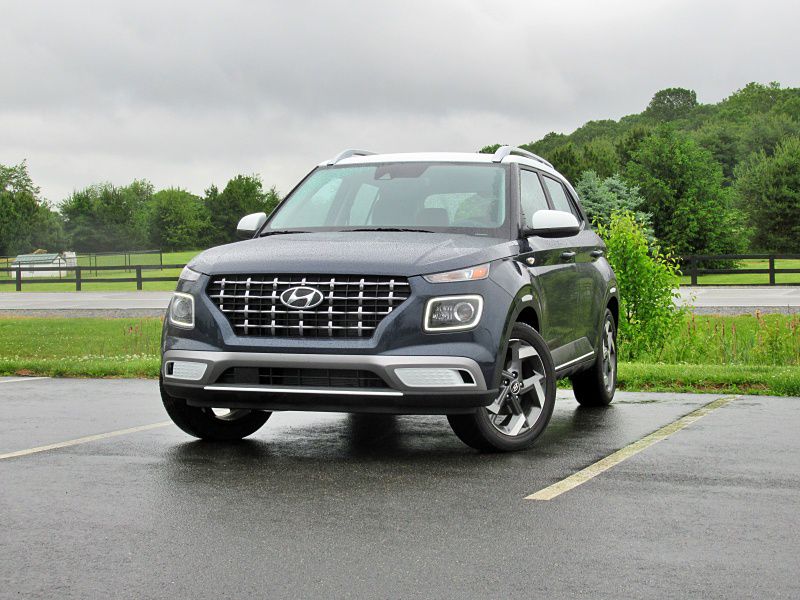 Photo by Brady Holt
Incredible Fuel Economy
The Venue gets great gas mileage for a gas-only SUV. The EPA estimates it will achieve 29 mpg in the city, 33 mpg on the highway, and 31 mpg combined. 
Admittedly, some larger crossovers do just as well, especially on the highway. But in our experience, the Venue does even better. Our latest test vehicle averaged an incredible 41 mpg in a mix of suburban traffic, rural back roads, and open highways. It's not a one-off; we previously tested a Venue that averaged 37 mpg, still well above its EPA estimate. Some testers have gotten disappointing mileage at extra-high highway speeds, which wouldn't surprise us. But the Venue is a fantastically economical way to drive anywhere but on a 75 mph road trip.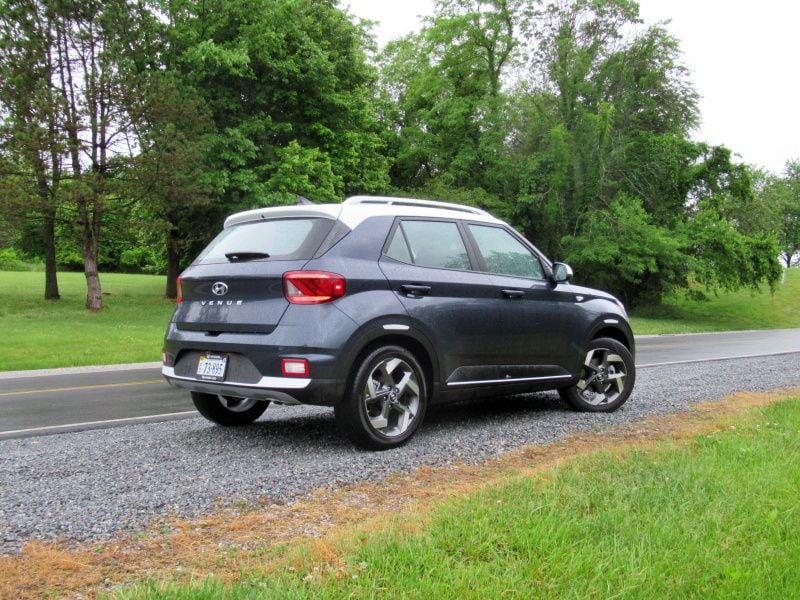 Photo by Brady Holt
Bargain Pricing
The Venue is packed with features even at its base price of $19,000. The base SE already includes alloy wheels, a fully featured infotainment system, automatic emergency braking, and lane-keeping steering assistance. That's less money than many sedans and perfect if you're interested in the lowest possible price, especially since we're not talking about a miserably spartan vehicle. 
To us, though, the SEL is the value sweet spot. For $20,750, it adds bigger wheels, selectable driving modes, a sunroof, automatic climate control, a six-speaker stereo instead of the SE's four-speaker unit, a center console bin with an armrest, blind-spot monitoring, roof rails, and upgraded four-wheel disc brakes. We tested the Limited, $22,250, which adds push-button starting, heated front seats, a more sophisticated automatic emergency braking system that can detect bicyclists, LED headlights and taillights, and GPS navigation. All Venue trim levels share additional value perks that are brand-wide at Hyundai: three years or 36,000 miles of free scheduled maintenance and uncommonly long warranty coverage, reaching up to 10 years or 100,000 miles for the engine and transmission.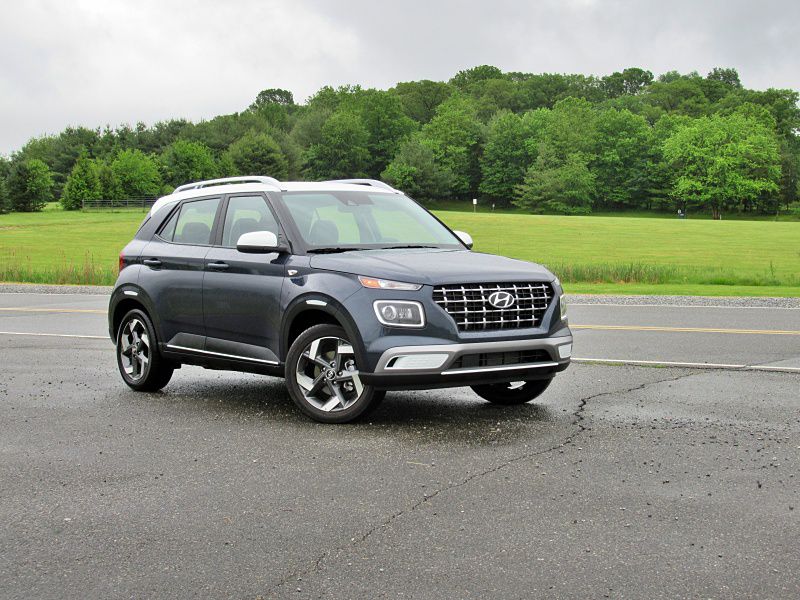 Photo by Brady Holt
Several Strong Competitors
The Venue faces several strong competitors in the subcompact crossover field. Specifically, it faces the Kia Soul and Nissan Kicks, which are similarly smaller, lighter-duty, and less expensive even than most fellow subcompacts. 
Of the three, the Venue is the smallest. It has the least space for cargo and rear passengers. It also has less optional equipment — no leatherette upholstery, no power driver's seat, and no adaptive cruise control, to name a few examples that you can find on those rivals. However, its tiniest size and tightest turning radius are appealing for tight spaces, and it also has the sportiest handling. What's more, we got the best real-world gas mileage from the Venue, though the Kicks has better EPA estimates. Of the trio, the Soul is the least like a tiny car and is probably the best-rounded. And the Kicks is appealing for combining higher-end features, respectable interior materials, and stretch-out rear legroom with excellent gas mileage and low prices. But the Venue's affordability, efficiency, and cheerful character make an appealing combination.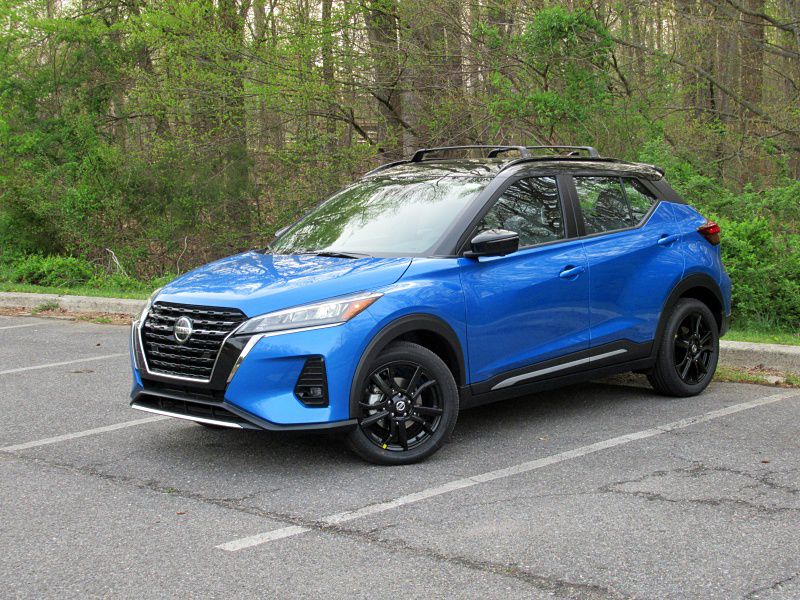 Photo by Brady Holt
City-Friendly Standout
If you like big cars, buying a Venue would probably feel like a sacrifice. It doesn't have the relaxed ride, stretch-out interior space, or endless cargo capacity that characterize even some smallish crossovers. You might glower at its highway noise, downscale dashboard materials, and missing features. 
But if you prefer small cars — or a limited budget gives you no say in the matter — the Venue has a lot going for it. Peppy, agile, and manueverable at lower speeds; packed with safety features; roomy for its size; smartly styled inside and out; simple and inexpensive to operate; and affordably priced, it's a smart choice for the right buyer.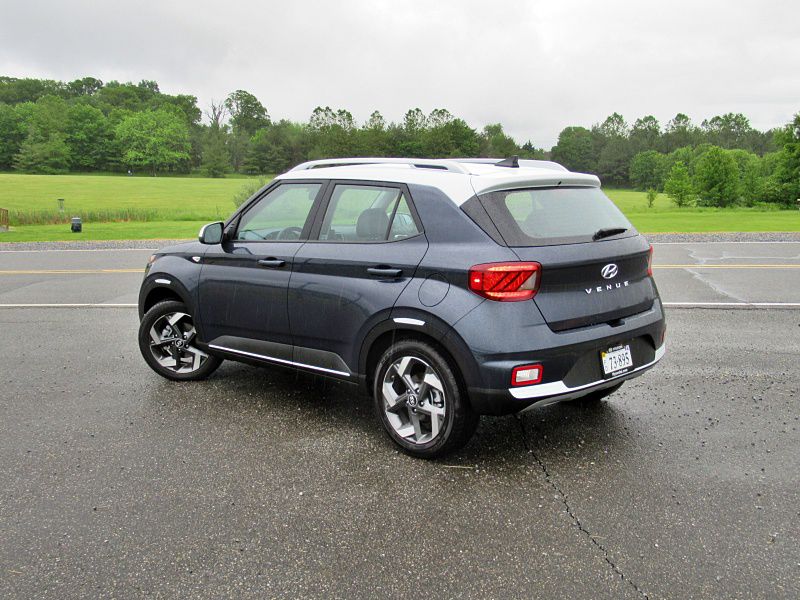 Photo by Brady Holt