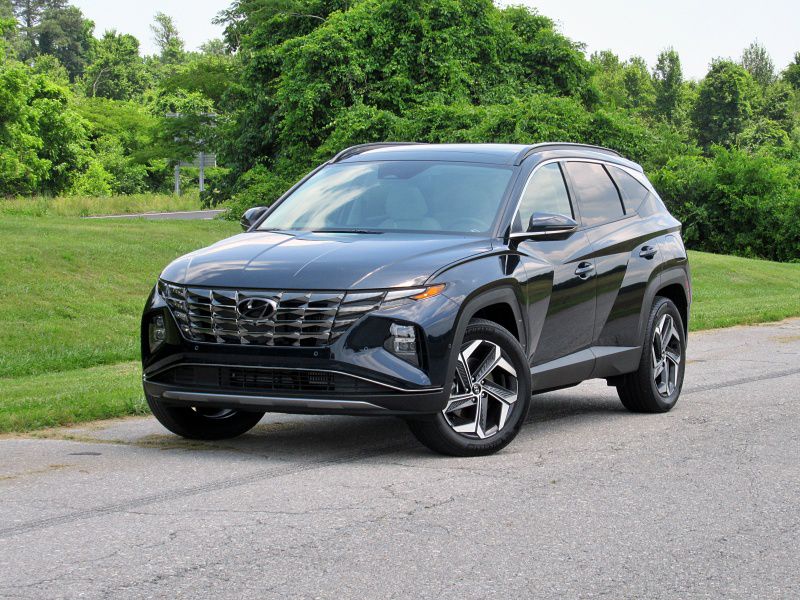 2022 Hyundai Tucson PHEV ・ Photo by Brady Holt
There's a lot to like about an electric vehicle. EVs have no tailpipe emissions and near-silent acceleration, and you can charge them affordably at home. The trouble is, if you need to drive it farther than its range will allow, recharging is slower and more complicated than refueling a gasoline car. 
Plug-in hybrid electric vehicles (called PHEVs) split the difference. You can still drive them around gas-free on short trips, but once that range is used up, you can go as far as gasoline will take you. And since these are hybrids, each gallon goes pretty far. One of America's favorite PHEVs is the 2022 Toyota RAV4 Prime, part of the best-selling RAV4 compact crossover lineup. It now faces a new rival: the 2022 Hyundai Tucson PHEV. We've tested both plug-in SUVs to see compare them in eight categories and name an overall winner. Keep reading to learn which one we chose and which one sounds like the better choice for you.
Fuel Efficiency
In EPA testing, the RAV4 Prime scores the equivalent of 94 mpg while operating on electricity and 38 mpg after its all-electric range is used up. That beats the Tuscon PHEV, which manages 80 MPGe and 35 mpg, respectively. 
We didn't perfectly measure our gas-only mileage, as the averages were skewed by the time we spent using our plug-in ranges. But we estimated our RAV4 Prime's mileage in the lower 40s over the course of our weeklong test, while our Tucson PHEV saw mid-40s around town and only around 30 mpg on the highway. It won't be the most economical small SUV for a long road trip in which you wouldn't be recharging its battery. Of course, for the ideal PHEV customer, gasoline consumption won't be a big factor. We'll discuss that more on the next page. 
Toyota RAV4 Prime
Photo by Brady Holt
Range
The ideal for a plug-in hybrid is to have enough all-electric range that you'll rarely need to burn any gasoline. That gives the RAV4 Prime a big advantage with its EPA-estimated 42 miles of range versus the Tuscon PHEV's 33-mile estimate. Toyota provides an 18.1-kWh battery versus the Hyundai's 13.8 kWh. 
Our testing was not scientific, but we actually did better in the Tucson. In our Hyundai test vehicle, we saw a 37.2-mile range in mostly highway driving (where hybrids and electric vehicles often fare worse), and we coaxed our Tucson PHEV along an incredible 46.8 gas-free miles at mostly lower speeds. On two tests of our RAV4 Prime — again, not in scientifically precise conditions — yielded 37 miles and 43 miles before the gasoline engine switched on. Still, we'll declare our official winner based on the EPA data. 
Toyota RAV4 Prime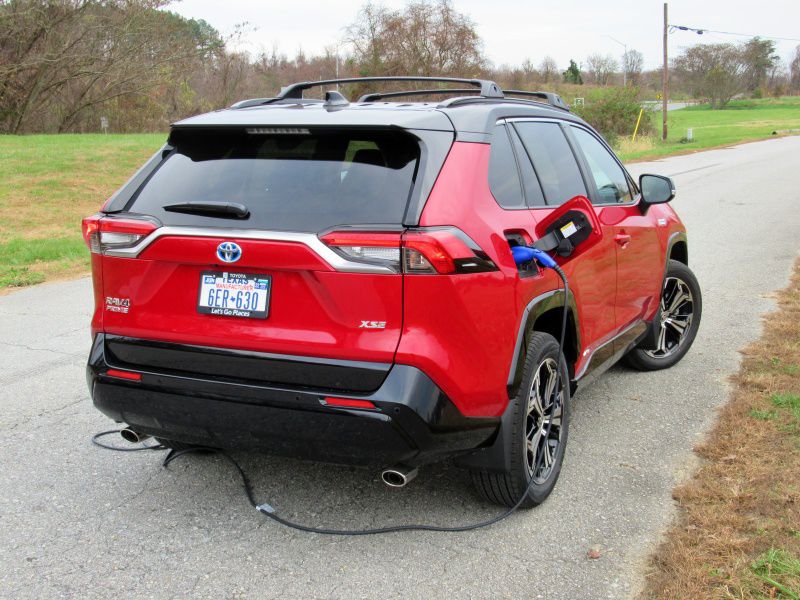 Photo by Brady Holt
Exterior Design
Hyundai's latest design scheme involves sharp angles and lots of creases. It doesn't always work, but we're fans of the 2022 Tucson (the PHEV's only visual difference from other Tucson models is a passenger-side charging port in addition to the gasoline fuel door on the driver's side). Squared-off fenders make it look purposeful, yet its gently curved silhouette means it doesn't look overly aggressive. As additional decoration, Hyundai hides part of the headlights in the grillework; builds twin spikes into the taillights, which it connects with a lightbar; and hides the rear wiper under the rear spoiler. 
The latest RAV4, meanwhile, is styled like a more traditional SUV. Most of the RAV4 lineup looks rugged, but not dressy and avant-garde. The RAV4 Prime has a twist: Plug-in RAV4s come only in the sport-themed SE and XSE trim levels, which replace hardy-looking gray plastic for shiner trim. It's still aggressive, but more in a road-dominating sense than an off-road-ready one. And it's a simpler design than the origami-like Tucson. We'll let you pick your own favorite. 
Tie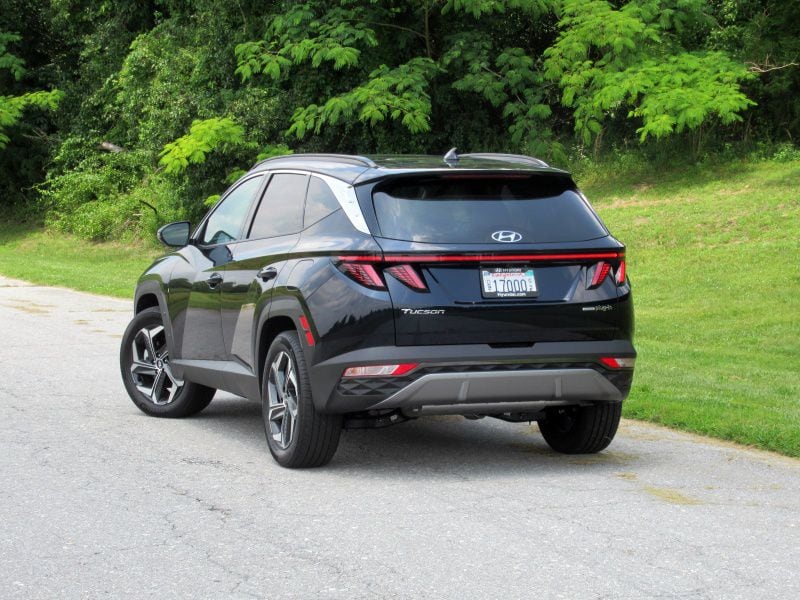 Photo by Brady Holt
Interior Design
Inside, the Tucson has a high-end, high-tech interior — particularly in our Limited test vehicle, which pairs a 10.25-inch digital gauge cluster with a 10.25-inch infotainment touchscreen above a flat panel of touch-sensitive audio and climate controls. It's a sleek look but a pain to use, with a sea of buttons that you can't identify by feel and that control even audio volume. We prefer the PHEV's base SEL model. Its ergonomics still aren't perfect and it's not as cleanly modern, and it has a smaller 8-inch touchscreen and an analog gauge cluster. Still, it has more physical buttons and knobs, which we always pick. 
The RAV4 Prime's interior is less nifty or luxurious, but it gets our win because it works better. Its buttons and knobs are easy to reach, easy to figure out, and easy to use. And while the largest touchscreen is 9 inches instead of 10, it's laid out conveniently. (Like the Hyundai, an 8-inch unit is standard.) We're also fans of its sturdy-feeling rubber-trimmed buttons, knobs, and door pulls, which provide a nice vibe for an SUV. 
Toyota RAV4 Prime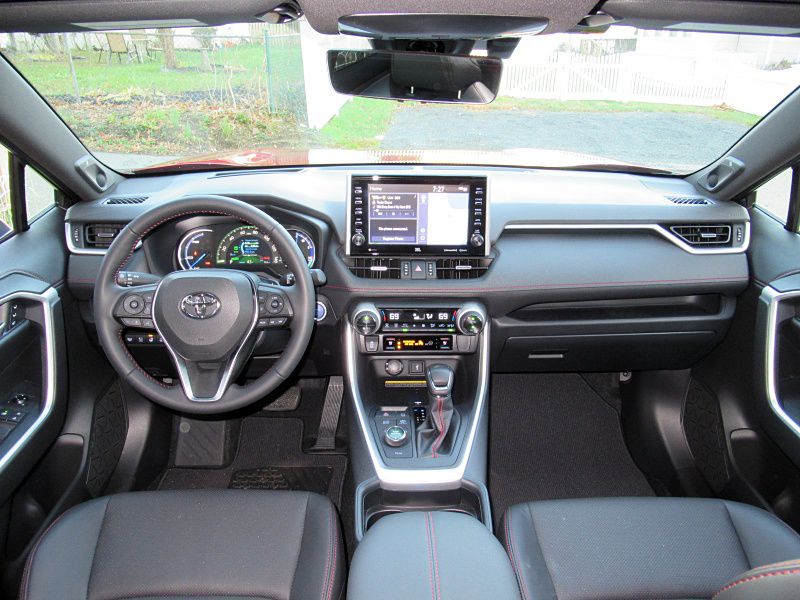 Photo by Brady Holt
Interior Space and Comfort
The RAV4 Prime has a comfortable, spacious interior with room for five passengers. The seats are decently shaped and padded. And for cargo, Toyota provides 33.5 cubic feet behind its rear seat and 63.2 cubic feet with the rear seat folded down. It also has a generous 2,500-pound towing capacity. 
Still, the Tucson PHEV is generally even roomier. While both SUVs have comfortable front-seat accommodations, the Hyundai has a more supportive backseat for adults and more total cargo space: just 31.9 cubic feet behind the rear seat but 66.3 cubic feet with the rear seat folded. Towing comes up a bit short of the Toyota's at 2,000 pounds, but overall, we'll give the roomier Tucson PHEV a narrow edge. 
Hyundai Tucson PHEV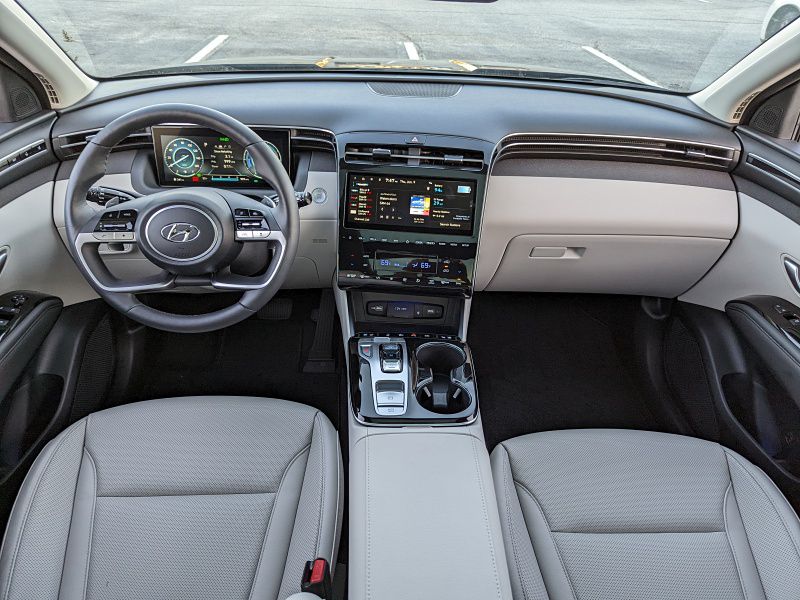 Photo by Brady Holt
Driving Impressions
The latest Hyundai Tucson has a nice balance of ride and handling; it's comfortable yet also composed for an SUV. And while the gas-only model doesn't impress us with a noisy, sluggish engine, the Tucson's hybrids are peppier, smoother, and quieter. The PHEV is even more so, since it makes the most power — 261 horsepower and 258 lb-ft of torque — and can even operate on near-silent electricity if you've recharged recently and aren't flooring the accelerator. If you do, and you have some charge available, you can reach 60 mph in just over 7 seconds. 
The RAV4 Prime is faster and more powerful. With 302 horsepower, it takes just 5.7 seconds to reach 60 mph. If speed is a priority, the Toyota wins handily. Still, the Hyundai has more polish to its ride and handling than the RAV4 Prime. It feels like the more solidly built, mechanically sophisticated crossover of the two. You'll pick your priority and we'll name this category an overall tie. 
Tie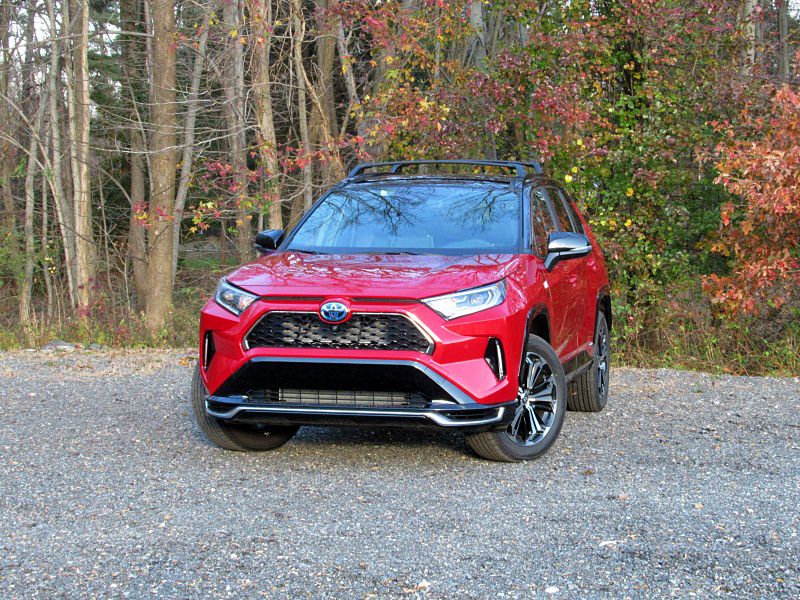 Photo by Brady Holt
Safety
Both the Tucson and RAV4 earned excellent crash-test scores and come packed with advanced safety features. But the Hyundai comes out a bit on top. 
Both small suvs earned the highest designation of Top Safety Pick+ from the Insurance Institute for Highway Safety and five out of five stars in National Highway Traffic Safety Administration crash testing (though NHTSA says its tests of the 2019 RAV4 may not apply to this year's model). And both come standard with features that include forward automatic emergency braking, lane-keeping assistance, and blind-spot monitoring. We'll give the Tucson PHEV the edge for its exclusive blind-spot camera, standard on the top Limited trim level; it's a useful visual cue that appears when you activate your turn signal. The Tucson PHEV Limited also includes front and rear parking sensors along with a surround-view parking camera; the RAV4 Prime saves these for an expensive options package on the top XSE trim level. 
Hyundai Tucson PHEV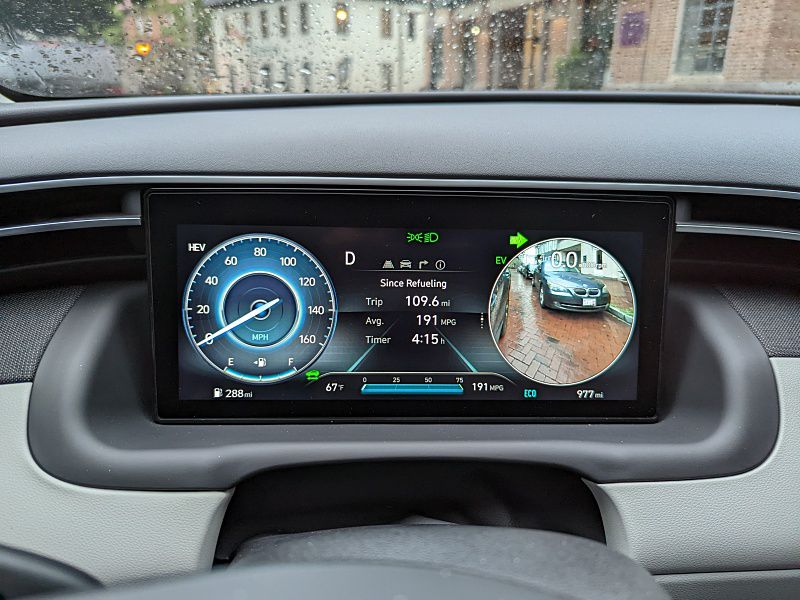 Photo by Brady Holt
Pricing and Features
The 2022 Toyota RAV4 Prime starts at $39,800 for its base SE trim level. The top XSE adds leatherette upholstery, a moonroof, and the larger touchscreen for $43,125, while it's fully loaded with a Premium Package at $48,470. At least for the time being, buyers can claim a $7,500 federal tax credit for buying a plug-in vehicle — but Toyota has already sold so many plug-in vehicles, its supply of credits may run out this year. 
The 2022 Hyundai Tucson PHEV is a much better deal. Its base SEL model starts at $35,400 with similar equipment to the RAV4 Prime SE, while the $43,200 Limited has most of the same high-end features as the RAV4 Prime XSE with the Premium Package. These include a panoramic sunroof, ventilated front seats, and the surround-view parking camera. It's also eligible for a federal tax credit: $6,587.
Hyundai Tucson PHEV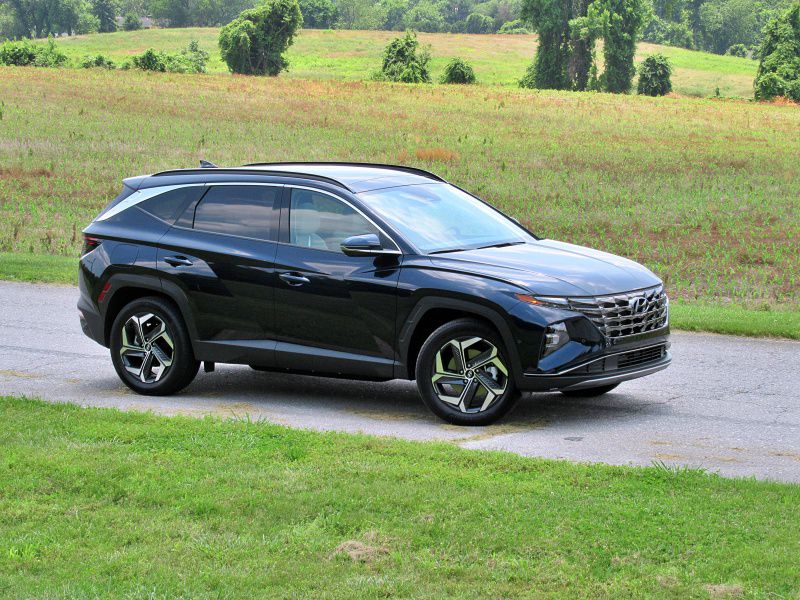 Final Thoughts
With its roomier interior, more polished ride and handling, and far lower price tag, the Hyundai Tucson PHEV is the plug-in hybrid we'd pick for this class. It's a comfortable, convenient vehicle that minimizes your fuel costs without the range anxiety of a pure EV. 
The Toyota RAV4 Prime uses even less fuel based on EPA testing, and it'll also be the more economical SUV for a long road trip. Its sportier acceleration is a touch of a Tesla-lite cool factor that you won't find in the merely sensible Tucson. And we prefer the convenience of its simple buttons and knobs. Still, especially considering our Tucson PHEV test vehicle's exemplary real-world performance, our winner is the Hyundai. 
Hyundai Tucson PHEV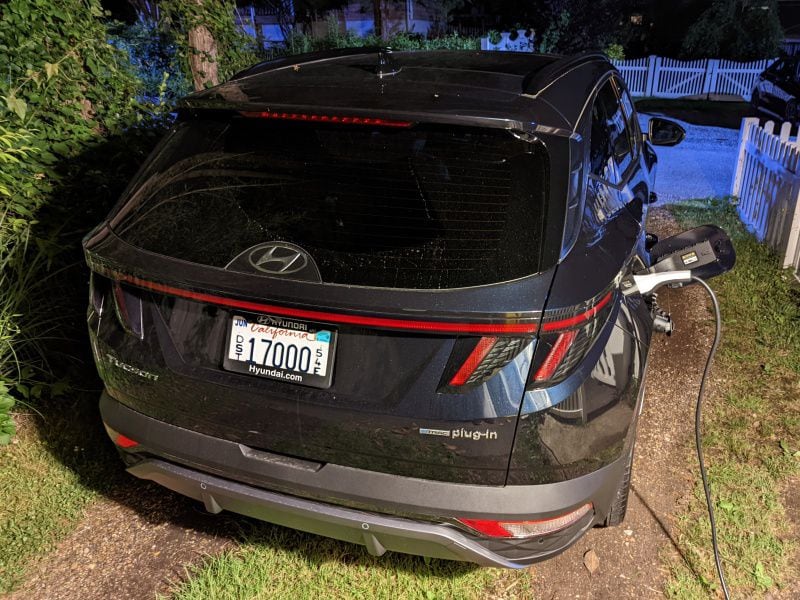 Photo by Brady Holt