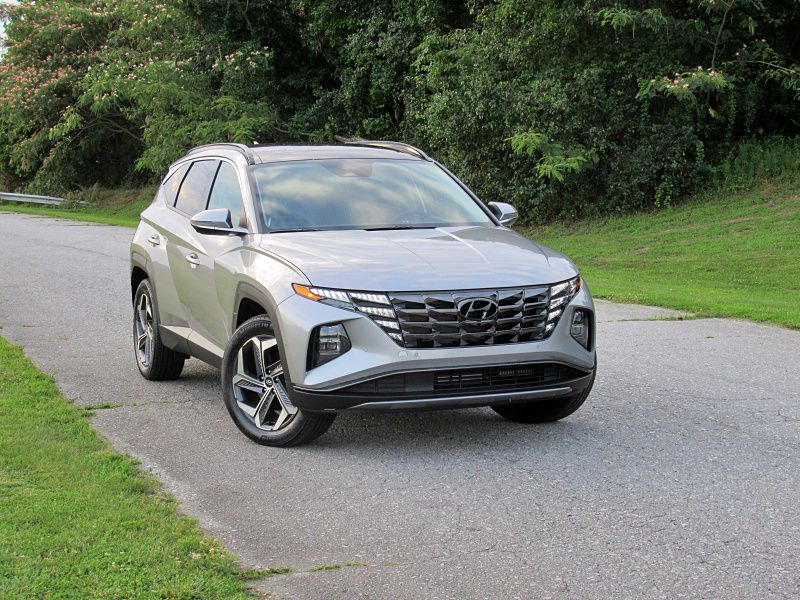 2022 Hyundai Tucson Hybrid Limited ・ Photo by Brady Holt
With its edgy design, class-leading interior space, and the promise of Hyundai's storied value for the money, the redesigned 2022 Hyundai Tucson has been shaking up the compact crossover segment. What's more, it introduces a new gas-electric hybrid variant. The new Tucson Hybrid adds economy-car-like gas mileage to the equation. 
Today, we're going to evaluate how the Tucson Hybrid compares against its best-selling competitor: the 2021 Toyota RAV4 Hybrid, which has been America's favorite hybrid in most years since it debuted back in 2016. We tested both small SUVs so that we could compare them in eight categories and then name an overall winner. Read on to learn our choice and to find out which hybrid crossover is better for you. 
Fuel Economy
We'll kick off this comparison with a central part of the hybrid experience: gas mileage. And while the current RAV4 Hybrid is already a couple years old, it wins out over the brand-new Tucson Hybrid. 
In EPA testing, every RAV4 Hybrid scores 41 mpg in the city, 38 mpg on the highway, and 40 mpg overall. The Tucson Hybrid is close behind; its base Blue trim level is rated at 38 mpg in the city and on the highway, while the SEL and Limited models slip to 37 mpg city, 36 mpg highway, and 37 mpg combined. Still, our RAV4 Hybrid test vehicle did better in the real world. We averaged a whopping 46 mpg, compared with 39 mpg in a Tucson Hybrid Limited. While that's not a scientifically precise test, it matches our different impressions of the two vehicles; the Toyota is much happier to use only electricity when you're accelerating gently and at low speeds, which drives up your average fuel economy tremendously. Both vehicles offer outstanding efficiency, but the RAV4 Hybrid has more. For even further fuel savings, consider these crossovers' plug-in hybrid versions. 
Toyota RAV4 Hybrid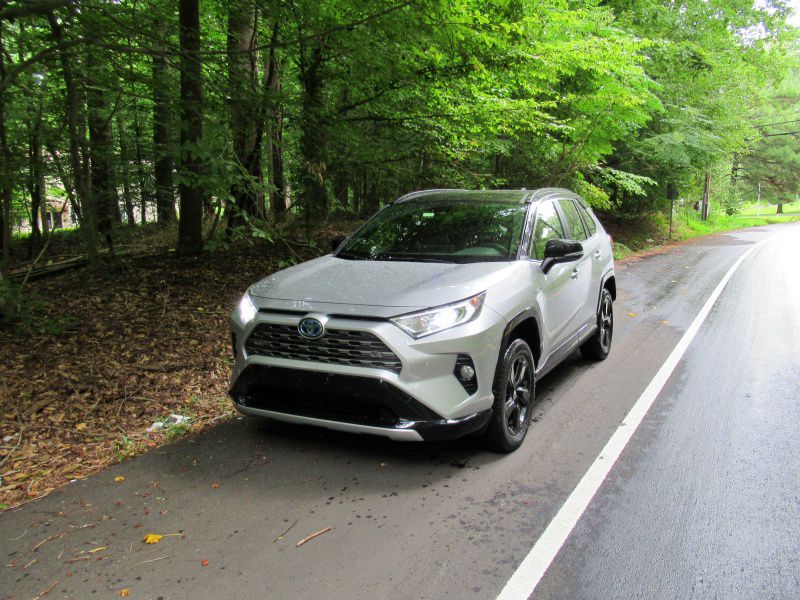 Photo by Brady Holt
Pricing and Features
The 2021 Toyota RAV4 Hybrid starts at $28,500 for the base LE trim level, slightly undercutting the base 2022 Hyundai Tucson Hybrid Blue's $29,050. However, Hyundai provides additional standard features that include a power-adjustable driver's seat, heated front seats, blind-spot monitoring, and four USB ports instead of just one. Certain Tucson models are also available with exclusive tech features you won't find on the RAV4 Hybrid: the ability to use your phone as a key, a blind-spot camera, an ultrasonic rear-occupant sensor, and Smart Park Assist: the ability to remotely drive the vehicle a few feet using only the keyfob.
Still, we'll only call this category a tie because Toyota makes it easier to find the right features for you. The RAV4 Hybrid has five trim levels to choose from, and features like leatherette upholstery, rain-sensing windshield wipers, and a premium sound system are standard or optional on most of them. By contrast, the Tucson Hybrid has only three trim levels, and only one of them offers anything but cloth seats or those other features: the $37,350 Limited. 
Tie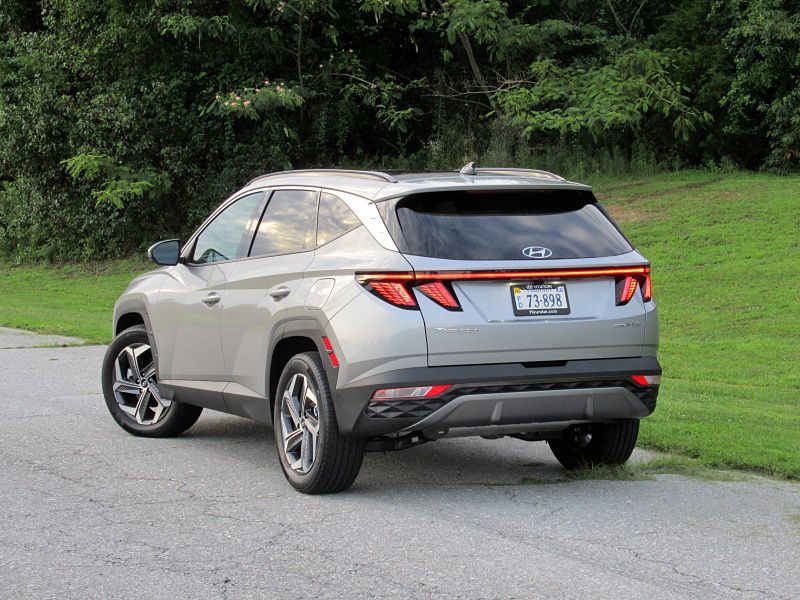 Photo by Brady Holt
Exterior Design
The latest Hyundai models have featured sharply angled exterior designs with lots of creases running in different directions. To us, the 2022 Tucson Hybrid (which is visually indistinguishable from the gas-only model) is an especially successful design. Unlike on a sedan, these designs double as squared-off fender bulges for an aggressive SUV look. Part of each headlight hides within the grille, and a lightbar and twin spikes decorate the taillights. And all but the base model have big dressy 19-inch alloy wheels.
The RAV4 Hybrid, meanwhile, is styled like a more traditional SUV. It looks rugged, but not dressy and avant-garde. It's not over-the-top trucky, either. For many buyers, that's the perfect antidote to fragile-looking tall station wagons. But others will prefer the more intricate and modern Tucson Hybrid. And we're not personally sold on the on-road-sporty details of our RAV4 Hybrid XSE test vehicle; to us, they clash with the vehicle's off-road-ready shape. Still, we won't choose for you. 
Tie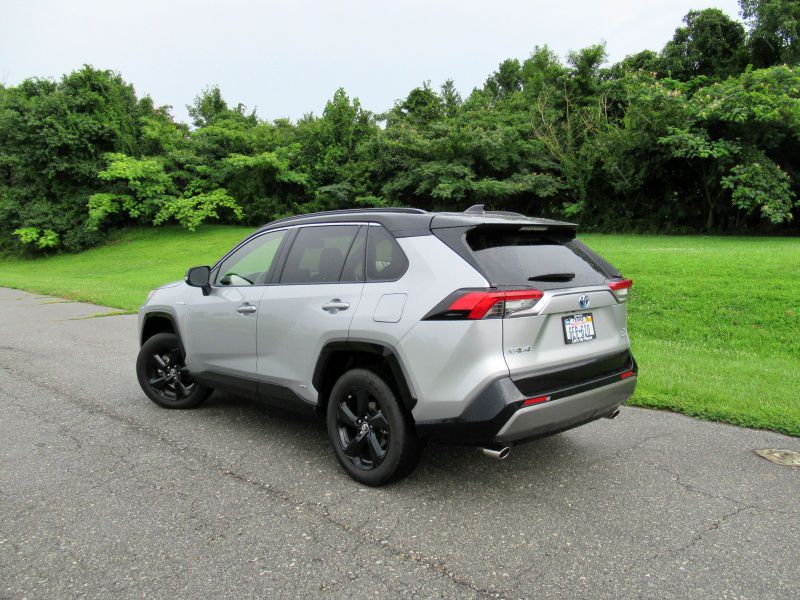 Photo by Brady Holt
Interior Design
Inside, the Tucson Hybrid has a high-end, high-tech interior, particularly in our Limited test vehicle. Most trim levels have a 10.25-inch digital gauge cluster, and the Limited adds a 10.25-inch infotainment touchscreen above a flat panel of touch-sensitive audio and climate controls. It's a sleek look but a pain to use, with a sea of buttons that you can't identify by feel and that control even audio volume. Other trims' 8-inch touchscreen and physical controls are easier to use; also, they feature wireless Android Auto and Apple CarPlay, while the bigger screen only works if you've plugged in your phone. 
The RAV4 Hybrid has a simpler interior with straightforward ergonomics — simple buttons and knobs. Its rubberized surfaces also impart a rugged feel, nicely complementing the exterior design and feeling sturdy without being either cheap or pretentious. Most RAV4s have a mere 7-inch touchscreen, and the only available upgrade measures 8 inches. Android Auto and Apple CarPlay are standard, though only through a wired connection. Overall, the RAV4 wins if you like simplicity and ease of use, though the Tucson is fancier and flashier. 
Tie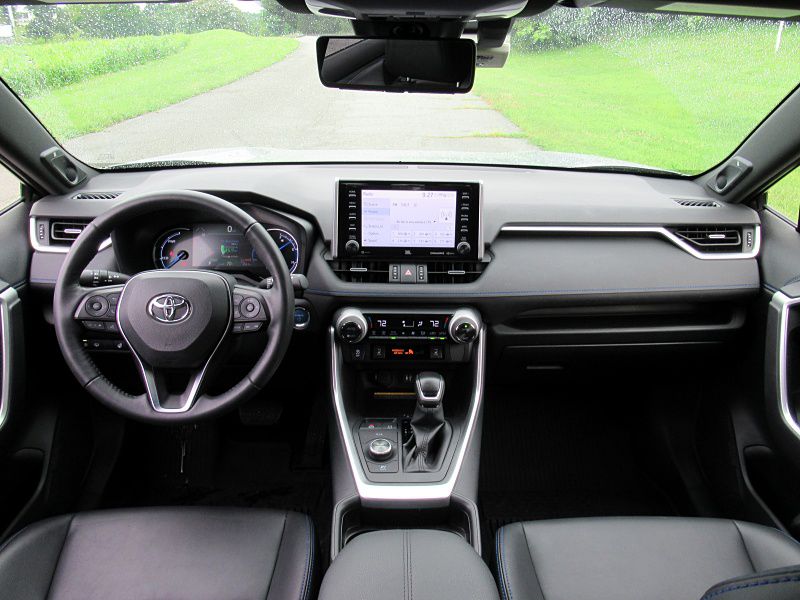 Photo by Brady Holt
Interior Comfort
The RAV4 Hybrid has a comfortable, spacious interior with room for five passengers. The seats are decently shaped and padded. Front passengers can get heated and ventilated seats on certain trim levels, and heated rear seats are also available. 
Still, while the RAV4 Hybrid isn't objectionable, the Tucson Hybrid has even better passenger accommodations. The most obvious difference is the Hyundai's superior rear legroom and more supportive cushion, which is great if you'll be carrying adults in the backseat — and a big improvement over the more modestly sized last-generation Tucson. Even if you'll mostly drive solo, you'll appreciate that every Tucson Hybrid has heated front seats and a power-adjustable driver's seat. 
Hyundai Tucson Hybrid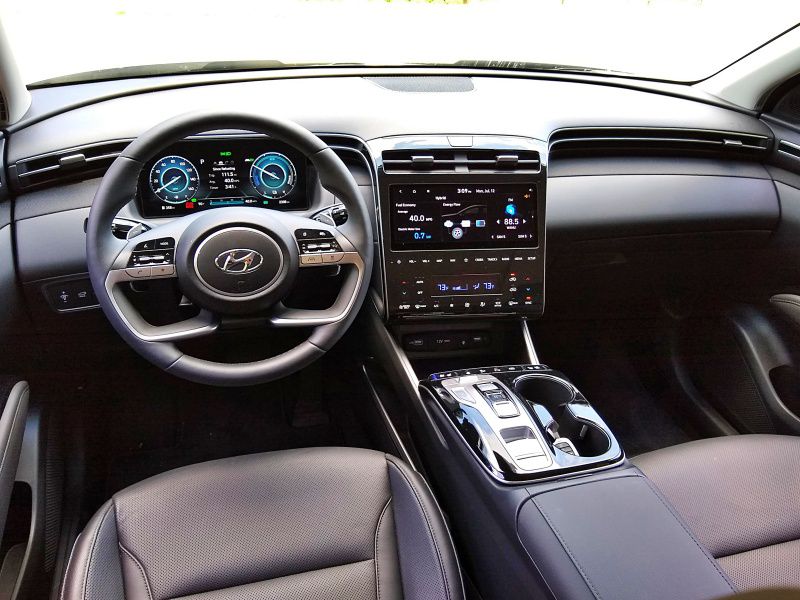 Photo by Brady Holt
Cargo and Utility
Once again, the RAV4 Hybrid is roomy and functional while the Tucson Hybrid is even more so. The Toyota provides an excellent 37.6 cubic feet of cargo room behind its rear seat, though maximum cargo capacity with the rear seat folded is a less impressive 69.8 cubic feet. Towing capacity is 1,750 pounds. 
The Tucson Hybrid trumps all three numbers. It has 38.7 cubic feet behind its rear seat and 74.8 cubic feet with the rear seat folded, and it's rated to tow 2,000 pounds. A handy adjustable-height cargo floor lets you choose between maximum cargo space or a cargo floor that's flush with the folded rear seatbacks. 
Hyundai Tucson Hybrid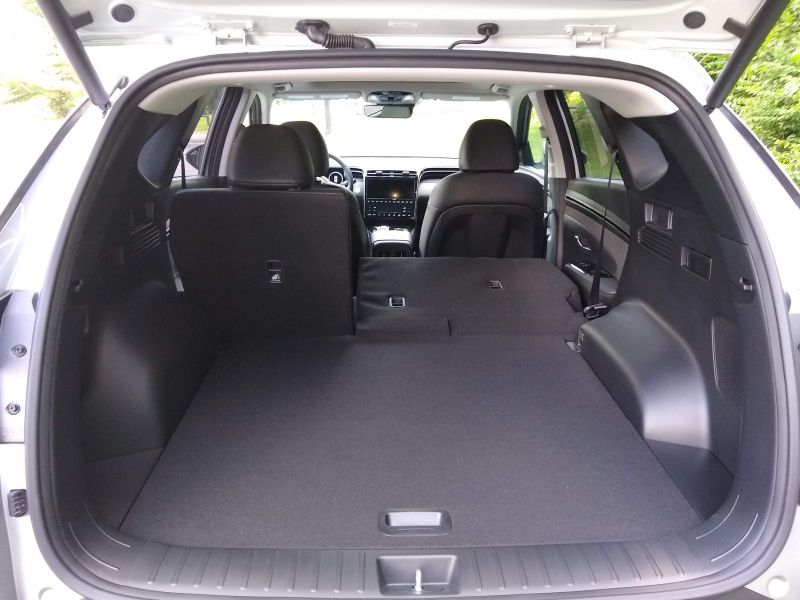 Photo by Brady Holt
Driving Impressions
Both these crossovers are pleasant to drive. However, the Tucson Hybrid feels more upscale, with a more solid feel and more precise handling. It's quick, too, making 226 horsepower in total output from its 1.6-liter turbocharged gasoline engine and electric motors. There's a seamless transition between electric and gasoline power, making the Tucson Hybrid feel and sound natural; except for the fuel savings, you don't have to know it's a hybrid. 
The RAV4 Hybrid doesn't quite match this experience. It's never uncomfortable or clumsy, but the vehicle shudders when you hit some bumps, and the handling would never be called engaging. Its 219-horsepower powertrain is similarly quick to the Hyundai's, but the Toyota feels less like driving a normal car, for better or for worse. We enjoyed coaxing the RAV4 Hybrid along in all-electric mode, but it's noisier than the Tucson Hybrid when you accelerate harder. 
Hyundai Tucson Hybrid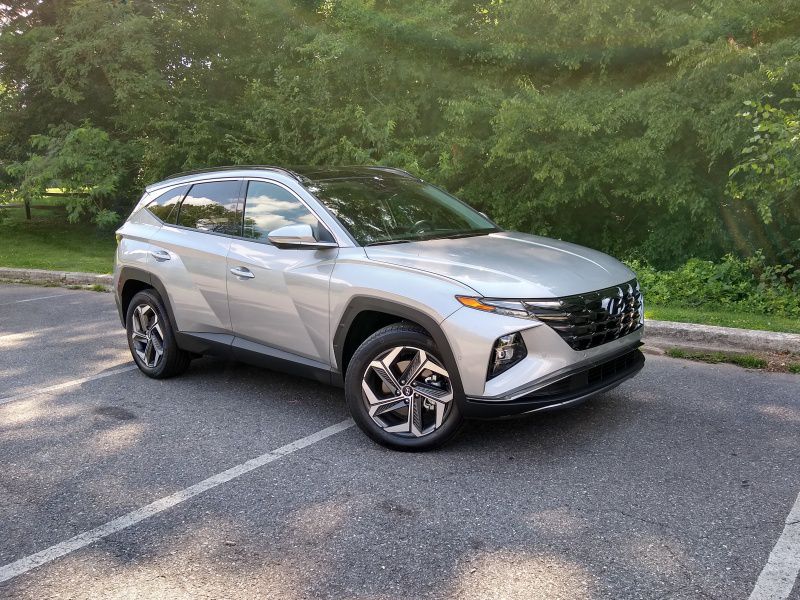 Photo by Brady Holt
Safety
Both the RAV4 Hybrid and the Tucson Hybrid come packed with advanced safety features. With its standard blind-spot monitoring and bicyclist detection, and its available blind-spot camera and rear automatic braking, the Tucson Hybrid has even more (though the RAV4 Hybrid does offer a rearview camera mirror, which can transform the rearview mirror into a camera image with no blind spots). 
For now, however, we'll award this category to the Toyota. The new Tucson Hybrid hasn't yet been crash-tested as of this writing, while the RAV4 Hybrid earned the Insurance Institute for Highway Safety's Top Safety Pick designation and a top five-star score from the National Highway Traffic Safety Administration. 
Toyota RAV4 Hybrid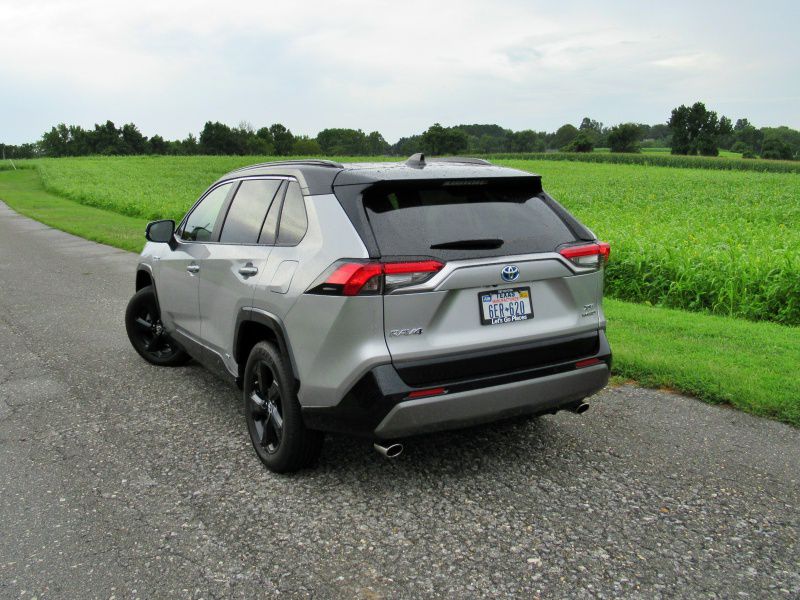 Photo by Brady Holt
Final Thoughts
Many differences between the 2022 Hyundai Tucson Hybrid and the 2021 Toyota RAV4 Hybrid are wholly subjective or vary by individual. Which one looks better to you? Do you prefer a higher-tech interior or easier-to-use controls? Which features are on your must-have list? These factors might be enough to help you choose between these two excellent crossovers. 
We'll narrowly pick the Toyota. It's more economical and has a lower starting price, and it's thoroughly competent without glaring faults. We can certainly understand if you'd like to give up a few miles per gallon for the flashier, fancier, quieter, roomier Tucson Hybrid. But given that the RAV4 Hybrid is hardly junky, noisy, or cramped, we'll stick with its appealing efficiency and affordability.
Toyota RAV4 Hybrid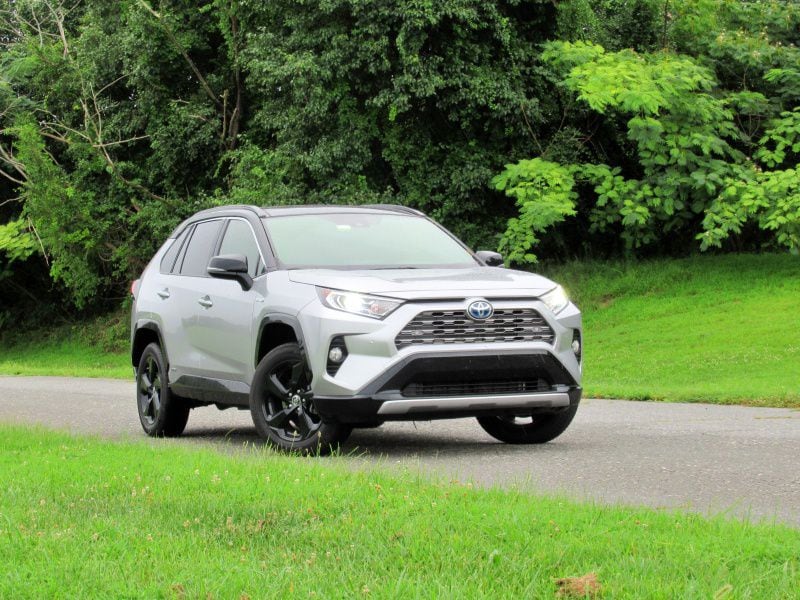 Photo by Brady Holt