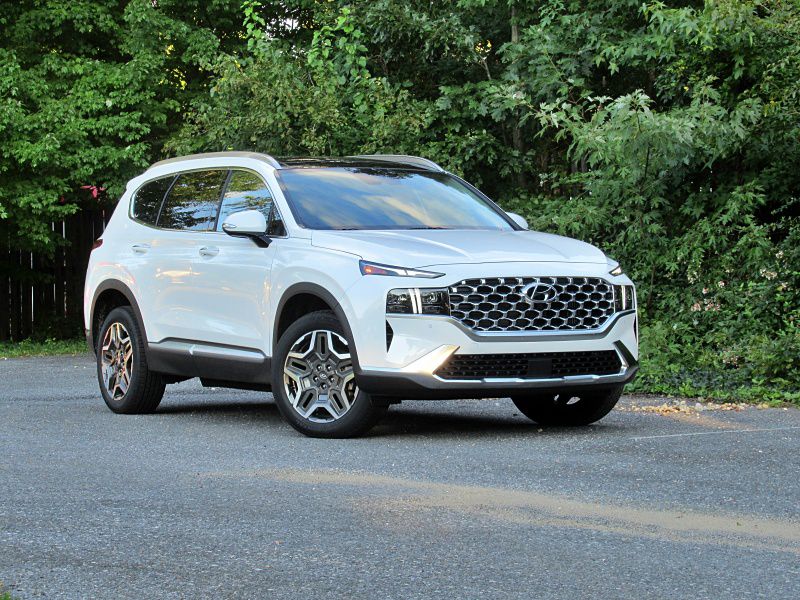 2022 Hyundai Santa Fe Hybrid ・ Photo by Brady Holt
When you want an SUV with great gas mileage, you get to choose from a growing bounty of options. Every year brings new gas-electric hybrid crossovers that sip gasoline like an economy sedan. 
And when you also want that SUV to include a dose of luxury, you still have some promising options. Two popular mid-size hybrid crossovers are the Toyota Venza and the Hyundai Santa Fe HEV. The hybrid-only Venza is essentially an upscale version of the best-selling Toyota RAV4 Hybrid, while the Santa Fe HEV is a gas-electric version of the popular Santa Fe. We tested both hybrids for this review so that we could compare them in eight categories and name an overall winner. Here's what we found. 
Pricing and Features
The Venza and Santa Fe Hybrid both have starting prices in the mid $30,000s with similarly generous standard equipment, including all-wheel drive, power driver's seats, automatic climate control, power liftgates, and full complements of advanced safety features. But the Venza typically costs less than a comparably equipped Santa Fe Hybrid. 
The 2023 Toyota Venza's base LE model costs $34,620, undercutting the base 2023 Hyundai Santa Fe Hybrid Blue ($35,660). The Santa Fe Hybrid SEL Premium costs $39,520 with genuine leather upholstery, a navigation system, premium audio, and a panoramic sunroof. The midlevel Venza XLE costs slightly less ($38,830) but doesn't have such generous feature content. And when you get all the way to the top trim levels (called Limited on both SUVs), the Hyundai costs less. We'll give the Toyota the overall win for the lower starting price, though.
Winner: Toyota Venza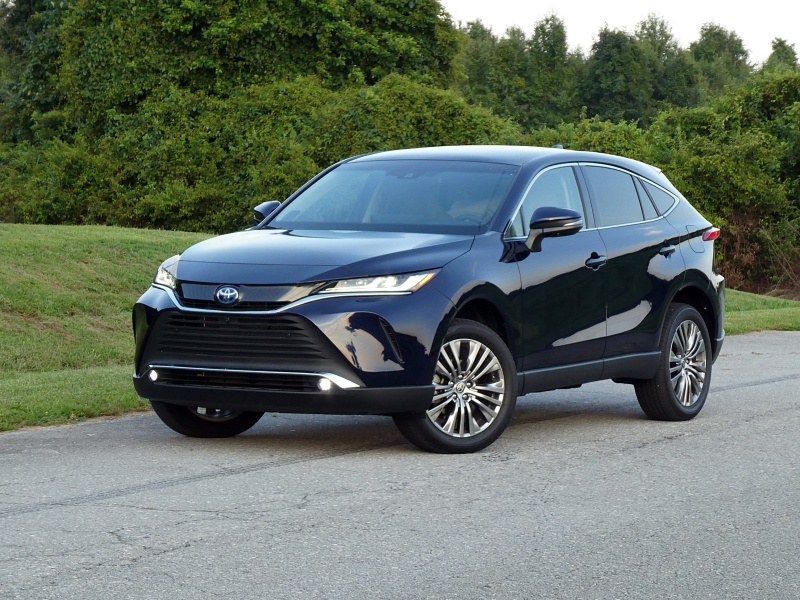 Photo by Brady Holt
Fuel Economy
Gas mileage is a key reason to buy a hybrid, and the Venza delivers. Its 2.5-liter gasoline engine pairs with two electric motors to reduce fuel usage. Sometimes the gas engine switches off entirely, and Toyota provides a selectable "EV mode" that lets you lock in electric-only driving at low speeds. The Venza's EPA estimates are 40 mpg in the city, 37 mpg on the highway, and 39 mpg combined. We did even better in our test, averaging 44 mpg in a week of mixed driving. 
The Santa Fe Hybrid is less economical. It has a 1.6-liter turbocharged four-cylinder gas engine that pairs with an electric motor, and the EPA pegs it at 36 mpg in the city, 31 mpg on the highway, and 33 mpg combined on the base Blue model. Other trim levels dip to 33 mpg city, 30 mpg highway, and 32 mpg combined. Those highway numbers trail many gas-only crossovers, and there's no selectable "EV mode." We did trounce the EPA estimates to average 37 mpg in two Limited test vehicles, doing particularly well at lower speeds versus the open highway. But the Venza is even more economical. 
Winner: Toyota Venza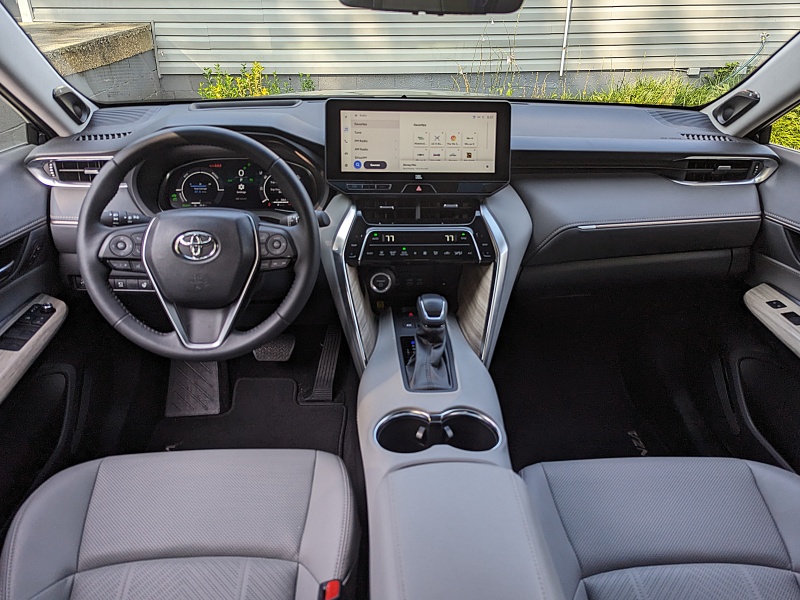 Photo by Brady Holt
Driving Experience
On paper, the Santa Fe Hybrid and Venza offer similar performance. The Hyundai's combined powertrain output is 226 horsepower, barely edging out the Toyota's 219 horsepower. Performance testing pegs both SUVs at about 7.5 seconds to 60 mph, too. But the specs bely the Santa Fe Hybrid's more eager and refined driving experience. The turbo's low-end torque and the Hyundai's conventional six-speed automatic transmission provide punchy, natural-feeling acceleration, and this engine is smoother and quieter than the Toyota's. The Venza, equipped with a continuously variable automatic transmission, feels less eager off the line, and makes more noise when you put your foot down. 
The Santa Fe Hybrid also feels more solid and substantial as it cruises down the road. It's more agile, too, with firmer steering and a more composed suspension. The Venza is a slightly enlarged version of the compact Toyota RAV4, and its ride and handling don't advance much from its cheaper sibling. It's not bad, but the Santa Fe Hybrid feels more like the upgrade we expect from a mid-size crossover. 
Winner: Hyundai Santa Fe Hybrid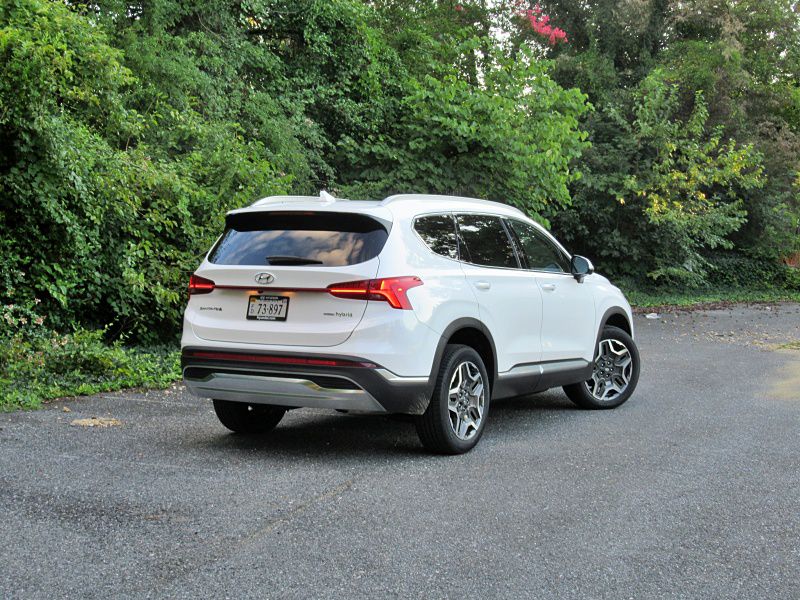 Photo by Brady Holt
Exterior Design
The Venza may drive like a RAV4, but it certainly doesn't look like one. While the current RAV4 takes a rough-and-ready aesthetic, the Venza evokes a Lexus — and without Lexus's big, controversial grille. The Venza sports slim headlights and taillights, a slick-looking rear lightbar, a graceful roofline, and simple detailing. Our only objection is that it looks a bit tall and narrow from a few angles. 
The Santa Fe Hybrid is visually identical to the gas-only Santa Fe. It looks bigger and more substantial than the Venza to us, though their dimensions are nearly identical. It has a more upright and conventional rounded-off-box shape than the curvier Venza, with a lower beltline for more window glass. And its front end is more aggressive, with a big grille and a quad-headlamp design (small lights up near the hood, and blockier ones bookending the grille). Hyundai added a rear lightbar when it updated the Santa Fe for 2021, but it looks tacked on to us compared with the Toyota's. You'll choose your own winner between these two designs. 
Winner: Tie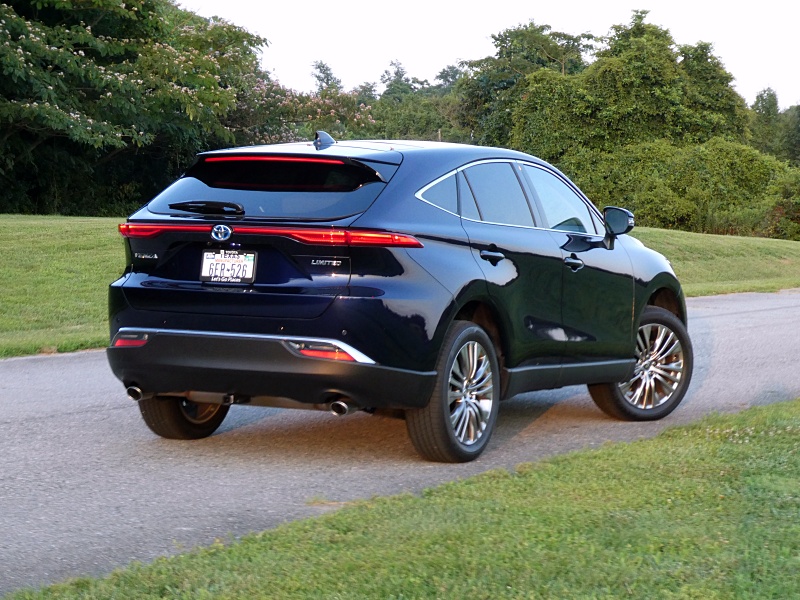 Photo by Brady Holt
Interior Design
Inside, the Venza continues its bargain-Lexus vibe, banishing any hint of RAV4 from the cabin's design and richly padded surfaces. The gently rounded instrument panel flows down from the high-mounted infotainment screen, which measures 8 inches on the base LE model and a generous 12.3 inches on upper-trim models like our test vehicle. But there's a problem: The bigger screen comes bundled with cumbersome and distracting touch-sensitive controls, which replace the base model's convenient buttons and knobs. We also preferred last year's infotainment system, which let you split the big screen into multiple side-by-side views; this year's updated system looks cleaner but loses that functionality.
The Santa Fe Hybrid's interior isn't perfect, either. Its instrument panel flows seamlessly into the center console, floating over a hidden storage area. That looks neat, but it leaves a sea of buttons that are hard to tell apart at a glance. Its materials dazzled us less than the Venza's, too. And while the Hyundai's base 8-inch screen matches the Toyota's, you can only upgrade to 10.25 inches. Still, the Santa Fe Hybrid has a pleasant ambiance, and its controls are still far easier to use than most Venzas'. 
Winner: Hyundai Santa Fe Hybrid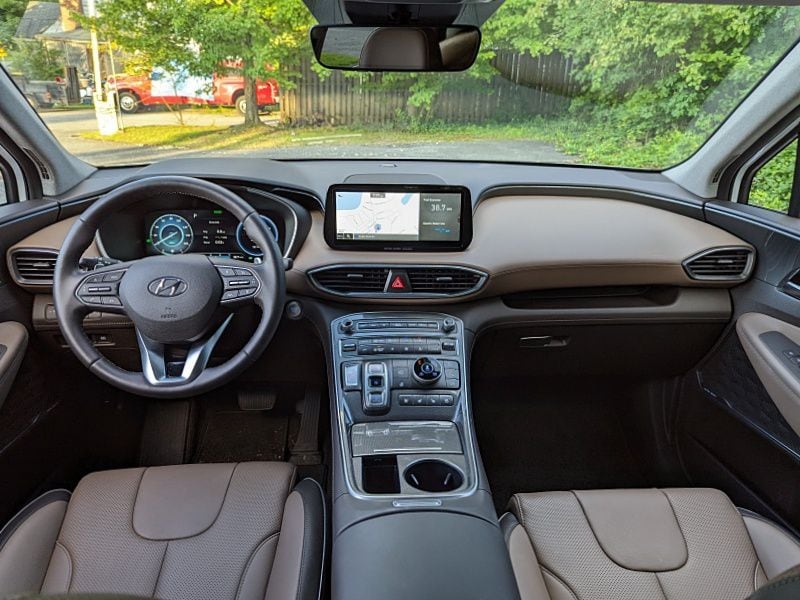 Photo by Brady Holt
Interior Comfort
The Santa Fe Hybrid feels like a mid-size SUV. There's plenty of space to spread out on its front seats, and the rear seat has generous legroom and is wide enough for three adults. The bench seat also adjusts fore-aft to maximize cargo capacity or rear legroom, and rear seat heaters are available in addition to heated and ventilated front seats. 
The Venza is also roomy enough to be useful, but it's a step down from the Hyundai. Its seats are narrower, and there's less rear legroom. Five people would be a pinch as well, though top Venzas also offer the same comfort amenities as the Santa Fe. One neat Venza exclusive is the panoramic sunroof's neat electrochromatic sunshade, which frosts the glass at the touch of a button — no need for a cloth cover to slide back and forth. But we'll pick the roomier Hyundai. 
Winner: Hyundai Santa Fe Hybrid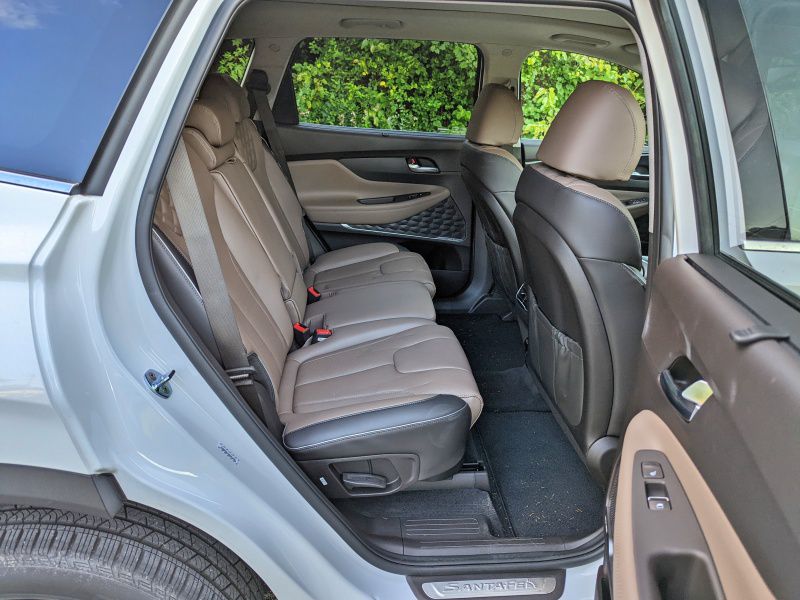 Photo by Brady Holt
Cargo and Utility
The Hyundai's advantages continue when it's time to carry cargo. It has 36.4 cubic feet of cargo room behind its rear seat and 72.1 cubic feet with the rear seat folded. That's not amazing for a mid-size SUV, but it's plenty useful. 
And it's far more than you get in the Venza, which provides 28.7 cubic feet behind the rear seat and 54.9 cubic feet with the rear seat folded. Those figures would be among the lowest of any compact mainstream-brand crossover, much less a mid-size model. Blame the Venza's curvy bod, which eliminates lots of cargo space from the RAV4 — even though the Venza is 6 inches longer than its sibling. What's more, unlike the RAV4 Hybrid or the Santa Fe Hybrid, the Venza isn't rated to tow a trailer; the Hyundai can pull 2,000 pounds. 
Winner: Hyundai Santa Fe Hybrid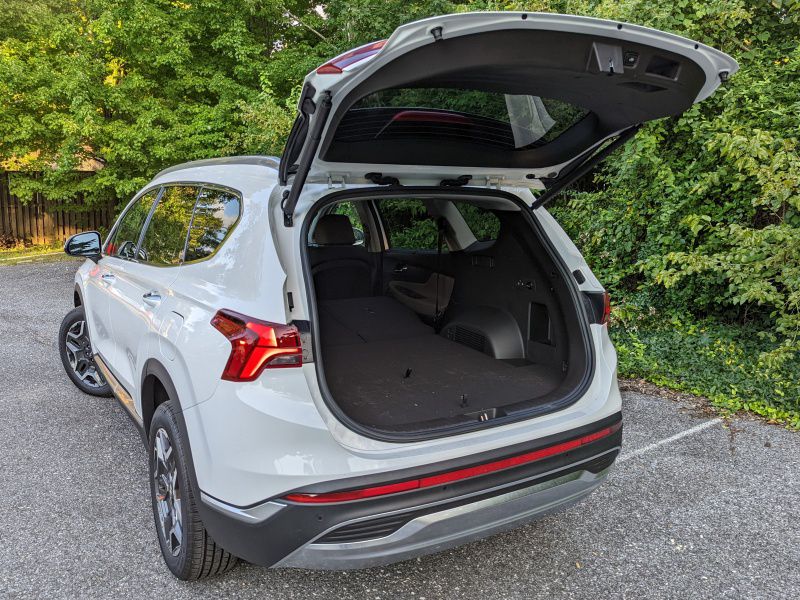 Photo by Brady Holt
Safety
Both the Venza and Santa Fe Hybrid are packed with advanced safety equipment and earned excellent crash-test scores. But the Hyundai comes out ahead on both fronts. 
Each crossover comes standard with automatic emergency braking, lane-keeping steering assistance, and blind-spot monitoring. But the Hyundai adds rear parking sensors as standard equipment (they arrive on the Venza XLE), and it's the only one available with a blind-spot camera, which displays an image on the gauge cluster when you activate your turn signal. On the crash-safety front, the Santa Fe earned the highest Top Safety Pick+ designation from the Insurance Institute for Highway Safety; that edges out the Venza's Top Safety Pick status. And while both hybrids earned five stars overall from the National Highway Traffic Safety Administration, the Toyota slipped to four stars for frontal-impact protection. 
Winner: Hyundai Santa Fe Hybrid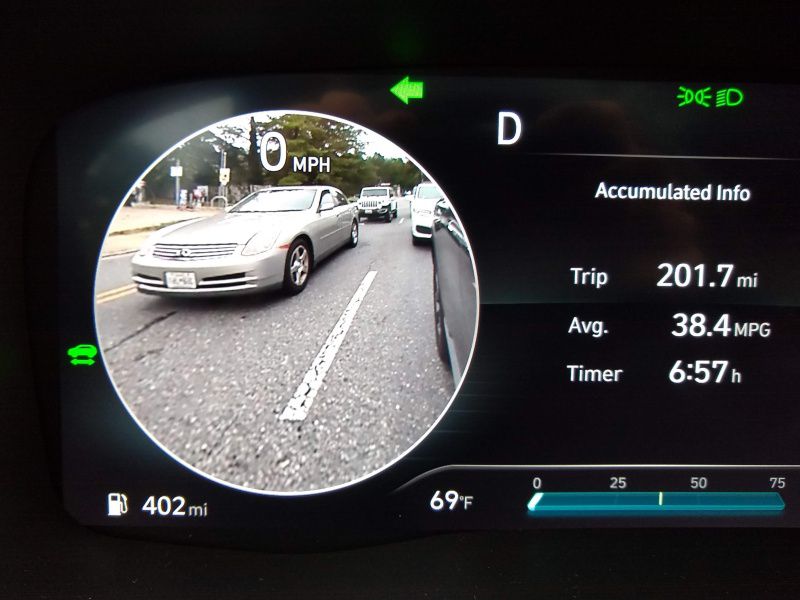 Photo by Brady Holt
Final Thoughts
The 2023 Toyota Venza is an extra-economical hybrid disguised as a luxury SUV. That's an appealing combination. But the disguise is mostly skin-deep. Toyota didn't upgrade the driving experience to match the high-end styling and beautiful interior materials. That's a potential problem even if you're just shopping the Venza against the roomier, less expensive, and more economical Toyota RAV4 Hybrid.
Against the 2023 Hyundai Santa Fe Hybrid, the Venza's value and efficiency are powerful advantages. But Hyundai provides the more complete package. This is an excellent mid-size crossover that happens to be a fuel-sipping hybrid — never imposing any tradeoff for your fuel savings. Quick, quiet, smooth, agile, and spacious, it does nearly everything well. And while the EPA ratings are disappointing, we're optimistic that many buyers will do better in the real world unless they spend all your time on the open highway. Overall, the Santa Fe Hybrid will give you painless fuel savings. And as pretty as it might look, we can't say the same about the slower, noisier, smaller Venza. 
Winner: Hyundai Santa Fe Hybrid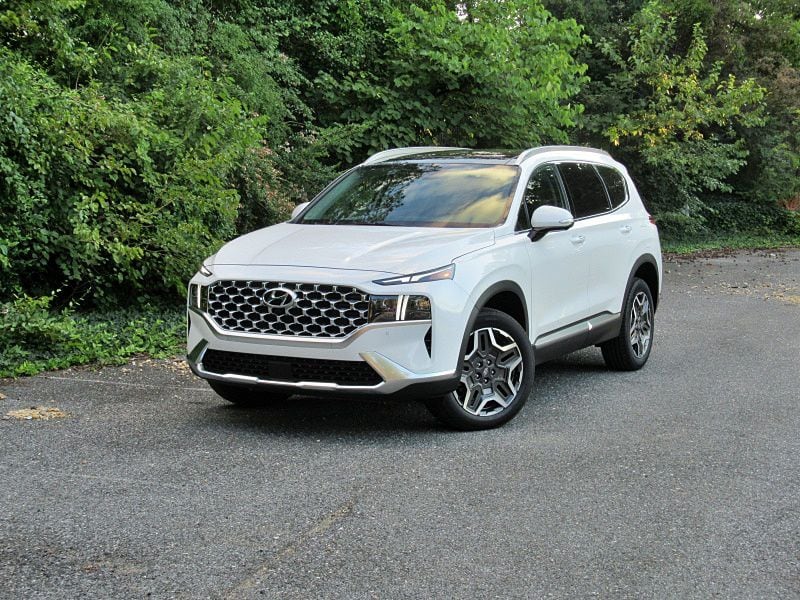 Photo by Brady Holt