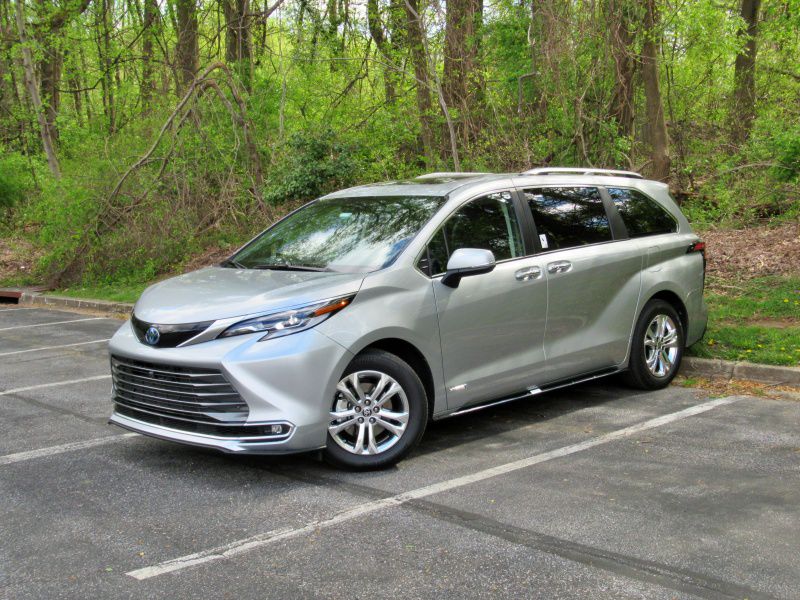 2021 Toyota Sienna Platinum ・ Photo by Brady Holt
Honda versus Toyota is a classic comparison. The two Japanese automakers have developed potent reputations for comfort, quality, and overall execution of their vehicles. And in the minivan market, Toyota Sienna versus Honda Odyssey has been a frequent question for more than two decades. 
Now, though, these two minivans are more different than ever. The Odyssey hasn't been comprehensively reinvented since 1999; the styling and features have advanced, and the mechanical pieces have changed over the years, but its formula is consistent. It's a big, comfortable van with a big, powerful V6 engine; a third-row seat that folds into the floor; and sportier handling than its competitors. The newly redesigned Sienna, meanwhile, uses a hybrid powertrain that combines a four-cylinder gas engine with electric motors to achieve standout fuel efficiency. We tested both vans to explore their pros and cons and choose a winner. Keep reading to learn about our pick and see which minivan might be the better fit for your family. 
Pricing and Features
Toyota gave the Sienna a $3,000 price bump when it switched to a hybrid powertrain, for a total of $34,640. The base Odyssey costs significantly less: $32,090. So we'll give Honda the win for this round. 
Still, the competition is closer than it looks. That's because the base Sienna LE is much better equipped than the base Odyssey LX. It includes the touchscreen infotainment system, tri-zone automatic climate control, power driver's seat, power sliding doors, push-button start, and blind-spot monitor that Honda saves for the Odyssey EX ($35,490). Still, Honda provides genuine leather upholstery for as little as $38,760, while you need to spend at least $39,750 to even get leatherette on the Sienna. Each van also has a couple of exclusive features: The Sienna is the only of the two with optional all-wheel drive, and the Odyssey has an available in-car camera system to check on rear passengers. Your own pricing winner will depend on the features you want and what Honda or Toyota will charge you for them, but we'll go with the Odyssey.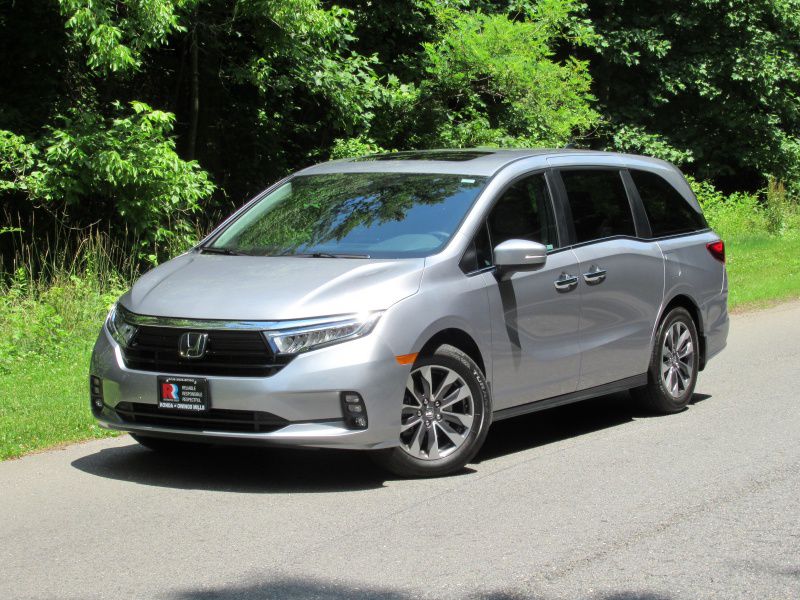 Photo by Brady Holt
Exterior Design
The redesigned Sienna is more aggressive-looking than its predecessor. It's a little lower and a little wider, giving it a more road-hugging stance (for a minivan, anyway). And a bulge that rises up onto the rear fender evokes the Toyota Supra sports coupe. At the same time, the Sienna doesn't beat you over the head with its uniqueness like some polarizing minivans in recent years. 
The Odyssey takes a similarly assertive stance, though it's slightly taller than the Sienna. The van hasn't changed too much since a radical restyling way back in 2011, which means people have had time to get used to details like the zigzag windowline. The body is cleaner than the Toyota's, which is dull to some tastes and a welcome show of restraint to others. You'll decide for yourself, so this category is a tie. 
Tie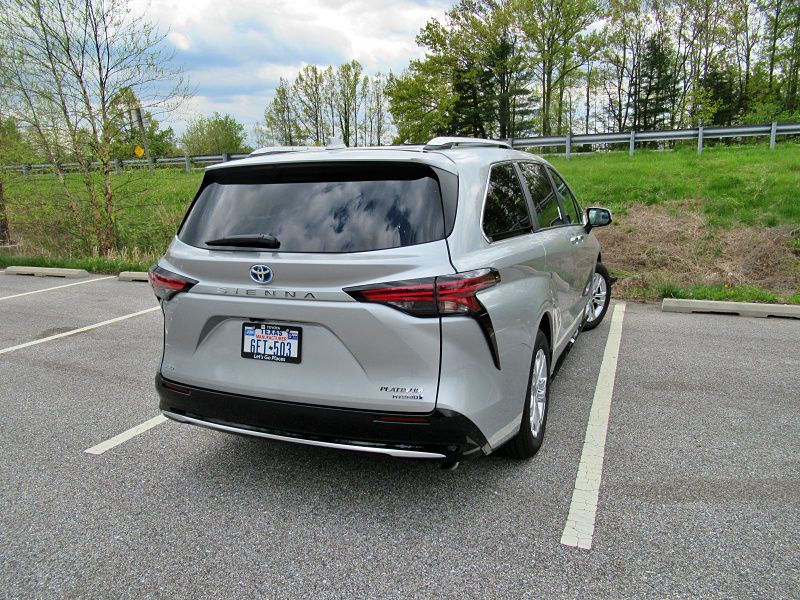 Photo by Brady Holt
Interior Design
Given minivans' family-friendly focus and high prices, the perfect minivan interior must be both upscale and highly functional. The Sienna is exactly that. Toyota keeps the styling simple and elegant, avoiding the temptation to pile on too many busy details. A 9-inch touchscreen infotainment system with Android Auto and Apple CarPlay is standard on all trim levels, and while it's not the most beautiful system in the world, it's easy to use and has a useful size and shape. Most impressively, Toyota provides acres of storage space under a floating center console — you get high-end styling with a place to stash a purse hiding underneath. 
The Odyssey's interior packs less visual punch and has smaller infotainment screens: a mere 5-inch non-touch display on the LX, and an 8-inch touchscreen on other models. And while its storage space also beats most competing vans', the Sienna has even more. The Odyssey has a nicely finished, user-friendly interior that comes across as functional and sturdy without being especially luxurious. Some parts of the Odyssey's dashboard have higher-quality materials than the Sienna's, but the Toyota's interior impressed us more overall.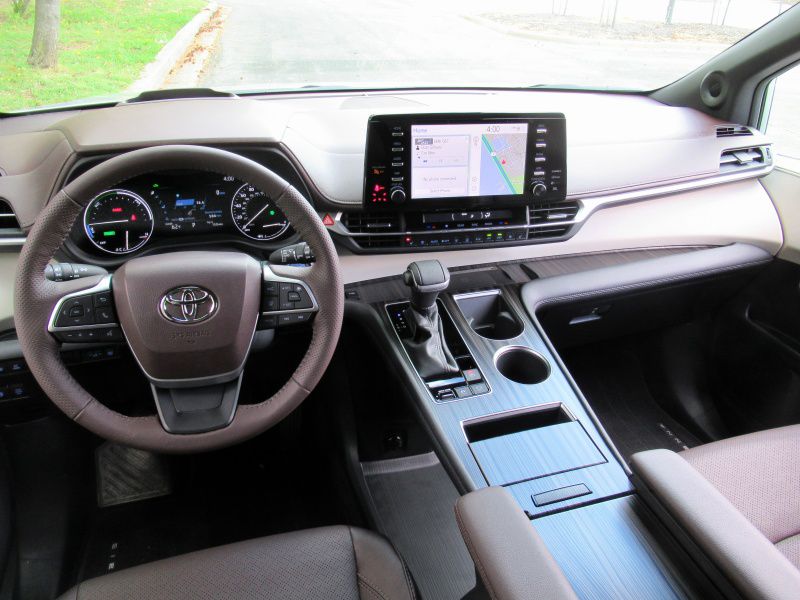 Photo by Brady Holt
Interior Comfort
Both the Sienna and Odyssey go above and beyond to make the cabin comfortable. Both have comfortable seating for seven adults and can be equipped to fit an eighth. 
The Sienna impresses for its "Super Long Slide" second-row seating, which delivers what it promises: 25 inches of fore-aft adjustability. Slide the seats forward when you need to make room for third-row passengers, and slide them way back for limo-like accommodations. Still, we're even more partial to the Odyssey's "Magic Slide" alternative. You can't move the seats back and forth as far, but they adjust side-to-side. That lets you reposition your kids closer together or farther from each other, or make more room to fit three people across. We also found the Odyssey's third row to be more comfortable than the Sienna's.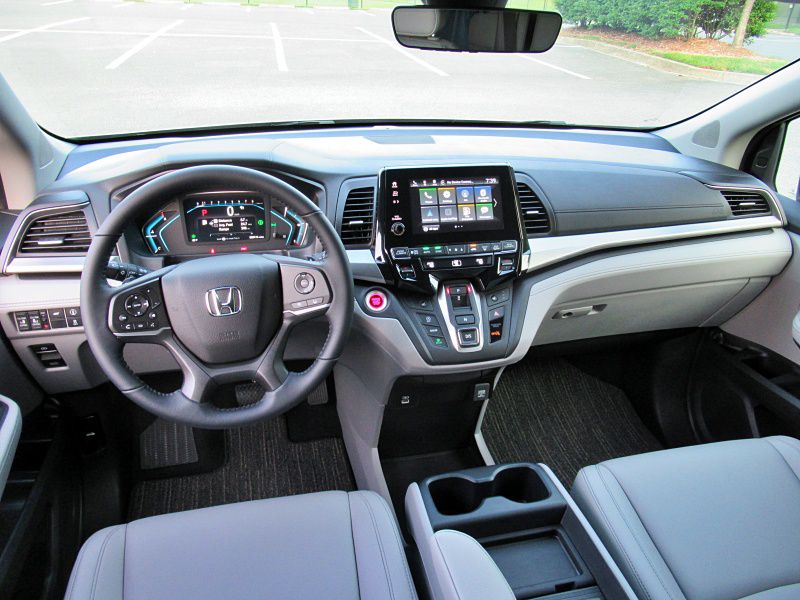 Photo by Brady Holt
Cargo and Utility
A typical minivan offers incredible cargo space, especially if you're willing to work at it, and the Odyssey does exactly that. It has 32.8 cubic feet behind its third-row seat and 88.8 cubic feet behind its second row, more than most SUVs can fit with their second-row seats folded down. If you need more space, you can either tumble the second row forward or — to achieve the maximum 144.9 cubic feet — wrestle the seats out of the vehicle entirely and find a place to store them.
By contrast, the Sienna provides a process to quickly slide the second-row seats against the front seats. It's simple and easy, but since the non-removable seats take up a chunk of your cargo hold, there's less space. By the numbers, it has 33.5 cubic feet of space behind the third-row seat, 75.2 cubic feet behind the second row, and 101 cubic feet in total. Both vans' third rows fold easily into the floor, and both are rated to tow up to 3,500 pounds. But the Sienna's cargo capacity — while excellent by most standards — comes up short for a minivan.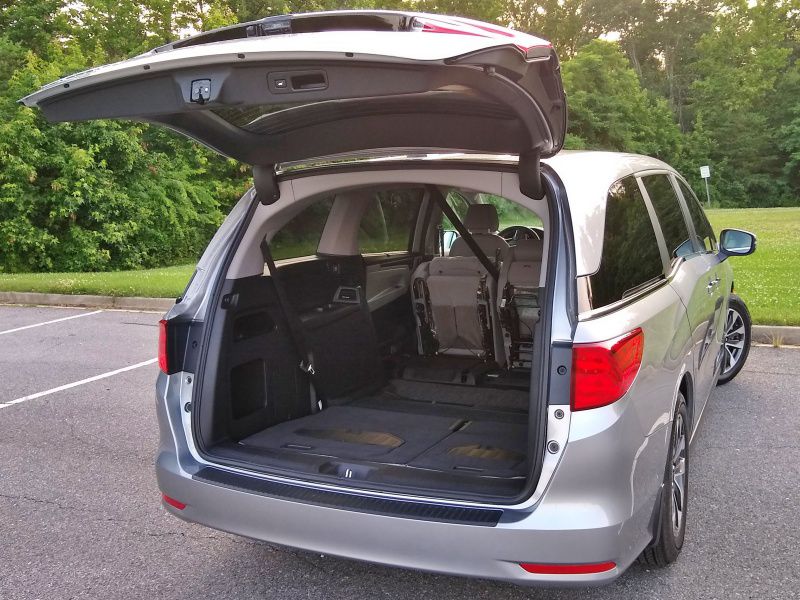 Photo by Brady Holt
Driving Impressions
Toyota made a bold choice to replace its V6 minivan with a four-cylinder-based hybrid. With 245 horsepower, the Sienna isn't underpowered, but it lacks its predecessor's effortless acceleration. In other words, while even the hybrid Sienna will get you moving in a decent hurry, it rasps louder and less pleasantly as it gets the job done. And while it generally rides and handles well, the Sienna can shudder when it hits a bump. 
The Sienna's dynamic weaknesses stand out even more sharply against the Odyssey. But there's a feeling of superb control to this van. The ride is firm, yet when you hit a bump in the Odyssey, the suspension takes it in stride and moves on. Today's Odyssey isn't quite as sporty as some past models, but the steering remains confidently taut and agreeably quick, with less slop than the Toyota's. Lastly, with a 280-horsepower V6, the Odyssey is markedly quicker and quieter than the Sienna. We didn't hate driving the Sienna, but it's hard to fault the Odyssey even against another V6-powered van.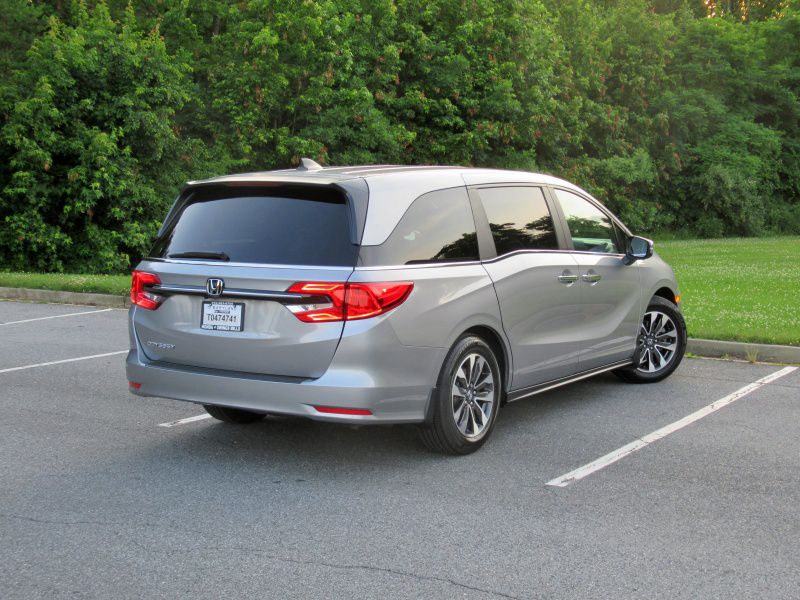 Photo by Brady Holt
Fuel Economy
Since every Sienna is a gas-electric hybrid, every Sienna gets phenomenal gas mileage. The EPA estimates 36 mpg in the city and 36 mpg on the highway with front-wheel drive, while all-wheel drive models lose just 1 mpg in the city. Our AWD test vehicle did even better, averaging 39 mpg in mixed driving. The Sienna can cruise or even accelerate slowly using only electric power, or the electric motors can supply some extra gas-free juice to the drive — reducing the amount of gasoline burned.
The Odyssey's gas mileage isn't bad for a minivan, but it's on another planet from the Sienna's. The EPA pegs it at 19 mpg in the city, 28 mpg on the highway, and 22 mpg combined. We averaged 26 mpg in our test vehicle. Especially if you do a lot of stop-and-go driving, you'll save a ton of money on fuel in the Sienna.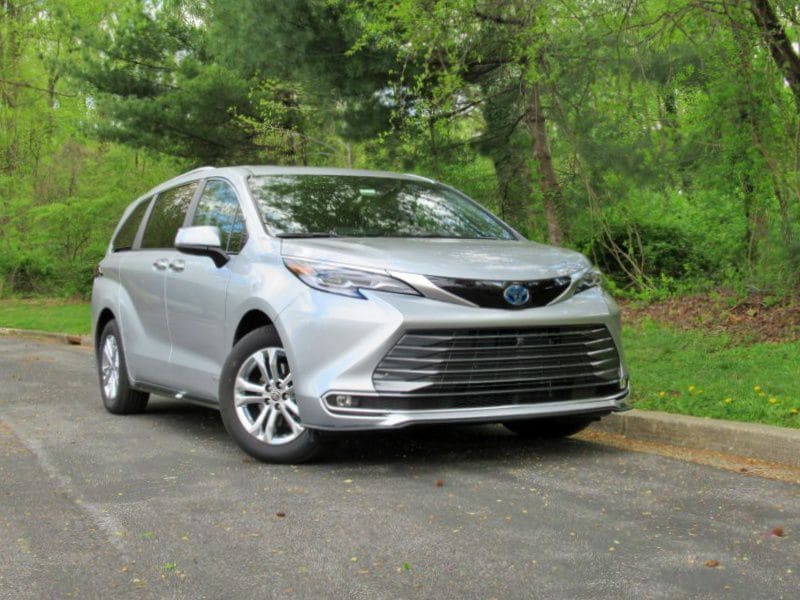 Photo by Brady Holt
Safety
Both the Sienna and Odyssey earned high crash-test scores and are packed with advanced safety technology. But the Odyssey comes out a bit ahead. 
Both vans earn the highest possible Top Safety Pick+ designation from the Insurance Institute for Highway Safety and five-star overall ratings from the National Highway Traffic Safety Administration. But the Odyssey fared better than the Sienna in NHTSA's frontal-impact test, where it earned five stars to the Sienna's four — and, within that rating, a mere three-star score for driver protection. Its automatic emergency braking system also scored better in IIHS testing at automatically avoiding a pedestrian. Both vans have that automatic braking standard, along with a lane-departure warning and lane-keeping assistance. Only the Sienna has blind-spot monitoring standard, but that's in part because its base trim level costs so much more than the Odyssey's; the feature is also included on most of the Honda's lineup. So while the IIHS gives a slightly higher score to the Sienna's headlight illumination, we'll still award this category to the Odyssey.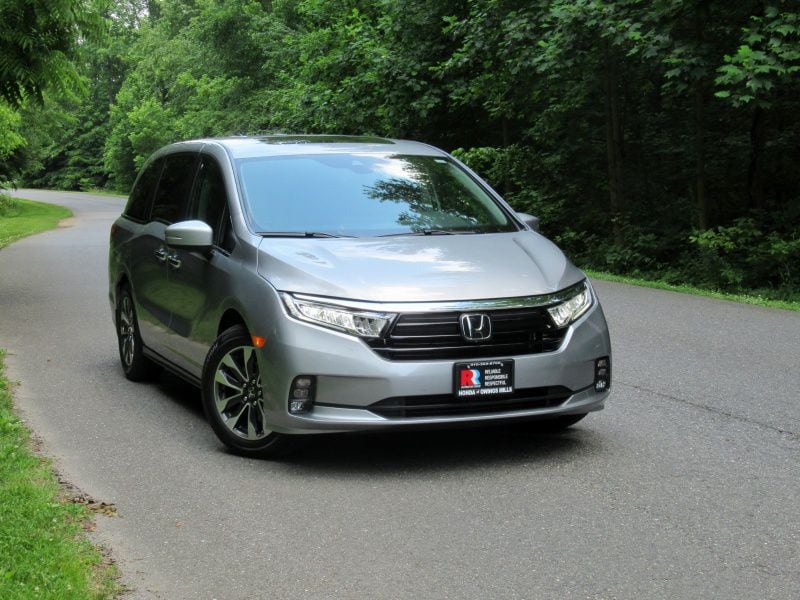 Photo by Brady Holt
Final Thoughts
The Sienna is a quirky take on the minivan, and it's always risky to introduce quirks — especially big quirks. And the Sienna's go right to the heart of the minivan experience: the comparatively noisy four-cylinder engine and the comparatively modest cargo hold. Toyota could have also sweated the details more to achieve the highest-possible crash-test scores, as Honda did. 
We love the Sienna's gas mileage, and we think many buyers would happily accept a few shortcomings to achieve it. The same goes for its convenient all-wheel-drive system. Still, it's hard to argue with the well-rounded Odyssey. It's not flashy, and it doesn't have a singularly compelling feature like the Toyota's fuel efficiency. But by sticking close to the minivan norm and doing a superb job at it, it's our winner today.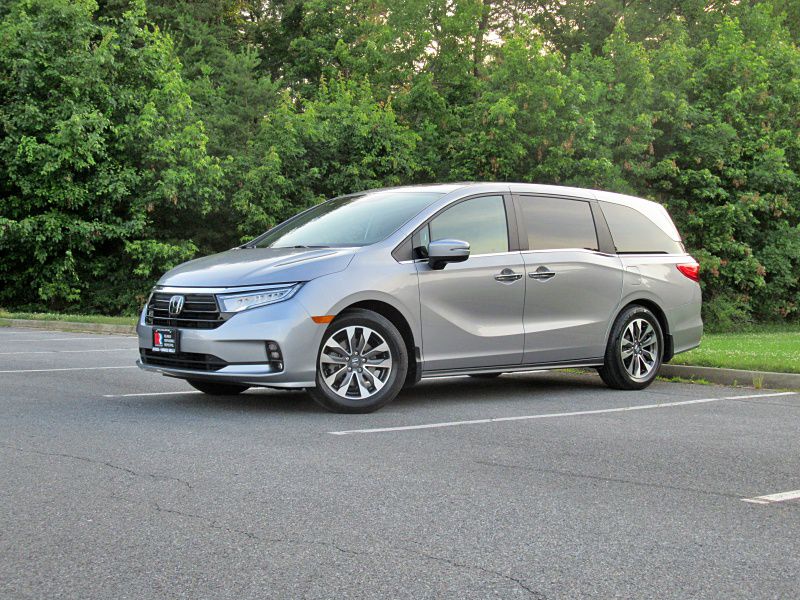 Photo by Brady Holt