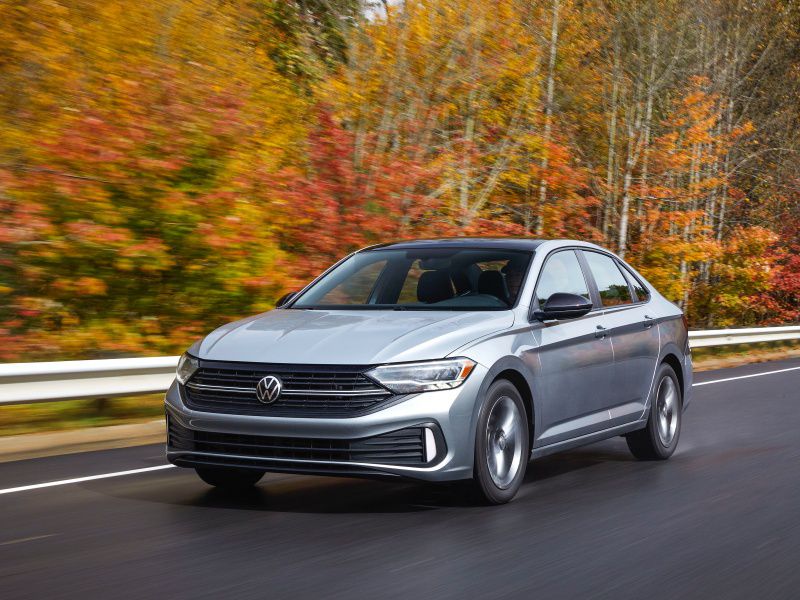 2022 Volkswagen Jetta ・ Photo by Volkswagen
Small cars are slowly fading away as buyers gravitate to SUVs and pickup trucks, but some automakers remain steadfastly committed to making budget-friendly, fun-to-drive cars. Honda and Volkswagen are two brands that continue to offer compact cars, with the Civic and Jetta, respectively, on sale today. It can be tough making a decision between the two, however, so we're here to help. Let's take a closer look at the 2022 Volkswagen Jetta versus the 2022 Honda Civic.
Pricing and Features
The 2022 Volkswagen Jetta starts at $21,190, which undercuts the Civic's base price by over $2,000. For that money, the VW offers a turbocharged 1.5-liter four-cylinder engine making 158 horsepower and 184 pound-feet of torque, a six-speed manual transmission, and a refined cabin design.
The 2022 Honda Civic was completely redesigned with a surprisingly upscale design, new tech, and a refined interior. It also gets a 158-horsepower four-cylinder engine as standard, though it's a non-turbo 2.0-liter engine here, instead of the turbo mill in the Jetta. It's similarly equipped out of the box but gets a standard continuously variable transmission instead of the manual box in the VW.
: Volkswagen Jetta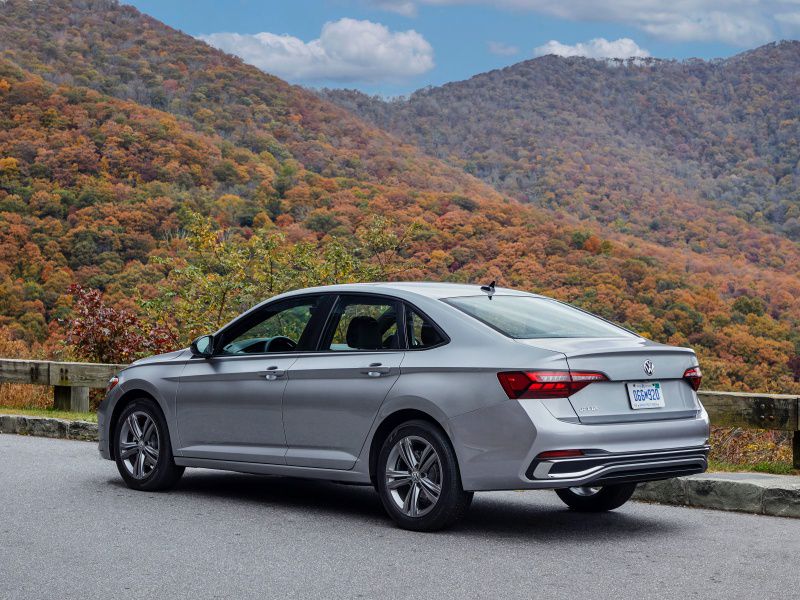 Photo by Volkswagen
Exterior Design
The Jetta received a facelift for 2022 that brought new bumpers and wheels, but the sedan's overall aesthetic will be immediately familiar to anyone with even passing knowledge of the VW catalog. The car's lines are smooth, and its shape is handsome. The new grille designs could have easily been eyesores, but VW integrated the shapes into the Jetta's design with grace. Buyers aren't required to step up to the most expensive Jetta models to get the best exterior features, either. The near-base Sport trim gets blacked-out exterior trim and 17-inch wheels for just a shade more than the base S trim's price tag.
The Honda Civic is completely new for 2022 with a design that is far more grown-up and upscale than models from years past. The new car mimics many of the larger Accord's styling cues, which work well on the Civic's smaller body. A clean profile visually extends the car's length, and the refined fastback shape gives the Civic a sporty look while also providing a larger open cargo space in back. 
: Honda Civic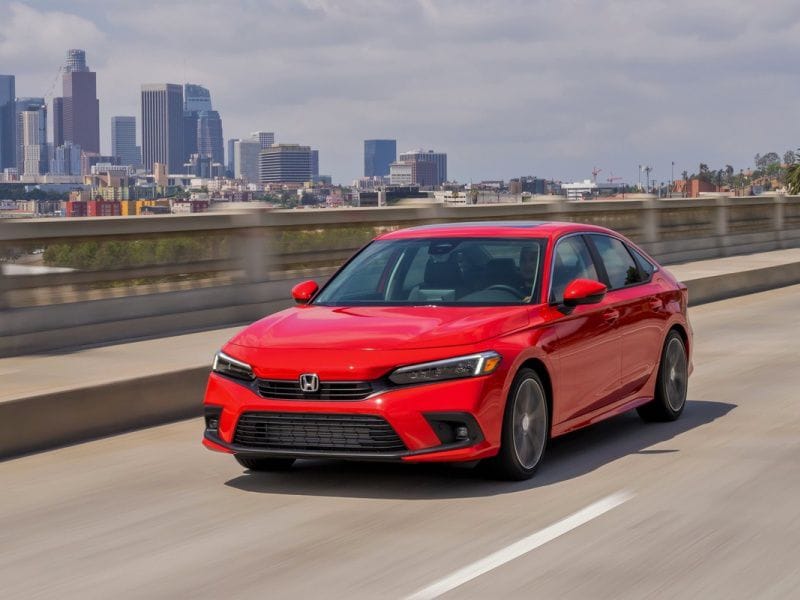 Photo by Honda
Interior Design
As is the case with most new cars, Volkswagen holds back the best interior features for higher, more expensive trim levels, but that doesn't mean lower trims feel like a penalty box. The base Jetta's cabin feels solidly constructed and premium, despite lacking the high-end tech and materials of its more deluxe trimmed counterparts. All controls, displays, and functions are well within reach of the driver, and there's great outward visibility in nearly every direction. All of that said, the VW's cabin is drab and emotionless, and lacks the clever design that the Civic displays.
The new Honda Civic's interior perfectly demonstrates how adding simplicity and clean design can transform even a budget-level cabin. A new dash design incorporates a single, extended grate that runs the entire length of the front cabin. The car's air vents and emergency indicator switch are integrated with the metal grate for a futuristic and far more upscale look than a car costing under $25,000 should have. Honda mounted the infotainment screen high atop the dash, which aids in screen visibility but detracts from the interior's overall design with a look similar to a tablet glued to the dashboard.
: Honda Civic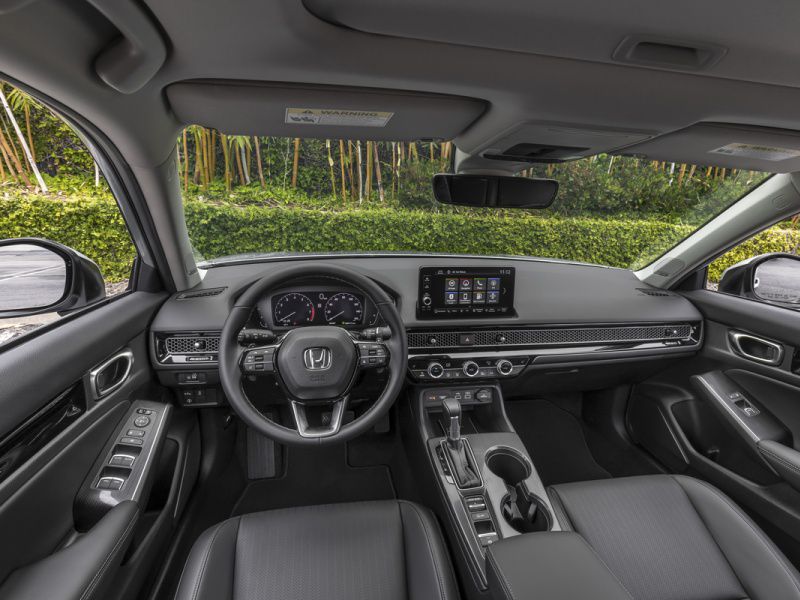 Photo by Honda
Technology
The Jetta comes standard with a 6.5-inch touchscreen that runs Apple CarPlay and Android Auto, Bluetooth, and app connectivity. Top trims get an 8-inch glass touchscreen that looks, feels, and operates as a premium display. VW also offers its excellent digital cockpit system, which converts the gauge cluster into a configurable display. 
The Honda Civic starts off with a 7-inch display, but can be upgraded with a 9-inch touchscreen. Apple CarPlay and Android Auto are standard, along with Bluetooth and apps. Honda also offers a 10.2-inch digital gauge cluster, but it can't match the Jetta's level of configurability and usefulness.
: Volkswagen Jetta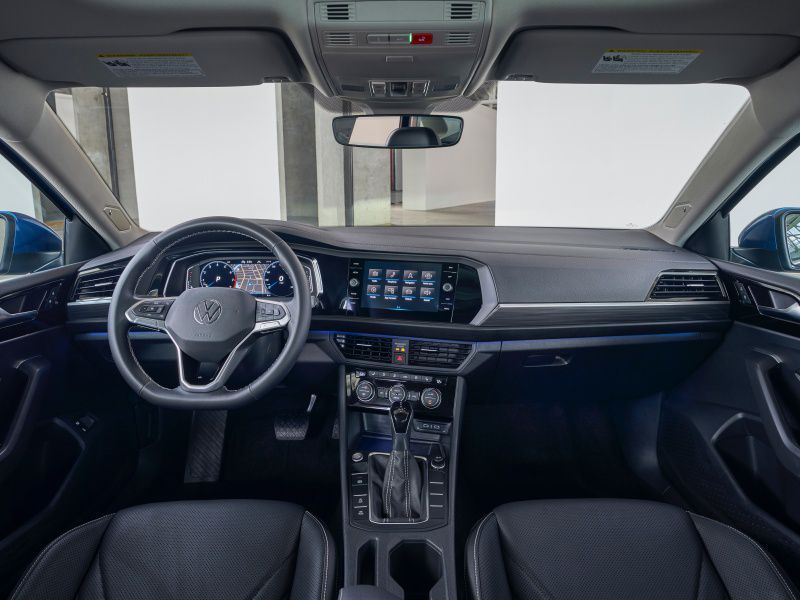 Photo by Volkswagen
Interior Space and Comfort
Front passengers in the 2022 Jetta enjoy 38.5 inches of head room and 41.1 inches of legroom, while folks in the back seat see 37.2 inches of head room and 37.4 inches of legroom. The VW's seats are deep and well-padded, and offer great lateral support with good bolstering and padding. Though manual, the base Jetta's seat adjustments allow enough movement to find a good driving position, and the car's armrests are positioned well to be comfortable for a wide variety of drivers and body styles. In back, the bench offers decent padding, but could use more support. The seat surface is too flat to accommodate adults for longer trips, but kids in car seats will be none the wiser.
The 2022 Honda Civic offers 39.3 inches of front head room and 42.3 inches of legroom. Back-seat passengers get 37.1 inches of head room and 37.4 inches of legroom. The car is more generous with front-seat space than the Jetta, but misses just slightly on rear head room. In the real world, however, that 0.1-inch difference isn't something anyone can detect without a measuring device. Elsewhere, the Civic offers comfortable and ergonomic front seats with good padding and support. There's generous space to stretch out up front, which should ease some of the conflict over legroom with passengers in the back.
: Tie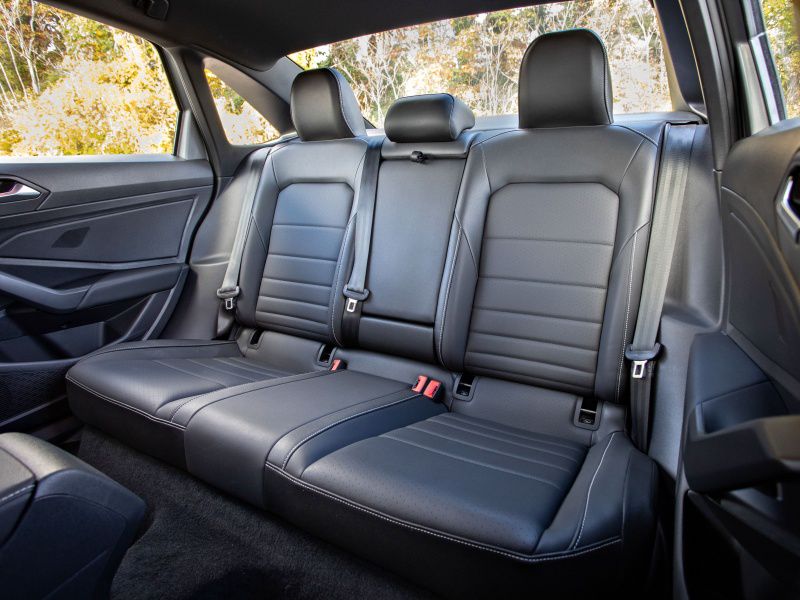 Photo by Volkswagen
Performance and Handling
The 2022 Jetta comes standard with a turbocharged 1.5-liter four-cylinder engine making 158 horsepower and 184 pound-feet of torque. It's paired with a standard six-speed manual transmission and front-wheel drive. An eight-speed automatic is available, but the crisp manual is one of the Jetta's most engaging components when equipped. The Jetta offers a smooth and refined ride with a relatively quiet interior, but it's not the tight, lively sedan that the Civic has become.
The Honda Civic comes with a 2.0-liter four-cylinder engine that produces 158 horsepower. It's paired with a standard continuously variable transmission, though the Civic Hatchback is available with a manual. There's an available turbocharged 1.5-liter engine rated at 180 horsepower, which gives the Civic a considerable boost in acceleration and torque over the base model. Though it takes over seven seconds to reach 60 mph from a standstill in its quickest format, the standard Civic feels lively and agile in corners and on back roads. The car manages all of that while maintaining a comfortable and quiet ride.
: Honda Civic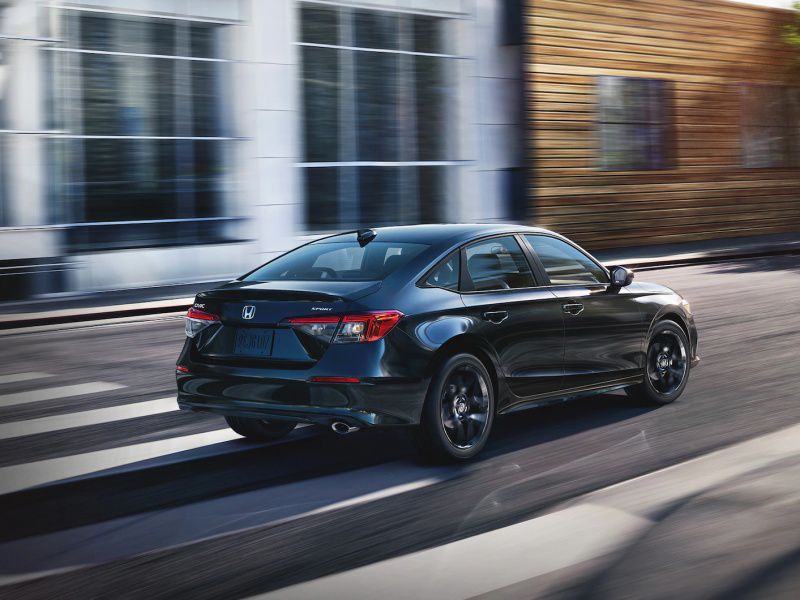 Photo by Honda
Fuel Economy
In its most efficient format with an automatic transmission, the Jetta returns 31/41/35 mpg city/highway/combined. With a manual gearbox, the car is rated at up to 29/43/34 mpg. The SE and SEL trims return fuel economy of 29/40/33 mpg. 
The most frugal Honda Civic comes equipped with the more powerful turbocharged engine. It's rated at 33/42/36 mpg city/highway/combined. The base 2.0-liter four-cylinder engine is rated at 31/40/35 mpg.
Comparing combined fuel economy ratings, the Civic edges out the Jetta, but only slightly. In fact, the Jetta is more efficient on the highway than the Civic in some configurations.
: Tie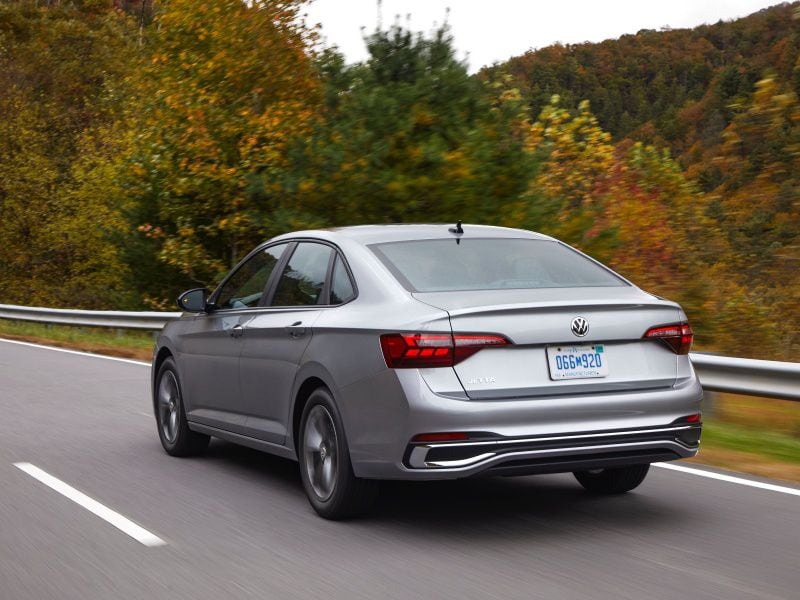 Photo by Volkswagen
Safety
The 2022 Jetta hasn't been crash tested by the Insurance Institute for Highway Safety yet, but the 2021 model scored well. It earned Good ratings in all crash test categories and either a Marginal or Poor rating for its headlights. The IIHS states that this is because the car's high beams are inadequate to illuminate both sides of the road, and notes that curve visibility was inadequate in all tests. VW includes a rearview camera as standard but requires an added-cost package to equip most driver aids.
Since it was release early enough in 2021, the 2022 Civic was able to earn a 2021 Top Safety Pick + from the IIHS – its highest score. The rating includes Good scores in all crash test categories, Good scores for headlights, Superior scores for both vehicle-to-vehicle crash prevention and vehicle-to-pedestrian crash prevention, and a Good+ rating for car seat LATCH system ease of use. The car comes standard with automatic emergency braking, lane departure warnings, adaptive cruise, and lane keeping assist.
: Honda Civic
Photo by Honda
Final Thoughts
Both the Honda Civic and Volkswagen Jetta are solid cars with plenty to like for buyers seeking value and functionality. While the Jetta is an excellent car, it requires buyers to step up to higher trims or to add options to gain access to features that the Civic offers as standard – especially safety equipment. Honda's improvements to the Civic for 2022 made it into a top contender in its segment, so its rivals have some ground to make up if they're going to compete.
: Honda Civic
Photo by Honda