2022 Honda Civic Touring ・ Photo by Brady Holt
Determined to shake its reputation as a cheap, dull sedan, the Toyota Corolla underwent a thorough redesign for the 2020 model year. Notable upgrades included crisp, modern styling; superior ride, handling, and acceleration; a more modern interior; and more fuel-efficient engines, including a newly available gas-electric hybrid. 
But a top rival in the compact sedan class just got its own redesign. That's the 2022 Honda Civic. We tested the Corolla and Civic so we could compare them across eight categories and then name our overall winner. Read on to see which one we picked and decide which one you'd rather take home.  
Pricing and Features
The Corolla is a high-value compact sedan, priced from just $20,025 with a long list of infotainment and driver-assistance features, including adaptive cruise control, automatic emergency braking, lane-keeping assistance, Android Auto and Apple CarPlay smartphone integration, satellite radio, and two USB ports. You can push the price past $30,000 with all the options, but most people will buy a nicely equipped Corolla in the low $20,000s. 
The base Civic starts at $21,700 with some features you won't find on the base Corolla L, notably automatic climate control and keyless entry with push-button start. But you can get all that and more on a Corolla LE that's still less expensive than the Civic LX. For $21,625, Toyota provides three USB ports instead of the Honda's lone port; alloy wheels instead of plastic wheel covers; a rear center armrest; and a blind-spot monitoring system with a rear cross-traffic alert. You'll also find other common features limited to higher-end trims like the $24,700 EX and the $28,300 Touring. The Civic trumps the Corolla for offering genuine leather upholstery and parking sensors, but the Toyota otherwise takes this category.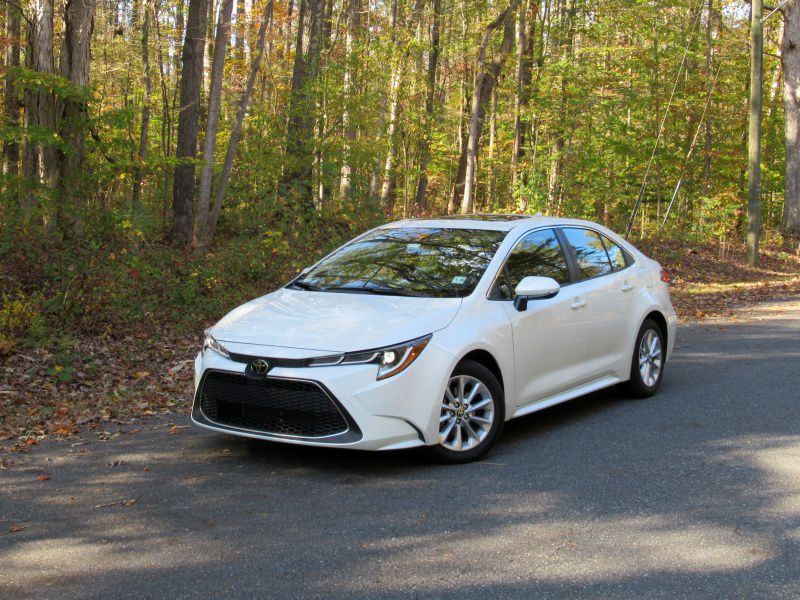 Photo by Brady Holt
Exterior Design
The latest Corolla generation strikes an appealing balance between aggressively sporty and subtle design restraint. Slim, crisp headlights sit astride a small grille and above a larger opening in the front bumper. The sport-themed SE, XSE, and Apex Edition models have a more aggressive front bumper, a rear spoiler, and flashier alloy wheels. The rear end of the four-door sedan could be called simply dull, but the five-door hatchback looks sporty from the back as well. 
Although it's all-new this year, the 2022 Civic is more conservative than the Corolla. Honda received some harsh feedback for the wedges, angles, and bulges that festooned the 2016 Civic, and it dialed things way back for the new 2022 model. Extra shapes are kept to a minimum; there are just slim headlights astride a slim grille, a conventionally sleek roofline, and big simple taillights. A kick in the windowline just past the back door gives some spice to the profile, but this is not a risk-taking design overall. You'd have to be an auto expert to notice this is a brand-new vehicle. We'll let you choose your own winner. 
Tie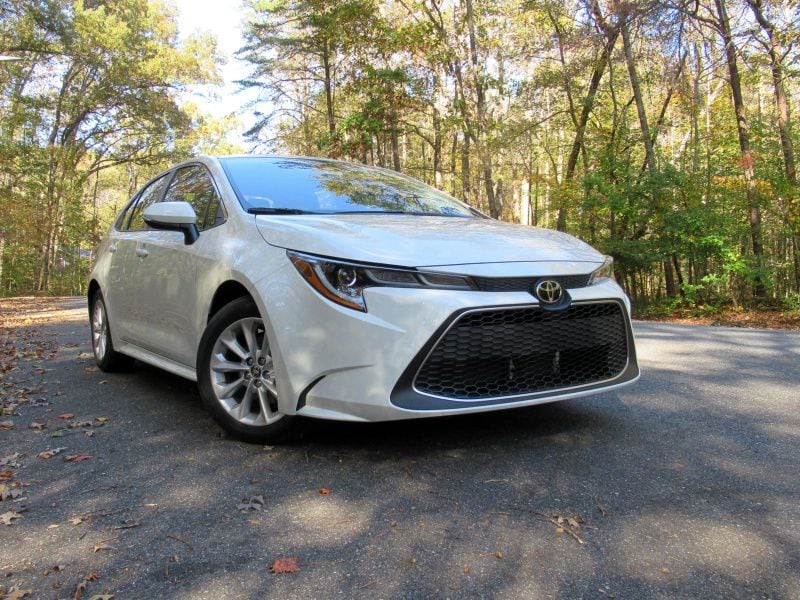 Photo by Brady Holt
Interior Design
Inside, Honda has returned to the Civic's roots of simple design, user-friendly ergonomics, and top-notch build quality. The dashboard is a straight horizontal line, decorated with a beautifully finished honeycomb that also houses the dashboard vents. An infotainment touchscreen perches on top, complemented by easy-to-use physical controls. To us, the result threads the needle perfectly between busy and dull. 
The current Corolla has a nicer interior than its predecessors, and like the Civic, favors minimalism over busy details. The dashboard is also horizontally oriented, but it's rounded off compared with the more rectangular Civic's. And Toyota clusters all the controls closer together, avoiding visual clutter without sacrificing the car's ease of use. However, we'll award this category to the Civic for its luxury-grade build quality: Except for a few out-of-the-way parts of the door panels, the Civic's cabin uses top-notch materials, and moving parts operate with enviable precision. The Corolla has a nicely padded dashboard, but there are more ordinary materials than in the Civic. What's more, its doors and exterior door handles feel light and flimsy, and the center console bin slams closed violently if you don't gently guide it down.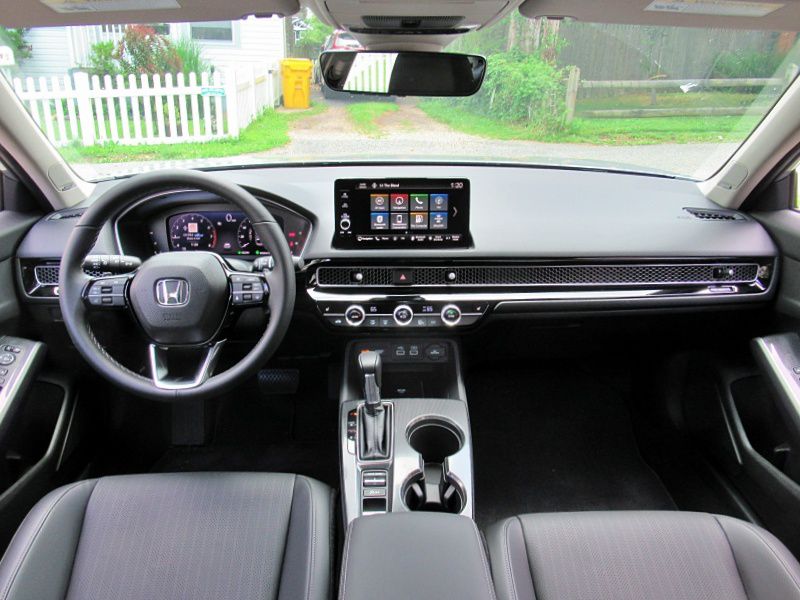 Photo by Brady Holt
Infotainment and Technology
Most Civic trim levels come with a 7-inch touchscreen infotainment system that supports Android Auto and Apple CarPlay, and the most popular trim levels have a single USB port. The system works well — a big upgrade over the previous-generation Civic. But it lacks the visual punch, extra-responsive screen, and wireless Android Auto and Apple CarPlay of the 9-inch screen found on the top Civic Touring trim level like our test vehicle. It also upgrades to four USB ports and a 12-speaker sound system. (The base LX has four speakers; the mid-level Sport and EX have eight speakers.)
The base Corolla L also has a 7-inch touchscreen, but two USB ports, a six-speaker stereo, and a Wi-Fi hotspot (the latter unavailable on any Civic). And every other Corolla trim level upgrades to an 8-inch screen. No Corolla matches the top Civic Touring's bigger screen, wireless smartphone integration, and extra-strong stereo, but in the hearts of their lineups, entry-level Corollas trump entry-level Civics. We'll judge that a tie. 
Tie 
Photo by Brady Holt
Interior Space and Comfort
The previous-generation Civic was much roomier than the typical economy sedan, and the new generation amplifies that strength with even better front seats. They're thickly padded and supportive without being confining. Some critics have wished lumbar support were available, but we felt fine without it. The rear seat offers adult-friendly legroom, and the trunk offers a generous 14.8 cubic feet (or 14.4 cubic feet in the Touring). 
In contrast, the Corolla's accommodations are decidedly ordinary. The front seats are roomy enough, but flat. The rear has just-OK space for adults, and the trunk is similarly average at 13.1 cubic feet. The Corolla hatchback has a modest cargo hold and even less rear legroom than the sedan; the Civic hatchback will be much roomier when it goes on sale later this year. The Corolla's only comfort advantage is that a fold-down center rear armrest is available on more of its trim levels.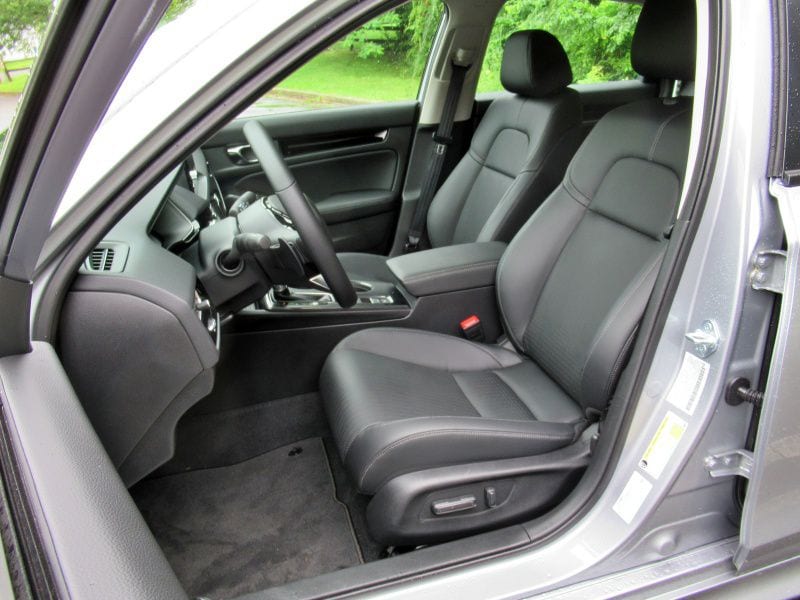 Photo by Brady Holt
Driving Impressions
Old Corolla generations suffered from a lack of suspension composure that made them feel insubstantial on the highway and generally unnatural to drive. The latest model is neither exhilarating nor luxurious, but it's unobjectionable. The most popular trim levels have a 1.8-liter 139-horsepower 1.8-liter four-cylinder engine, while the SE, XSE, and Apex Edition provide a 169-horsepower 2.0-liter at a price premium of roughly $1,500; the gas-electric Corolla Hybrid makes 121 horsepower. 
If you appreciate a fine-driving automobile, you want the Civic. Its firm, responsive steering, tautly tuned suspension, and peppier engines will keep driving enthusiasts happy. Yet it's also comfortable and easy to drive even if you never want an elevated pulse rate. Except for some excess road noise, this is what it's like to drive a well-sorted luxury sports sedan. The base LX and Sport trim levels have a 158-horsepower engine; the EX and Touring upgrade to a peppier 180-horsepower turbo. Higher-performance Si and Type R models will likely join the lineup soon.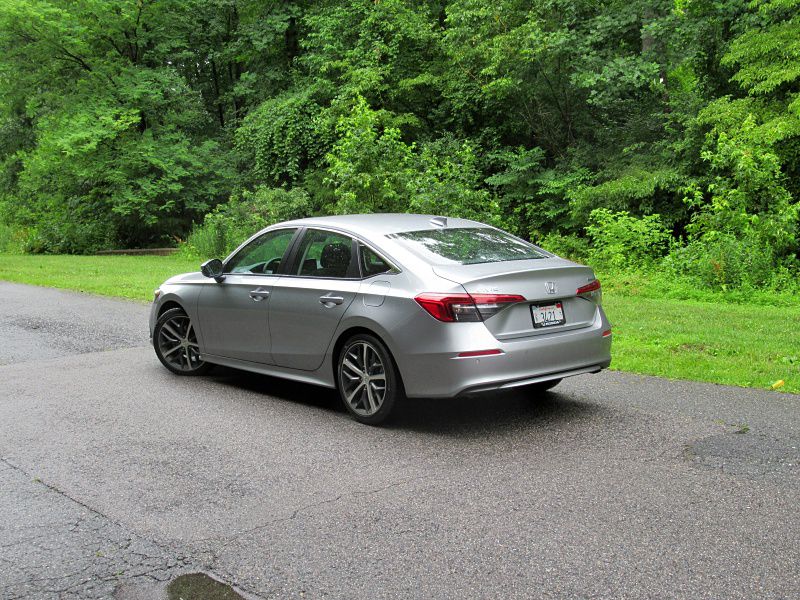 Photo by Brady Holt
Fuel Economy
Both the Corolla and Civic achieve commendable gas mileage, though it varies by engine trim level. The base 2022 Civic engine gets an EPA-estimated 35 mpg in mixed driving on the LX and 33 mpg on the Sport, while the turbo gets 36 mpg in the EX and 34 mpg on the Touring. Every Civic sedan has a continuously variable automatic transmission (CVT), but the upcoming hatchback and performance models will offer a manual. 
As on the Civic, the Corolla's more powerful engine is also its more economical one. Most 2.0-liter Corollas score an EPA-estimated 34 mpg in mixed driving, and most 1.8-liters score 33 mpg. Every Corolla is available with a CVT, but several trim levels also offer a six-speed manual that gets slightly worse EPA ratings. Still, the real winner is the Corolla Hybrid, which is essentially a Toyota Prius in a Corolla body; it hits an EPA-estimated 52 mpg. Your winner will depend on the engine you'd buy, but the Corolla takes this category overall.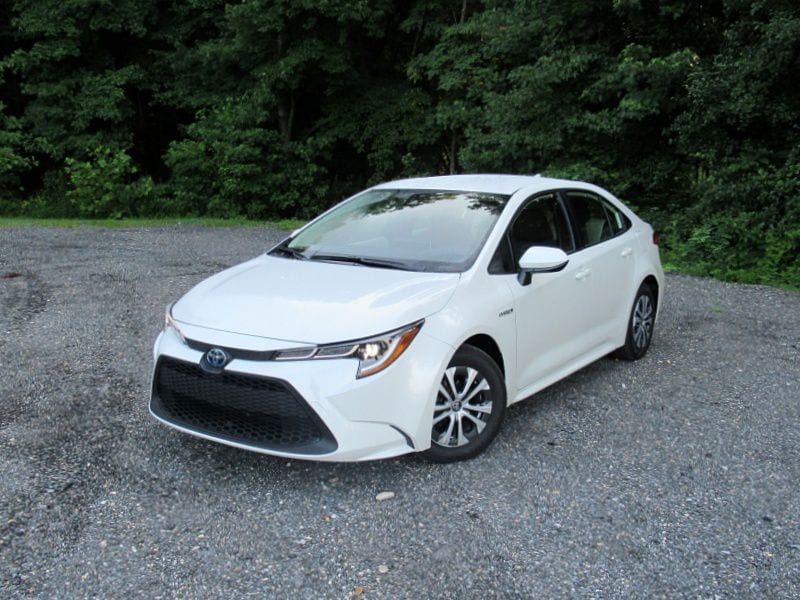 Photo by Brady Holt
Safety
The all-new Civic hasn't yet been crash-tested, but it comes with a number of advanced safety features as standard equipment, including automatic emergency braking with pedestrian and bicyclist detection, along with a lane-departure warning and lane-keeping steering assistance. However, blind-spot monitoring is limited to the EX and Touring, and only the Touring has a rear cross-traffic alert or rear automatic braking.
Meanwhile, the Corolla matches those standard safety features except for bicyclist detection. And while rear automatic braking isn't available, blind-spot monitoring with a rear cross-traffic alert is optional or standard on all but the base L model. What's more, the Corolla earned top scores in all its crash tests except an Insurance Institute for Highway Safety headlight evaluation; that was still enough to earn the vehicle an IIHS Top Safety Pick designation. For its proven safety record, the Corolla wins this round for now.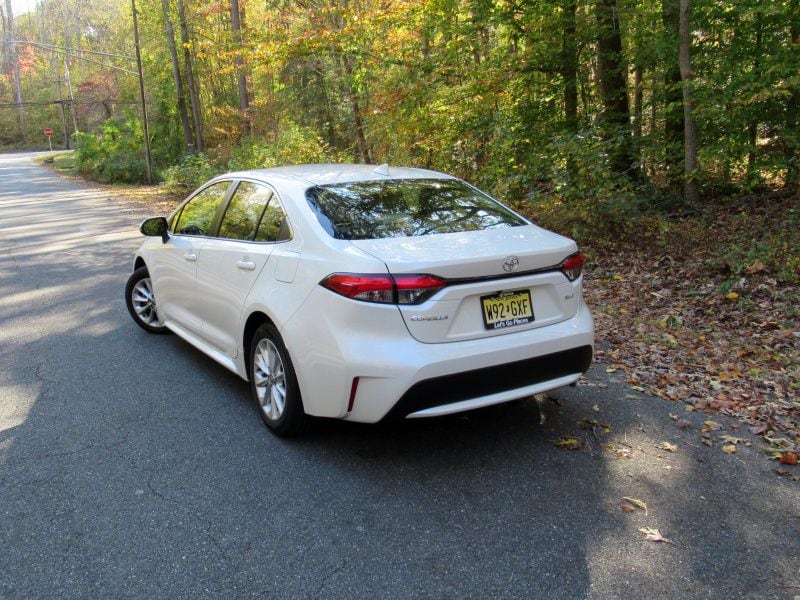 Photo by Brady Holt
Final Thoughts
The 2021 Toyota Corolla is a sharp-looking small sedan at a tempting price. If you're looking for comfortable transportation, it delivers a lot of car for the money, and it avoids glaring flaws. 
But we think the 2022 Honda Civic is worth the extra money. It's a class (or more) above the Corolla for interior spaciousness, interior build quality, and driving dynamics. The Corolla feels ordinary, while the Civic feels special. And it's not just about niceties like perfectly dampened dashboard vents, but also about practicalities like a big back seat and trunk. If you're more focused on certain features on a certain budget than on the Civic's more subjective charms, the Toyota could serve you well. But we pick the Honda. 
Honda Civic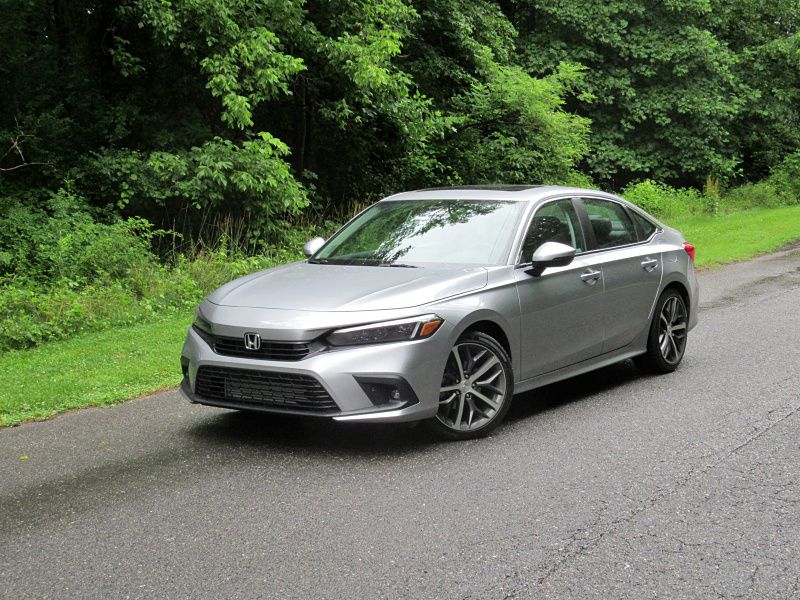 Photo by Brady Holt