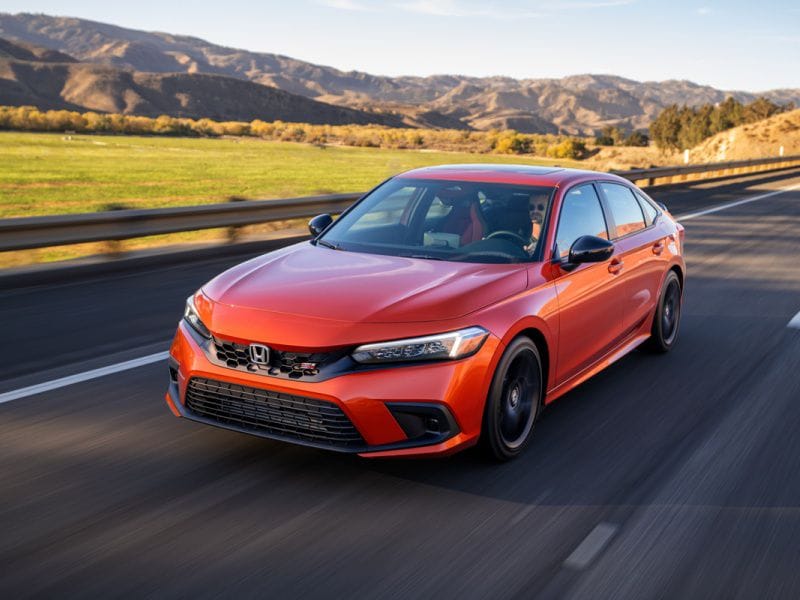 2022 Honda Civic Si ・ Photo by Honda
The 2022 Honda Civic Si is the performance-focused trim of the Civic lineup. It has the most powerful engine of the lot with a standard manual transmission and eye-catching styling that makes it stand out from the crowd. It also has good standard safety and a comprehensive infotainment system.
The 2022 Volkswagen Golf GTI is also all-new this year. Numerous upgrades include a more powerful engine and an updated suspension system. There are also new technologies including advanced driver assistance features. Let's take a closer look at these two performance options to see which is the best choice.
Three Trims Versus One
The Honda Civic Si is a single trim in the Civic lineup. It's priced at $28,315 with a 9-inch infotainment touchscreen, 12-speaker Bose audio, and wireless Apple CarPlay and Android Auto. It also has a one-touch moonroof, heated side mirrors, and embossed Si logos on the front headrests.
The Volkswagen Golf GTI offers three trims. The base S is $28,545 with an 8.25-inch infotainment touchscreen, Apple CarPlay, Android Auto, and heated front seats. The SE adds a 10.0-inch touchscreen and 9-speaker Harman Kardon audio system at $34,295. The Autobahn at $37,995 adds ventilated front seats, tri-zone climate control, and multi-mode damping. We give this to the Golf GTI for offering three performance trims rather than only one.
: Volkswagen Golf GTI
Photo by Volkswagen
Only One Choice if You Can't Drive a Manual
Power for the Civic Si comes from a 1.5-liter turbocharged 4-cylinder engine with 200 horsepower and 192 lb-ft of torque. This is paired to a six-speed manual transmission, which is your only option. Those who don't know how to drive one are out of luck.
The Volkswagen GTI is powered by a 2.0-liter 4-cylinder engine with 241 horsepower and 273 lb-ft of torque. It also gets a standard 6-speed manual transmission, but with the option for a 7-speed automatic. This one goes to Volkswagen for its more powerful engine and the option for an automatic transmission.
: Volkswagen Golf GTI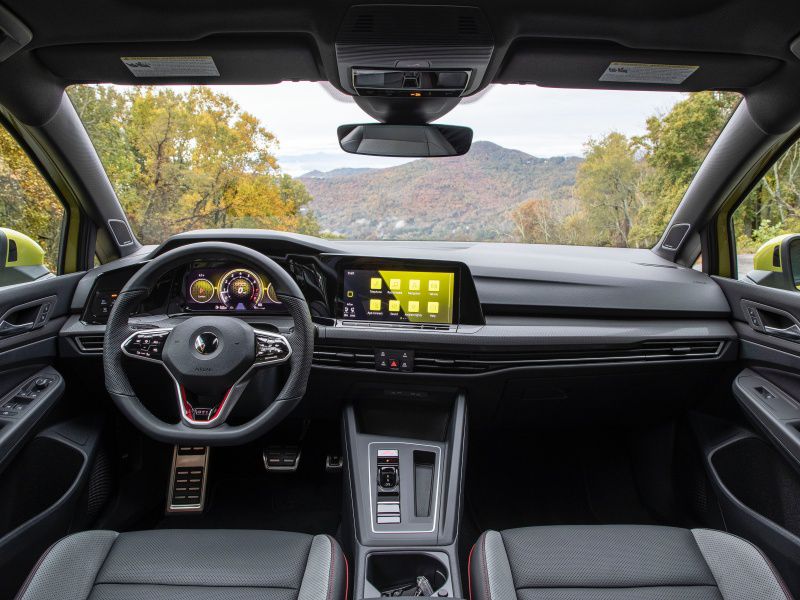 Photo by Volkswagen
A Clear Choice When It Comes to Fuel Economy
The Honda Civic Si gets an EPA-estimated 27 mpg in the city, 37 mpg on the highway, and 31 mpg combined. That's decent fuel economy for a performance car.
The Volkswagen Golf GTI gets an EPA-estimated 24 mpg in the city, 34 mpg on the highway, and 28 mpg combined with the manual transmission. Equipped with the automatic only, the city economy improves with an EPA-estimated 25 mpg. Regardless of which transmission you choose, the Civic Si beats the Golf GTI.
: Honda Civic Si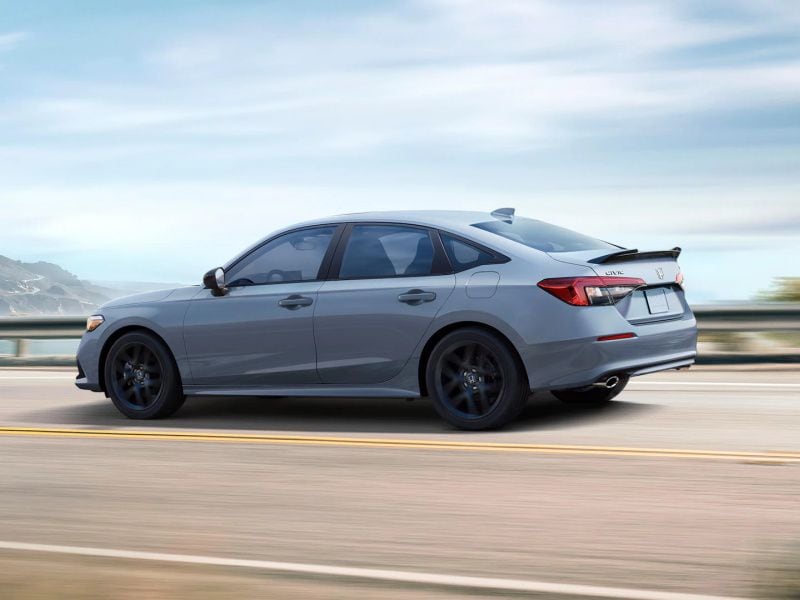 Photo by Honda
Crisp, Sporty Handling
The Civic Si offers a choice of normal, sport, and individual drive modes that automatically adjust the steering and suspension to varying levels of sportiness. While normal is more relaxed, sprot tightens it up for a more engaging driving experience while individual lets you customize each setting independently. In any mode, handling is crisp and responsive with good control even in tight corners at higher speeds.
The Golf GTI offers comfort, normal, sport, and custom drive modes that work similarly to the drive modes in the Civic Si by allowing you to tailor the characteristics of key systems. The difference between each mode is more noticeable on the Golf GTI with handling that is more aggressive and overall sportier.
: Volkswagen Golf GTI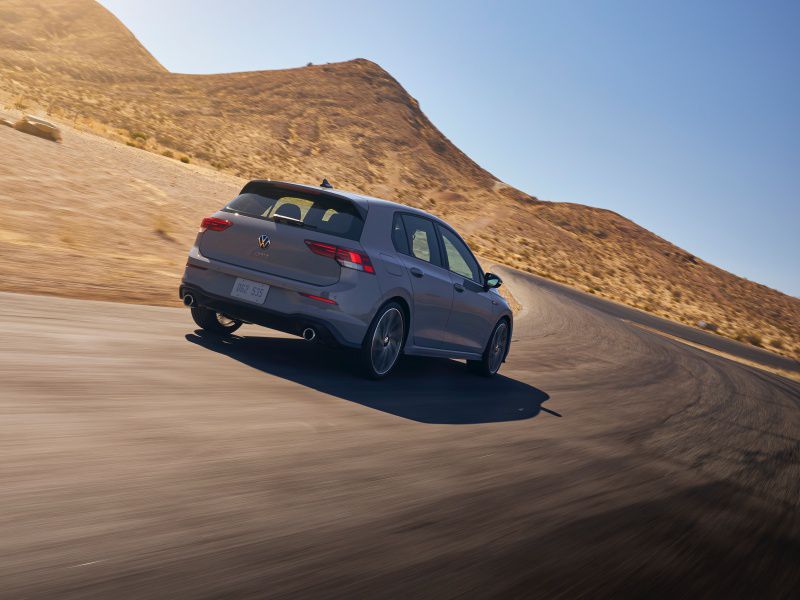 Photo by Volkswagen
The Stiff Ride of a Performance Car
Sporty cars aren't known for providing smooth rides. All the things that make them handle so well tends to make them stiff and sometimes even uncomfortable for passengers. Although not as harsh as many in the segment, the Civic Si doesn't have the smooth, soft ride of the rest of the lineup. It's great on highways, but you will feel the bumps and road imperfections once you hit the side streets.
The Golf GTI has a similar performance-oriented ride but manages to be slightly smoother and easier on its passengers. Although rough roads won't go unnoticed, the Golf GTI is more settled and maintains its composure over most surfaces.
: Volkswagen Golf GTI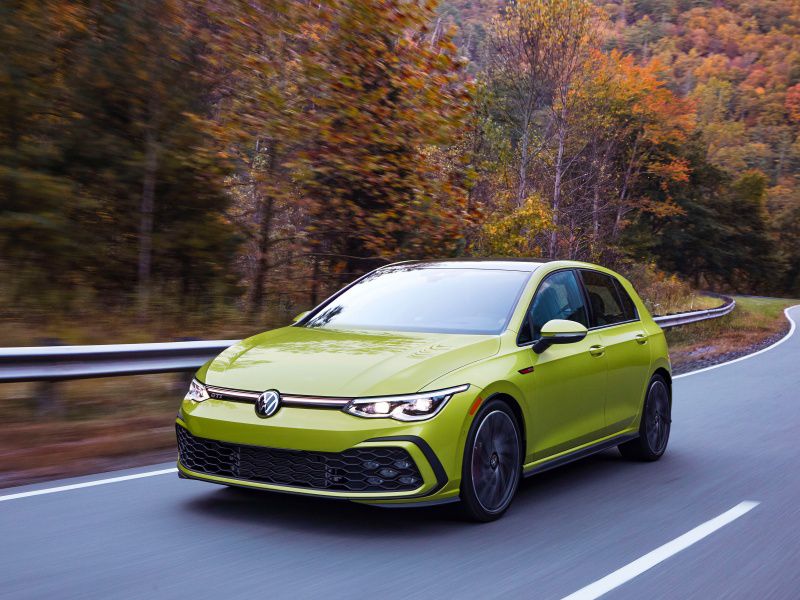 Photo by Volkswagen
Eye-Catching Interiors
The interior of the Civic Si includes high-quality leather surfaces and wood trims. There are aluminum sport pedals and lots of red contrast stitching for a striking first impression. Front seats are supportive and heavily bolstered with the Si logo embroidered onto the headrests. It's an attractive and comfortable interior.
The Golf GTI gets unique black and grey tartan fabric seats with red stitching. Front seat passengers again get heavy bolstering to keep you in place during more spirited driving. While both cars are comfortable and visually striking, we give this to the Civic Si for its roomier interior that makes it well-suited to taking friends along for the ride.
: Honda Civic Si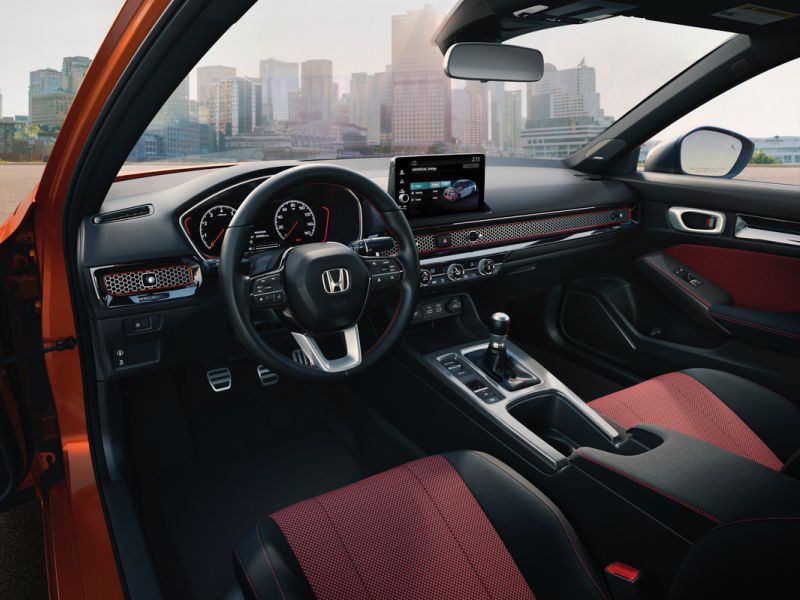 Photo by Honda
Infotainment That Won't Frustrate
Infotainment in the Civic Si includes a standard 9.0-inch touchscreen, wireless Apple CarPlay and Android Auto, 12-speaker Bose audio system, and two USB ports. It's easy to use with a responsive touchscreen and well-organized menus that even passengers can quickly understand.
The Golf GTI has an 8.25-inch touchscreen with Apple CarPlay and Android Auto along with wireless charging, two front and two rear USB ports, and a 7-speaker audio system. Though it has good smartphone connectivity, it doesn't have a standard premium audio system. It's also less intuitive and can be a challenge for passengers to operate.
: Honda Civic Si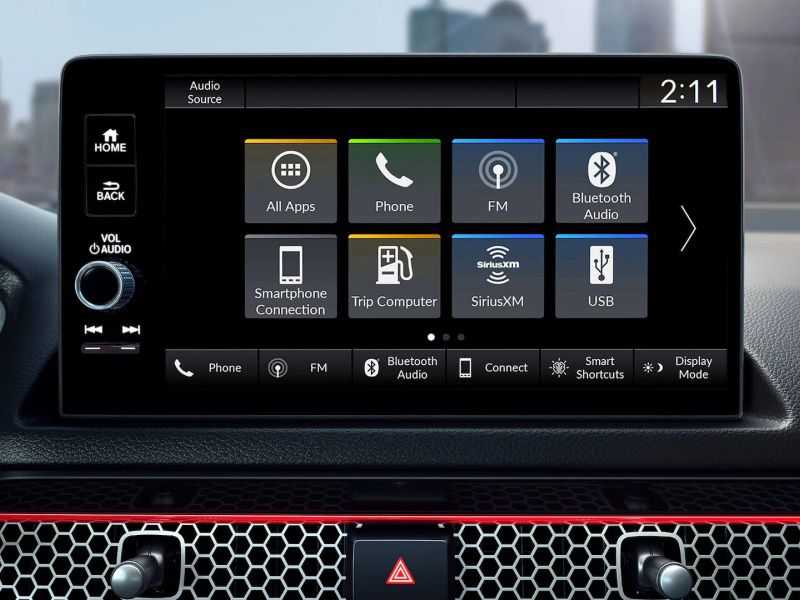 Photo by Honda
Lots of Standard Safety on Both Cars
Standard safety on the Civic Si includes forward collision warning, collision mitigation braking, lane keeping assist, lane departure warning, road departure mitigation, adaptive cruise control, and traffic sign recognition. There's also blind spot monitoring with rear cross-traffic alert, auto high beams, and a rear seat reminder.
The Golf GTI offers forward collision warning with autonomous emergency braking including pedestrian and cyclist monitoring, blind-spot monitoring, rear cross-traffic alert, lane-keeping assist, front and rear parking sensors, automatic post-collision braking, and adaptive cruise control with stop and go. This is close, but the Golf GTI comes out slightly ahead.
: Volkswagen Golf GTI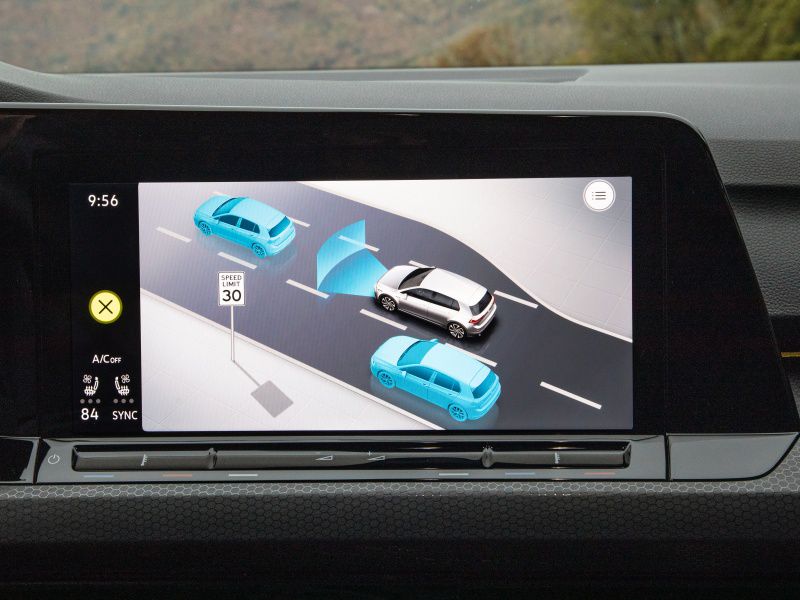 Photo by Volkswagen
The Cargo Versatility of a Hatchback
These aren't large vehicles, but they do offer good room for cargo. The Honda Civic Si sedan has 14.4 cubic feet for cargo. That's more than enough space to handle an average family's luggage or the packages from a day out shopping.
The Golf GTI is a hatchback that offers 19.9 cubic feet behind the rear seats with a wide opening and a low load floor. Flip down the 60/40 split-folding rear seats and cargo capacity expands to 34.5 cubic feet. The trunk floor is also adjustable to give a little extra room for larger items. The versatility of its hatchback design gives the Golf GTI the upper hand.
: Volkswagen Golf GTI
Photo by Volkswagen
And the Winner Is…
The Honda Civic Si is a fun and sporty sedan with comfortable seating and an attractive interior. It has good standard safety, and it gets solid fuel economy, especially for a performance car. It also handles beautifully with aggressive acceleration that makes this sedan fun to drive.
The Volkswagen Golf GTI, however, is a stronger proposition if you're looking for a sporty little car. It has the versatility of a hatchback for cargo, a wider trim range, and better handling than the Civic Si along with a more powerful engine. That makes the Golf GTI our pick of the two.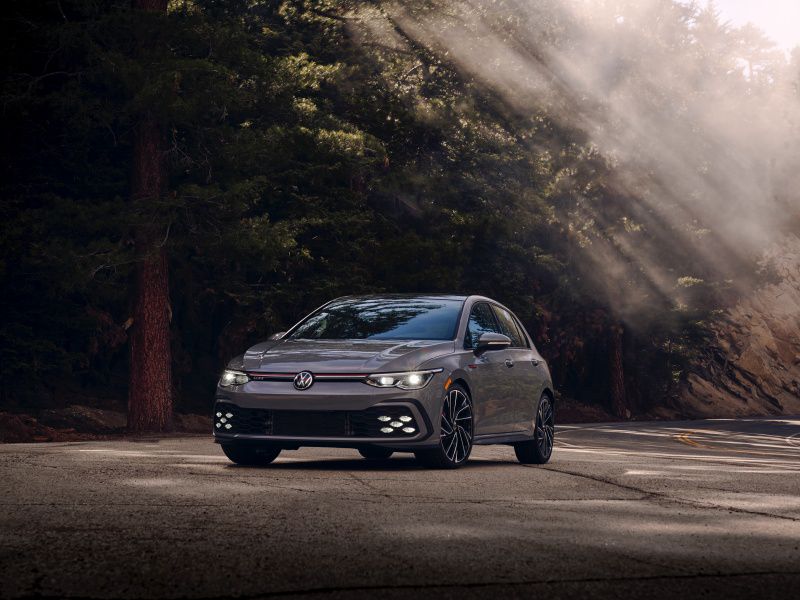 Photo by Volkswagen