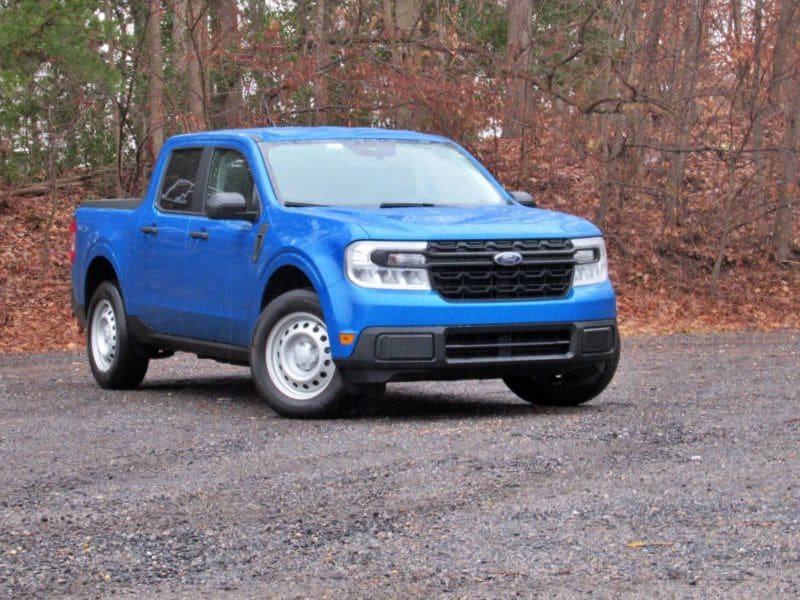 2022 Ford Maverick XL Hybrid ・ Photo by Brady Holt
For most of its life, the Honda Ridgeline has had the car-based-pickup segment to itself. This mid-size crew cab is essentially a toughened-up Honda Pilot with a bed on the back, giving it uncommonly polished driving manners and generous interior space for a pickup. It has won consistent critical acclaim as well as a small but loyal group of happy customers.
But there's an attention-grabbing new model on the market: the 2022 Ford Maverick. Much less expensive than the Ridgeline, and featuring an available hybrid powertrain, the Maverick is generating buzz — and sales — that the Honda could only dream of. It's based on Ford's compact Escape crossover rather than the mid-size Edge or Explorer. For this review, we've tested the Ridgeline and the Maverick so we could compare them across eight categories and then name our overall winner. Keep reading to learn which car-based crew-cab pickup we chose and which one sounds like the better fit for you. 
Exterior Design
The current-generation Ridgeline debuted in 2017, putting a more conventional pickup shape onto its car-based unibody platform. This generation also added a false seam where other trucks separate their beds from their cabs. Last year, Honda also squared off the Ridgeline's front end — abandoning the more car-like fascia it had shared with the Pilot in favor of a boxier and more aggressive-looking design. Honda also introduced a new HPD (Honda Performance Development) appearance package, included on our test truck, which has splashy graphics and neat bronze wheels. 
The Maverick has less design pizzazz, and to some, that's part of its appeal. It's simple and blocky, an honest and unpretentious pickup. Our tested base-model Maverick exemplifies that theme with work-truck-style steel wheels. There's no aggression, no cool factor. At the same time, it's shaped like a truck. If an illustrator is jotting down a generic pickup, it could be the Maverick. In person, though, it's obvious that it's much smaller than the Ridgeline and most other pickups: 10 inches shorter, 6 inches narrower, and 2 inches lower. We'll let you choose for yourself whether bigger and bolder trumps smaller and simpler. 
Tie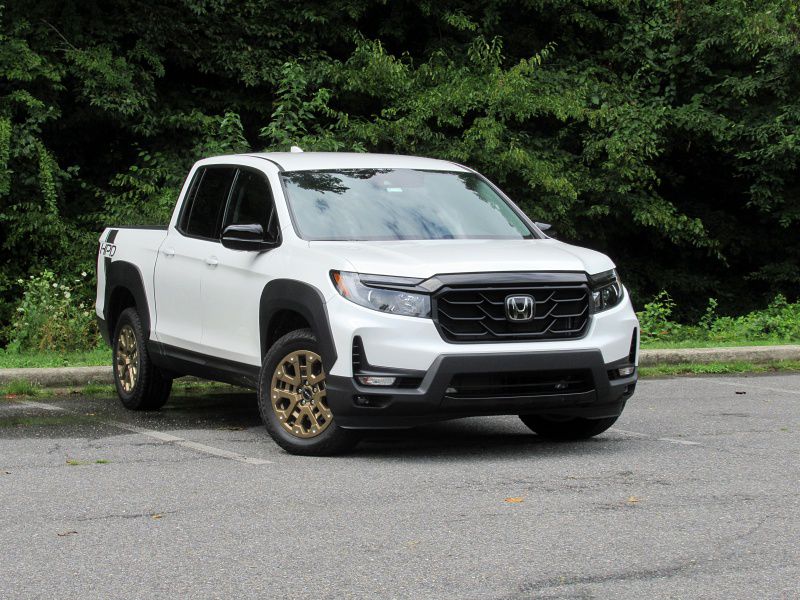 Photo by Brady Holt
Interior Design
Inside, the Maverick continues its vibe of simple and unpretentious. This isn't a luxury truck, and it isn't an off-road toy. There are hard plastics, exposed screw heads, and straight lines everywhere. But it wins this category for delivering exactly what it promises. Its controls are refreshingly simple, and the 8-inch infotainment system's big fonts and ultra-quick responses promise to convert stubborn technophiles. And the design is neither generically car-like nor in-your-face trucky. 
The Ridgeline's interior design impressed us less. It has the same high-quality materials but the gently curved dashboard as the 2016-era Honda Pilot. It's more richly finished than the Ford, but Honda passed over the dash while adding character to the exterior. And while Honda has upgraded its controls over the years, the Ridgeline's 8-inch infotainment touchscreen still responds more slowly and has smaller, less convenient icons than the Ford's system. If you find the Maverick's interior vibe to be cheap and basic in a bad way, we think you'll prefer the Ridgeline's ambiance. But the Maverick's combination of style and substance struck us as just right for a small pickup. 
Ford Maverick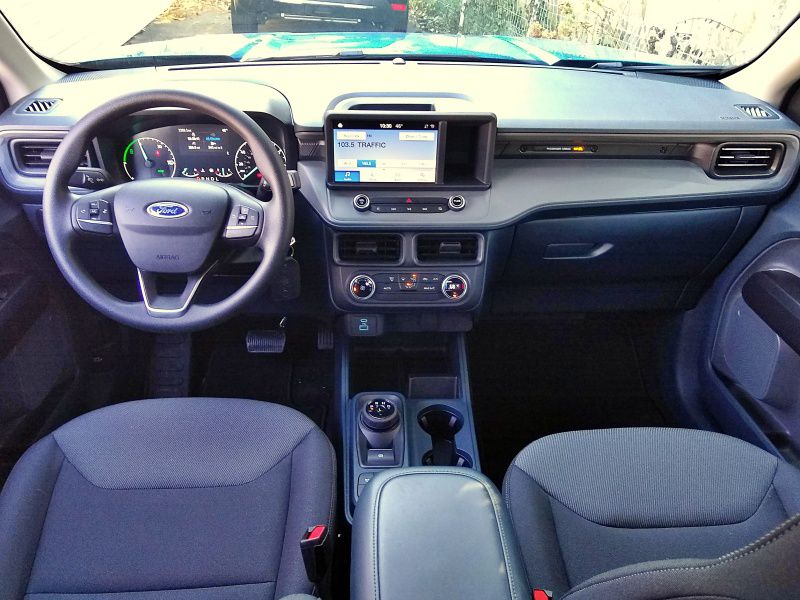 Photo by Brady Holt
Passenger Accommodations
We mentioned that the Maverick is significantly smaller than the Ridgeline. You'll feel that inside. The Ridgeline offers incredible room for a mid-size pickup, courtesy of its space-efficient family-crossover roots. The big, cushy front seats and wide cabin offer a full-size experience that no other pickup can touch at this price point. A low center console makes the ample space feel even less confining. The rear seat is comfortable, too, and it makes room for three adults to sit side-by-side with ease. 
Given its size deficit, the Maverick impressed us, too. It's roomier than it looks, which is good, because it looks pretty cramped — especially in the back. But we found its seats well-shaped, and the front seatbacks carve out just enough knee room for two rear passengers. (Three would be a pinch.) Still, when you're carrying the whole family or you like to spread yourself out, the Honda easily carries the day. Both the Ridgeline and the Maverick are sold exclusively as four-door crew-cab pickups.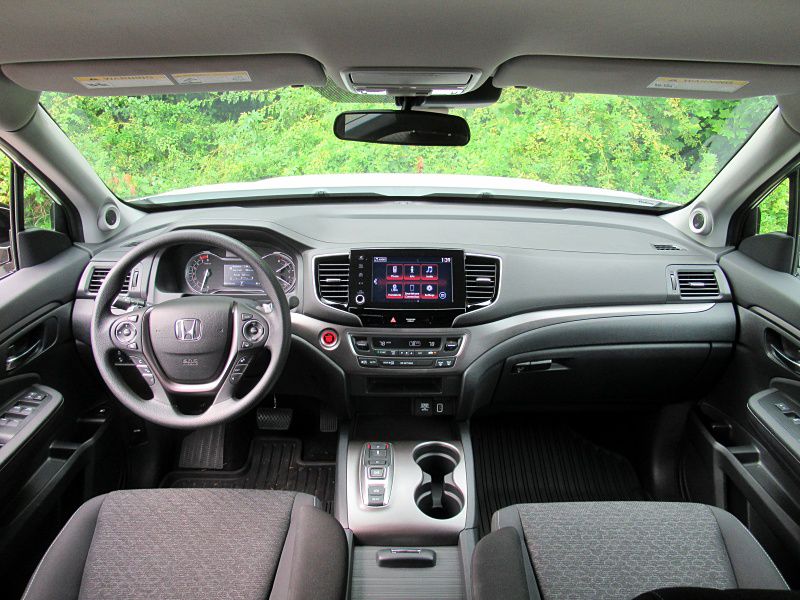 Photo by Brady Holt
Cargo and Utility
Crew cabs with full-size backseats leave little space for a pickup bed. And that's especially true of the diminutive Maverick, whose bed measures a mere 54 inches. Payload is a decent 1,500 pounds, but most Mavericks can tow a mere 2,000 pounds. With an optional towing package, an optional bigger engine, and optional all-wheel drive, that can double to 4,000 pounds — great for a small crossover but modest for a pickup. 
Meanwhile, the Ridgeline's bed measures 64 inches long, it can handle a payload of 1,583 pounds, and it tows 5,000 pounds. Honda also brings clever features like a tailgate that can either fold down or swing out to the side, plus a 7-cubic-foot trunk under the bed floor. The Maverick's small bed is deeper than the Ridgeline's, and we appreciated that the Ford's is lower to the ground for easier loading. We'll also note that the Maverick's bed is configured to haul 4-by-8-foot sheets of plywood; rest them on top of the wheel wells and lock the tailgate in a half-folded position to support them as they stick out the back. Still, the bigger Ridgeline is the overall utility winner.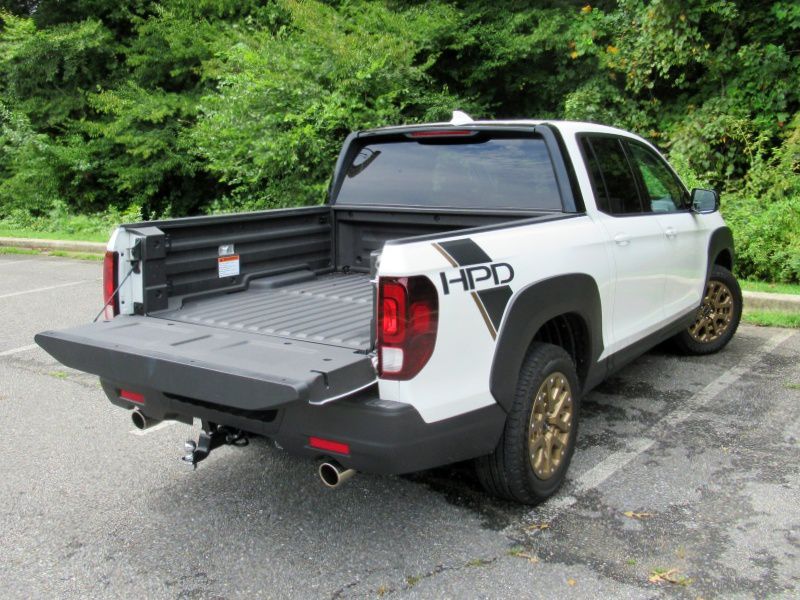 Photo by Brady Holt
Driving Impressions
The Maverick drives like a good small car. It's light and lithe, with firm and responsive steering, yet its ride isn't stiff. Unless you're looking for a rough-and-tumble attitude, the Maverick is a cheerfully agreeable little truck, with a car-like dose of driving pleasure. That's particularly true if you choose the optional 250-horsepower 2.0-liter turbocharged four-cylinder engine, which scoots the Ford forward purposefully. Our test vehicle had the base standard hybrid powertrain: a 2.5-liter gasoline four-cylinder paired with an electric motor for a total of 191 hp. This isn't a speed demon, but it's still not slow for a small pickup. And its gruff-sounding gas engine doesn't seem out of place in the utilitarian Maverick. 
The Ridgeline, meanwhile, drives like a good minivan with a smooth, hushed ride and a big 280-horsepower 3.5-liter V6 engine. This is the luxurious driving experience that some full-size trucks chase and no smaller ones can come close to. But while the Ridgeline handles well for a pickup, there's none of the Maverick's spunk. We'll leave this category as a tie. 
Tie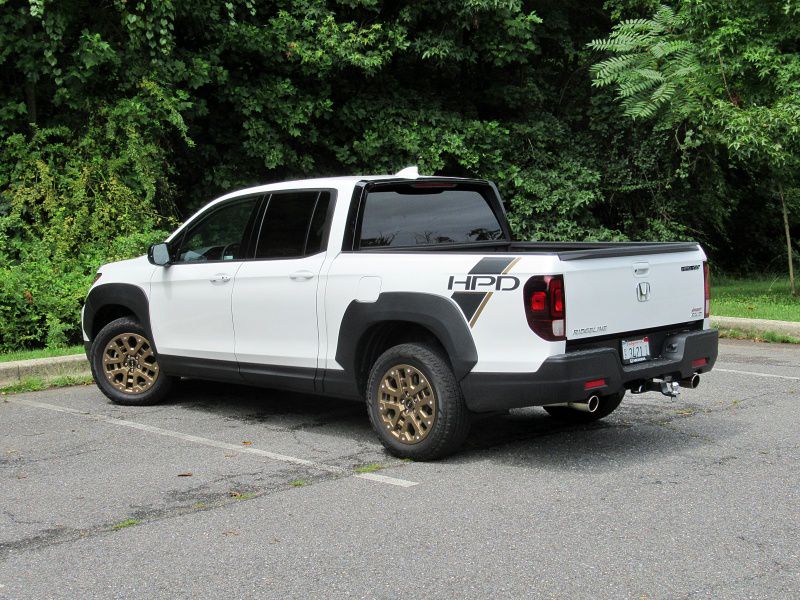 Photo by Brady Holt
Fuel Economy
The Ridgeline doesn't use its car-based underpinnings to achieve car-like gas mileage. Once again, it's more minivan than sedan. With standard all-wheel drive, the Ridgeline manages an EPA-estimated 18 mpg in the city, 24 mpg on the highway, and 21 mpg combined. We edged that out to average 22 mpg during a weeklong test. 
The smaller, four-cylinder Maverick is understandably more economical: 23 mpg city, 30 mpg highway, and 26 mpg combined with front-wheel drive and 1 mpg less with AWD. The hybrid Maverick, sold only with front-wheel drive, scores an incredible 42 mpg city, 33 mpg highway, and 37 mpg combined. We averaged 38 mpg in a weeklong test that included many highway stretches, where the Maverick Hybrid is out of its peak performance. Our individual drives ranged from 32 mpg to more than 50 mpg, and we saw an excellent 42 mpg during a painful slog of inching past a freeway-blocking car wreck. The Maverick Hybrid might not wow you on a cross-country road trip, but it's an incredibly economical commuter car. And either engine trumps the Ridgeline's mileage. 
Ford Maverick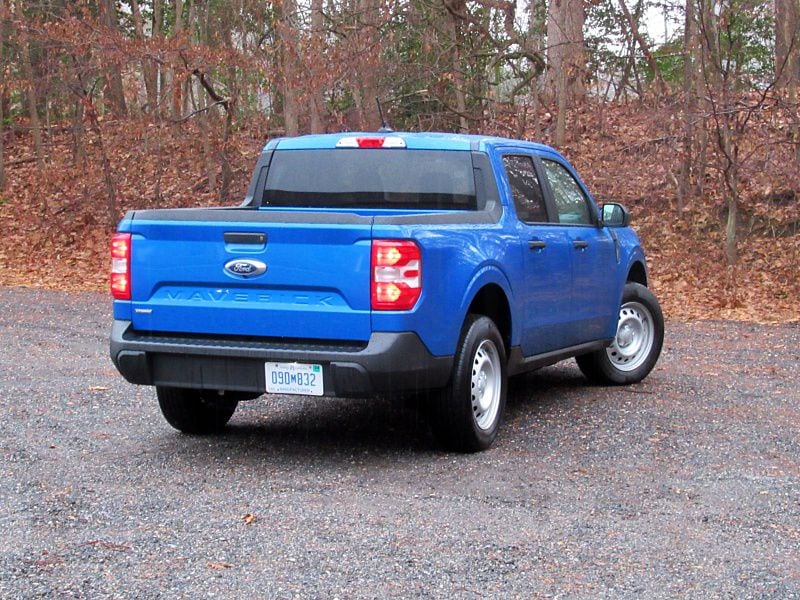 Photo by Brady Holt
Pricing and Features
The 2022 Ford Maverick made headlines for its low base price of $19,995. That's for a base XL front-wheel-drive hybrid like our test vehicle. It's admittedly a bit bare-bones, with no cruise control or alloy wheels, but it does come with some other unexpectedly high-end features: an 8-inch touchscreen, a six-speaker stereo, a Wi-Fi hot spot, automatic emergency braking, and LED headlights with automatic high beams. Even a top Lariat model with the turbo engine, all-wheel drive, and the optional Luxury Package costs $33,565, which is a reasonable price these days for a well-equipped pickup.
Meanwhile, even the base 2022 Honda Ridgeline costs $37,640. Part of the discrepancy is the Ridgeline's generous standard equipment, including AWD, adaptive cruise control, automatic climate control, and push-button starting. All of that costs extra on the Ford. Also, between the two pickups, only the Ridgeline is available with leather upholstery (the Ford sticks to imitation leatherette), a navigation system, or even a rear windshield defroster. Still, while the Ridgeline might be your go-to if you want a luxury-laden pickup, the Maverick costs much less. 
Ford Maverick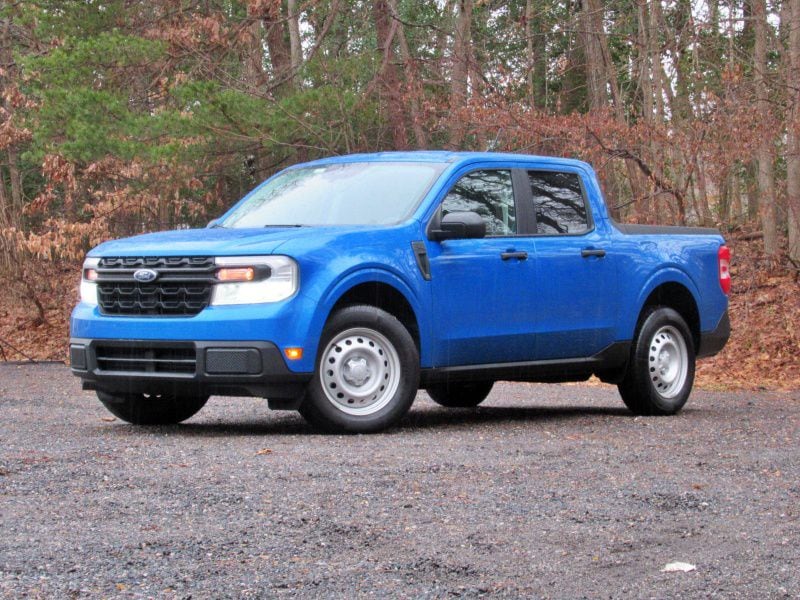 Photo by Brady Holt
Availability
The Maverick is so wildly popular that as we write in February 2022, you can't even place an order for one. Ford will spend the rest of the 2022 model year fulfilling its existing orders before letting customers order 2023 models this coming summer. That means if you haven't already reserved one, you need to find an unclaimed one heading to a dealership or a like-new used one that the buyer didn't hold onto. Either option is likely to come at a steep premium to the sticker price, though of course that sticker price is a fantastically low starting point. 
The Ridgeline is more like other ordinary cars in the current market environment. Inventories are skimpy, but if you want to buy a Ridgeline, you have a clear shot at doing so.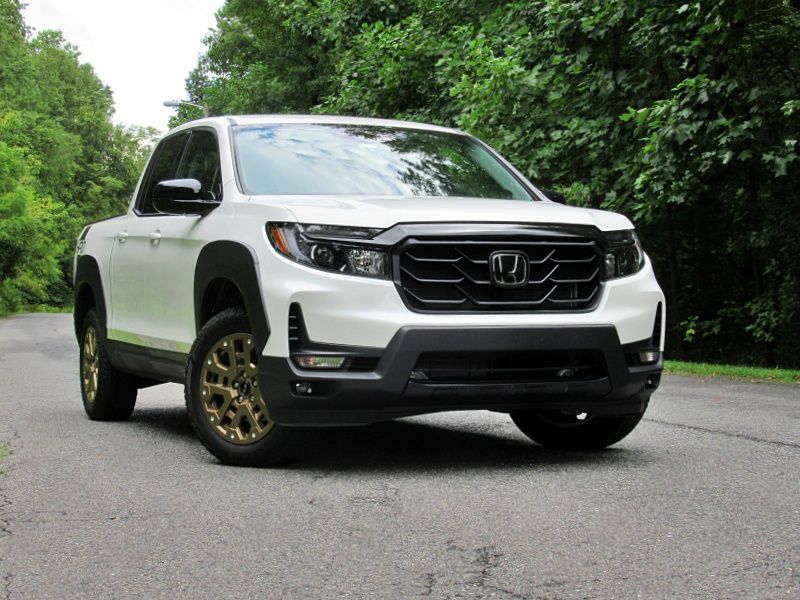 Photo by Brady Holt
Final Thoughts
Who'd have thought it would be Honda that makes the bigger, softer, and more powerful pickup, and Ford that makes the smaller, lighter, more economical, and more ergonomically friendly one? The Maverick borrows from the old Honda playbook, and the result is a delight. Sensible, affordable, and fun to drive, the Maverick has the right flavor to appeal to many people who genuinely like pickup trucks and many people who do not. 
The Ridgeline is bigger, more comfortable, and more useful. If you like big pickups and don't need heavy-duty capability, it's an incredible bargain. And if you like smooth-riding pickups and need more space and capability than the Maverick offers, the Honda delivers. But we think the Maverick's appeal is broader — if you can find one to buy. 
Ford Maverick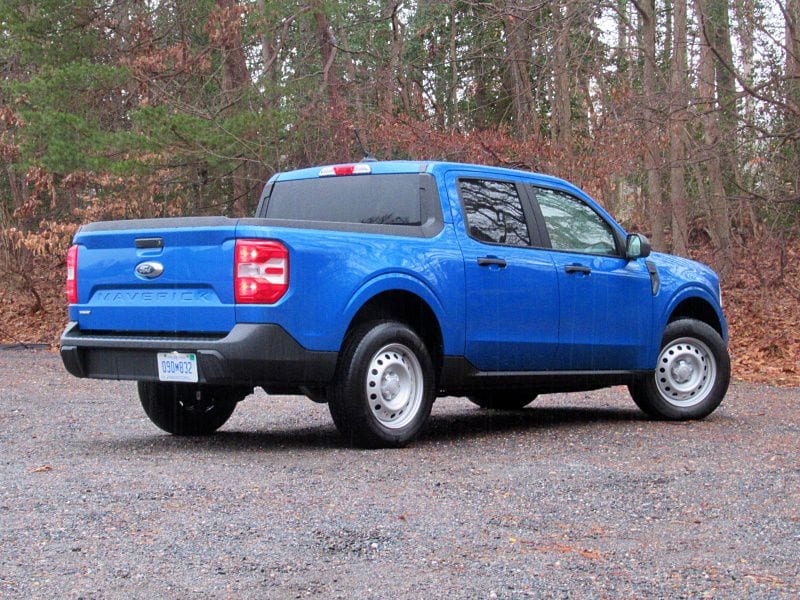 Photo by Brady Holt