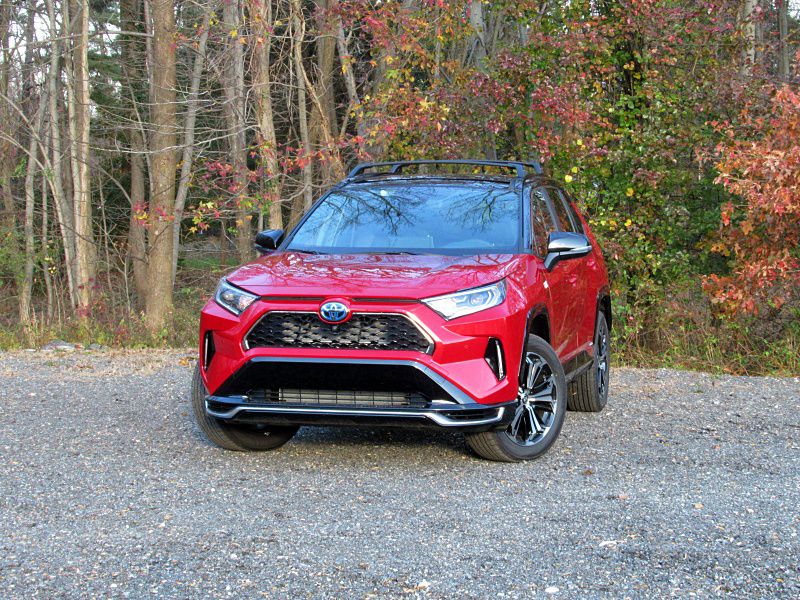 2021 Toyota RAV4 Prime ・ Photo by Brady Holt
These days, electric vehicles get all the attention. By eliminating tailpipe emissions and often offering lightning-fast acceleration, they have a strong "cool factor" whether you're interested in speed or the environment.
But taking an EV on a long trip can be a challenge. You need to find an available charging station and then wait for the juice to flow into your battery. So for some buyers, the less sexy plug-in hybrid electric vehicle is the better solution. A PHEV has less all-electric range than a fully electric car, but it's often enough to allow gas-free commuting yet the convenience of a gasoline engine if you're driving across the country. What's more, the 2022 Toyota RAV4 Prime is a plug-in hybrid SUV with extra-quick acceleration — generating more excitement than most PHEVs. In this review, we'll explore how the RAV4 Prime stacks up against one of its top rivals: the 2022 Ford Escape PHEV. We tested both compact crossovers to compare them in each of eight categories and then name an overall winner. Keep reading to learn which one we chose and which one sounds like the better PHEV SUV for you.
Pricing and Features
The RAV4 Prime starts at $39,800 for its base SE trim level and $43,125 for the upper XSE. That's steep for a compact crossover, even after you consider that buyers can claim a $7,500 federal tax credit for buying a plug-in vehicle.
The Escape PHEV is much less expensive. It starts at $33,940 for the base SE, $36,675 for the midlevel SEL, and $39,185 for the top Titanium. Effectively cutting those prices is a slightly lower $6,843 federal tax credit, which reflects a smaller battery capacity. Each crossover has a few exclusive features, but the RAV4 Prime SE and Escape PHEV SE are similarly equipped, as are the RAV4 XSE and Escape SEL (which each replace cloth upholstery with leatherette). The Escape Titanium is most similar to the RAV4 XSE when equipped with a $3,350 Premium Package. One notable RAV4 Prime advantage is that it comes standard with all-wheel drive, while every Escape PHEV offers only front-wheel drive. But otherwise, the Ford provides a lot of content for significantly less money. 
Ford Escape PHEV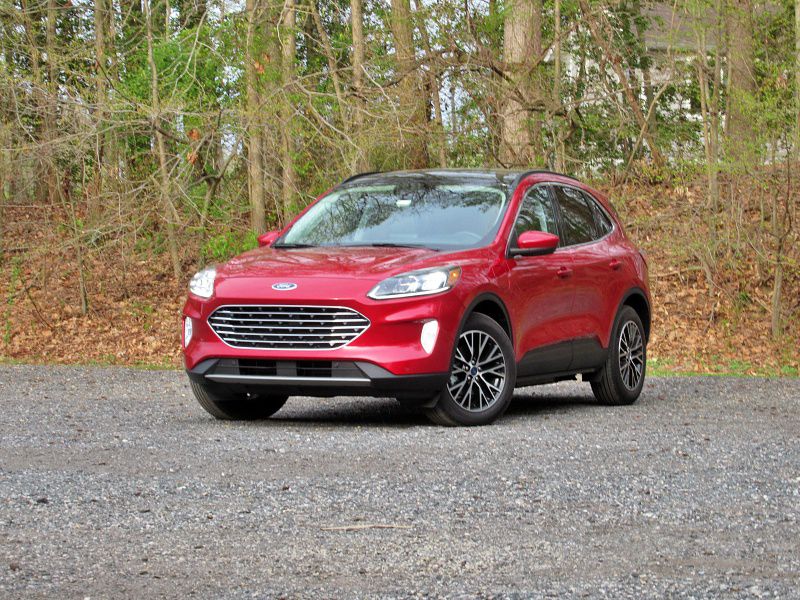 Photo by Brady Holt
Fuel Efficiency
Our week in the Ford Escape PHEV began with a 116-mile drive, with no charge in the battery. Fortunately, a plug-in hybrid has the efficiency of other gas-electric vehicles even when you aren't charging it up from the wall. The SUV's trip computer estimated 43.8 mpg during that drive, which included a mix of open freeway and stop-and-go congestion. And by generating its own electricity like a regular hybrid, the Escape PHEV traveled 30.7 of those 116 miles with the gas engine off. 
In EPA testing, the Escape PHEV gets the equivalent of 105 mpg when plugged in and 40 mpg once its all-electric range is used up. That trumps the RAV4 Prime's still-excellent scores of 94 MPGe and 38 mpg, respectively, though we regularly topped 40 mpg in the Toyota as well. Credit the Ford's lighter weight — partly the result of a smaller, lighter battery. Overall, the Escape PHEV should use less energy whether you're plugged in or you're not. 
Ford Escape PHEV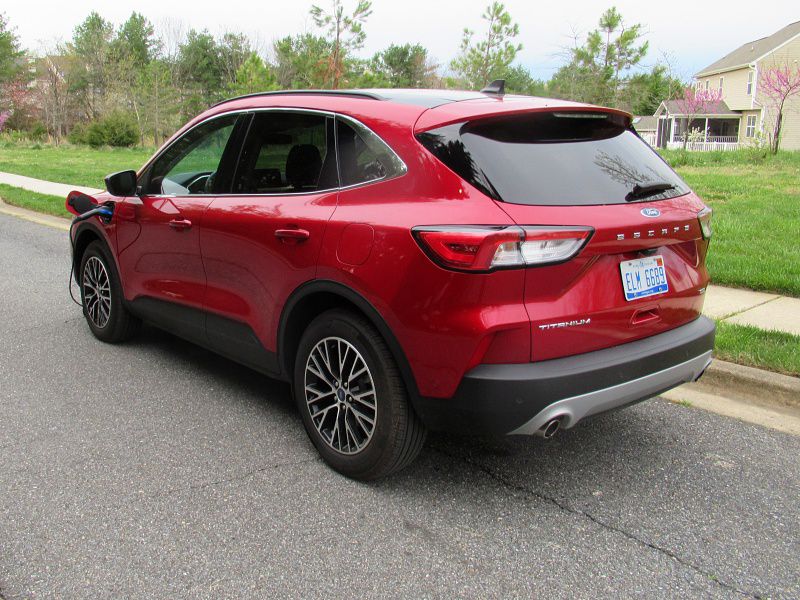 Photo by Brady Holt
Range
The RAV4 Prime does have a clear efficiency advantage in some cases. It's rated at 42 miles of all-electric range versus the Escape PHEV's 37 miles. 
It's much less expensive and more environmentally friendly to operate in electric mode than to burn gasoline. So if you'll often drive more than 37 miles per day, the EPA suggests you'll use less energy in the Toyota. During our tests, we once got 37 miles from the RAV4 Prime and once got 43 miles; the Escape PHEV managed all-electric ranges of 36 miles, 38 miles, and 42 miles. We did find the Ford more likely to turn on the engine even when the car is fully charged, which is frustrating if you're hoping to go gas-free in normal use. (There are theoretically settings to deactivate the engine, but our Escape sometimes insisted the engine was required for "system performance"; we subtracted those stretches, which varied from half a mile to 2.6 miles, from our test vehicle's ranges.) Overall, while your experience may vary, expect the RAV4 Prime to carry you farther on a charge. It also has a bigger gas tank for a longer road-trip range between fuel-ups. 
Toyota RAV4 Prime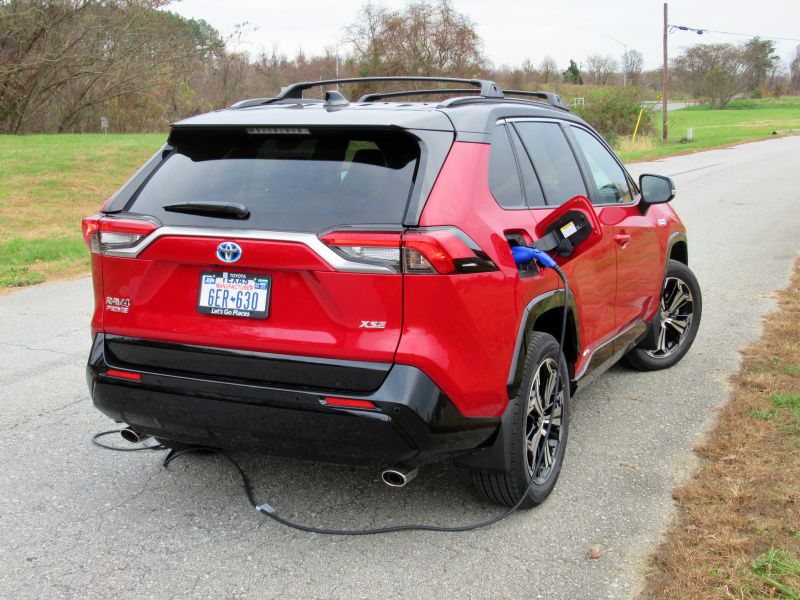 Photo by Brady Holt
Exterior Design
Except for a charging port on its front fender and a nearly invisible badge on the back, the Escape PHEV is indistinguishable from the non-plug-in Escape Hybrid or the gas-only Escape. It's gently rounded-off, more like a taller car than a smaller SUV. It's friendly and approachable, without trying to look like it's trying to dominate either the road or the trails. And it looks smaller than it is. 
By contrast, the latest RAV4 was designed to look tough, borrowing its boxy, aggressive cues from the ultra-capable Toyota 4Runner. There's technically little visual difference between the gas-only RAV4, RAV4 Hybrid, and RAV4 Prime (a charging port on a rear fender and some slightly bigger badging), but one difference is the model selection. The RAV4 Prime comes only in the RAV4's sport-themed SE and XSE trim levels, which replace hardy-looking gray plastic for shiner black trim. It's still aggressive, but more in a road-dominating sense than an off-road-ready one. You'll choose your own winner between the sportier-looking RAV4 Prime and the softer Escape PHEV. 
Tie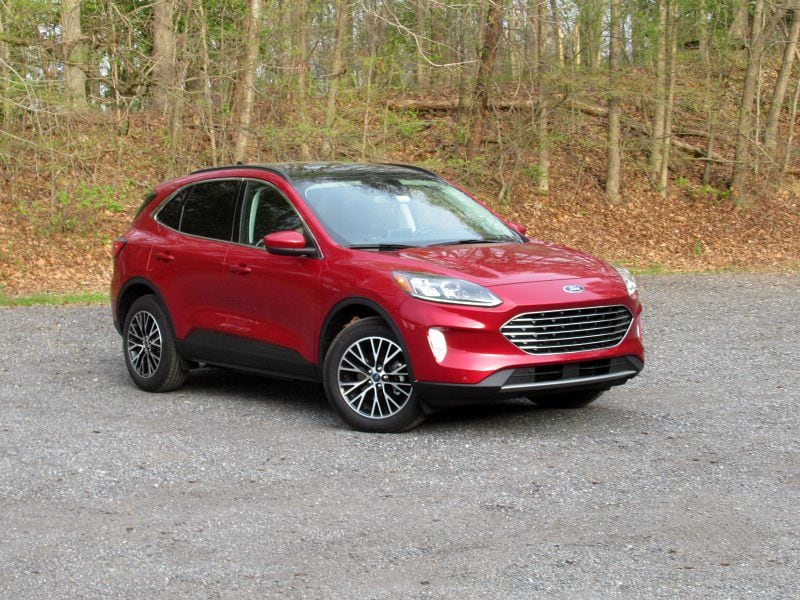 Photo by Brady Holt
Interior Design
Many hybrids and even more fully electric cars have funky, high-tech interiors. The RAV4 Prime and Escape PHEV keep things conventional, with few differences from their gas-only counterparts. And the two crossovers' interiors are more similar than their exteriors. 
The main difference is that the Toyota has sturdy rubbery trim on its door pulls and even its dashboard knobs, while the Ford takes a more conventional approach with different types of plastics, vinyls, and — on our top-of-the-line Titanium test vehicle — false wood accents. Otherwise, both have 8-inch infotainment touchscreens that perch in the middle of their dashboards, with user-friendly controls around or below them. Functionally, the differences are in the details, and it's where the Toyota generally comes out on top. The RAV4 carves out more storage spaces, it has bigger cupholders, and while neither of these vehicles is a luxury car, the Ford has more areas that use extra-cheap plastic. 
Toyota RAV4 Prime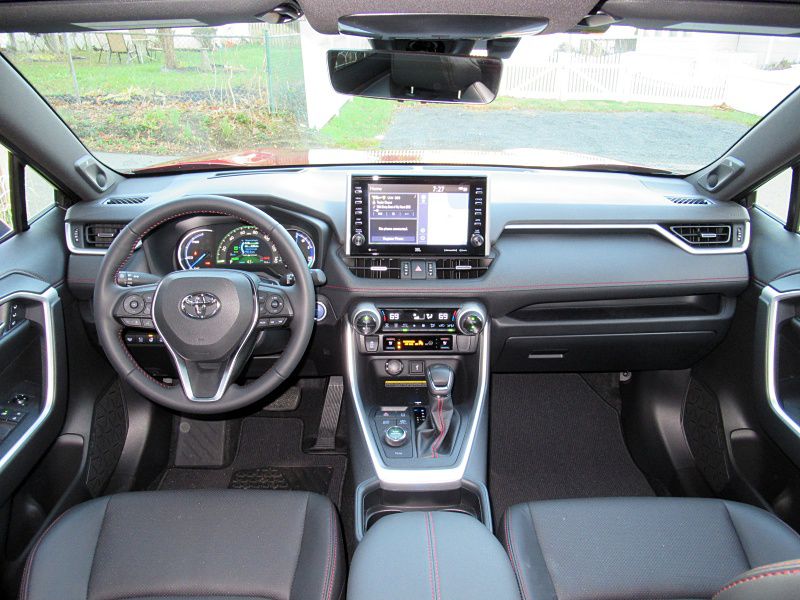 Photo by Brady Holt
Passenger Accommodations
The RAV4 Prime and Escape PHEV are nearly identically sized. But with more design pizzazz and a more off-road-ready suspension, Toyota made a little less room for passengers than Ford. 
We're fans of the way the Escape feels cozy without being constraining. Its front seats are comfortable and supportive, though not super wide. And as long as you slide the fore-aft-adjustable rear seat all the way back, there's plenty of space back there as well. The RAV4 feels more open to us in the front, but the seats aren't as good at holding you snugly in place if you prefer that feel. And the backseat sits lower to the floor, which is less comfortable. Both crossovers are available with heated front seats and a heated steering wheel, but only the RAV4 Prime offers ventilated front seats or heated rear seats. Overall, we'll call this category a tie — choose your winner based on which SUV's front seat fits your body best or whether you're attached to those Toyota-exclusive features. 
Tie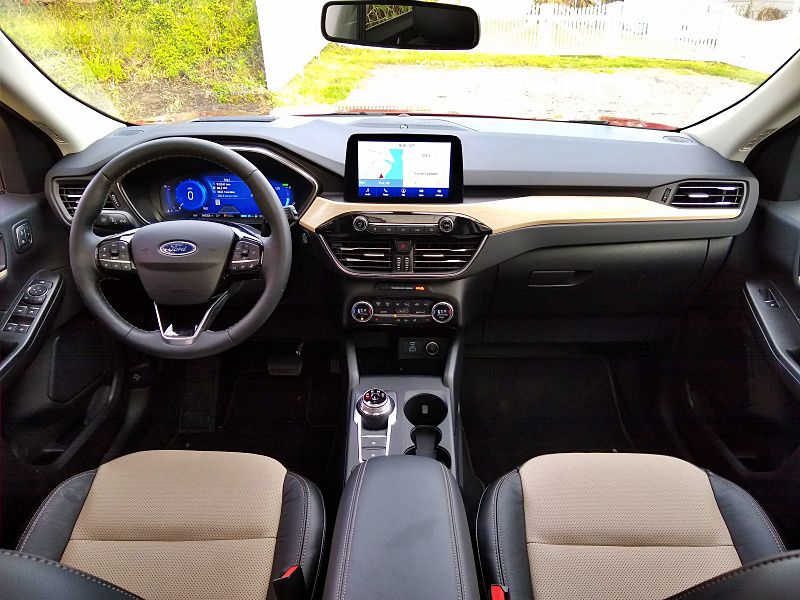 Photo by Brady Holt
Cargo and Utility
The RAV4 Prime and Escape PHEV both have decent cargo capacities, though their batteries rob some space from luggage. The Escape has 34.4 cubic feet behind the rear seat (when the rear seat is adjusted forward) and 60.8 cubic feet with the rear seat folded down. The RAV4 has a little more: 33.5 cubic feet behind the fixed-position rear seat and 63.2 cubic feet with the rear seat folded down. 
The Toyota brings a couple more utility advantages as well. It's rated to tow up to 2,500 pounds, while the Ford is limited to 2,000 pounds. And only the RAV4 Prime comes with all-wheel drive, along with a higher ground clearance of 8.3 inches versus the Escape PHEV's 6.8 inches. Most folks will have similar experiences between the two plug-in crossovers, but the RAV4 comes out ahead. 
Toyota RAV4 Prime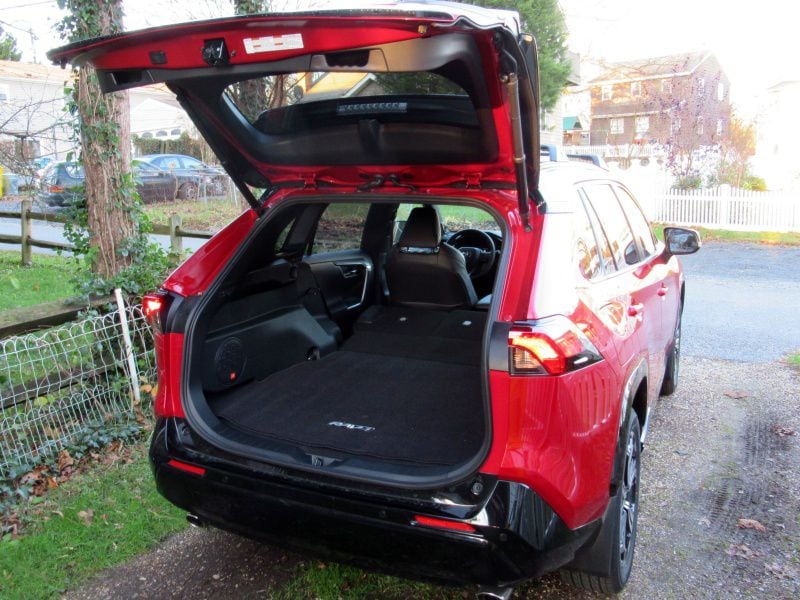 Photo by Brady Holt
Driving Impressions
The RAV4 Prime's headline-grabbing statistic is a 5.7-second blast from 0 to 60 mph. That's courtesy of a powertrain that makes a total of 302 horsepower when its electric motors and gas engine are working together. Its generous ground clearance and standard AWD also give it a bit more off-road capability than the average crossover. 
The Escape PHEV isn't fast and doesn't go off-road. Its 200 horsepower isn't bad for a compact crossover, but it's not going to provide many thrills. And as we've mentioned, you can't get it with AWD. We do prefer its on-road driving manners to the RAV4 Prime, though: It has a smoother ride, nimbler handling, and a more buttoned-down overall feel. The Toyota feels like a very fast SUV with less poise than most vehicles that are this quick, while the Ford feels like it could confidently go faster than it does. Both are easy to drive gently, and both let you keep up with traffic without needing to activate the gas engine (it'll come on if you need max power). Your winner depends on your preference for power or polish. 
Tie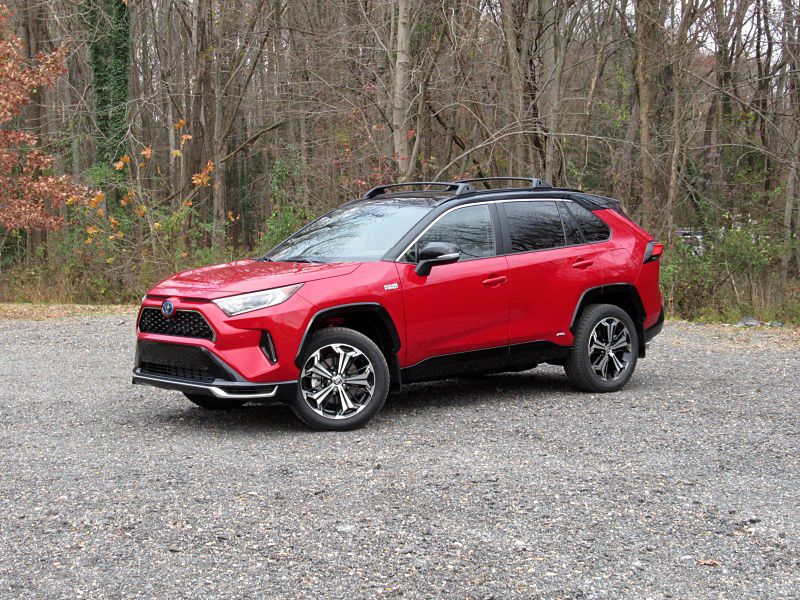 Photo by Brady Holt
Final Thoughts
Only one of these two plug-in hybrids has a cool factor: the 2022 Toyota RAV4 Prime. Brashly styled, sports-car fast, off-road-ready, and boasting the longer all-electric range, it's the PHEV that commands attention. But we're going with the subtler 2022 Ford Escape PHEV. 
The Escape isn't fast, flashy, tough, or cool. We wish some of its interior materials were nicer, and we wish it offered AWD like most SUVs. But it uses less electricity or gasoline than the RAV4 Prime in many cases, rides and handles like a more expensive vehicle, and costs many thousands of dollars less. It doesn't make much of a bid for your heart, but this is the more sensible compact PHEV crossover for many drivers.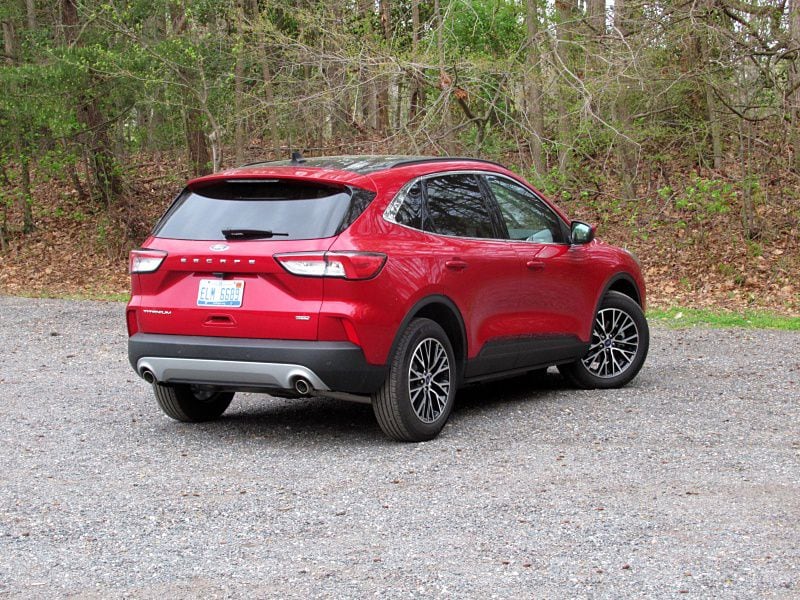 Photo by Brady Holt