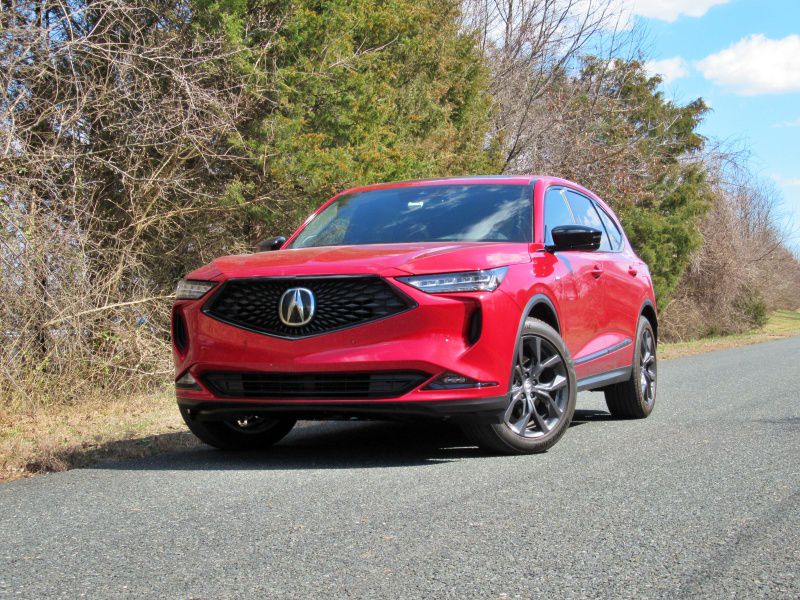 2022 Acura MDX ・ Photo by Brady Holt
The Lexus RX and the Acura MDX are two of the longest-running luxury SUVs, both going back more than two decades. Both provide premium style and amenities for less money than similarly sized European models. And while they used to focus more on relaxed comfort than sporty excitement, both have dialed up their performance credentials as well.
But which one should you buy? In the coming pages, we'll explore the pros and cons of these two popular mid-size crossovers — the best-selling 2021 Lexus RX and the newly redesigned 2022 Acura MDX — declare which is best in each of eight categories, and then name our overall winner. 
Models and Prices
Lexus has a wide range of RX models, with a choice of two engines (a gas-only V6 and a gas-electric V6 hybrid) and two body styles (the standard RX and the extended-length RX L). Its value quotient depends on which version you're interested in: the standard-length RX 350 V6 starts at $45,220, while the three-row RX 350L starts at $48,050. Meanwhile, the RX 450h hybrid is priced from $47,820 and the RX 450hL starts at $51,310. 
Acura keeps things simpler and hopes you're fine with what it offers: one engine (gas-only V6) and one size (three rows of seats). It's priced from $46,900 with similar equipment to the RX, splitting the difference between the standard-length and three-row versions. In another difference, the sport-themed MDX A-Spec like our test vehicle is only available with lots of high-end features and costs $57,100. The equivalent RX F Sport is available with a wider range of equipment levels and costs as little as $48,650. Your personal value winner will depend on what you specifically want, but we'll award this category to Lexus for its broader choices and lower starting prices. 
2021 Lexus RX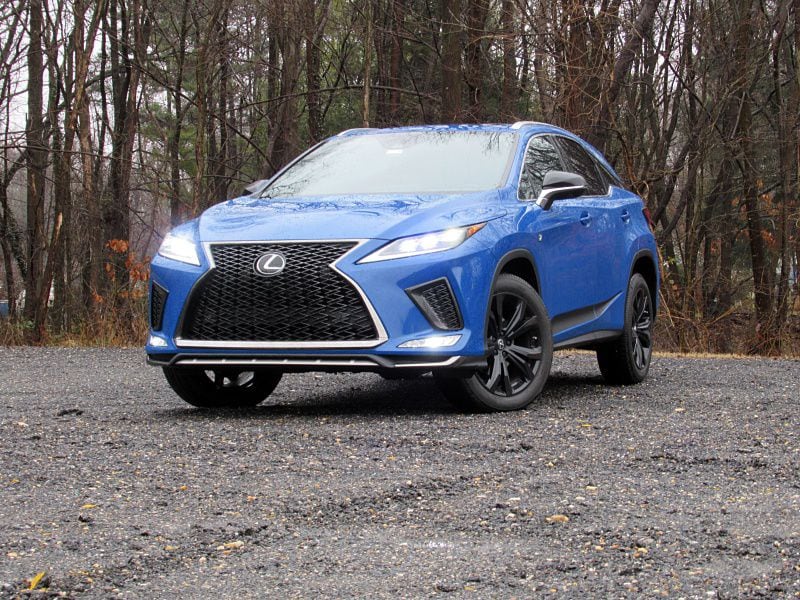 Photo by Brady Holt
Exterior Design
Despite its full redesign, the 2022 MDX isn't a radical stylistic departure from its predecessor. Slim headlights and taillights, and a prominent grille that Acura calls a "diamond pentagon," keep the MDX from being dull. The A-Spec, like our test vehicle, strips off other models' chrome from the grille, windows, and doors for an even sportier vibe. And since it's wider than the RX despite a similar height, the MDX has a sportier stance when viewed from the front. Still, this is an upright SUV with a high roof, big windows, and simple lines. 
The RX, meanwhile, is closer to the trendy "SUV coupe" aesthetic with a sloped roofline and lower roof. That's especially true on the five-passenger model, but even the slightly boxier three-row RX L (shown on this page) styles its rear windows to hide its true shape. All RX models wear an enormous hourglass-shaped "spindle" grille that drops down from two high, slim headlights. This is a vehicle designed for visual drama, and whether you love it or hate it, it still looks fresh six years after the current generation first went on sale. We'll let you choose your own winner. 
Tie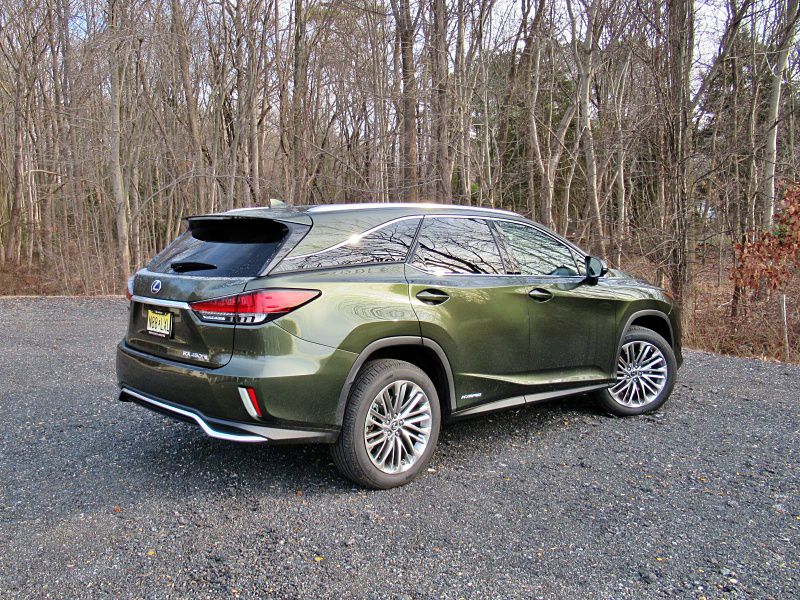 Photo by Brady Holt
Interior Design
Neither the RX nor the MDX has our favorite interior in the mid-size luxury suv segment. Both have some awkwardness in their control interfaces and too much ordinary-feeling plastic. Between the two, the Acura suffers from more of the former, and the Lexus from more of the latter. 
Every MDX comes standard with a big, beautifully rendered 12.3-inch infotainment screen, while the RX starts off with an 8-inch screen (its own 12.3-inch unit is optional). Both crossovers provide a trackpad-style infotainment interface, where you move your finger around a console-mounted pad to make screen selections. The MDX's operates more smoothly than the RX's, but in both cases, it's easy to spend too much time looking away from the road. Lexus's trump card: It recently retrofitted touchscreen capability, so you never have to use its trackpad. Still, many RX buttons and sections of its lower dashboard feel low-end, and its warning beeps are irritatingly shrill and harsh. The MDX has more plastic than we'd like, including shiny black trim and dull gray buttons, but it does feel more expensive than the RX. Acura wins for panache and Lexus for ease of use, so we'll call this category an overall tie. 
Tie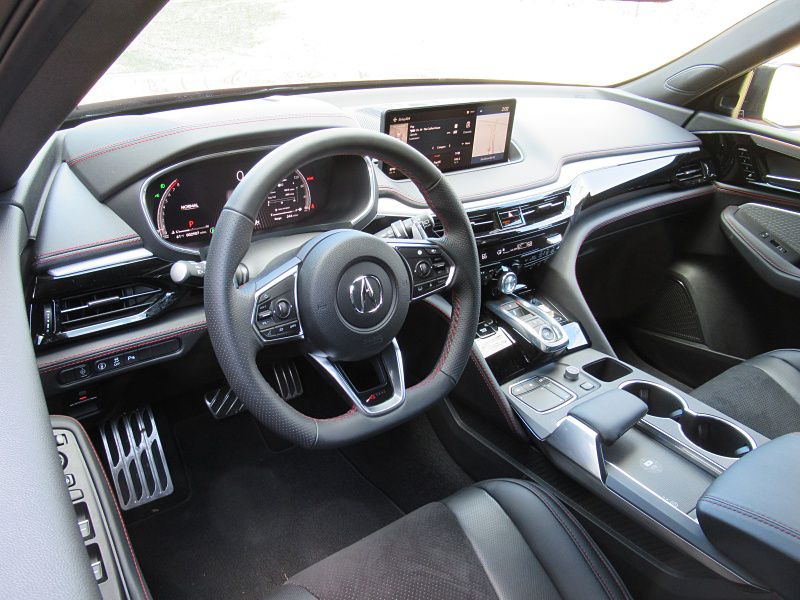 Photo by Brady Holt
Interior Comfort
If you're looking to carry five passengers, both the MDX and the RX are up for the task with comfortable, supportive front and rear seats. The wider Acura is better suited to fitting three adults in the back, but otherwise, we have no complaints — yet. 
But if you're at all interested in third-row seating, the MDX wins this category by a mile. Not only does the RX L's third row have minimal leg or foot space, but Lexus had to sacrifice second-row legroom to squeeze it in. That means you'll feel the pinch even if you were planning to keep the Lexus's third row folded down except for emergencies. By contrast, the MDX's interior isn't minivan-spacious either, but it's usable across all three rows and genuinely comfortable in the first two. Also, rather than a mere bench seat, the MDX has three separate chairs for its second row; you can convert the center seat into a console when it's not in use, or you can remove it from the vehicle entirely. The RX L only has a choice between a standard bench or captain's chairs, and every standard-length RX has the former.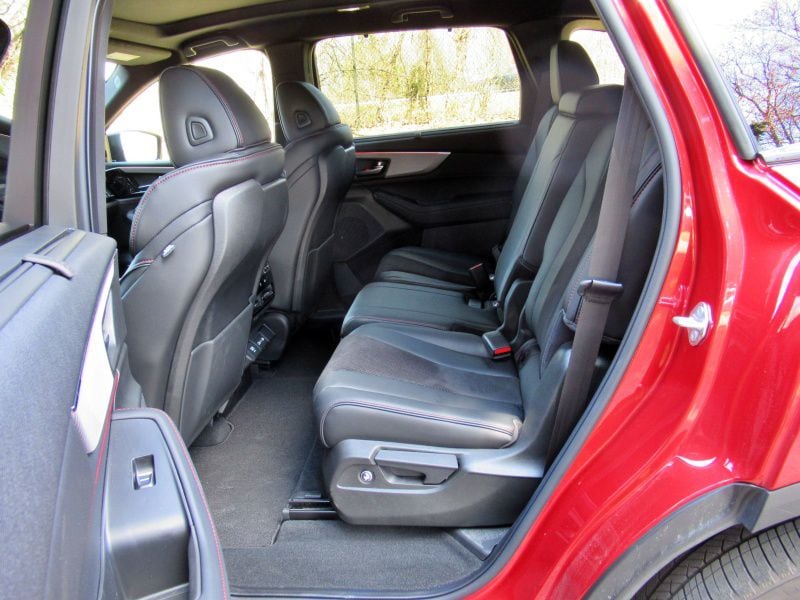 Photo by Brady Holt
Cargo and Towing
The MDX continues to amplify its size advantage when it comes to cargo. It provides 18.1 cubic feet of cargo space behind the third-row seat, 48.4 cubic feet behind the second-row seats, and 95 cubic feet behind the front seats — outstanding for the segment. 
The RX sits on the opposite extreme as one of the least spacious mid-size crossovers. The five-passenger model has just 18.4 cubic feet of room behind its second-row seat, hemmed in between a high floor and steeply sloped roof. The RX L has a mere 8 cubic feet behind its third row, and even folding it down yields just 23 cubic feet. Maximum cargo space is similar between the two models: 56 cubic feet on the RX and 59 cubic feet on the RX L. Lexus provides a fancy power-folding mechanism for its third-row seat, but it's torturously slow and you have to keep holding down a button as it goes up and down. The MDX's big sturdy plastic grab handles may not look fancy, but they get the third row up and down with no fuss. The MDX can also tow more than the RX: 5,000 lbs versus 3,500 lbs.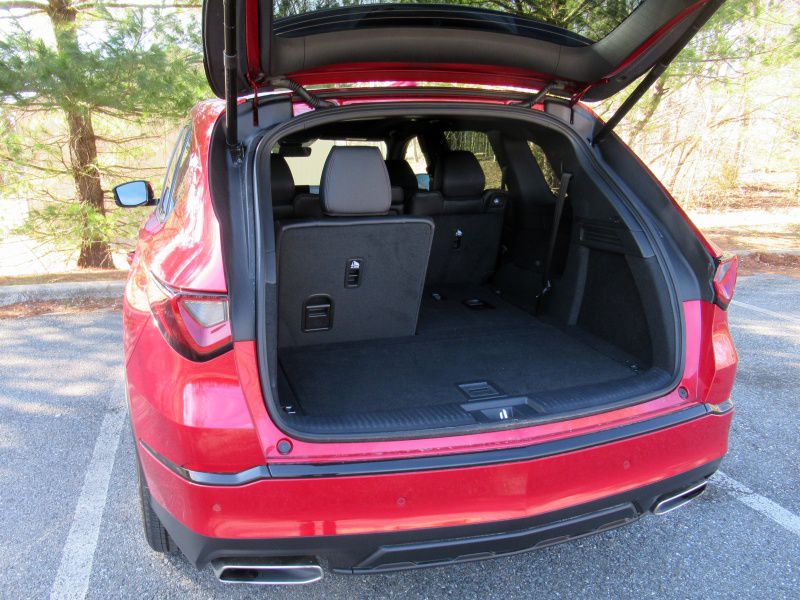 Photo by Brady Holt
Driving Experience
The RX used to be known for a pillow-soft ride and a steering rack that felt minimally connected to the wheels. Today, neither is really true. While it's still smoother and quieter than performance-focused competitors, the RX isn't the best-riding luxury suv you can find. That's especially true if you choose the sport-tuned F-Sport model. On the other hand, steering and handling have become livelier and more confidence-inspiring, without destroying the ride quality. And Lexus has kept a smooth 295-horsepower 3.5-liter V6 engine as standard equipment, even as many competitors move to four-cylinders to save fuel. 
Nonetheless, the MDX is our favorite from behind the wheel. Its steering is perfectly calibrated to be extra-light when you're just maneuvering into a parking space, yet firm and responsive when you let loose on a back road. And despite its agility, the MDX rides well. Its engine is right in line with the RX's, too: a 290-horsepower 3.5-liter V6. Whether you prefer sporty performance or convenience and comfort, the Acura trumps the Lexus. The performance gap will widen further when Acura introduces the 355-hp MDX Type S later this year.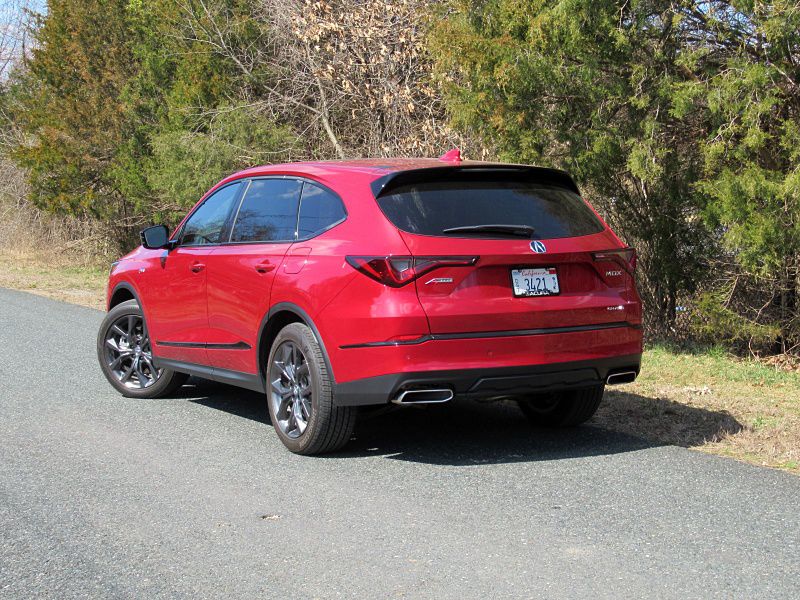 Photo by Brady Holt
Fuel Economy
The MDX gets pretty good gas mileage for a V6-powered mid-size SUV, with EPA estimates of 19 mpg in the city, 26 mpg on the highway, and 22 mpg combined with front-wheel drive and about 1 mpg less with all-wheel drive. Our test vehicle fell just below that mark and averaged 20 mpg. Acura no longer sells a thriftier MDX hybrid. 
The three-row RX 350L gets nearly identical mileage to the MDX, but it's the least-efficient member of the RX family. The two-row RX 350 does 1 mpg better than the RX 350L. What's more, Acura recommends premium fuel in the MDX for optimal performance, while the gas-only RX achieves its horsepower and fuel economy ratings using cheaper regular-grade gasoline. The RX 450h and RX 450hL hybrids call for premium, but they make up for it by sipping the stuff, especially in lower-speed driving. They're rated for up to 31 mpg in the city, 28 mpg on the highway, and 30 mpg combined. We averaged 20 mpg in our AWD RX 350 test vehicle and 29 mpg in our AWD RX 450hL. Thanks to its regular-grade fuel and available hybrid powertrain, the RX wins this section. 
Lexus RX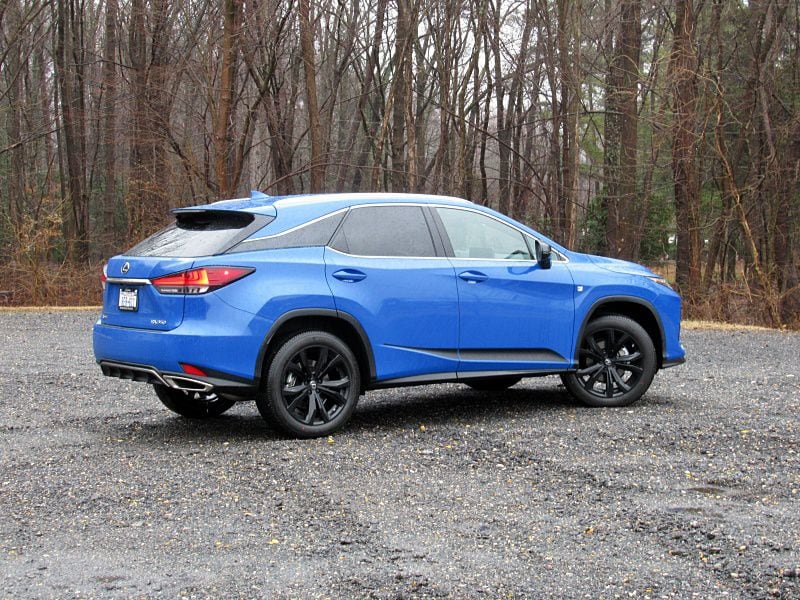 Photo by Brady Holt
Safety
Both the MDX and RX come standard with a long list of standard safety features, including automatic emergency braking, lane-keeping steering assistance, and blind-spot monitoring with a rear cross-traffic alert.
The redesigned MDX hasn't yet been crash-tested by the Insurance Institute for Highway Safety or the National Highway Traffic Safety Administration. The 2021 RX earned an IIHS Top Safety Pick designation, the group's second-highest honor. While it received top marks in all crash tests, its standard headlights only scored Acceptable, one of its optional lighting systems was judged Poor, and its ability to autonomously avoid a pedestrian scored Advanced instead of the top Superior. In National Highway Traffic Safety Administration testing, the RX earned four out of five stars overall, hit by a disappointing three-star score for protecting the driver in a frontal impact. We think the 2022 MDX will beat these ratings, but until that's proven, we'll call this category a tie.
Tie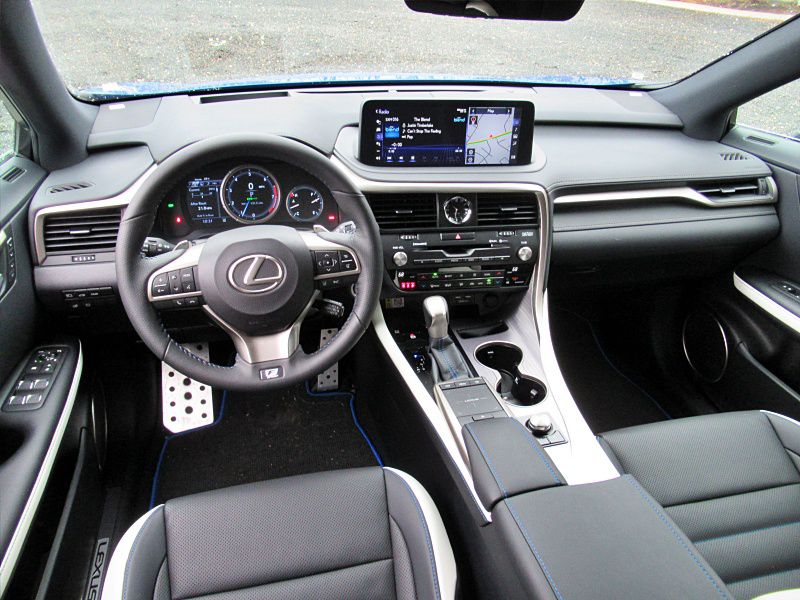 Photo by Brady Holt
Final Thoughts
By combining a flashy design with a relatively affordable base price, regular-grade fuel, and available hybrid powertrain, the Lexus RX became a popular way to add luxury flavor without losing everyday mainstream appeal. But we're far more impressed with the Acura MDX. 
The redesigned MDX is bigger and far roomier than the RX, but it's sportier to drive without sacrificing comfort. It feels more luxurious, yet it's only slightly more expensive. Even if you don't need a third-row seat, you can keep the MDX's folded down and still enjoy a better overall vehicle than the RX. (Or you could consider a good compact crossover, including the Acura RDX, that's even roomier than the mid-size RX.) And if you do plan to carry more than five passengers, choosing the Acura is a no-brainer. While we might quibble with some of the MDX's interior details, while we wish it would join the RX in offering a touchscreen, and while the Acura's styling is less dramatic than the Lexus's, we didn't have to ponder this outcome for long. 
Acura MDX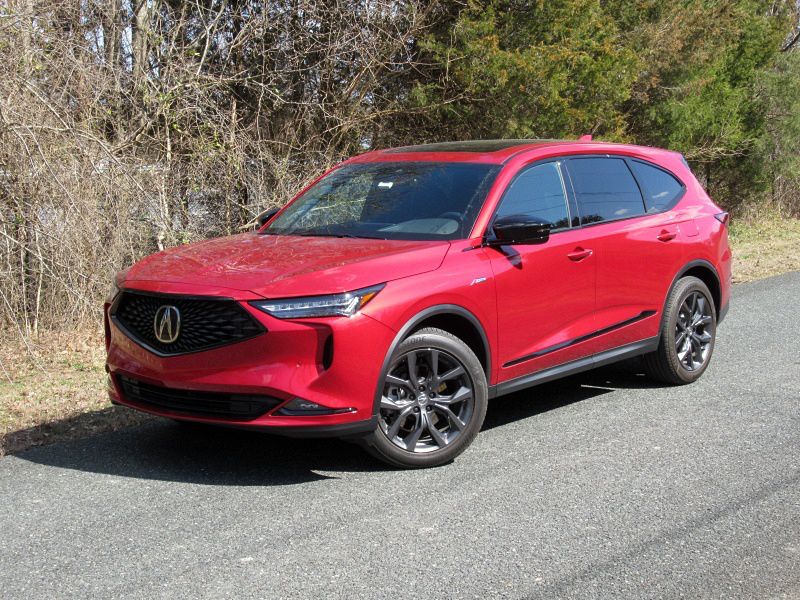 Photo by Brady Holt