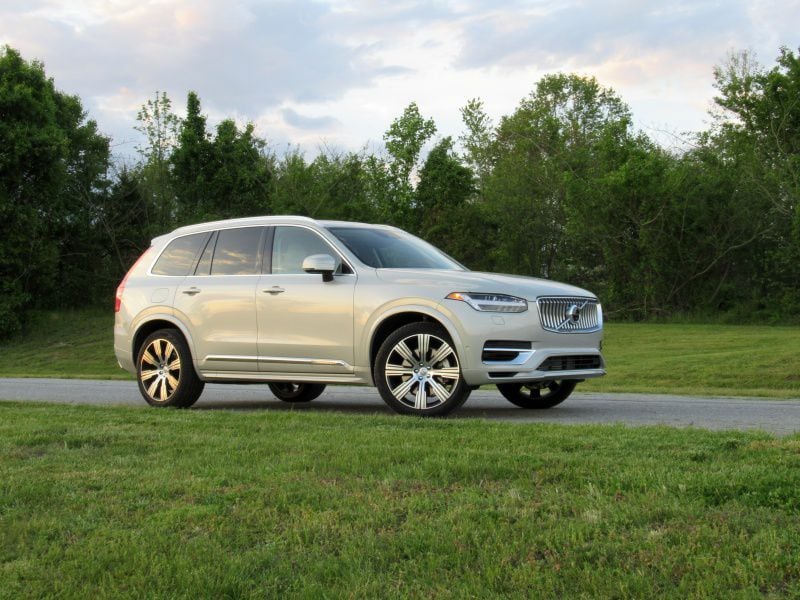 2020 Volvo XC90 T8 plug-in hybrid PHEV ・ Photo by Brady Holt
When you want a big luxury SUV for your family, you may be surprised at how some leading models come up short. Beautifully appointed, filled with features, and great to drive, some of the highest-regarded luxury SUVs have tiny third-row seats — if they even offer space for more than five people at all. If you want a roomy BMW or Mercedes-Benz, you need a huge and wildly expensive vehicle.  
Fortunately, some mid-size luxury SUVs are able to supply a high-end experience without forgetting how to fit your family inside. Two excellent options are the redesigned 2022 Acura MDX and the perennial favorite 2021 Volvo XC90. We tested both of these mid-size luxury SUVs so that we could give you a closer look at their strengths and weaknesses, and how they compare with each other. On the following pages, we examine the MDX and XC90 across eight different categories, then declare an overall winner. 
Pricing and Features
Both the XC90 and the MDX cost thousands of dollars less than their similarly sized German rivals, to say nothing of those with usable seven-passenger seating. But between the two of them, the Acura costs even less than the Volvo. 
The MDX starts at $46,900 versus $49,000 for the XC90. Both have lots of standard features, including imitation leather upholstery, panoramic sunroofs, power liftgates, and long lists of safety technologies. There are two notable differences on the standard features roster, one minor and one significant. First, the MDX has standard heated front seats, which cost extra on the XC90. More importantly, the MDX has just one engine available — a 295-horsepower V6 — while it costs an extra $8,000 to get equivalent power from the XC90. Volvo does have some extra features on top-of-the-line models, like a 19-speaker Bowers & Wilkins sound system and massaging front seats. But overall, the MDX has more for the money. 
Acura MDX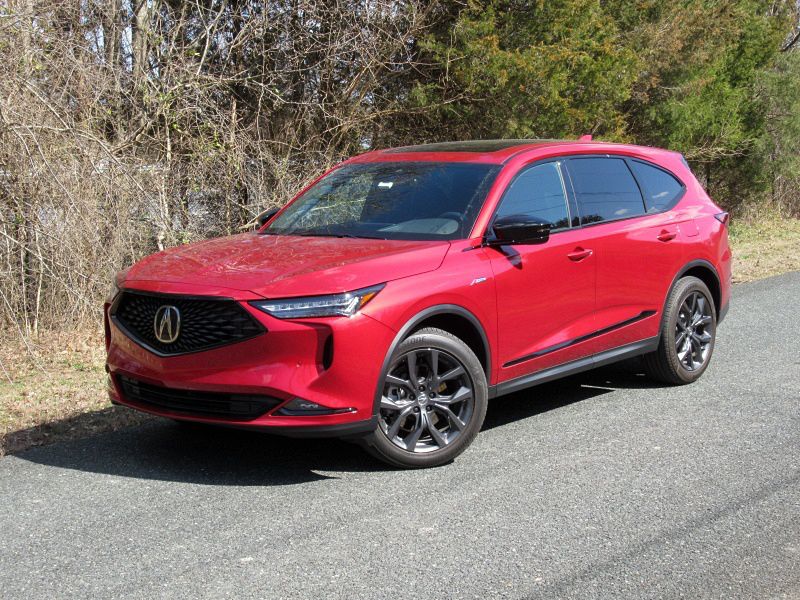 Photo by Brady Holt
Exterior Design
The XC90 and MDX take two different approaches to exterior design. The XC90 is a classy, beautifully dressed box — never overly flashy but never dull. It has Volvo's signature "Thor's hammer" headlights and concave waterfall grille, taillamps that stretch vertically alongside the generously sized rear windshield, and a proudly squared-off shape that doesn't pretend this SUV is a sports car. 
The MDX takes a more performance-focused approach. Slim headlights and taillights, a prominent grille that Acura calls a "diamond pentagon," and a lower roof than the Volvo make the Acura look more aggressive. Still, this is an upright SUV by most standards, with big windows and simple lines. It looks aggressive but doesn't look like a caricature, even on our tested sport-themed A-Spec model. Your own winner will depend on whether you prefer the sportier Acura or the more genteel Volvo, so we'll call this category a tie. 
Tie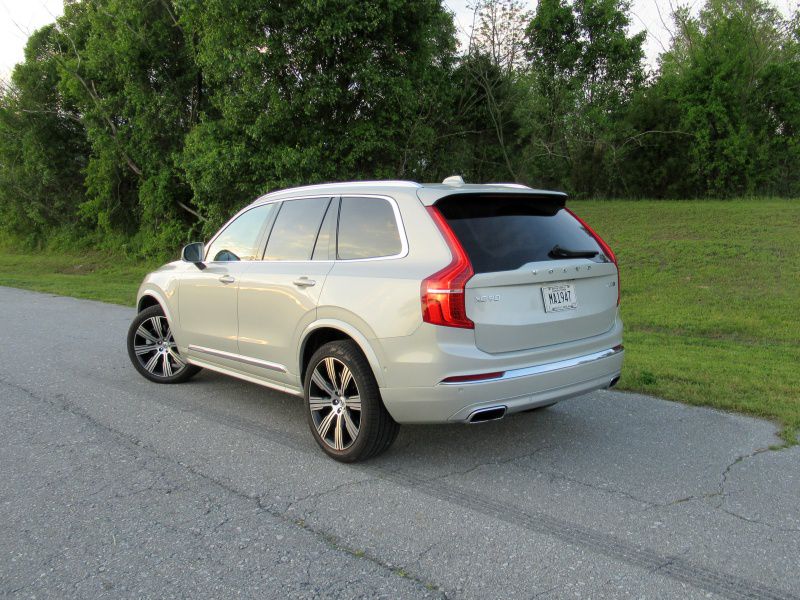 Photo by Brady Holt
Interior Design
Inside, the MDX again has the sportier vibe while the XC90 goes for more traditional opulence. Still, the Volvo has a wholly contemporary design, artfully blending modern technology with old-school luxury and gorgeous cabin trim. Its dashboard is centered around a 9.3-inch touchscreen; it's no longer as dazzlingly huge as it seemed back when the current XC90 debuted in 2016, but it still looks up-to-date and works well, thanks to hardware upgrades over the years. 
The MDX looks sportier than the XC90 inside, and it also has superior cabin storage — bigger cupholders and a well-placed smartphone charger. Still, we'll award this category to the Volvo for looking and feeling more like a luxury car. Volvo has avoided the sort of ho-hum plastics that occupy sections of the Acura's cabin, like its dull gray buttons and shiny black dashboard trim. Also, while the XC90's infotainment system buries a few functions too deep into menus, we found it easier to operate than the MDX's: Instead of a touchscreen, Acura uses a console-mounted touchpad to operate its crisply rendered 12.3-inch infotainment screen. We found our attention drifting from the road when we tried to use it.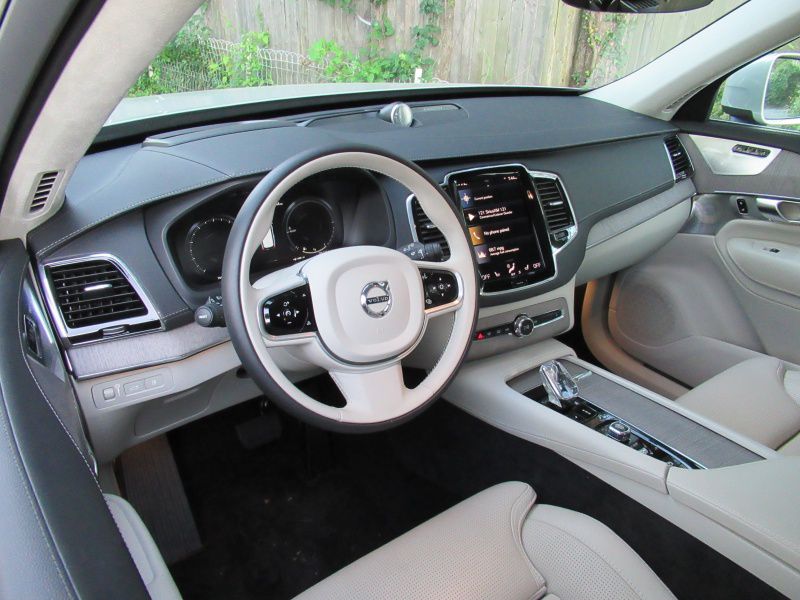 Photo by Brady Holt
Interior Comfort
The XC90 is more family-friendly than many competing luxury suvs, with room for adults to even squeeze into the third row. You can choose between six-passenger and seven-passenger capacity, depending on whether you choose captain's chairs or a bench seat for the second row. Still, the MDX has even more room. 
Whether you're in the Acura's big, supportive front seats or the plus-sized second row, you'll enjoy generous legroom and well-shaped cushions. The MDX also lets you reconfigure the second row as captain's chairs or a bench seat; you remove or reinstall a center position based on your preference. And while its third row isn't huge, either, it's usable. Overall, the XC90's seats are prettier, but the Acura's are more accommodating.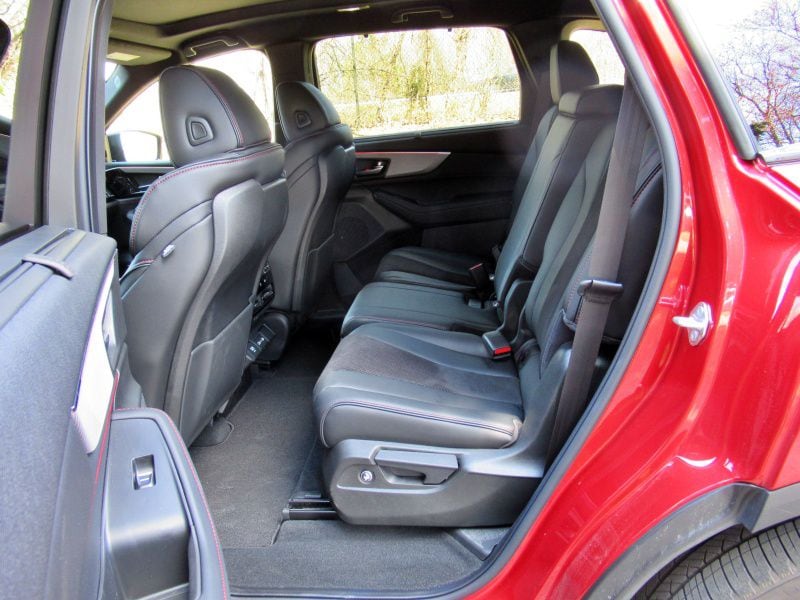 Photo by Brady Holt
Cargo and Utility
The XC90 has more cargo volume than most mid-size luxury suvs: 15.8 cubic feet behind the third-row seat, 41.8 cubic feet behind the second row, and 85.7 cubic feet with both rear rows folded down. The MDX is the rare competitor with even more space for your stuff, featuring 18.1 cubic feet of cargo space behind the third-row seat, 48.4 cubic feet behind the second-row seats, and 95 cubic feet behind the front seats.
If you'll tow a trailer, both SUVs can handle pull one that weighs up to 5,000 lbs. To get this maximum capacity, the Acura makes you upgrade from front-wheel drive (which tows 3,500 lbs), and the Volvo requires you to skip the base engine (rated at 4,000 lbs with either front- or all-wheel drive).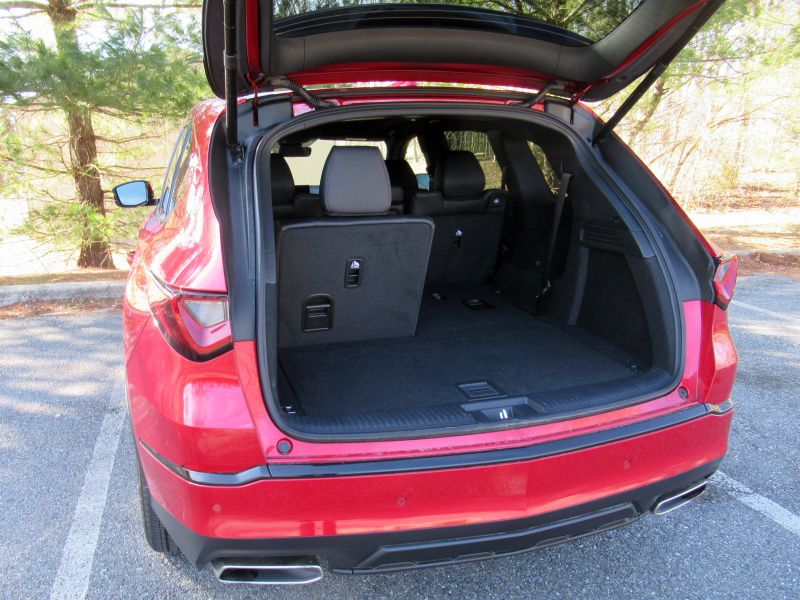 Photo by Brady Holt
Driving Experience
The MDX has the styling of a sporty SUV, and it lives up to that billing. A smooth, strong 290-horsepower 3.5-liter V6 is standard on all trim levels so far (a 355-horsepower Type S model is due later this year). And the vehicle handles with capability and composure. Yet at the same time, the MDX also boasts a smooth ride and extra-light, easy low-speed steering. This is a fun-to-drive SUV that you can drive happily even if you don't care about sportiness. 
The XC90 also drives nicely, with a smooth ride and agreeable handling composure. Models with extra-cost huge wheels can be stiff over bumps, though, and no XC90 has extra-sharp steering responses. The base T5 powertrain is a 250-horsepower turbocharged four-cylinder engine, the most popular T6 adds a supercharger that boosts output to 316 horsepower, and the T8 plug-in hybrid adds electric motors to the mix for a total of 400 horsepower. That means you can get XC90 models that are faster than the MDX, at least so far, but we'd still pick the Acura's overall driving experience. 
Acura MDX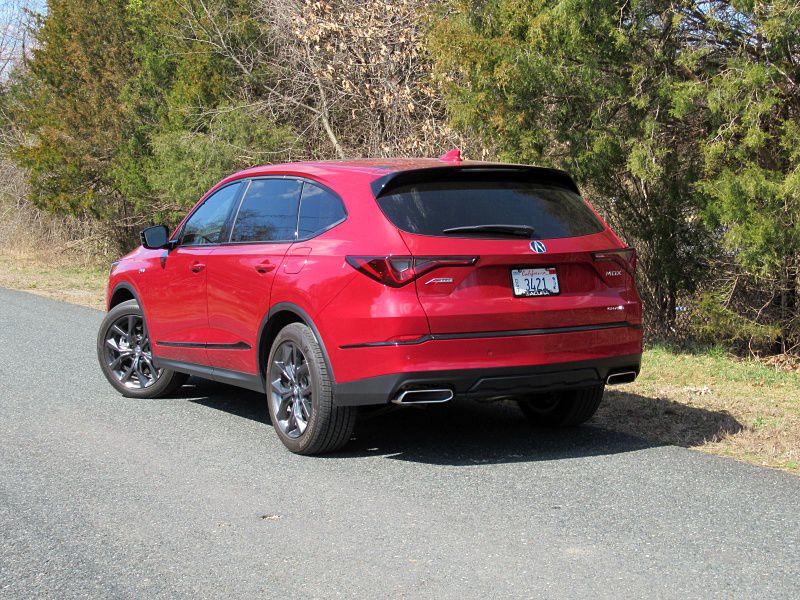 Photo by Brady Holt
Fuel Economy
The XC90's four-cylinder engines can pay off at the gas pump, at least. The 250-horsepower T5 engine returns EPA estimates of 21 mpg in the city, 30 mpg on the highway with front-wheel drive, and 25 mpg combined with front-wheel drive and 20 mpg city, 28 mpg highway, and 23 mpg combined with all-wheel drive. The 316-hp T6, sold only with AWD, scores just behind it and 19 mpg city, 28 mpg, and 22 mpg combined. The T8 hybrid can travel an estimated 18 miles using solely electricity, then averages an estimated 27 mpg after that. 
The MDX is no gas-guzzler either, but it can't match these figures. The 290-hp MDX earns an EPA-estimated 19 mpg city, 26 mpg highway, 22 mpg combined with front-wheel drive, and 19 mpg city, 25 mpg highway, 21 mpg combined with AWD. The upcoming 355-hp Type S hasn't yet been rated, and unlike the SUV's previous generation, no MDX Hybrid is currently available.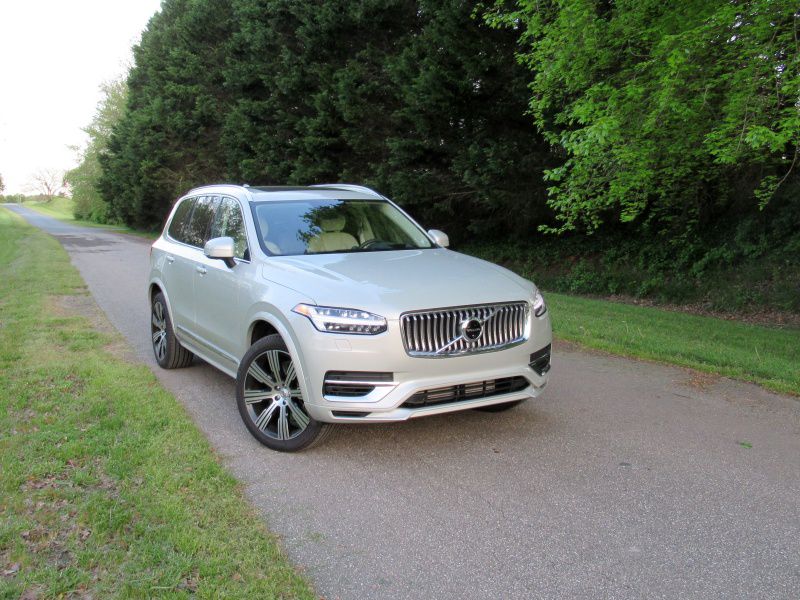 Photo by Brady Holt
Safety
The Volvo brand is practically synonymous with safety, but the Acura wins this round. While both models offer exemplary crash-test scores and long lists of standard safety technology, the newer MDX edges out the older XC90. 
Both these mid-size crossovers earn the Insurance Institute for Highway Safety's highest designation of Top Safety Pick+. But the XC90's headlights score Acceptable rather than the highest level of Good, which the MDX did achieve. And the Volvo's automatic emergency braking system was slightly less effective at avoiding a pedestrian than the Acura's. These are among the two safest SUVs you can buy today, but the MDX comes out ahead between them. 
Acura MDX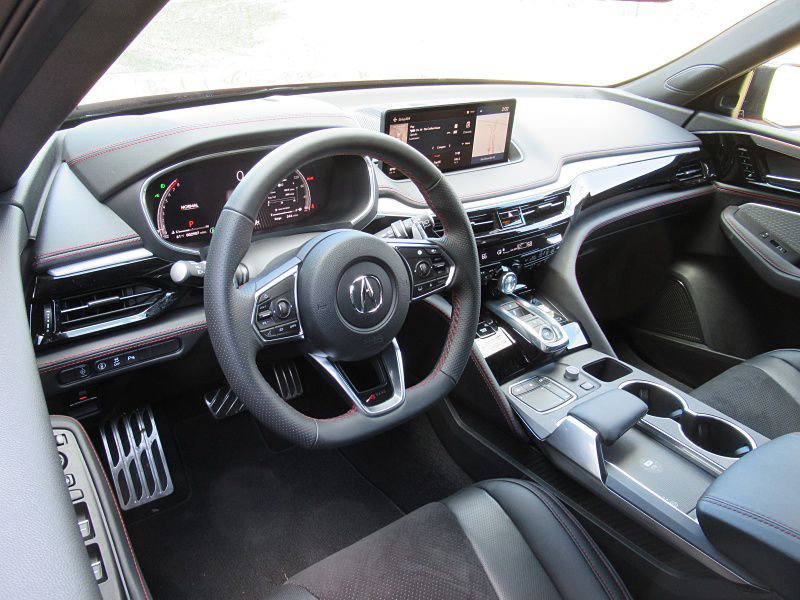 Photo by Brady Holt
Final Thoughts
We're fans of the XC90. It's a beautiful design that still looks fresh even six years after its debut. And it offers that beauty without sacrificing everyday merits like interior space, fuel economy, and decent value for the money. If a higher-end feel is paramount, it's definitely still in the game. 
Still, the MDX offers more for the money. We wish its interior were a tad dressier and that its infotainment controls were simpler. But otherwise, this is a luxury SUV that's great to drive yet also a great family car — and that's a relative bargain to boot. Roomy, safe, powerful, and agile, the MDX is just what we'd look for in a family-friendly luxury SUV, at the right price. 
Acura MDX
Photo by Brady Holt