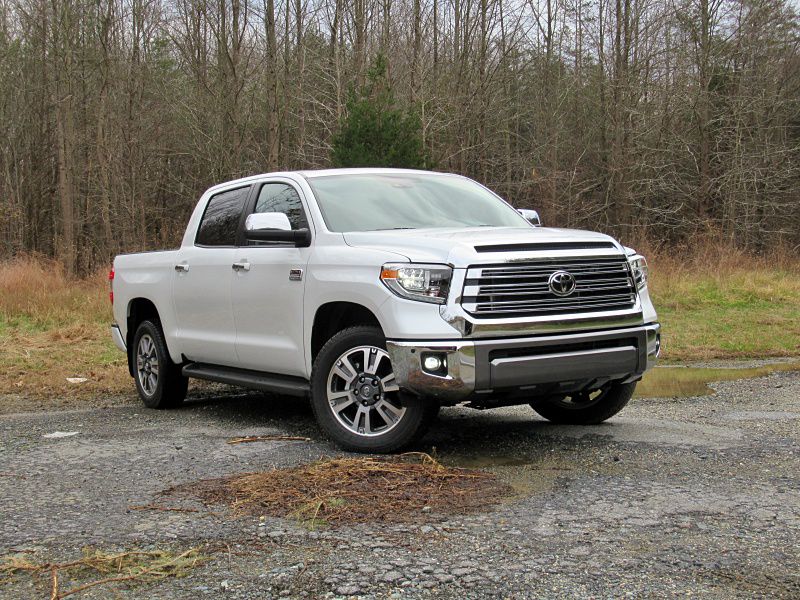 2021 Toyota Tundra 1794 Edition ・ Photo by Brady Holt
The automotive industry is a place of relentless progress. Each new vehicle generation brings improvements in technology, driving dynamics, safety, and fuel economy. That would seem like bad news for the 2021 Toyota Tundra full-size pickup truck, since it hasn't been fully redesigned since way back in 2007.
An all-new Tundra is expected sometime in the next year. But there's still plenty to like about even the current model. While competing truckmakers have invested heavily in creating advanced, extra-posh, extra-safe, extra-efficient vehicles, Toyota had developed a powerful price advantage. With the Tundra, you give up many of the latest advances, but you still get what was considered an excellent truck 14 years ago — for thousands of dollars less than comparably equipped competitors from Ford, Chevrolet, or Ram that have been redesigned two or three times since then. And despite its age, Toyota has continued to add features to the vehicle, including a wide range of advanced safety technology. We just spent a week in the 2021 Tundra to see how it stacks up against its newer competitors.
Bargain Pricing
The 2021 Toyota Tundra starts at $33,675. That's several thousand dollars more than the cheapest Ford F-150 or Chevrolet Silverado, but that's because Toyota doesn't sell a stripped-down work truck variant. Every Tundra is well-equipped with a 381-horsepower V8 engine, a full suite of safety features, and fabric upholstery rather than vinyl. Buyers choose between an extended-cab model with four swing-out doors (what Toyota calls the Double Cab) and a crew cab with a bigger backseat (CrewMax).
When you equip the Tundra comparably to its competition, the difference can top $10,000 depending on the options you choose. Most full-size pickups charge extra for features like adaptive cruise control and a V8 engine, and Toyota also makes leather upholstery available on a wide range of trim levels. Our top-of-the-line CrewMax 1794 Edition cost $55,610 — that's no small change to be sure, but you don't give up too much with the Limited for less than $50,000. And if you haven't been paying attention to this segment, prepare for even greater sticker shock; it's easy to push competing trucks past $60,000 or even $70,000.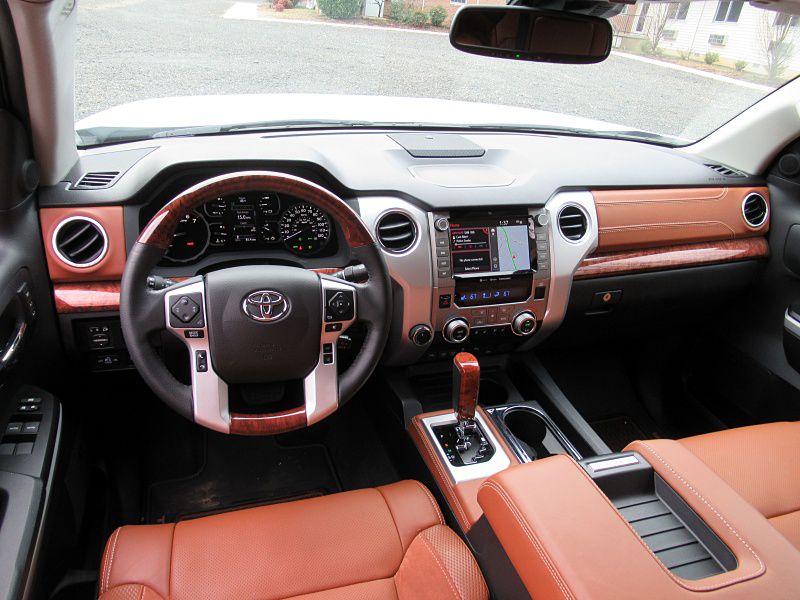 Photo by Brady Holt
Plenty Big
The current Tundra debuted as a 2007 model and was restyled in 2014. Since then, it has changed little — but the design is clean enough to have aged well. It's a solid-looking box, with a vertical front end that has a big but regularly shaped grille.
Toyota wisely avoided trendy design cues that would have required an update, so while it doesn't look brand-new, it doesn't look like yesterday's hot truck either. That's also good news if you keep your truck for the long haul. Also, unlike the controversial first-generation Tundra sold from 2000 to 2006, this pickup is just as big as its competitors. And while it doesn't go over the top to show off its size, it's unquestionably large. The off-road-focused TRD Pro model does have a more aggressive grille than our heavily chromed test truck.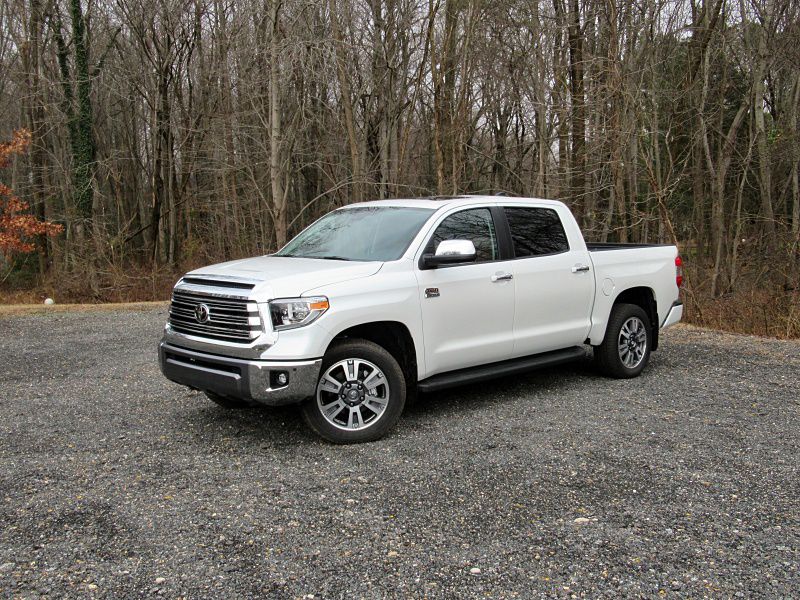 Photo by Brady Holt
Plenty Comfortable
You feel the Tundra's size in its expansive cabin. Driver's have a big, commanding throne with acres of open space surrounding them. There's no jockeying for elbow position on the miles-wide center armrest, and as long as you pick the CrewMax, no rear passenger will have knees anywhere close to your seatback. Hauling five full-size adults is a breeze.
Another useful feature is the power-adjustable thigh support, which makes the driver's seat cushion longer or shorter to accommodate a wider range of body types. It's a feature more commonly found in luxury sports sedans, but it's welcome here in the pickup segment as well. Like on other pickups, you can easily flip up the rear seat cushion against the seatback to create a good-size interior cargo hold. The floor isn't quite flat, but we didn't have a problem when we filled the space with groceries. The Double Cab offers a choice of 6.5-foot and 8.1-foot beds, while every CrewMax has a 5.5-foot bed.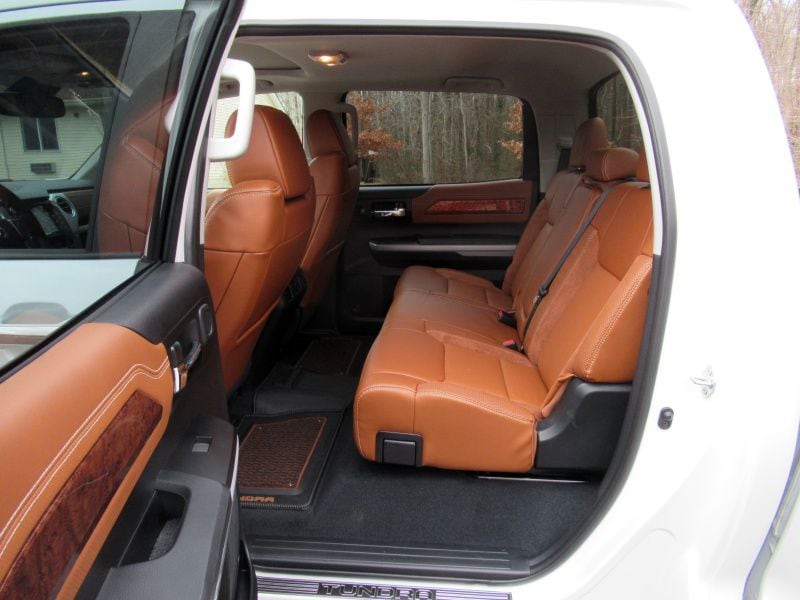 Photo by Brady Holt
Aging Cabin Decor
Toyota has repeatedly updated the Tundra's cabin over the years, including a redesigned dashboard in 2014 and a new infotainment system in 2020. That means that while the Tundra is far from cutting-edge, its cabin feels more like one generation old than two generations old — quite similar to the Ford F-150's cabin of a decade ago, to be exact, with twin pillars of false aluminum bookending a collection of buttons and knobs.
The new infotainment system is missing the extra-quick responses and extra-big screens of competing trucks, but the 8-inch screen included on all but the base model has decently crisp graphics and supports Android Auto and Apple CarPlay smartphone integration. Still, most controls are easy to understand, and there are lots of hard buttons that flank the centrally mounted touchscreen. Cabin build quality is generally solid, too. Our test truck's upholstery felt both sturdy and rich, and it coats not only the seats but also large areas of the dash and door panels. However, the extensive use of high-gloss woodgrain trim is a painfully dated styling cue.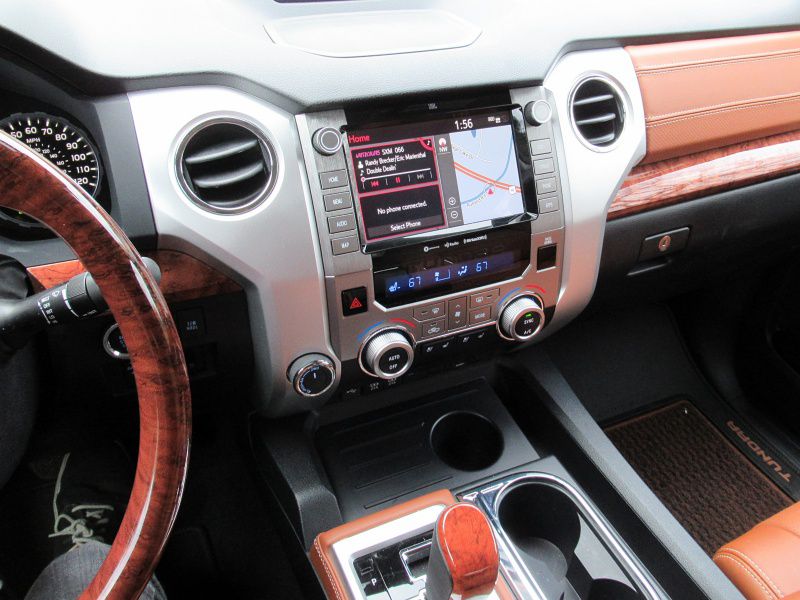 Photo by Brady Holt
Plenty of Power
While the Tundra once offered a choice of three engines, the only one left is its biggest: a 5.7-liter V8 with 381 horsepower and 401 lb-ft of torque, paired with a six-speed automatic transmission. That's nothing special compared to competitors with turbochargers or 10-speed automatics, but even after all these years, that output remains competitive. This V8 roars loudly, which some drivers will feel provide authentic flavor while others will write off as excessive.
The tradeoff to the big powerful engine and the lack of powertrain updates is fuel economy. At EPA-estimated 13 mpg in the city and 17 mpg on the highway, the Tundra's mileage is significantly worse than any competitor. Our test vehicle averaged just 14 mpg. At least it uses regular-grade fuel, unlike several competitors. Towing and payload have also fallen behind as other trucks rush to outdo each other. The Tundra tows up to 10,200 lbs and can handle a payload of up to 1,730 lbs. That's a lot by historical standards for a half-ton pickup but far below newer competitors — such as the Ford F-150's 14,000-lb towing capacity and 3,325-lb payload capacity.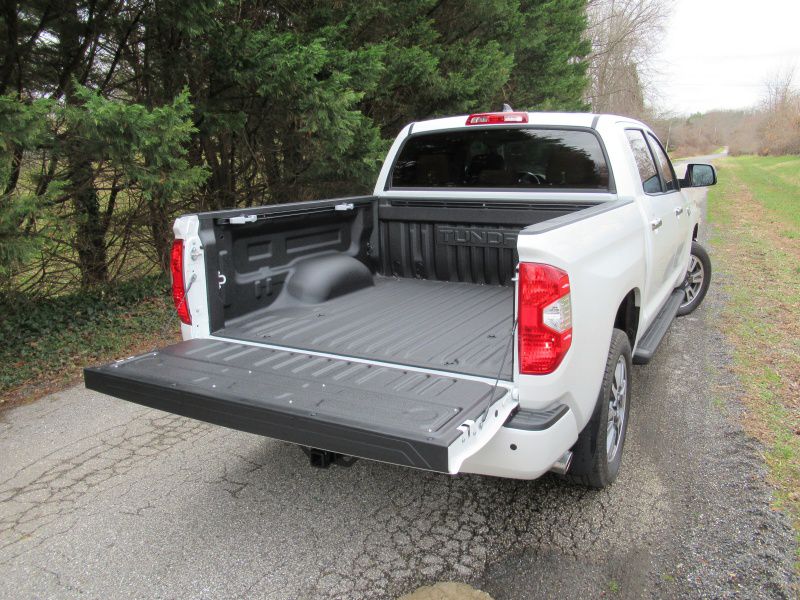 Photo by Brady Holt
Drives Big
Many full-size pickups have become unexpectedly agile. They're still huge, but they have the steering precision and suspension composure of vehicles that are at least a bit smaller.
Not so with the Tundra. This isn't an old-school pickup that hearkens back to the days of rough agricultural-grade machines, but nor does it meet that modern standard. The extra-light steering is vague and slow to respond, and the Tundra feels clumsy in cornering. You slow this truck way down to negotiate a turn. Perhaps you should in its competitors, too, but racetrack testing has proven that they have higher handling limits than the Tundra. At least the ride is decently smooth, even by the standards of today's pickup trucks.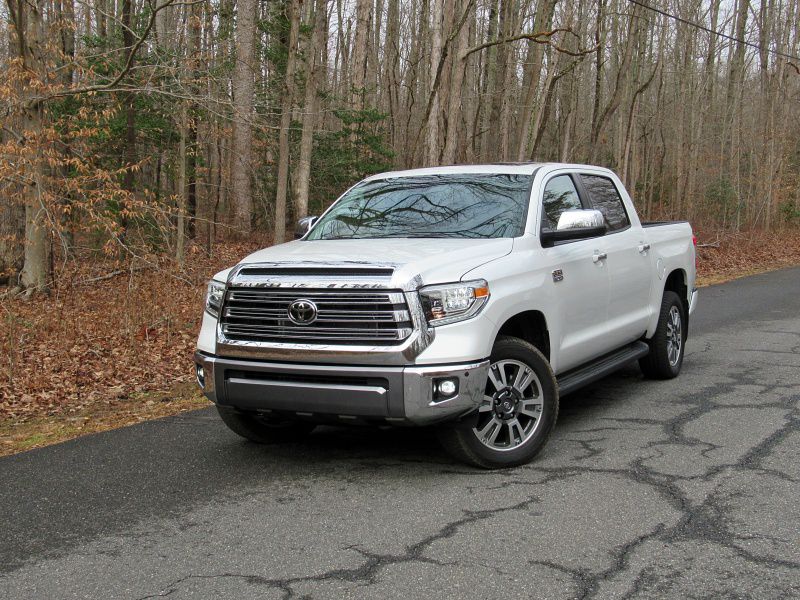 Photo by Brady Holt
Mixed Safety Record
The Tundra is a class leader for standard safety technology. Even the base model gets adaptive cruise control, a forward-collision warning with automatic emergency braking and pedestrian-detection capability, and a lane-departure warning with lane-keep assist. Blind-spot monitoring with a rear cross-traffic alert is optional or standard on most of the lineup, too. That's a lot of modern technology on the Tundra's old bones, and it works well.
Still, the Tundra's crash-test performance doesn't match its newer competitors. The National Highway Traffic Safety Administration gives it four out of five stars, a middling score. It did worse in the toughest Insurance Institute for Highway Safety small-overlap crash tests; the CrewMax scored Marginal for driver's-side impacts and the lowest Poor for passenger-side impacts. The Double Cab, tested only on the driver's side, scored Acceptable — a higher score than the CrewMax but worse than the competition, which all scored the top rating of Good. The Tundra scored Good in other IIHS crash tests, which was once a rare feat for big pickups but is now a given.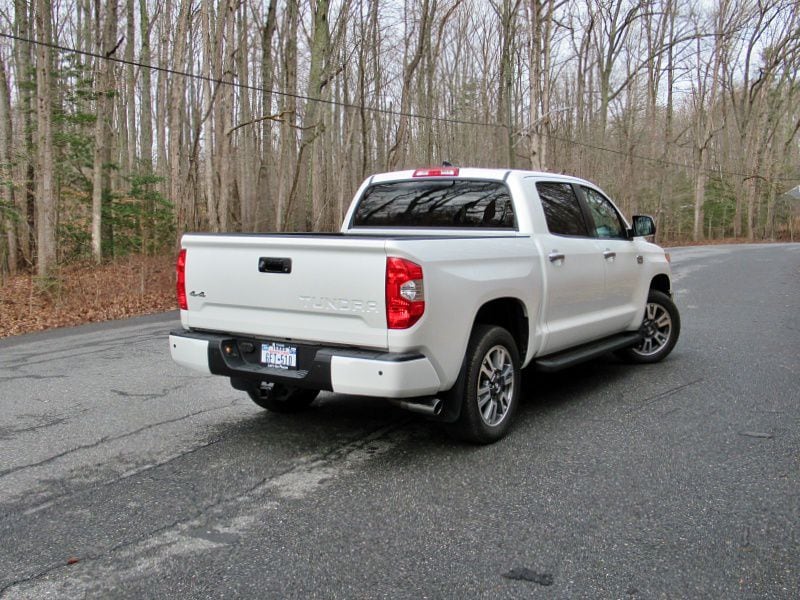 Photo by Brady Holt
Up-to-Date Competitors
The Tundra faces strong competitors in each of the Big Three pickups: the Ford F-150, the RAM 1500, and the Chevrolet Silverado 1500. The freshly redesigned Ford marries its powerful yet fuel-efficient turbocharged engines with improved interior decor, updated infotainment, and more features. The Ram continues to have a smoother ride and more lavishly finished cabin than fellow pickups. And the Silverado provides some traditional truck flavor without neglecting contemporary norms, and often for a bit less money than Ford or Ram. All three are also available with extra-economical diesel engines.
The Tundra is pretty clearly inferior to those trucks. They beat it easily for fuel economy, safety, towing and hauling, handling, and interior decor. But they also cost thousands of dollars more when comparably equipped, especially if you want the driver-assist technology they save for higher-end trim levels. The Nissan Titan — once a budget option like the Tundra — costs more, too; its price soared in recent years as Nissan prettied up its interior and added more features.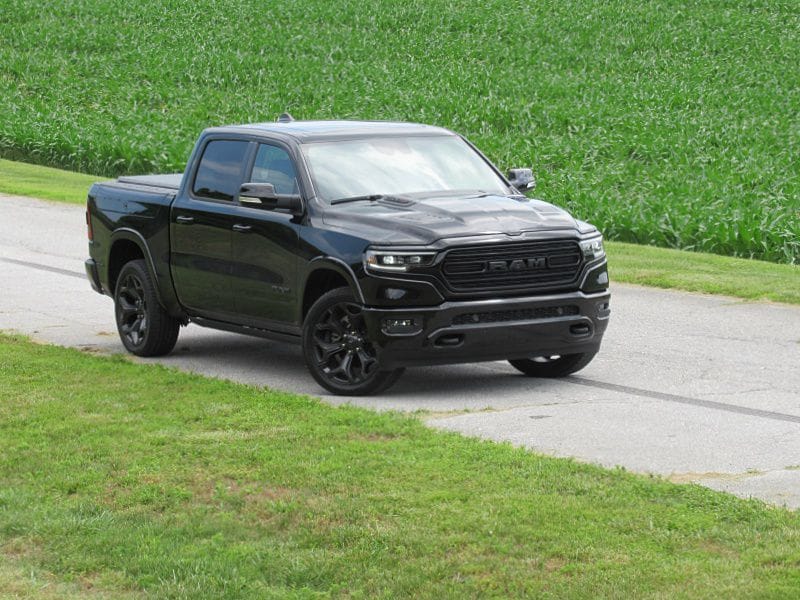 Photo by Brady Holt
Budget-Friendly Big Truck
Here's the big picture of a big pickup truck: It provides an abundance of size, power, comfort, and capability. If you take enough steps back, the Tundra covers all those bases for significantly less money than its best-selling competitors. And by adding modern safety, infotainment, and convenience features over the years, it avoids being a complete relic.
Detroit's big trucks go further, though. They drive better, they perform better in a crash, their interiors are more modern and high-tech, and they can tow and haul even more. Plus, if you drive enough miles, some of them will claw back against the Tundra's price advantage with their much lower fuel costs. To many buyers, all those advantages are worth a substantial price premium. If they're not, be sure to try out the 2021 Toyota Tundra. Act fast, too; the upcoming redesigned Tundra should be heavily improved, but we'd be shocked if the price doesn't go up.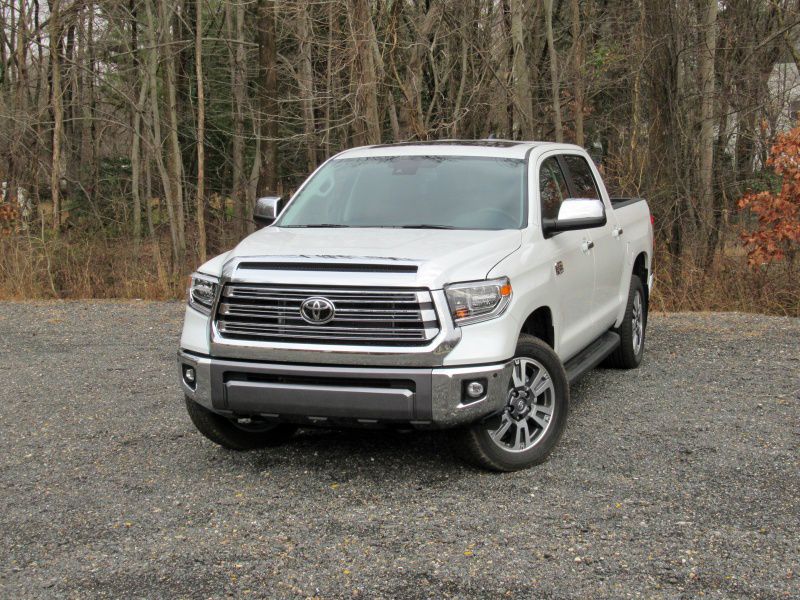 Photo by Brady Holt