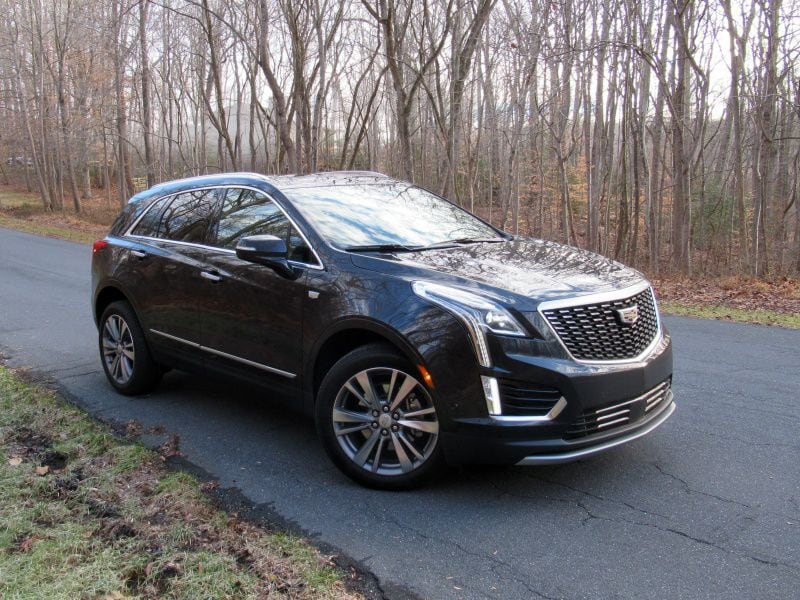 2020 Cadillac XT5 Black Front Three Quarter BH ・ Photo by Brady Holt
Cadillac is best-known for its full-size vehicles: the big sedans that once defined the brand, and today's flagship Escalade SUV. And its unexpectedly fun-to-drive sports sedans also grab headlines. But its best-seller last year was the XT5 mid-size crossover, and Cadillac has updated it for 2020 with revised powertrain options, more standard features, upgraded infotainment, and refreshed styling.
Until recently, the five-passenger XT5 was Cadillac's only crossover SUV. It now slots between two recently introduced models — the compact XT4 and the seven-seat XT6 — and competes most closely against the Lexus RX 350 and Lincoln Nautilus. Cadillac's distinct styling language sets the XT5 apart from the competition in an instant, and it also brings several intriguing features you won't find on other brands' SUVs. Prices start at $44,095.
Hints of Tail-Fin Heritage
Perhaps the most famous Cadillacs in history are its gloriously extravagant models from the late 1950s, notable for their enormous tail fins. Modern Cadillacs don't have tail fins, but they retain the slim vertical taillights that evolved from that uniquely American design scheme. The Cadillac XT5, like most other Cadillacs from the last couple of decades, extends this to the front end as well. The headlights sit high up on the front fenders, with a spear extending down to join a vertical foglamp below.
The 2020 model year brought a new mesh grille and revised front and rear bumpers, but you'd be hard-pressed to notice the changes from the outgoing model sold from 2017 to 2019. Even that one looks pretty similar to the 2010-2016 Cadillac SRX that it replaced. Cadillac didn't use this styling update to bring the 2020 XT5 in line with its latest models — the XT6 crossover, the CT4 and CT5 sedans, and the upcoming 2021 Escalade SUV. In contrast to the XT5, these Cadillacs share a more squared-off front end with less-vertical headlights.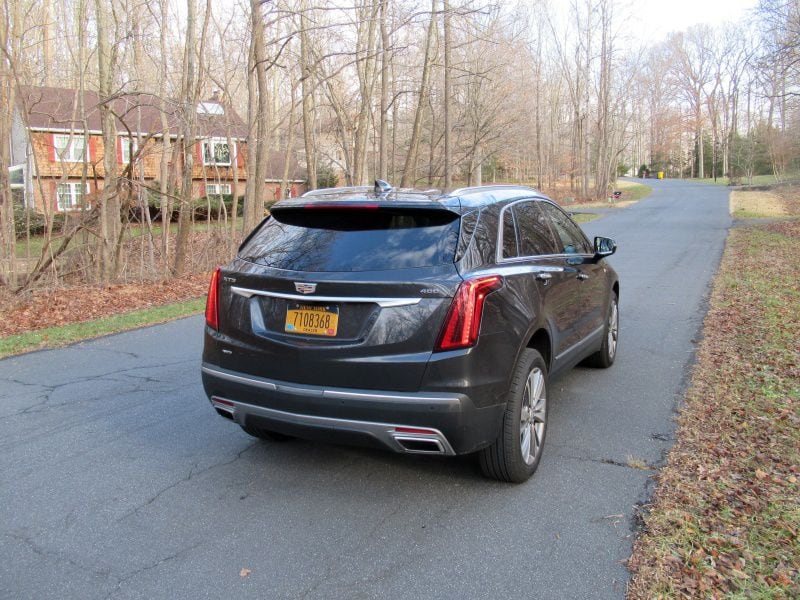 Photo by Brady Holt
User-Friendly Controls
Inside the updated 2020 Cadillac XT5, the crossover features an overhauled infotainment system and more user-friendly controls. New physical audio and infotainment buttons and knobs sit on the center console between the front seats — including a volume knob, a welcome upgrade over last year's fussy buttons — and the 8-inch infotainment touchscreen has also become easier to use. The dashboard still looks sleek and clean, with buttons hiding within a flush surface.
Some luxury cars do have fancier or higher-tech cabins, though. While the XT5 offers some rich materials, particularly on upper-trim models, even our $68,115 test vehicle also had areas of hard, cheap plastic. However, although the Lexus RX offers a bigger 12.3-inch touchscreen, both it and the Lincoln Nautilus also have imperfections in their cabins. None of the three has an Audi-grade interior, though they also don't have Audi-grade prices.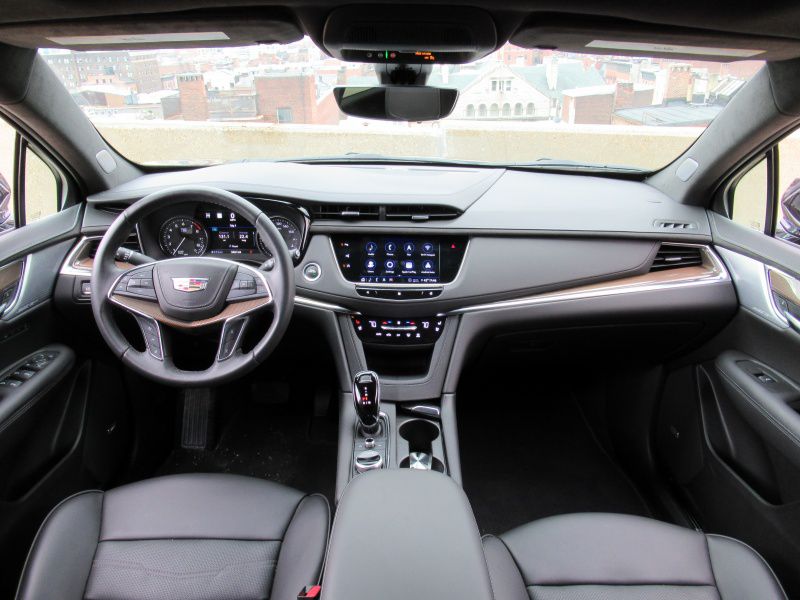 Photo by Brady Holt
Seating for Five
Like the smaller Cadillac XT4, but unlike mid-size crossovers such as the Acura MDX and Volvo XC90, the XT5 is exclusively a five-seat crossover. The XT5 distinguishes itself from the XT4 with a roomier rear seat, with additional legroom and more space for a fifth passenger. But the difference isn't as dramatic as you might expect, especially given the XT4's base price that's some $8,000 less. The Nautilus and RX 350 also have more generous rear legroom and headroom than the XT5.
The XT5 is more impressive for its cargo capacity: 30 cubic feet behind the rear seat and 63 cubic feet with the rear seat folded down. That's still not quite as much room as the Nautilus, but it handily trumps the RX 350 and the XT4. For even more hauling, the XT5 can also tow up to 3,500 pounds.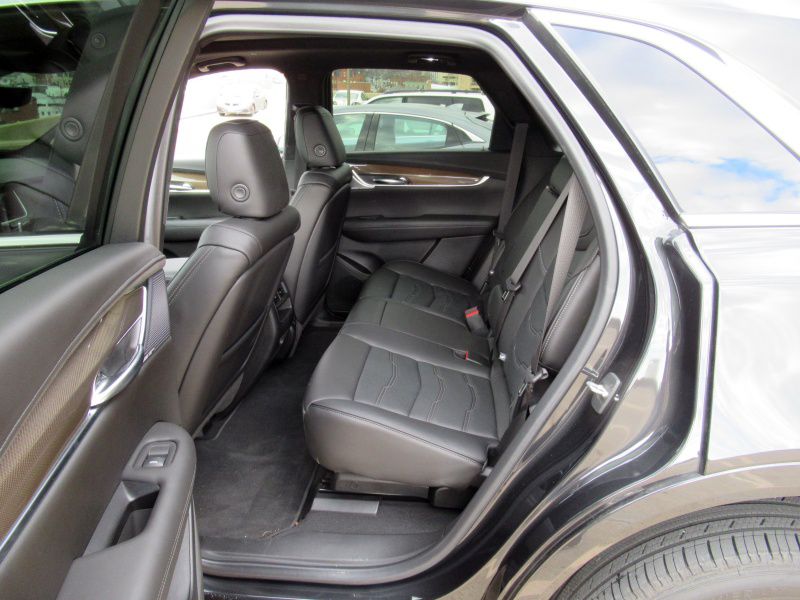 Photo by Brady Holt
Choice of Engines
Until this year, the Cadillac XT5 was sold only with a 3.6-liter V6 engine. This year brings a new 2.0-liter turbocharged four-cylinder engine, which is standard on most trim levels. It's not especially powerful for a mid-size luxury SUV, making 237 horsepower and 258 lb-ft of torque. But it's fuel-efficient, managing EPA ratings of 21 mpg in the city, 28 mpg on the highway, and 24 mpg combined with front-wheel-drive and about 1 mpg less with the optional all-wheel-drive.
Our test vehicle had the optional V6, which produces 310 horsepower and 271 lb-ft of torque. It's now mated to a nine-speed automatic transmission instead of last year's eight-speed, and the new transmission helps the engine accelerate more quickly. However, gas mileage surprisingly slips by about 1 mpg compared to last year's V6, to EPA ratings of 18 mpg in the city, 26 mpg on the highway, and 21 mpg combined with front-wheel-drive. Once again, AWD knocks off about 1 mpg. Our V6 AWD vehicle edged out the EPA estimates to average 22 mpg in a weeklong test. The V6 also uses less-expensive regular-grade fuel, while Cadillac recommends premium in the four-cylinder.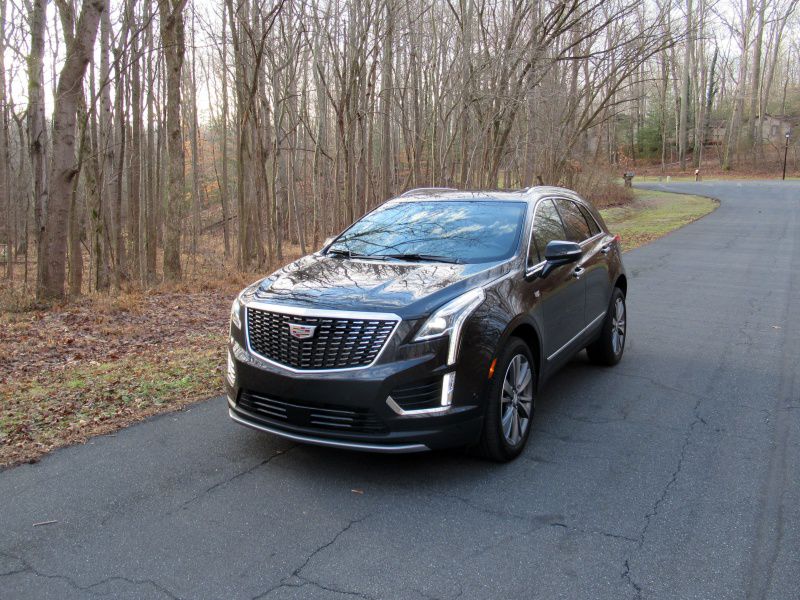 Photo by Brady Holt
Ordinary Driving Experience
Like the Lincoln Nautilus and Lexus RX 350, the Cadillac XT5 is essentially a luxury version of a less-expensive crossover — in this case, the GMC Acadia. That means it doesn't have the extra-polished driving experience of a BMW or Mercedes-Benz that was built from the ground up as a luxury car. It's generally comfortable and quiet, just not amazingly so.
Our tested XT5 included the optional real-time suspension system intended to keep the ride steady on smooth pavement yet compliant over broken pavement, but its big 20-inch wheels meant bumps could still pound through. A newly available Sport model has a sport-tuned suspension for superior handling agility, though no XT5 is much of a performance car. The steering feels natural and responsive, not super-loose like some SUVs, but the XT5 isn't the crossover we'd choose for spirited driving.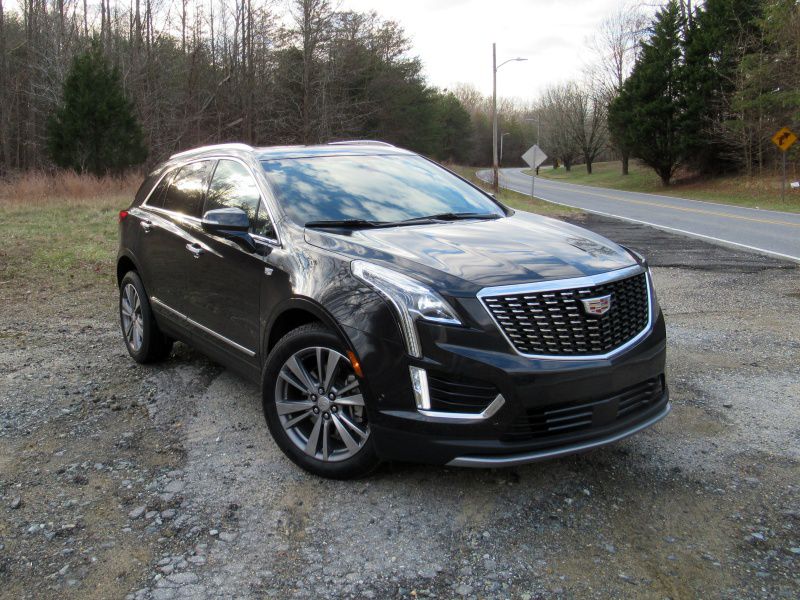 Photo by Brady Holt
More Standard Safety
For the 2020 model year, Cadillac has filled the XT5 with extra standard safety features. Newly standard equipment includes a forward-collision warning with pedestrian detection and low-speed automatic emergency braking, a lane-departure warning with lane-keeping steering corrections, and General Motors' exclusive Safety Alert Seat. Rather than beeping at you, the car vibrates the driver's seat to alert you to danger.
However, other valuable safety and driver-assist technologies remain extra-cost options or limited to pricier trim levels. These include adaptive cruise control, full-speed automatic emergency braking, and blind-spot monitoring with a rear cross-traffic alert — items that are standard equipment even on many mainstream-brand cars. More-exclusive XT5 options include a head-up display, rear automatic braking with pedestrian detection, and even an infrared night-vision system. Strong crash-test scores and GM's OnStar assistance round out the XT5's safety record.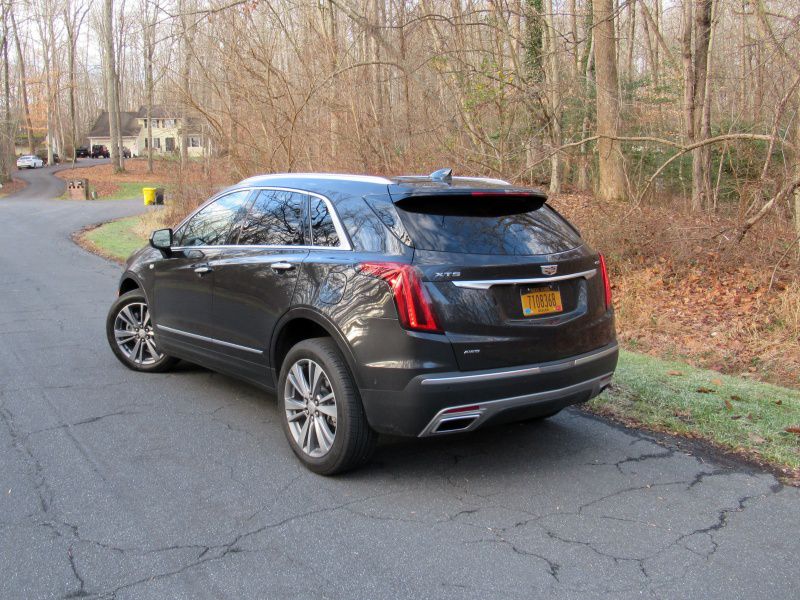 Photo by Brady Holt
Upmarket Pricing
Now that Cadillac sells the XT4 as its entry-level crossover, it has increased the XT5's base price from $41,695 to $44,095, plus a $995 destination charge. You do get more standard features for your money than last year, including heated front seats and the safety technology we mentioned. Carryover equipment includes imitation-leather upholstery, a power liftgate, and power adjustments for the front seats and steering wheel column.
Like other Cadillacs, the entry-level model is called Luxury, and buyers can upgrade to either the Premium Luxury for $48,795 (like our test vehicle) or the newly introduced Sport ($55,095). Their upgrades include leather upholstery, a sunroof, a hands-free liftgate, rain-sensing windshield wipers, and blind-spot monitoring with a rear cross-traffic alert. Every Sport model adds a continuously adaptive suspension, a V6 engine, and bigger alloy wheels, which are also optional on the Premium Luxury. Overall, the XT5's base price stays reasonable for a mid-size crossover — for comparison, a Mercedes-Benz GLE starts at $54,250 — but it can rise more quickly than we'd like. This isn't the bargain choice of its segment.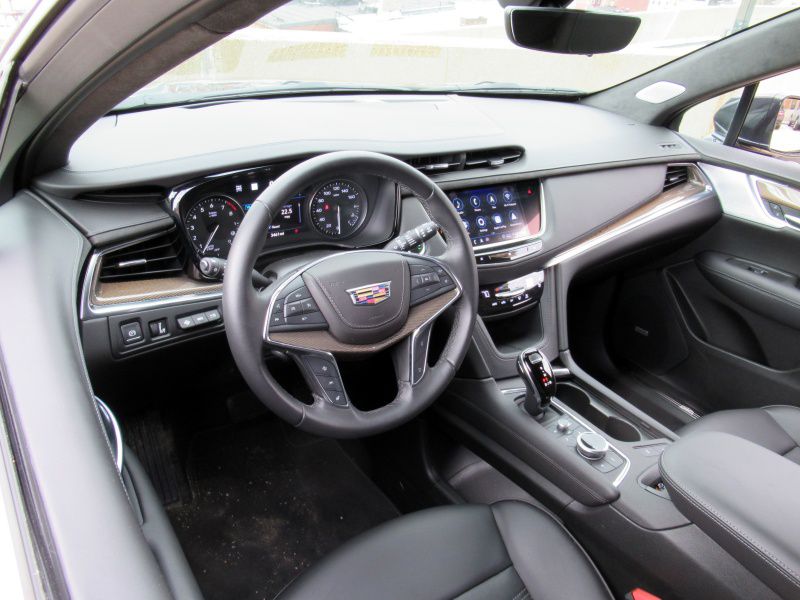 Photo by Brady Holt
Strong Competitors
Throughout this review, we've focused on the XT5's two closest competitors: the Lexus RX 350 and Lincoln Nautilus. Each has notable pros and cons versus the Cadillac. The Lexus has aggressive, love-it-or-hate-it styling, and it's also notable for cushy seats and fuel-efficient engines (including a gas-electric hybrid option), along with lots of standard safety tech. But its styling leaves it with surprisingly skimpy cargo space, and its controls are less user-friendly than the Cadillac's. Meanwhile, the Nautilus is smoother, quieter, and more spacious than the XT5, and it also has more standard safety features. But for better or for worse, its styling isn't as distinctive inside or out as the Cadillac's.
We'd also consider the Acura RDX, which is technically a size smaller than the XT5 but which nearly matches it for spaciousness and power — at a much lower price. Its high-tech-flavored interior might be off-putting to some buyers, though, and its controls have a steeper learning curve. Other excellent compact luxury crossovers that could rival the XT5 include the BMW X3 and Volvo XC60, and prospective XT5 buyers would do well to consider Cadillac's own XT4 as well.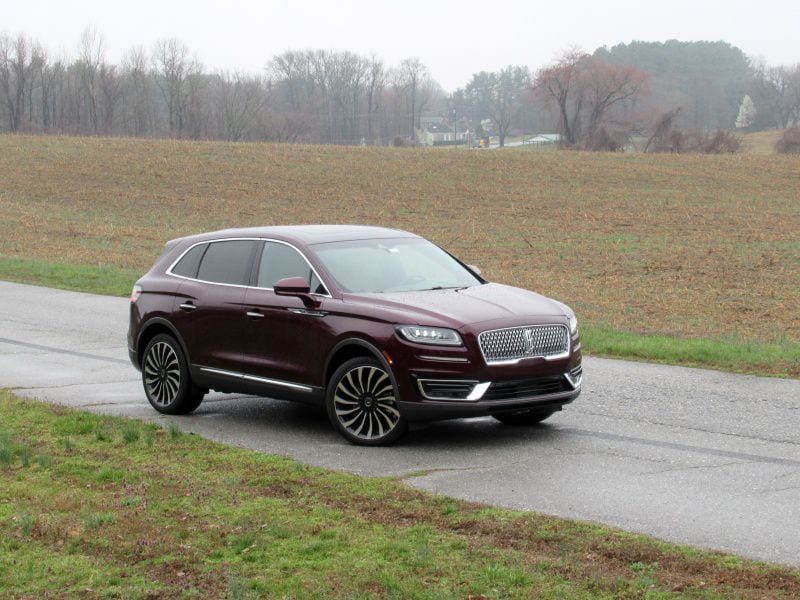 Photo by Brady Holt
Final Thoughts
The XT5's updates make this Cadillac safer, more user-friendly, and — if you choose the new base engine — more fuel-efficient. That's great news if you love how it looks, love its unusual night-vision system and vibrating-seat alerts, or are loyal to your local Cadillac dealer.
We weren't blown away with the XT5's driving experience or its interior decor, though, especially given our test vehicle's price tag near $70,000. You might find that this comfortable, unique-looking mid-size crossover has just the right flavor for you. But there are some excellent alternatives you might want to check out, too.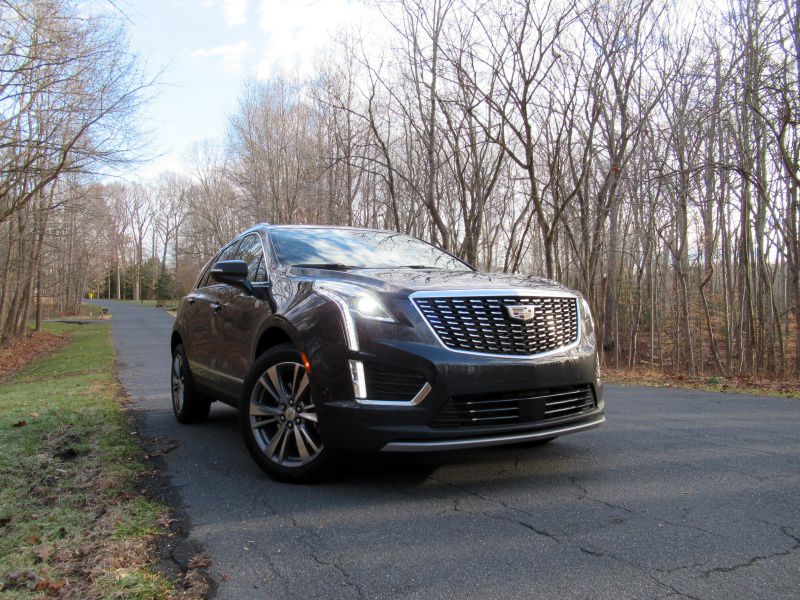 Photo by Brady Holt