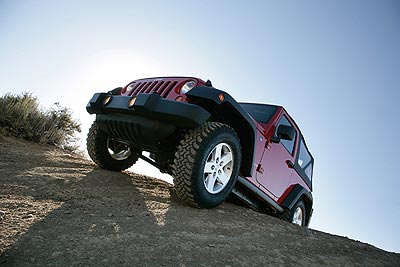 Some would say that comparing the Jeep Wrangler Unlimited to a Hummer H3 is like matching a bass boat against a houseboat. And perhaps that's true…but we were surprise at how much these SUVs have more in common: both have been deployed for military duty, both boast a hard-core off-road pedigree, and of course sport very similar grilles (Jeep would say too similar). Given Jeep's new design, Hummer could also rightly claim that the Unlimited looks a bit too similar to the H3. They also share a lineage to the American Motors family. Intrigued after getting an opportunity to drive each – at different times – over the same terrain on the Rubicon Trail, we took a second look, compared notes and came up with some interesting differences and similarities.
2007 Jeep Wrangler – What's New
All-new, the 2007 Jeep Wrangler Unlimited represents the first four-door Wrangler model offered by Jeep, with seating for up to five passengers, and increased cargo capability. Wrangler is Jeep's signature off-road vehicle, and the Unlimited model now expands utility while retaining its tough-terrain abilities. Its Rubicon edition adds further backcountry competence, with a collection of bolder-climbing hardware that's hard-wired on the assembly line and, therefore, warranted by the manufacturer.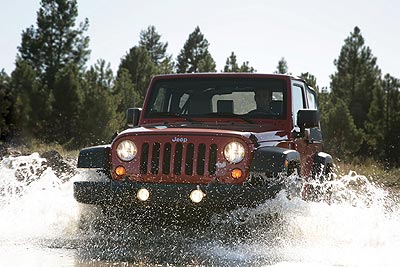 2007 Hummer H3 – What's New
Though certainly not new for 2007, Hummer's newest H3 does come with more power for the model year. This rig appeals to customers who desire the brand's image, but don't wish for the size and cost of the big brother H2. At almost 17 inches shorter than the H2, the baby Hummer retains the same Big-Daddy gangster appearance that has defined this brand, but also sports an efficient five-cylinder engine that has proven more practical. An Adventure Package brings increased capability in the lands where the pavement ends and off-road fun begins.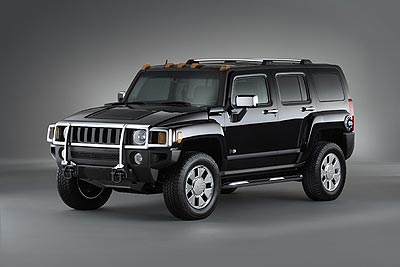 Jeep – Military history
Jeep and Hummer are civilian brands today, but each has roots as effective military vehicles. Hundreds of thousands of Willys MBs were produced during World War II, and were popular among soldiers for their powerful engines and the General Purpose flexibility. The models became known as the 'GP,' or Jeep. Long before the HUMVEE dominated Army fleets and took command of the TV-nightly-news image of today's war-zone coverage, Jeep vehicles played a critical transportation role, and still do today. Jeep even produced a special Wrangler Willys edition to commemorate this World War II hero.
HUMVEE – Military History
The High Mobility Multipurpose Wheeled Vehicle, or HUMVEE, was commissioned in 1986 and has been a regular on the battlefront since the Gulf War. The tank-like military model inspired the publicly available H1, a recently discontinued version that was once championed by Arnold Schwarzenegger. The governor of California went on to purchase nine H1s altogether. Although the H3 is a good amount smaller and based in platform on GM's Chevy Colorado/GMC Canyon pickup trucks, it retains design characteristics worthy of deployment.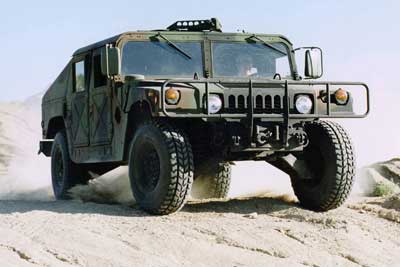 2007 Jeep Wrangler Unlimited – Powertrain
Jeep offers a new engine in the 2007 Wrangler Unlimited that produces more horsepower and torque than the previous unit. The 3.8-liter V6 engine yields 202 horsepower and 237 lb.-ft. of torque, bettering the old inline-six's 190 horses and 235 lb.-ft. Standard six-speed manual and optional four-speed automatic transmissions provide improved fuel economy, despite the engine's power and vehicle's curb weight increases (300 lbs. heavier). Jeep reports a fuel economy of 17/19 (manual, 16/19 auto) for its new Wrangler Rubicon Unlimited. (Of note, the 2006 Rubicon Unlimited achieved 15/19 with manual and 14/18 with the auto, making the new model more efficient, though 2008 EPA adjustments will likely take care of that).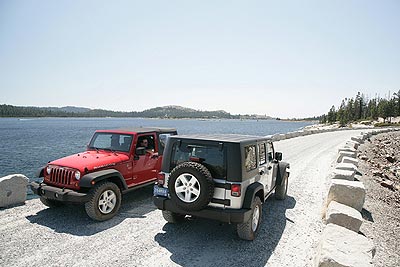 2007 Hummer H3 – Powertrain
Hummer has updated the 2007 H3's engine despite this model being relatively new. The former 3.5-liter motor is replaced by a new 3.7-liter unit good for 242 horsepower and 242 lb.-ft. of torque, increases of 22 and 17, respectively. Both five-speed manual and four-speed automatic transmissions are offered. Hummer posts a fuel economy rating of 15/19 for the new H3.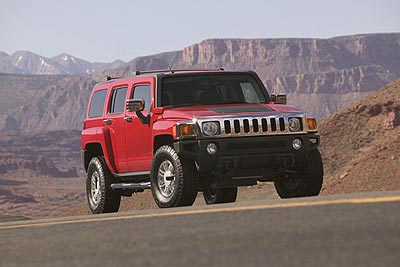 2007 Jeep Wrangler Unlimited – 4WD
The 2007 Wrangler Unlimited is available in 2WD and 4WD configurations. The Unlimited X and Sahara 4WD models are engineered with a second-generation Command-Trac system that has a two-speed transfer case and 2.72:1 low range ratio. An optional limited-slip rear differential supplements the part-time 4WD system. Stepping up to Rubicon trim yields the Off-Road Rock-Trac two-speed transfer case with 4.0:1 gearing, front and rear electric axle lockers, an active front sway bar that disengages and 32-inch B.F. Goodrich tires.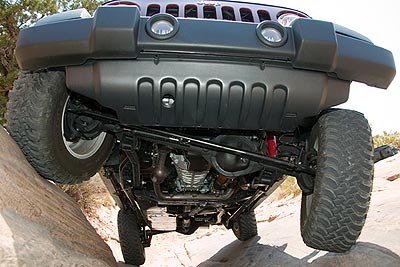 2007 Hummer H3 – 4WD
All 2007 Hummer H3s arrive with a two-speed 4WD transfer case by Borg-Warner. The standard low range ratio is 2.64:1, but a 4.03:1 gear is available for more intense obstacle clearing when the Adventure Package is optioned. Other Adventure gear includes a fully locking rear differential, shock absorbers tuned for off road driving and 33-inch Bridgestone tires.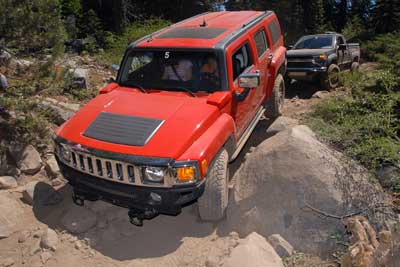 2007 Jeep Wrangler Unlimited – Nuts and Bolts
Underneath the bodywork, the 2007 Wrangler Unlimited benefits from a frame that is engineered with traditional live axles front and rear with a Dana 30 front and heavy-duty Dana 44 rear unit. Rubicon models come with Dana 44s at both ends. Jeep employs a re-circulating ball steering setup; one they claim is the stiffest possible steering linkage in a solid-axle vehicle. The Wrangler also gets four-wheel disc brakes with ABS. Tire choices range from 225/75 on 16-inch wheels up to 255/70s on 18 inchers. Rubicon gets an exclusive LT255/75R17 B.F. Goodrich Mud Terrain tire.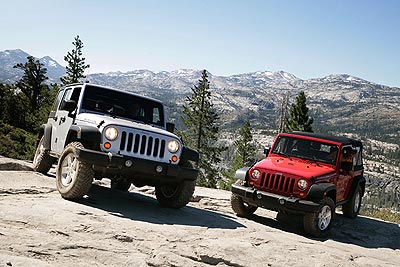 2007 Hummer H3 – Nuts and Bolts
The H3's front suspension relies on an independent torsion bar and large 36-mm stabilizer bar. Out back, dual-stage leaf springs, gas-charged shocks and a 25-mm stabilizer bar dictate handling. In contrast to Jeep's steering system, Hummer is set up with the more modern rack-and-pinion setup. Four-wheel discs with ABS are included, and the front rotors are half an inch larger in diameter than those of the Jeep. Hummer H3s ride on 16-inch wheels wrapped in either 265/75 Goodyears or 285/75 Bridgestones. Special H3x street models wear exclusive 18-inch wheels and tires.