We got your caterpillar tracks, vinyl minivans and carbon fiber right here.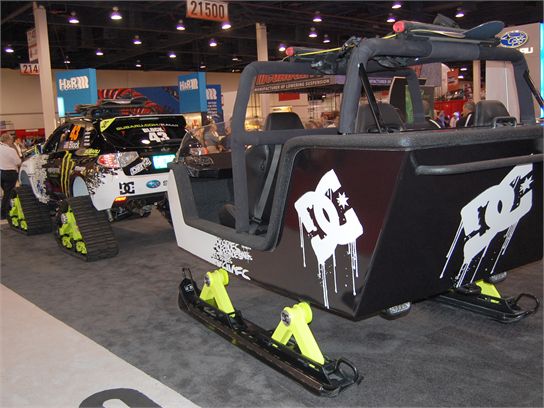 The SEMA Show — the biggest, craziest, and by far the most extravagant automotive trade show in the world. With more than 2,000 exhibitors, a million square feet of Las Vegas Convention Center floor space (that's nine miles worth of aisles) and 100,000 people milling through the seemingly endless halls, finding something you love (and something you hate) is virtually guaranteed. Since being an average joe car lover isn't enough to get you in — you have to be part of the auto industry to gain entry — we teamed up with CarDomain to give you a little taste of the madness that's behind the doors of the automotive aftermarket's heavyweight event.
Page 2
You can't throw a rock at SEMA without hitting something made out of carbon fiber, but even in this sea of lightweight material, this Mustang stood out. All the bodywork is made out of carbon fiber, and while we didn't find out exactly how many pounds lighter this Pony is from stock, it looks so trick, we don't even care. Only 10 will be produced, all featuring in-car adjustable shocks, 550 hp, and sweet 2-piece HRE wheels with carbon fiber outer rims.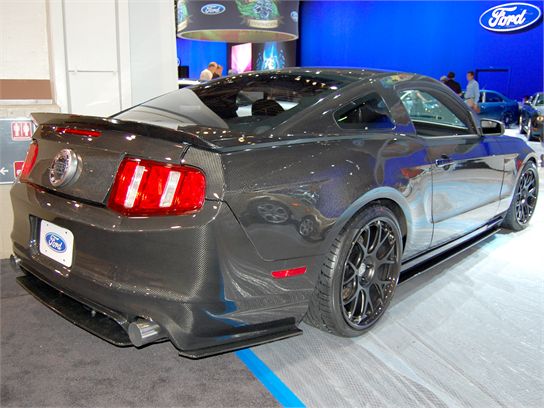 Page 2
Pontiac is a goner, the 2010 Chevy Camaro rocks, and there's no hope for a Trans Am version — what do you do? Famed GM performance shop Lingenfelter put together this striking Camaro LTA concept with an LS-based 455 cu. in. engine putting out 655 hp. The body is heavily revised in a more traditional Pontiac style with a shaker hood, functional front fender vents, new rear quarter panels, and of course a new front fascia. The interior transports you right into the 70s, especially the blue vinyl. No word on whether a giant screaming chicken will be offered on the hood in the future.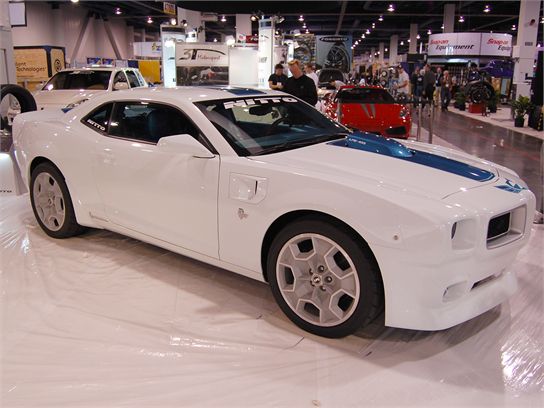 Page 2
Lexus vehicles are usually subtle, but this one left subtlety far behind and isn't looking back. Brian Fox's 2010 IS 350C convertible puts out 405 supercharged horsepower and has no trouble standing out in a crowd with its custom BASF Foxy Green paint. A specialized IS-F body kit with a wide-body rear, 20-inch forged wheels, Seibon carbon fiber ducktail wing, and a custom leather-wrapped roll bar give it a more aggressive presence. An F-Sport exhaust and 6-piston front brakes round out the performance modifications.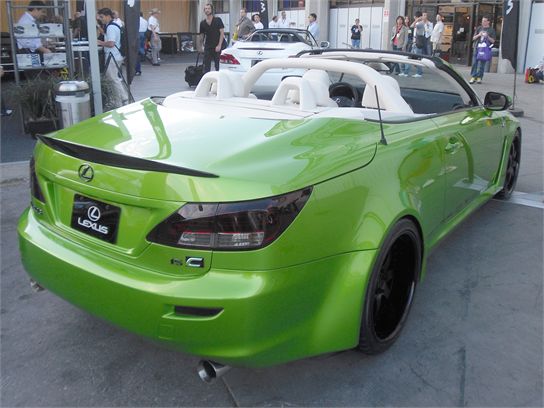 Page 2
The 1320 is an SRT8 optimized for the dragstrip; the package includes a 550 hp aluminum 426 Hemi run through long-tube headers and a Corsa exhaust, a Dana 60 locking rear end with Dynashaft axles, and a stripped-out interior with Viper seats. Carbon fiber accents on the exterior include the hood, spoilers, and headlight buckets, but they're not in-your-face carbon fiber – it's all integrated into the 1320's awesomely nasty acid-yellow-and-satin-black paint scheme. Clever details abound, including Mopar cop car wheels, and the two inboard headlights deleted to make room for air induction ducts.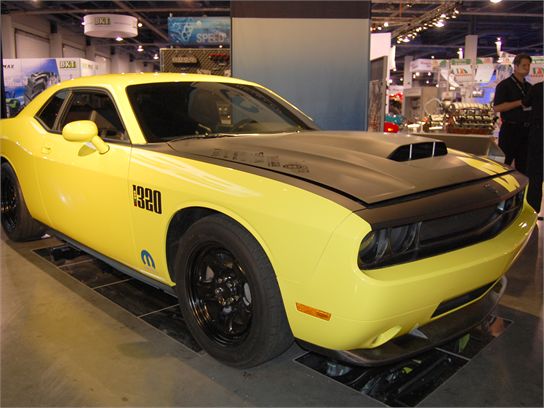 Page 2
The purveyor of all those fantastic gymkhana videos built the ultimate snow machine. Ken Block took a Subaru WRX STI rally car and had Vermont SportsCar give it 400 hp, special shocks, and caterpillar snow tracks so he can combine two of his favorite things: driving rally cars and snowboarding. He even had a custom fiberglass sleigh created to be pulled behind the TRAX STI that can carry four friends, their boards and all their gear. We want to be friends with Ken Block.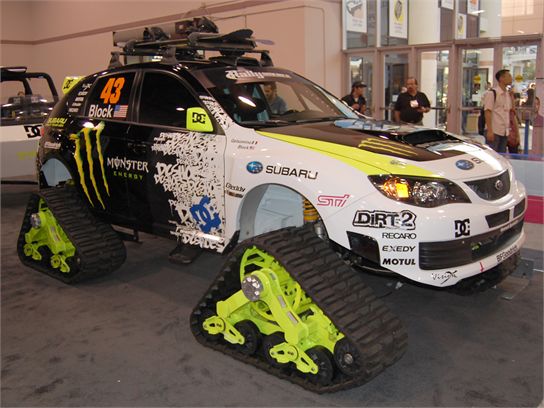 Page 2
This was a surprise at this year's SEMA – a rare Devon GTX. The California-based design studio and upstart automaker created the GTX as an American answer to the ultra-exclusive sports cars hailing from Europe. It has an 8.4-liter V10 putting 650 hp to the rear wheels through a 6-speed manual gearbox. Think of it as a designer Viper. The coupe is available in two versions, a standard version and a more track-focused variant. Devon produces 36 cars each year, carrying a price tag of $500,000, with a racing package commanding another $25,000.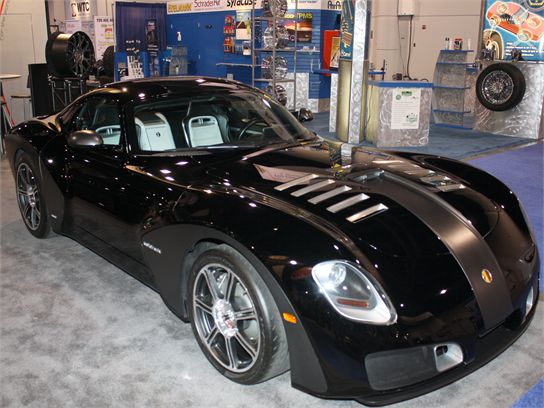 Page 2
At 1995 lbs., the Lotus Elise is one of the lightest cars on the road, and you'd figure that with Seibon's all carbon body, it'd be significantly lighter than stock. But since the Elise's body is already made out of hyper-light composite, all this expensive work actually made the car heavier, which is kind of lame. The car looks just plain awesome, though, and we do love the way the mirrors are mounted up on the fenders.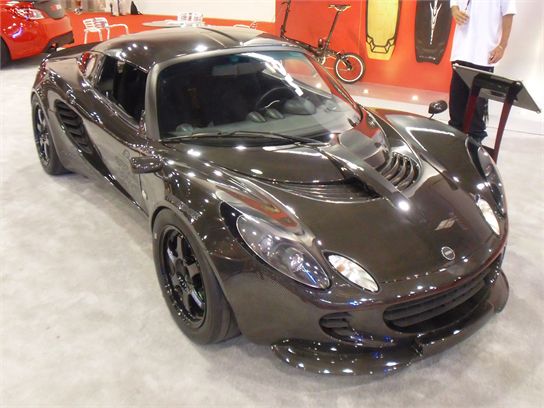 Page 2
At the Hyundai booth this year, it was mainly about the Genesis Coupe. Of the three tuned offerings on display, the clear standout was Rhys Millen Racing's mid-engine 480-hp V8 version. The engine bay was absolutely beautiful, and while it and the interior were packed to the gills with carbon fiber bits, the overall effect was almost subtle, and the orange paint looked like six miles deep. The engine was Hyundai's own Tau V8, and the rear quarter windows were converted to carbon fiber vents to feed air to it in that enclosed rear engine bay.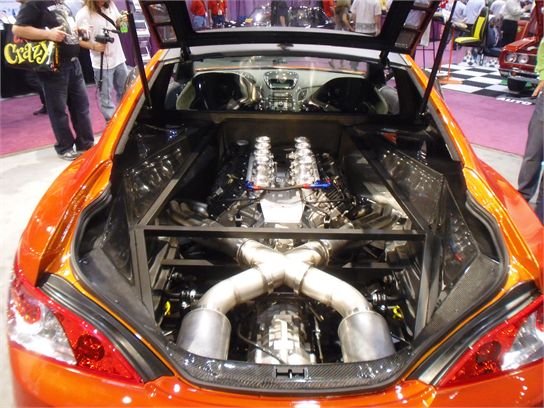 Page 2
Well, NASCAR's Nationwide Series might not be getting a Camaro, but Formula Drift sure is! Check out Grunewald Racing's new drift Camaro, which will be competing in the 2010 season. It's running a GM LS-A crate motor with internal mods by Hennessey Performance. Carbon fiber front clip, decklid, and spoilers are by Seibon, and the carbon fiber driveshaft is by PST. Aeromotive handles the fuel delivery, AEM the engine management system. It's also running Eibach MultiPro R-2 coilovers and front and rear sways. Rubber (you guessed it) by Hankook, and the beast will be piloted next year by Conrad Grunewald. Do you think it'll have anything for the now-veteran drift Mustangs?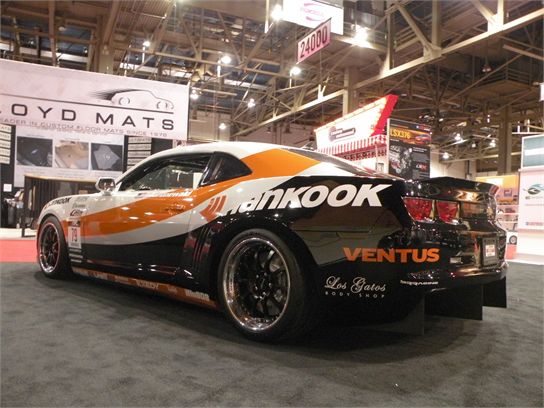 Page 2
According to the guys at the Falken booth, Vaughn Gittin Jr.'s Mustang is the only 2010 currently in Formula D, and the car is expected to run a full season next year. Under the hood is a Whipple-supercharged 4.6L Aluminator V8 by Ford Racing, putting out 680 hp and 650 lb.-ft. torque, mated to the same 4-speed gearbox they run in their NASCAR program. We're thinking that Hankook Camaro had better watch out!