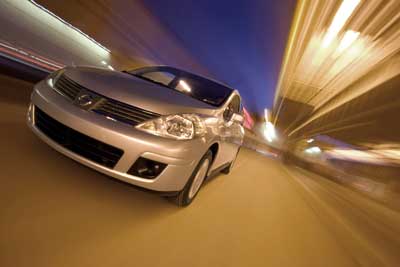 With no end in sight to the rise in fuel prices and continuing increases in the cost of living, American consumers are dumping their once cherished SUVs in favor of smaller, more affordable vehicles. Honda, Nissan and Toyota are right on track with the trend toward impressive utility in small packages by introducing the Fit, Versa and Yaris, respectively, for the 2007 model year, thus taking the lead in combining fuel efficiency and practicality while creating some of the most sought-after cars outside of the hybrid market. For 2007, however, Nissan clearly rules the roost. In addition to small-outside, big-inside fuel sipping Versa, the Japanese automaker is giving its entire sedan lineup an overhaul. The Sentra is redesigned for the first time since the Clinton Administration, and it's a sharp looking little ride. Think Maxima Jr., and you won't be far off the mark. Sentra's distinctive Euro-influenced styling makes it look more expensive than it is, and the car has grown in size. Nissan's bread-and-butter sedan, the Altima, is also all new for 2007, representing an evolutionary rather than revolutionary change. Finally, the Maxima flagship gets spiffed up to give it legs until a complete overhaul arrives a few years from now. Nissan isn't the only manufacturer making waves this year; just the biggest ones. Toyota's got an all-new Camry for 2007, complete with a new hybrid model that goes like a V6 but sips fuel like a four. Volkswagen marks the return of the Rabbit, complete with a cute bunny logo on the hatchback, and Suzuki debuts a fun little all-wheel-drive model called the SX4. Kia and Hyundai are coming to market with complete redesigns, too, in the Optima and Elantra, and Dodge has replaced the dowdy Neon sedan with a funky little hatchback called the Caliber. Whatever your needs and desires for a new family-style vehicle, one thing is certain: people want something that gets better gas mileage. Ready to learn more about these cars and others? Read on…
Chevrolet Aveo
Chevrolet has given the Korea-built 2007 Aveo an update in the face of stiff new competition from Japan. Inside and out the styling has been upgraded for a more substantial look and feel. Under the hood, the 2007 Chevrolet Aveo sedan contains a 103-horsepower four-cylinder engine that drives the front wheels through a five-speed manual transmission. Chevrolet says this powertrain can get 35 mpg on the highway. A four-speed automatic is optional for folks who can't, or don't, row their own gears. Power steering is standard, and antilock brakes are optional. On the safety front, Chevrolet installs dual-stage front airbags and side-impact airbags, but there are no side-curtain airbags like in the competition. Nevertheless, Chevrolet claims that the 2007 Aveo will achieve five-star safety ratings during impacts with vehicles of similar size and weight based on NHTSA frontal crash-test scores for the structurally-identical 2006 model.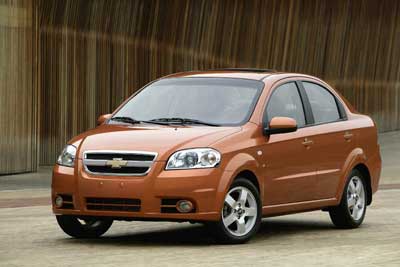 Dodge Caliber
Rather than replace the Neon with another bland econo-sedan, Dodge debuts the 2007 Caliber, a smart hatchback with bold design that makes it hard to mistake the car for anything else. Available with front- or all-wheel drive, the Caliber's power is sourced from your choice of four-cylinder engines including a 1.8-liter, 148-horsepower motor; a 2.0-liter, 158-horsepower unit; or a 2.4-liter engine that generates 172 horsepower. A five-speed manual is standard, and a continuously variable transmission (CVT) is offered for people who don't want to shift their own gears. Highlights include a cooled storage box in the dashboard, flip-down speakers in the cargo area for blasting music during outdoor parties, and a 300-horsepower version dubbed the SRT-4.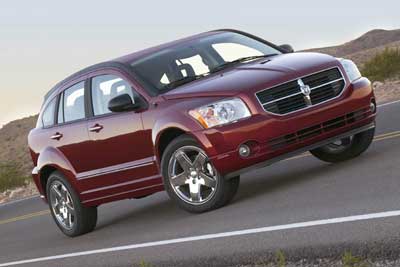 Honda Fit
Engineered for a sporty driving demeanor combined with impressive room for five and unparalleled utility in a tiny package, the 2007 Honda Fit was originally intended for sale only in overseas markets, but with the larger and more powerful Civic moving upscale for 2006, Honda felt that the Fit would do just fine as its new entry model in America. Powered by a 109-horsepower, 1.5-liter, four-cylinder VTEC engine mated to either a five-speed manual transmission or a first-in-class five-speed automatic transmission, the Fit is rated to deliver fuel economy of 33 mpg in the city and 38 mpg on the highway. This new entry-level vehicle comes with top-of-class feature content, including six airbags. There's also a Sport model equipped with paddle shifters (if you order the automatic transmission) and a 160-watt six-speaker audio system. Fit owners will also have a wide variety of accessories to choose from, including the segment-exclusive Honda Apple iPod Music Link.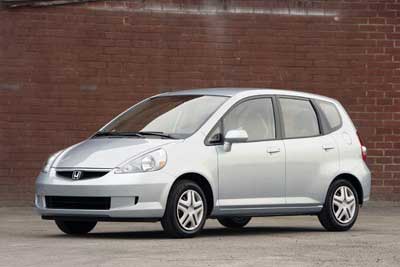 Hyundai Elantra
Besides being bigger, the redesigned 2007 Hyundai Elantra greets the new year with an all-new look from the sleek bodywork to the revised interior, a more efficient four-cylinder engine, a bevy of safety features such as standard side-impact and side-curtain airbags, and a base GLS model that is said to sticker for less than $14,000. Couple all of that with Hyundai's excellent powertrain warranty, and it's easy to see how this Korean automaker continues to win buyers, awards, and respect.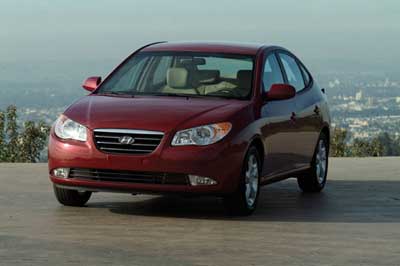 Kia Optima
Bigger and better than ever before, the 2007 Kia Optima is finally good enough to compete on level ground against the likes of the Honda Accord, Toyota Camry, and other mid-sized sedans. The Optima's standard engine is a 2.4-liter four-banger that produces 161 horsepower, mated to either a five-speed manual or an automatic transmission. There's also a 2.8-liter V6, which generates 185 horsepower, but it's outmatched by most of the competition. The new Optima looks great, inside and out, and offers a terrific blend of ride quality and handling. However, to be truly competitive with the best in the class, it needs a stronger V6 under the hood.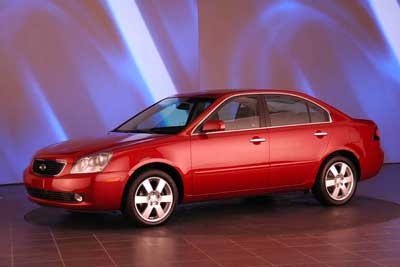 Mitsubishi Galant
Mitsubishi is giving its slow-selling Galant sedan a refresh for the 2007 model year, and there's also a new performance-tuned Ralliart version on sale, seen in the photo above. Powered by a 258-horsepower, 3.8-liter V6 engine that makes 258 lb.-ft. of torque, the 2007 Mitsubishi Galant Ralliart is equipped with a sport suspension, 18-inch wheels, and a special Rockford Fosgate stereo system. Mitsubishi also says that though the Galant Ralliart's torque peak is 4,500 rpm, it's got 220 lb.-ft. of twist on tap at 2,000 rpm, making life off the line quite enjoyable. Other Galants benefit from minor freshening in a bid to become more relevant in the marketplace.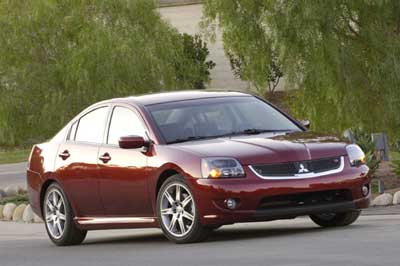 Nissan Altima
When it goes on sale in November of 2006, the all-new 2007 Nissan Altima will draw power from a 2.5-liter four-cylinder engine or a 3.5-liter V6, hooked up to a continuously-variable automatic or a six-speed manual transmission. Base models get the four banger, good for more than 165 horsepower and 175 lb.-ft. of torque; V6 models feature more than 265 horsepower and 255 lb.-ft. of twist. An independent suspension is bolted in below the all-new skin, wheels measure 16 or 17 inches in diameter, and the driver is connected to the whole deal via a new rack-and-pinion steering system. The Altima doesn't grow much in any direction, proving evolutionary rather than revolutionary like the 2002 model that turned the has-been nameplate into a segment-leading star.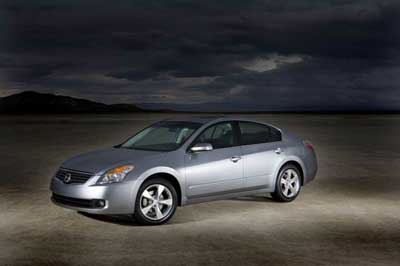 Nissan Maxima
Nissan's Maxima flagship sedan arrives for the 2007 model year with new headlights and front fog lights, revised front and rear fascias, a new grille that sits below a restyled hood, and new 17- and 18-inch wheel options. The interior is accented by an updated instrument panel, revised gauges, and improved seat bolsters. Features include rear park assist, a SkyView glass roof, a 320-watt Bose sound system with an MP3 player and a six-disc CD changer, and Bluetooth connectivity. Both models, the 3.5 SE and the 3.5 SL, will come standard with front-side and side-curtain airbags, and among the points that differentiate the premium 3.5 SL are leather upholstery, power heated front seats, and wood interior trim. At the heart of the 2007 Nissan Maxima is an aluminum 3.5-liter V6 rated to make 255 horsepower at 6,000 rpm and 252 lb.-ft. of torque at 4,400 rpm, connected to a continuously variable automatic transmission with a manual mode that will direct power to the front wheels.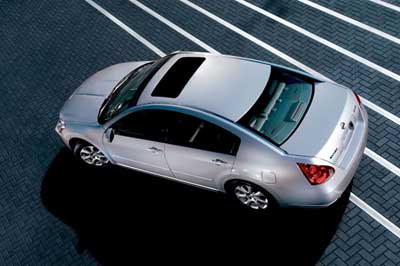 Nissan Sentra
Nissan has done little except apply some mascara and lip gloss to the Sentra since it was last redesigned during the Clinton Administration. Long overdue for the update it finally gets for 2007, it appears at first glance that the long wait was worthwhile: the new Sentra is a terrific looking little sedan. Under the hood is an all-new 2.0-liter four-cylinder engine, available with a choice between a standard six-speed manual transmission or Nissan's fuel-saving Xtronic CVT (continuously-variable transmission). Standard equipment includes a new electronic power steering system, a tire pressure monitoring system (TPMS), front active head restraints, and an advanced audio system. Optional amenities include leather-appointed seating and Nissan's Intelligent Key keyless entry system.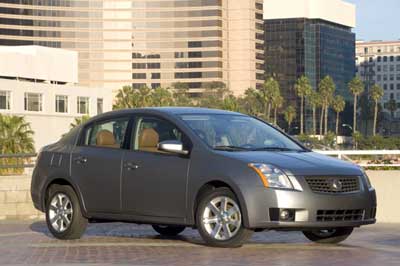 Nissan Versa
Attractively designed with cues that mirror Nissan's popular Murano SUV, the 2007 Versa has a large interior with more than six feet of length inside the cockpit, raised seating for added comfort and visibility, and impressive leg and knee room. Powered by a newly developed, environmentally-friendly, 1.8-liter four-cylinder engine, the Versa is available with a choice of three transmissions, including a fuel-efficient continuously variable transmission (CVT). Also of note is Nissan's use of premium materials in this value-priced model.