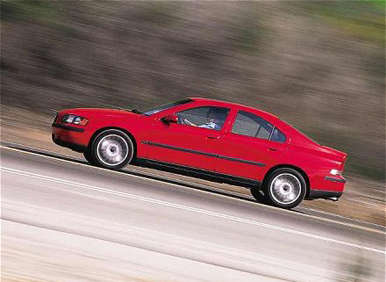 In the 1990 comedy film "Crazy People", starring Dudley Moore and Daryl Hannah, Moore plays advertising executive "Emory Leeson". After suffering from a nervous breakdown, ostensibly brought about from having to craft fictitious attributes for the products his firm represented, Leeson devised a number of bluntly "truthful" advertisements. One was for Volvo. Leeson's tagline for that ad went "Volvo: They're Boxy But They're Good".
That phrase cut straight to the heart of Volvo's persona back then. Well known for building exceptionally safe and thoroughly reliable cars that were ugly as, well, you know, Volvo's product line appealed only to a loyal core of individuals who valued safety and practicality above all else—including and particularly, style.
Then came Peter Horbury, Volvo's design chief from 1991 to 2002, and his 1997 Volvo C70. Readily identifiable as a Volvo, the C70 was nonetheless possessed of a graceful countenance previously unknown to the brand's mainstream offerings. Yes, there had been an iconic Volvo sports car some 36 years earlier called the P1800, but even its styling couldn't be considered conventionally beautiful the way the C70's was.
Horbury followed the C70 in 2000 with the subject of this retrospective, Volvo's S60 mid-size sedan. With the emergence of the S60, Volvo gave writers of the time new reason to include the words "safe" and "sex" in the same phrase. Here was a mainstream Volvo sedan, which while maintaining the company's steadfast principles of safety, was simultaneously one of the sexiest four-door sedans of its day.
There have been two generations of Volvo's S60 since the first one came to North America for the 2001 model year.
Volvo S60: 2001 – 2009
Intended to be more of an enthusiast's car, the 2001 Volvo S60 broke new ground for the iconic brand. Though preceded, and to a degree presaged, by the sleekly designed 1998 Volvo S80 sedan, the S60 took the styling direction established by the C70 and S80 even farther toward that of a sports sedan.
Volvo launched the S60 in the U.S. with three engine choices, and in typical European fashion, engine choice determined the trim level. The base S60 was the 2.4, the middle offering was the turbocharged 2.4T and the top offering was the T5.
The 2001 Volvo S60 2.4 used a 168-horsepower, 2.4-liter five-cylinder engine capable of 170 ft-lbs of torque. That engine was part of a front-wheel drive powertrain and was mated to either a five-speed manual or a five-speed automatic transmission. The S60 2.4T's engine produced 197 horsepower and 210 ft-lbs of torque. The only transmission fitted to this engine was a five-speed automatic.
The T5 version of the S60 ran a turbocharged 2.3-liter five-cylinder engine, which made 247 horsepower and 243 ft-lbs of torque. This engine could be had with either the five-speed manual, or the five-speed automatic transmission.
The S60 used an all-independent suspension system and regardless of the engine choice, preferred to run on premium-unleaded fuel.
Keeping in mind the S60 was an entry-level luxury sedan, it's no surprise the Volvo came nicely appointed, even in its base 2.4 guise. For that trim level, fifteen-inch alloy wheels were specified along with a set of all-season tires. The 2001 S60 2.4 used variably intermittent windshield wipers and a rear defogger for the windows. The passenger compartment was furnished with cloth upholstery, and a pair of bucket seats for the driver and front passenger. Both seats contained manually operable lumbar support. The rear seatback folded and contained a pass through into the trunk behind the center armrest.
The S60 2.4 used a remote to operate its power door locks; its other power accessories included its heated outside rearview mirrors and windows. The front two windows were also equipped with an express one-touch up and down feature.
A front console with storage underneath the center armrest, seatback storage pockets, and cupholders for front and rear passengers ensured convenience. Meanwhile cruise control, speed proportional power steering through a tilt and telescoping steering wheel, and a remote trunk release attended the needs of the driver.
An air filtration system, along with air conditioning, reading lights front and rear, a cargo area light, and dual vanity mirrors helped maintain the comfort of the S60 2.4's occupants. A clock, a tachometer, an external temperature display, and a six-speaker, 100-watt AM/FM stereo system rounded out the list of standard equipment. A navigation system was optional.
For the 2.4T, sixteen-inch wheels replaced the fifteen-inch rolling stock. The driver got a power-actuated seat with memory settings for up to three positions, and audio controls were mounted on the steering wheel. Other than the dual-zone (driver and passenger) climate control system, everything else was the same as the 2.4.
The 2001 Volvo S60 T5 came set up with a wider sixteen-inch wheel (seven inches vs. 6.5) power seats for both the driver and the passenger, a universal remote transmitter (for garage doors, security gates and etc), simulated wood trim on the dash and doors, leather trim on the steering wheel and shift knob, an electrochromic auto-dimming inside rear-view mirror, and an eight-speaker stereo system with an in-dash single CD player.
As you'd expect, the list of safety gear was lengthy; four disc brakes with ABS, side-curtain airbags, dual front side-mounted airbags, child seat anchors, a remote anti-theft alarm system, rear door child safety locks, daytime running lights, an engine immobilizer, front fog/driving lights, auto delay off headlamps, two front headrests, three rear headrests, a rear center three-point seatbelt, front and rear seatbelt pretensioners, stability control (optional for 2.4 and 2.4T—standard for T5), traction control (optional for 2.4 and 2.4T—standard for T5), electronic brakeforce distribution, and head restraint whiplash protection systems for the driver and front passenger.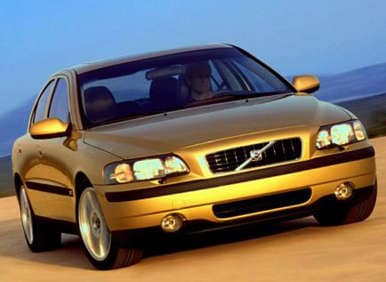 Volvo S60: 2002
All wheel drive was introduced for the mid-level 2.4T model, emergency brake assist was incorporated and the traction control system was recalibrated for better response. T5 models got Volvo's Dynamic Stability Control as standard equipment; 2.4T's were given access to the technology as an option. Steering wheel audio controls trickled down to the base 2.4 model. For the 2.4T and the T5, the seat memory function was expanded to include the exterior rear-view mirrors.
2003
The all-wheel drive S60 model got a larger engine and was thus redesignated the 2.5T. With the displacement increase, came slightly more horsepower and torque (208/236 vs. 197/210 for the 2.4-liter engine). New options across the board included rain-sensing windshield wipers and Volvo's telematic nanny system; OnCall Plus. The lower S60 models (2.4 & 2.4T) got a leather covering for their steering wheels in addition to CD players and cassette players as standard equipment. The 2.4T also got foglights and wood trim for the dash.
2004
The high performance S60 R model debuted in December of 2003, as a 2004 model. The 2.4T was dropped. The 2.5T got a sport package option and Xenon headlights were offered as an option as well.
The 2004 Volvo S60 R was powered by a 300-horsepower version of the turbocharged 2.5-liter five-cylinder engine. The powerplant made 295 ft-lbs of torque, which was routed to all four wheels through a six-speed manual transmission and a limited slip center differential.
Behind the S60 R's seventeen-inch wheels resided a set of Brembo brakes and both the brakes and wheels were suspended from Volvo's "Four-C" adjustable suspension system. Four-C was the short name for "Continuously Controlled Chassis Concept", which allowed the selection of one of three modes: Comfort, Sport, and Advanced. The system employed electronically-controlled shock absorbers capable of adjusting themselves 500 times a second, based on feedback garnered from sensors placed throughout the S60 R's body.
The "Comfort" setting placed the suspension system's emphasis on compliance, enabling the car to ride smoothly over bumps and rough surfaces. The "Sport" mode stiffened the system to reduce body roll and keep the tires planted more squarely to maximize handling. The "Advanced" setting also firmed the suspension, plus it dialed in a more aggressive throttle response, taking advantage of the S60's drive by wire throttle system.
Rather than being connected directly to the engine, the Volvo's gas pedal actually sent instructions to a computer, which in turn determined how much fuel should be injected into the engine for a given pedal position. Because of this, the Four-C Advanced setting could enable the same degree of pedal travel in the other settings to result in more aggressive performance when the Advanced setting was selected.
In addition to the standard comfort and convenience fare found on all S60 models, the S60 R was set up with performance tires, blue faced dials for the instrumentation, leather upholstery, and alloy trim for the dash and doors.
Volvo S60: 2005
Going into its fifth year of production, the S60 got a cosmetic update in the form of new headlights, a revised grille and newly formed bumpers. LED taillights were fitted, as were a set of flat-blade windshield wipers, new front seats, a new center console and a revised entertainment system. Real wood was finally introduced to the interior (including a wood steering wheel option) and all S60 models benefited from a trip computer.
The S60 R's Four-C suspension system was offered as an option for all 2005 S60 models, the T5 got a horsepower increase to 257 and larger disc brakes to offset the power increase. Volvo's basic sport suspension system was applied to the T5, along with speed sensitive power steering.
2006
For 2006, S60 became a turbo-only model with the demise of the 2.4. After being shared across the board in '05, Four-C was limited to T5 and R applications for the 2006 model year. Rear park assist was fitted, a new all-wheel drive system was developed for the 2.5T, and new alloy wheel designs were fitted to the T5 and the 2.5T.
2007
The front end was tweaked to further freshen the Volvo's appearance and stability control was made standard equipment across the board—as was tire pressure monitoring. The suspension systems were tightened up on the 2.5T and the T5, and aluminum trim similar to the R's was granted the 2.5T and T5 cabins. The R got a bit more domesticity introduced to it with grocery bag hooks, a compass, and a sunglass holder.
By 2007, enough reshuffling had gone on within the S60 lineup to warrant a recap, so here goes; for 2007 the Volvo S60 came in three trim levels—2.5T, T5 and R.
Each model designation used a different engine; the 2.5T ran a 208-horsepower turbocharged 2.5-liter inline five-cylinder engine, which produced 236 ft-lbs of torque. A five-speed automatic was the transmission choice and power could be routed through it to either the front wheels, or all four.
The T5 used a 2.4-liter inline five-cylinder engine, which was also turbocharged. It produced 257 horsepower and 258 ft-lbs of torque. The T5 engine was paired with either a five-speed automatic transmission or a six-speed manual. Regardless of the transmission choice, the T5 was a front-drive proposition only
At the top of the heap was the S60 R, which used a 300-horsepower version of the turbocharged 2.5-liter five, and enjoyed 295 ft-lbs of torque. An all-wheel drive only offering, the S60 R could be had with either a six-speed manual, or a six-speed automatic transmission.
The 2.5T rolled on sixteen-inch alloy wheels, and was outfitted with cloth upholstery, a power driver seat with memory, and a dual-zone (driver and front passenger) automatic climate control system, which incorporated a pollen filter. A CD player, a telescoping steering wheel and simulated wood interior accents rounded out the 2.5T's setup.
The S60 T5 used all of the above, plus a sport-tuned suspension system with seventeen-inch alloy wheels. The T5 also flaunted a power-actuated passenger seat and an electrochromic auto-dimming rearview mirror.
For the S60 R, Volvo's product planners specified the Four-C adaptive suspension system (which was optional for the T5), high-performance low profile tires, Xenon headlights, a tail spoiler, leather upholstered sport seats, and metallic blue instrumentation.
A thirteen-speaker Dolby sound system with an in-dash CD changer, a navigation system, Sirius satellite radio, a sunroof, heated front seats, and rain-sensing wipers were options.
The entry-level S60 2.5T, as well as mid-level T5 buyers could also get the Xenon headlights as well as the leather interior. Eighteen-inch wheels are available on the T5 and R. For those who wanted to flaunt the performance potential of their R cars, Volvo offered an aerodynamic lower body kit featuring a chin spoiler and side skirts. There was also a premium leather upholstery option for S60 R.
2008
Bluetooth telephony and MP3 capability was introduced, as was an auxiliary audio input jack for portable audio devices. The S60 R was discontinued.
Volvo S60: 2009
For the last year of its production, many of the previously optional features were incorporated as standard equipment. With the demise of the R model in '07, there were only two versions of the Volvo left, 2.5T and T5.
They were equipped as follows:
The 2009 S60 2.5T came with front- or all-wheel drive, rode sixteen-inch alloy wheels and was fitted standard with a sunroof, leather, and a pair of power front seats with memory for the driver.
The 2.5T S60 Volvo also featured a dual-zone automatic climate control system, a tilt and telescoping steering wheel, and an electrochromic auto-dimming rearview mirror. Its six-speaker, satellite radio-ready audio system featured a CD/MP3 player and an auxiliary audio input jack for portable devices (read iPods). To all of the above, the S60 2.5T AWD added a different wheel design.
The S60 T5 was delivered with a sport-tuned suspension, seventeen-inch alloy wheels, and a tail spoiler. The model also featured adaptive Xenon headlights, which swiveled in concert with the turning of the steering wheel. A thirteen-speaker surround sound audio system was installed, which was driven by a six-disc CD changer. Rounding out the model's standard feature-set was rear parking assist and aluminum interior trim.
Options for both models included Bluetooth hands-free telephony, navigation, rain-sensing wipers, and heated front seats. T5 buyers could also opt for eighteen-inch wheels and a two-tone interior.
2010
The ten-year-old S60 model was put on hiatus in anticipation of the all-new 2011 model. Thus, there is no such thing as a 2010 Volvo S60.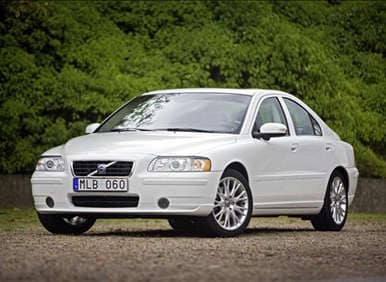 Volvo S60: 2011 – Current (2012)
Dimensionally, the GEN2 Volvo S60 was longer and wider than the first generation model. Introduced in March of 2010 as a 2011 model at the Geneva Auto Show, the S60 Mk. II featured a sleek reinterpretation of its predecessor's design in addition to innovative new active safety features.
At launch the car was offered in but one state of trim, though another iteration did appear later in the model year. The launch version of the S60 was the T6, sporting a 300-horsepower, turbocharged inline six-cylinder engine displacing 3.0-liters and producing 325 ft-lbs of torque. The engine fed all four wheels through a six-speed automatic transmission with a manual shift mode.
With its optional pedestrian detection system onboard, the 2011 S60 was capable of applying full braking if it sensed it was about to collide with a pedestrian. This would bring the car to a complete stop from about 20 miles per hour. The S60's standard City Safety feature would do the same if the S60's computer sensed the car was about to collide with another vehicle or a stationary object.
Other standard equipment included all-wheel drive, a sport-tuned suspension system with eighteen-inch alloy wheels, and a pair of sport seats (one of which was eight-way power adjustable with memory settings for the driver). The Volvo also featured leather upholstery, aluminum interior trim, a tilt-and-telescoping steering wheel, and a dual-zone automatic climate control system. An electrochromic automatic dimming rearview mirror, along with Bluetooth telephony and audio streaming, teamed with an eight-speaker audio system with a single-disc CD player, satellite radio, HD radio, an iPod/USB interface, and an auxiliary audio input jack to round out the roster.
The S60 T6's optional "Premium Package" mounted adaptive Xenon headlights, a sunroof, and a power-adjustable passenger seat to the new car. Ordering the Volvo's "Multimedia Package" got an S60 with an upgraded twelve-speaker sound system, a rearview camera, and satellite navigation system capable of delivering real-time traffic updates.
Buyers residing in colder areas really appreciated the S60's "Climate Package", which heated the front seats and the windshield washer jets. It also included rain-sensing wipers.
To get adaptive cruise control, the collision warning system with automatic braking, pedestrian detection, lane departure warning, and the driver alert system the S60's buyers could order the "Technology Package"
A' la Carte options included a choice of the FOUR-C adaptive suspension (which debuted on the GEN1 S60's R variant), or a more compliant "Touring" suspension system. Other individual options included a set of seventeen-inch wheels, front and rear parking sensors, Volvo's "BLIS" blind spot alert system, keyless entry and start, or a DVD-based rear-seat video entertainment system with a pair of display screens.
Safety gear included the aforementioned City Safety feature, as well as optional pedestrian detection. More conventional safety gear included ABS for all four disc brakes, stability and traction control, side airbags for front seat occupants, a pair of full-length side curtain airbags, and whiplash-reducing front headrests.
Volvo S60: Current Model (2012)
Late in the 2011 model year, the second variant of the S60 appeared as a 2012 model, the S60 T5. Featuring a 250-horsepower version of Volvo's 2.5-liter turbocharged engine, the 2012 S60 T5 boasts 266 ft-lbs of torque. Its six-speed automatic transmission routes the engine's output to the front wheels. The third S60 variant, the 2012 Volvo S60 R-Design model, uses the same engine as the T6, however it gets 325 horsepower and 354 ft-lbs of torque out of it. This all-wheel drive model also uses a six-speed automatic transmission.
Volvo S60: Summary
If you're thoroughly enamored with the look of the GEN2 S60, but you're only interested in buying a pre-owned car, you might get lucky and find one. However, initial reports on the car by reviewers have been so positive, you'll probably pay a premium to get your hands on one.
The GEN1 car, of course, can be found readily as a pre-owned vehicle. As for which version of it to get, other than the R car, we'd be most partial to the more powerful and better-equipped 2007 models and later. Whichever model year you choose, you'll get a pretty robust automobile with a broad palette of standard features.
There have been a number of recalls for Volvo's mid-size sedan though. To find them, do an Internet search for Volvo S60 recall, citing your model year of interest. The one that comes up most often is related to the cooling system. A failure there could be catastrophic, so you'll want to make sure any required updates were performed on a car you really like before you buy it.
This is, of course, best accomplished by subjecting any S60 you're seriously considering purchasing to an inspection by a trusted professional Volvo mechanic beforehand. You'll also want to be sure to run a vehicle history report against the VIN of any car you're considering.