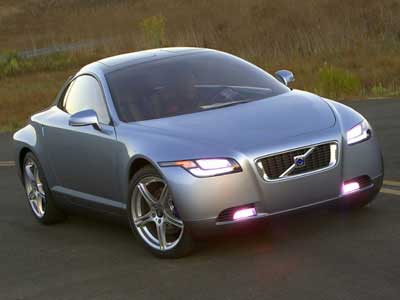 Moving toward the future, Volvo is concentrating on three primary issues surrounding the automobile and environmental responsibility. The Swedish-based, Ford-owned automaker wants to reduce emissions of carbon dioxide, cut pollution in our cities, and provide better mobility in congested urban locations. Core areas of research and implementation include the company's PremAir technology, PZEV engines, hybrid powertrains, easily renewable bio-fuels made from organic materials, and smaller yet unwaveringly safe vehicles. PremAir is offered on Volvos today. The technology removes the ozone from the air sucked into the radiator, making select Volvo models four-wheeled pollution vacuums. (Everyone in Houston should be required to own one of these Volvos, eh?) PZEV engines meet partial zero emission vehicle standards in California and New England, and are among the cleanest-burning vehicles of any kind regardless of their requirement for gasoline. Hybrid powertrains are not yet provided in a Volvo, but parent company Ford has a doozy of a system in the award-winning Escape Hybrid. Bio-fuels are not readily available for consumption today, but with infrastructure bio-gas could be a viable source of energy.
Award Winning Design
To demonstrate the company's commitment to clean vehicles, Volvo entered the forward-thinking 3CC into a contest at the 7th Annual Michelin Challenge Bibendum, where the environmental won "Best Design" laurels. The Michelin Challenge Bibendum pits alternative-fuel concept vehicles against one another in a yearly competition that challenges automakers to find better, greener ways of doing business. This radical, diminutive three-seater, powered by 3,000 lithium-ion cells like those in a laptop computer, can accelerate to 60 mph in 10 seconds while emitting zero emissions, according to Volvo. It will travel 180 miles on a single charge, and can cruise at speeds as high as 85 mph. Unique engine housing construction allows the Volvo 3CC to conform to a wide variety of propulsion systems, giving it the flexibility to meet ever-changing power source requirements whether they call for gasoline, diesel, hybrid, electric, or bio-fuel motors.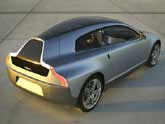 Safety
Safety, that Volvo hallmark and iconic characteristic of the brand, has not gone forgotten in search of environmental friendliness. Volvo agrees that crash safety is a real challenge in a small, lightweight car. To resolve this problem, engineers have designed the instrument panel, steering column, and seating in the Volvo 3CC to move forward as far as eight inches in an accident. This movement effectively serves as a shock absorber for the 3CC's occupants while simultaneously extending the car's crash zone by the same distance. A production car like the Volvo 3CC Concept is years away, but in the meantime, Volvo is planning to launch a new model that is similar to it in some ways. The 2007 Volvo C30, which is scheduled to arrive in late 2006, is a new small hatchback that measures eight inches shorter than the S40 sedan. According to Volvo, the C30's shape is inspired both by the 3CC Concept and the SCC Concept of 2001. With European hatchbacks arriving in the United States from several major manufacturers, it makes sense to develop the 2007 Volvo C30. Particularly given Volvo's environmental goals. Photos courtesy of Volvo cars North America