Variety is the spice of life, and nowhere is that more true in the automotive industry than when examining the crossover segment.  There are as many different shapes and sizes of crossover SUV on the market as there are families and drivers looking to get behind the wheel, as automakers the world over attempt to differentiate themselves enough from the 'other guy' in order to tempt buyers to part with their hard-earned dollars.
Let's take a quick look at eight crossover SUVs that represent the sheer range of what is out there when it comes to modern people movers.
01. 2012 Ford Flex
The 2012 Ford Flex is an excellent example of retro done right, a thoroughly capable full-size crossover that adopts the squared-off dimensions of 1960s-era surf wagons and updates their flat-roofed good looks to appeal to 21st century drivers.  The Ford Flex is not only easy on the eyes but it also makes available seven passenger seating, 83 cubic feet of cargo and intriguing options such as a refrigerated second-row center console.
The 2012 Ford Flex is initially outfitted with a 3.5-liter V-6 that provides 262 horsepower and 248 lb-ft of torque.  All-wheel drive is optional with this model, while a six-speed automatic transmission is included as standard equipment.  Fuel economy for the base Flex checks in at 17-mpg city and 24-mpg highway.  The Flex EcoBoost model injects some performance into the crossover's lineup via a turbocharged edition of the same V-6 engine that grinds out 355 horsepower and 350 lb-ft of torque.  All-wheel drive is standard with the Flex EcoBoost (as is the six-speed autobox) while fuel economy sits at a respectable 16-mpg city and 21-mpg highway.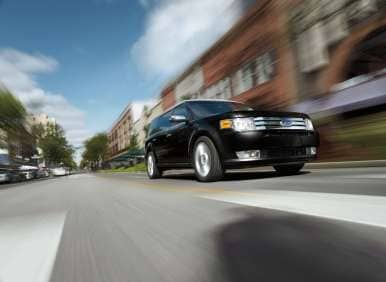 02. 2012 Mazda CX-9
The 2012 Mazda CX-9 manages to transcend expectations when it comes to handling in the full-size crossover segment.  The Mazda CX-9 can seat up to seven passengers as well as swallow 101 cubic feet of gear with the second and third rows folded forward, but more importantly its chassis comes alive in the corners and does a credible job of masking its size and weight with lively, agile steering through the twisties.
The 2012 Mazda CX-9 is motivated by a 272 horsepower, 3.7-liter V-6 engine.  Also capable of producing 270 lb-ft of torque, this unit delivers fuel economy of 17-mpg around town and 24-mpg on the highway.  A six-speed automatic transmission is included free of charge with the CX-9, while all-wheel drive is available as an option.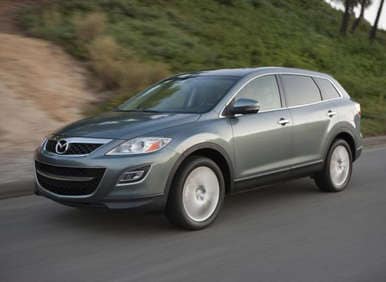 03. 2012 Volkswagen Tiguan
The 2012 Volkswagen Tiguan is a compact crossover based on the same platform as the Volkswagen Golf, allowing it to provide a buttoned-down ride that delivers more than its fair share of thrills when pushed hard.  The Volkswagen Tiguan also boasts an upscale (for its price point) interior, seating for five and enough room to store up to 56.1 cubic feet of cargo.
The 2012 Volkswagen Tiguan makes use of the German brand's ubiquitous 2.0-liter, turbocharged four-cylinder engine that delivers 200 horsepower and 207 lb-ft of torque.  Fans of sporty driving will be pleased to discover that the Tiguan can be had with a six-speed manual transmission, although a six-speed automatic (and all-wheel drive) can be selected as an option.  Fuel mileage for the small SUV shows as 22-mpg in city driving and 27-mpg on the highway.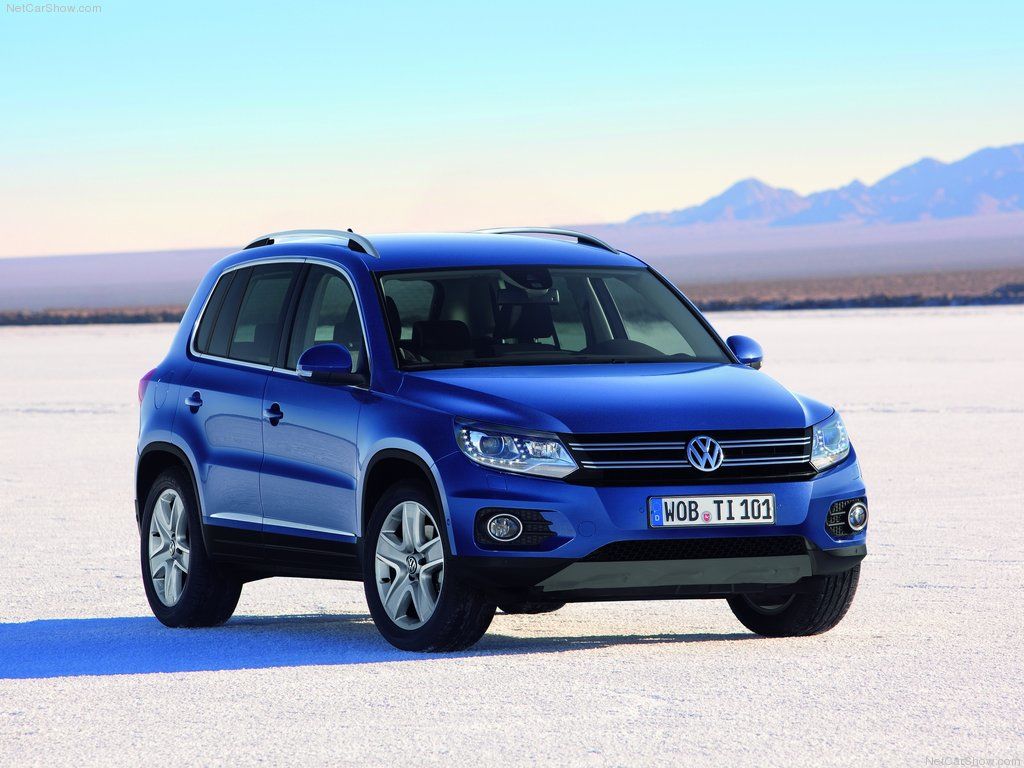 04. 2012 Lexus RX
The 2012 Lexus RX 350 is one of the most popular mid-size crossovers on the market thanks to it ability to combine pleasant, sedan-like driving dynamics with a long list of luxury features.  The Lexus RX 350 seats as many as five passengers and can stow up to 80 cubic feet of luggage, and it also offers intriguing safety options such as adaptive cruise control with the Lexus Pre-Collision system.
The 2012 Lexus RX 350 makes use of a smooth 3.5-liter V-6 as its sole power plant.  Capable of producing 270 horses and 248 lb-ft of torque, this mill sends its output through a six-speed automatic transmission to either the front or all four wheels for models featuring optional all-wheel drive.  Fuel mileage for the RX 350 maxes out at 18-mpg in stop and go driving and 25-mpg on the highway.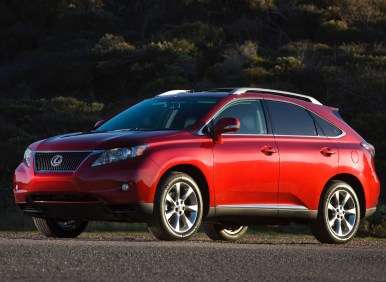 05. 2012 GMC Acadia
The 2012 GMC Acadia is a serious competitor to traditional full-size SUVs, offering crossover comfort and fuel mileage without sacrificing passenger room, practicality or utility.  The eight-passenger GMC Acadia boasts a startling 117 cubic feet of available cargo space, and when properly equipped the vehicle can also tow up to 5,200 lbs.
The 2012 GMC Acadia benefits from the installation of a robust 3.6-liter V-6 that is rated at 288 horsepower and 270 lb-ft of torque (thanks in part to the crossover's factory dual exhaust system).  The Acadia, which comes in both front-wheel and all-wheel drive trims, is offered with a six-speed automatic transmission and returns fuel mileage figures of 17-mpg in city driving and 24-mpg during highway cruising.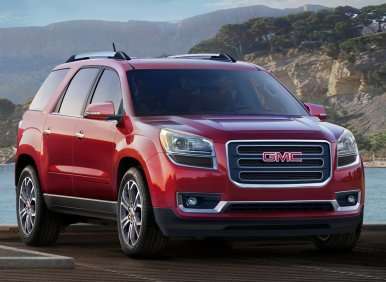 06. 2012 Land Rover Range Rover Sport
The 2012 Land Rover Range Rover Sport can almost be considered a 'sports car' amongst crossover SUVs, a vehicle that manages to maintain the impressive off-road capability that has become the luxury brand's trademark while also delivering exceptional on-pavement performance.  The Land Rover Range Rover Sport can play in the dirt and still shine on the boulevard, and its five passenger seating and 71 cubic feet of cargo space help to give it more than a passing grade in the utility department.
The 2012 Land Rover Range Rover Sport comes with two flavors of V-8 power.  The HSE trim features a 375 horse, 5.0-liter unit that also delivers 375 lb-ft of torque as well as fuel mileage of 13-mpg city and 18-mpg highway.  The Supercharged trim slaps a blower on that same engine in order to increase output to 510 ponies and 461 lb-ft of twist, dropping fuel mileage by a single mile per gallon for each respective measure.  A six-speed automatic transmission and full-time four-wheel drive come with each Range Rover Sport model.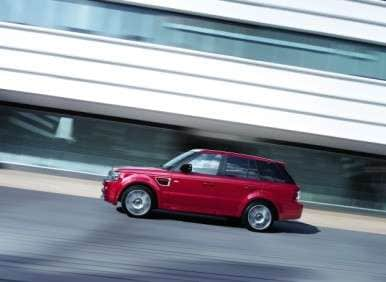 07. 2012 Dodge Journey
The 2012 Dodge Journey straddles the line between minivan and crossover, providing seating for up to seven passengers across three rows as well as 68 cubic feet of interior storage without taking up as much room on the road as a standard van would.  The Dodge Journey is also available in a long list of different trim levels and can be configured with several options packages that make it as customizable as most minivan competitors. 
The 2012 Dodge Journey offers a choice between a base four-cylinder engine and an optional V-6.  The entry-level Journey comes with a 2.4-liter motor that is good for 173 horsepower and 166 lb-ft of torque, and fuel mileage for this unit (which is matched with a four-speed automatic transmission) is listed as 19-mpg around town and 26-mpg highway.  Stepping up to the six-cylinder nets buyers a 3.6-liter engine that provides 283 horses and 260 lb-ft of torque while nearly matching the smaller unit's fuel efficiency (17-mpg city / 25-mpg highway).  A six-speed automatic transmission is standard, and all-wheel drive is optional with the V-6.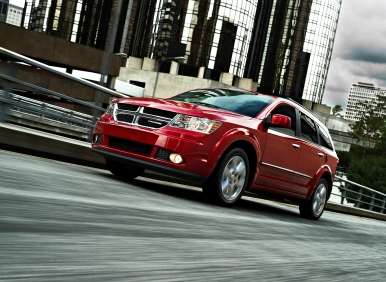 08. 2012 Cadillac Escalade Hybrid
The 2012 Cadillac Escalade Hybrid rides on a traditional full-frame, full-size SUV platform but its fuel economy skews more towards the crossover end of the spectrum thanks to the inclusion of a gasoline / electric drivetrain.  The Cadillac Escalade Hybrid includes all of the bling found on the standard edition of the SUV, seats up to eight passengers and can haul 109 cubic feet of cargo from point A to point B.  It also enjoys fuel mileage of 20-mpg in the city and 23-mpg on the highway, which is roughly a 25 percent improvement over the gas-only truck.  The vehicle's 6.0-liter V-8 teams up with a pair of electric motors to generate 379 horsepower in the Escalade Hybrid, and four-wheel drive remains an option for the vehicle.