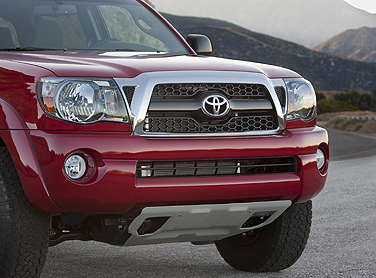 There have been only two generations of the Tacoma since its introduction back in 1995. Further, there have been but five engines and six transmissions for it. In other words, Toyota pretty much nailed the Tacoma out of the gate. Perhaps this is why Tacoma has proven to be a strong seller for the company — routinely averaging more than 150,000 units annually. Ironically though, before the introduction of the 1995 Tacoma, Toyota didn't even bother to name its compact pickup truck entry in the U.S., the company simply called it the "Toyota Pickup".
Toyota Tacoma: 2004 – Current
The current generation of Toyota's Tacoma was introduced at the Chicago Auto Show in 2004, as a 2005 model. Larger and more powerful than the first generation Tacoma, this model also took into consideration the fact more people were starting to use trucks as surrogate cars. Thus, spaciousness and creature comfort were among the attributes amplified in GEN2 Tacomas.
Two engines power this model. A 159-horsepower 2.7-liter inline four is the base engine, while a 4.0-liter V6 makes 236 horsepower to claim the top dog spot in Tacoma-land. (And yes, the truck was named for the city of Tacoma, Wash.) Four-cylinder Tacomas get either a four-speed automatic or a five-speed manual transmission. The V6 is partnered with either a five-speed manual or a six-speed automatic.
One of the reasons Tacoma does so well has to be its broad selection of cab styles, bed lengths, engines, drivetrains, and transmission combinations. You can choose between short and long beds and be pair them with regular, extended, or crew cabs. In Toyota-speak, these are (in ascending order) regular, Access and Double Cabs. As a benefit of this flexibility, Toyota's Double Cab Tacoma is the only compact crew cab pickup offering a choice between short and long beds.
In addition to the variety of body styles, there is a wide array of trim levels. Again, in the unique language of Toyota, aside from the "base" model, there are PreRunner and X-Runner. Pre-Runner is a cut above base and offers a semblance of the look of the beefier X-Runner, as well as components of its suspension system, but not the X-Runner's four-wheel drive system.
X-Runner is the current sporty Tacoma with the V6, manual transmission, brawny looks, lowered suspension system, and 18-inch wheels. The current iteration of the old S-Runner, the X-Runner's name is derived from the "X"-shaped bracing installed in the Tacoma to improve its rear stiffness for high-performance duties. An optional big brake kit improves the sport truck's ability to deal with repeated braking from high speeds.
In total, between the available engine, transmission, cab, drive system, and bed length combinations, there are eighteen different configurations of the GEN2 Tacoma.
Over the years, adjustments included a switch from a true limited-slip diff to using braking to accomplish limited slip capability in 2009. An update of the truck's look was instituted in 2009 as well. In addition to LED taillamps, these also include a revised grille and smoked headlamp trim for the TRD Offroad and Sport models. The same year, an optional backup monitor was fitted to Access and Double Cabs — along with ceiling mounted speakers.
Toyota Tacoma: 1995 – 2004
GEN1 Tacomas were offered with three engines over the course of their model run. The base engine was a 2.4-liter inline-four making 142 horsepower. Moving up the ladder got you a 150-horsepower, 2.7-liter four. The top engine was a 190-horsepower 3.4-liter V6. Transmission choices were simple, either a four-speed automatic or a five-speed manual.
FirstGen Tacomas could be had with either rear, or four-wheel drive and came with either regular, or extended-cab (called Xtracab in Toyota-speak) bodies. Interestingly, the Xtracab offered no third door. In 2001, Tacoma's Double Cab body debuted with true four-door access. Concerned the Double Cab made the truck too long, Toyota initially elected against offering the Double Cab with a long bed. Customer demand reversed that decision in 2004.
The PreRunner was first offered in 1998. Essentially a more aggressive version of the Tacoma, PreRunner was a rear drive Tacoma, dressed up to look like it could deal in dirt. As PreRunner shares the basic architecture of the 4X4 Tacoma, one can easily convert an early Pre-Runner to a 4x4 if desired.
A TRD offroad package was offered for PreRunner, enabling it to be equipped with a locking differential—with the V6 engine. However, the V6 PreRunner could only be had with the automatic transmission.
GEN1 Tacomas got two styling updates over their model run, one in 1998 and the other in 2001. Toyota went to a distributorless ignition system for the Tacoma's engines in '97 and in '98 added longer leaf springs to the rear suspension system.
MY2001 saw the introduction of the S-Runner package to capture interest from sport pickup enthusiasts. This version of the Tacoma ran 16-inch alloy wheels, a Tokico gas shock package, and a five-speed manual transmission with the 3.4-liter V6. Produced between MY2001 and MY2004, only about 800 or so were made (exact S-Runner production figures are scant). That said, if you find one, you've run across a relatively rare beast. According to the Tacoma enthusiast's website (yes, there is one: customtacos.com) if you find a V6 Tacoma whose VIN starts with 5TEVN and it has a five-speed manual transmission, it's likely the S-Runner.
Toyota Tacoma: Summary
All in all, Tacoma lives up to the ideal expected of Toyota vehicles. If you choose to get "involved" with the truck there are a number of aftermarket items available to improve its performance or capabilities. If you just want a compact pickup to soldier along day in and day out, Tacoma fills that bill as well. As there have been only two generations of the Tacoma since its introduction, this holds true for the 2011 model as well.
Like nearly every vehicle sold, Tacoma has been the subject of various recalls over the years. To find recalls affecting your model year of interest, run an Internet search for "Toyota Tacoma Recall", including the model year you want to know about. As always, we emphatically recommend you subject any used Tacoma you're seriously considering to a thorough inspection by a trusted professional mechanic, knowledgeable about these vehicles.