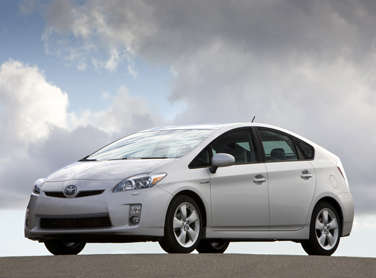 The car most people envision when they hear the word "hybrid", Toyota's Prius has become a prominent aspect of the cultural landscape. Introduced to the United States in 2001, the Prius had already been on sale in Japan since 1997.
Despite initial concerns about battery life and longevity the Toyota Prius has proven to be both a reliable and a robust automobile. There have been three generations of the car since it was first introduced and more than one million copies have been sold in America.
2009 – Present
The current generation of the Prius was introduced in January 2009, at the North American International Auto Show, as a 2010 model. While it can be difficult to visually distinguish the second-generation car from the third generation car when viewed separately, when seen together their differences are readily apparent. The Gen3 car is more aerodynamic and features squared fairings at its corners to improve airflow around the car.
The four-door hatchback seats five people, offers a self-parking feature and drives and feels more like a "normal" car. The gee-whiz hybrid display previously occupying the centrally mounted monitor was relegated to a smaller display higher up on the dash. The climate control and audio system are now accessed by buttons and dials, rather than through a touch screen as in the Gen2 Prius (unless equipped with navigation, in which case audio functions are integrated into the touch screen). Overall, the interior of the car feels — well — conventional when compared to its immediate predecessor. To make the car even more ecologically friendly, the interior is constructed of organic recyclable materials made from wood and grass derived cellulose.
A 98-horsepower, 1.8-liter inline four-cylinder engine operating in conjunction with two electric motors supplies power for a total system output of 134 horsepower. As is the case with most hybrid vehicles, a continuously variable automatic performs transmission duties.
Another innovation introduced with the MY2010 car was the ability to press a button to run it solely on electric power for short distances — at limited speeds. All Prius models have permitted electric-only driving, but in previous models it had to be managed by throttle angle and speed. In the Gen3 models, a button on the dash permits the driver to set the car in "EV" mode.
2003 – 2009
The Gen2 Prius, introduced in 2003, as a 2004 model, took the concept upmarket in both size and level of standard equipment over the Gen1 iteration. This version of the Prius ran a 76-horsepower, 1.5-liter inline four with a single electric motor for a combined output of 110 horsepower.
In an effort to position the Prius as something of a technological wonder, Toyota went heavily futuristic for the Gen2 interior. Nearly all comfort and convenience functions are accessed through a touch screen. Steering wheel controls figured heavily into the equation as well. Additionally, the controls for the transmission were mounted on the dash. In sum, it all added up to a near science fiction-like techno-fest.
The Gen2 Prius also contained more luxury features than the original model and by 2006, one could order a Prius with both a backup camera and a leather interior. In an effort to assuage the concerns of drivers who felt the car was too soft, Toyota specified a touring package for MY'07 consisting of a firmer suspension system, a tail spoiler and 16-inch tires and wheels in an effort to introduce "sportiness". To make the car more price-accessible to a broader range of buyers, a de-contented model was offered in '08 to lower the MSRP a bit. These cars can be readily identified by their lack of cruise control.
(1997) 2001 – 2003
Prius first saw light of day in 1995, at the Tokyo Motor Show as a concept car. By 1997, Toyota was selling the world's first mass-produced gas/electric hybrid production car — but only in Japan. Prius was first sold in the United States in 2001. (It should be noted the first gas/electric mass-produced hybrid sold in the United States was the original Honda Insight, a front-drive two-seat hatchback.)
Propulsion was supplied by a 70-horsepower, 1.5-liter inline four along with a 44-horsepower electric motor. To appeal to Americans more, air conditioning and power steering were offered as standard equipment on U.S. models. By MY'03, options included navigation, cruise control and airbags.
Arguably the car that introduced the world to the concept of a hybrid automobile, the vast majority of these Gen1 Prius models are still on the road. In fact, Consumer Reports recently published a comparison of data derived from a 200,000-mile 2002 Prius to data they collected from a 2000-mile 2001 Prius back when it was new and found no significant degradation in the car's performance.
Battery capacity was virtually identical and all other performance parameters compared favorably as well. Should you find yours to be an exception and the battery does need replacing, you can expect to pay around $2400 for a new one at a Toyota dealer. Salvage yards typically sell them for around $500.
As with every used car you'll find these days, there have been a number of Prius recalls over the years. To find recalls applying to the model you're interested in, run a "Toyota Prius Recall" Internet search, including the model year of the car you're considering purchasing. To ensure the updates were affected, give the list to the mechanic you use for your pre-purchase inspection.