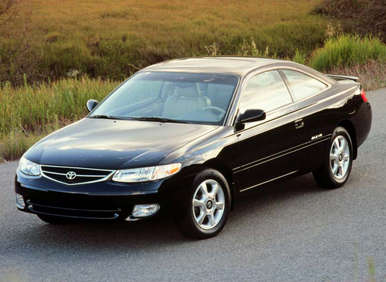 Ironically, one of the most graceful forms of the automobile is typically one of the most difficult for manufacturers to master—the two-door coupe. Given the impracticality imposed by its very nature (four doors are easier to live with than two), a coupe must make up for its practicality deficit with generous helpings of both style and performance.
The German manufacturers Audi, BMW and Mercedes-Benz get this, and those company's two-door offerings routinely do well in the marketplace as a result. Plus, in addition to style and performance, those models convey a sense of elegance and exclusivity.
After all, two-door models routinely cost more than their sedan counterparts as well—particularly when a folding roof accompanies those two doors. Priced as they are, these cars say about their owners; "Yes, they could afford the sedan, but they are obviously way too cool, youthful, and self-absorbed for four doors—thank-you-very-much."
Lately, Japanese manufacturers have adopted the Germans' formula by offering more performance in expensive and exclusive coupes. While the Infiniti G37 and Lexus IS Coupe have made inroads in the luxury realm, Honda's Accord Coupe also enjoys a relatively strong following in the mainstream marketplace. Interestingly though, Toyota's Solara coupe and convertible—while certainly nice cars in every sense of the phrase—struggled and were ultimately killed.
A number of reasons have been proffered for this; chief among them coupes are expected to be more performance-oriented than the sedans on which they're based. In this regard the Solara was really little more than a re-bodied Camry with two less doors. So, while it had all of the virtues of smoothness and reliability the Camry was known for, it also had half the practicality and no performance reputation to fall back on.
Toyota officials say there is a possibility the model will return one day, but as of this writing (February, 2012), the only way to get a Toyota Solara is on the used car market.
Toyota produced two generations of the car, starting in 1999.
Used Toyota Solara: 1999 – 2003
Introduced in 1998, as a 1999 model, the first Toyota Camry Solara was actually the second Toyota Camry Coupe. The original Camry Coupe was offered in North America from 1994 to 1997 and was a flop. Toyota typically runs five-year model cycles; the Camry Coupe was killed after three years. Which is not to say it was a bad car, it just didn't bring the noise the way a coupe needed to do. When Solara was introduced in 1998, Toyota's product planners, having seemingly learned from the Camry Coupe experience, took steps to ensure the Solara was seen as more than just a two-door Camry.
Used Toyota Solara: 1999
The 1999 Toyota Camry Solara was introduced in two states of trim, SE and SLE. There were also two engines offered for the front-drive only models, a 135-horsepower, 2.2-liter four cylinder, capable of generating 147 ft.-lbs. of torque and a 200-horsepower, 3.0-liter V6, which developed 214 ft.-lbs. of torque.
Both engines were fitted to SE trimmed models, but the SLE was exclusively V6. Toyota also offered a choice of a five-speed manual or a four-speed automatic transmission with both engines in SE trim. The SLE was available only with a four-speed automatic.
To improve the handling of the Solara over its Camry parts donor, Toyota's engineers started by specifying a stiffer spring set, along with a strut tower brace. Additionally, the suspension mounts were made more rigid and the rear package shelf was reinforced to be stiffer as well. The idea was to introduce more rigidity to the platform to make it easier for the suspension system to keep the tires more firmly planted to the pavement.
Unfortunately, they then proceeded to add more weight. In an effort to get the "sporty" coupe to be as quiet as a Lexus, the Solara was loaded with sound deadening materials. The standard equipment list was bloated to Lexus-like levels as well. Cruise control, woodgrain trim, power windows, power door locks, and power mirrors were standard Solara SE kit. To all of that, SLE added heated side view mirrors, automatic climate control, keyless entry, and perforated leather-trimmed upholstery with an eight-way power adjustable driver's seat.
JBL audio systems debuted in Toyota products as an option with the Solara. The Solara's system was driven by an in-dash CD player, as well as a cassette deck.
Safety kit included daytime running lights, in addition to driver and front passenger airbags as well as driver and front passenger seat belt pretensioners. Antilock brakes were optional on four-cylinder models, (but standard with the V6). Side airbags were available as an option for both trim levels, while traction control was an SLE option.
Bottom line, if you didn't care that much about performance, Solara was a pretty nice package. It had a graceful body, a quiet cabin, and a plethora of features. It also had a whole bunch of weight for its mild-mannered engines to motivate.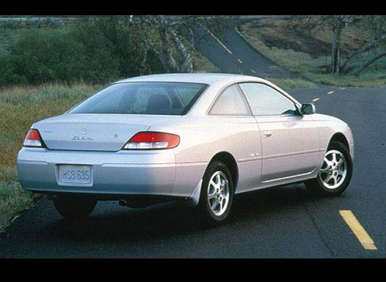 Used Toyota Solara: 2000
Solara Convertible debuted, with both trim levels carrying over to the topless variant of Toyota's coupe. The JBL audio systems were upgraded to include six-disc in-dash CD changers along with the cassette player. The folding top was power operated and the rear windows went down automatically when the top was retracted. The glass rear window featured heating elements for defrosting in colder weather.
2001
For model year 2001, SLE models bundled the JBL audio system with leather upholstery. In other words, if you wanted the hot audio setup, you had to go with leather seats too. The anti-theft system and its engine immobilizer was deemed fit only for the top-level SLE model, so uh, car thieves looking for an easier score on a 2001 Solara might, you know, want to focus their attention on the SE models.
(Hey, we're just saying…)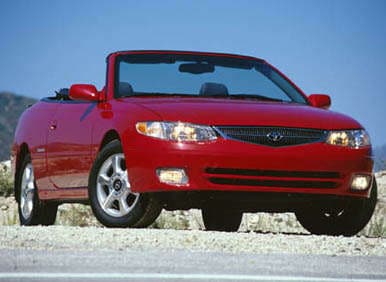 Used Toyota Solara: 2002
To coincide with the all-new 2002 Camry, Toyota freshened the Solara's appearance. The product planners also specified a new four-cylinder engine for the SE. Displacing 2.4-liters, the revised powerplant made 157 horsepower and 162 ft.-lbs. of torque. Up front, the two-door Camry got a new grille, a new bumper and new headlights. The going away view of the car flaunted new taillights and a new bumper as well. The remote control key fob was granted the ability open the trunk, in addition to unlocking the doors.
A new appearance package was specified for the 2002 SE Coupe (but not the convertible). Its features consisted of alloy center caps for the wheels, a three-spoke perforated leather-wrapped steering wheel, a leather cover for the shift knob, black exterior trim (in place of chrome), and Black Pearl emblems. Seat heaters were added as an option for the 2002 model year coupes, but strangely, not the convertibles, where—arguably—they were needed more.
2003
With an all-new model poised coquettishly just offstage, changes to the 2003 Toyota Camry Solara were nil. The only difference for 2003 was the manual transmission option was dropped for the V6 engine.
Used Toyota Solara: 2004 – 2009
The second generation Solara bowed with a more fluidly curvaceous form, (though some reviewers decried it as frumpy). The same trim levels were offered, SE and SLE; with a sport variant of the SE available for the coupes. A new 3.3-liter V6 engine also debuted for both SE and SLE models. Output of the new engine was 225 horsepower and 240 ft.-lbs. of torque. The four-cylinder engine option was dropped for the convertible. From 2004 forward, all Solara convertibles ran V6 engines. A five-speed automatic transmission was specified for the V6 engine, while the four-cylinder engine (the same 2.4-liter from the previous generation Solara) was offered with both a four-speed automatic transmission and a five-speed manual. There was no manual transmission option for the V6 engine.
Used Toyota Solara: 2004
Standard features of Solara SE included sixteen-inch alloy wheels, variable intermittent wipers, a rear window defogger and a pair of manually operated cloth front bucket seats—with height adjustment and lumbar for the driver. A full power package locked the doors, adjusted the mirrors and raised the windows. The driver's window got one-touch operation. A remote trunk release and retained accessory power, along with a tilt and telescopic steering wheel with audio and cruise control buttons were fitted as well. Rounding out the package were air conditioning, interior air filtration, a trip computer, and a six-speaker audio system driven by an in-dash single-disc CD player.
SE Sport added seventeen-inch wheels, a more robust suspension system, an exterior body kit, graphite- interior trim, a unique set of instruments, and leather trim on the steering wheel and shift knob.
Moving up to the four-cylinder SLE from the SE bought an eight way power driver's seat with power adjustable lumbar support, leather upholstery, heated mirrors, a cargo net for the trunk, a universal remote transmitter for garage doors and security gates, an automatic climate control system, simulated wood trim, an electrochromatic inside rear view mirror, and an eight-speaker JBL audio system with a six-disc in-dash CD changer.
The 2004 Toyota Solara SLE V6 came all of the above, plus seventeen-inch wheels, and heated leather seats for the driver and front passenger. Its options included navigation, stability control and traction control.
The safety package for the 2004 Solara included ABS, dual side airbags, child seat anchors, a remote anti-theft alarm system, daytime running lights, an engine immobilizer, fog lights, automatic headlights, seatbelt pretensioners, electronic brakeforce distribution, and tire pressure monitoring.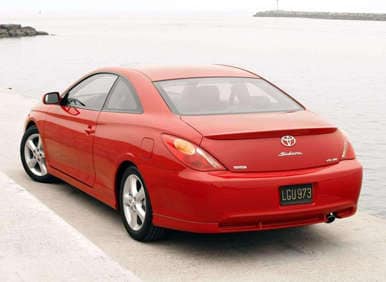 Used Toyota Solara: 2005
All new for 2004, no real changes were made for 2005, other than the addition of leather for the steering wheel, shift knob and parking brake handle on the SE convertible.
2006
Solara SE and SE Sport got power lumbar for the driver's seats and the four-speed automatic transmission was finally laid to rest. From 2006 forward, all Solara models used five-speed automatic transmissions.
Used Toyota Solara: 2007
The nomenclature of the trim lines was adjusted a bit for 2007, making the designations SE, Sport, and SLE. The 2007 SE came with seventeen-inch wheels, full power accessories, keyless entry, cruise control and a six-disc CD/MP3 stereo audio system with an auxiliary input jack. SE convertibles also featured a power-operated top.
The Solara Sport used a firmer suspension system, seventeen-inch wheels, an aero body kit, Xenon HID headlights, and graphite-style interior trim replaced the wood-grain of the SE. Sport models also featured unique instrumentation, in addition to a leather-wrapped steering wheel and shift knob.
The 2007 Solara SLE ran an automatic climate control system, wood-grain trim, a power-adjustable driver's seat, and a moonroof for the coupe. A JBL premium audio system, Bluetooth connectivity, and leather seating (on V6 models) rounded out the package. A navigation system was optional for the 2007 SLE.
2008
For its last year of production Solara got no changes.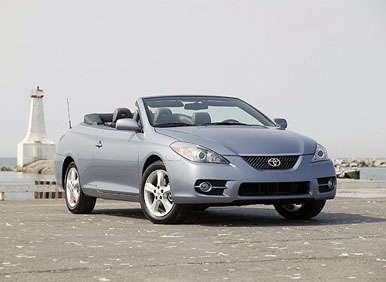 Used Toyota Solara: Summary
Ultimately, the Solara's blandness was its undoing. The car featured smooth, sophisticated powertrains, exceptional fit and finish, a high level of standard features, all the best tech for their eras, and of course Toyota's reputation for bulletproof reliability.
However, the models were also hamstrung by ho-hum styling, marginal performance from their overtaxed engines, and an emphasis on ride over handling—even with the so-called "sport" trims.
All of that said, if you don't care about performance and handling, but you like the idea of a two-door coupe that will seat five, or a convertible that will seat four in relative comfort, a pre-owned Toyota Camry Solara is quite possibly the car you've been lusting after. You'll find them pretty reasonably priced and you'll find the vast majority of them in really good shape too, as they were, in all likelihood, owned by "responsible" people.
That said, pulling a vehicle history report against the car's VIN is still a good idea to make sure it has a clean title. An Internet search for "Toyota Solara recalls"—indicating the model year of your interest—is a good idea as well. The Solara has a pretty sound history in that regard, but safe is always better than sorry.
You'll also want to subject any car you're seriously considering buying to a pre-purchase inspection by a knowledgeable, professional Toyota mechanic.