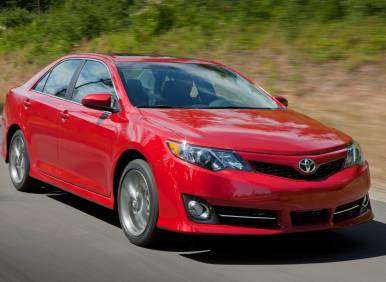 With the Recallathon of 2010/2011 fading into the past, Toyota continues to rebuild its reputation among U.S. buyers and recently posted the highest year-over-year gains in the ALG Perceived Quality Study (PQS). The study, now in its fifth year, is performed semi-annually by the same team behind one of the auto industry's most-watched measures of residual values.
And remember, perceived quality can be just as important to a brand's fortunes as its actual quality, if not more so; after all, in the words of ALG, "A negative belief about a brand based on the opinion of friends or family, or a high-profile incident, can sour a consumer on that brand's complete model lineup. Alternatively, a positive belief about a brand can sometimes trump poor quality."
2012 ALG Perceived Quality Study: The Mainstream Rankings
In an environment in which the mainstream average in the Spring 2012 PQS was 59.1 index points, and the top-scoring brand—Honda—garnered a total of 81.3 points, Toyota lifted its score by 6.4 points, the most in the study. that left Toyota to finish in second place at 80.1 points. According to ALG: "For Toyota, a 30-year history of good will has helped close the gap after declining by 16 points relative to Honda [in previous studies]."
It's also worth noting that Honda's ratings slipped by 1 point during the study period, which ran from spring 2011 to spring 2012.
The next highest gainer behind Toyota was Fiat, a brand that, as ALG understated, "had some lingering quality concerns from its last U.S. foray." But thanks to the growing momentum of the FIAT 500, which set an all-time sales record last month, the brand enjoyed a 6.1-point jump in perceived quality—although it remained in the penultimate spot in this year's rankings, ahead of only Smart, with 44.1 points. Also outperforming the mainstream average in the ALG PQS were Scion (+2.5 points), Dodge (+2.5 points), Kia (+2.4 points), Chrysler (+1.2 points) and Suzuki (+1.2 points).
The mainstream brands that finished above the industry average in terms of total scores were:
Honda (81.3 points)
Toyota (80.1 points)
Subaru (71.1 points)
Ford (70.5 points)
Nissan (70.2 points)
Volkswagen (69.6 points)
Mazda (64 points)
Hyundai (62.3 points)