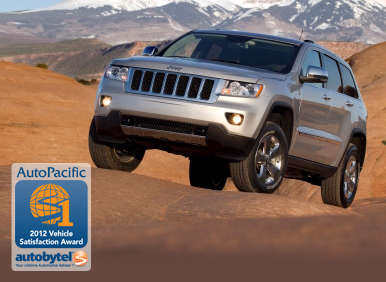 Based on input from 75,000 vehicle owners, responding to surveys sent out during the first quarter of the year, the AutoPacific 2012 Vehicle Satisfaction Awards (VSAs) provide a unique look at which vehicles provide the most satisfying overall ownership experience. Many other vehicle recognitions focus only on specific aspects of ownership, or turn to often subjective reports from the media, but the VSAs evaluate entries on 48 potential measures of customer satisfaction straight from consumers themselves.
On the other hand, there was no  conflict when it came to AutoPacific's highest-rated mid-size SUV: The Jeep Grand Cherokee satisfies both customers and the critics alike.
(The competitors in the mid-size SUV class are just that—true SUVs with a strong emphasis on off-road capabilities and, generally speaking, truck-like body-on-frame construction.   The AutoPacific VSAs have separate categories for top-rated crossovers.)
Top-Rated Mid-Size SUV: 2012 Jeep Grand Cherokee
As the top-rated mid-size SUV in the 2012 Vehicle Satisfaction Awards, the Jeep Grand Cherokee extends its position as the world's most-awarded SUV even further.
Completely redesigned in 2011, the Jeep Grand Cherokee also does some bar-raising in terms of off-road performance, offering both a Quadra-Lift air suspension that allows drivers to choose from five different ride heights and the Selec-Terrain traction control system that tailors the torque for five selectable driving modes. But the Jeep flagship also provides smooth sailing on the road, with a premium interior that coddles its occupants with soft-touch materials, advanced technologies like the award-winning Uconnect connectivity and infotainment system, a heated steering wheel, heated and ventilated front seats, and safety measures such as blind-spot warning and adaptive cruise control.
The highest-rated mid-size SUV in the 2012 VSAs provides two satisfying engine choices as well: A 3.6-liter Pentastar V6 that enables the Grand Cherokee to go more than 500 miles on a single tank of gas—a best-in-class performance—and a 5.7-liter HEMI that utilizes 360 hp and 390 lb.-ft. of torque to pull up to 7,400 lbs.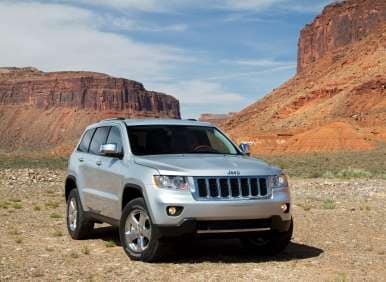 Top-Rated Mid-Size SUV Winner: 2012 Jeep Grand Cherokee Competitors
The Jeep Grand Cherokee rolled to victory as the highest-rated mid-size SUV by a fairly large margin, but its one drawback for some shoppers may be that it only offers two rows and seating for five. That's where other podium finishers like Toyota 4Runner and Nissan Pathfinder come to the fore. Both offer the benefit of three rows and can fit up to seven occupants, and the Pathfinder could be a particularly good deal since it's in the last few months of its life cycle—an all-new, less rugged version is due later this year.
How the Premium Mid-Size SUV Rated
Mid-Size SUVRankVehicleScore1Jeep Grand Cherokee6602Toyota 4Runner6373Nissan Pathfinder6344Toyota FJ Cruiser6255Nissan Xterra6006Jeep Liberty5887Jeep Wrangler573