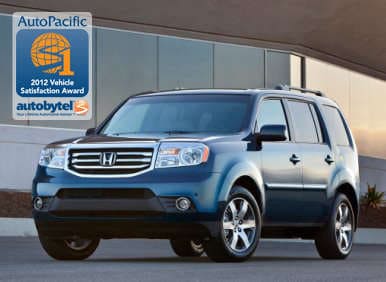 75,000 new car and new truck owners form the basis for the 2012 AutoPacific Vehicle Satisfaction Awards (VSA).  The opinions drawn from a survey of these individuals, who are asked to rate their own vehicles according to 48 different attributes, help to provide on the purest rankings of new automobiles in the United States.  All data for the VSA's is gathered during the first three months of the calendar year.
The AutoPacific Vehicle Satisfaction Award for the top-rated Premium Mid-Size Crossover SUV has been claimed by the 2012 Honda Pilot.  The Honda Pilot, which has been refreshed for the current model year, has received a number of improvements that have helped it to rise above the rest of the crossover pack and make a stronger play for the dollars of families on the go.
Top-Rated Premium Mid-Size Crossover: 2012 Honda Pilot
The 2012 Honda Pilot's ascension to the title of best-rated Premium Mid-Size Crossover SUV was no doubt aided and abetted by recent styling changes that saw the vehicle gain a new look that make it somewhat less boxy than the previous model.  What else has been upgraded in the Pilot?  The vehicle's eight-passenger cabin is now quieter, its available navigation system has been made easier to use and each trim level has been given a higher level of standard equipment.  87 cubic feet of internal storage space are also on hand for the redesigned Pilot with the rear two rows of seating folded forward.
The Honda Pilot's status as the AutoPacific's highest-rated Premium Mid-Size Crossover SUV is made that much sweeter by the vehicle's improved fuel efficiency for 2012.  The Pilot's 250 horsepower, 3.5-liter V-6 (which also generates 253 lb-ft of torque) now returns fuel mileage of 18-mpg city and 25-mpg highway, which represents a one and two mile per gallon boost for each respective measure compared to the 2011 model.  A five-speed automatic transmission is included free of charge with the Honda crossover and all-wheel drive is available as an option.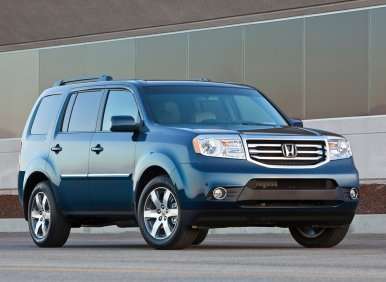 Top-Rated Premium Mid-Size Crossover: 2012 Honda Pilot Comptetitors
In order to stand tall as the top-rated Premium Mid-Size Crossover SUV the Honda Pilot had to stave off a number of other worthy competitors.  The list of runners-up included the slow-selling but well-liked Honda Crosstour, the versatile and stylish Nissan Murano and the surprising upstart GMC Terrain, which is somewhat smaller than the top three finishers but which has managed to earn a spot amongst the most-appreciated crossover SUVs currently on the market.
How the Premium Mid-Size Crossover Segment Rated
1 Honda Pilot6922 Honda Crosstour6893 Nissan Murano6884 GMC Terrain6795 Dodge Durango6766 Toyota Venza6736 Ford Edge6738 Kia Sorento6729 Ford Explorer66810 Toyota Highlander66711 Chevrolet Equinox65812 Hyundai Santa Fe65513 Subaru Outback63814 Dodge Journey626