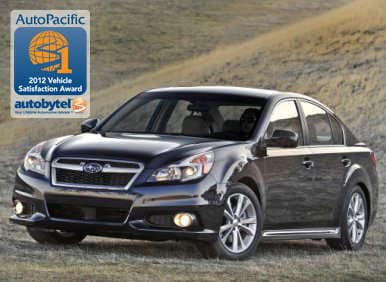 Over 75,000 owners of new cars and light trucks in the United States during the  first quarter of 2012 were tabulated to determine the winners of the AutoPacific & Autobytel 2012 Vehicle Satisfaction Awards (VSA), the 2012 Subaru Legacy won the title of America's highest-rated Premium Mid-Size Car.
The winners were based solely on the resulting measure of owner satisfaction demonstrated, neither AutoPacific nor Autobytel had a vote. The determination were made  purely from the numbers generated by the owner ratings. 
To win the title of top-rated premium mids-size car, the Subaru Legacy bested such noted automotive values as the Suzuki Kizashi and the Chrysler 200. While it's true Subaru Legacy owners tend to be a very loyal lot, they should be, because the Legacy is  highly robust, nicely equipped, and fun to drive.
It's simple logic,  overall vehicle satisfaction is in fact derived from ownership experiences. Thus, AutoPacific & Autobytel's Vehicle Satisfaction Award is a significantly more accurate measurement of how satisfied new car and light truck buyers are with their recently purchased vehicles. After all, the best way to find out what a car is really like is to live with it.
Top-Rated Mid-Size Car: 2012 Subaru Legacy
Perhaps it's no surprise Subaru Legacy owners tend to be a pretty satisfied bunch. First of all, they're attracted to the car in the first place because it's so different. Recognizing the advantages of horizontally opposed engines and all-wheel drive also takes some pretty auto-savvy individuals. That said, Subaru buyers tend to know well what they're getting into going in.
Still, once you get beyond the quirky styling and unique powertrain layout, you'll find the highest-rated midsize car to be a highly rewarding car to drive, regardless of which engine is fitted to the Subaru. The Legacy endows its drivers with a low center of gravity, responsive steering, determined braking, and agile handling. Go for one of the turbocharged variants, or the six-cylinder model (by the way, the only other manufacturer offering a flat-six cylinder engine is Porsche—OK?) and you'll get dynamic thrust to go along with the athletic chassis.
A full spate of useful equipment furthers the Legacy's best-rated mid-size car case; automatic headlights, air-conditioning, cruise control, a height-adjustable driver's seat, a tilt-and-telescoping steering wheel, and full power accessories are all standard—regardless of the trim level you choose. Among the optional features of AutoPacific & Autobytel's best-rated midsize car are touchscreen navigation, leather upholstery and a nine-speaker Harmon/kardon audio system.
For people living in areas where winter is an overriding aspect of any automotive purchase decision, the Legacy's All Weather package adds (a hard-to-find on any other car short of a Range Rover) windshield wiper de-icer, to a pair of heated side mirrors and heated front seats.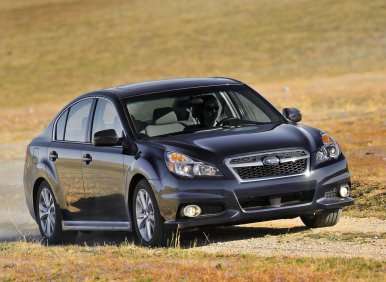 Top-Rated Mid-Size Car WInner: 2012 Subaru Legacy Competitors
In the Subaru Legacy's wake for best-rated mid-size car (listed in order of ranking) are  the Suzuki Kizashi, Dodge Avenger, Chrysler 200 and the Mitsubishi Galant. That all of these brands tend to languish in the shadows of marques with more notoriety (like Toyota, Honda and Nissan) says the people buying these models are primarily seeking value over image.
How the Mid-Size Segment Rated
RankVehicleScore1Subaru Legacy6452Suzuki Kizashi6423Dodge Avenger6373Chrysler 2006375Mitsubishi Galant635