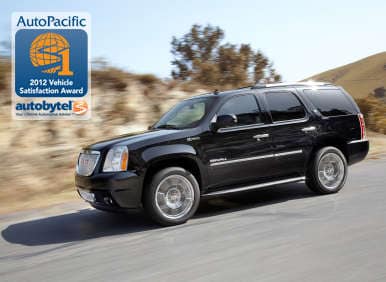 The 2012 AutoPacific Vehicle Satisfaction Awards (VSA) draw from the opinions of 75,000 new car and new truck owners across the United States asked to rate their own vehicles according to 48 different attributes.  The goal is to provide a clear and unbiased ranking of owner satisfaction, based on results gathered during the first three months of the 2012 calendar year.
The VSA for AutoPacific's top-rated Large SUV is this year awarded to the 2012 GMC Yukon.  The GMC Yukon has long been recognized as a versatile and rugged entry into the full-size SUV segment, and years of refinement have provided the truck with a level of capability that few of its competitors can match pound for pound.
Top-Rated Large SUV: 2012 GMC Yukon
The 2012 GMC Yukon clearly demonstrates all of the characteristics necessary to gain best-rated Large SUV status.  For starters, the Yukon makes just under 110 cubic feet of total interior storage room available with the rear rows of seating out of the picture, and it additionally posts a tow rating of 8,400 lbs.  The GMC SUV can be configured to accommodate as many as nine passengers, and when ordered in Denali luxury trim the Yukon not only gains exclusive exterior and interior styling cues but it also benefits from the installation of a host of high end features that make it a compelling premium truck choice.
The 2012 GMC Yukon also delivers the kind of power that one would expect from AutoPacific's highest-rated Large SUV.  The vehicle starts out with a 5.3-liter V-8 under the hood, and this engine generates 320 horses and 335 lb-ft of torque on its way to delivering fuel mileage of 15-mpg around town and 21-mpg during highway cruising.  The Yukon Denali gains a 6.2-liter V-8 that is good for a stout 403 horsepower and 417 lb-ft of torque.  A six-speed automatic transmission is standard with both engines, and while the standard Yukon is available with an off-road-ready four-wheel drive system the Denali is instead given the option of all-wheel drive.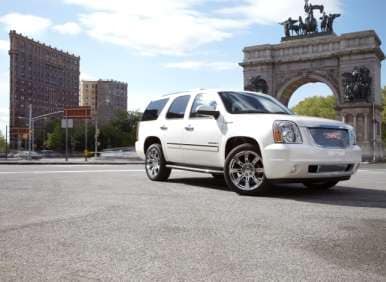 Top-Rated Large SUV: 2012 GMC Yukon Competitors
On its successful quest to be crowned AutoPacific's top-rated Large SUV the GMC Yukon was forced to do battle with more than a few strong contenders.  The extended edition of the same vehicle - the GMC Yukon XL - was the second place finisher in the 2012 VSA's, while cross-town rival the Ford Expedition EL took third.  Rounding out the competition for best-rated Large SUV glory was the Nissan Armada, itself a somewhat older but still viable full-size sport-utility vehicle option.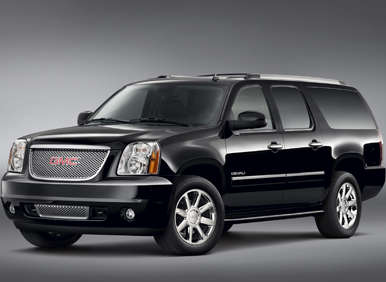 How the Large SUV Segment Ranked
 1 GMC Yukon 725 2 GMC Yukon XL 691 3 Ford Expedition EL 684 4 Nissan Armada 682 5 Chevrolet Suburban 681 6 Ford Expedition 670 7 Toyota Sequoia 666 8 Chevrolet Tahoe 665