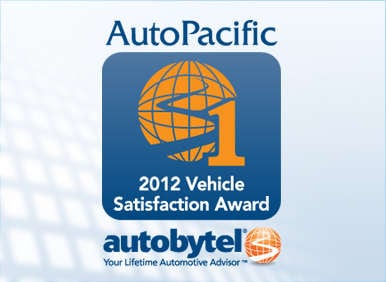 Autobytel and AutoPacific are pleased to partner in an effort to provide automotive shoppers with the best ratings possible from actual new car owners. The results are a set of awards, the Vehicle Satisfaction Awards and the Ideal Vehicle Awards, each distributed after surveying 75,000 new car buyers.
The 2012 Vehicle Satisfaction Awards (VSA) that are being announced on May 24, 2012, are based on surveys completed by owners of new cars and light trucks in the United States in the first quarter of 2012. 
The VSAs are based solely on owner input and their opinions about their new cars.  The results are based on the actual owner ratings.  AutoPacific and Autobytel do not have a vote.  We only do the arithmetic and deliver the results to shoppers so that they can make informed decisions. 
The VSAs are very different from other automotive awards that concentrate on reliability or quality to the exclusion of how satisfied owners are with their vehicles and give a unique perspective not often found in the evaluations made by professional automotive journalists.
While the VSAs measure owner satisfaction, in many cases, an extremely satisfying vehicle is not the car or truck that has the best absolute build quality. Rather, vehicle satisfaction is derived from the overall ownership experience.
AutoPacific's Vehicle Satisfaction Award is an accurate measurement of how satisfied new car and light truck buyers are with their recently purchased vehicle.
Another set of awards, coming soon from Autobytel and AutoPacific are the Ideal Vehicle Awards (IVA). 
The IVA are based on owners' ratings of their new cars and trucks across 15 key vehicle attributes, including: exterior styling, exterior size, passenger roominess, cargo space, driver's seat comfort, driver's seat visibility, info/entertainment technology, interior lighting, power and acceleration, ease of getting in and out, interior storage compartments, ride, handling, safety features and tires and wheels.   
The survey includes responses from more than 75,000 consumers who have owned their vehicle for 90 days or more.  In addition to identifying segment winners, the IVA also establishes numerical Ideal Vehicle Ratings for virtually every passenger car and light truck in the United States market.
See last year's Autobytel and AutoPacific 2011 IVA results.