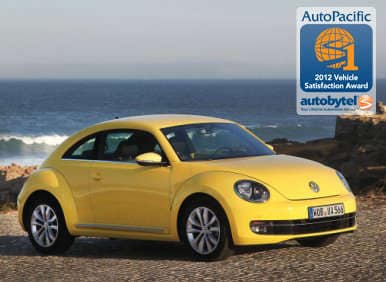 75,000 new car and truck owners across America are responsible for determining the recipients of the AutoPacific 2012 Vehicle Satisfaction Awards (VSA).  Each VSA winner is calculated from a survey of owner satisfaction that takes into account only the input provided by participants in the first quarter of 2012, ensuring a pure and unbiased result.
The 2012 Volkswagen Beetle snags AutoPacific's Top-Rated Compact Car honors this year after an important redesign gave the retro-themed hatchback a fresh lease on life and helped it appeal to a brand new audience that may not have previously considered the original edition of the automobile.
Top-Rated Compact Car: 2012 Volkswagen Beetle
The 2012 Volkswagen Beetle hatchback abandons its previous 'cute' persona and adopts more aggressive styling that undoubtedly had a hand in the automobile securing best-rated Compact Car status.  There's no mistaking the Beetle for anything other than a continuation of the first generation's design cues that link it to the original, and iconic version of the car, but a flatter roof, stretched platform and wider stance give the 2012 model an appealing and sporty character.
Like most Volkswagen entries into the small car segment, the 2012 Volkswagen Beetle is comfortable to drive yet also responsive through the corners.  A well turned-out interior is another VW trademark, and buyers will be happy with either of the top-rated Compact Car's two engine options: a 2.5-liter, five-cylinder unit that delivers 170 horsepower and a 2.0-liter, turbocharged four-cylinder that can be relied on to produce 200 horses and 207 lb-ft of torque.  Transmission choices for the Beetle include a mix of five and six-speed manuals as well as a six-speed automatic and a six-speed dual-clutch automated manual.  Fuel mileage for the two power plants comes out nearly dead even, with the five-cylinder squeaking ahead with a rating of 22-mpg city and 31-mpg highway.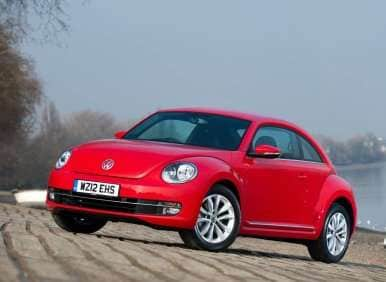 Top-Rated Compact Car WInner: 2012 Volkswagen Beetle Competitors
Competition for the highest-rated Compact Car was furious.  Another box-like crossover - the Kia Soul - made a compelling run for the best-rated Compact Car crown, followed by stable mate the Kia Forte sedan, which has enjoyed surging popularity due to its value-oriented pricing as well as its ability to provide the same feature content as established compact car players such as the Honda Civic.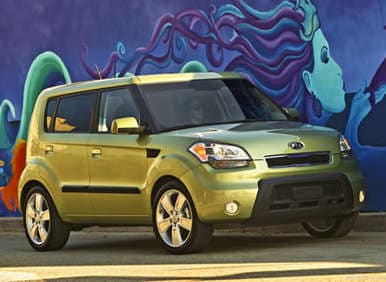 How the Compact Cars Rated
RankVehicleScore1Volkswagen Beetle6792Kia Soul6553Kia Forte6494Hyundai Elantra6435Scion xB6416Chevrolet Cruze6387Volkswagen Jetta6228Toyota Corolla6179Nissan Sentra61610Mitsubishi Lancer61411Mazda361312Ford Focus61213Volkswagen Golf60314Subaru Impreza60015Toyota Matrix59616Honda Civic59217Suzuki SX4566