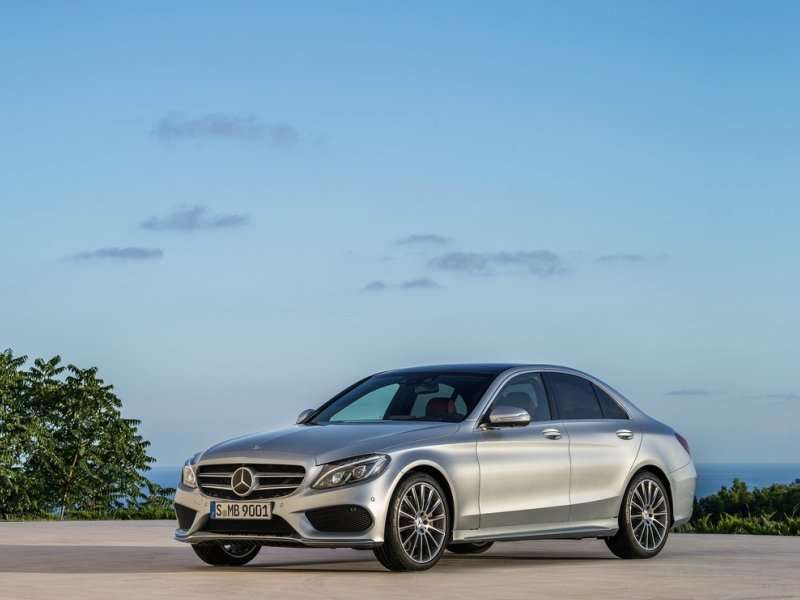 silver mb c class
2015 has been a good year for redesigned sedans as many manufacturers have elected to bring out all-new versions of these practical automobiles.  Luxury sedans, entry-level four-doors, and everything in between have been updated for the upcoming model year, and many of these top rated sedans are already on sale, or will be shortly.  We've put together this list to give you an overview of what you can expect from the latest and greatest sedans for 2015, with compact, mid-size, and full-size options to choose from.
Let's take a quick look at 10 top rated sedans for 2015.
Top Rated Sedans 2015 - 01 - 2015 Hyundai Sonata
The 2015 Hyundai Sonata continues to bear the torch as the automaker's surprise success story.  Given more 'mature' styling for 2015, the Hyundai Sonata offers a high level of features for the money, undercuts rivals like the Toyota Camry and Ford Fusion in terms of value, and is virtually guaranteed to continue to climb the mid-size sedan sales charts.  Engines are familiar for 2015 - a 185 horsepower, 2.4-liter four-cylinder in the base model, and a 245 horsepower, 2.0-liter turbocharged four-cylinder for the 2.0T - with the addition of a new Eco model that delivers 177 horsepower from a 1.6-liter turbo four-cylinder matched with a seven-speed dual-clutch automated manual transmission.  The latter delivers 28-mpg in city driving and 38-mpg on the highway.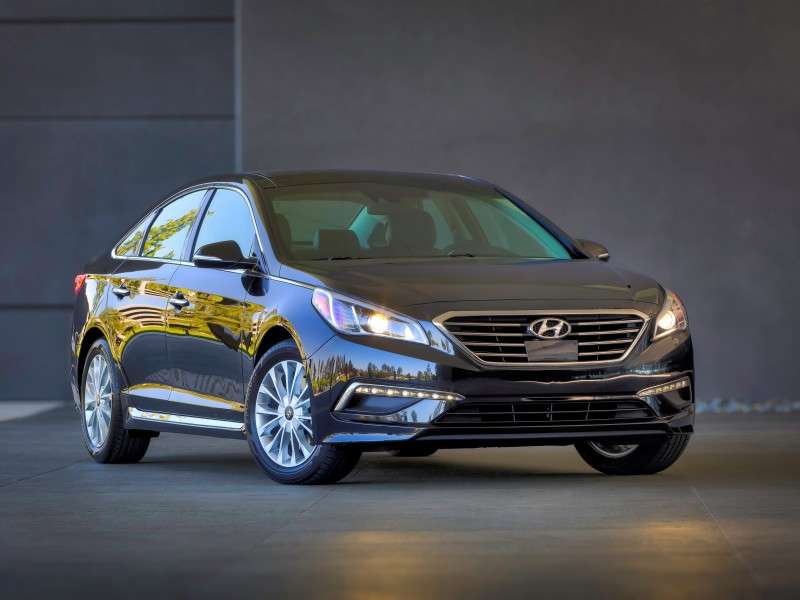 Top Rated Sedans 2015 - 02 - 2015 Subaru Legacy
The 2015 Subaru Legacy shows how determined the Japanese automaker is to break into the mid-size mainstream.  The Subaru Legacy features a more fuel efficient continuously-variable automatic transmission as standard equipment, which allows the sedan to deliver much improved fuel economy while maintaining its standard all-wheel drive system.  The 2.5-liter entry-level Legacy offers 175 horsepower and 36-mpg on the highway, while the 3.6-liter six-cylinder model ups the ante to 256 horsepower and 247 lb-ft of torque.  Another pleasing aspect of the Legacy's redesign is its interior, which is now fully competitive with other family cars at its price point.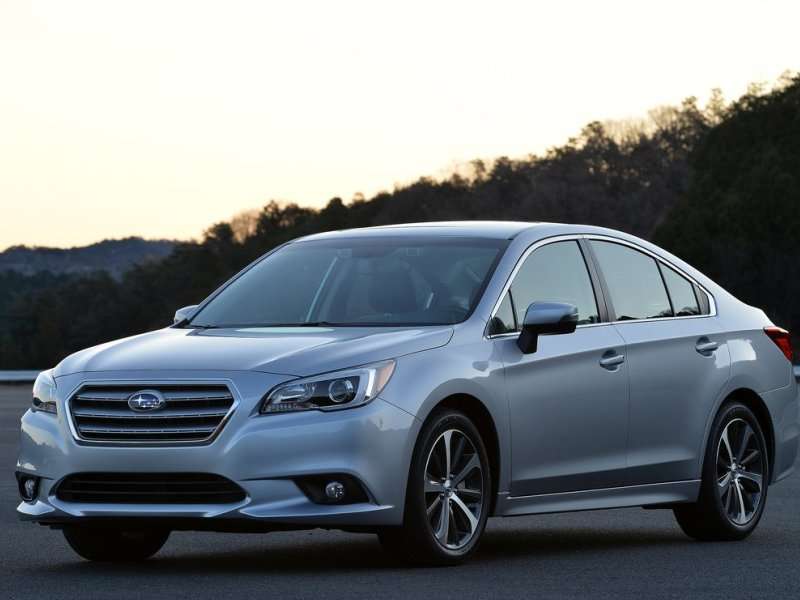 Top Rated Sedans 2015 - 03 - 2015 Audi A3
The 2015 Audi A3 indicates just how serious the compact luxury game has become.  Looking to all the world like a 7/8's version of the A4 sedan, the Audi A3 features the option of quattro all-wheel drive along with the choice of two turbocharged four-cylinder engines: a 1.8-liter (170 horsepower) and a 2.0-liter (220 horsepower).  Only the 2.0 can be paired with quattro, although a six-speed dual-clutch automated manual transmission is standard across the board.  There's a diesel model coming later in the year, in addition to the 290 horsepower Audi S3 sport sedan that offers a more focused driving experience.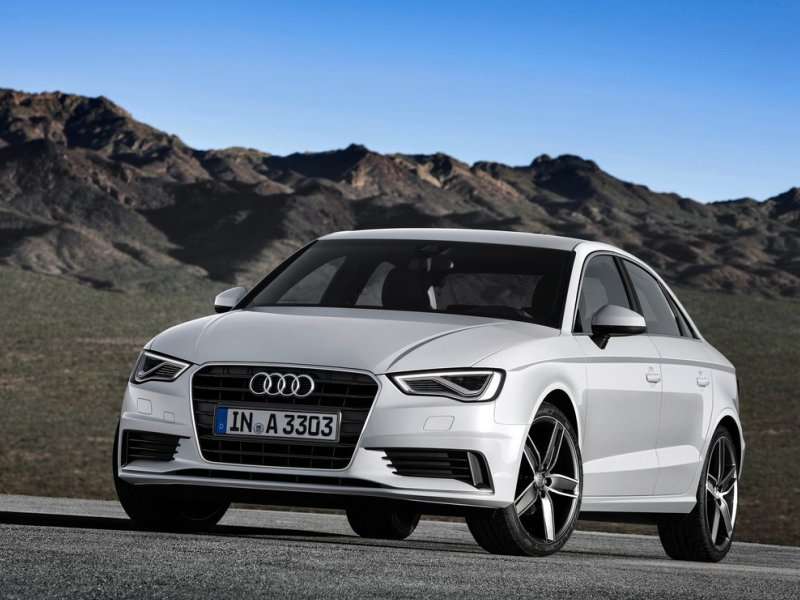 Top Rated Sedans 2015 - 04 - 2015 Mercedes-Benz C-Class
The 2015 Mercedes-Benz C-Class moves up a notch in the luxury car pantheon now that the CLA-Class has assumed the entry-level role.  The new Mercedes-Benz C-Class is bigger and more comfortable than in years past, and it also offers a higher standard of equipment and technology than has previously been available with the sedan.  The C-Class starts out with a turbocharged 2.0-liter four-cylinder mill that generates 241 horsepower and 273 lb-ft of torque, joined by a biturbo 3.0-liter V-6 on the options sheet that is good for a hefty 329 horses and 354 lb-ft of twist.  Look for a seven-speed automatic transmission and available all-wheel drive for each model, as well as an eventual turbodiesel edition of the car that will offer impressive fuel economy.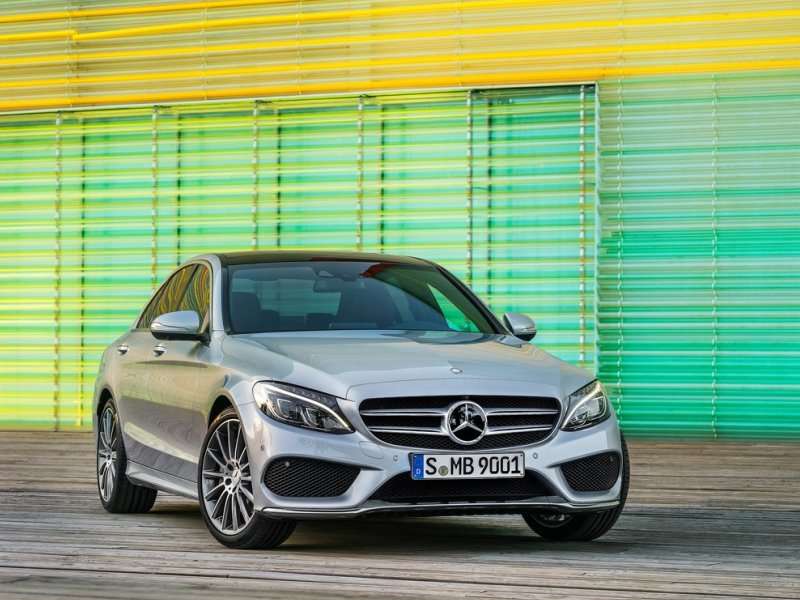 Top Rated Sedans 2015 - 05 - 2015 Subaru WRX
The 2015 Subaru WRX significantly stiffens the existing Impreza sedan platform and creates the best-handling, most comfortable version of the rally-inspired four-door sports car to date.  The Subaru WRX graduates to the same 2.0-liter turbocharged four-cylinder engine previously found in the Forester XT SUV, and its 268 horsepower and 258 lb-ft of torque give it exceptional acceleration.  More importantly, the WRX now features a smoother-shifting manual transmission with six forward gears instead of five, along with standard all-wheel drive and a new torque vectoring system up front that helps improve turn-in when cornering.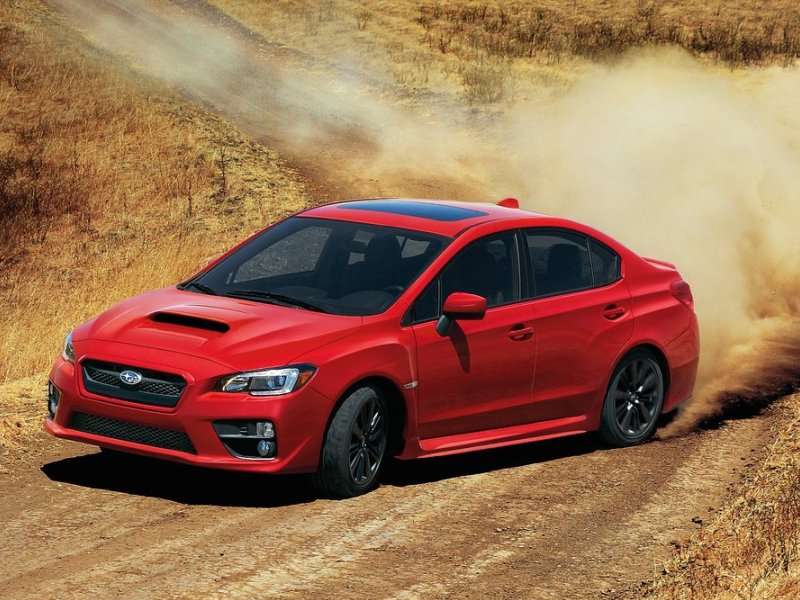 Top Rated Sedans 2015 - 06 - 2015 Hyundai Genesis
Bulkier and with more road presence than the previous model, the redesigned 2015 Hyundai Genesis makes a stronger play for the pocketbooks of premium customers.  Big inside and out, the Hyundai Genesis is dripping with comfort features and offers the kind of ride one would expect from a more established luxury brand, but at a palatable price.  The full-size four-door also features two powerful engine choices, starting out with a 311 horsepower, 3.8-liter V-6.  You can get all-wheel drive and an eight-speed automatic with the six-cylinder version of the Genesis, but if you are looking for more grunt then the rear-wheel drive edition of the sedan is configurable with a 420 horsepower, 5.0-liter V-8.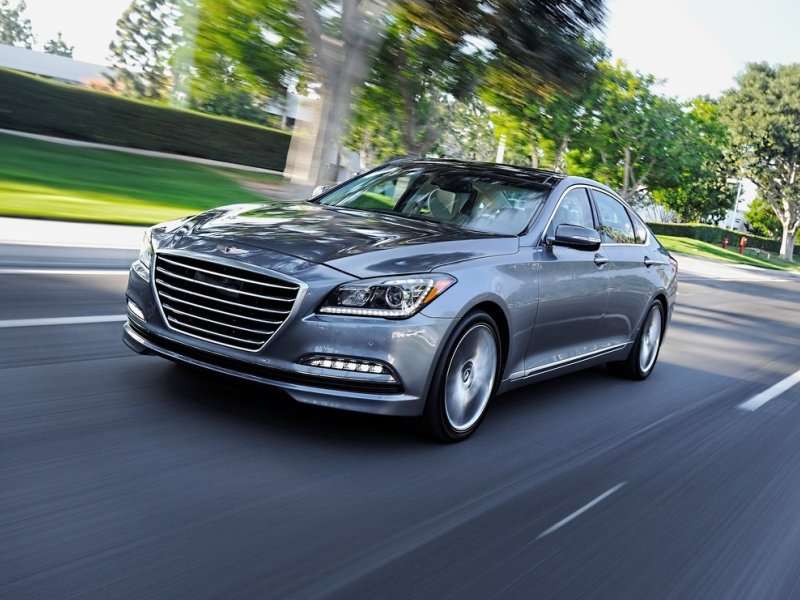 Top Rated Sedans 2015 - 07 - 2015 Toyota Camry
The 2015 Toyota Camry is a fresh face on the mid-size sedan scene, tossing out the somewhat anonymous styling of 2014 in favor of a more eye-catching design language.  There's a bunch of new stuff to be found once you've gotten past the Toyota Camry's sheet metal, too, including improved braking, a wider track, and a revised interior.  Mechanically you've got the same suspension and engines hanging in for 2015, which means a 178 horsepower 2.5-liter four-cylinder and a 268 horsepower, 3.5-liter V-6 vying for your attention.  There will also be a Hybrid model available that will offer 43-mpg in city driving and 39-mpg on the highway.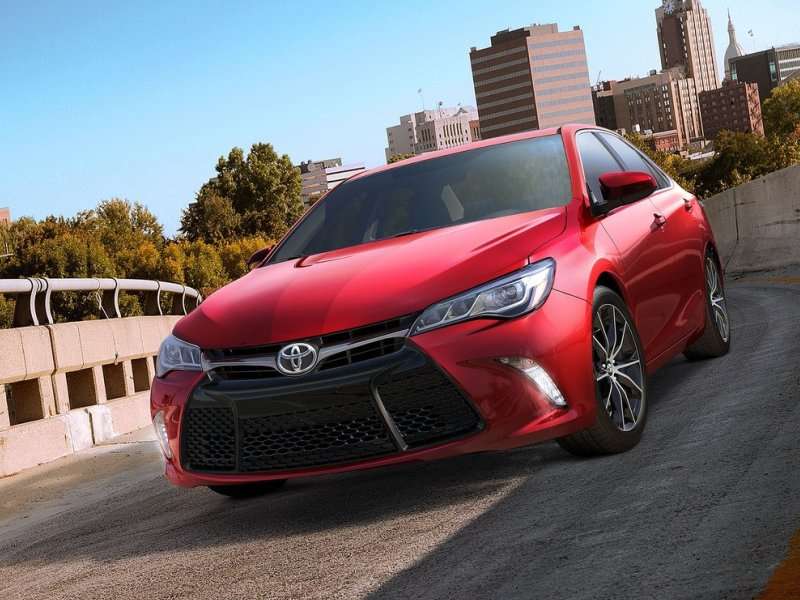 Top Rated Sedans 2015 - 08 - 2015 Kia K900
The 2015 Kia K900 is the automaker's attempt to break into the upper crust of the luxury sedan market.  From a styling perspective, the Kia K900 continues to push the boundaries of what one has come to expect from a non-traditional luxury brand, as its curves, glass, and interior are the definition of class.  Riding on a long wheelbase, the K900 features full-size passenger room along with the same 420 horsepower, 5.0-liter V-8 found in the smaller Hyundai Genesis (with a 311 horsepower, 3.8-liter V-6 eventually to be offered later in the model year).  An eight-speed automatic transmission is standard with the Kia.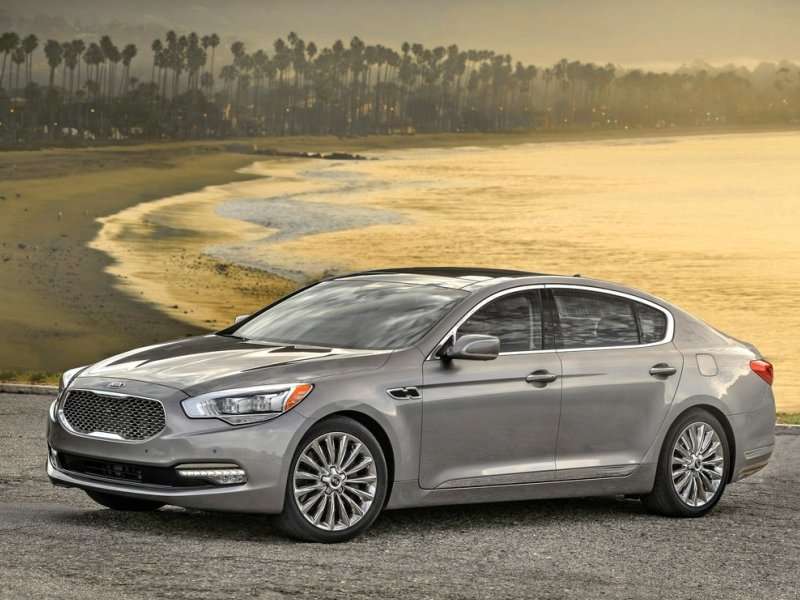 Top Rated Sedans 2015 - 09 - 2015 Acura TLX
The 2015 Acura TLX replaces both the Acura TL and the Acura TSX in order to present premium shoppers with a more-rounded entry-level mid-size option.  The Acura TLX debuts several new technologies for the brand, including Precision All-Wheel Steering (P-AWS, previously seen on the Acura RLX), an eight-speed dual-clutch automated manual transmission with a torque converter, and a 'traditional' nine-speed automatic.  The 2.4-liter four-cylinder base model generates 206 horsepower, while the available 3.5-liter V-6 is good for 290 horses.  The latter can also be paired with Acura's Super-Handling All-Wheel Drive system, which actively manages engine torque for enhanced performance.