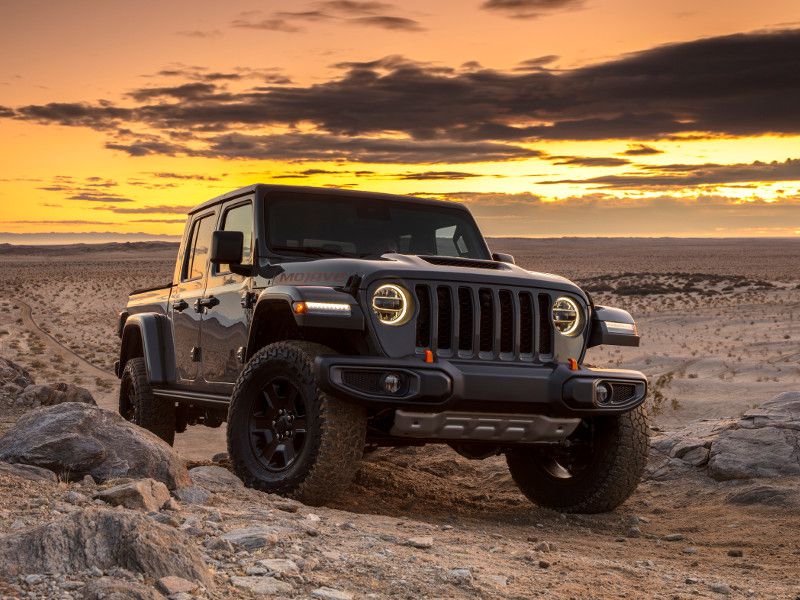 2020 Jeep Gladiator Mojave ・ Photo by Jeep
The Jeep brand has one of the strongest identities in all of motordom. Jeep vehicles are readily recognizable as members of the Jeep family, and Jeep enthusiasts frequently argue about their relative merits.
The Jeep brand has passed through a checkered series of auto manufacturers over the years from Willys to American Motors to Chrysler to Daimler Chrysler to Fiat Chrysler Automobiles and now to Stellantis. Despite all the hands that have held it, though, it has somehow managed to remain true to itself — and true to its millions of fans around the globe. This year could be the most interesting year for Jeep ever, with not only a new ownership scheme but also new submodels and powertrains galore. Here are the top five Jeep vehicles you should know about.
2021 Jeep Wrangler
The Jeep Wrangler is recognized the world over for its unique style and unparalleled off-road capabilities. It is offered in both two-door and four-door models (the latter called the Wrangler Unlimited), and its powertrain choices have continued to expand for 2021. To emphasize ruggedness, it continues to use body-on-frame architecture, solid axles, five-link front and rear suspensions, and electronic lockers.
One interesting new feature for 2021 is the TrailCam, a forward-facing off-road camera available on models with the optional 8.4-inch touchscreen. The Wrangler offers a number of open-air options including the four-door's Sky one-touch power top that enables occupants to open or close the roof with a push of a button at speeds up to 60 mph. Also accentuating the open-air feeling are lightweight removable aluminum doors. Door hinges, hood, fenders, and the folding windshield frame are made of aluminum and the swing gate is magnesium, all to help reduce weight and boost fuel economy.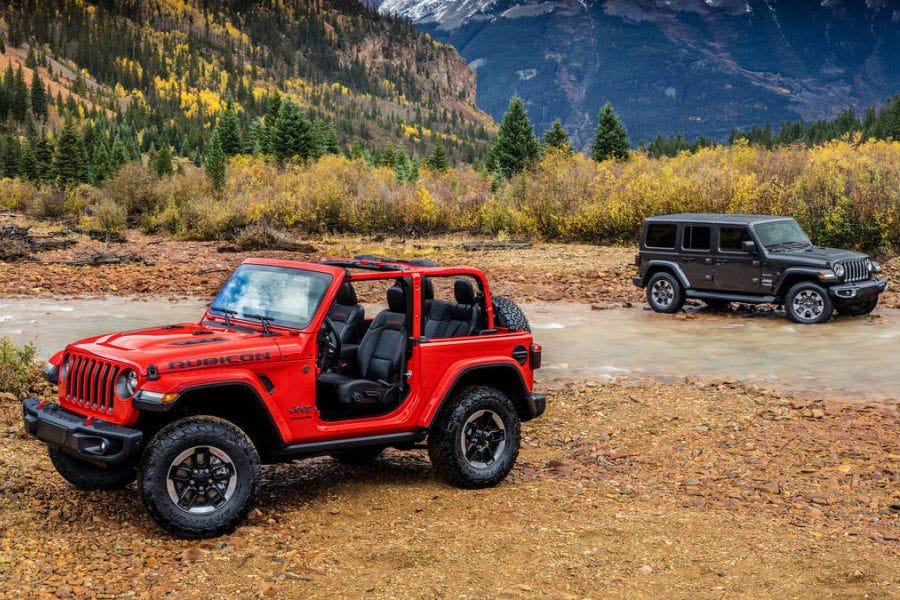 Photo by Fiat Chrysler Automobiles
More About the Jeep Wrangler
The Wrangler powertrain lineup gets some interesting new choices this year. The 2021 Jeep Wrangler Rubicon 392 has 470 horsepower and 470 lb-ft of torque from its 6.4-liter V-8. Not only is it a powerhouse, but it also includes an off-road-ready 2-inch factory lift, functional hood scoop with Hydro-Guide air intake, beadlock-capable wheels, bolstered leather seats, and active dual-mode exhaust system.
Meanwhile, the new Jeep Wrangler 4xe powertrain available in the Jeep Wrangler Sahara 4xe and the Jeep Wrangler Rubicon 4xe integrates two electric motors and a 400-volt battery pack with a turbocharged 2.0-liter four-cylinder engine and 8-speed automatic transmission. The hybrid system offers 375 horsepower and 470 lb-ft of torque, and the models are expected to achieve 50 MPGe. An array of other powertrains, some enhanced for 2021, continue to be offered in the Wrangler.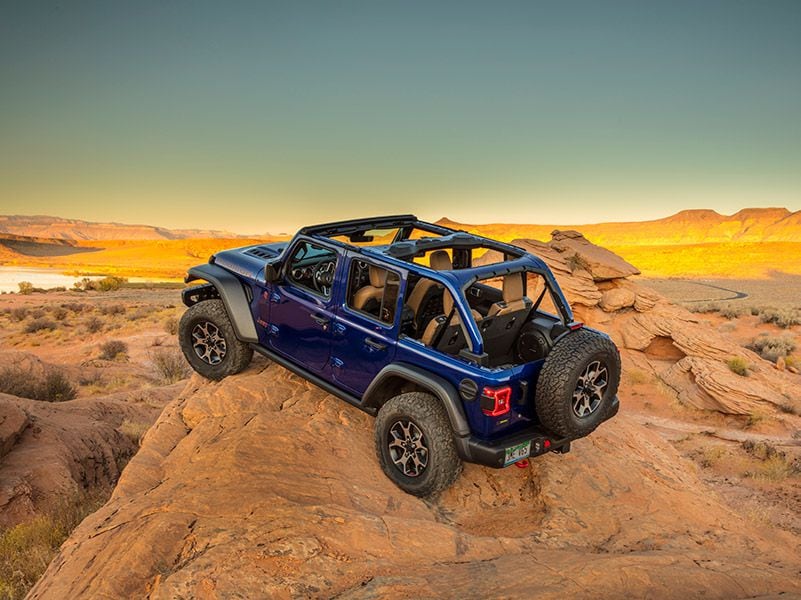 Photo by Fiat Chrysler Automobiles
2021 Jeep Grand Cherokee
While the bulk of the vehicles in the sprawling midsize SUV class are very similar to one another, the Jeep Grand Cherokee goes in a completely different direction. For years, it was only available as a 5-passenger vehicle, while others in the segment seat six, seven, or even eight.
This year, Jeep introduced a three-row Grand Cherokee L model built on the platform that will also be the basis of the "standard" 2022 Jeep Grand Cherokee. So, confusingly enough, for the 2021 model year, there are two very different Grand Cherokee models — the traditional five-passenger version and the larger, longer Grand Cherokee L. One thing the Grand Cherokee and Grand Cherokee L have in common is the availability of powerful V8 engines. Virtually all the competitors in the mid-size SUV class now use four- or six-cylinder engines, and many of the vehicles are based on front-drive platforms.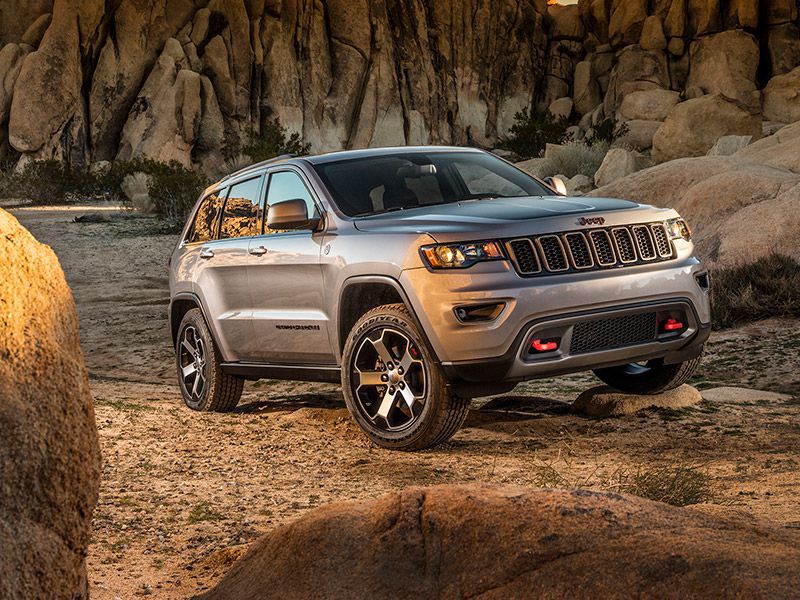 Photo by Fiat Chrysler Automobiles
More About the Jeep Grand Cherokee
Bearing the fabled Jeep brand, the Grand Cherokee is a very competent off-road vehicle that also has very pleasant on-road manners.
Available in rear-drive or 4-wheel-drive configurations, the likable SUV offers the availability of a 360-horsepower 5.7-liter Hemi V8 and the performance-oriented SRT version has a 475-horsepower 6.4-liter Hemi V8. The Grand Cherokee Trackhawk, which Stellantis claims is the most powerful SUV ever, has a 707-horsepower 6.2-liter supercharged V-8 engine. The standard engine is the time-proven Pentastar 3.6-liter V6, which is rated up to 295 horsepower. In addition to a big dose of performance, the Grand Cherokee offers high-line interior style as well. And as its brand suggests, when properly equipped the Grand Cherokee is the most capable off-roader in its segment.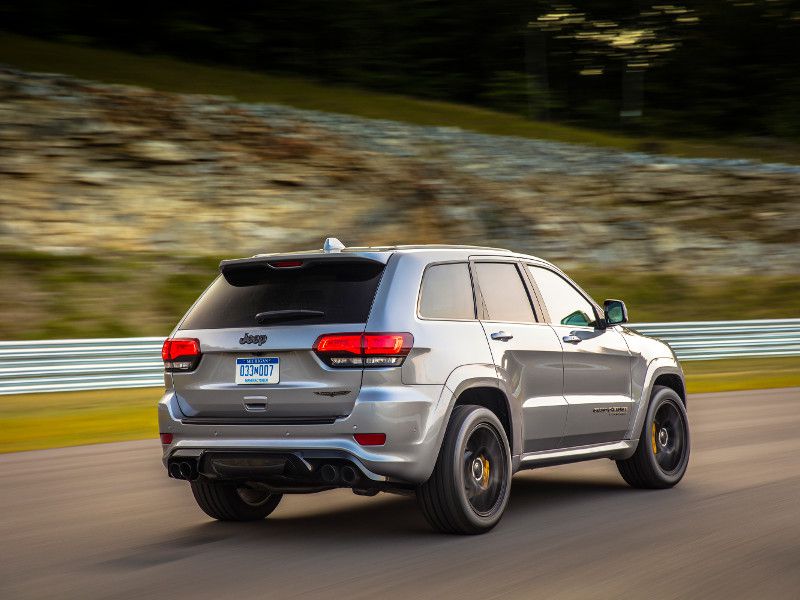 Photo by Fiat Chrysler Automobiles
2021 Jeep Cherokee
The 2021 Jeep Cherokee could be considered a small mid-size SUV or a large compact SUV. No matter how you slice it, the Cherokee combines uncommonly good off-pavement capabilities with an interior and a driving demeanor that are easy-to-live with day-to-day.
Because it bears the Jeep brand, a top priority is delivering top-notch off-road abilities, and in that quest, the Cherokee sacrifices some interior room and carrying capacity versus competitive vehicles that are not expected to negotiate the Rubicon Trail. But off-roading is only part of the Cherokee's repertoire. It is a perfectly competent five-passenger crossover SUV for everyday duty. A variety of engine choices, drive systems, and interior trims make the Cherokee a versatile choice. Unlike the larger Grand Cherokee, the Cherokee is built on a front-drive platform, though several four-wheel-drive systems are available.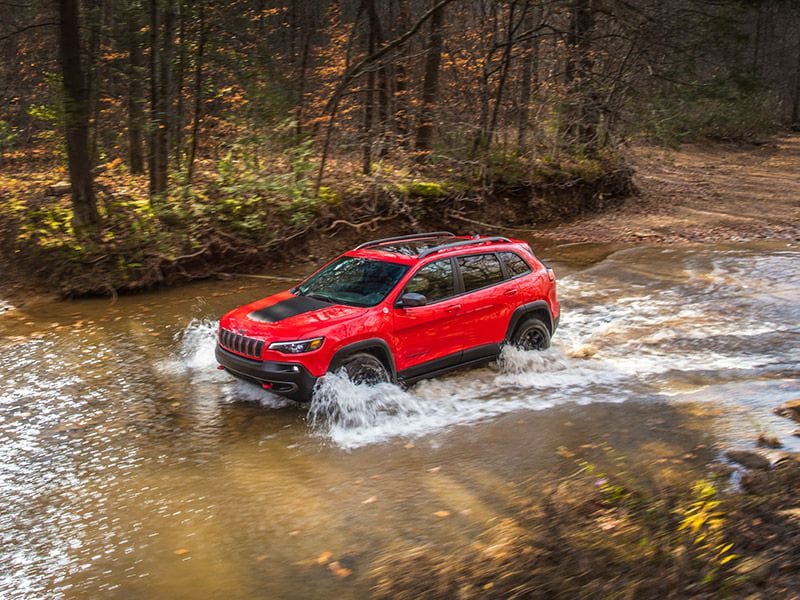 Photo by Fiat Chrysler Automobiles
More About the Jeep Cherokee
The most high-tech of the Cherokee's engine choices is the turbocharged 2.0-liter direct-injection inline four-cylinder engine that delivers 270 horsepower and 295 lb-ft of torque. Mated to a highly efficient nine-speed automatic transmission, it features engine stop-start technology, direct injection, and a twin-scroll turbocharger.
A naturally aspirated 180-horsepower 2.4-liter four-cylinder is the base engine, and a naturally aspirated 271-horsepower 3.2-liter V6 engine is also available. The Jeep Cherokee offers a choice of three 4x4 systems — Active Drive I, Active Drive II, and Active Drive Lock. One of five trim levels, the Trailhawk has superior off-road credentials with its locking rear differential, skid plates, and tow hooks. Cherokees offer the choice of 7- or 8.4-inch touchscreen displays with Apple CarPlay and Android Auto compatibility.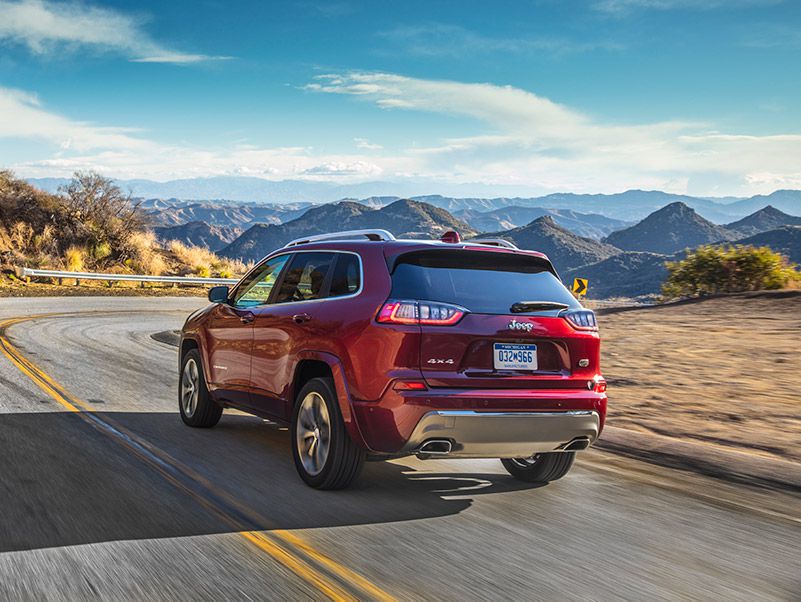 Photo by Fiat Chrysler Automobiles
2021 Jeep Compass
The 2021 Jeep Compass is one of the least expensive Jeep models. It puts the brand within reach of those who might otherwise have a financial challenge in purchasing a Jeep. Happily, the Jeep name and famous seven-slot grille aren't the only Jeep attributes the Compass demonstrates.
Properly equipped, it has real off-road chops. Some might deride the Compass's traverse engine placement and its front-drive-first platform, but we found the Compass offered praiseworthy all-terrain abilities, especially in Trailhawk form. Other 4x4 Compass models are just the ticket if you do some light off-roading and often encounter snow, slush, and muck. Since most Compasses will be driven on pavement virtually all of the time, it is valuable to know the crossover does a creditable job of that too. Even the base front-drive Sport trim-level model performs well as a comfortable commuter car, while still offering the adventurous look of a Jeep.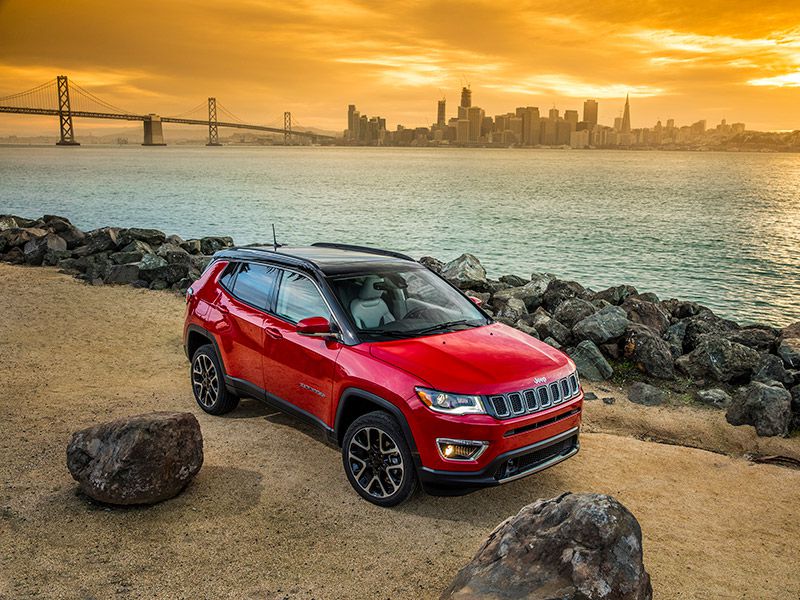 Photo by Jeep
More About the Jeep Compass
The Compass is powered by a naturally aspirated 180-horsepower 2.4-liter four-cylinder engine dubbed Tigershark. Interestingly, it can be mated to any of three transmissions: six-speed manual that is standard on both 4x2 and 4x4 versions of the Sport trim and on the 4x4 version of the Latitude trim, a six-speed automatic standard on the front-drive versions of the Latitude and Limited trims, and a nine-speed automatic on the Limited 4x4 and the Trailhawk.
The Compass also offers a choice of two 4x4 systems: the Active Drive 4x4 System that Jeep recommends for "everyday driving," and the Active Drive Low 4x4 System. Combined with the Selec-Terrain traction management system, Active Drive Low makes the Compass Trailhawk a superior off-road performer. The 2021 Compass matches the larger Jeep Cherokee in infotainment offerings. Depending upon the trim level, buyers get 7- or 8.4-inch touchscreen displays featuring Apple CarPlay and Android Auto.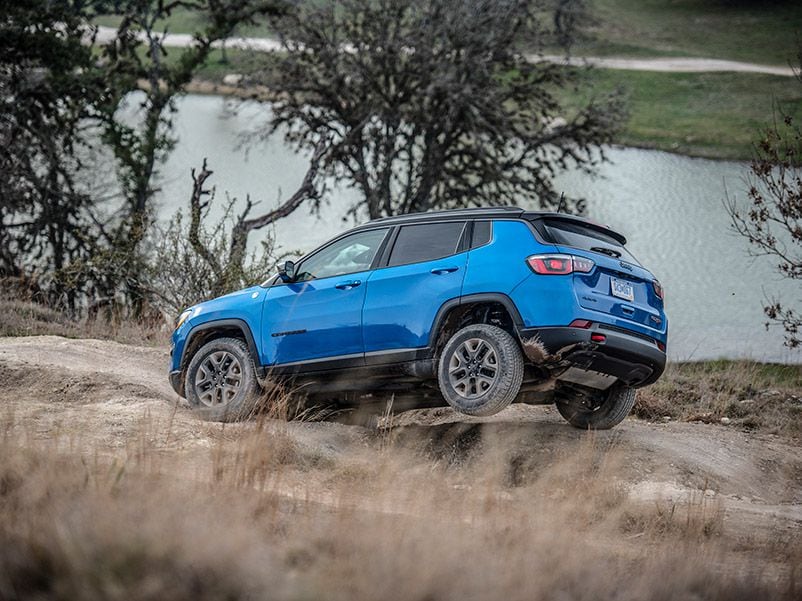 Photo by Fiat Chrysler Automobiles
2021 Jeep Gladiator
The Jeep Gladiator has blown a refreshing breeze across the mid-size pickup truck segment where every truck looks a lot like every other truck. Instead, the Gladiator revels in its Wrangler heritage.
It includes familiar Jeep staples like round headlights, a seven-slot grille, removable doors with exposed hinges, and a fold-down windshield. Several innovative removable tops, including a folding soft that offers a sunroof, add to the fun. The body-on-frame design is equipped with a versatile cargo box, five-link front and rear suspension, and electronic lockers to prove its cargo-carrying and off-road credentials. It's also one of a handful of mid-size trucks to offer a six-speed manual transmission, an interesting counterpoint to its available eight-speed automatic. For 2021, Gladiator 80th Anniversary Edition and Willys models join the lineup, and full-time four-wheel drive is now available on all Gladiator models.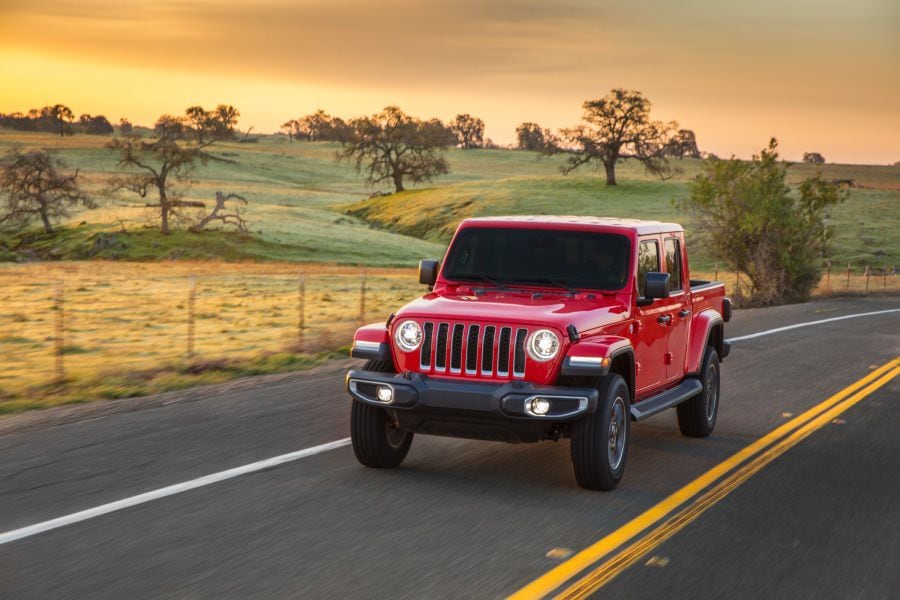 Photo by Fiat Chrysler Automobiles
More About the Jeep Gladiator
The Gladiator's base engine is the time-tested 3.6-liter Pentastar V6 engine that delivers 285 horsepower and 260 lb-ft of torque. It's teamed with a six-speed manual transmission, while an eight-speed automatic is optional.
New to the lineup for the 2021 model year is a 3.0-liter EcoDiesel V6 engine, rated at 260 horsepower and 442 lb-ft of torque. It is mated to a TorqueFlite 8HP75 eight-speed automatic transmission calibrated for low-rpm shifts. Gladiator models with the V6 engine feature up to 1,700 pounds of payload and up to 7,650 pounds of towing capacity. The recently introduced Gladiator Mojave models are designed for high-speed performance in sand and are the first to earn the brand's newly minted Desert Rated badge. The fourth-generation UConnect infotainment system includes Apple CarPlay, Android Auto, and the choice of a 5.0-, 7.0-, or 8.4-inch touchscreen with pinch-and-zoom capability.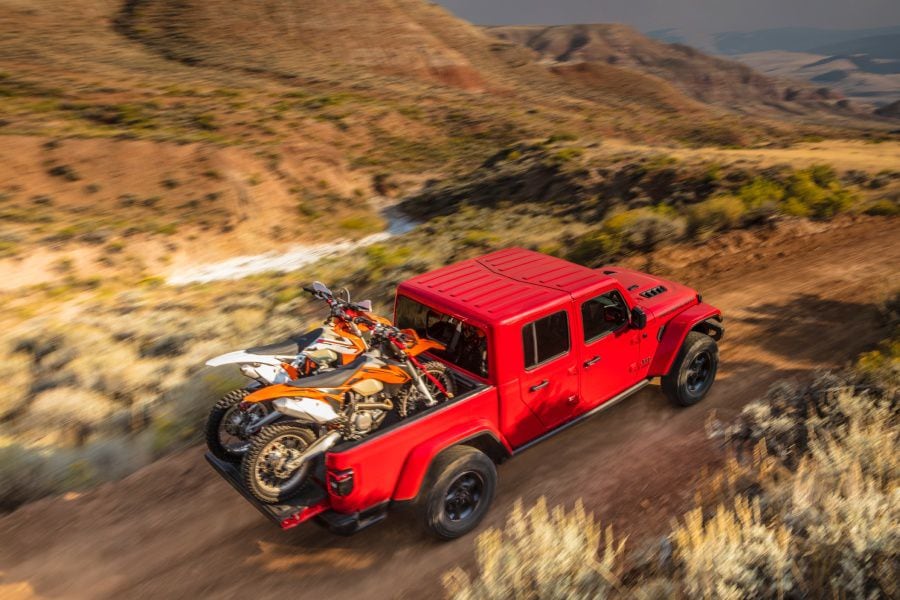 Photo by Fiat Chrysler Automobiles