teaser covered car ・ Photo by Los Angeles Auto Show
Los Angeles is known for its car culture, a commitment to going green, and a little bit of Hollywood glamour. All of that was on display at this year's Los Angeles Auto Show. The LA Auto Show has been on the leading edge of automotive design and function since 1907, and this year was a perfect example. Automakers chose L.A. to reveal the next generation of electric vehicles, SUVs, and luxury sports cars. 
This year's show saw the introduction of an entirely new kind of Ford Mustang as well as new or revised electric vehicles from Europe and Asia. Manufacturers launched several new SUVs at both economy and luxury price points, and the sports cars were better than ever. Click through for our list of favorites from the greatest auto show on Earth.
2021 Ford Mustang Mach-E
Ford shocked the world with the all-new, all-electric Mustang Mach-E. Ford made the new vehicle controversial by giving it the Mustang name. The Mach-E is a four-door crossover suv built on a new EV-only chassis with batteries located in the floor. Because of the SUV design, the Mach-E will offer comfortable seating for five people and plenty of cargo space, including a sizeable 4.8 cubic foot plastic-lined cooler under the hood.
While the Mach-E is an entirely different sort of vehicle from the traditional Mustang, Ford's design studio gave the SUV Mustang styling. The engineers gave it Mustang performance. The Mach-E will be available with rear-wheel-drive, or all-wheel-drive with two separate electric motors for the front and rear. There will be two Mustang Mach-E GT configurations with an estimated 459 horsepower and 612 pound-feet of torque, delivering 0-60 times under 4 seconds.
Fall 2020 $43,895-$60,500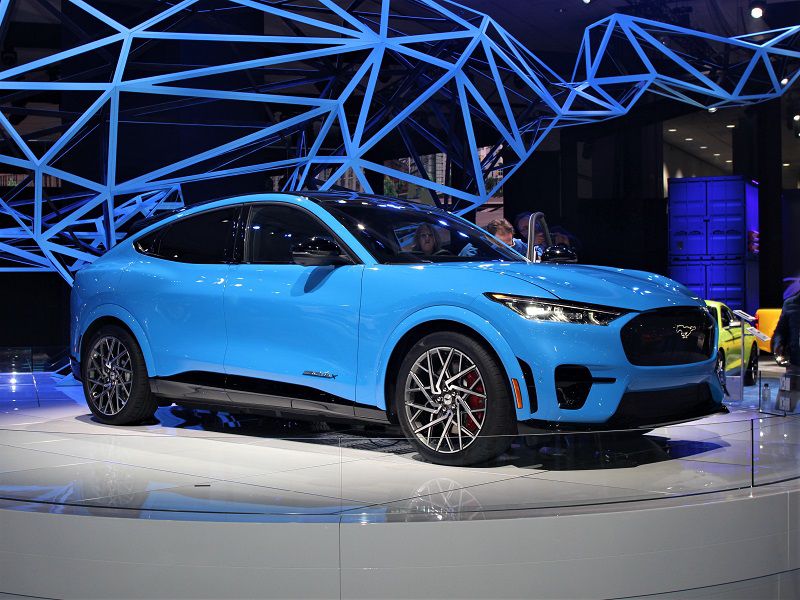 Photo by Mathew Carpenter
2020 Nissan Sentra
Nissan has completely redesigned the 2020 Sentra compact sedan, giving this popular model the signature V-motion grille, thin LED headlamps, and floating roof. However, the Sentra's interior was dramatically updated and designed with luxury in mind. Optional upscale features include heated leather front seats and a 360-degree camera system. Standard infotainment includes a floating 8-inch screen with support for Android and Apple phone integration.
Under the hood is a new two-liter engine rated at 149 horsepower, which is 20 percent more than the 2019 Sentra had. Nissan also upgraded the handling with a new independent rear suspension and new electric power steering. The most important update is that Nissan Safety Shield 360 comes standard on all trims. This advanced driver-assist package includes automatic emergency braking with pedestrian detection, intelligent forward collision warning, rear automatic braking, and high beam assist.  
Late January of 2020 TBD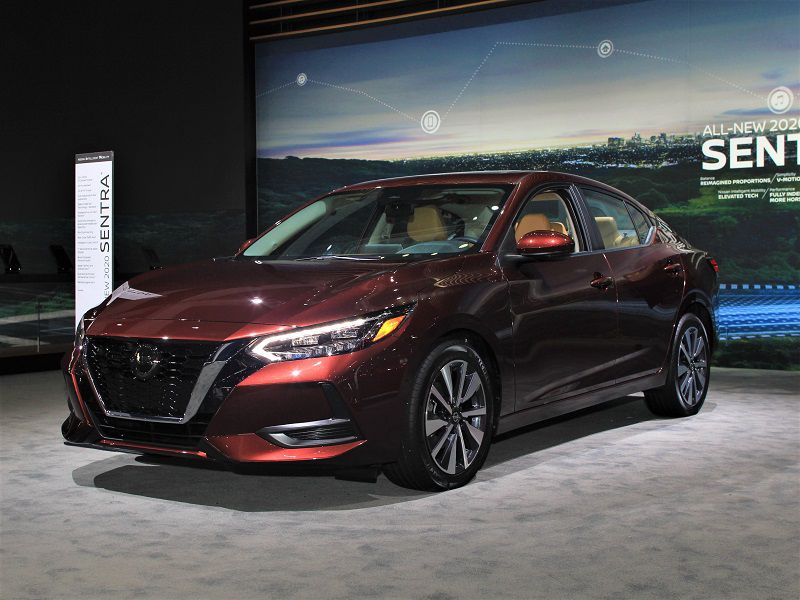 Photo by Mathew Carpenter
2021 Toyota RAV4 Prime
Toyota stripped the wraps off the newest member of its plug-in hybrid family with the 2021 RAV4 Prime. This new hybrid will travel up to 39 miles on electric power alone before kicking in its gasoline engine.
This will also be the most powerful RAV4 ever made, with 302 horsepower. That means this green SUV will race from zero to sixty miles per hour in just 5.8 seconds. Electric all-wheel-drive will be standard equipment.
Inside, RAV4 Prime buyers can choose a nine-inch touchscreen infotainment system, and there's an optional head-up display to put crucial information on the windshield. Paddle shifters and 19-inch wheels are also optional.
Summer of 2020 TBD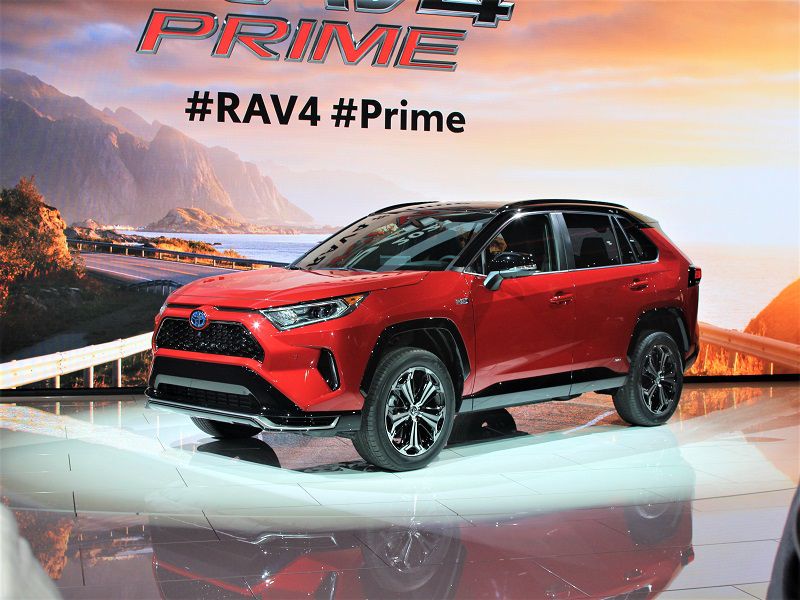 Photo by Mathew Carpenter
2020 Mazda CX-30
The 2020 Mazda CX-30 was widely praised as one of the most striking and beautiful SUVs presented in Los Angeles. The new crossover splits the size difference between the subcompact CX-3 and the compact CX-5. The CX-30 is powered by Mazda's best-in-class 2.5-liter Skyactiv-G engine, with 186 horsepower. A six-speed automatic transmission is standard, while Mazda's i-Activ all-wheel-drive is optional.
Inside, Mazda's focus on human-centered driving becomes apparent. The seats are among the most comfortable on the market, and the CX-30 provides excellent visibility. Above all, Mazda is known as a driver's brand, with excellent ride and handling characteristics.
Late January of 2020 $21,900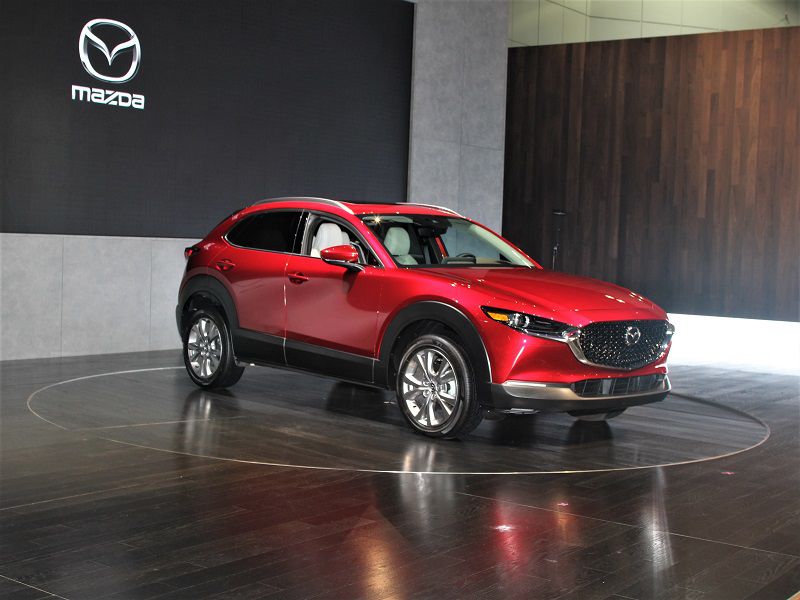 Photo by Mathew Carpenter
2020 VW Atlas Cross Sport
Volkswagen has added a five-seat model to its mid-size Atlas SUV family with the 2020 Atlas Cross Sport. The Atlas Cross Sport is 2.8 inches shorter than the bigger three-row Atlas, and 2.1 inches lower to the ground. By making the Atlas Cross Sport a five-passenger two-row model, this VW has more legroom for rear seat passengers.
The Atlas Cross Sport is powered by the same four-cylinder or V6 engine options in the larger Atlas, and an eight-speed automatic transmission is standard. VW's 4Motion all-wheel-drive system is optional. With eight trim levels to choose from, there is sure to be an Atlas Cross Sport that appeals to everyone.
Spring of 2020 TBD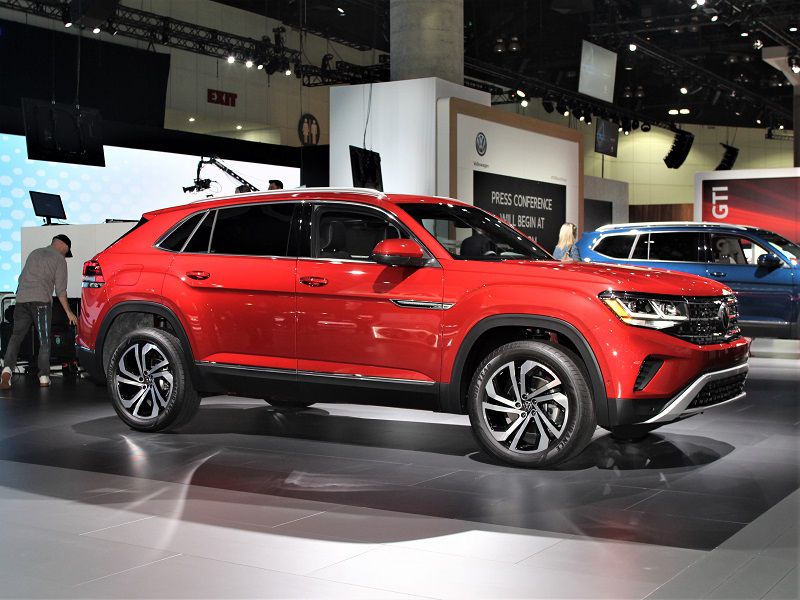 Photo by Mathew Carpenter
2020 Lincoln Corsair Grand Touring
The Lincoln Motor Company brought out its second plug-in hybrid SUV this year with the 2020 Corsair Grand Touring. The compact Corsair Grand Touring will join the larger three-row Aviator Grand Touring in Lincoln's electrified lineup. The Corsair Grand Touring will travel over 25 miles on electric power before engaging the 2.5-liter Atkinson cycle gasoline engine. Lincoln projects 266 combined system horsepower for the Corsair. A continuously variable transmission is standard, with electric all-wheel-drive
Lincoln stated that the Corsair Grand Touring has a quiet interior and advanced active safety features like Lincoln Co-Pilot 360. This package includes pre-collision assistance, automatic emergency braking, blind-spot detection with cross-traffic alert, lane-keeping assistance, rearview camera, and automatic high beam headlamps. Adaptive cruise control with traffic jam assist, evasive steering assist, reverse brake assist, and active park assist plus will be optional.
Summer of 2020 TBD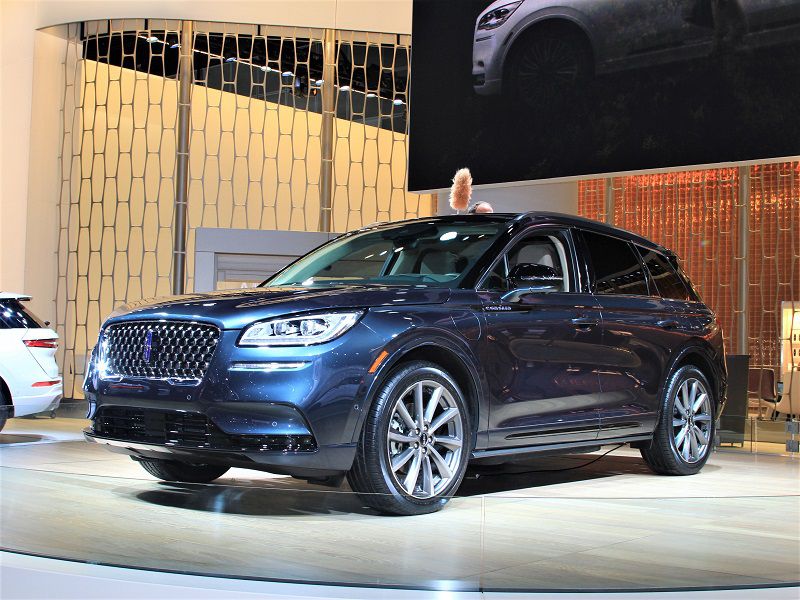 Photo by Mathew Carpenter
2021 Lexus LC500 Convertible
The Lexus LC500 has been the brand's flagship personal luxury sports coupe for several years. Now the LC500 will also be available as a convertible. The LC Convertible will still be a front-engine, rear-drive sports car, with 478 horsepower and a 10-speed automatic transmission.
The LC Convertible chassis has been reinforced for the convertible body style, and the four-layer soft top will provide excellent sound and heat insulation when lifted. When the top is down, it stows under an innovative tonneau cover to maintain the LC500's smooth lines. A special edition of 100 "Inspiration" series will be produced in blue with a white interior.
Summer of 2020 TBD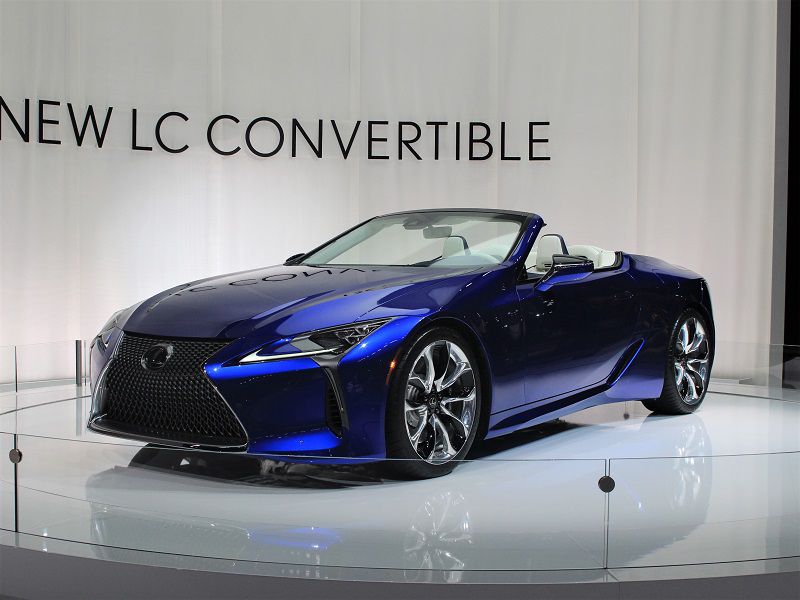 Photo by Mathew Carpenter
2020 Audi e-Tron Sportback
Audi added a fastback coupe crossover suv to its all-electric e-tron lineup with the 2020 Audi e-tron Sportback. The Sportback joins the original e-tron all-electric SUV.
The Sportback seats five passengers and will travel up to 277 miles on a full charge. Audi has implemented electric all-wheel-drive, and the 355 horsepower electric motors give this crossover excellent performance.
An exciting feature to mention is Audi's digital matrix LED headlights, now available for the first time in a mass-production vehicle. The e-tron's light beams are broken down into tiny pixels and can be controlled with exceptional precision. When another vehicle is approaching, the e-tron detects this and masks out the light that could blind the oncoming driver.
Spring of 2020 TBD
Photo by Mathew Carpenter
2020 BMW M2 CS
BMW held the world premiere for the 2020 BMW M2 CS in Los Angeles. The new high-performance CS model blends track-ready optimization with daily driver usability. The M2 CS will be a limited production model with 444 horsepower, adaptive suspension, and optional carbon-ceramic brakes. The roof and hood will be made from lightweight carbon fiber, and this little coupe comes with an aero package
Inside, BMW provides all the usual infotainment and tech features. Additionally, M2 CS buyers will enjoy carbon fiber trim, Alcantara upholstery, and BMW's best sport seats. All signs point to the 2020 BMW M2 CS as the quickest, most agile and exhilarating M2 ever made.
April of 2020 TBD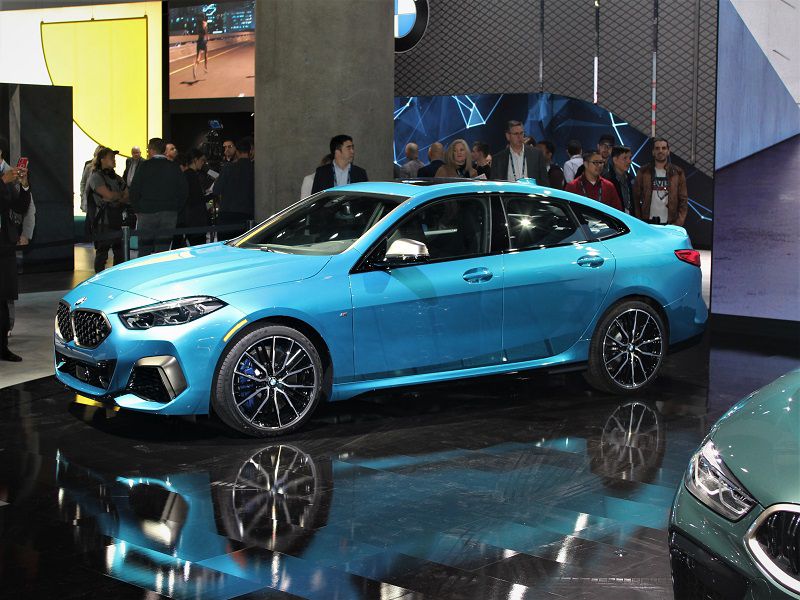 Photo by Mathew Carpenter
2021 Toyota Mirai
The second-generation Toyota Mirai is much better looking than the original. It's also lower, wider, and longer than the original model. As a hydrogen fuel cell vehicle, the Mirai requires access to hydrogen stations. At present, hydrogen is primarily available in the Los Angeles and San Francisco bay area regions of California.
Hydrogen fuel cell cars use electric motors. The hydrogen fuel cell simply generates the electricity needed to power the motors. The new Mirai is expected to travel about 400 miles on a full tank of hydrogen, which is about a 30% improvement over the first-generation Mirai.
Late 2020 TBD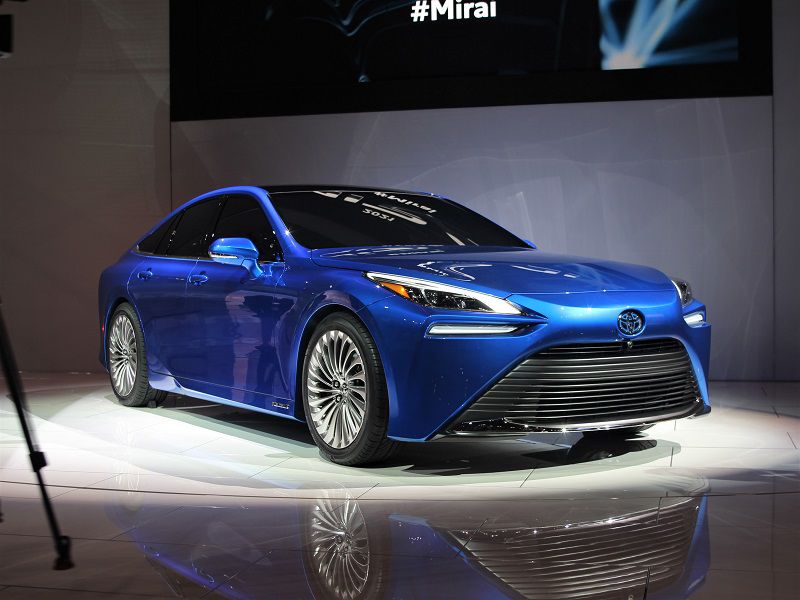 Photo by Mathew Carpenter