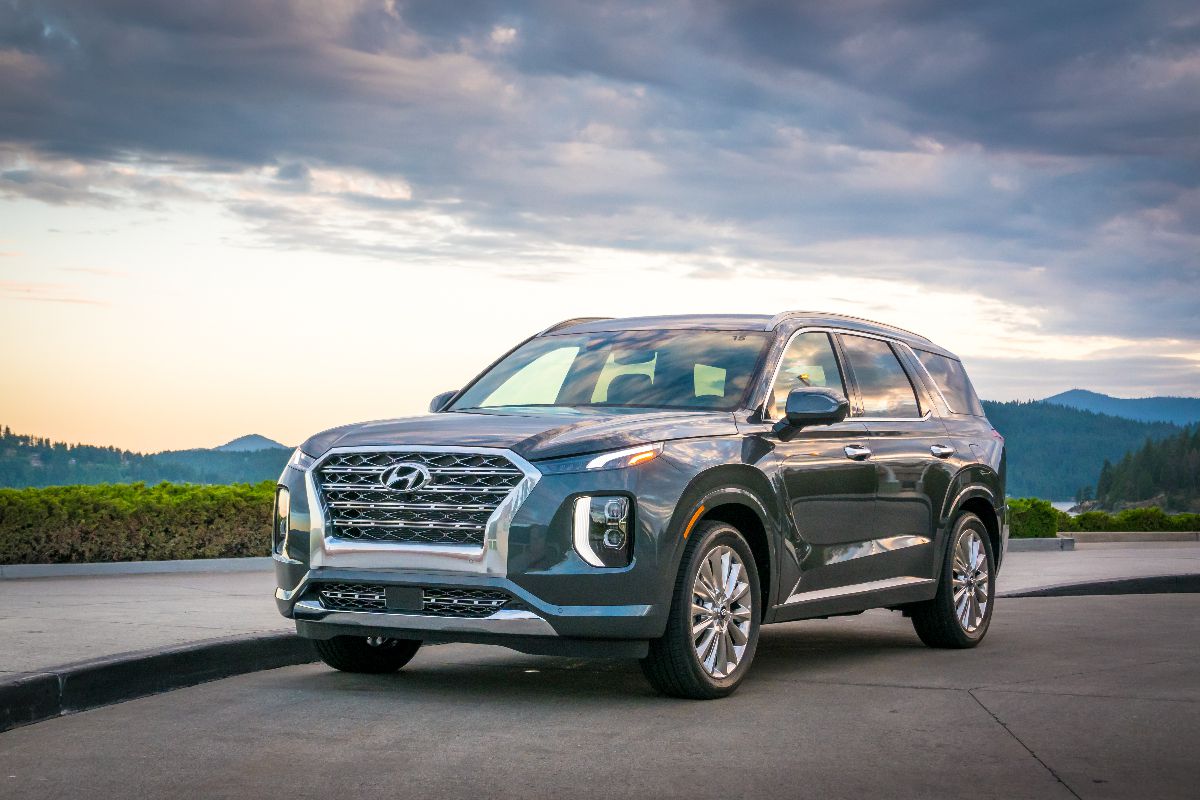 The 2020 Hyundai Palisade ・ Photo by Hyundai
Hyundai has long been know for its feature-filled vehicles and its ultra-long vehicle warranty coverage. But in recent years, it has also begun collecting rave reviews for its quality and dependability. These days, it appears Hyundai vehicles are really being built to last.
At the same time, the Hyundai brand has begun to flex its styling muscles with good-looking vehicles like the Sonata, Elantra, and Palisade. In terms of technology and safety, Hyundai is also making its mark. With a varied lineup of sedans and SUVs, including sporty new N vehicles, Hyundai has a vehicle for almost anyone. Please pay attention as we bring you the top 10 Hyundai vehicles you need to know about.
2021 Hyundai Tucson
The Hyundai Tucson sometimes gets overlooked in the cluster of small SUVs on the market, but it is a solid contender in its class and one of the most popular of the many Hyundai models. Part of its popularity stems from its great quality record and lengthy warranty coverage, but there is more to like about the Tucson than just the absence of problems.
Its power comes from a 164-horsepower 2.0-liter engine or a 181-horsepower 2.4-liter four-cylinder, both teamed with six-speed automatic transmissions. Front-wheel drive is standard while HTRAC active on-demand all-wheel-drive is optional. Exterior styling is a bit bland, but that will change with the all-new 2022 version of the Tucson that is about to arrive. The 2021 Tucson has a pleasant interior with ample room for five and their gear. We like the simple operation of the Hyundai infotainment system, and a 315-watt Infinity audio system is optional. The Tucson is available in SE, Value, SEL, Sport, Limited, and Ultimate trim levels.
Photo by Hyundai
2021 Hyundai Elantra
The 2021 North American Car of the Year, the all-new 2021 Hyundai Elantra compact sedan has an impressive lineup of trims and variants. Beyond the conventional compact sedan, it is also available as a hybrid and in performance-oriented N Line and N versions.
The Elantra's standard 2.0-liter four-cylinder engine utilizes Atkinson cycle tech to produce 147 horsepower and 132 lb-ft of torque. The Hybrid uses a 1.6-liter Atkinson-cycle four-cylinder teamed with a permanent-magnet electric motor that delivers 32 kW. It's powered by a 1.32 kWh lithium-ion-polymer battery. Total system output is 139 horsepower and, interestingly, the system is teamed with a six-speed, dual-clutch transmission. The Elantra's platform gives it a long wheelbase, wide stance, and low roofline, so it looks, rides, and handles like a more expensive car. Wireless Apple CarPlay and Android Auto make things easy on the connectivity front.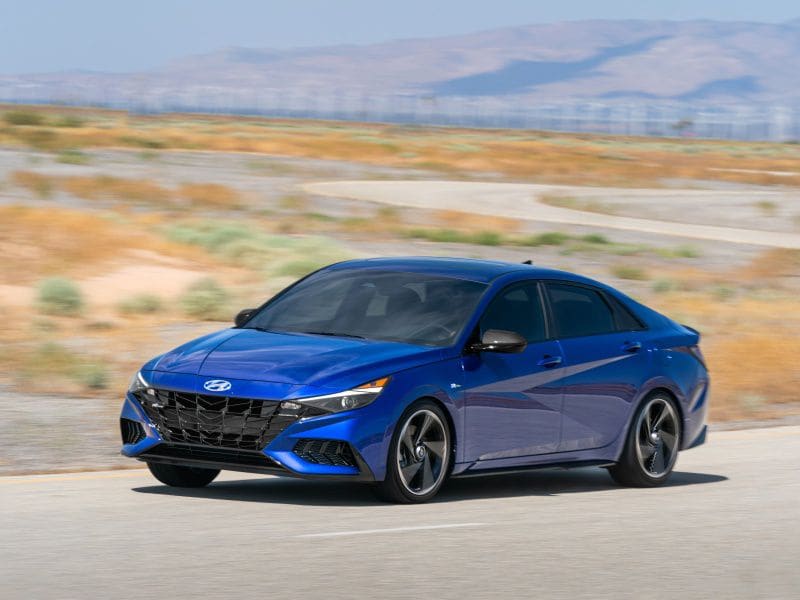 Photo by Hyundai
2021 Hyundai Santa Fe
The Hyundai Santa Fe SUV got the benefit of numerous changes for the 2021 model year. Leading the list is a new hybrid powertrain with all-wheel drive. New driver safety and convenience features plus revised exterior styling also are on the menu.
The Santa Fe's powertrain choices for 2021 include a standard 2.5-liter direct-injected four-cylinder engine, 2.5-liter turbocharged direct-injected four-cylinder engine, and 1.6-liter turbocharged hybrid electric powertrain. The turbo engine has an eight-speed wet, dual-clutch transmission. The hybrid uses a six-speed automatic transmission teamed with HTRAC all-wheel drive. Strong reliability ratings and low cost-to-insure mean the Hyundai Santa Fe is likely to offer a good ownership experience. Not as big as many of the vehicles in the class, the Santa Fe still has seating for five and 72.1 cubic feet of cargo space. It is offered in SEL, SEL HEV, Limited HEV, Limited, and Calligraphy trim levels.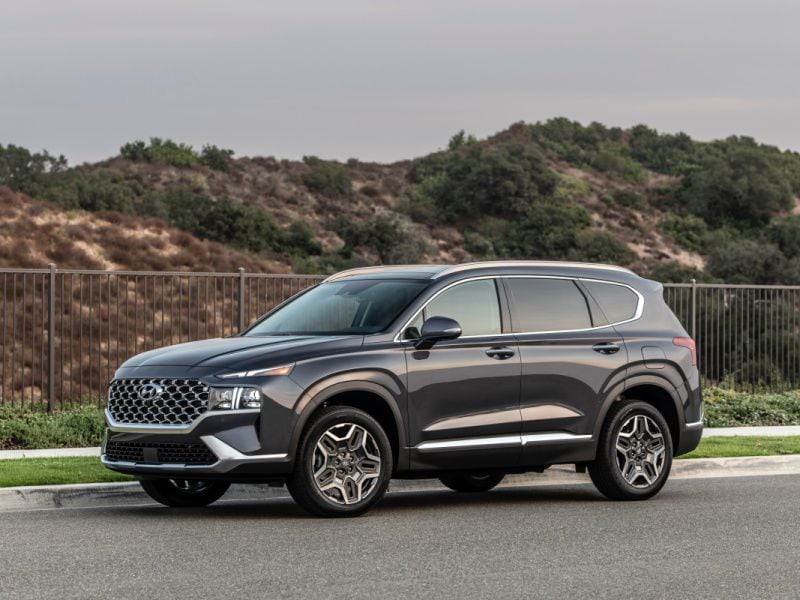 Photo by Hyundai
2021 Hyundai Palisade
The 2021 Hyundai Palisade mid-size SUV is a vehicle that looks bigger and more expensive than it is. It offers exceptional second- and third-row accessibility and space. The third-row seats are power-operated for convenience when loading and unloading cargo. The top-of-the-line Calligraphy trim level, new for 2021, includes added touches like 20-inch alloy wheels, front and rear LED lighting, and a microsuede headliner.
HTRAC all-wheel-drive with AWD lock is standard on the Calligraphy, and all-wheel-drive is widely available across the lineup. The Palisade is powered by an Atkinson-cycle 3.8-liter V6 delivering an estimated 291 horsepower, teamed with an eight-speed automatic transmission. Its innovative technology includes the class-exclusive blind view monitor that offers side views in the dash whenever the turn signal is activated. Other safety features are combined in an array called Hyundai SmartSense. The 2021 Hyundai Palisade is offered in SE, SEL, Limited, and Calligraphy trims.
Photo by Hyundai
2021 Hyundai Sonata
The 2021 Hyundai Sonata is one of the best-looking sedans on the road, and it has proven it is not just a pretty face. This mid-size sedan is filled with comfort and convenience equipment features like a panoramic sunroof, electric parking brake, hands-free "smart" trunk, and high-speed wireless smartphone charging pad complete with a cooling fan.
The mainstream Sonata features two available drivetrains — a 180-horsepower 1.6-liter turbocharged four-cylinder and a 191-horsepower 2.5-liter four-cylinder engine. Both N Line and Hybrid variants of the Sonata have their own drivetrains. The Sonata N Line has a 2.5-liter turbocharged four-cylinder engine that produces 290 horsepower. The Sonata's top-level infotainment display is a customizable 10.25-inch touchscreen that features cloud-based speech recognition. The 2021 Sonata is available in SE, SEL, SEL Plus, Limited, and N Line trims plus the Sonata Hybrid.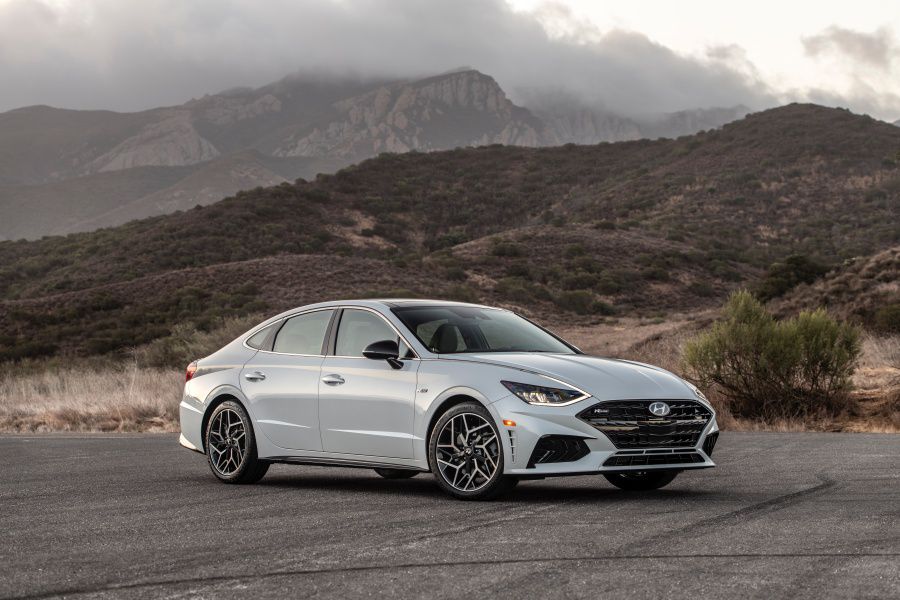 Photo by Hyundai
2021 Hyundai Kona
The big news about the Hyundai Kona small SUV is that an updated 2022 Kona and Kona Electric are set to arrive this spring. The fresh design includes an all-new sporty N Line trim, while the powertrain lineup provides both sporty and eco-friendly options to suit a wide variety of buyers. The N Line version has revised front and rear-end styling, body-color cladding, and a diamond-cut alloy wheel design. 
Both 2021 and 2022 versions of the Hyundai Kona offer a choice of two gasoline powertrains: a 147-horsepower 2.0-liter 4-cylinder Atkinson-cycle engine and a 195-horsepower 1.6-liter four-cylinder direct-injected turbocharged engine. The Kona Electric powertrain uses a 201-horsepower (150 kW) permanent-magnet synchronous electric motor supplied by a 64 kWh lithium-ion battery. The battery system is liquid-cooled and operates at 356 volts. The 2022 Kona will be available with a 10.25-inch digital cluster and 10.25-inch center display with navigation.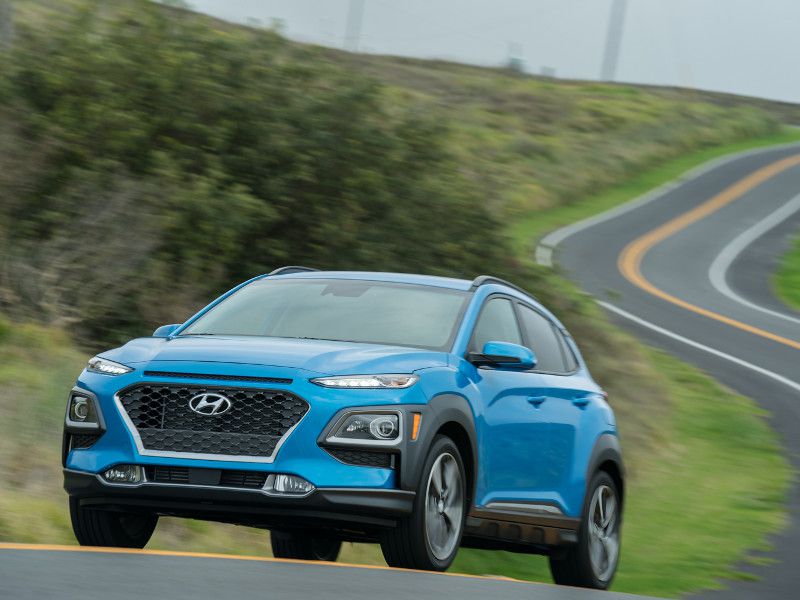 Photo by Hyundai
2021 Hyundai Venue
The 2021 Hyundai Venue is a good-looking and likable subcompact SUV that offers a great deal of versatility in addition to high fuel economy at a low price. The Venue's 1.6-liter four-cylinder engine produces just 121 horsepower and 113 lb-ft of torque. With the continuously variable transmission, acceleration is moderate, but the fuel economy is excellent at 30 mpg in the city, 34 mpg on the highway, and 31 mpg combined.
Another upside of the urban-oriented vehicle is the easy-to-use infotainment system that features an 8-inch touchscreen, Bluetooth, Apple CarPlay, Android Auto, and a USB port. Nominally a five-passenger vehicle, the Venue is more suited to carry just four. While the front seats are comfortable and spacious, the rear seat is small for three. On the other hand, cargo space is quite good. The Venue offers 18.7 cubic feet of room behind the rear seat and 31.9 cubic feet with the rear seat folded. The Hyundai Venue is offered in SE, SEL, and Denim trim levels.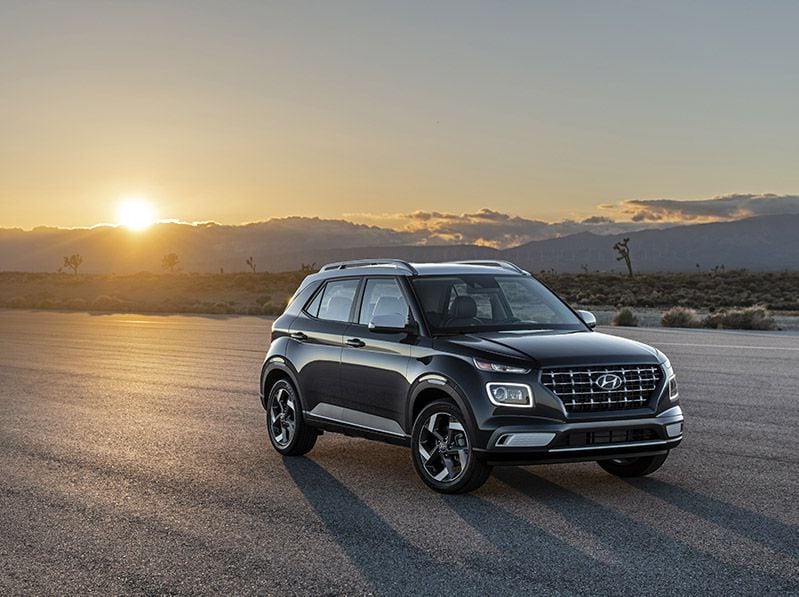 Photo by Hyundai
2021 Hyundai Accent
The fifth-generation Hyundai Accent subcompact combines a sophisticated international design with solid engineering and an economical drivetrain. The Accent's 1.6-liter four-cylinder engine produces an estimated 130 horsepower and 119 lb-ft of torque. It can be teamed with the standard six-speed manual or optional continuously variable automatic transmission.
Though one of the least expensive vehicles available in the U.S. the Accent offers available connectivity like Android Auto, Apple CarPlay, Hyundai Blue Link, and SiriusXM satellite radio. Among key safety systems available is forward collision-avoidance assist. Available upscale comfort and convenience features include hands-free smart trunk release, dual USB charging, heated front seats, proximity push-button start, and automatic temperature control. The Accent has won several awards for its value-for-money and low overall ownership costs. The 2021 Hyundai Accent is offered in SE, SEL, and Limited trim levels.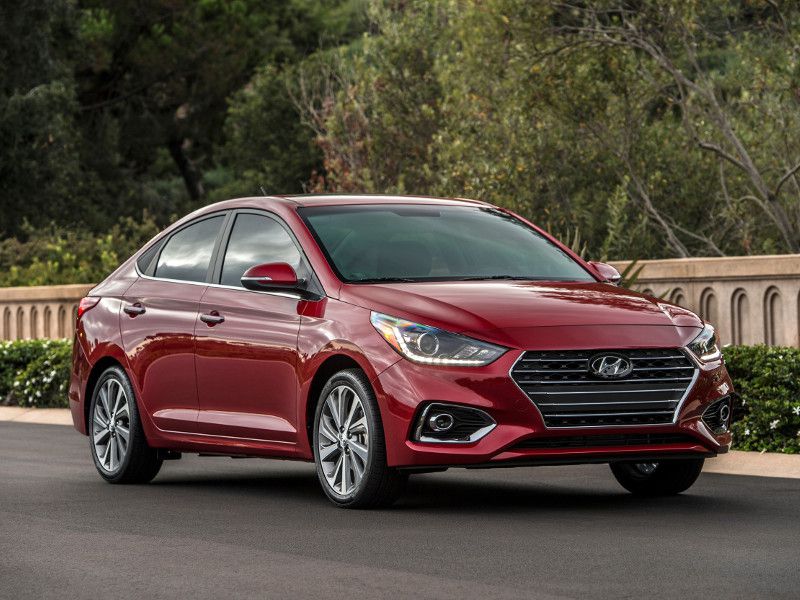 Photo by Hyundai
2021 Hyundai Veloster
The Hyundai Veloster is one of the most unusual sports models on the road today. Its most distinctive feature is its unique two-plus-one-door asymmetrical body style. The rear door makes it easier for passengers to enter the rear seat, essentially splitting the difference between two-door style and four-door functionality.
The Veloster is offered in a number of different versions from the practical and inexpensive 2.0, to the Turbo, and the performance-oriented Veloster N. The Turbo has a 1.6-liter turbocharged engine with 201 horsepower and 195 lb-ft of torque plus standard multi-link rear suspension. The base Veloster's 2.0-liter four-cylinder engine uses the Atkinson-cycle for efficiency and lower emissions. With Dual Continuously Variable Valve Timing, it delivers a peak output of 147 horsepower at 6,200 rpm and maximum torque of 132 lb-ft at 4,500 rpm. The standard 7-inch color LCD display includes AM/FM/MP3 touchscreen audio, auxiliary inputs, and a backup camera. An 8-inch touchscreen system with navigation is available, too.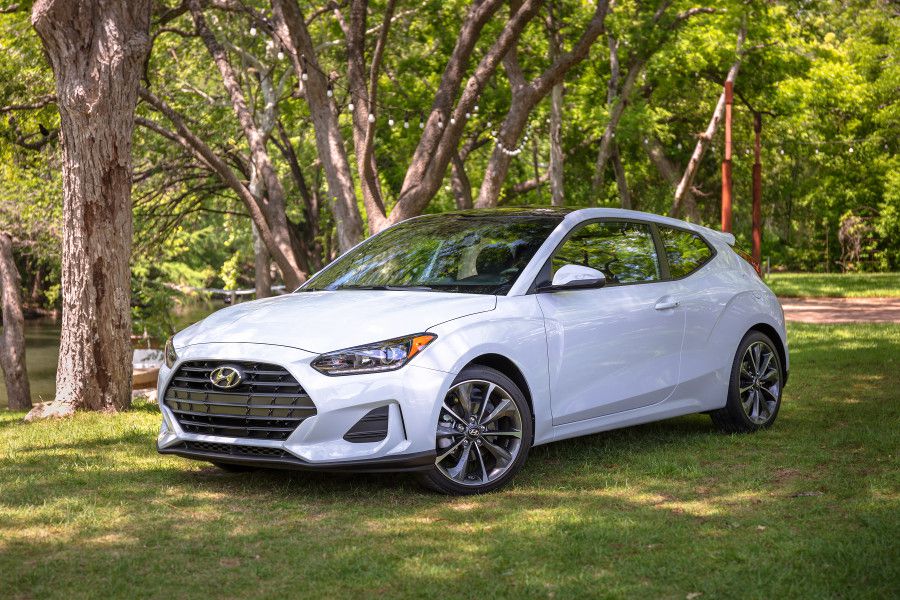 Photo by Hyundai
2021 Hyundai Ioniq
The Hyundai Ioniq models represent the first vehicle model designed to offer three different electrified powertrains — hybrid, plug-in hybrid, and full electric. Hyundai engineers didn't just concern themselves with efficiency and low emissions, either. They also wanted to design vehicles that are fun to drive.
For the 2020 model year, the entire Ioniq lineup was revamped and refreshed with new styling inside and out. Range of the Ioniq Electric was bumped up to 170 miles on a charge thanks to an upgraded 38.3-kWh battery with 36% more energy capacity. At the same time, horsepower was increased to 134 from 118. With an EPA estimated 58 mpg combined, the Ioniq Hybrid remains a fuel economy leader among non-plug-in vehicles. All Ioniq models have the Hyundai SmartSense technology package that includes forward collision-avoidance assist, high beam assist, and driver's attention warning. Features like optional Highway Driving Assist and optional Lane Following Assist can make lengthy stints at the wheel less tiring.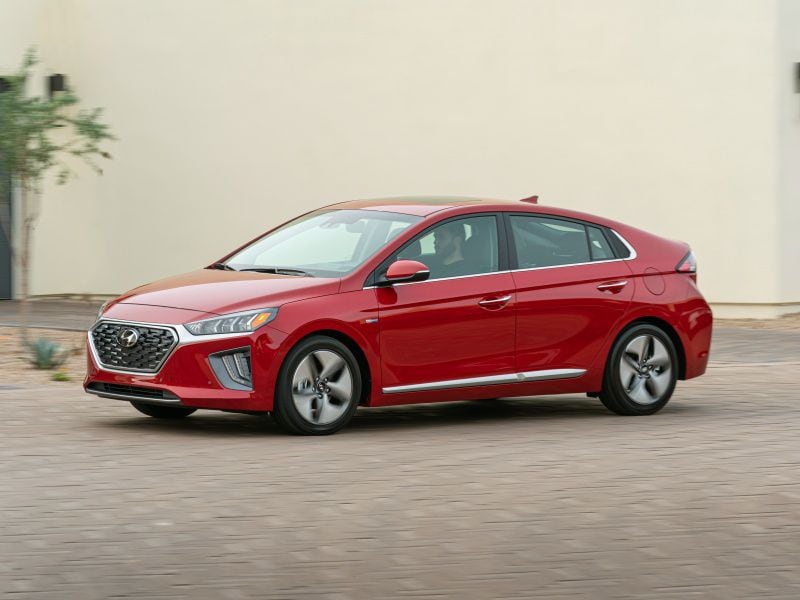 Photo by Hyundai