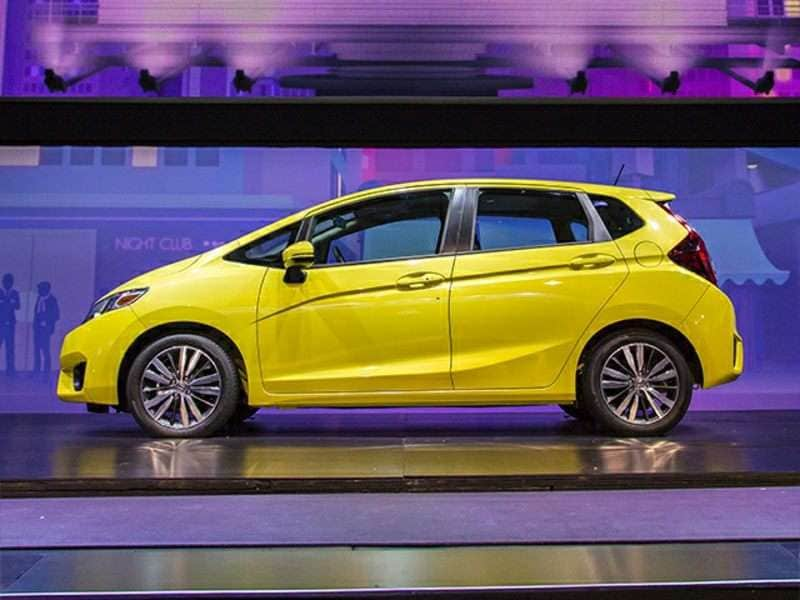 2015 honda fit
Compact and sub-compact cars serve a vital need for new car shoppers. Though there are plenty of expensive premium performance compacts on the market, most are designed with entry-level buyers in mind. The best cheap new cars come in around the $15,000 price point (and in some cases, they even cost quite a bit less), and they offer basic transportation at a good value. How do car designers get away with selling a new car for just over the five-figure mark these days, you might ask? Well, many car companies hope that those entry-level buyers will become loyal to the brand, and eventually become more profitable customers. In the meantime, the best cheap cars for 2015 show how reasonable expectations — like modest power and basic features — can result in a pretty good deal.
1) 2015 Toyota Yaris
If there's one thing the Toyota Yaris is known for, it's for being cheap. Since it's a Toyota, it can also ride on the company's reputation for build quality and reliability, but really, the 2015 Toyota Yaris attracts buyers because it's got a really low MSRP. This rule of thumb still holds true for the current model year. The Yaris is a subcompact hatchback that isn't especially exciting to drive, considering its 106-horsepower 1.5-liter four-cylinder engine, but it's not downright dull, either. Even the base trim is competitively equipped, with Bluetooth connectivity, a CD audio system with a USB drive, power door locks, air conditioning, and a trip computer. The Yaris is available in two-door and four-door configuration, and despite its small footprint, it provides decent cargo capacity for a subcompact.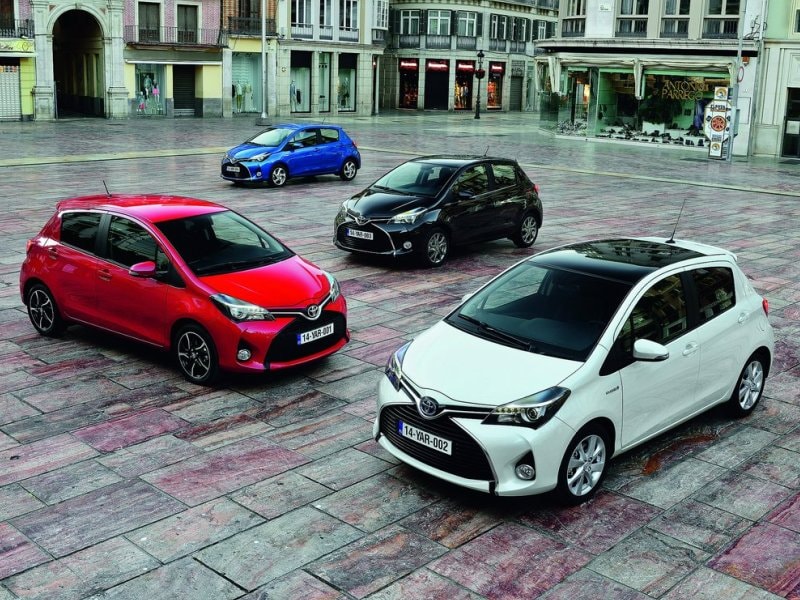 2) 2016 Chevrolet Sonic
The 2016 Chevrolet Sonic is yet another affordable compact that can be had with a hatch or with a trunk, making the Sonic a versatile option for an entry-level car. The base Sonic offers a 1.8-liter four-cylinder engine that comes with a five-speed manual or six-speed automatic transmission, and provides 138 horsepower. Buyers can also opt for a turbocharged four-cylinder that makes the same horsepower, but offers better acceleration and an extra couple miles per gallon in fuel economy. Considering the similar power specs, the base model is perfectly acceptable for buyers on a budget. The 2016 Sonic comes with GM's OnStar communications system with built-in Wi-Fi, as well as Bluetooth wireless connectivity. Upgrades such as leather seating, remote start, and a rearview camera add comfort, convenience and safety.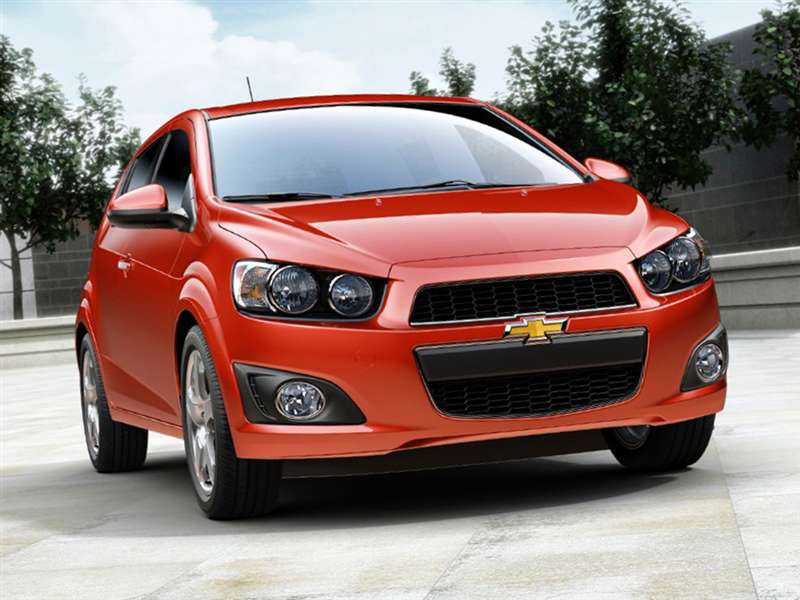 Photo by Chevrolet
3) 2016 Honda Fit
Still riding high off its 2015 redesign, the 2016 Honda Fit is a well-established favorite when it comes to shopping for an affordable compact hatchback with personality. 130 horsepower come courtesy of a 2.0-liter four-cylinder engine, and can be paired with a six-speed manual transmission or a continuously variable automatic. The super-efficient CVT helps the Fit achieve gas mileage of up to 33 mpg city, 41 mpg highway. The Fit's confines can comfortably accommodate five passengers, even though it might not look like it from outside, and it offers plenty of standard equipment even in base trim. When carrying cargo, the Magic Seat feature allows the Fit to accommodate up to 52.7 cubic feet of stuff. The 2016 Honda Fit also offers some of the best exterior colors in the compact segment.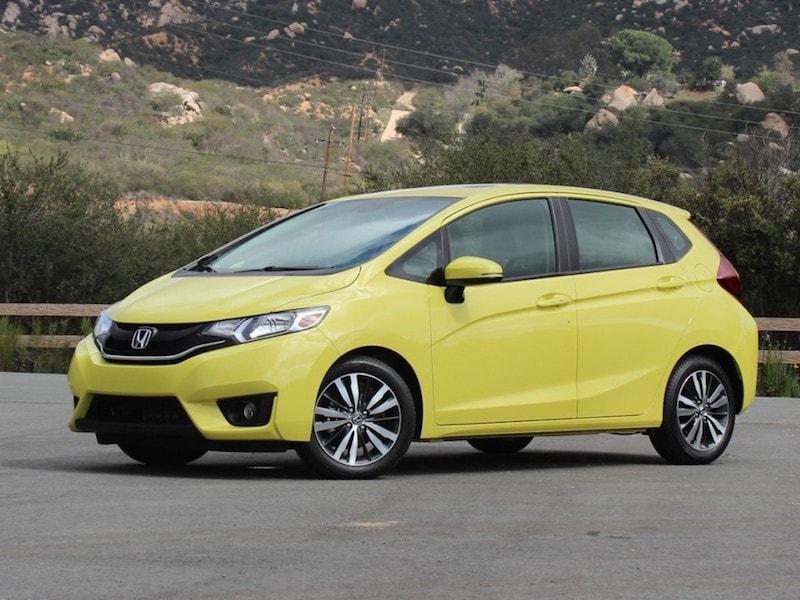 Photo by Honda
4) 2015 Hyundai Accent
It's debatable (looks are always subjective) but the 2015 Hyundai Accent might be one of the more stylish cars on this list. As the Korean brand continues to step up its game, it's made sure that quality and aesthetics are priorities even for its cheaper models. The 2015 Accent, a subcompact hatchback, extends this philosophy even to the car's interior. Everyone gets comfortable seats, and there's enough leg room in the back to accommodate fully-formed humans. If the rear seats aren't needed, they can be folded down for a total of almost 50 cubic feet of cargo space, notable for such a small car. The 2015 Hyundai Accent offers up 138 horsepower via a 1.6-liter four-cylinder engine, adequate to move the small hatch with good gas mileage.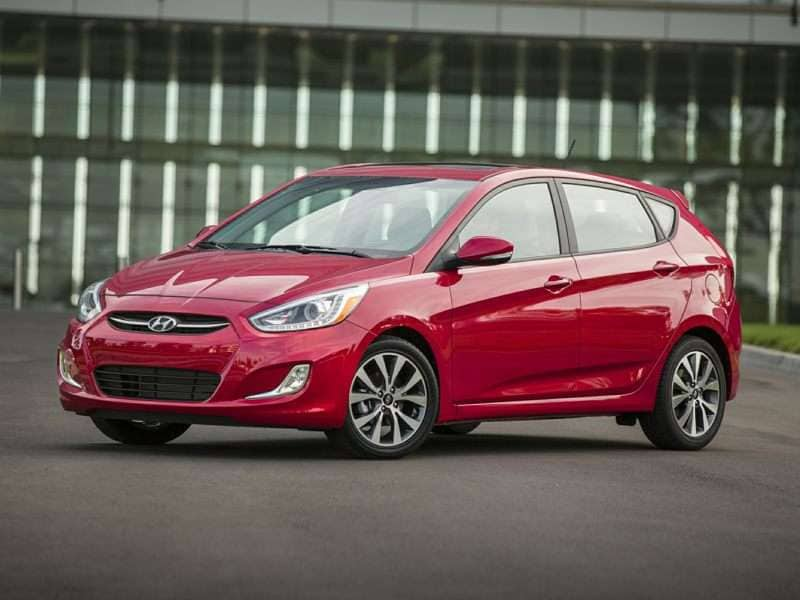 5) 2016 Chevrolet Spark
Redesigned for 2016, the sub-compact Chevrolet Spark has proven itself as a good choice for urban dwellers who need a small, practical vehicle. This four-passenger hatchback is great for hauling groceries or getting to places where public transit can't. The Spark's redesign brings with it a brand new drivetrain, a 1.4-liter four-cylinder that can be paired to either a five-speed manual or a continuously variable automatic transmission. The  2016 Spark now has 98 horsepower, 14 more than the 2015 version, which is plenty to satisfy this car's objectives, and it also comes with a slight fuel mileage improvement over last year's model. Rear parking sensors and a rearview camera are now included, along with GM's OnStar communications system and a built-in Wi-Fi hotspot.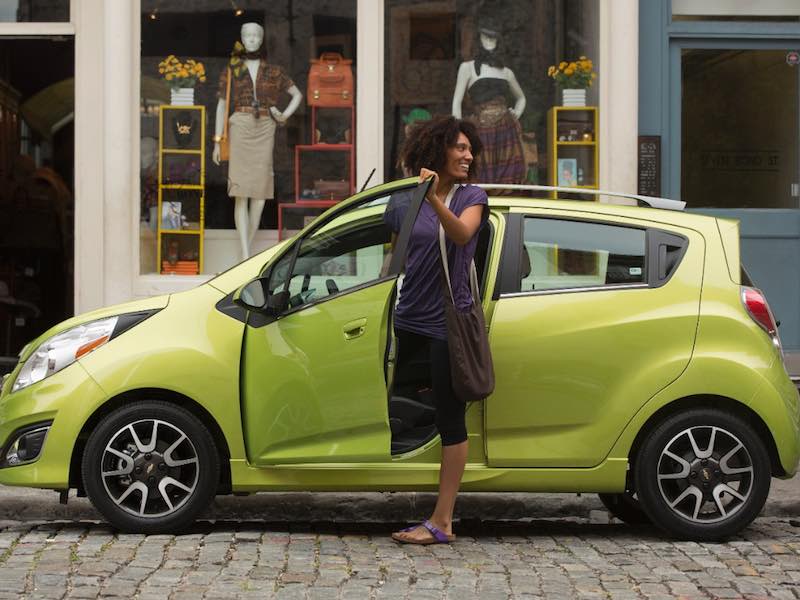 Photo by Chevrolet Media
6) 2015 Ford Fiesta
The 2015 Ford Fiesta is another subcompact that deserves a style award, as well as one for versatility. Both the sedan and hatchback versions of the Fiesta communicate an athletic and confident attitude that's rarely seen in this segment, and it's backed up with a genuinely fun driving experience. The base model 2015 Fiesta features a 1.6-liter four-cylinder engine that comes with a five-speed manual or a six-speed dual-clutch automatic transmission, and puts down 120 horsepower. Buyers can expect up to 28 mpg city and 36 mpg highway. Both transmissions shift smoothly, the engine provides good acceleration, and the suspension offers nimble handling and cornering. The 2015 Fiesta represents both the point of entry to the Ford brand, and the surprising possibilities available with a cheap compact car.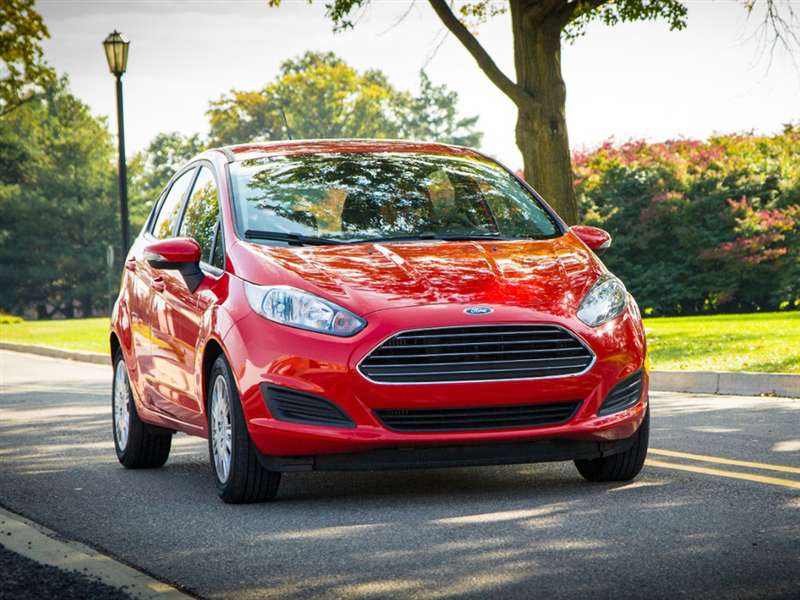 7) 2016 Kia Rio
Kia's contribution to our list of the top cheap cars for 2015 is the 2016 Rio, the brand's value-oriented yet feature-laden subcompact that shares a chassis with the Hyundai Accent. The Rio is available in sedan and hatchback form, both of which are distinguished by clean and athletic profiles that benefit from a mild front and rear exterior refresh for 2016, helping them to stand out in the crowded sea of budget vehicles. The 2016 Rio is powered by a 1.6-liter, four-cylinder engine that makes a healthy and competent 138 horsepower. Transmission choices include a six-speed manual and a six-speed automatic, and fuel mileage is rated at  27 mpg around town and 40 mpg highway. The 2016 Rio seats five passengers and offers an audio system with satellite radio and a USB port.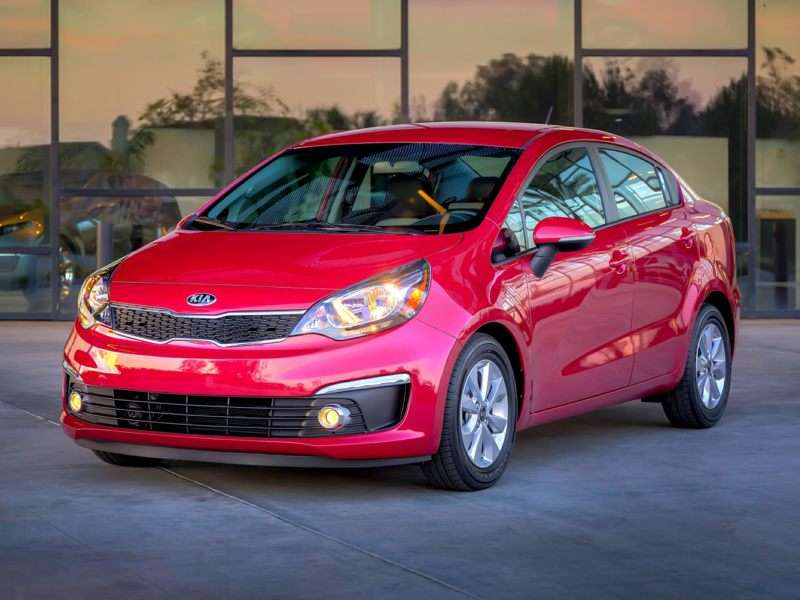 Photo by Kia
8) 2015 Mitsubishi Mirage
The Mitsubishi Mirage, in its second year, is holding strong as one of the cheapest new cars available in the United States. The Mirage, a subcompact hatchback, offers room for five passengers and just enough cargo space. The 2015 Mirage is powered by a 1.2-liter three-cylinder engine that makes just 74 horsepower, but offers some of the best mileage in the class. A five-speed automatic comes standard, but buyers who pay a small premium for the optional, more efficient continuously variable transmission will be rewarded with 37 mpg in the city, 44 mpg on the highway. Beyond that, the 2015 Mirage doesn't have much to brag about, but potential buyers should check out its bright, cheery paint palette if they want a subcompact that's easy to spot in a crowded parking lot.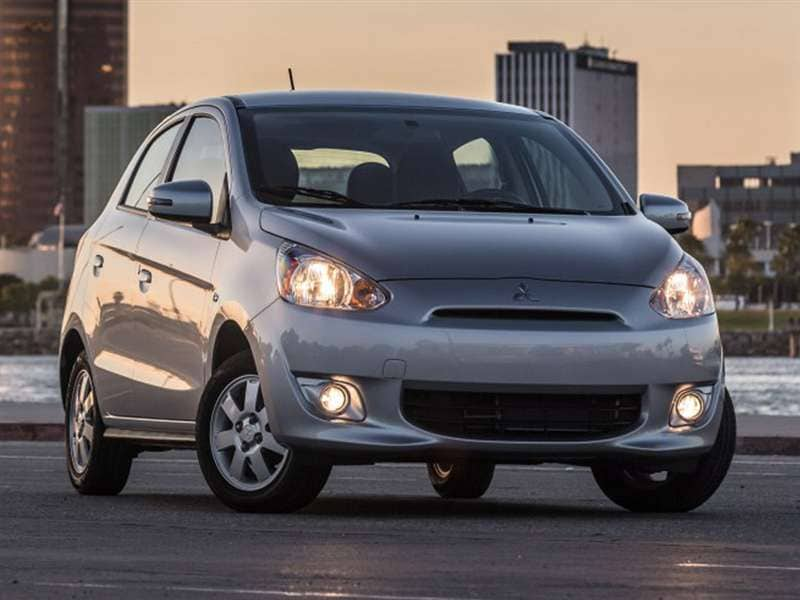 9) 2015 Nissan Versa
For the last couple of years, the Nissan Versa has earned the distinction of being the least expensive new car available in the United States, but don't let that scare you off. In fact, the 2015 Versa sedan offers a comfortable interior, with a roominess that betrays the car's footprint. To come in at such a low MSRP, Nissan's held back quite a bit when configuring the base model's list of standard equipment, but that shouldn't be any surprise. A CD player and air conditioning are about the only freebies for buyers who don't want to shell out any extra money. The 2015 Nissan Versa is powered by a 1.6-liter four-cylinder engine with either a five-speed manual or continuously variable transmission. Just 109 horsepower are on tap, but fuel mileage is good.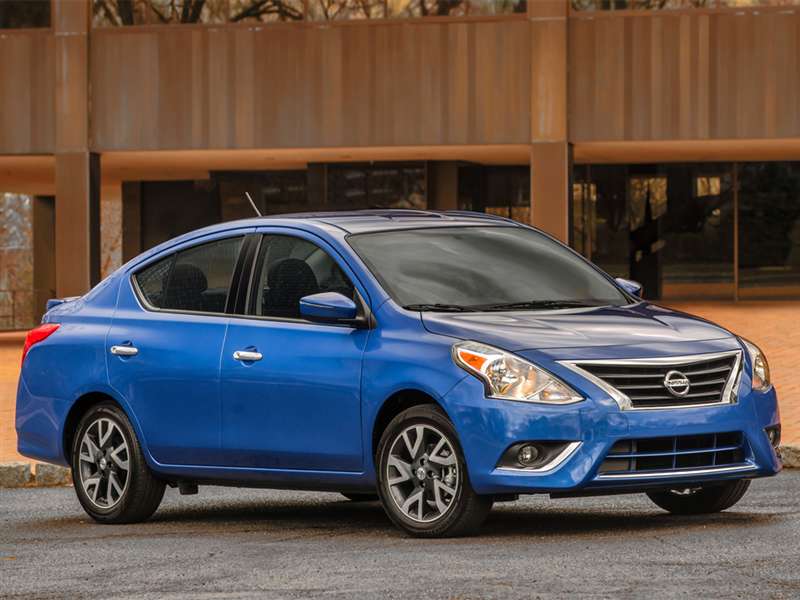 Photo by Nissan USA
10) 2015 smart fortwo
The 2015 smart fortwo is at the end of the generation's lifecycle, with a new model due out late 2015 or early 2016. However, it earns a place on our list of the top cheap cars for 2015 thanks to its unique configuration. The 2015 smart fortwo is less than nine feet long from nose to tail, enabling it to cruise around the city and fit in the tiniest of parking spots. The fortwo accommodates two adults, or if it's just the driver, perhaps some groceries can be squeezed in. It's also rear-wheel drive, which is another unusual characteristic for a car of this size and price point. The rear-mounted engine offers 70 horsepower by way of 1.0 liters and three cylinders, and it's paired to a five-speed automated manual transmission.