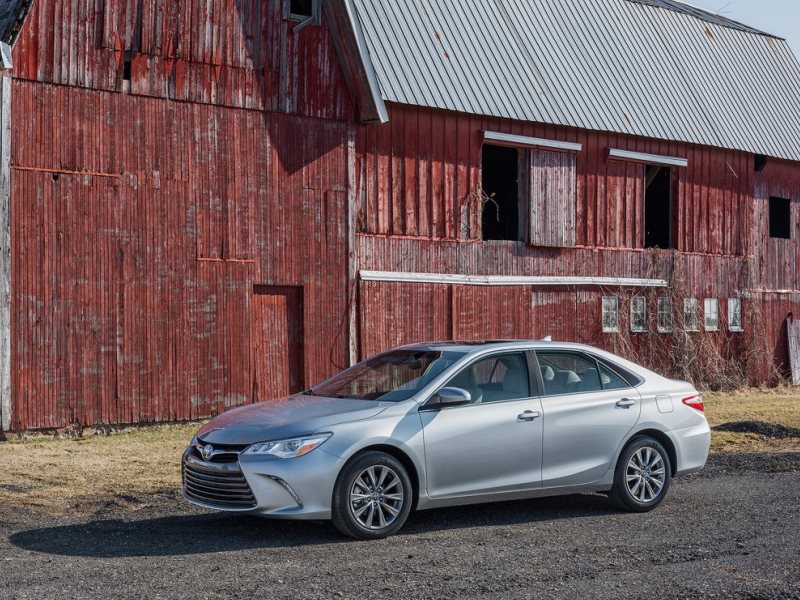 Toyota Camry ・ Photo by Toyota
Driving enthusiasts often marvel at the success of the Toyota Camry. Here's a car that sells in the neighborhood of 400,000 units a year in America. Meanwhile, there are many faster cars than the Camry, there are many better-looking cars than the Camry, and there are also many cars with more luxury, more space, and a more engaging driving experience. Yet, year in and year out (for 12 years in a row to date) the Toyota Camry outsells them all. That said, the Camry does have a significant rival, Honda's Accord. And while there are more than few shared attributes between the two, their driving experiences are totally different. Which begs the question, just what is the unique appeal of the Toyota Camry? Over the next nine pages, we're going to offer some insights into what makes this largely benign sedan America's best selling automobile.
Origins
The name Camry is an Anglicized phonetic transcription of the Japanese word kanmuri () which, translated into English, means "Crown." The Toyota Camry is in many ways a throwback to the original days of Toyotas when the automaker named all of its cars with synonyms for the word crown. Before the Toyota Camry was offered in the United States, the model was introduced as a variant of the Toyota Celica in Japan in 1979. Offered as a four-door liftback, the car was known as the Toyota Celica Camry. However, rather than the Celica we know here in the U.S, the car was based on a Japan-market offering known as the Carina. Where Celica was offered as a two-door coupe and a three-door hatch, Celica Camry's four doors were intended to make the model more family-friendly. Which brings us to the first of Camry's appealing attributes.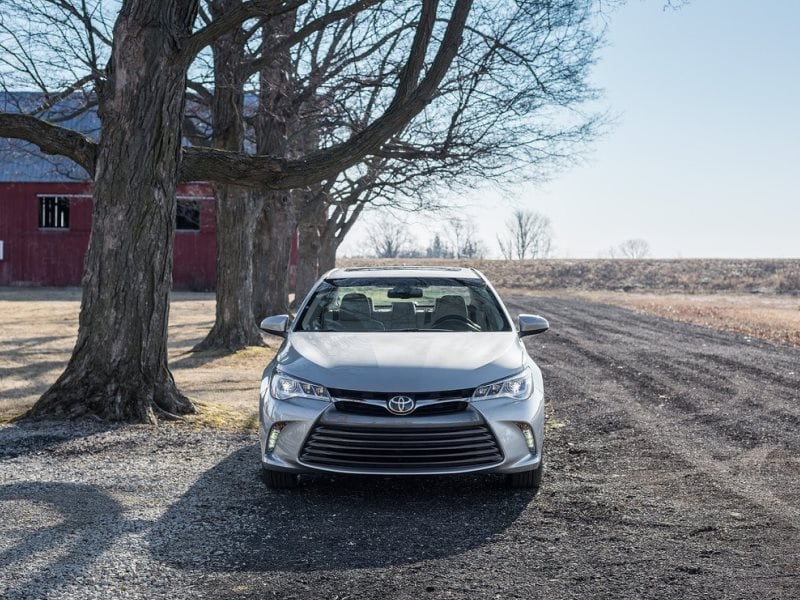 Family Friendliness
When it comes to family transportation, you need easy ingress and egress, a spacious trunk, good rear seat legroom, and ideally, five-passenger capability. All of which describe Camry perfectly. Of the Toyota Camry, our own Benjamin Hunting said, "The Toyota Camry is unique amongst midsize family sedans in that it balances a fairly small road footprint with excellent interior space. This makes it easy to park at the mall or in a crowded high school lot. The Camry's trunk size matches that of the slightly longer Malibu, and the passenger compartment is actually larger in almost every dimension. This means fewer arguments about who has to sit in the back seat. The Camry can also be loaded up with kid-friendly options and rear window shades to help protect babies and toddlers from the hot sun. It also has numerous airbags to keep your most precious cargo safe and secure."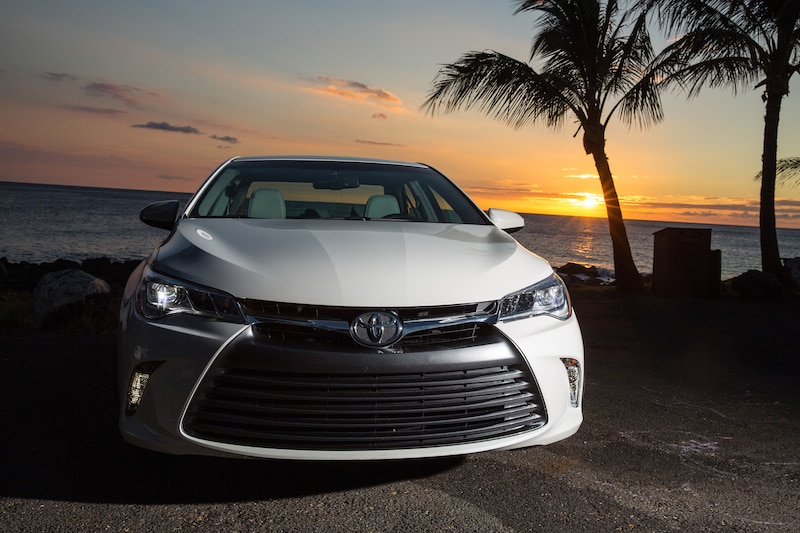 Solid Build Quality
According to J.D. Power & Associates, one of the world's most trusted organizations when it comes to rating cars, the Toyota Camry ranks as one of the most reliable cars on the road. It is often quipped, "Toyotas don't just die—you have to try to kill them." So solid is the marque's reputation for reliability, most Toyota owners surveyed cite reliability as one of the primary factors driving their purchase decision. For the 2015 model year's J.D. Power Initial Quality Study Camry scored well above average in all categories. The Camry racked up five stars in overall mechanical quality, four stars in body and interior design, four stars in overall quality, four stars in mechanical features and accessories quality, and four stars in body and interior mechanical quality. This all adds up to a very strong reputation for reliable service, and a car that will stand the test of both time elapsed and miles traveled.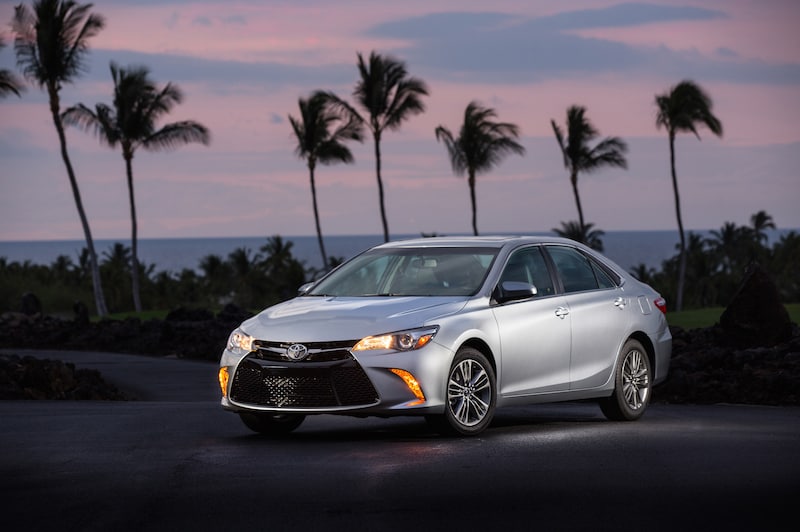 A Generous Roster of Standard Features
For the 2016 model year, Toyota is offering Camry in five trim levels: LE, SE, Special Edition, XSE, and XLE. Pricing starts at $23,070 for Camry LE with the following standard features: automatic headlights, heated mirrors, air conditioning, keyless entry, a rearview camera, cruise control, a power-adjustable driver's seat, a 60/40-split folding rear seat, cloth upholstery, a 6.1-inch touchscreen interface, voice controls, Bluetooth telephone connectivity and audio streaming, Siri Eyes Free, and a six-speaker sound system with a CD player, an auxiliary audio jack and a USB/iPod interface. As you move up through the range, you'll add features like satellite radio, a seven-inch touchscreen, keyless entry, ignition, hands-free trunk opening, wireless charging for mobile devices, dual zone automatic climate control, smartphone app integration, navigation, a noise reducing windshield, a sunroof, and LED headlights. The top-of-the-line Camry XLE starts at $26,310.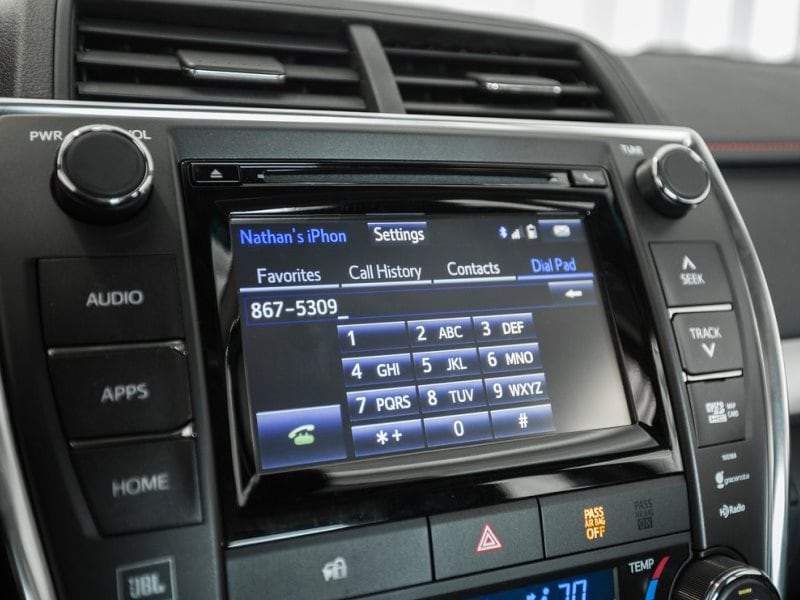 Exceptional Comfort
The Toyota Camry is easily one of the most comfortable cars you'll ever encounter. Whether you're seated up front, or conscribed to the rear seats, you'll enjoy an abundance of legroom, shoulder room, and headroom within the confines of Toyota's midsize sedan. Keep in mind, this is a five-passenger automobile. Even with all three of the rear perches populated, passengers can share the rear bench without severely encroaching upon one another. The front-wheel drive powertrain means the Camry's floor is pretty flat, so even the middle position offers adequate legroom along with the ability to ride with your knees together rather than splayed in a most unbecoming fashion. Further, the Camry's interior is quiet and the Toyota rides exceptionally smoothly. On the move, conversations can be carried on with ease. Raising your voice to be heard over the mechanical din of a Camry? Yeah, that's an "unheard" of experience.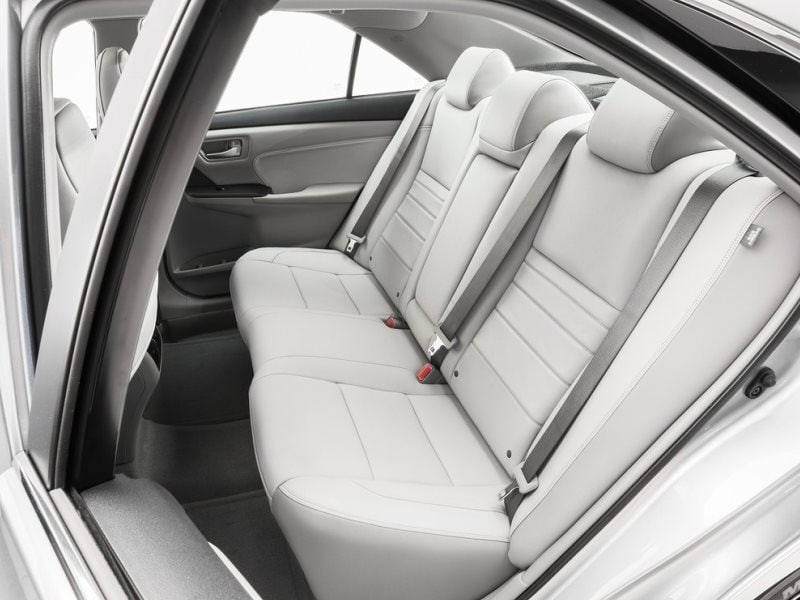 Outstanding Safety Features
First of all, the basic safety features on every Toyota model includes ABS, disc brakes, traction control, stability control, a full complement of airbags, and a rearview camera, all as standard equipment. For Camry, these are buttressed by an available array of kit including blind spot monitoring, rear cross traffic alert, lane departure warning, and collision mitigation. Also offered is Toyota's Safety Connect, which provides automatic collision notification to first responders, an emergency assist feature, and a stolen vehicle locator. NHTSA rates Camry a five-star car in overall crash protection, while the IIHS rates Camry "Good" (its highest ranking) in all of its testing. Further, when equipped with collision mitigation, Camry qualifies as one of the IIHS Top Safety Picks+.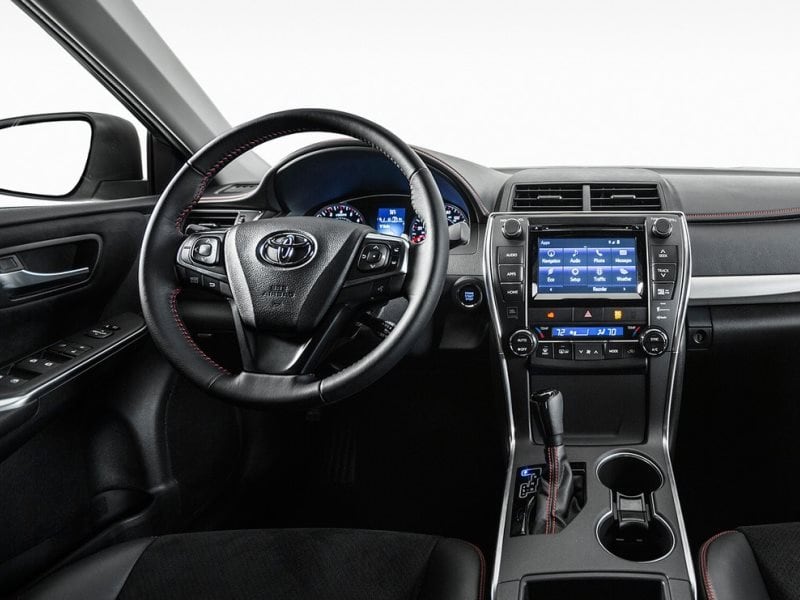 Commendable Fuel Economy
For the 2016 model year, Toyota is offering Camry with a choice of three powertrains. The base engine is a 2.5-liter four-cylinder, which is good for 178 horsepower and 170 ft-lbs of torque. The front-wheel drive powertrain is tied together by a six-speed automatic transmission. The EPA says you can expect to average 25 miles per gallon in the city, 35 on the highway, and 28 in combined city and highway driving. The V6 option displaces 3.5 liters and produces 268 horsepower, along with 248 ft-lbs of torque. Front-drive and a six-speed automatic transmission are mated to this engine as well. EPA estimates are 21 mpg in the city, 31 on the highway, and 25 in combined city and highway driving. This is pretty reasonable—given the power output of the engine. Camry Hybrid uses a 2.5-liter inline four-cylinder engine in conjunction with an electric motor, front-drive, and a continuously variable transmission. Total system output is rated at 200 horsepower. Fuel economy is rated at 43 mpg in the city, 39 on the highway, and 41 mpg in combined city/highway driving.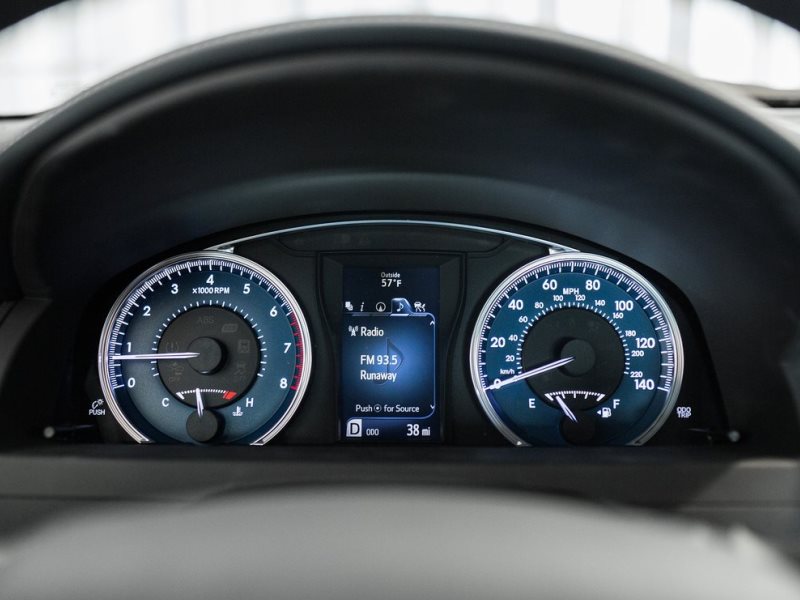 Strong Resale Value
According to the analysts at Kelley Blue Book, the 2015 Toyota Camry is expected to retain 54.8 percent of its original value after 36 moths of ownership. At 60 months in, the Camry is anticipated to be worth at least 43.3 percent of its original purchase price. For this reason, Kelley Blue Book named Camry one of the top three models in its segment when it comes to resale value. Of Camry, when asked why they thought the Camry ranks so highly in this regard, KBB reps say Camry's formula largely mirrors that of Toyota products as a whole: "Make a quality product that improves people's lives, sell it at an affordable price, and make triple-certain that the comfort, reliability and enjoyment last for years." This perfectly describes owner's experiences with the Toyota Camry throughout the 33 years the car has been offered for sale in the United States.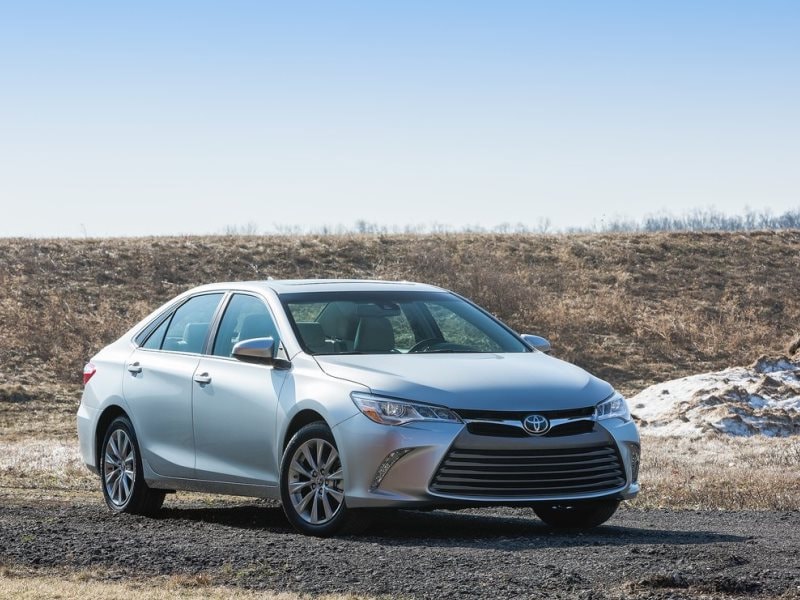 Conclusion
The style-oriented among you may by now have noted we've made no mention of Camry's looks. By and large, Toyota has made it a point to keep Camry's styling pretty middle of the road. While this might seem uninspiring, it does have a decided advantage when it comes to infusing a car with the broadest possible appeal. While it'd certainly be going out on a limb to declare the 2016 Toyota Camry a handsome automobile, you'd be amiss if you declared it unattractive as well. Camry is just good-looking enough to maintain its appeal to its core audience, without being so far out there it alienates them. For those desirous of a more dynamic look and driving experience, Toyota does offer SE versions of the Camry with a more aggressive edge. But by and large, the Toyota Camry is rolling proof solid fundamentals outweigh flashy superficialities in this segment of the automotive marketplace.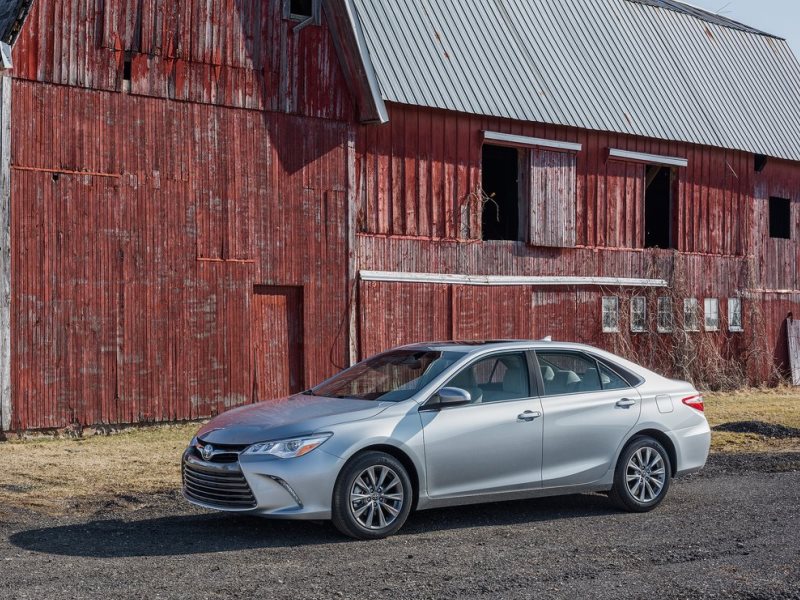 Photo by Toyota