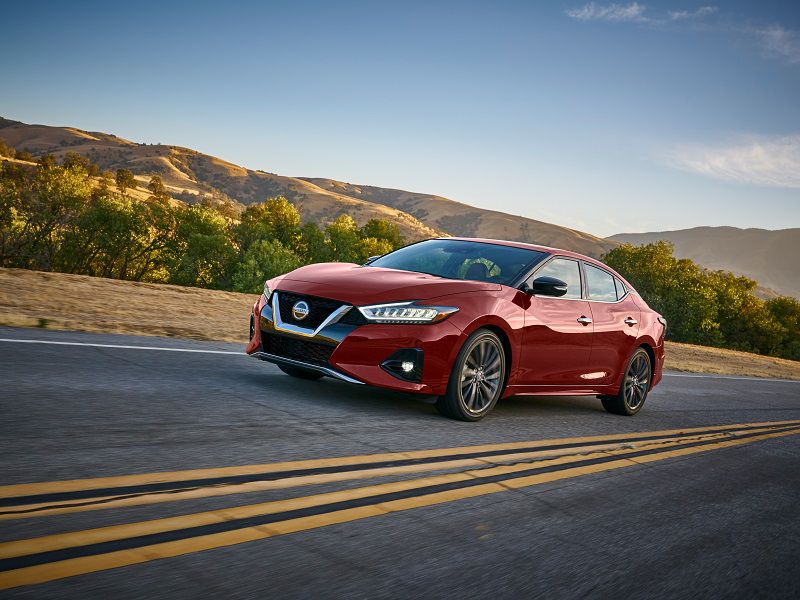 2019 Nissan Maxima ・ Photo by Nissan
When choosing one of the safest cars for 2020, smart shoppers consider more than just the star ratings from the National Highway Traffic Safety Administration (NHTSA). You also want to examine ratings from the Insurance Institute for Highway Safety (IIHS), consider which advanced driving assistance systems (ADAS) are standard, and get a car that weighs more rather than less.
This alphabetized list of the top 10 safest cars for 2020 accounts for these factors. Each of these mainstream-brand models weighs at least 3,000 pounds, and most include helpful ADAS as standard equipment at the base trim level. Plus, they earned a Top Safety Pick rating from the IIHS in 2019 as well as high marks in crash tests performed by the NHTSA.
2020 Honda Accord (all except Touring)
One of the most popular cars in America is also one of the safest cars for 2020. Every version of the Honda Accord includes Honda Sensing, a collection of ADAS that helps drivers to avoid collisions. The Accord excels in NHTSA crash tests, and all versions except for Touring trim earned a Top Safety Pick rating in 2019. Apparently, that trim's full LED headlights are not as effective as the LED low-beam and halogen high-beam lights included with other Accords.
Prices start at around $25,000, and you can also get a hybrid version of this roomy car that's rated to get 48 mpg in combined driving.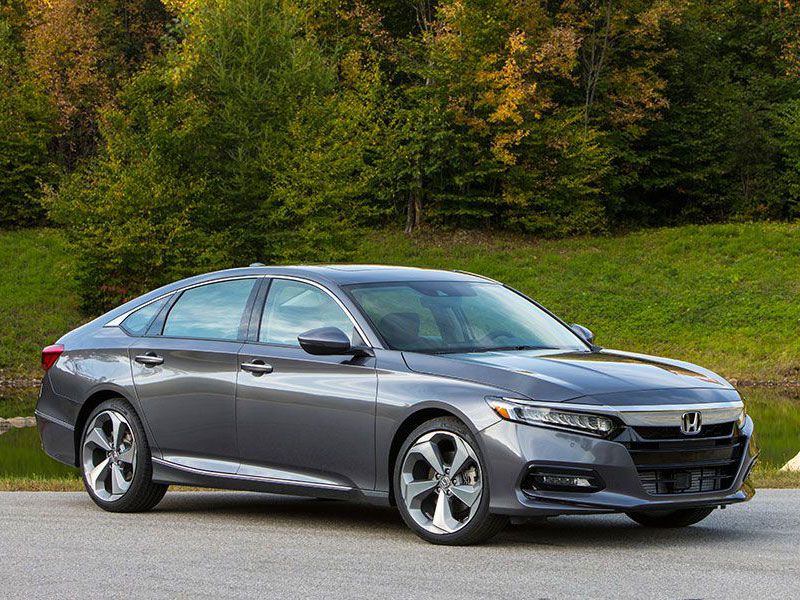 Photo by Honda
2020 Honda Insight EX and Touring
Smaller than the Accord, the 2020 Honda Insight is a 4-door sedan based on the Honda Civic. Thanks to its hybrid powertrain, which includes a battery pack and electric assist motor, the Insight weighs at least 3,000 pounds in EX and Touring trim levels. (The Insight LX missed the weight cut-off by 13 lbs.)
This efficient and safe car gets 5-star ratings in every NHTSA crash-test assessment, and the IIHS called every trim level a Top Safety Pick+ in 2019. It simply doesn't get better than that when it comes to safety ratings. And each trim level also includes Honda Sensing ADAS, which helps you to avoid a collision in the first place.
Prices for the 2020 Honda Insight start at about $24,000.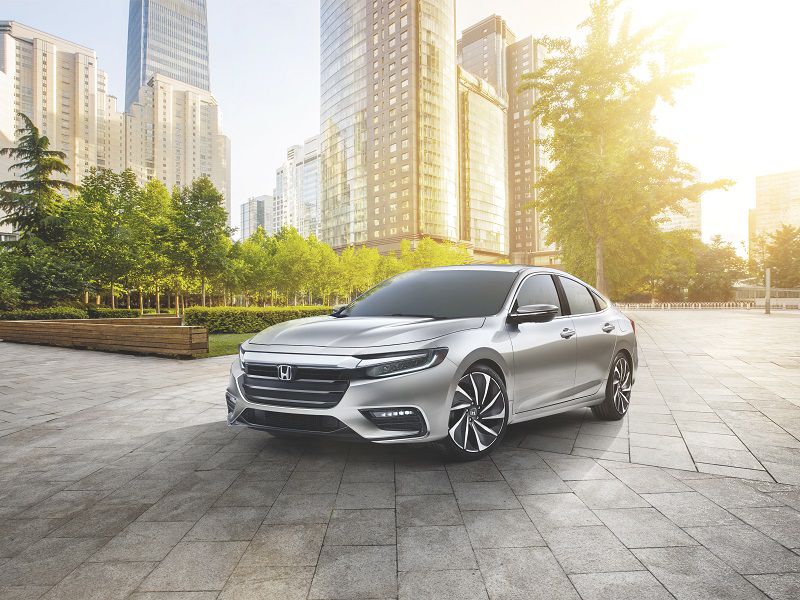 Photo by Honda
2020 Kia Optima SX
This is the final year for the current version of the Kia Optima, and only the sporty turbocharged SX trim level qualifies for this list thanks to its excellent LED headlights. They result in a Top Safety Pick+ rating from the IIHS in 2019, to go along with 5-star ratings from the NHTSA in all assessments except for one.
Other versions of the Optima are also safe, but they have Poor-rated headlights, according to the IIHS. A full suite of ADAS comes standard in every Optima, as well as blind-spot warning with rear cross-traffic warning, which are typically options on other models.
Prices for the Optima SX start at about $33,000, and this version of the car is genuinely fun to drive. If you can live with crappy headlights, the rest of the Optima lineup begins at around $24,250.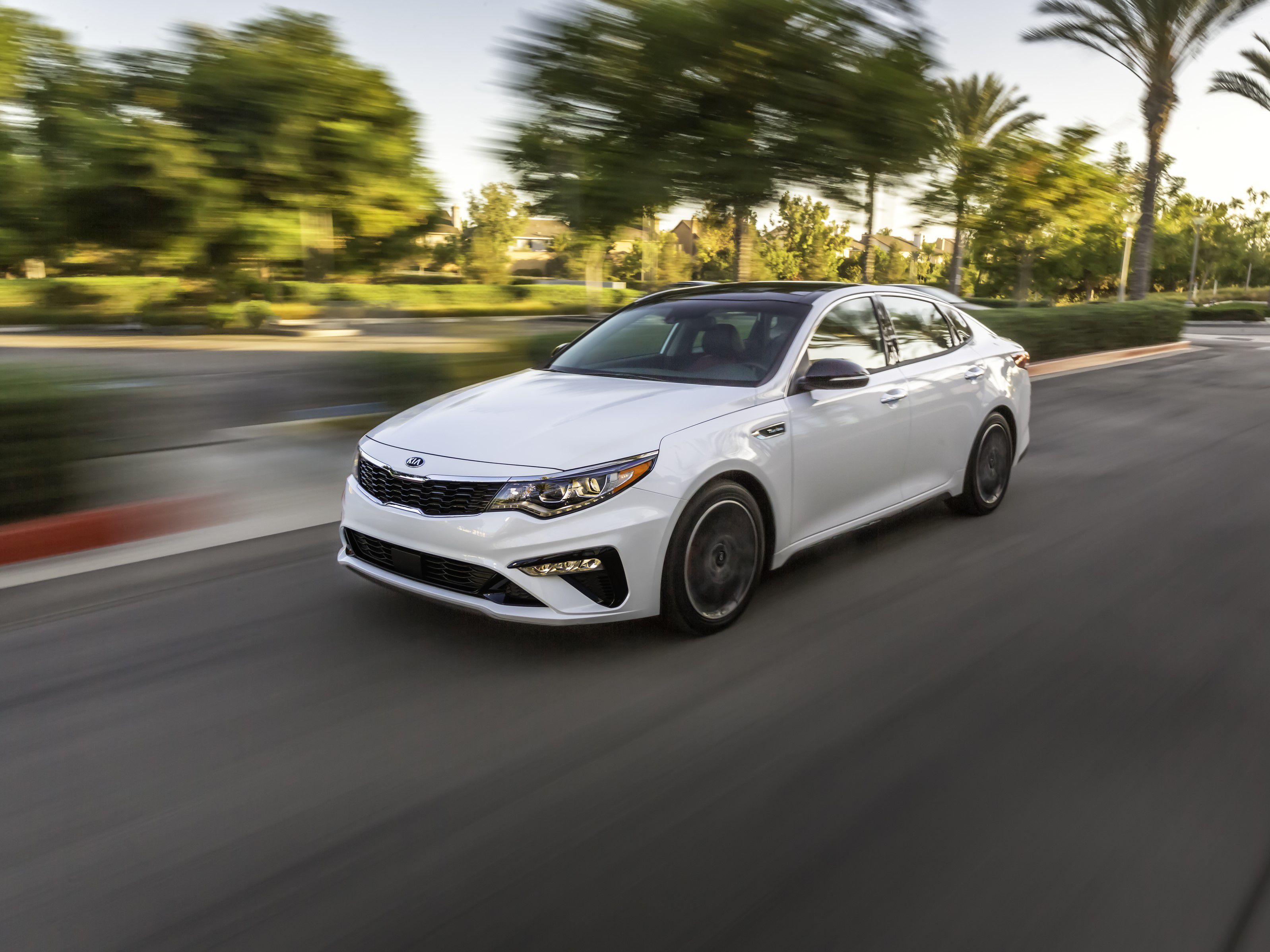 Photo by Kia
2020 Kia Stinger GT1 and GT2
Speaking of fun, Kia's super-cool Stinger is quite safe in GT1 and GT2 trim. Those versions come with full LED headlights and ADAS, resulting in a Top Safety Pick+ rating from the IIHS in 2019. The NHTSA has not performed crash tests on the Kia Stinger.
A 5-door hatchback with seductive styling and twin-turbocharged performance to match, the Kia Stinger is a frequently overlooked gem. The car is rear-wheel drive unless you specify the optional all-wheel-drive system, and both the back seat and cargo hold are spacious. Think of this as a half-price Porsche Panamera, and you won't be far off the mark.
Prices for the GT1 start at nearly $46,500. If you can live without the ADAS and brighter headlights, get the GT-Line (just over $34,000) and it's turbocharged 4-cylinder engine.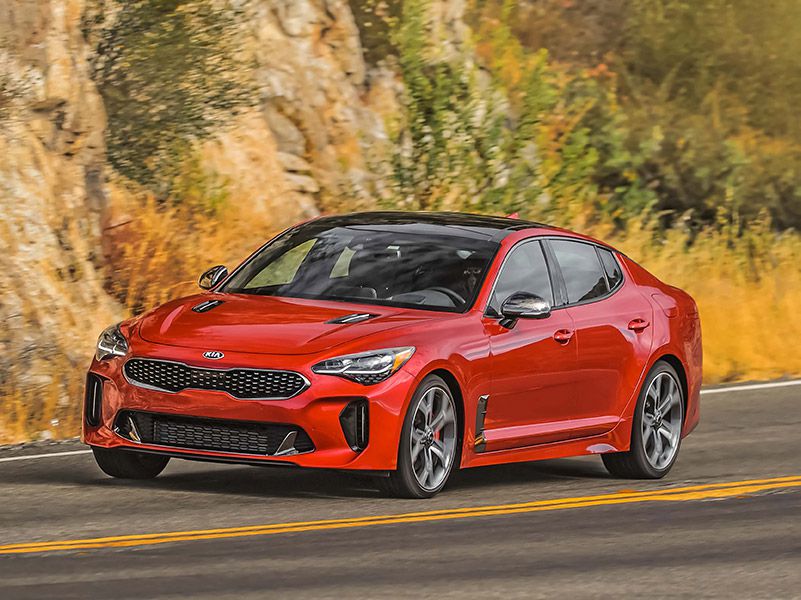 Photo by Kia
2020 Mazda Mazda6
Another frequently overlooked car, the sleek Mazda Mazda6 isn't your typical family sedan. Sharply tailored with sophisticated technology and satisfying performance, the Mazda6 is a luxury car in all but its brand name.
In turbocharged Grand Touring Reserve and Signature trim levels, the Mazda6 earned a Top Safety Pick+ rating from IIHS in 2019, thanks to its superior headlights. Other versions of the car qualified for a Top Safety Pick rating with Acceptable headlight performance. Meanwhile, the NHTSA gives every version of the Mazda6 a 5-star rating in all but two individual assessments.
Prices start at about $25,000, with the top-rated Grand Touring Reserve fetching nearly $33,500.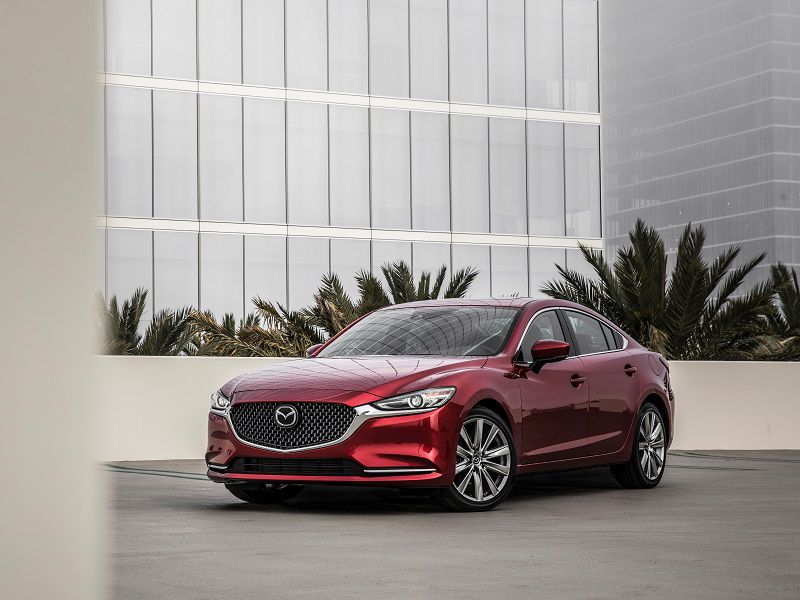 Photo by Mazda
2020 Nissan Maxima
Thanks to a Top Safety Pick rating for all versions of the 2020 Maxima, Nissan's so-called 4-door sports car makes our list of the 10 safest cars. The NHTSA has not performed crash tests on the latest Maxima.
Priced from more than $35,000, every version of the Maxima is equipped with Nissan's Safety Shield 360 collection of ADAS, which includes both front and rear automatic braking as well as blind spot warning. That's good, because it's hard to see out of this car.
Equipped with a robust 3.5-liter V6 engine making 300 horsepower, and featuring an upscale interior, the Maxima does a decent impression of an entry-luxury sport sedan. But so do the Kia Stinger and Mazda Mazda6.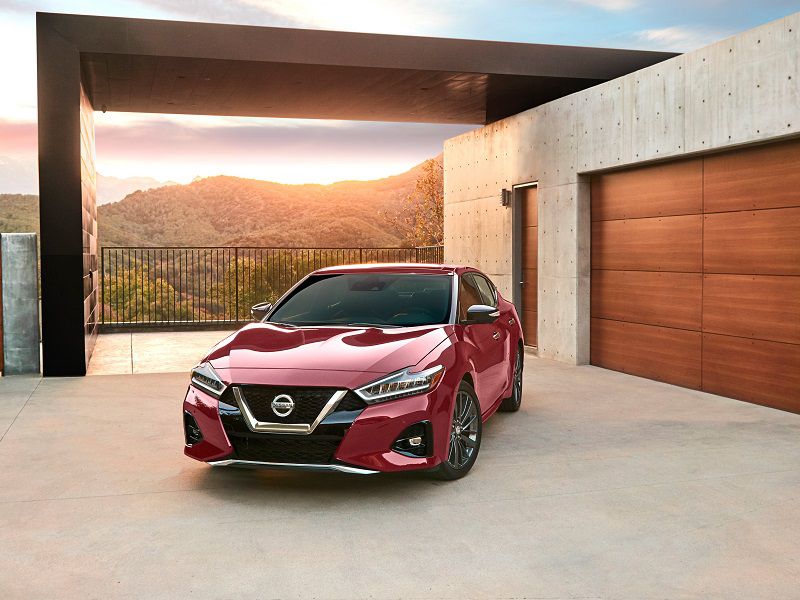 Photo by Nissan
2020 Subaru Legacy
Redesigned for 2020 and built on a new platform boasting significant improvement in Subaru's already legendary structural crash protection, the all-new Legacy is a must-drive if you seek the safest car you can buy.
Adaptive LED headlights that turn with the steering are included with Limited, Limited XT, and Touring XT trim, netting the car an IIHS Top Safety Pick+ rating for the 2019 calendar year. Other versions have full LED headlights that perform at an Acceptable level, according to the IIHS. The NHTSA had not crash-tested the Legacy as this article was written.
All 2020 Legacy trim levels include the company's EyeSight collection of ADAS as standard equipment, and every Legacy is equipped with all-wheel drive. Prices start at less than $23,750.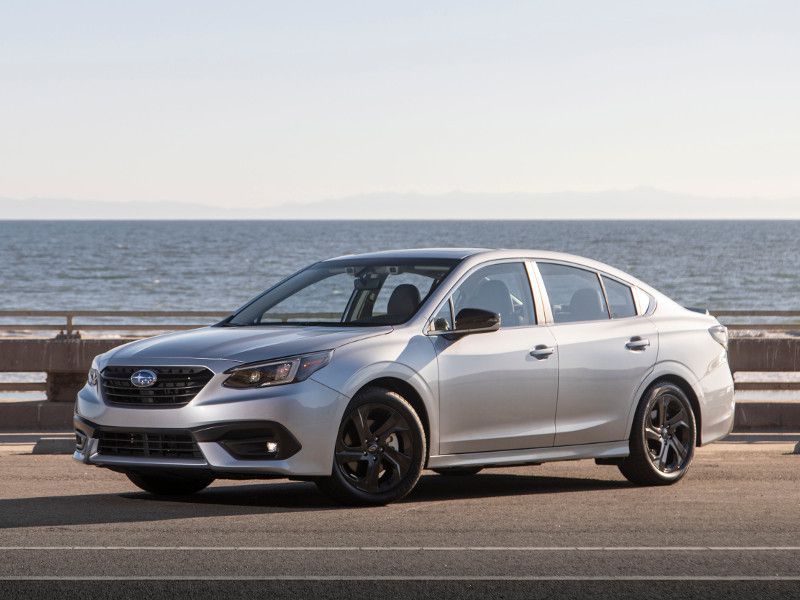 Photo by Subaru
2020 Subaru Impreza Limited
Thanks to its standard all-wheel-drive system, most versions of the compact 2020 Impreza weigh more than 3,000 lbs., and they all earn 5-star ratings across the board from the NHTSA. But only the Impreza Limited comes with steering responsive LED headlights that result in a 2019 Top Safety Pick+ rating from the IIHS. Other trims include headlights with a Marginal rating, excluding them from Top Safety Pick contention.
Available in 4-door sedan and 5-door hatchback body styles, every Impreza with a continuously variable transmission (CVT) is equipped with EyeSight, Subaru's suite of ADAS. And the Limited comes exclusively with the CVT.
Prices for the Impreza Limited start at less than $26,750. Base versions with a CVT and EyeSight are available for less than $21,000.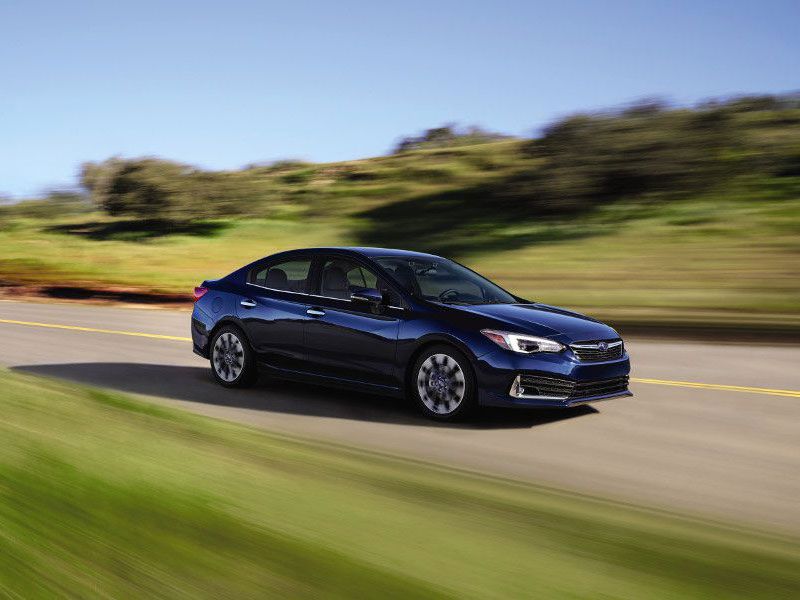 Photo by Subaru
2020 Subaru WRX Limited
An icon among driving enthusiasts, the 2020 Subaru WRX is fast, capable, and thrilling to drive. It's also quite roomy inside, and very safe.
The trick is to get the WRX in Limited trim with the CVT and the upgraded high-beam-assist headlights. That's the only specification that includes Subaru's EyeSight suite of ADAS, and the only specification that meets IIHS requirements for a Top Safety Pick+ rating. The headlights in the Base and Premium trim levels rate as Poor, and versions of the WRX with a manual gearbox don't come with EyeSight.
If these mandates are just fine by you, the WRX Limited with a CVT and the required option package costs less than $37,500.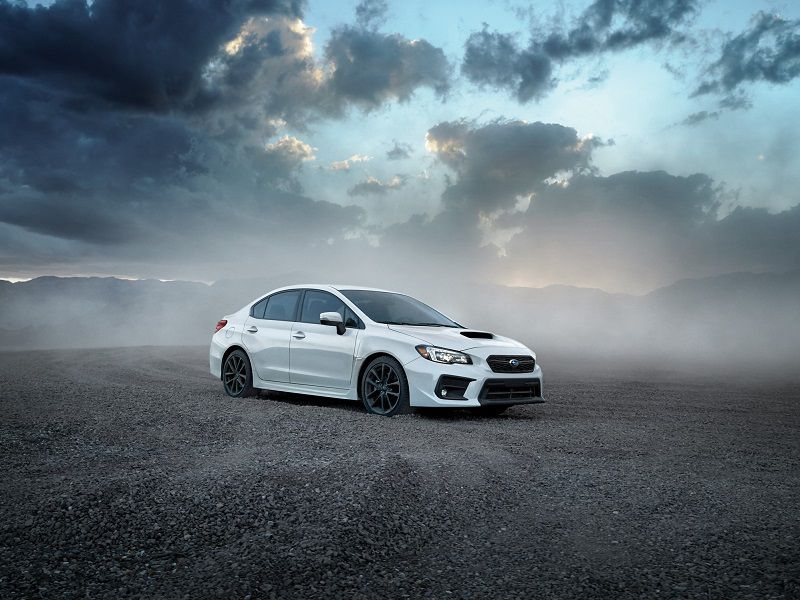 Photo by Subaru
2020 Toyota Camry
Earning 5-star crash-test ratings in every NHTSA assessment, and IIHS Top Safety Pick or Top Safety Pick+ ratings in 2019, the Toyota Camry is one of the safest cars you can buy.
Prices start at $25,250, in base L trim with the standard 4-cylinder engine. If that's not suitable, you can get a Camry with a powerful V6 engine, or with upscale XLE trim, or in track-tuned TRD specification, or with a thrifty hybrid drivetrain. Go crazy with the accessories list, and you can spend more than 40 grand on a new Camry.
Literally, there is a Camry for every budget and preference, and they all rate as among the safest cars of 2020.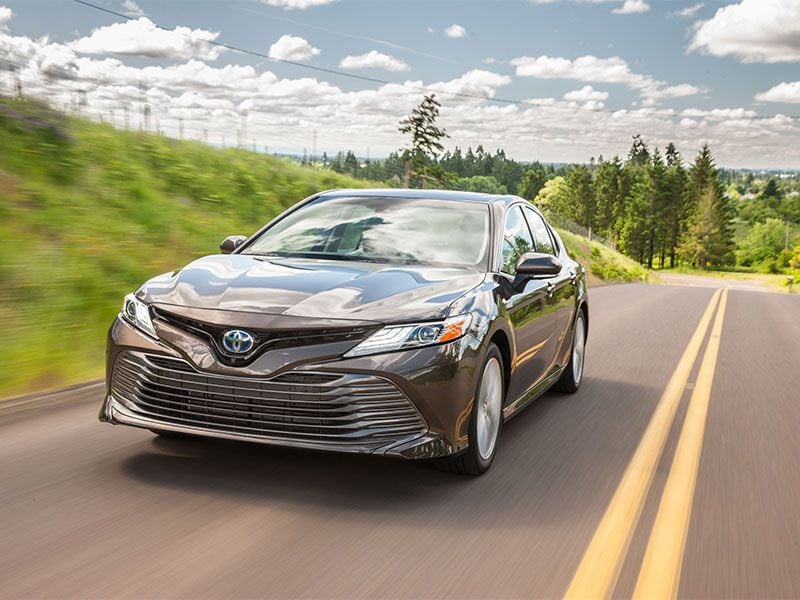 Photo by Toyota