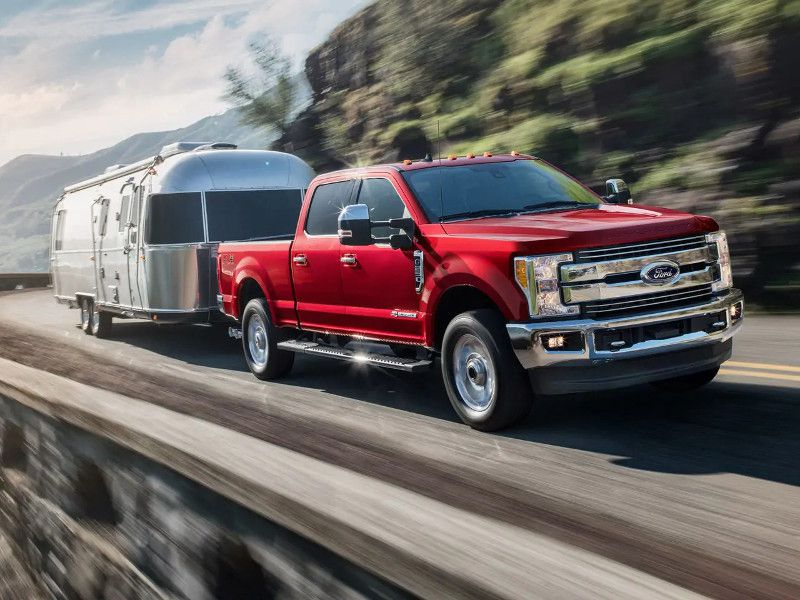 2019 Ford F 250 Lariat red towing ・ Photo by Ford
One of the most important reasons why people buy pickup trucks is for towing. When you need to pull a trailer, a truck is a much better choice than an SUV. Trucks can generally tow more because of their body-on-frame design, and they usually have more powerful engines and strong rear axles.
When it comes to towing big loads, you can't beat a heavy-duty truck. These are the kings of the towing world. But you have some good choices among half-ton trucks as well. Even among smaller mid-size trucks, today's models post some impressive towing statistics. Read on to learn about the best trucks for towing in every class and price range.
2020 GMC Sierra HD
The 2020 GMC Sierra HD is refreshed for this year, and this truck features impressive towing capacity. With the right configuration, the new GMC will pull up to 35,500 pounds. In addition to class-leading capacity, the Sierra offers 15 different camera views and the ability to combine several camera images to create an "invisible trailer" view on the dashboard display. The body of the trailer itself becomes an outline. For those who pull large cargo or camping trailers, this tech is a miracle.
GMC's ProGrade trailering package also includes features like hill start assist, power side mirrors, integrated trailer brake controls with pre-settable trailer profiles, automatic sway control, and variable power steering assist. Buyers can choose a standard 6.6-liter gasoline engine with a six-speed automatic transmission, or a 6.6-liter Duramax turbodiesel with an Allison 10-speed automatic.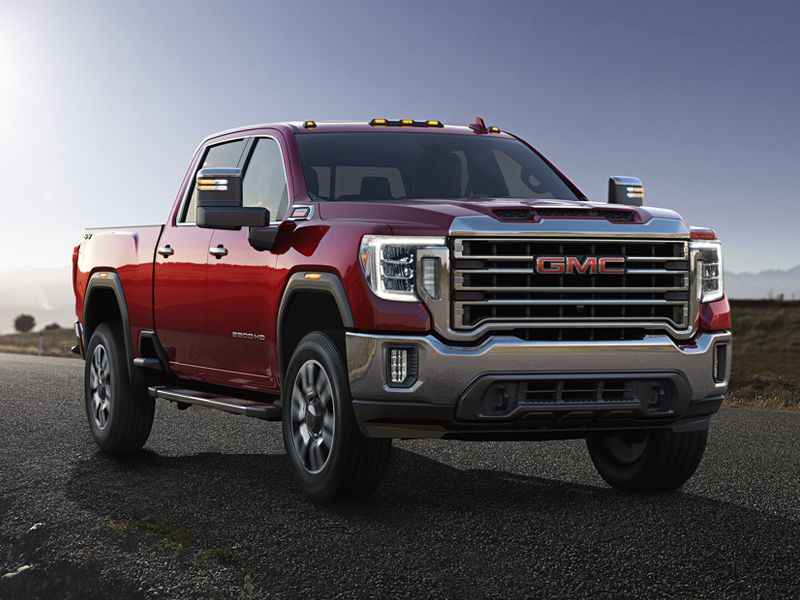 Photo by General Motors
2020 Ford F-250 Super Duty
The 2020 Ford F-250 Super Duty is one of the most popular choices for towing. New this year, Ford offers a 7.3-liter V8 gasoline engine with 430 horsepower and 475 pound-feet of torque. Buyers may also choose a 6.7-liter Power Stroke diesel V8 with 475 horsepower and best-in-class 1,050 pound-feet of torque. An all-new 10-speed heavy-duty automatic transmission is standard with both engines.
Ford has some leading tech for trailering, including the available Pro Trailer Backup Assist function. This feature lets drivers take their hands off the steering wheel and use a dial knob to steer the trailer while watching the backup camera view. Trailer Reverse Guidance shows the trailer's angle and direction and provides steering suggestions to most efficiently back up the rig.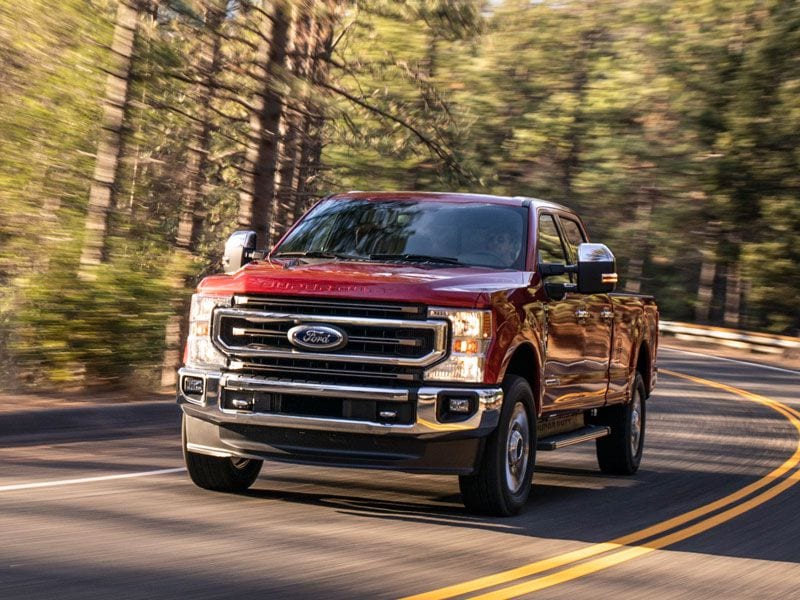 Photo by Ford
2020 Ram HD 2500
The 2020 Ram HD line is available with a new 6.7-liter Cummins diesel engine with best-in-class torque ratings of 1,000 pound-feet. The engine also delivers 400 horsepower, passed through a six-speed Aisin commercial-grade automatic transmission and a heavy-duty rear axle. Buyers may also choose a more basic version of the Cummins diesel engine with 850 pound-feet of torque, or the standard 6.4-liter Hemi gasoline V8 engine with 410 horsepower and 429 pound-feet. The new Ram HD is capable of towing up to 35,100 pounds when properly configured.
Ram has implemented active noise cancellation technology to keep the cabin quiet. The base Tradesman 2500 is the most affordable choice. It comes with a standard cab, cloth or vinyl seats, and rubber floor mats, but it still has air conditioning, cruise control, and a 5-inch infotainment screen with a rearview camera.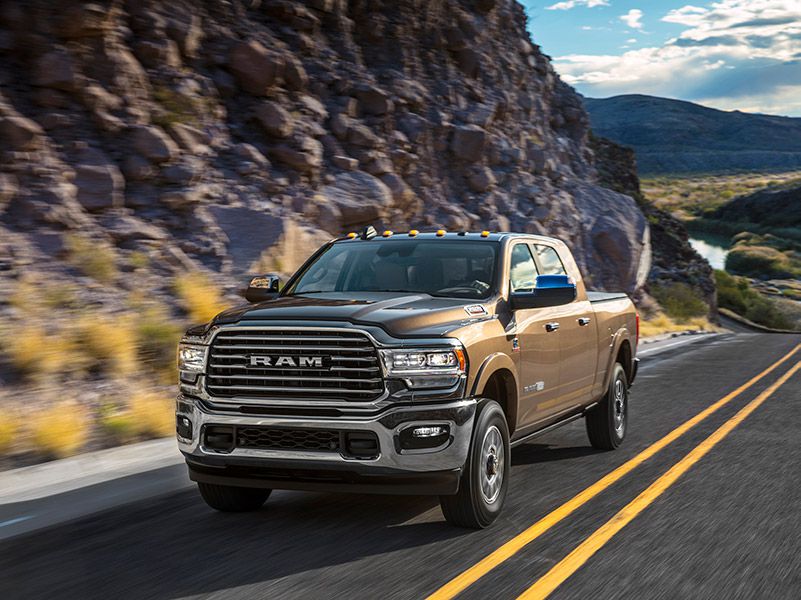 Photo by Fiat Chrysler Automobiles
2020 Nissan Titan XD
The 2020 Nissan Titan XD features a newly retuned 5.6-liter gasoline-fueled V8 engine rated at 400 horsepower and 413 pound-feet of torque. The V8 is paired with a standard nine-speed automatic transmission. The Titan includes an integral trailer brake controller as well as an available Class 4 towing hitch with an RV-style connection plug. The XD is rated to tow up to 11,000 pounds with a gooseneck or 10,880 from the hitch.
The Titan XD is available with all modern conveniences, starting with GPS navigation, smartphone integration, a full-featured stereo with Bluetooth hands-free phone support, and a backup camera. Nissan also offers blind-spot monitoring for safe highway maneuvering. Be sure to check out the trailer light test feature on the key fob!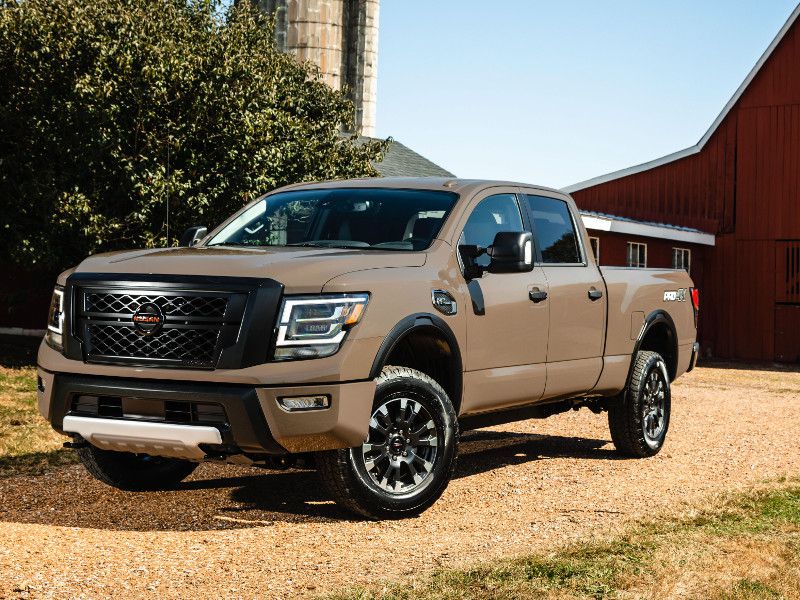 Photo by Nissan
2020 Chevrolet Silverado HD
Like the related GMC Sierra HD, the new 2020 Chevrolet Silverado HD was built to tow a big trailer with safety, power, and comfort. If you set it up right, this truck can tow up to 35,500 pounds. The Silverado HD comes with your choice of a 6.6-liter gasoline V8 engine rated at 401 horsepower and 464 pound-feet of torque, or a 6.6-liter Duramax turbodiesel with 445 horsepower and 910 pound-feet of torque. The diesel includes an Allison 10-speed transmission.
Just like its GMC cousin, the Silverado offers up to 15 different camera views, including the near-magical "transparent trailer" view. Even without the rearview camera on the trailer, you'll still get side views that allow you to maneuver the trailer with pinpoint precision. The new Silverado offers the most convenient towing experience you've ever had.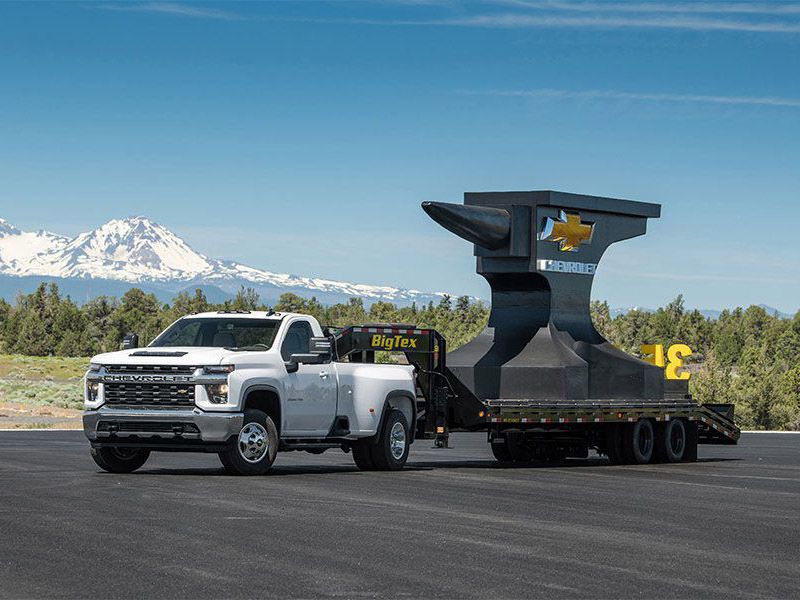 2020 Toyota Tundra
Among half-ton full-size trucks, the 2020 Toyota Tundra is a smart choice for towing. With its capable 5.7-liter V8 engine, the Tundra can tow up to 10,200 pounds. If you need to tow a boat or utility trailer, the Toyota can handle it. The 5.7-liter V8 gasoline engine offers 381 horsepower and 401 pound-feet of torque.
Toyota offers a heavy-duty Class 3 receiver for the trailer hitch, a special 4.3 rear axle ratio, integrated brake controller, and a Tow/Haul mode for the drivetrain that sets the truck up to perform under load. The Tundra's interior ranges from functional to luxurious. The seats are firm and offer good back support, which is critical if you spend a lot of time in your truck.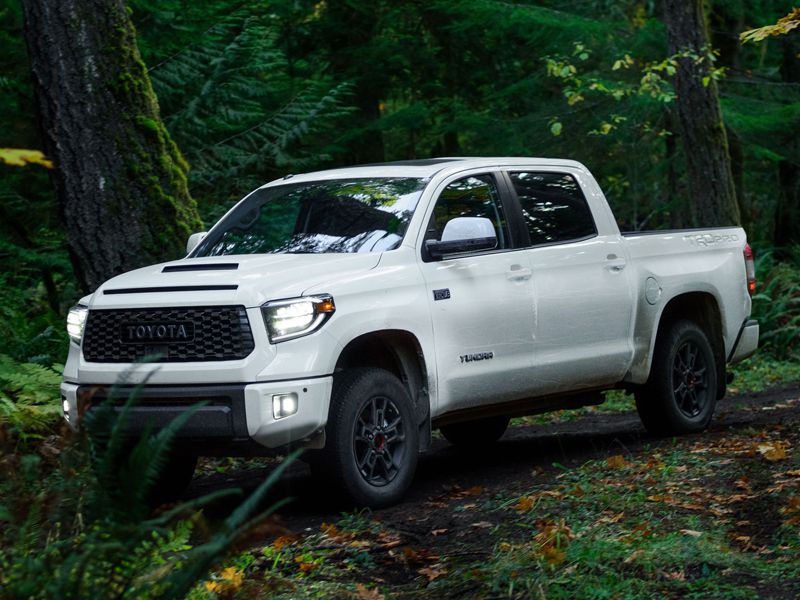 Photo by Toyota
2020 GMC Sierra 1500 Diesel
The 2020 GMC Sierra 1500 was recently redesigned, and it's one of the most advanced half-ton trucks on the market. With features like the Multi-Pro six-function tailgate and the available CarbonPro carbon fiber bed, the Sierra can easily claim to be the technology leader of its segment.
GMC offers a range of engines, including a 2.7-liter turbo four-cylinder, but for towing you'll want the 6.2-liter V8 or the 3.0-liter turbodiesel option. The 6.2-liter V8 engine brings 420 horsepower and 460 pound-feet of torque to the Sierra, and the diesel offers 277 horsepower and 460 pound-feet. Both of these engines come with a 10-speed automatic transmission, and the 2020 GMC Sierra 1500 is rated to tow up to 12,100 pounds.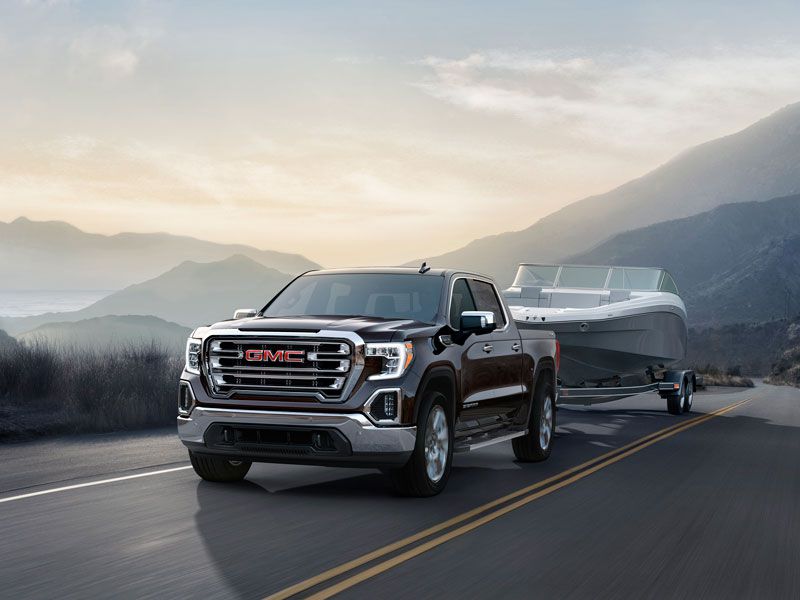 2020 Ford F-150
The 2020 Ford F-150 is available with a 3.0-liter Power Stroke diesel engine, and it's been a huge success. The PowerStroke engine delivers 250 horsepower and 440 pound-feet of torque. One of the reasons this turbodiesel works so well in the F-150 is Ford's new 10-speed automatic transmission. The F-150 with the PowerStroke diesel will tow up to 11,400 pounds.
The F-150 is as pleasant to drive as it is capable. The Power Stroke diesel is almost silent when you're driving, and Ford offers an optional 360-degree camera system. Luxury is available with heated and ventilated leather front seats, a heated leather steering wheel, and even heated rear seats. One last word about towing — the F-150's blind-spot monitoring system now covers the trailer as well as the truck.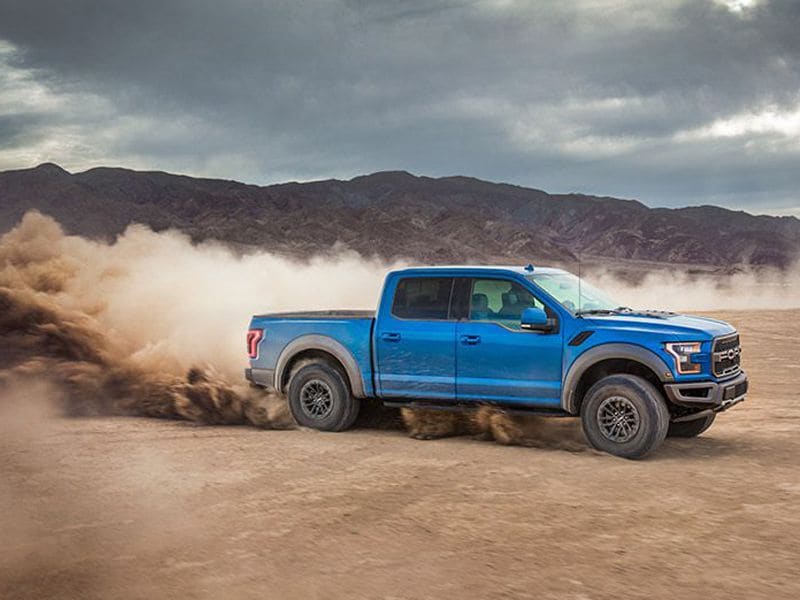 Photo by Ford
2020 Jeep Gladiator
Jeep has rocked the trucking world with the release of the 2020 Jeep Gladiator mid-size pickup. This vehicle looks like a Jeep Wrangler, but includes a pickup bed and a truck's ability to tow a trailer. Jeep offers a 3.6-liter Pentastar V6 engine as standard equipment. The engine is rated at 285 horsepower and 260 pound-feet of torque, and it's paired with an eight-speed TorqueFlite automatic transmission or six-speed manual transmission. A 3.0-liter turbodiesel is expected to go on sale later in 2020.
One special feature to mention about the Gladiator is the rear suspension. Most truck suspensions are simple leaf springs, but the Gladiator has a five-link design with coil springs. That gives the Gladiator its best-in-class payload rating of 1,600 pounds, and up to 7,650 pounds of towing capacity.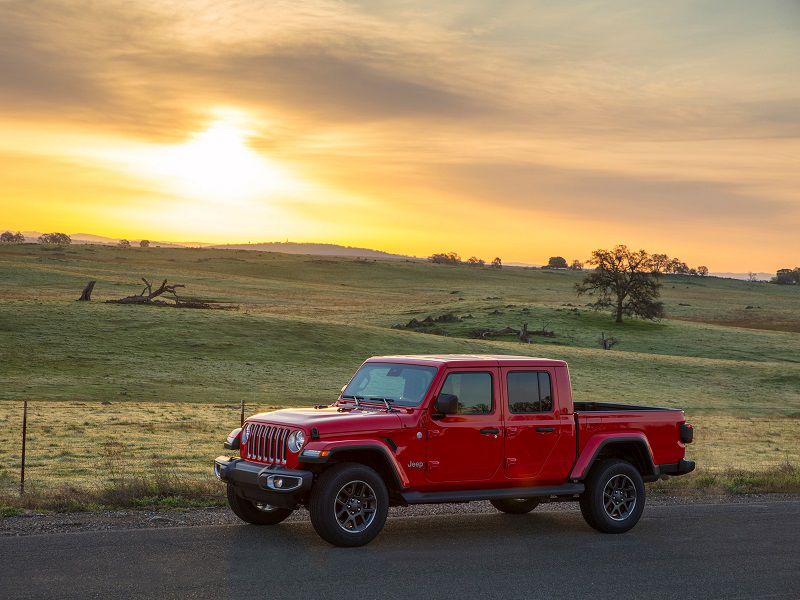 Photo by Jeep
2020 Ford Ranger
Ford is breaking all the rules with the 2020 Ford Ranger mid-size pickup. This smaller option uses a 2.3-liter EcoBoost turbocharged four-cylinder engine paired with Ford's 10-speed automatic transmission. The combination produces 270 horsepower and 310 pound-feet of torque, allowing the Ranger to pull up to 7,500 pounds when equipped with the optional towing package.
On the road, the Ranger is one of the easiest trucks to live with every day. Its small footprint and comfortable cabin make this a truck you will enjoy driving. Fuel economy is another plus. The Ranger returns an EPA-estimated 21 mpg in the city and 26 mpg on the highway, and we had no trouble getting even better mileage on a test drive.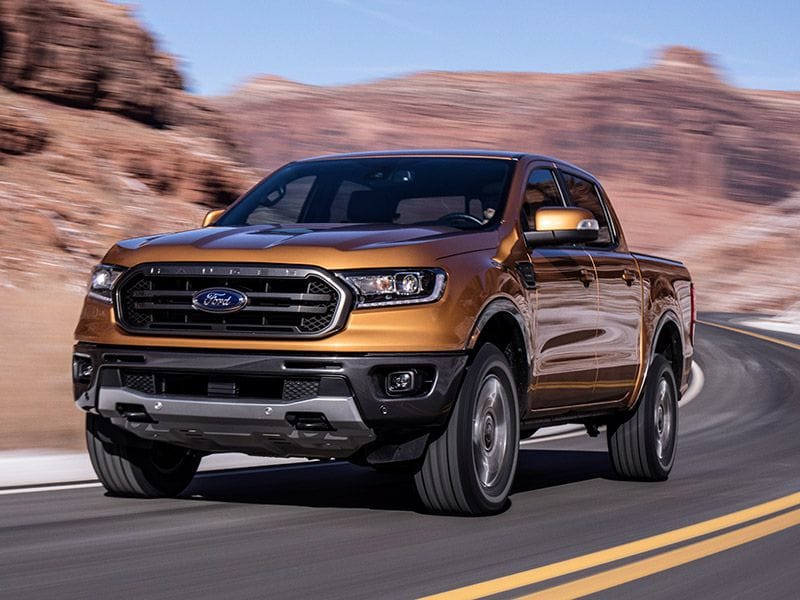 Photo by Ford